Are you unsure what Facebook Pixel is and whether you need to add it to your WordPress site?
This blog post will show you how to easily install Facebook Pixel on your WordPress website and create an ad account, allowing you to set up Facebook Ad campaigns aimed specifically at people who view content on your website (or, in other words, retarget your website visitors with Facebook ads after they've left your website).
Furthermore, the same Facebook pixel plugin may be used for conversion tracking; however, in this blog article, we'll discuss the basics of adding a Facebook pixel (a piece of code) rather than how to utilise it to track conversions.
In a nutshell, Facebook Pixel is similar to Google Analytics for Facebook advertisements! It allows you to better target your advertisements and measure how efficient they are at converting clicks into sales.
You can also use Custom Audiences and Events to make your Facebook advertising campaigns run more smoothly. But, if you're not a tech whiz, it can be difficult to figure out how to get Facebook Pixel up and running with WordPress.
How to Add Facebook Pixel to WordPress without Plugin?
There are two stages involved in manually adding the Facebook pixel to WordPress.
If you haven't already, you must first create your Facebook pixel in the business manager.
The second step entails adding the pixel to each page of your website that you want to track in the head> section.
Step 1: Facebook Pixel Creation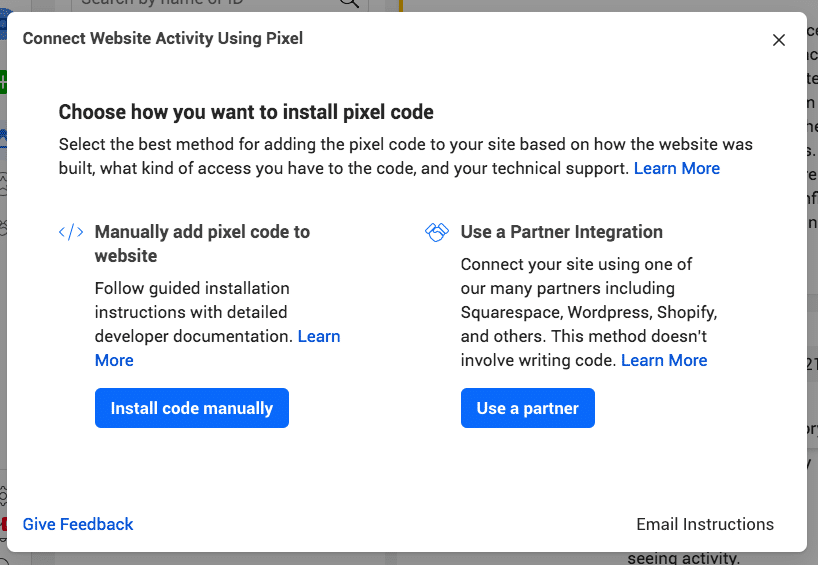 To begin, navigate to the Events Manager section of Facebook Business Suite. You can go there quickly by clicking this link.
Then, to "Connect Data Sources," click the green + icon. If you haven't already generated any Facebook Pixels, your interface may appear slightly different, but you should see a prompt to "Create" or "Connect Data Sources":
You should select the Web option in the popup box. Because I've already made a Facebook Pixel for my account, and each account can only have one web pixel, this is greyed out in the screenshot. If you're just starting off, you should be able to select the Web option:
If a second prompt appears, make sure to select "Facebook Pixel" rather than "Conversions API."
Then all you have to do is give your Facebook Pixel a name. You may also be asked to add your website at this point, but this is optional.
Once you've completed the setup, your Facebook Pixel should appear in the Events Manager. Click the Manage Integrations button to access the integration code snippet:
Select the option to manually install the code in the popup:
This will reveal the Facebook Pixel tracking code, which you must put in your WordPress site's head> section.
Step 2: Add Facebook Pixel tracking code to WordPress <Head> Section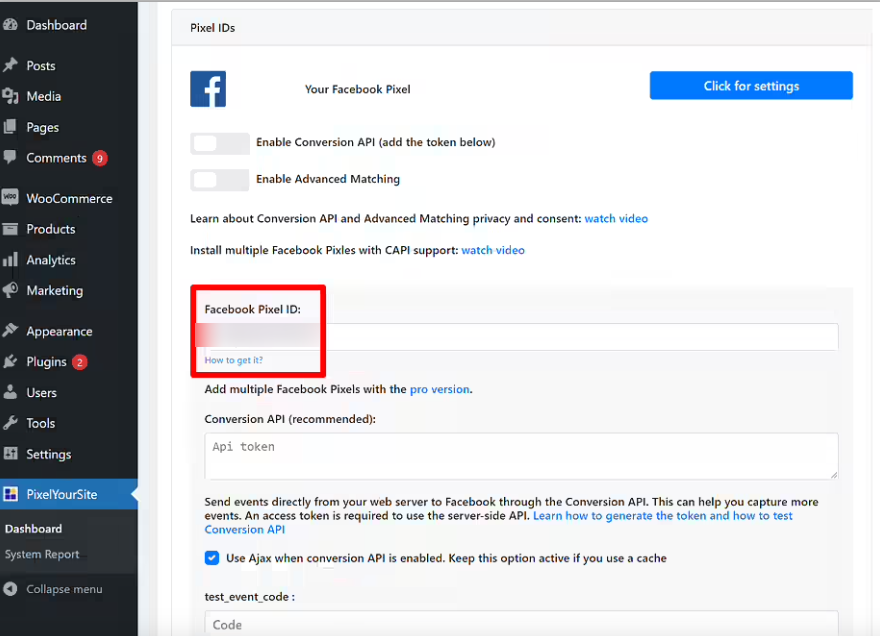 Here is how to add Facebook pixel tracking code:
Go to Settings, then install and activate the free Insert Headers and Footers plugin. Add headings and footers.
Put the tracking code for Facebook into the Scripts in Header box.
Save changes.
How to Add Facebook Pixel to WordPress using Free Plugin?
This plugin allows you to easily add the Facebook Pixel tracking code and also assists you in:
Pass on more information to Facebook, such as the material people are interested in or whether they are a registered WordPress user.
Make your own conversion events, such as visiting a specific URL or clicking a link.
From your WordPress dashboard, you can create custom audiences.
So, if you want those extra features, this plugin is a better option than the manual method.
Conclusion
In order to track the success of your Facebook Ads and gain access to new features like custom audiences and remarketing, you should add Facebook Pixel to your WordPress site.
Also read: