Best Gaming WordPress Themes – Everyone loves to play games. But some people move one step ahead and create a blog / website about what they love the most – Gaming! While creating a blog / website on WordPress, the first thing you need to select is what theme you are going to use. Since there are more than 100+ Gaming Themes available for WordPress, it is really difficult to determine which one to choose.
Therefore, we are here with our pick for the Best Gaming WordPress Themes for 2023: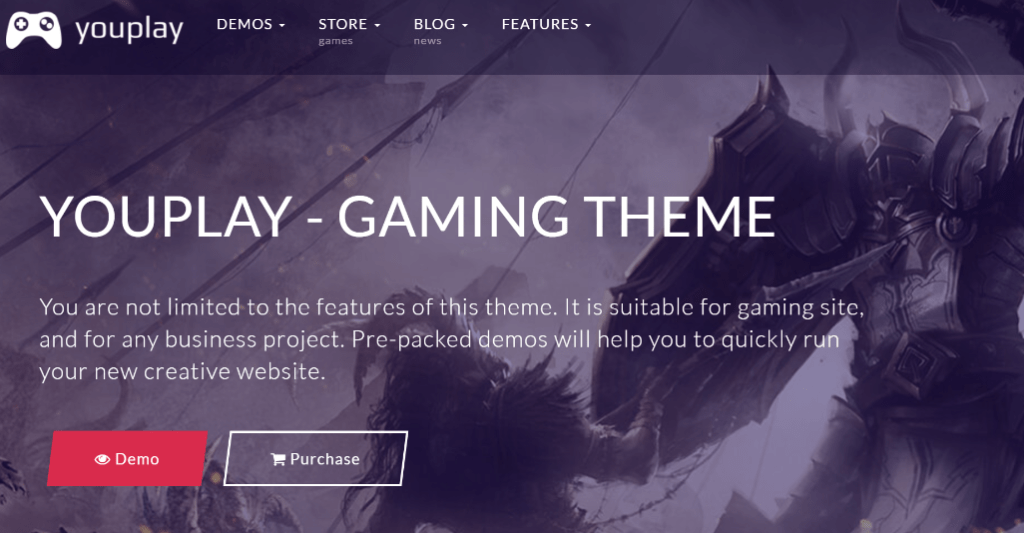 Youplay is one of those gaming themes which will be beneficial to you if you are planning to build your own game or game company. Instead of square/rectangular boxes found on most of the websites, elements in these theme are slanted off-center giving a totally unique look and atmosphere.
There are features like parallax scrolling for adding extra depth to your content along with an animated slide show builder tool known as " Slider Revolution ". Youplay also supports WooCommerce ecommerce plugin and bbPress discussion forum extension which means that if you want to sell items or build a community, you can do that right away!
Price : $59
GamesZone is a great magazine-style responsive theme for WordPress which helps you to showcase latest reviews, walkthroughs and guide templates. This template comes with a lot of customization options ranging from color to typography. It also comes with a video lightbox and Javascript-enabled tabs for a whole new experience.
Price : $55
If you are planning for making a website + blog for clan wars, then this theme is definately for you. Game Addict is a clan war gaming theme which helps the admin to manage clan wars, including different maps, games and teams. Other than that, you can also blog with ease and take advantage of the rating system, drag and drop page builder, gallery option and slider. This theme is WooCommerce ready as well.
Price : $55
Godlike is a flexible theme, which may be the one you are looking for, if you want your blog readers to be presented to a lot of content at once. The theme is a fabulous choice if you are going to fill your blog with a lot of articles each day.
Having multiple feeds displaying the most recent articles, top stories, latest headlines, trending topics, popular categories, and the newest content from the blog, your visitors will never feel bored as they will always have something to read.
The theme is also easy to set up and is one of the best themes for a blog with a hectic publishing schedule.
Price : $64
One of the cheapest themes on this list, coming at only $39. This theme has support for embeding videos easily and also features a built-in star ratings system for all your game reviews. Coming with thumbnail resizing, two layout options and easy to use shortcodes, this is one of the best themes for the price at which it is being offered.
Price : $39
6) The Review
If you want a minimalistic theme on your blog, then "The Review" may be your best choice. This theme can not only be used for gaming blogs, but for any fashion, nature or technology blog as well. It features a whole new modern and crisp design along with it being super clean, which would attract visitors for sure! Flexible Sidebar and Menu options help to make your visitors to stick with your blog, reading articles for a longer time.
The theme is perfect for a website with plenty of content, giving a easy and minimalistic way to access content by visitors. Coming with a ratings system built in, one of the best minimalistic themes for WordPress.
Price : $49
Gameleon is a fully-responsive magazine style theme for WordPress which is targeted to gaming blogs. The theme is compatible with a ton of stuff, like video, flash games and is Unity 3D Ready as well. With built-in spaces for ad positions and some great tools like a slider, review plugin, notification bar plugin and custom login page, it is a great theme indeed.
Price : $59
If building an online gaming community is what you are going to do with your website, then BlackFyre is one of those themes which you would absolutely love. This theme makes extensive use of front-end forms to ensure that registering, logging in and posting messages with a consistent user experience. This means that there is no switching to the WordPress admin area.
Blackfyre allows each of your blog visitors to get their own profile page along with the ability to create and manage teams of other users, thanks to BuddyPress and bbPress forum plugins. Coming with WooCommerce and an included premium Visual Composer drag and drop tool, this is a great template for any community, whether it is small or big.
Price : $59
A responsive theme for WordPress with an old school experience. This theme comes with the ability to control how posts are displayed on your homepage by thumbnail type, 10 different locations for placing advertisements and built in SEO tools, all at a price point of $59.
Price : $39
MegaMag is one of those gaming themes with which gives you more flexibility with color-coded widgets. This powerful theme is easy to use and set up and comes with six skin options, but if you don't like them, you can create your own skin as well.
Price : $49
11) eSport
Price : $55
One of the feature-packed and content-packed themes made especially for gaming-oriented websites or blogs. This theme packs in some great gamer-related tools like ratings. Coming with an Ajax-powered mega menu, category icons, compatibility for touch-based devices and many more other features, Explicit is one of the best themes for heavy content websites, wanting to provide a minimalistic look.
Price : $64
Quick Links
Over To You : Which is your favorite Gaming WordPress Themes 2023 ?
This is the ultimate collection of top best wordpress gaming themes 2023 and choose any theme gaming themes from the list and you will love it. They are highly recommended. Have you used any gaming wordpress themes from above share in the comments below !