Let's get started with some features of the new Motorola RAZR XT910: Android Power.
As with many phone manufacturers, the move towards Android was Motorola's saving grace, and although they lost a lot of traction here in SA, the new Motorola RAZR XT910 has ample reasons to turn Motorola's fortunes around.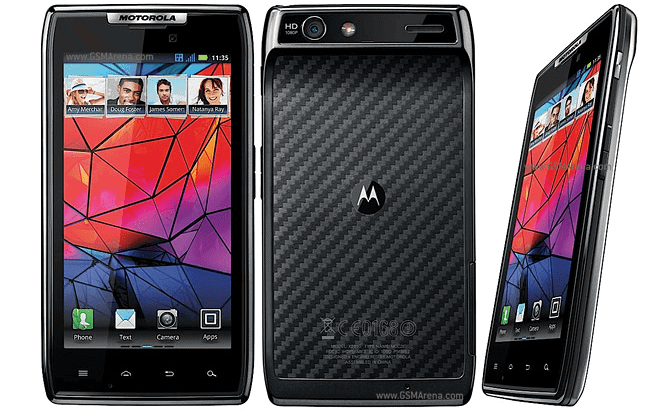 The Motorola RAZR XT910 is extremely thin, and apart from the slight bump at the top of the phone, its 7.1 mm thick body is significantly thinner than the Samsung Galaxy S II's 8.5 mm, if 1.4mm matters to you.
"A slim body, an excellent screen and enough features to leave any gadget geek grinning."
Having said that, the Motorola RAZR XT910 is both longer and wider than the S II, and it's specificallythe extra width that might be a slight bother.
Stream your PC
Apart from sliding into even the tightest hipster jeans, the Android 2.3.5 running RAZR brings with it another excellent feature
– MotoCast. With this you can select folders on your PC which you can remotely access via your phone. Sitting in the office wanting to listen to a track on your home PC? Not a hassle, since MotoCast shows you all the music on your home PC, allowing you to stream, or download, it to the phone. 
MotoCast is pretty much a hassle-free process to set up, with the main deal requiring a Motorola username and password and then selecting the folders you want to be shared. We were very surprised that this was basically it – soon we were streaming movies, music and pics on our device, with the option to download too.
A special word of warning is needed though; you go through data faster than matrics through beer on special at Margate, so make sure you are connected to a Wi-Fi network. Your PC also needs to be connected to the net. 
Added extras
Apart from its slim body and MotoCast, the Motorola RAZR XT910 further boasts a gorgeous 4.3″ screen (540 x 960 pixels, 256 PPI, Gorilla Glass) that was a pleasure to watch movies on. Motorola also did a sterling job with keeping the RAZR
up to speed in respect to performance. It showed during benchmarking, where the RAZRmoved up the smartphone ranks to claim second place behind the Galaxy S II (excluding the Galaxy Note on p12). 
A slim body, an excellent screen and enough features to leave any gadget geek grinning lift the Motorola RAZR to one of our current favourite Android devices. R6999. MicroSIMcard needed. [MJ]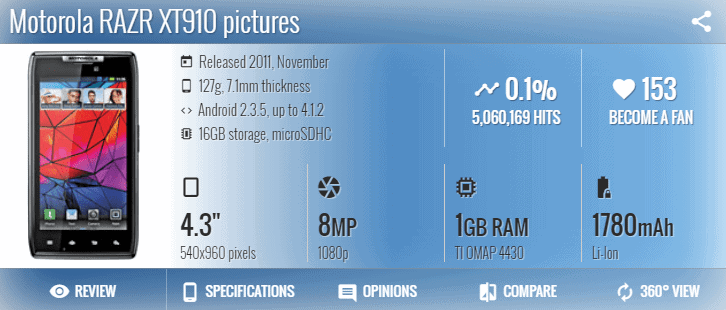 Do you remember the original?
The year is 2004. SA is awarded the 2010 FIFA WorldCup, Million Dollar Baby is crowned king at the Oscars and Outkast's Hey Ya! Rules the airwaves. It's also the year that the super-thin razor sees the light of day.
With a sexy super-thin clamshell body, it won the hearts and pockets of many, luring them away from the then big player– Nokia.
With a body of only 14 mm thick and weighing 99 g, the RAZR range eventually sold over130 a million units over a four year period.  
Quick Links-