Looking to form a reliable LLC company but don't know where to start?
Need any registered agent service for your new business but not being able to choose the best option then you don't need to worry Northwest Registered Agent offers you the best services in the minimum price range. 
In this post, I'll tell you all about this service along with how they work and what they offer in comparison to others in the market.
Bottom Line: The Northwest Registered Agent is a reliable LLC formation provider. The best part about Northwest Registered Agent it actually put its customer first, and every of its customers get their own Corporate Guide. Also the pricing offered by the Northwest Registered Agent is affordable compared to other LLC formation provider out there in the market. Get started with Northwest Registered Agent here.  
 Northwest Registered Agent Review: In a Nutshell
Basically, it is a service that can help you build your business from scratch. They offer many business services such as free legal forms and many how-to guides and everything is focused on one goal which is to help people operate or start a business. With the help of this service, you can do business easily and efficiently.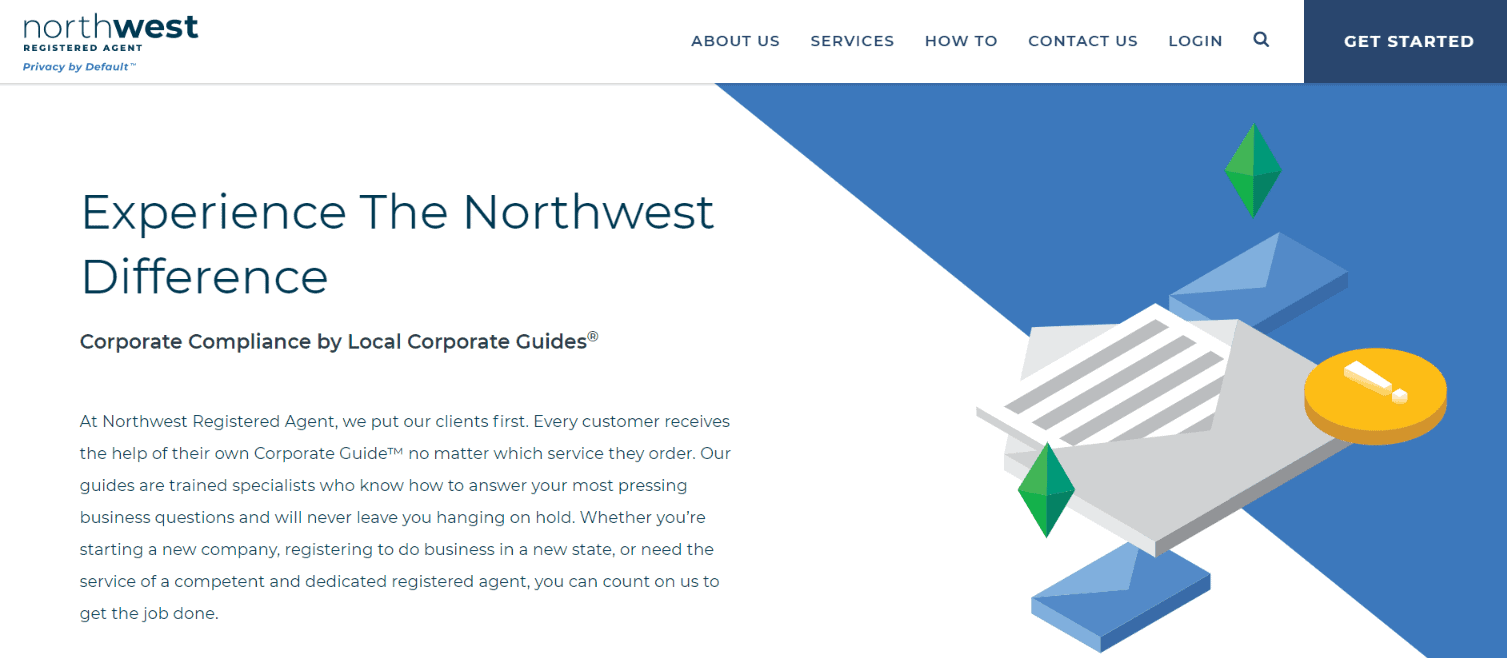 It only works under US jurisdiction and it helps you to get solutions to problems like how to start a company, selecting a free LLC operating agreement and much more. You can also learn how to file an annual report. It is one of the best LLC services available in the market. It covers all the states of the United States and charges accordingly.
A registered agent can be an individual or a company that basically does all the legal paperwork for a business along with that it has a physical address in the state where it can receive all the physical documents even during outside of normal business hours.
How to get started with Northwest?
First of all, you must have deep knowledge about an LLC which you can find at the official website of Northwest Registered Agent. Then click on the option get started and you will see different options of services. You can choose a type of service according to your needs. To give a short demo here are some services which you will see on the website:
Registered Agent Service
Form a New Company
Register an Existing Company in other State(s)
Wyoming Domestication
Mail Forwarding Service
And much more…
After selecting a service click on continue, then you will see all the 52 names of states of the US and select whatever state you want your registered agent in. You will see the charges on your screen, then you have to set up your account by filling up personal details and do the payment and you will be registered with Northwest Registered Agent. 
Looking for a discount on Northwest? Check Northwest Northwest Registered Agent Coupon Codes Now
Features & Benefits of Northwest Registered Agent
Corporate Guides
There are many business experts available on Northwest Registered Agent and you can talk to anyone of them. All of them are knowledgeable and have real-life experience. You can seek guidance from them for solving any problem or completing any task.
They call them corporate guides because they are more than just someone who answers your questions about where your physical data is. Most of the services they offer can be done by you but you won't be able to do every one of them on a daily basis, that's why they are the best.
Privacy
They also offer better privacy than any other registered agent company. But if you're making your very first LLC or corporation then privacy shouldn't be your concern. When your corporate records reach states then you start getting spam mails and calls from solicitors. 
To avoid that situation, Northwest already lists their address on your formation documents which means your personal address will be safe. They do their best to share less personal info of their clients and they only share what is needed to be shared because of state laws. 
Data Security
In this era of the internet, it is really hard to keep all the data hidden but at Northwest, they do try their best to secure all data related to your business. They never share your information with third party or sell it. It is one of their top priorities to keep all of your data secure.
Even if someone is signing up at Northwest for free then their data is as secure as the paid ones. Their system security is one of the best which means your data never gets leaked or breached by any means.
Easy to use
The services of Northwest can be used easily. Basically, they do everything for your business which you can't do on a daily basis. The prices are also very low in comparison to other registered agent companies. They offer better security than any one of them. Helping their customer is the main motto of Northwest.
All the data you share with Northwest will never be shared with any third party. You will be able to do business without having to register all of your personal information such as your address because they list their address in place of yours which is really great. Zenbusiness is also the best LLC formation provider like the Northwest, you can check out Zenbusiness here.
Registered Agent Information?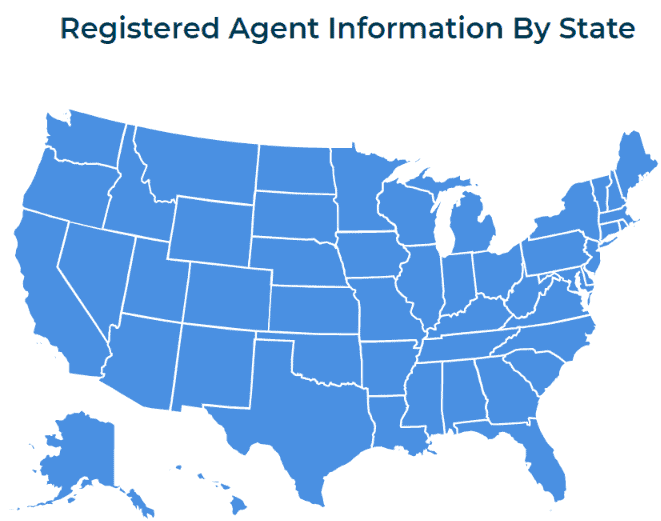 If you want to start a business but you are not able to do all the physical paperwork or document your business then you can consider using Northwest Registered Agent because it is one of the best options available on the market. There are also many other Registered Agents who can help you form an LLC but their prices can be expensive for you.
If your business requires expansion in more than one state of  US then Northwest can help you do that and also it will be cost effective. Many entrepreneurs are already using the services of Northwest so what's your excuse? Start using it and establish your business.
Success Stories For Northwest Registered Agent
They offer many different services that you check out on the official website and before paying for any plan just check out the main motto of this company. This company focuses completely on their customers, they don't care about their revenues and they purely focus on helping their customers fulfill their needs.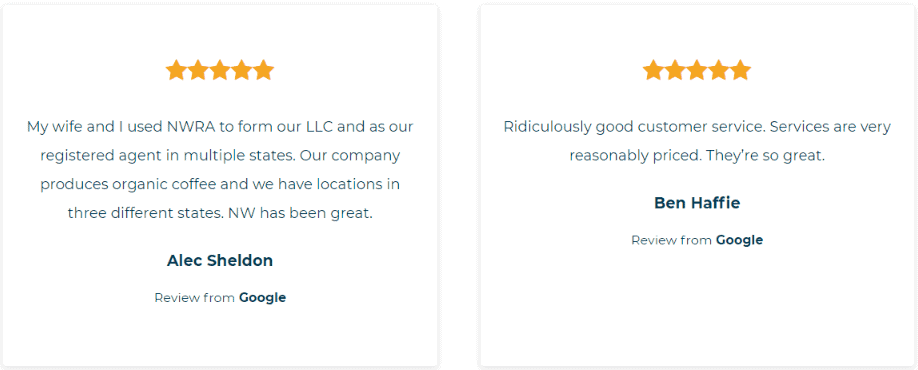 Pricing Of Northwest Registered Agent
There are basically three choices available at Northwest. You can choose any one of them according to your needs and also you have to pay state fees along with the pricing plan you choose.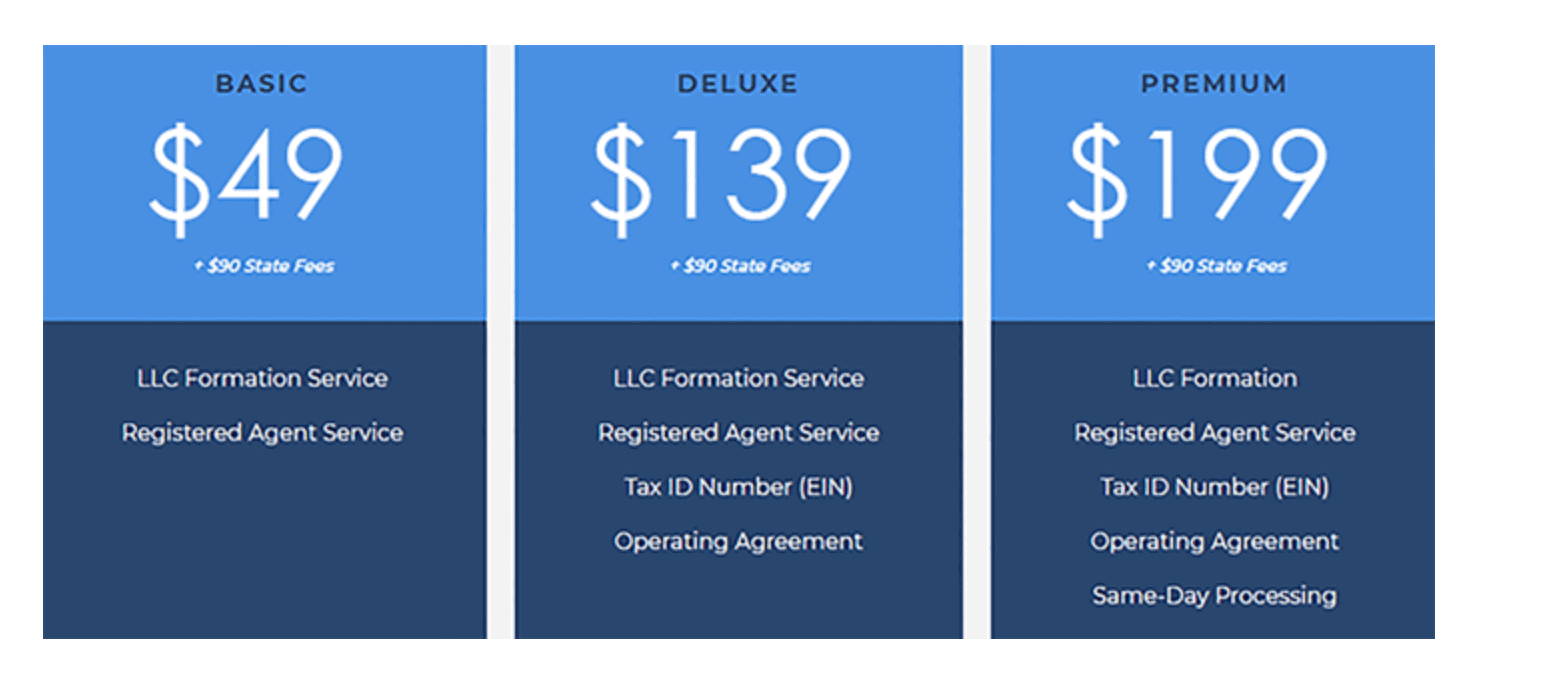 Basic Plan ($49 + State Fee)
This plan has just basic features such as finding a name availability in the state for your LLC. They will also help you in drafting and filing your company's formation documents which means all the necessary things can be done by buying this plan in forming an LLC.
This plan includes the agent service of one year which means all the documents of your business will be scanned locally and you will be notified to review them when you want. This plan is best for someone who just wants to form an LLC and is low on budget and looking for just basic features.
Deluxe Plan ($139 + State Fee)
All the features of the basic plan are included in this plan along with many more such as making an LLC Operating Agreement for your company which contains the information about how your company is formed and run. 
You will also get a Federal Tax ID number and with the help of that, you will be able to hire employees and open business bank accounts which will help your business. This plan is best for those who want to have an EIN and Operating Agreement. But if you have spare time then you can get both of them for free.
Premium Plan ($199 + State Fee)
All the features of the deluxe plan and some additional features such as all the filing processes can be done on the same day. This is best for those who want to start their business as quickly as possible and don't mind spending an additional $60.
These are the three plans available at Northwest and in my opinion Deluxe Plan is the best to start because it has all the features which you need.
Customer Review
The customer support system is also one of the best in this company because they offer the best support. Whenever you hit a wall you can talk to the guides available on Northwest. If you have any queries regarding the services of Northwest then you can directly contact the support team via phone call or email whenever you want and they will help you for sure.
Pros and Cons
Pros
This is one of the best and affordable options from all the other options available on the market.

Even at such a low price, you will get the registered agent service for a year.

The customer support is the best and you can get the best guidance from the experts available at Northwest.

The team of experts is professionally trained corporate guides which any of your business-related queries can be solved easily.

They offer better security than many of the other services and they don't sell your data for their own profit and that is the best part about them.
Cons
 It claims that it is the cheaper LLC service which is not true means there are services that charge around $30+ state fee and even there is a service IncFile that can help you form an LLC for free.

It is not as famous as LegalZoom because the customer reviews of Northwest are less better than that of LegalZoom's.
Northwest Registered Agent Reviews FAQs
🔥 Is Northwest Registered Agent is a legit LLC company?
Northwest Registered Agent is a reliable and legit LLC formation company that has a solid reputation in the market.
✅ Is a registered agent worths try?
Yes, registered agent services worths your try, and the annual fee would vary from $100 to $300 yearly.
👉🏻 What to expect when you place your order with Northwest Registered Agent?
Once you place your order with Northwest Registered Agent you will get same-day filling service. Also, they will send all info immediately to your online account to have a smoother workflow.
📌 How much does Northwest Registered Agent costs?
The Northwest Registered Agent costs around $49 along with state fees of around $90. This basic plan includes LLC formation services along with registered agent service.
Also read: Northwest vs ZenBusiness
Conclusion: Northwest Registered Agent Review 2023
The customer review of Northwest Registered Agent is good which means you can try using their services . All the factors are showing the good and best side of Northwest along with that their customer support is one of the best.
Even after all these positive factors it wouldn't be the first choice for everyone but you can't know everything about Northwest by just reading this review, you have to try it for yourself to know the credibility of Northwest.