Are you looking for s2Member BuddyPress Plug-in Review 2023?
Great! You are in the right place.
Working with a WordPress theme for a long juncture exposes us to the very popular software component, BuddyPress.
Get to know more about BuddyBoss with our detailed BuddyBoss Review —https://megablogging.org/buddyboss-review/
But what is s2Member BuddyPress? This article shares a subtle insight into the s2Member BuddyPress Plugin Review.
Needless to say how important a role BuddyPress plays in enhancing organic traffic and engagement on the websites.
But with every benefit comes a set of new responsibilities. Similarly, with more members on your site, it becomes tedious to get in touch with them and organize things accordingly. 
So s2Member BuddyPress plug-in is developed to help you do just that. With incredible features to support you in managing users who have paid membership, you can always call for more subscriptions to your website.
Comprises inexhaustible potential and has super flexible options.
The s2Member BuddyPress plug-in is indeed a boon to website owners. It is not only user friendly and extremely beneficial but also comes with a free version. What more does one need? The features which it offers are dedicated completely to the user's success. From protecting the content on your site to managing all your subscribers to assisting you in posting at regular intervals, it comes at a one-spot solution to bring about the organization on your website.
s2Member BuddyPress Plug-in Review: Overview
Have you created something special on your BuddyPress sites, such as a forum or a messaging board that you want to restrict access to, by asking your customers to pay a fee?
Do you want to create different levels of membership on your site, to make things more interesting?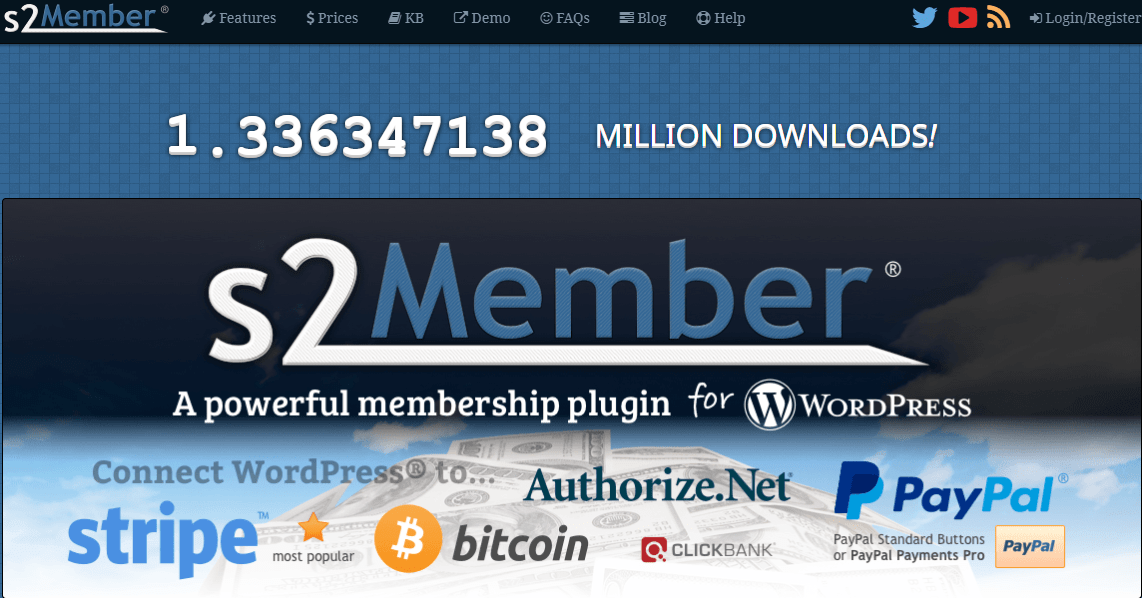 I have a two-word answer to solve your issues and help your website reach its full potential. S2Member plug-in.
This popular plug-in for WordPress, which can also be integrated into BuddyPress, allows you to create paid sites, by creating membership opportunities. 
And why should you use it? Don't you want access to a feature-packed plug-in, which is worth the money you spend on it? Let me make it simpler for you, by letting you in on a secret. Curious, aren't you?
How can you generate more revenue through your site? By creating attractive discounts and offers? Maybe.
But it is human nature to always want something extra, something unique, something which may not be openly available to all. 
See where I'm getting? Yes! Offering a service through your BuddyPress site or a course?
Well, add some special bonuses or supplements, which customers can access for an additional fee, and see your numbers grow!
This is where the S2Member plug-in swoops in to lend you a helping hand. Ready to learn more about it?
What is s2Member BuddyPress Plug-in?
So what exactly is the S2Member plug-in?
What does it offer that helps you create magic? S2Member is a versatile plug-in that lets you manage the various and sometimes complicated aspects related to a membership site.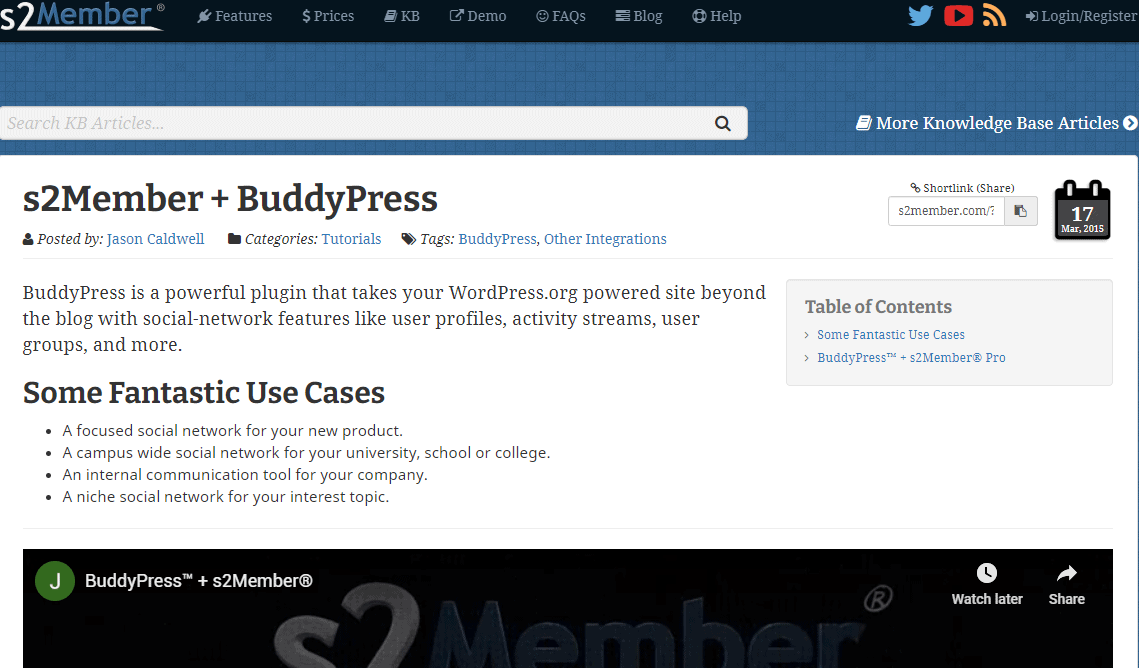 It's difficult to keep track of all the subscriptions by yourself. So, let an intelligent plug-in do it for you!
The S2Member plug-in makes your life hassle-free, by offering a plethora of features to help you take care of your customers, such as subscription renewals, creating and managing various levels of membership, setting up payment gateways, and much much more, as you will see as you read on.
In short, the S2Member plug-in helps you in managing and customizing your paid membership site.
It enables you to reach out to more customers by creating wide pricing and feature base that caters to different user groups and their needs. More satisfied customers mean more money in your wallet!
How do you use it?
Let me not sugar-coat it for you, for a beginner, the number of S2Member Features at your disposal may be likely to overwhelm you. Let us delve into the process of setting up this popular plug-in, and using it. 
Setting Up
Install and activate S2Member on your BuddyPress site, just as any other plug-in.

Click on settings, in the bottom left corner, of the plug-in page.

The settings page for the plug-in opens. 

Explore the options to customize the plug-in, from the S2Member drop-down menu on the sidebar.

And you are done!
Whew! Setting up was easy, but all those features! Makes your head reel, doesn't it? Now that you have installed the S2Member plug-in on your BuddyPress site,  let us have a look at how to use it on your site. Here's where it may get more tedious.
Remember the settings page? This is your key for customizing different features, under the membership option tab. Yes, there are quite a lot of settings to customize, but exploring them is made a little bit easier with the quick-start guide.
Under the membership option tab, you can customize different features such as membership levels, payment options, configuring your email, restricting site content to specific users, and a lot more! So what are you waiting for? Get exploring! 
How easy is it to use?
Now that you have installed the S2Member BuddyPress plug-in, and have briefly explored the features, you might be wondering whether you are the only one who finds it a little bit tricky to use. 
Yeah, you don't have to use codes as such, but what do all these features even mean?
Feeling a bit intimidated? You are not alone! The number of features that are listed under the plug-in, sometimes under complicated headings, will leave you hunting for something as simple as email integration! 
Let me not scare you! Here's how people find their way on the s2Member plug-in.
Click on the feature you want to customize, and voila! A brief write-up greets you with concise information about what the feature is, and how to customize it. 
Still, lost? Don't fret. Head on to the customer support section to find detailed solutions to problems that you might encounter. With a lot of features, sometimes the downside might be a lot of information to process at once. 
But that's the best part about the s2Member BuddyPress plug-in. Once you find your foothold and customize your membership site, you don't have to do anything else!
You may have to use the plug-in to add some fluff to your site, more membership levels, or payment options. But the big chunk of it gets over at the beginning! 
Now that I've put your mind at ease about using the plug-in, read on to find out more exciting features and tips and tricks! 
s2Member BuddyPress Plug-in Review: Features
1. Free Registration
You can enable or disable Free or Open Registration on any WordPress site. If you disable the settings, only paid account users can access your website.

And enabling the setting will allow the user to view your site. This might result in them joining your website eventually completing all the payment and form-filling procedures in the future. 
2. Flexible High Security
We are always worried about your data or content being copied. With s2member you can take a sigh of relief. 
S2member will protect all your URLs,  pages, posts, tags, Payment Page links, and all categories of conditional data that you would not like floating in public.
All this can be done by simply using the meta box shortcode, which will globally protect your content. All you have to do is integrate your website by adding the simple shortcode conditional "[s2Ipractisedrack 
3. Users' IP Address
Username sharing is not common but practiced a lot.
Technically, a membership account is just made for one member to use but few users share their user IDs to their friends or even make it public.
This is rare but you cannot take the risk and should be prepared to protect your system in case anybody tries it.
If a member logs in from various IP addresses it will be recorded by s2members. There is a certain limit to the number of unique IP addresses to be allowed.
s2Member can trace different IP addresses for multiple logins, and once the limit is crossed it will detect that there is a security breach and will put a temporary ban on the user ID. 
This helps you to shake off the risk of multiple user logins from a single user ID.
4. Content Restriction
You can easily protect your data and content with the help of s2member. It allows you to protect even a small section of your page or post. People usually neglect the necessity of protecting the content and suffer adversely. 
To protect your data you have to go to the  s2members Global restriction option and select the required settings. You will find a meta box where you will have the option to restrict your content.
The content will now be available to only the authentic users or those who fulfill your custom criteria. 
Sometimes you have to allow certain sections of your page to be public. These sections will bring you visitors and your future customers in this case you just restrict a certain section of your page.
Sometimes certain data is available to a member who has completed a specific action such as filling a survey or became a part of your mailing list. 
All this is a step towards having safe and protected content online.
5. Audio and Video Stream Protection
How many times have seen that video and audios are copied from a certain website or social media accounts and are circulated all over the web without any credit to the original creator?
No-one wants their original content to be copied and used all over the globe without any recognition.
S2member integrates with Amazon S3, Amazon Cloudfront, and with JW Player. These integrations contribute to protecting your content from being copied or used allegedly with your prior permission. 
6. Offline Payments and Create Your Account Manually
s2Member allows you to make payment in any offline mode such as by cheque, fund, or in cash. You can manually create the user accounts directly from your WordPress Dashboard. 
You also have the benefits of a Virtual Terminal which allows you to process credits card transactions by your logging in from your merchant accounts. 
7. Affiliate Programs
if you started with business online then you must have come across the word Affiliate marketing.
Affiliate marketing is a sales funnel system that brings in more and more visitors to your site by promoting and advertising your products and services. It is the easiest way to grow online.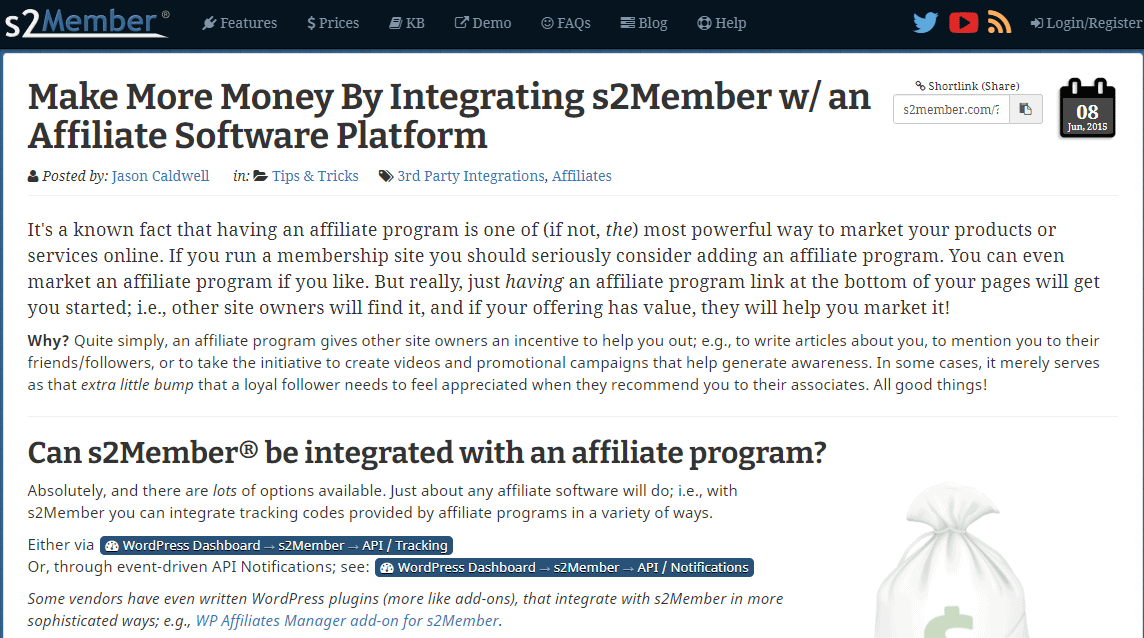 S2member recommends you to integrate with affiliate applications to provide you with the benefits of affiliate marketing. iDevAffiliate and ShareASale are the two best applications recommended by s2member.
They both have built a trust record for their efficiency and productivity. They are easy to integrate and you have to download no other software. 
See, it is that easy. 
8. Authentic Codebase
s2member has made his name for being extremely flexible and its extensive optimizing features are revolutionary.
Maintaining WordPress sites is a tedious task, which includes managing tons of data in a fraction of seconds. To make all this possible it needs a powerful codebase that can not afford to have bugs. 
One of the most integral features of these is OOP design which works along with PHP autoloading. Unlike its competitor plugins, it efficiently exploits the benefits of SPL autoloading using only the latest versions of the PHP.
9. Dripping content
Most of the membership plugins have dripping content.
If you are not familiar with the term, then for your knowledge Dripping content is a systematic method of releasing content on a page and website.

The content is released at regular intervals, if you are a paid user then you may access the entire content library. 
Dripping content is one of the core features of any membership plugin. It allows only a steady output of the content and thus prevents bulk downloads from users. 
You can access the drip content with only the pro version. But It is a great feature if you want your users to pay for content regularly. 
10. Easy Customization
It allows you to customize your page according to your requirement and preferences. You have the authority to make changes wherever you feel necessary. With its custom setting, you can modify your page according to your wish.
If you want to completely brand and tune all for your subscriber, you can do it seamlessly.
The accessibility of each membership level, picture, video, or even a single character is at your mercy. You let everything go public or keep all to yourself.
11. Unlimited Membership Tiers
Conventionally, membership plugins do not offer more than 4 tiers. And the same holds true for the free version s2member. But the Pro version is the actual game changer.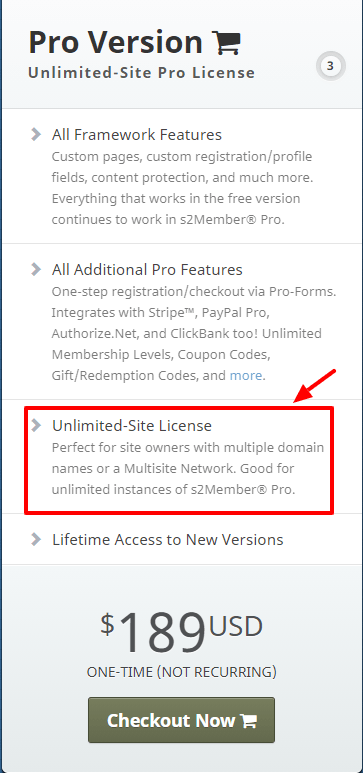 With the Pro version, you have no limit whatsoever on the number of tiers you want. You can also define the functionality and accessibility of each tier. In simple words, you can control what a user can view or access from a particular level. 
Though a word of caution. The more the number of plugins, the more complex it becomes for you and your users to comprehend it. So go for multiple levels only if you require it. 
Don't go on making your life complex unnecessarily.
12. Download Restriction
BASIC – When we say 'basic', we mean that you can control access to the different member levels of your membership site.
You can allow certain files for a particular member level and deny access for it to the lower member levels. For example, you might not allow level 1 members to download more than 10 files a week or a month, surely the number of files can increase as the member level moves up.
Advance–
For the advanced level, you generate a specific download key. As the owner of the site, you can sell these download keys to anyone you desire.
With this feature, you can come up with a completely new model of selling your content to the audience. Content is really valuable to the public then surely you will have profits in the long run
Protected–
The protected level is used for receiving the documents into a cloud-based server. You can generate a private URL and let people access it with any of the basic or advanced methods.
Your files are saved in a cloud-based server like Amazon S3 Bucket. You save a lot of storage places and you don't have to worry about hard disc files and Storage areas on your systems.
13. Protection Against Exhaustive Key Search
Many people try to access the user IDs of their members. They use a trial and error method to apply some pretty good guesswork too.
Some people keep very simple passwords or character combinations which are easy to guess and make them vulnerable to these frauds.
The probability of such frauds getting your passwords is very less but still, you don't eat that risk right? 
So it sounds to protect your system for ID from getting hacked by a fraud. 
To prevent brute force attacks, s2member monitors the number of failed login attempts for a particular account in a short period. If the system detects multiple failures from a single IP address a temporary Pan is created.
This is done to prevent any additional attempts for the next 30 minutes for that particular IP address.
Do you will be notified via email about the temporary ban.  If you say that it's not you, you can either change the password or report that particular IP address.
14. Integration
Surely you will lose the track of count if we start listing all the integrations that s2member has. This membership login is not just any other code-based WordPress plugin. the various integrations it has makes it unique. 
Now we will list some of the most common integrations for you.
PayPal Standard Button Integration
With the integration, your members will not have to go separately to the Paypal website to make payment. This integration Cuts of the to and fro journey of the user and saves effort and time.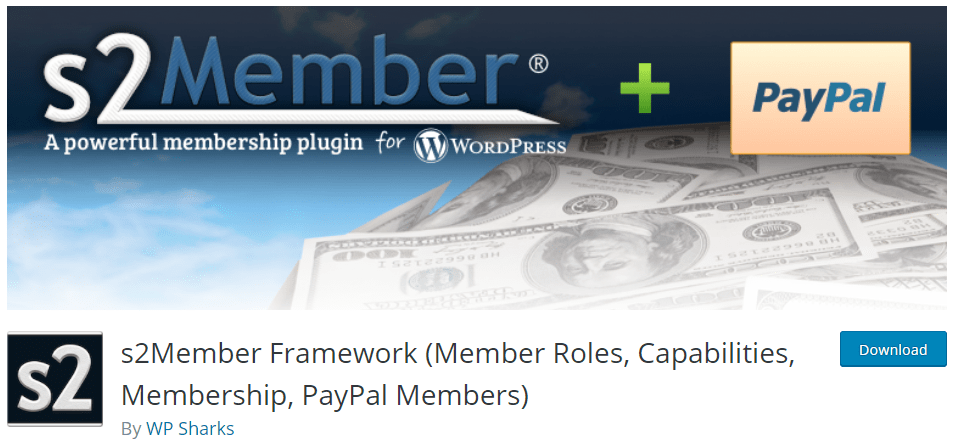 As you have integrated with PayPal you get to access their all form features. That means you can make payments via debit card or credit card or through your Paypal wallet. 
ClickBank Button Integration
Clickbank works very similarly to PayPal integration. Likewise, it saves your time and effort of going to the ClickBank website to make payments.
You have the benefits of ClickBank and follow the same pattern as you do with PayPal. 
Mailing List Integration
For pre-integrated mailing list servers, s2member integrates with MailChimp, AWeber, and GetResponse.
All of these above integrations will help you to send an email newsletter to your customers. You need not worry about creating a subscription or mailing list. Just leave everything up to the integrations. 
You can integrate it with any mailing list irrespective of the length of the list. You can send them unlimited information about your business or product and turn them into paid users.
MailChimp is quite popular among the 3. People love it for its fascinating API and low price.
You can also choose AWeber if you want some advanced features like split-testing and geo-targeting. Geo-targeting is simply promoting your business to people of a specific geographical location.
Affiliate Application
s2member strongly recommends you to integrate iDevAffiliate or ShareASale as your affiliate marketing platforms. They have always been up to the mark in fulfilling the expectation of their users.
Affiliate marketing platforms help you set up an Affiliate program that will promote your product, content, or services. They provide you with an affiliate who will advertise your content on your behalf. 
Affiliate applications like iDevAffiliate or ShareASale have yet not failed to help small businesses get their due recognition from the public. With no extra software to download along with a super-easy interface is worth its hype.
BBPress Integration
You must have heard about the BBPress plugin which restricts un-friendly users to get hold of your accounts.
The best part about this plugin is that you can effortlessly integrate with either WordPress or s2member and they work so harmoniously that you would not feel a difference of a secondary integration. 
That is what we call "Made for Each other". 
The integration procedure is a matter of a couple of clicks and takes about five minutes in total.
BuddyPress Integration
BuddyPress is well known in the market for creating social networking communities. With this powerful website at your aid, your monotonous WordPress site will transform into a fun, interactive, and social network. 
It would feel like you are the next Mark Zuckerberg when you add the features of profile addiction, community, live streams, and posting texts, pictures, audio, or video content. 
Users relate to these jovial features and enjoy exploring more on your site more.
User Experience with Interface
The last thing you need is a complicated interface, which you just cannot get a hold on.
The thing about the S2Member plug-in, is that it is jam-packed with customizable features, which you already know, can be overwhelming to beginners and experts, alike.
There are around 250 options that can be customized, and the tiny font, against the green backdrop of the Membership Options page, can put you off, especially if you are used to plug-ins that use the drag and drop feature.
 A lot of customers do not really find the interface to be very user-friendly, especially at first glance.
With tons of in-depth writing about each feature, and a not-so-clean interface, the s2Member BuddyPress plug-in, may be difficult to connect or relate to. 
It might actually remind you of those old versions of operating software, with their blocky designs and their blue-grey-green backgrounds!
But, hey! With a little bit of patience and exploring, you can definitely get the hang of the plug-in. Some might even say that the struggle with the interface, may actually be worth it in the end!
After all, you do have tons of customizable features to set your website apart! Once you get the hold of it, you definitely will not have any second thoughts! 
Don't worry about the interface! You will either get used to it, or the updates that roll in, may take the user testimonials into account, and eventually lead to a sleek and friendly design! 
BuddyPress Alternatives 
Now it is time to look at s2Member BuddyPress Plug-in's competitors in the market.
1). MemberPress
MemberPress is yet another wonderful plugin that aids in setting up a membership website with WordPress.
The best part is that it can automatically set up pricing, log in details as well as the account details. Oh yes, the thank you pages can also be formatted automatically for the user's credit.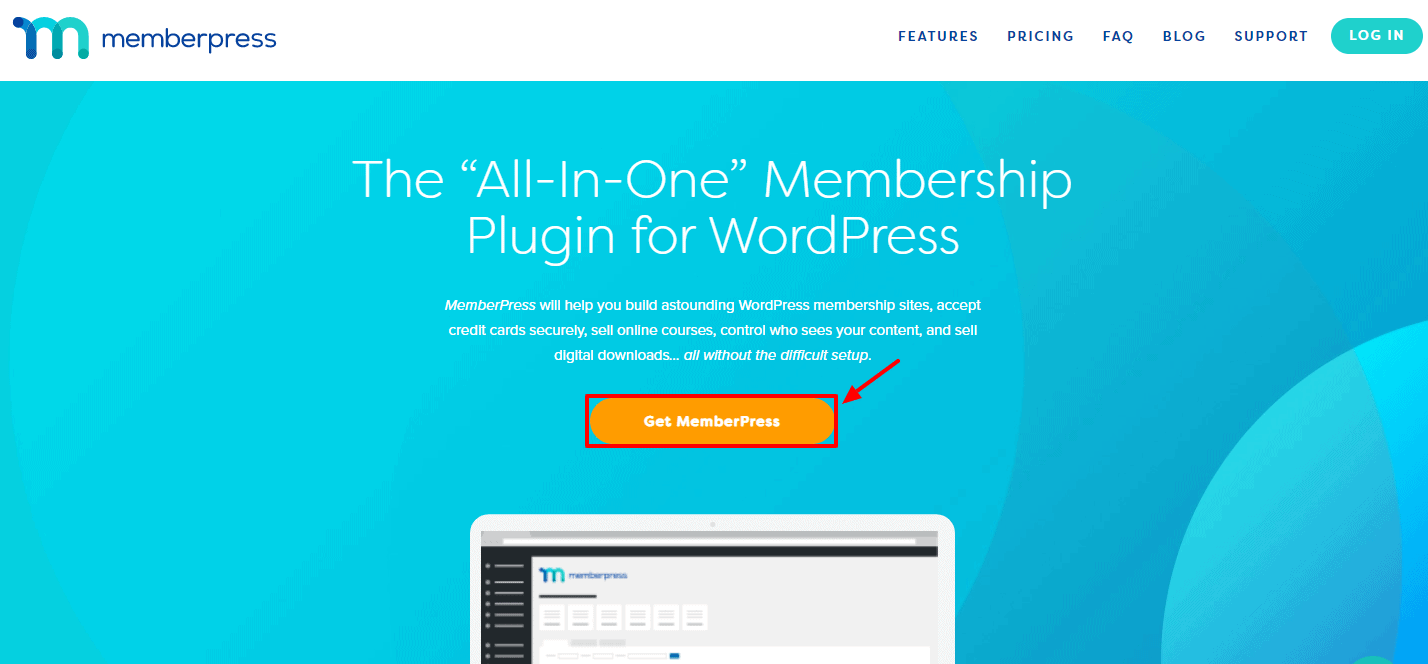 It also has seamlessly powerful access control, that enables you to restrict access to content such as posts, categories,  pages, and other displays.
You can also raise aloft the restrictions with Content Dripping. The restricted content can be seen by the members after a certain period. This feature is extremely useful while you are peddling online courses.
Apart from this, it can also be integrated with Amazon Web Services,  BluBrry, AWeber, and other various podcasts hosting and email services. MemberPress also comes with incorporated support for PayPal and other payment gateways.
2). LearnDash
LearnDash is a magnificently nimble WordPress plugin. Unparalleled in advancements, it comes with membership modules and loads of integrations.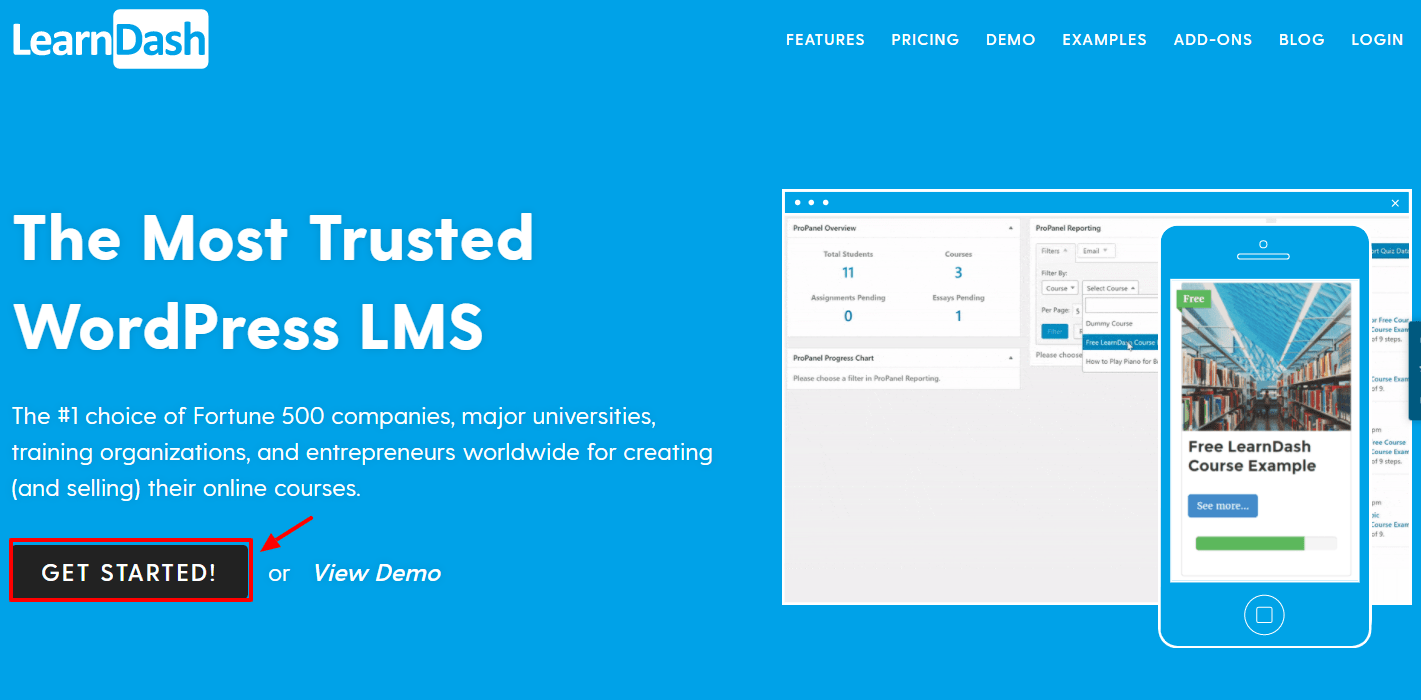 It's also quite easy to be set up and adding content is a facile process. It also comes with advanced tools that make organizing a cake work!
LearnDash also permits you to oversee learning materials that make it easy to develop and retail online courses. It also has similar features like content dropping that has a powerful clutch upon the access.
Its tools aid you in developing highly engrossing membership sites. Quizzes? User badges? Forums? Well, you have got it all covered here.
3). Teachable 
Just like the other plug-ins, Teachable also has a user-friendly interface. You don't need to learn any technical skills to set up. Well, get on then. Creating membership is within your repertoire now! Roll out and start creating and uploading videos, images, and other forms of content.
Teachable also includes the Drip Content feature and has advanced features that make the content all the more engaging and offer a platform where you could generate quizzes, build discussion forums, and construct powerful communities online.
4). Restrict Content Pro
Restrict Content Pro skillfully integrates with the WordPress user interface. It's also one of those plugins, wherein you would find no complications in figuring out its usage.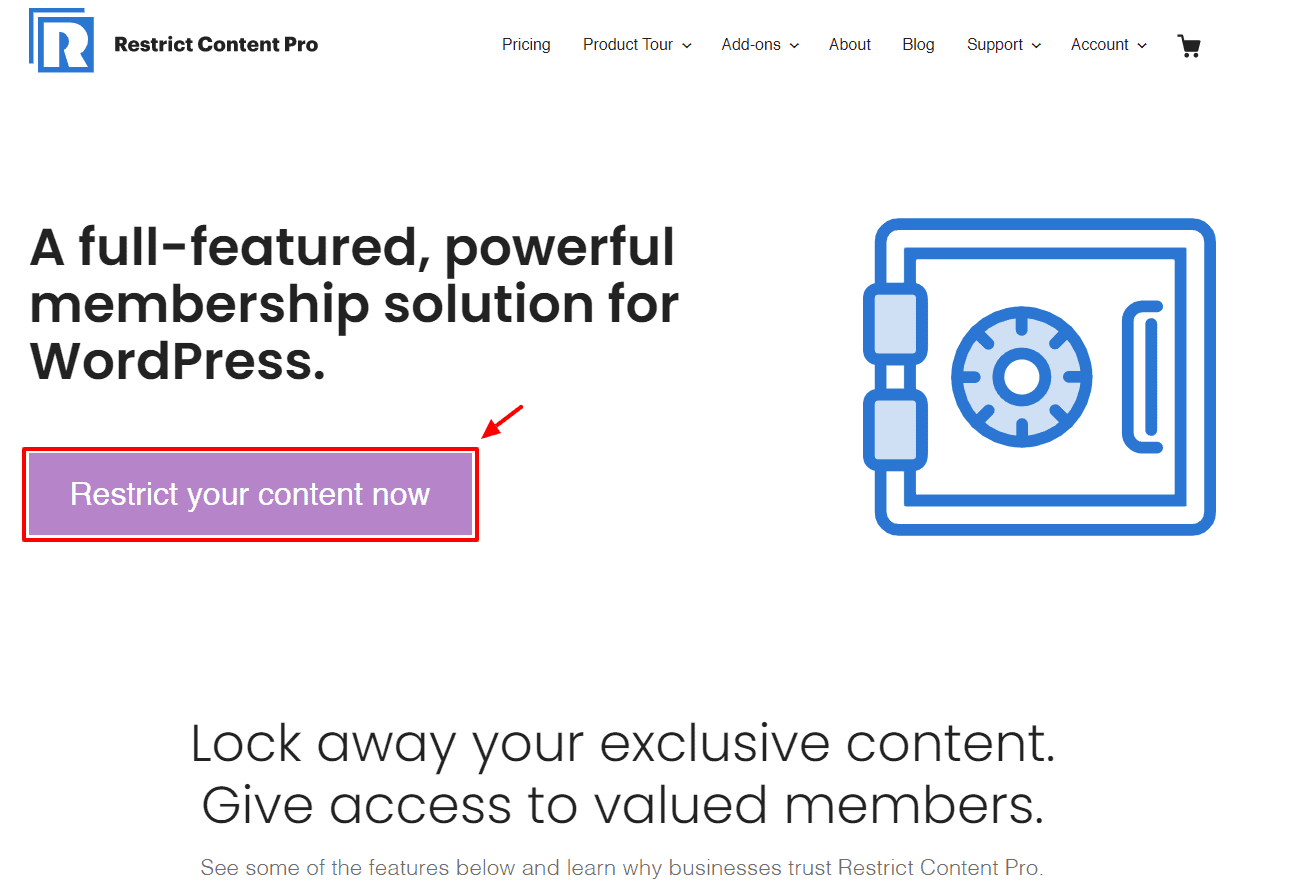 This Plug-in comes with inbuilt integrations, unlike the other membership plugins. This saves a lot of money that otherwise has to be bought as paid addons. It has notable features such as MailChimp, CSV export, PayPal, and well, the list goes on…
You can also document and attain professional support via email. The process is super quick and efficient too!
Now, it also serves as a perfect companion to Easy Digital Downloads. So it's excellent news to all those who trade their digital products using this.
This membership Plug-in has other payment gateways that come as free add-ons.
Pricing: s2Member BuddyPress Plug-in Review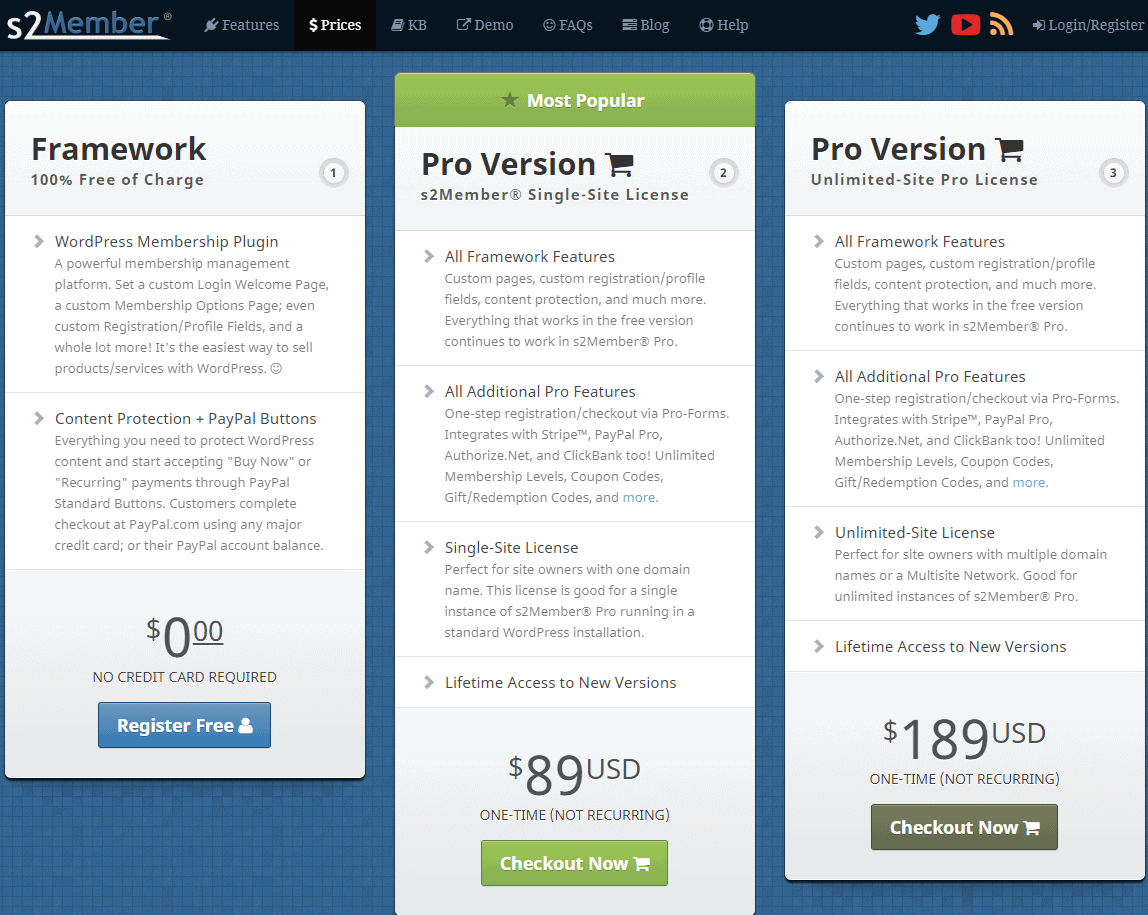 1). Framework 
You must be wondering what fortune it will cost you so get so many features all together in a single plugin. 
Well, there you are, the basic or the framework version is free of cost. You don't need to spend a single penny for this spectacular plugin. 
So, what are you thinking about? Don't you want to build a great community and climb the ladder of success?
You might be doubtful about its effectiveness now that you know it is free of cost. 
Trust me, that's the best part of it. Since it does not cost you anything, it is worth a try. 
2). Pro
This is the most popular subscription among the clients of s2member. It empties only $89 just once from your pockets and wrenches out the best for your business. You get all the basic features for a single site. 
This is the lowest rate that s2member offers This version has proven to be most indigenous to the users for versatility.  
Some of the determining features of this subscription are;
-ClickBank Integration
-Single click registration and checkout
-No limit on Membership tiers
-Anti-spam feature
-Gift coupon and Redemption codes
3). Pro Unlimited
o get the best long term benefits you can choose the Pro unlimited subscription at the price of $189. This does not have any new features or add-ons except the fact that you can use it for unlimited sites.
Though if you want to keep your work simple yet extensive you can certainly go for this. In the long run, the sum of money invested is completely extracted through business profits.
4). Refund Policy
Although the probability of having any issue with this plugin. S2member practice what they preach and stand by every single word of their policy. 
Since s2member is an open-source irrevocable software similar to the WordPress with it comes with a GPL license, so the decision of refund solely depends upon the s2member, considering your unique case. 
If you face any problem regarding the plugin you will be assisted by the support team.
Even after all the assistance from the support team and clean installation of WordPress, you continue to face problems, you are free to request for a refund. You qualify for the refund only within 14 days after the purchase was made.
But we cannot assure you whether you will get your refund or not. As already mentioned, the decision rests upon the S2member entirely.
And the refund request should be made within 14 days, after that under any circumstances you are not applicable for the refund. 
The refund is usually processed within 14 days following the requested date.
Member Management 
The management of members is a flawless process as it integrates the roles and capabilities of the user system of WordPress.
The objective is definitely to automatically add and revamp members. This makes the process prompt and rapid. All you have to do is assign the membership levels and their compensation citations at the end of the term.
The clear interface permits you to add and eliminate members effortlessly. Apart from this, the corroborative system allows you to easily demote or upgrade members as per your choices.
Now, what more can we ask for? Oh yes, you can generate shortcodes as well! These shortcodes can then be utilized to edit profile pages, revocation of pages, or proceeding upon billing procedures.
With the highly successful management system, you can now keep tabs on all the members and carry out actions in a nick of time!
Support and Security
After reading all this, you will be left with several doubts. You might face difficulty integrating the plugin with your WordPress site. So What can you do in that case?
Apparently, s2member BuddyPress Plug-in provides you with an excellent support system. Just go to the official website and drop in all your queries and doubts. You will receive a reply in no less than an hour.  
You can even go through the categorized posts or continue your quest among FAQs, to see if your questions are already answered. Once you visit their site, you will be amazed to see how many questions they have answered. 
The customer support offered is definitely a plus point, due to the sheer number of features at your disposal. The documentation on their website is clear, and to the point. If you ever feel lost, you will definitely be set on the right track by the s2Member customer support!
To put you even more at ease, there are online forums, by the users of the plug-in, where you can hear from their personal experiences. 
You definitely realize how much-complicated features this plugin has. With the complexity comes the fear of breach in security. S2member is very particular about the security of its data and its user's content. 
With their efficient IP address tracking system and protection from brute force logins speaks a lot about the security granted. The initiative of the temporary ban on the IP addresses which cross the limit of failure makes sure your data is safe and sound.
No one can assure you that your content is 100% safe from the Fraudsters, but you have the surety that the best possible measures are already applied.
Pros and Cons: s2Member BuddyPress Plug-in Review
Pros
United basic plugin

 

Content Plopping-

It comes with content popping up.

Remittance entrée-

The free installment compliment PayPal. On the other hand, the Pro Version supports Stripe and Authorize.net indeed.

 

Testament and Support-

It provides an intense and stretchable information base accessible to each one of you. They are also provided with email-based support.

Encompasses a

free trial

that provides a great understanding of the functionality of the plug-in. Anyone can access it by downloading it. Limitations 
Bounds only with certain features and standpoint yet give you an initial good starting point.
Comprises inexhaustible potential and has super flexible options.

This opens up opportunities for complex websites and portals with a majestic scope.
Cons
Not very user-affable.  

It's more difficult to use this membership plugin than other associated membership plug-in. The intricacy of the set up can be quite intimidating and discourage users.

Free installment Restrictions-

The free version only compliments PayPal, it has a limitation of only 4 subscription levels and doesn't provide a base for plopping content salients.

Very Stringent Refund Policy-

s2member has the sole authority over any refund they make. You have to request for a refund within 14 days of purchase. Even after the request, you have no assurance of whether you will receive your refund or not.
Quick Links: 
FAQs on s2Member BuddyPress Plugin Review
👉 Would s2Member support family accounts or groups?
Unfortunately, there is no such option. However, you have got nothing to worry about. There is something similar to it if not the same. The concept of Roles and capabilities is a set of permissions that can allow you to perform specific actions on your site.
👉 Would the free version of s2Member still be under active operation?
Yes, definitely! s2Member foundations are laid upon the free version. It can't be jeopardized. Therefore, the free version would always be functional and under constant development to catch up with the current frameworks of the s2Member.
👉 Does s2Member prevent simultaneous logins?
Yes, s2Member has got an advanced Simultaneous Login monitoring. If it detects multiple logins from a single IP address place a temporary ban on the particular IP address. You can chill out since the highly advanced system would prevent any breaches in security.
Conclusion: s2Member BuddyPress Plugin Review 2023
The s2Member BuddyPress plug-in is indeed a boon to website owners. It is not only user friendly and extremely beneficial but also comes with a free version. What more does one need? 
The features which it offers are dedicated completely to the user's success. From protecting the content on your site to managing all your subscribers to assisting you in posting at regular intervals, it comes at a one-spot solution to bring about the organization on your website. 
You can use the free version but paid plans are available. And as anxious as it sounds the paid versions confer additional benefits. It's completely up to you to decide based on your requirements.
To be precise, no matter whether you invest in this plug-in or not, this will push you up the ladder and make your wallet heavier every day!