In case you have an online shop and want to sell your merchandise on Amazon, then this Sellzone review is what you must have been looking for!
Selling on Amazon!
Today Amazon is one of the leading and most powerful eCommerce websites in the world, that offers small, medium, and large-scale e-commerce companies a universal channel to sell their products and expand their businesses to a targeted audience while also ensuring maximum outreach across the globe.
The internet is booming and the eCommerce industry has experienced the maximum growth in the last 10 years, becoming a successful and reliable source of income for businesses that wish to sell and expand online.
When you're trying to sell or make plans on Amazon, it's always recommended that you visit their site once a week or once a month to assess, evaluate, and start finding out how to concentrate on enhancing your product listings and helping to get your sales to a higher position, regardless of how you do it on the site.
To do this effectively, you can look for ways to complete the Amazon lists A/B test so that you can quickly understand and determine which category performed well or which is appreciated and respected by your customers.
Sellzone Review 2023 (formerly Sellerly): Best Amazon Marketing Tool? 
So if you were looking for a service like this then you are reading the correct article, since we will be discussing a strong 'Sellzone' Amazon
Reseller platform service within this post, that will further allow users to enhance and boost up their Amazon listings significantly, allowing you to access the traffic information that will allow the users to accomplish split tests on your brand items.
We would also inform you of all of the functionalities, costs, operating system, and other advanced functions, you must understand about Sellzone so that you can make a decision whether or not such a sales tool meets your expectations!
What is Sellzone?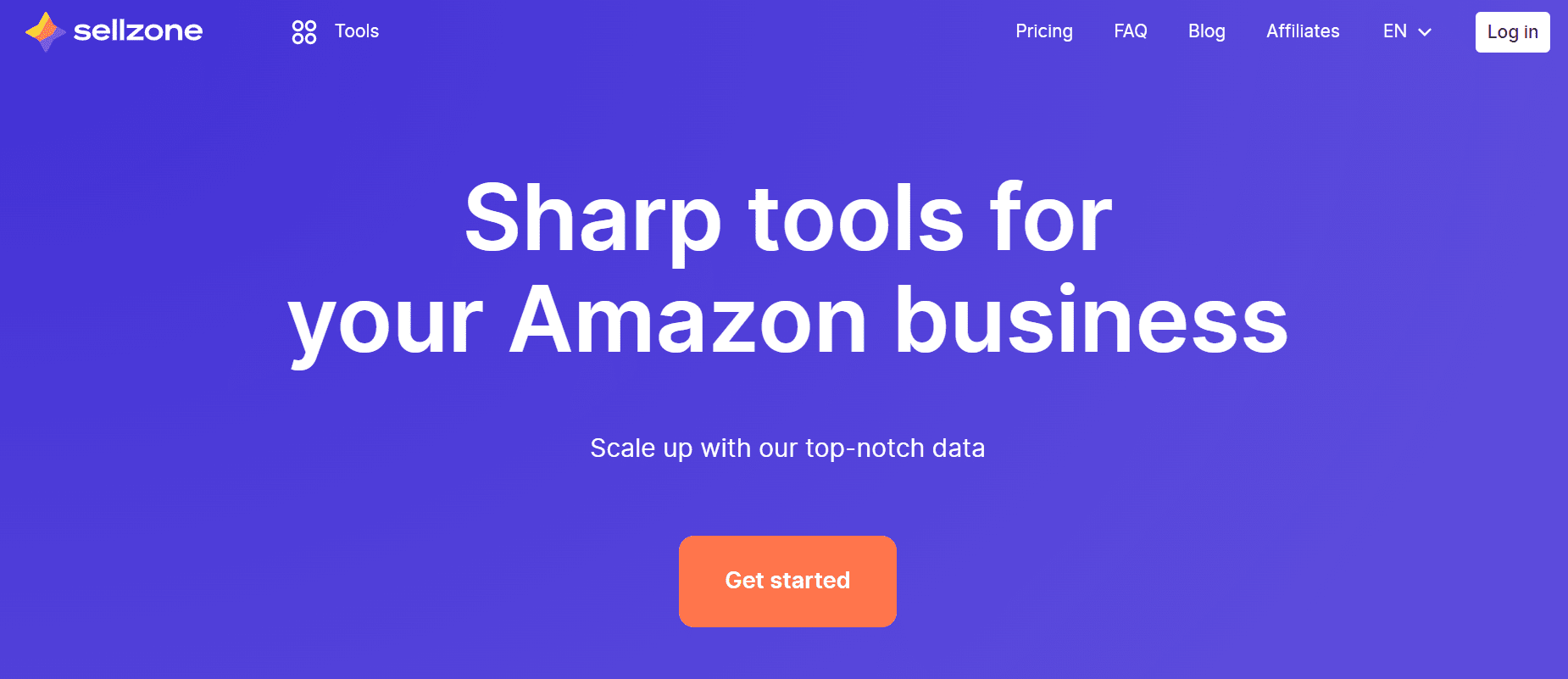 Created by Semrush, Sellzone is a marketing and sales management tool that contains a range of key resources and some powerful features designed to allow Amazon sellers to enhance their performance through listing quality checks, listing audits, effective insights, traffic-boosting suggestions, and split testing.
Sellzone is commonly recognized as the ideal toolkit for Amazon marketplace product retailers (Amazon businesses) and sellers searching for effective solutions to boost their popularity and sales.
What is Sellzone used for?
With the aim of offering a single right opportunity for the online marketing demands of a business, Sellzone was developed under Semrush.
The techniques have been developed to encourage users in improving their marketing results online, thus enhancing the workload and that of other members of the team and saving energy and time in regularly scheduled activities and assignments
Sellzone Key Features & Tools 
As a seller on Amazon, you would always want an online marketing solution that brings you the right tools for maximizing and organizing the overall performance results of your e-commerce business effortlessly while also competing with your rivals on the platform and exploring your revenue growth.
1. Listing Protection
The Listing Security tool from Sellzone is a powerful online monitoring system that helps Amazon sellers keep track of their listings' rankings, exposure, and market price, details, and requirements, and changes in Buy Box ownership and control, among other things, by providing information and warnings about several infringement concerns like list hijacking, etc.
This tool has been developed to focus on automating the monitoring and tracing of your listings on Amazon by sending you notifications whenever your item's keyword positions and prices, and your purchase boxes, change.
The program also warns you if your listing is being suppressed, based on the use of Amazon MWS tokens and the link to your Amazon account page.
All in all, this method also allows managing scouting systems, as well as tracking and analyzing changes in Buy Box ownerships and rival sale prices, a breeze.
This enables the consumer to efficiently control their marketing approach and devise tactics that will help you outperform your competitors by growing revenue and profit margins.
Setting up Sellzone Listing Protection
To set up and to use the Listing Security tool, Sellzone offers a very user-friendly interface and experience.

A product listing can simply be added to Amazon by attempting to enter the product page's Web address or perhaps even the ASIN.

You will then be intended to enter the primary keyword to monitor and then to see whether your product listing did appear for the search terms you focused on Amazon's search engine results.

You can also verify and change the title of the retailer according to your requirements and preferences.

This will be useful if you wish to know when someone is out of your company on the buy box, or if the average market rate of your item is admired.
Key features of this tool:
Choose between getting notifications either through email or SMS to customize your messages.

Track search results for your item

Evaluate buy box situations and alterations in market value

Receive notifications for thieves
2. Traffic Insights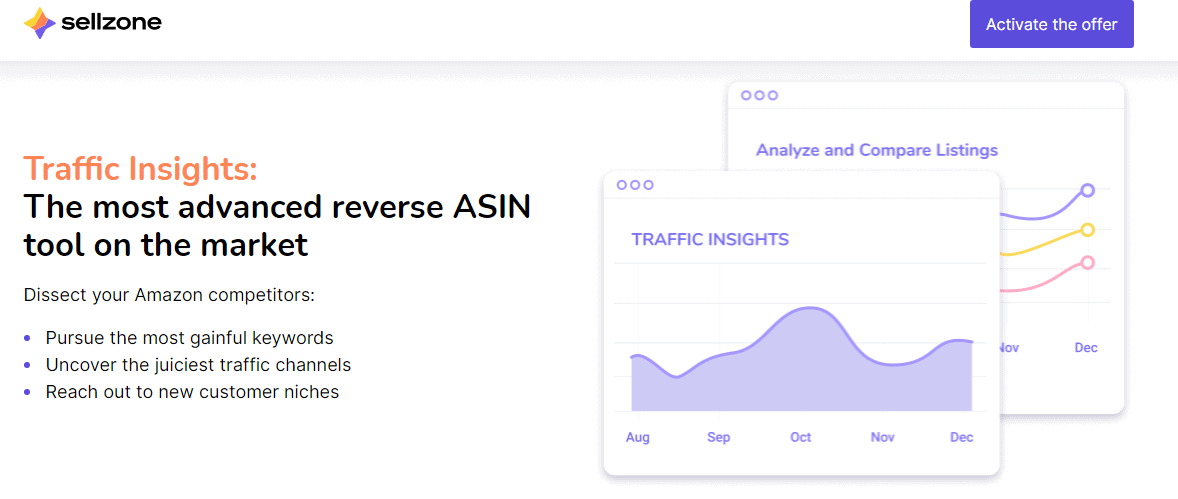 The developers of Sellzone have also devised a method for providing you with useful information about your brand's traffic.
Sellzone's Traffic Insights tool is designed for advertisers and marketers who want to find and evaluate the most efficient external traffic sources (non-Amazon) for their brand's Amazon page.
By performing a quick Amazon search for your item's keywords, you can use the search results to find the best Amazon listings for which your company will be competing.
The app will instantly assess and warn you of which external traffic sources will have the most impact on ths sales strategy of your product.
Setting up Sellzone Traffic Insights
Sellzone has ensured that the ultimate installation process for the traffic analytics software is simple and straightforward for you, guaranteeing that you do have a positive customer experience while trying to set up and then using it.
The traffic insights tool makes it possible to connect up to three listings –
You always have the option to upgrade any listings you want, even though you're not the creator of the listings.

What you have to do is just insert the ASIN codes for the competitive listings.

The Traffic Insights tool would then instantly undergo a comprehensive analysis of every listing's traffic-building approach.
Key features of this tool:
Identify the most productive traffic sources.

Investigate and know about your opponents' tactics.

Greatly improve and fine-tune the company's advertising campaign.
3. Listing Quality Check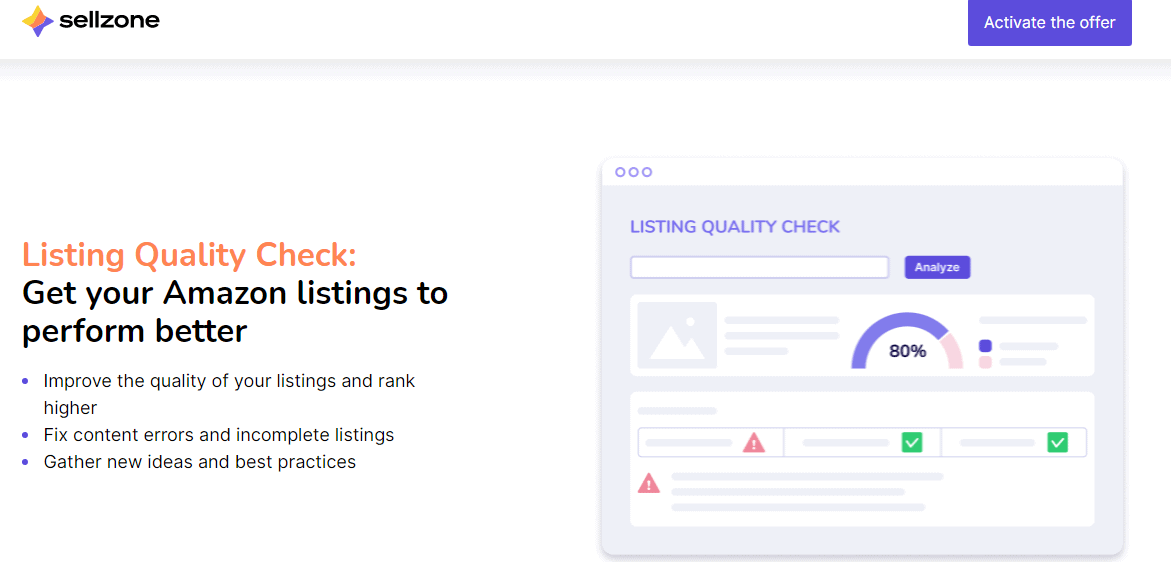 Sellzone has developed its native Listing Quality Check system, an audit tool designed to help you increase the visibility of your product page, and many other relevant advertising statistics such as income and CTR.
The tool is a powerful audit tool for Amazon listing that ensures that item listings adhere to all Amazon sales and marketing requirements and guidelines.
As a result, the app will provide you with a wealth of insights that are highly data-driven for increasing product visibility and increasing conversion rates as a result.
These methods and recommendations are based on the expertise and knowledge of a number of individual and commercial experts who can advise you on the best, and possibly most effective, business strategies that will allow your company to succeed on Amazon.
Setting up Sellzone Listing Quality Check
To create a listing, all you should do is copy your URL or ASIN.

Gain access to the relevant reports that help you to analyze the success of your product description, as well as many other appropriate promotional metrics including profits and CTR.
You may make the appropriate improvements and adjustments to your Amazon listing with the guidance of these reviews.
You may indeed perform certain specialized listing modifications by heading to the page of all failures and active reviews identified under the following buttons:
4. Listing Quality Score
This tab will open you up to all of the previous evaluations you've undertaken to check the potential performance of your Amazon listings. These ratings are dependent on how many good and negative reviews you've completed since then.
5. Amazon Requirements tab
This section allows you access to facts about your Amazon listing, including whether it conforms with Amazon's standards, so you can avoid or discourage your listing from being blocked.
6. Amazon Style Guides tab
This tab offers you access to details about your Amazon listing, like whether it ensures compliance with Amazon's style guide, and also some helpful tips for modifications depending on the style guide, so that you can stop or keep your listing from being disabled.
7. Best Practices Tab
This button will give you data-driven approaches to improve your awareness and continue increasing your conversion rates.
Such concepts and techniques are based on the information and knowledge which is shared between other professionals in the sector and the business, who would provide the best possible methods for Amazon to assist your marketing campaign to perform excellently.
The "All Checks" button could also be used to have a comprehensive listing review in a single problem list.
After your listing modifications have been completed, re-launch the listing checks to determine that any major error is not overlooked.
Also, there is hardly any limit to the number of listings that the users can verify in the Listing Quality Check tool.
Why this tool is a must?
Allows you to check if the Amazon Style Guide, as well as general rules, match the full list.

Fixes unfinished lists and possible errors in subject matter

Collect methods and beliefs from professionals in the field and instructors, innovative and exciting
8. Split Testing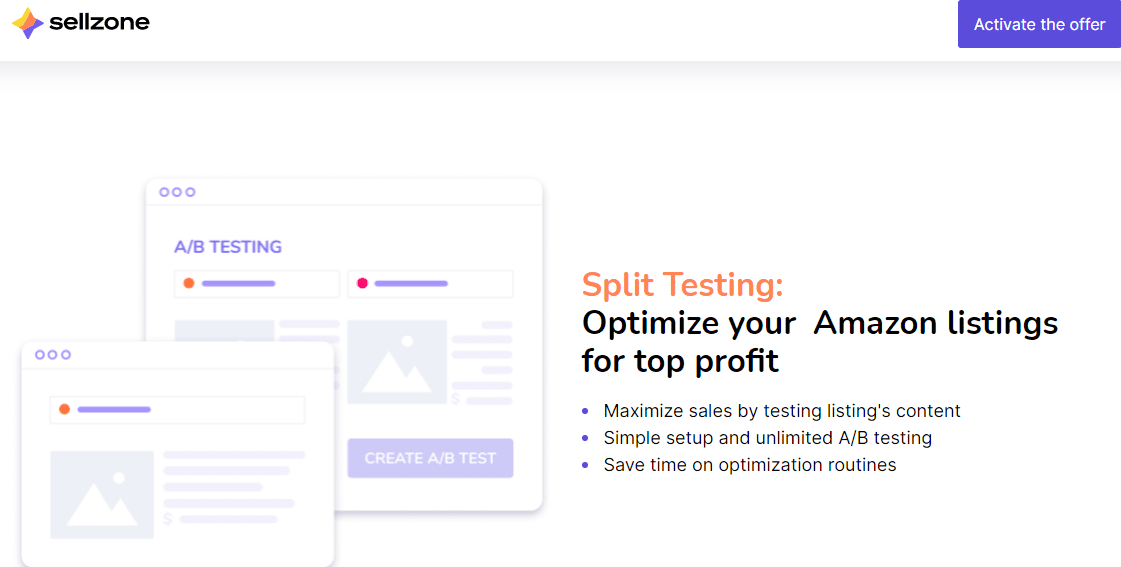 Sellzone's split-testing tool is available for free to all Amazon vendors, and it is available in both free and paid subscription plans.
The tool is easy to use, intuitive, and helps Amazon sellers fine-tune and modify their listings so that they can run split tests and then optimize key page metrics including page title, product title, product descriptions, prices, and images to ensure optimal page quality and improved sales over time.
There are also no limits on the number of Split Tests you can run with the app, allowing you to run multiple experiments and tweak your Amazon listing requirements to build the perfect listing that will produce more conversions and eventually lead to more sales.
Setting up Sellzone Split-testing tool
Using your Amazon Seller ID and MWS Auth Token, log in.

Focus on making minor changes to your Amazon listings a few at a time, instead run split tests for at least 7 days to really get descriptive reports and appropriate performance indicators.

Analyze the collected information in real-time and create applicable data-driven actions.
Key features of this tool:
All of your product pages can be managed from one location.

Receive real-time information about product views and conversions.

Continue increasing your earnings
9. Referral Reports
Brand owners and marketing departments may use Sellzone's Referral Reports resources to evaluate the load testing of connections from other websites.
The software can also detect domains that could possibly drive a number of visitors to competitive deals based on your opponents' goods. You can learn and discover new opportunities and strategies for advertising collaborations and connectivity by gaining access to the data and statistics.
Sellzone Pricing Plans: How Much Does Sellzone Cost?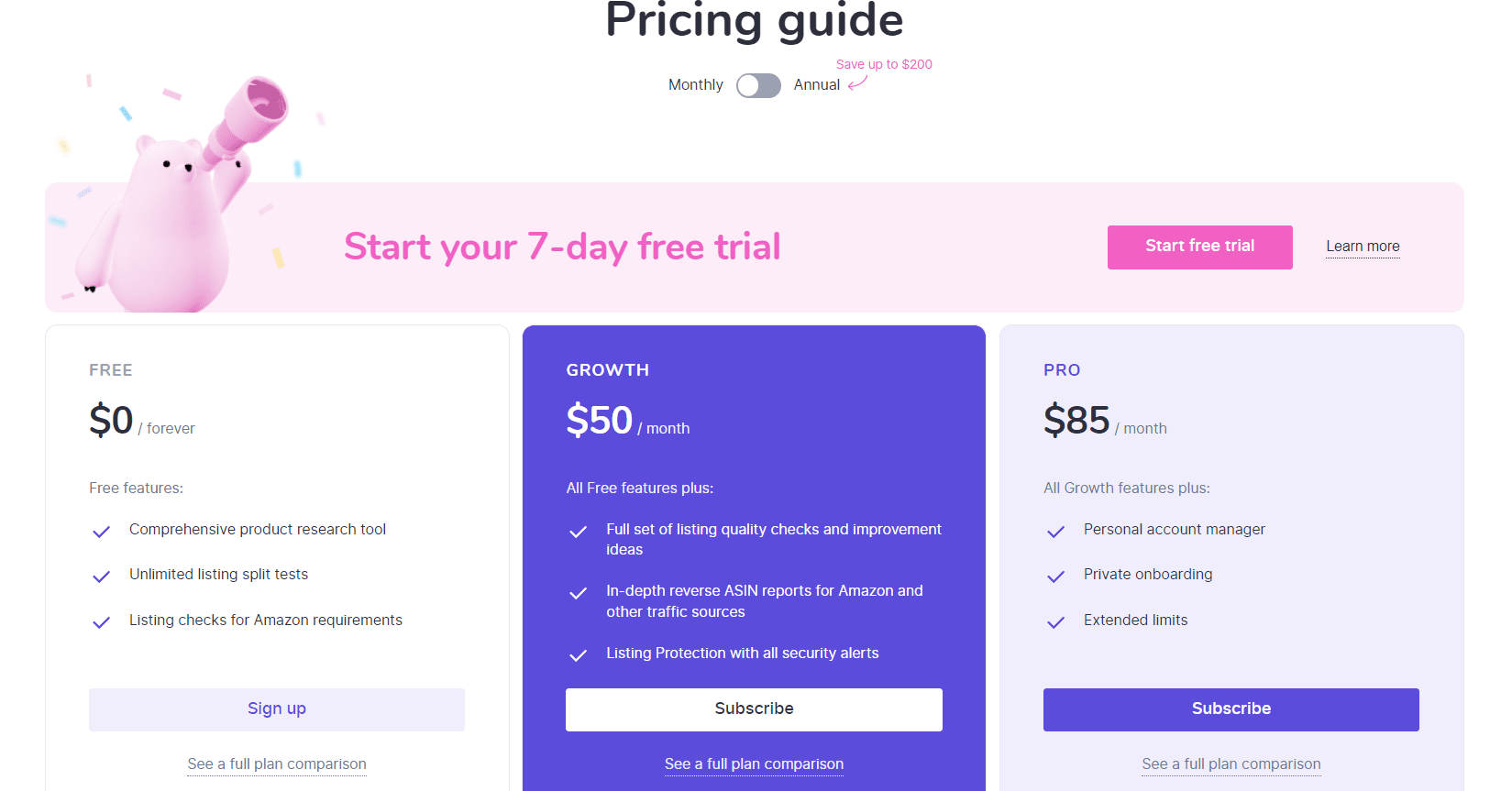 Sellzone currently offers two plans, which can be found on their official website's pricing page. You may choose between Sellzone's free and paid package to begin with.
The paid plans come with a free trial period for 7 days, in case you wish to check out the features they offer before committing.
The Split Testing tool is available as a free complimentary tool with both the free as well as paid plans, a significant plus according to us.
Although the free version could be appropriate for short marketing departments and products, it comes with other drawbacks, such as access restrictions to Sellzone's software.
If you're using all of the Sellzone resources listed above, you can upgrade to the Growth subscription, which will provide you with immediate and unrestricted access to the entire Sellzone program for $50 a month.
Customer Support
Sellzone relies on Semrush's expertise and credibility among its clients when it comes to marketing and assisting. Since Sellzone is created by the developers of Semrush, the users can expect top-quality customer service.
The Sellzone support team is linked to Semrush via a direct email address on their main website, which is a significant benefit.
You also have the option to contact their customer service team via their official Facebook, Twitter, and Instagram accounts.
Apart from personalized one-to-one assistance, Semrush also has a vast online knowledge base where you can learn about their services, and discuss any minor problems with their services without having to spend time looking for answers.
The knowledge base includes blog posts, presentations, FAQs, and sales presentations, as well as a specialized Semrush Academy training curriculum.
You may also send an email to their customer service department and receive a response from one of their employees within 24 hours.
You will also have access to a number of additional functions, such as
Demonstrations of profits are available if needed.
On the official Semrush website, there is also an active chatbox, and also some designated keys for reaching their sales team.
A solely devoted online learning center
A good community forum is available.
Sellzone provides 24 hour customer care and has branch offices in several places all over the world, namely North America, Europe, and Australia. They can even be reached by a call at a certain time, irrespective of where your organization is situated.
Related Post- To read about the Jungle Scout Affiliate program, click here.
Sellzone Customer Reviews & Testimonials: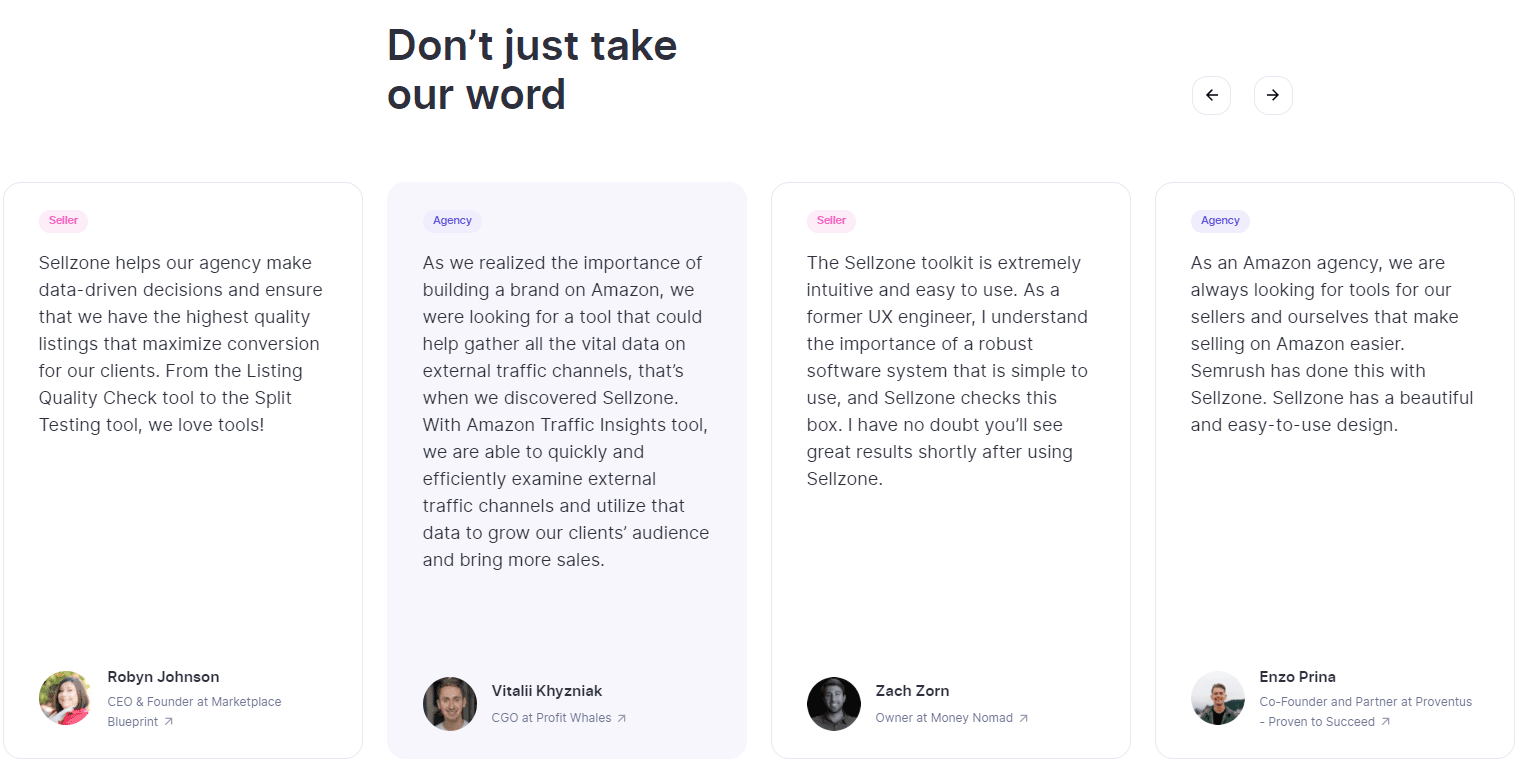 Quick Links 
FAQs | Sellzone Review
👤What can I do with a free Sellzone account?
The full functionality of our tools can be tested with a free 7-day trial, but you can also get some limited data by simply signing up. Split Testing - free tool, unlimited use Traffic Insights - unlimited Overview reports Listing Quality Check - unlimited checks for Amazon Requirements
✅ Can I use my Semrush credentials to log in to Sellzone?
No, you need to create a Sellzone account to use our Amazon tools.
🤷‍♀️What happens to my account if I cancel the paid subscription?
What happens to my account if I cancel the paid subscription?
😮 How does the 7-day trial period work?
After the free trial, you'll be charged $50 monthly. You can cancel your subscription if you don't want to continue using our paid tools. Otherwise, your subscription will be automatically continued.
⁉️ Which Amazon Marketplaces do you support?
Right now our tools are available only for the US Amazon Marketplace.
Sellzone Review Summary: Should You Try Sellzone?
Generally speaking, every Amazon seller should give Sellzone a try to see if it can help them increase conversions and create higher-quality listings faster.
Semrush, a multi-award-winning digital marketing software company known for its accurate results, operates Sellzone, which has a very basic, quick user interface, is inexpensive.
The split testing tool is completely free, and it's a lot of fun to see how even minor changes can have a big effect on your Amazon earnings.
Listing Quality Check ensures that every item you have on Amazon has the ultimate guide, and Listing Security is a good way to improve your Amazon profile.
Sellzone Tutorials: 
Here are some tutorial videos from Sellzone on how you can you this tool to optimize your listings and get more earning:
Sellzone On Social Media 
It's still in beta, but have you tried Amazon Posts yet? We #amazonsellers are always looking for new & interesting ways to tell our brand story & get our products in front of new customers. Check out this write-up from @ecommercefuel: https://t.co/7OjFCRKG7g

— Sellzone (@Sellzonecom) May 13, 2021
We are excited to announce our free online course for #AmazonSellers! 🙌

World-renowned Amazon advertising and listing optimization expert @AMZRobynJohnson will teach you everything you need to know to start selling on Amazon.

🎊 Join for free: https://t.co/Z2LJbIAMGO

— Sellzone (@Sellzonecom) February 17, 2021