Are you a small business struggling to find the right micro-influencers for your marketing campaigns? Or are you a micro-influencer looking for collaboration opportunities with small brands?
If so, Social Cat is the solution you've been searching for.
In this Social Cat review, we'll dive deep into the platform's features, pricing, and more to help you decide whether it's worth your time and investment.
Let's get started with the problem that Social Cat aims to solve.
Often, small businesses resort to using vague Google results or manually checking multiple social media platforms, which can be time-consuming and challenging.
Even if they manage to find potential micro-influencers, getting in touch with them and standing out among other brand requests can be a hurdle.
This process can be frustrating for small businesses that need more time or expertise to navigate the complex world of micro-influencer marketing.
It can also limit the opportunities available to micro-influencers looking to collaborate with small brands but have no easy way to find them.
Social Cat bridges the gap between small brands and micro-influencers by connecting them on a single platform.
Users can create a profile that highlights their preferences and goals by signing up as either a creator or a small brand.
Let us understand more about Social Cat Review in detail.
Social Cat Review 2023: What Is Social Cat?
Social Cat is a platform that facilitates collaboration between small firms and micro-influencers by connecting them.
As a person interested in digital marketing, I evaluate Social Cat to see if it has lived up to its promise.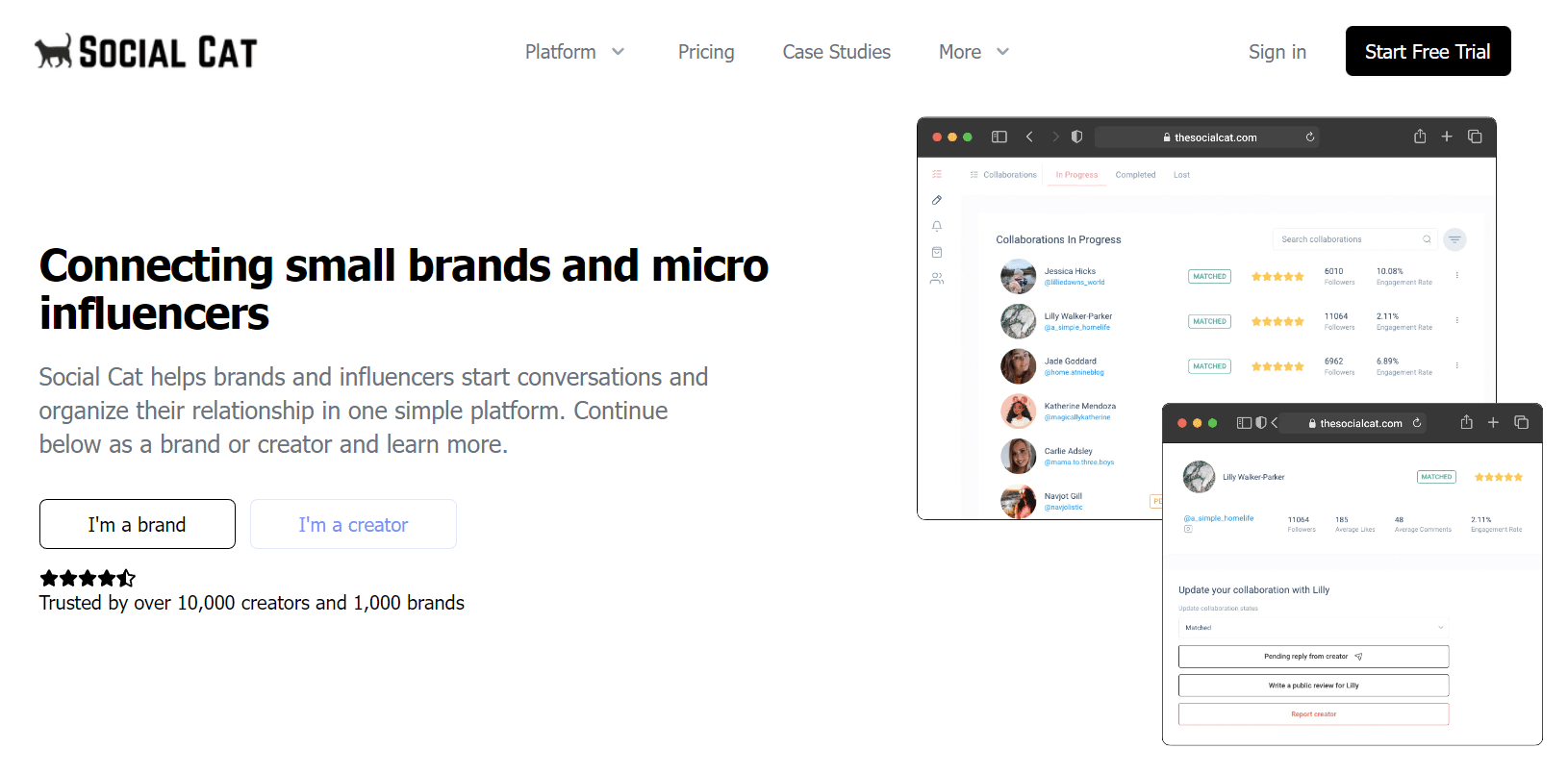 Social Cat is, at its heart, an influencer marketing platform that enables companies and micro-influencers to establish profiles and join up.
As a creative or small brand, you may build a profile in three to five minutes by answering simple questions that illustrate your goals.
Social Cat then utilizes this data to link you with the most relevant companies or micro-influencers.
Daily exposure of companies in front of micro-influencers is provided by Social Cat's Daily Digest email system, which is one of its best features.
These micro-influencers indicate a desire to collaborate with businesses; if the brands accept the collaboration request, it's a match!
Afterward, Social Cat introduces the brand and micro-influencer by email, and they may continue the conversation.
Social Cat for Brands
Social Cat is an ideal platform for brands looking to boost their marketing efforts through user-generated content.
With the help of creators on Social Cat, brands can get authentic content at a fraction of the cost it would take a media production company.
Brands can leverage the power of video content in their marketing efforts, taking advantage of the 500 million people who use Instagram Stories daily.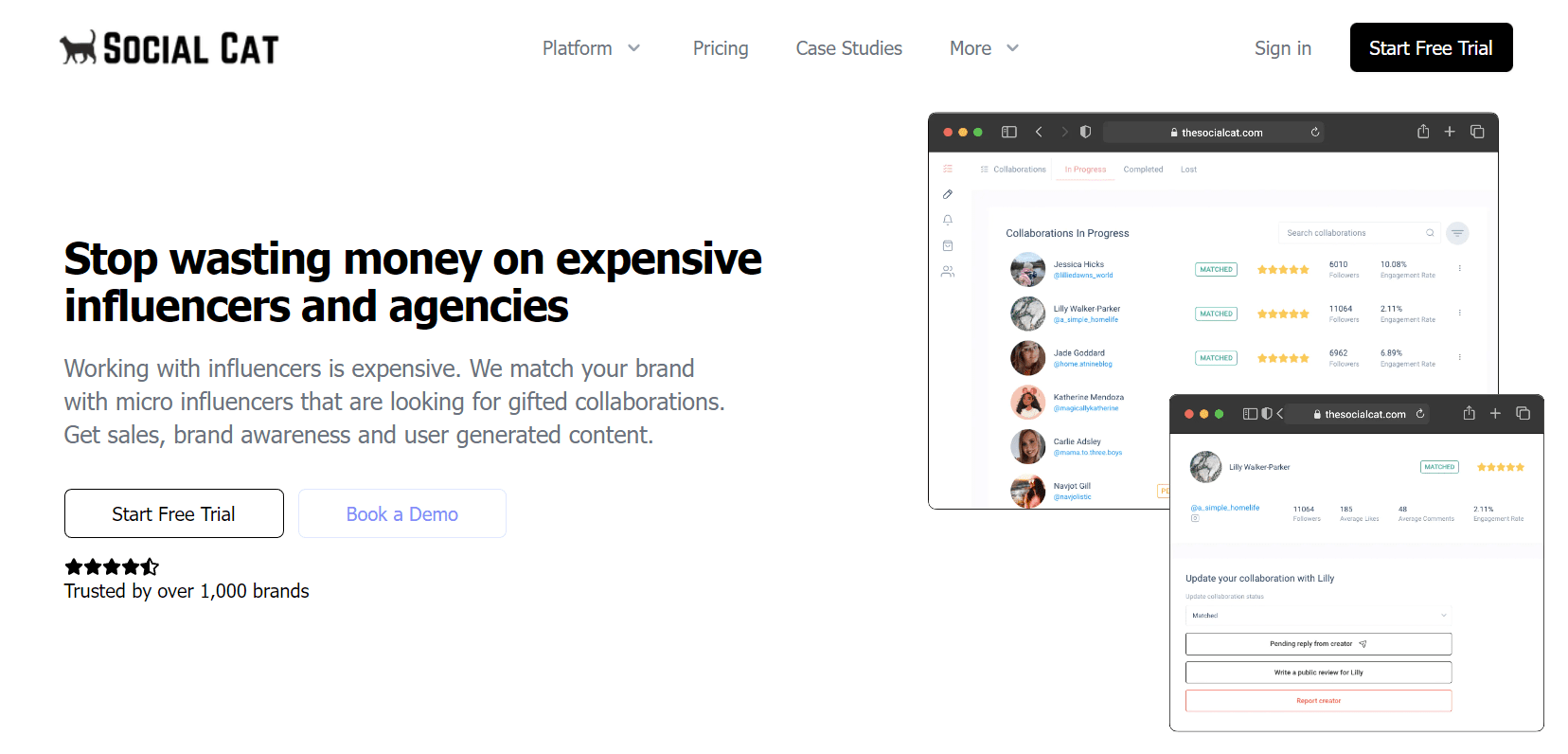 Using real people to showcase their products, brands can build trust with potential customers, creating a friendly and approachable brand image.
Micro-influencers campaigns have engagement rates up to 60% higher than macro-influencers, making Social Cat's influencers an effective option for building trust and awareness in a brand.
The platform also saves brands valuable time by reaching out to over 300 creators monthly, saving over 15 hours spent searching for and negotiating with creators.
While Social Cat is a software tool and not an agency, it provides excellent value for brands looking to create and publish quality content at an affordable price.
Social Cat Review: Pros & Cons
Here are some of the pros & cons of Social Cat.
Social Cat Pros
The easy and quick setup process

Connects small brands with micro-influencers

Daily email digest for brands to find influencers

No limit on collaborations or messages

Automated introductions between brands and influencers

In-depth analytics to track campaign success

Affordable pricing for both creators and brands

Secure and private communication between parties

Helpful customer support team

Collaborations only happen if both parties agree
Social Cat Cons
A limited number of influencers on the platform

Limited targeting options for brands
Quick Links:
Conclusion: Social Cat Review 2023
In conclusion, Social Cat is a user-friendly and effective platform that easily connects small brands and micro-influencers.
Its matching algorithm ensures that brands and influencers are matched based on their preferences, while its communication system simplifies the collaboration process.
With a range of features such as analytics, payment processing, and more, Social Cat offers a comprehensive influencer marketing solution.
Though a few areas could be improved, such as expanding the pool of influencers and adding more detailed metrics.
Overall, Social Cat is a valuable tool for small businesses looking to expand their reach through influencer marketing.