This article is dedicated to all the Webflow Alternatives. Webflow is a platform that allows company owners to create a website without having to know how to code.
Webflow is a type of website-building platform that comes with a comprehensive set of tools for developing a functional website. Webflow, on the other hand, isn't for everyone.
Those wishing to sell largely tangible goods might choose Shopify. It's the most popular online storefront web-builder, and it comes with a slew of essential capabilities for selling real goods.
If you do want to make a simple website, though, there are several web construction tools available. As a result, we've compiled a list of the top Webflow alternatives.
Webflow Alternatives: What Is Webflow?
Webflow is a Website Development Platform (also known as a Website Builder) that allows you to develop sophisticated responsive websites with amazing animations, interactivity, and integrations.
It provides spectacular images for marketing and branding. Webflow is a trendy issue among web designers and IT companies.
Designers all across the globe are purchasing this tool. This platform will benefit you whether you are a designer or a company owner. Using templates to achieve your vision and a design that suits your brand is tricky.
5 Best Webflow Alternatives
Below are the 5 best Webflow alternatives which will help blow your mind for sure.
1. Wix
Wix is the most popular website builder at the moment, with 160 million sites under its belt. Wix is well-known for its user-friendly drag-and-drop website editor.
Users get access to free templates, and the service hosts and manages their domains. Wix is especially well-suited to small enterprises and has excellent mobile optimization.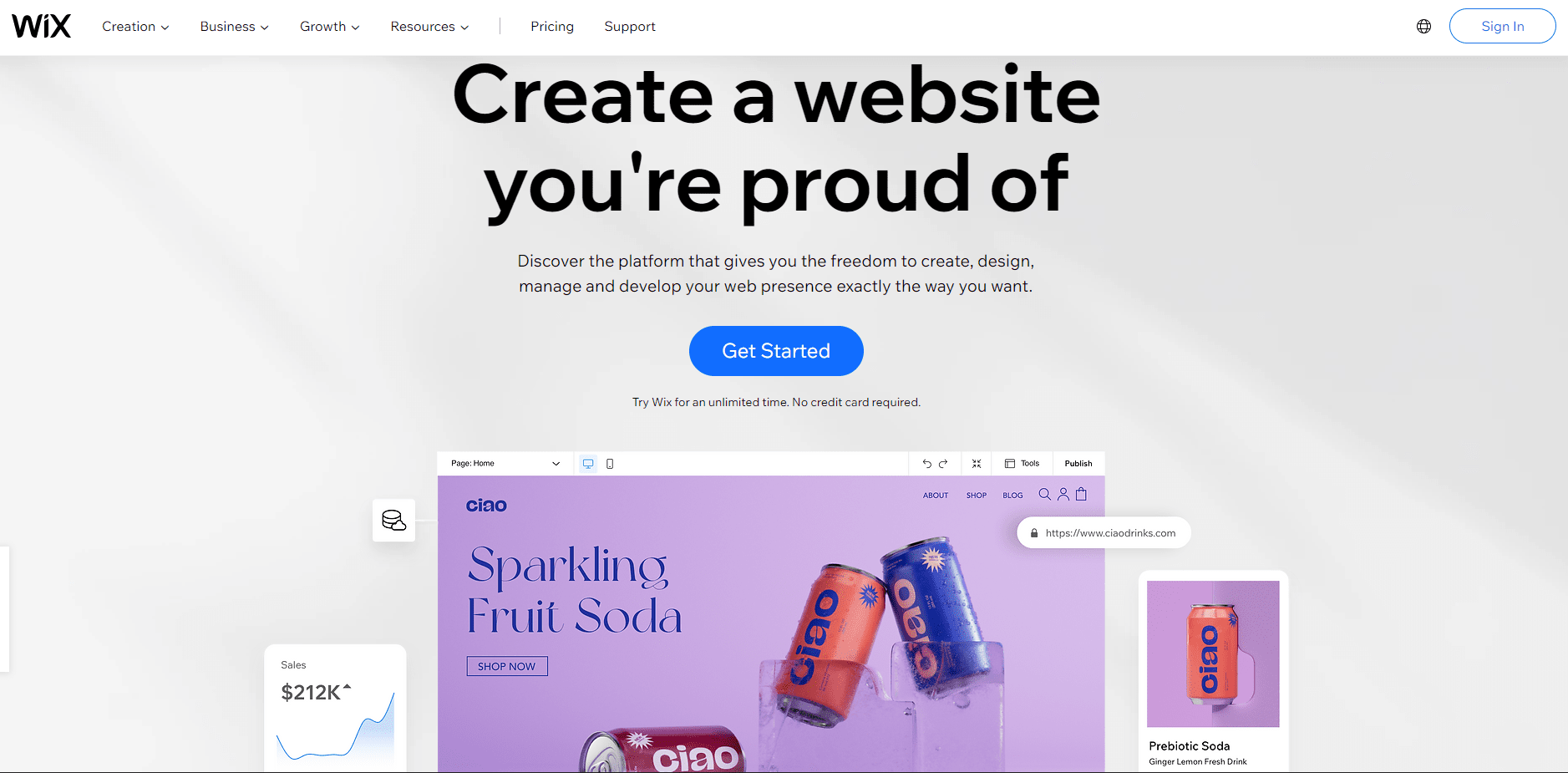 Wix also eliminates the need for website security upgrades, which is a benefit over systems like WordPress.Finally, Wix provides a free pricing-tier plan, however, it is severely limited in terms of capability.
A premium subscription is required for professional features such as a custom domain name or an eCommerce area. The smallest paid package, which includes 2GB of bandwidth, 3GB of storage, and a custom domain name, costs $13 per month.
PROS:
⦁ It's quite simple to use.
⦁ There are several templates to pick from.
⦁ There is a free plan available.
⦁ There are several programs that are compatible.
CONS:
⦁ The free plan is quite restricted.
⦁ Customization choices are limited.
⦁ Loading times are slower than typical.
2. Webnode
Webnode is one of the most popular website-building systems, with over 40 million registered users. Webnode's compatibility with several languages is one of the primary qualities that distinguish it from other services.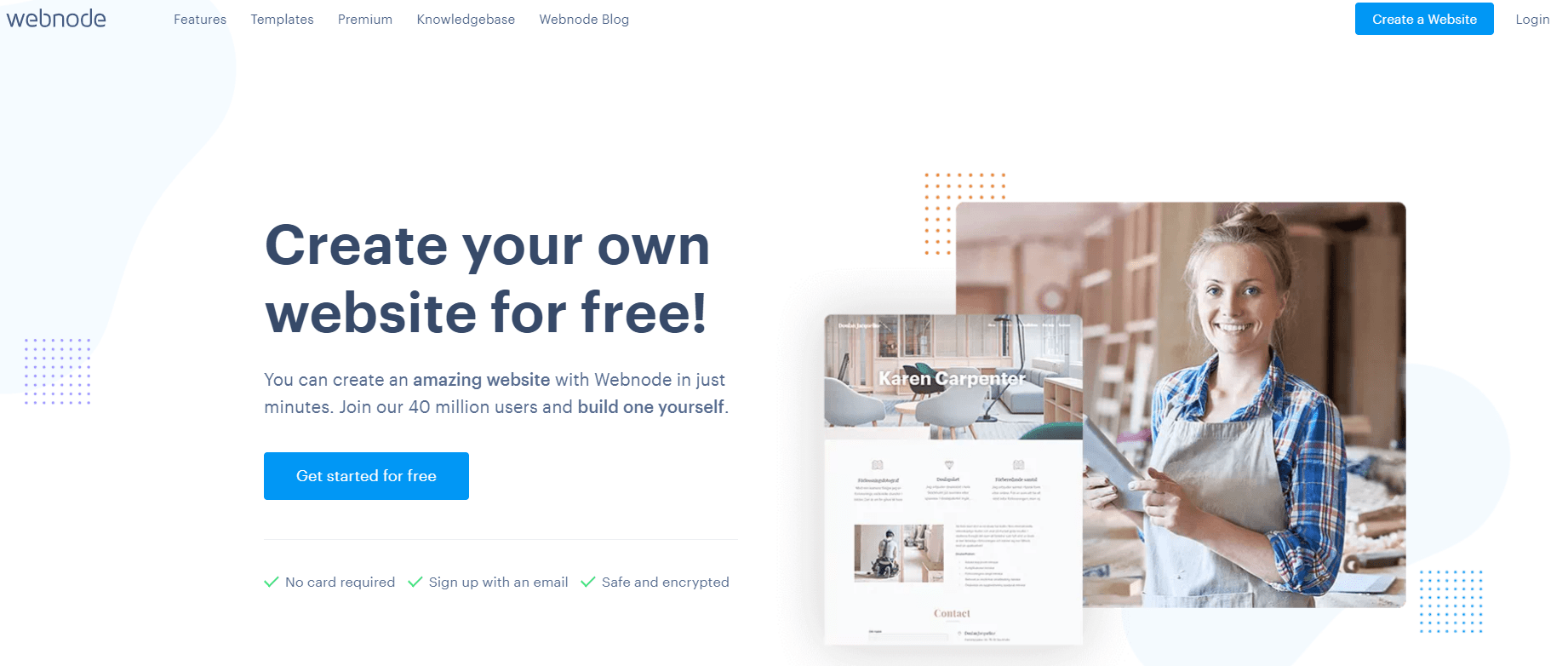 WebNode supports more than 20 languages and allows you to build a multilingual website. WebNode comes with a simple drag-and-drop editor that allows you to quickly create sections and components.
They provide a large selection of themes and readymade layouts to pick from, with most of them being responsive. It has a good selection of SEO options, such as title tags, meta descriptions, and custom URLs.
PROS
⦁ Over 20 languages are supported.
⦁ Capacity for multilingual sites
⦁ SEO tactics that work
⦁ eCommerce functionality built-in
CONS
⦁ There is no access to HTML or CSS.
⦁ There are no advanced payment options available.
⦁ There is no live chat or phone help available.
3. Squarespace
Squarespace is a template-based website builder that is popular among both DIYers and professionals. Its most appealing features are its stunning pre-made themes and a user-friendly editor.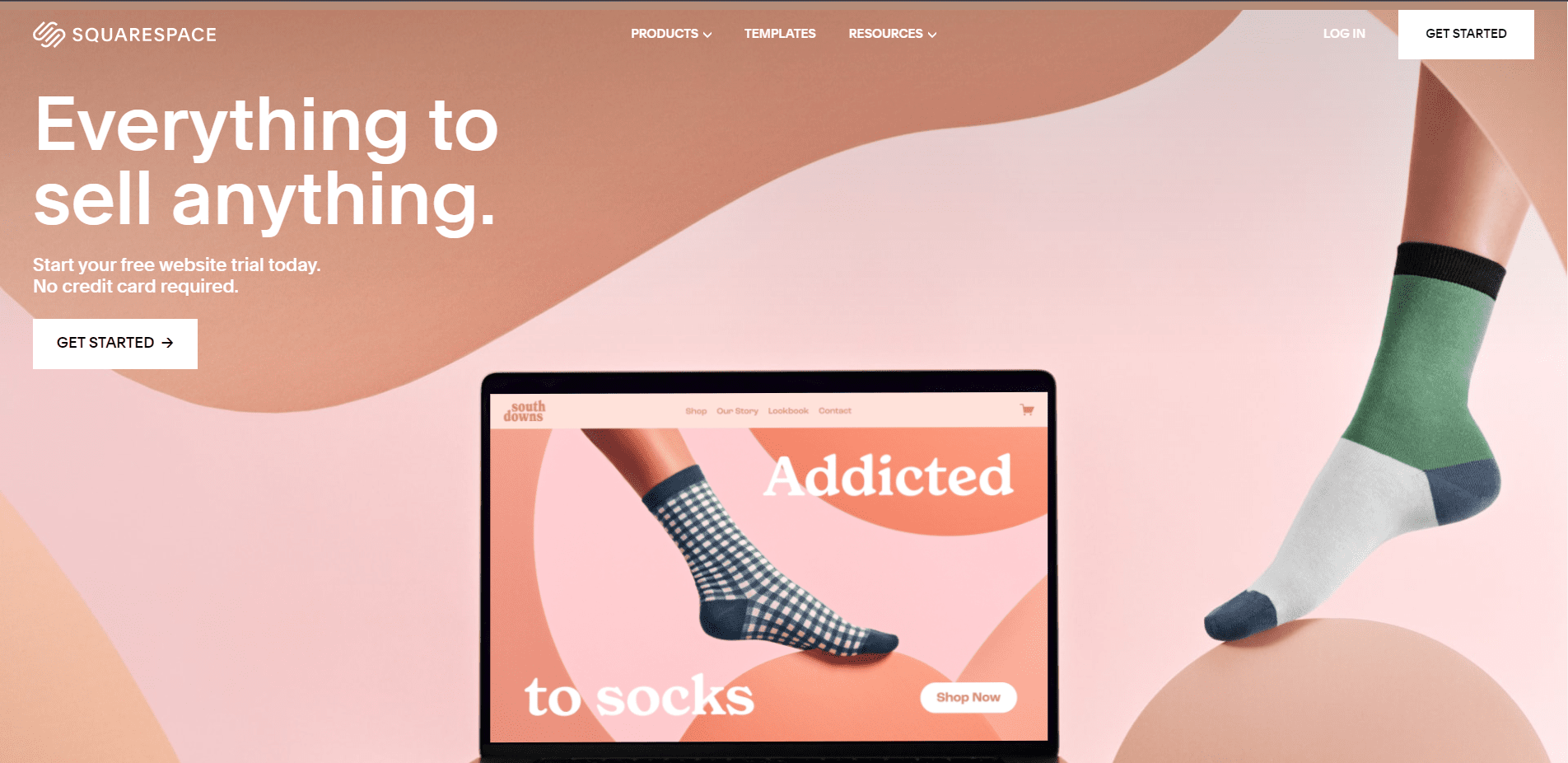 Squarespace, like Wix, provides an all-in-one package that includes domain registration, website hosting, a logo designer, and email marketing.
PROS
⦁ Beautiful, mobile-friendly templates
⦁ Excellent client service
⦁ It is simple to learn
CONS
⦁ Customization choices are limited
⦁ It is not scalable
⦁ Layouts that are rigid
4. WordPress
WordPress is an open-source content management system that powers about 40% of the Internet.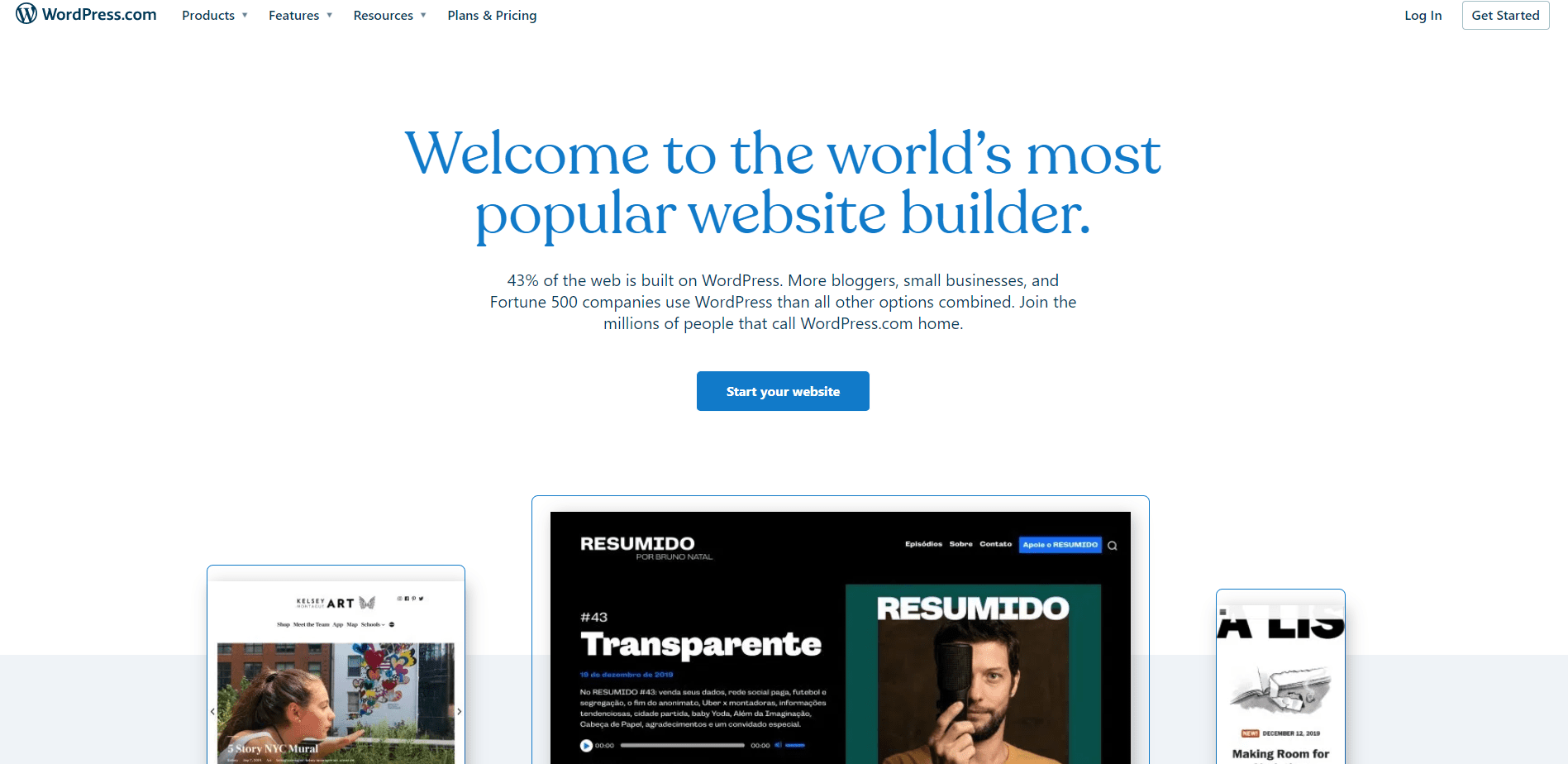 The beauty of WordPress is that there are essentially no limits to what you can do with it. This is because of the thousands of accessible third-party themes and plugins.
PROS
⦁ The most effective blogging platform
⦁ Integrations are unrestricted.
⦁ Budget-friendly
CONS
⦁ Code that is bloated
⦁ Customization is difficult
⦁ Updates are made often.
5. Shopify
It's no surprise that Shopify is the most well-known eCommerce platform on the internet right now. Shopify, a platform created specifically for online companies and e-stores, has served over 1,700,000 firms worldwide.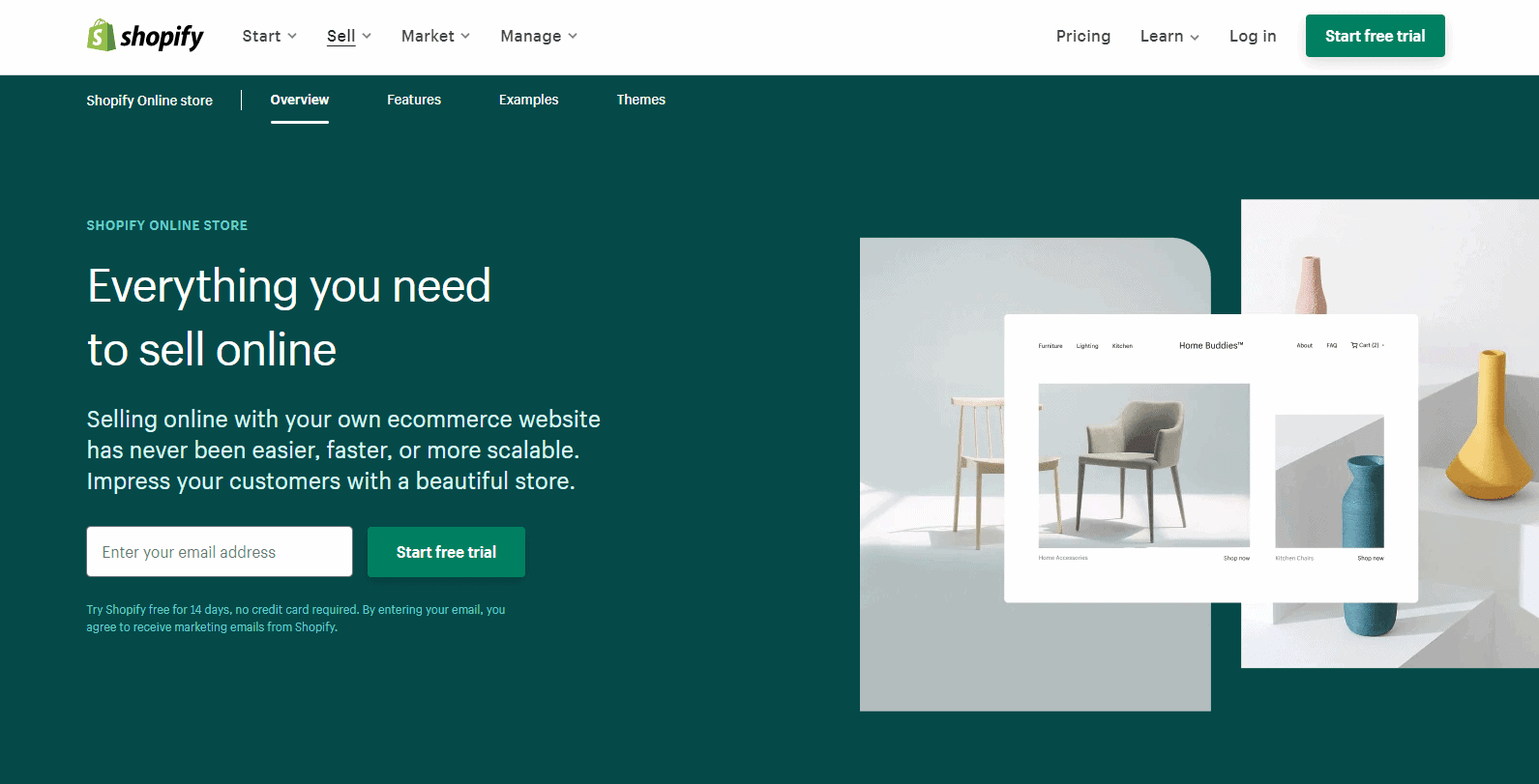 Shopify allows you to combine your website with hundreds of applications for improved general speed and functionality, as well as specific changes to meet your niche's needs.
PROS
⦁ Front-end and back-end are both quite simple to use.
⦁ It's very beneficial for dropshipping companies.
⦁ You'll be able to offer your items in up to 20 different languages.
⦁ More than 1,000 ready-made themes are available to help you create your online business.
CONS
⦁ It is not well adapted to localized payments.
⦁ The functionality of email marketing is far too simple.
⦁ Some Shopify applications are rather pricey.
⦁ If you don't utilize Shopify Payments, you'll pay a lot of money in transaction fees.
Quick Links:
Conclusion: Webflow Alternatives 2023
As you can see, there are several excellent Webflow options. If you're looking for a better alternative to Webflow, I propose WordPress.org.
It offers the same level of comprehensiveness as Webflow and is feature-rich and extremely configurable. If you're looking for a more basic website builder that's still quite useful, I recommend Wix.
Squarespace, on the other hand, can be the one for you if you place high importance on aesthetics and a large number of beautifully designed themes.
Overall, it depends on the type of your website and how much you're willing to spend — or not spend – on it.