Landing pages are essential tools for marketers to generate leads and increase subscriptions. A landing page can assist you in marketing your products and services. You can promote eBook specials, special discounts, or persuade visitors to join your email list.
If you want to get the finest results from your landing page, you should hire the best landing page builders accessible. A good landing page builder should have fundamental features like predesigned templates, A/B testing, email marketing, and so on. Above all, the landing page builder's services should be reasonably priced without sacrificing quality.
The finest landing page builders also provide sophisticated capabilities such as a custom domain name, heatmaps for tracking engagement, interfaces with webinar software, and tools for generating leads at scale.
However, even enterprise brands and small businesses continue to battle with them.
Best Landing Pages To Create One-Page Website
Unbounce

Unbounce is currently one of the greatest landing page builders available. It allows you to develop effective landing pages to convert more prospects into leads and sales. It is utilised by over 1,500 brands across the globe.
It includes outstanding capabilities that enable you to rapidly build, publish, and test your own landing pages, routes, and sticky bars without the need for coding expertise.
Key features include a drag-and-drop editor, more than 125 mobile-responsive templates, and dynamic keyword insertion for Search Engine Marketing (SEM) campaigns.
Dynamic keyword insertion is an excellent feature that allows you to alter the landing page's keywords based on the user's search queries.
Unbounce is compatible with leading marketing applications such as Zapier, HubSpot, Salesforce, Marketo, Campaign Monitor, MailChimp, and WordPress.
Leadpages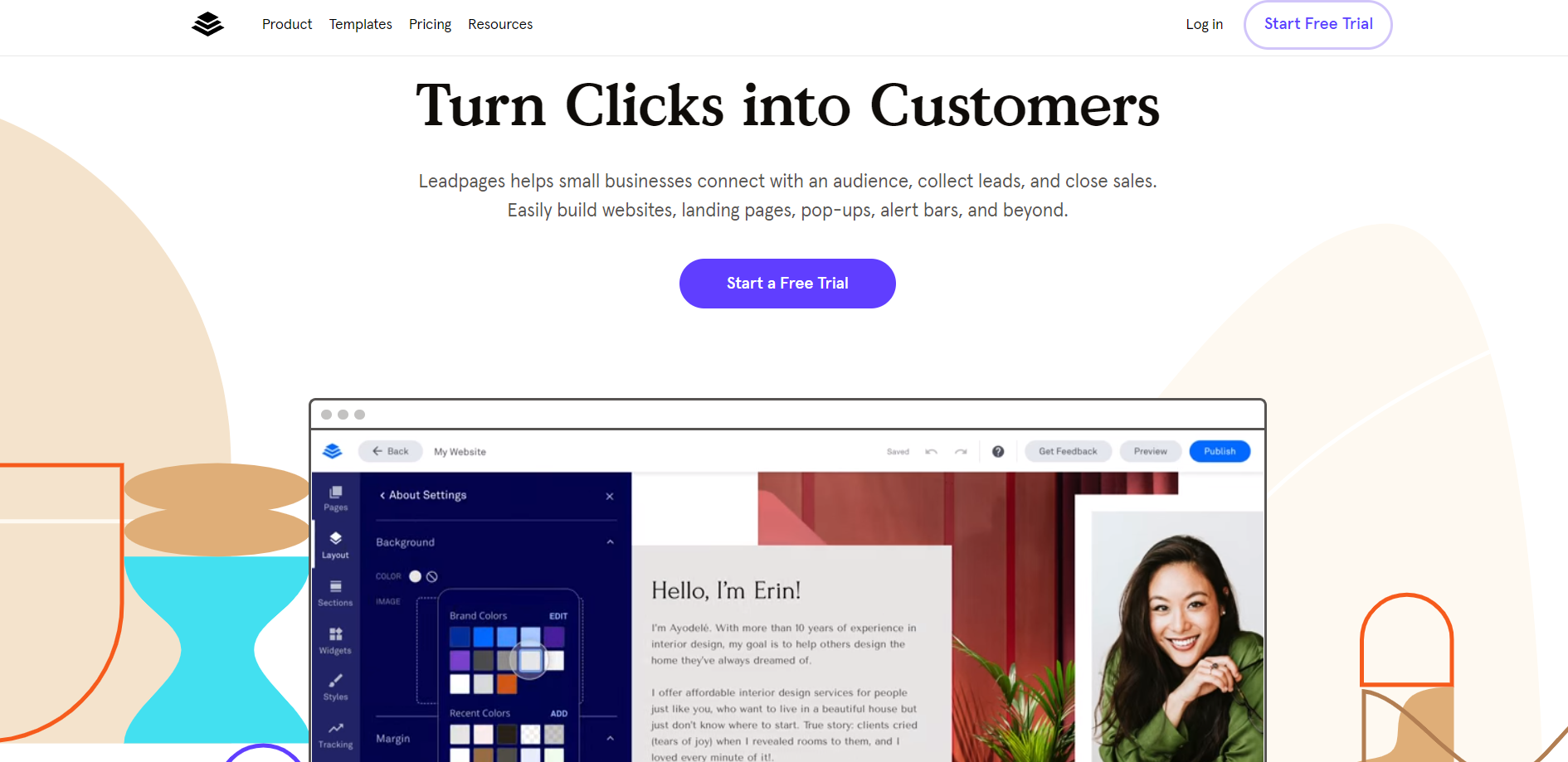 Leadpages makes it simple to create spectacular opt-in campaigns that gather leads, convert consumers, and integrate with all of your favourite digital marketing tools, including Facebook ads, Google Ads, and e-commerce.
With Leadpages, you can easily fine-tune your campaigns for maximum impact by testing many versions side by side, allowing you to keep what works and discard what doesn't.
It is versatile enough to construct a wide range of web pages (complete with templates), and the affordable pricing point distinguishes Leadpages from less intuitive alternatives such as Mailchimp.
Select a template and begin tweaking the appearance and feel of your landing page to get it up and running. Videos, photos, and forms can all be included. For items such as a pricing plan or a noteworthy call-to-action, use the Sections menu to select pre-styled content blocks.
Instapage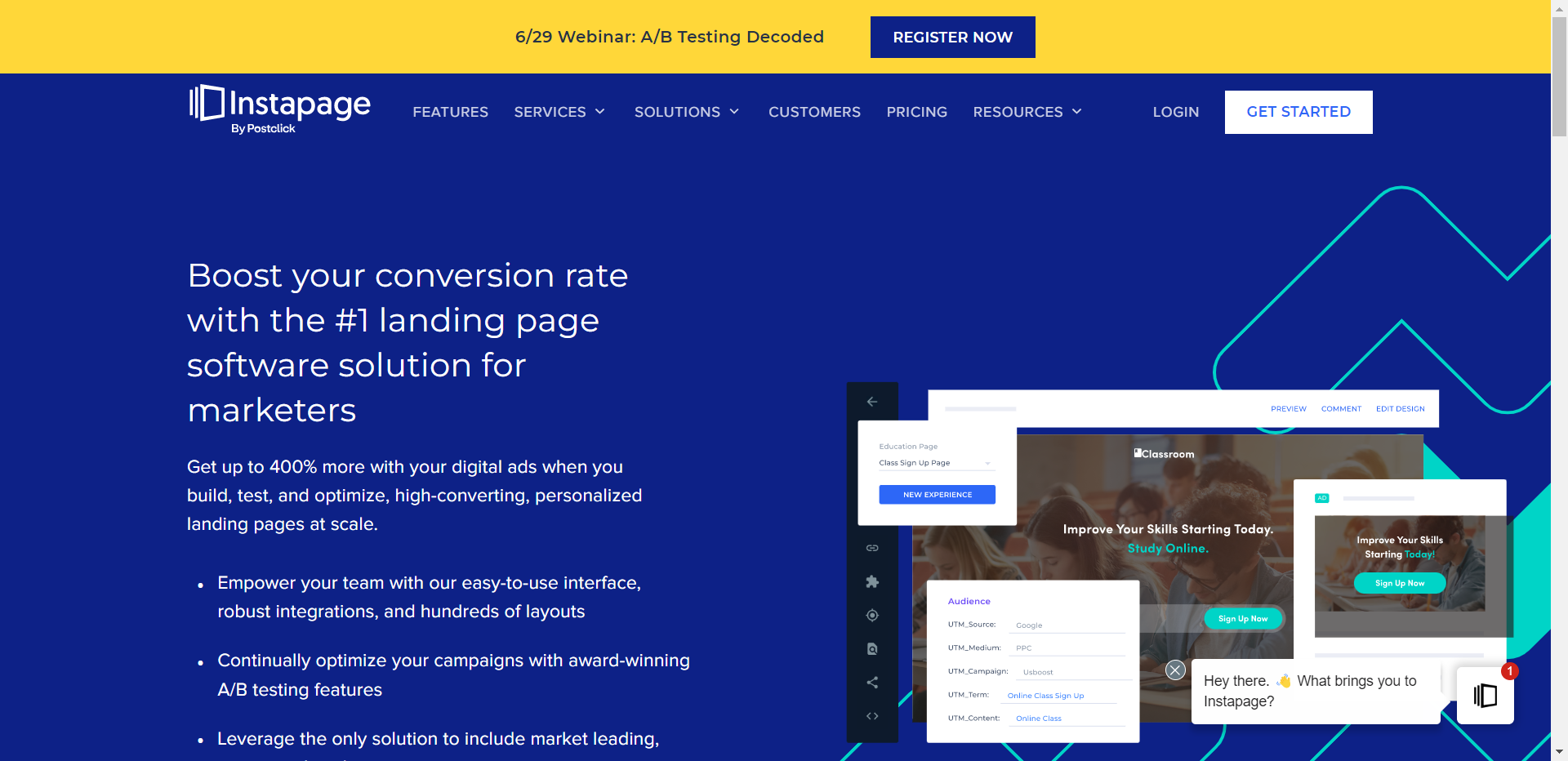 From small business owners to big agencies, anyone who wants to make beautiful landing pages can use the Instapage software. Because it has more than 200 mobile-friendly templates, you don't need to know HTML, CSS, or hire a developer to design your landing page.
It has a drag-and-drop editor that makes it easy to add things to your landing pages. You'll only need a few minutes to finish setting up this tool and start using it.
Their Enterprise account lets you connect tools like WordPress, MailChimp, Salesforce, HubSpot, and more.
HubSpot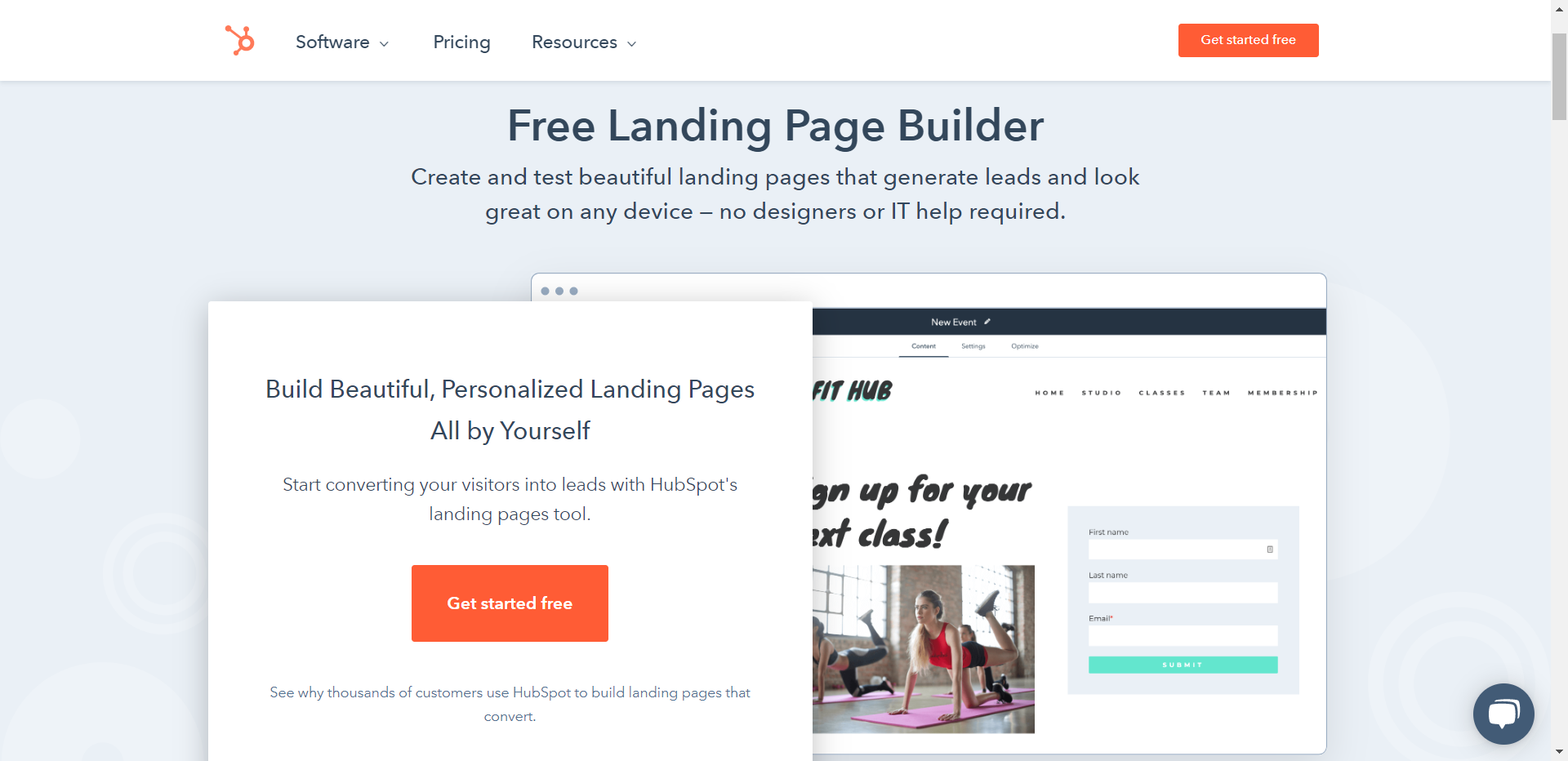 ubрot is one of the most well-known names in SaaS and B2B marketing, and for good reason. HubSpot is a one-stop-shop for marketing services, with everything from a CRM to a sales tool and a landing page tool.
HubSpot lives up to its name by providing landing page development tools that are feature-rich, simple to use, and extremely powerful. The software is suitable for all needs and is suitable for single users, large teams, and agencies.
HubSpot is a freemium marketing software that includes all of the tools you'll need to launch a basic marketing campaign.These tools can undoubtedly help you get results without breaking the bank if you're a small business on a tight budget.
If you're a beginner, you'll have access to a step-by-step tutorial and hundreds of pre-made mobile-friendly templates. This well-known landing page tool, on the other hand, offers a wide range of tools and technologies for more advanced users, such as advanced analytics tools, testing software, and so on.
Systeme.io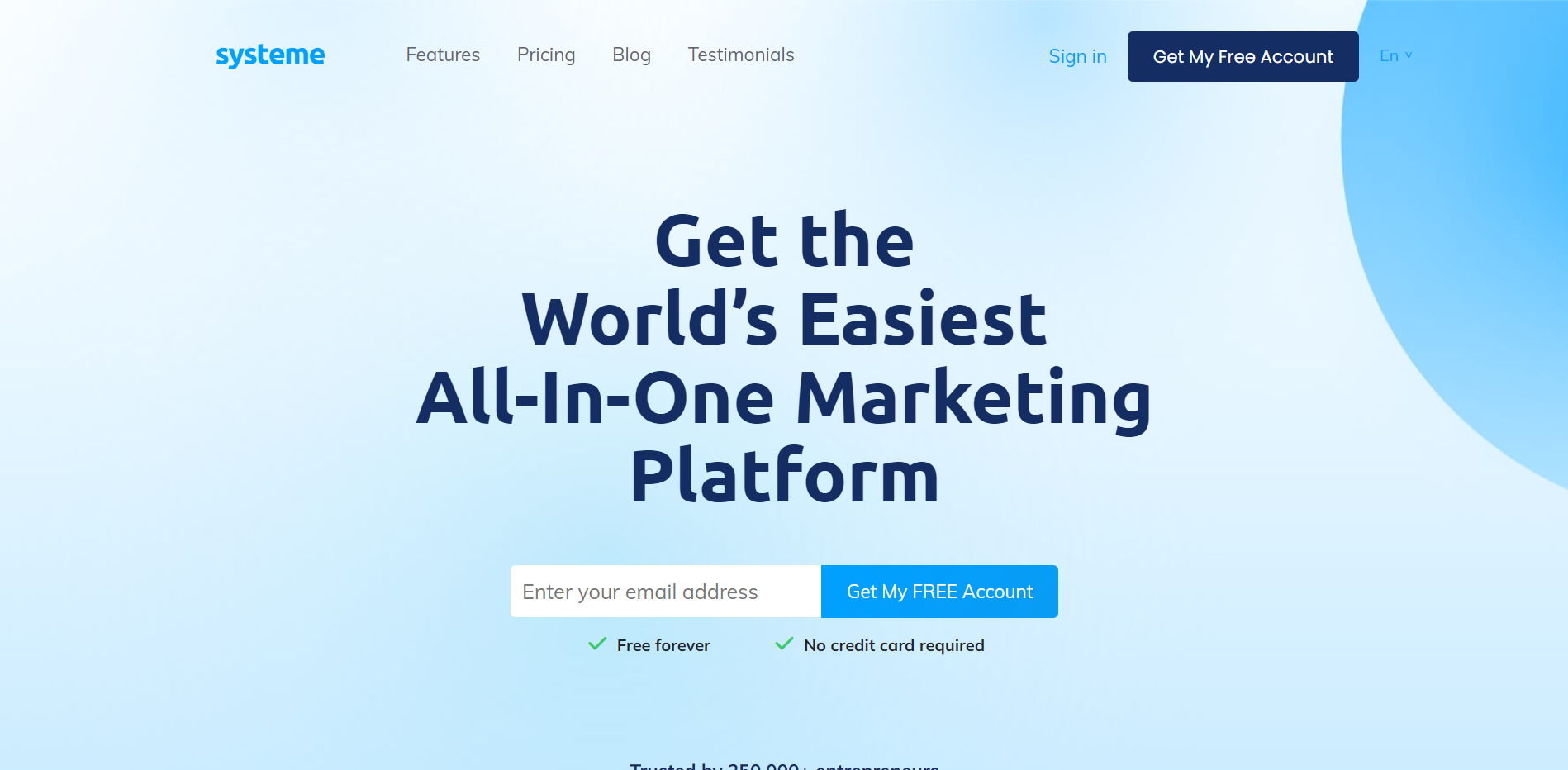 Systeme.io is an all-in-one marketing platform that assists entrepreneurs in automating and scaling their marketing efforts. It's excellent for beginning an online business, producing a course, growing a mailing list, creating sales funnels, and much more.
Systeme is designed for business owners. It consists of a website builder, landing page software, email marketing software, affiliate programme administration software, and marketing automation software.
Wishpond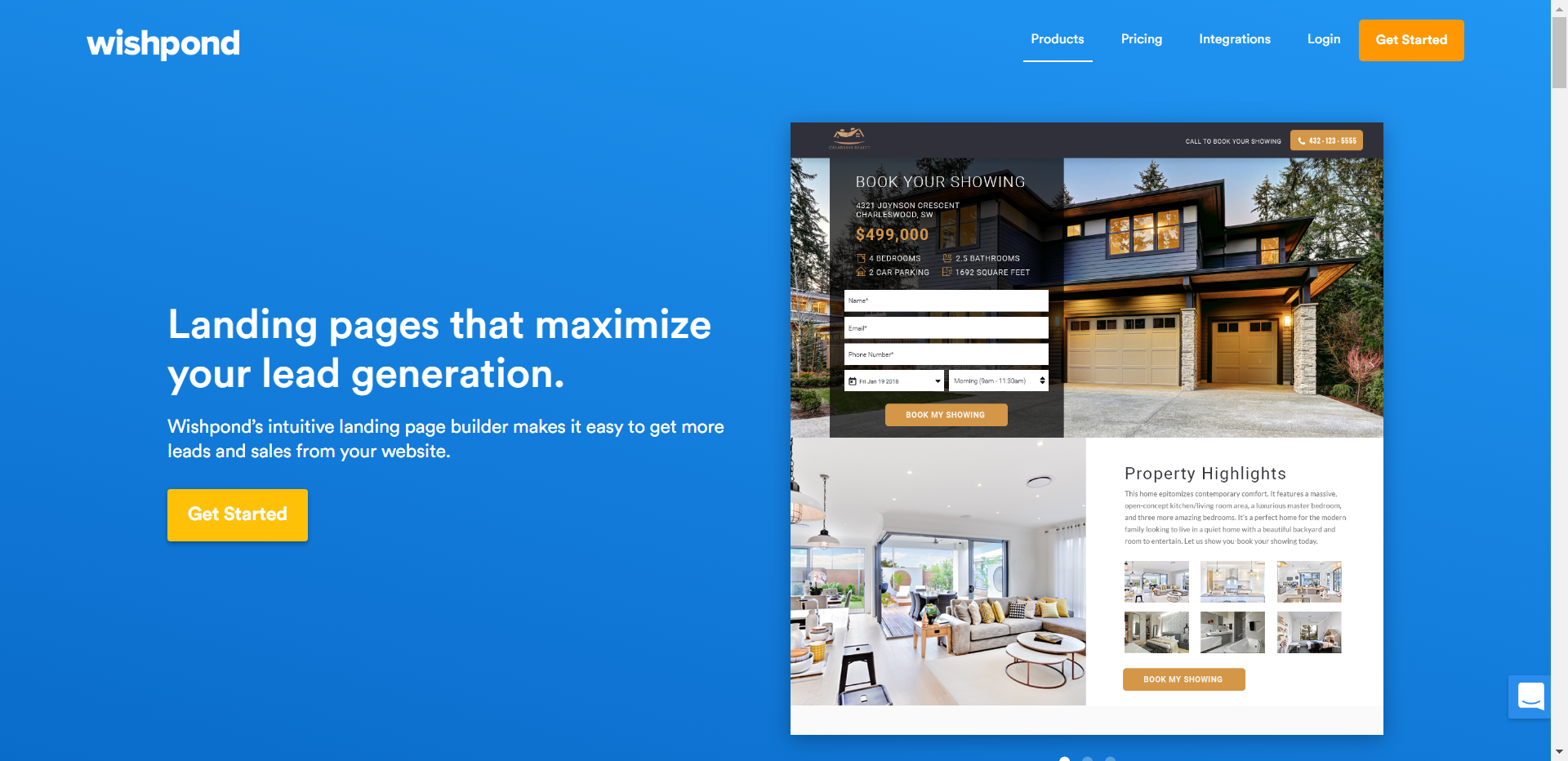 Wishpond is a rising star in the SaaS and marketing worlds, having been designated one of HubSpot's top 14 competitors for 2019 and a High Performer in G2's report. .
Wishpond has a user-friendly UI that is optimised for conversions. You only need to select one of their templates and enter the data you wish to capture via landing page forms.
Beginners and advanced users will benefit from the tool. Wishpond's landing page builder is as simple as using their drag-and-drop builder for a few minutes.
Conclusion
Landing pages are not the place to cut corners when it comes to a successful digital marketing strategy.
They are the most effective technique to generate a large number of focused, particular conversions.
Without one, your visitors are on their own on your website. Don't squander your ad budget driving users to home page.