Page builders changed the way WordPress works by revolutionizing website development.
Gone are the days of relying on clunky CMS customization options and basic themes. With a page builder, you can now take your website to the next level by easily creating custom designs without needing to know how to code.
Elementor and Thrive Architect are two of the most popular page builders around. They both have their own strengths and weaknesses that will help you decide which one works best for your project.
In this comparison of Thrive Architect vs Elementor, we'll highlight all the differences, pros and cons and features of the tool.
We have already covered everything regarding Elementor in our detailed Elementor Review.
Thrive Architect vs Elementor: 
What is Thrive Architect?
 Thrive Architect from Thrive Themes is built for non-techies. Their parent company Thrive Themes has all the products that are necessary to create a high-converting website.

Thrive Architect is a visual page builder for the construction part of a website. They have a ton of landing page templates to further simplify your foray into web page building. Thrive Architect has very enticing one-time payment plans that are perfect for beginners. 
About Elementor
Even though it was introduced quite recently in 2016, Elementor has rapidly conquered the web page builder user base.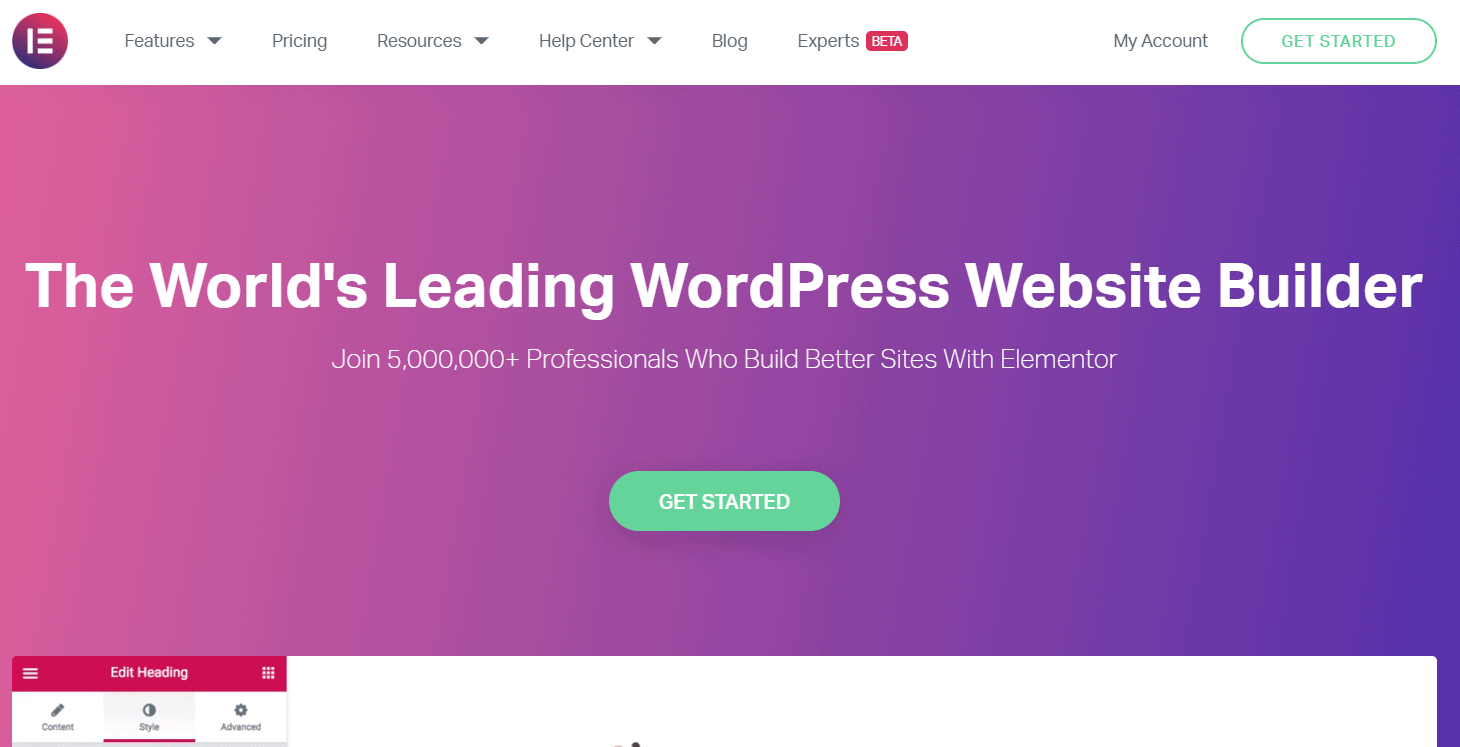 With over 5 million active downloads and counting, it wins the popularity contest by a country mile. It is also absolutely free to download and use, which explains its huge popularity. There is also a paid version named Elementor Pro that comes with beefed-up features compared to the free one. 
Thrive Architect vs Elementor: Ease-of-use
Thrive Architect was made for those who wanted to build stunning websites without the need for coding. It has the drag & drop option that web designers just love. Lately, it has started providing more advanced options to ensure that its features are not limited.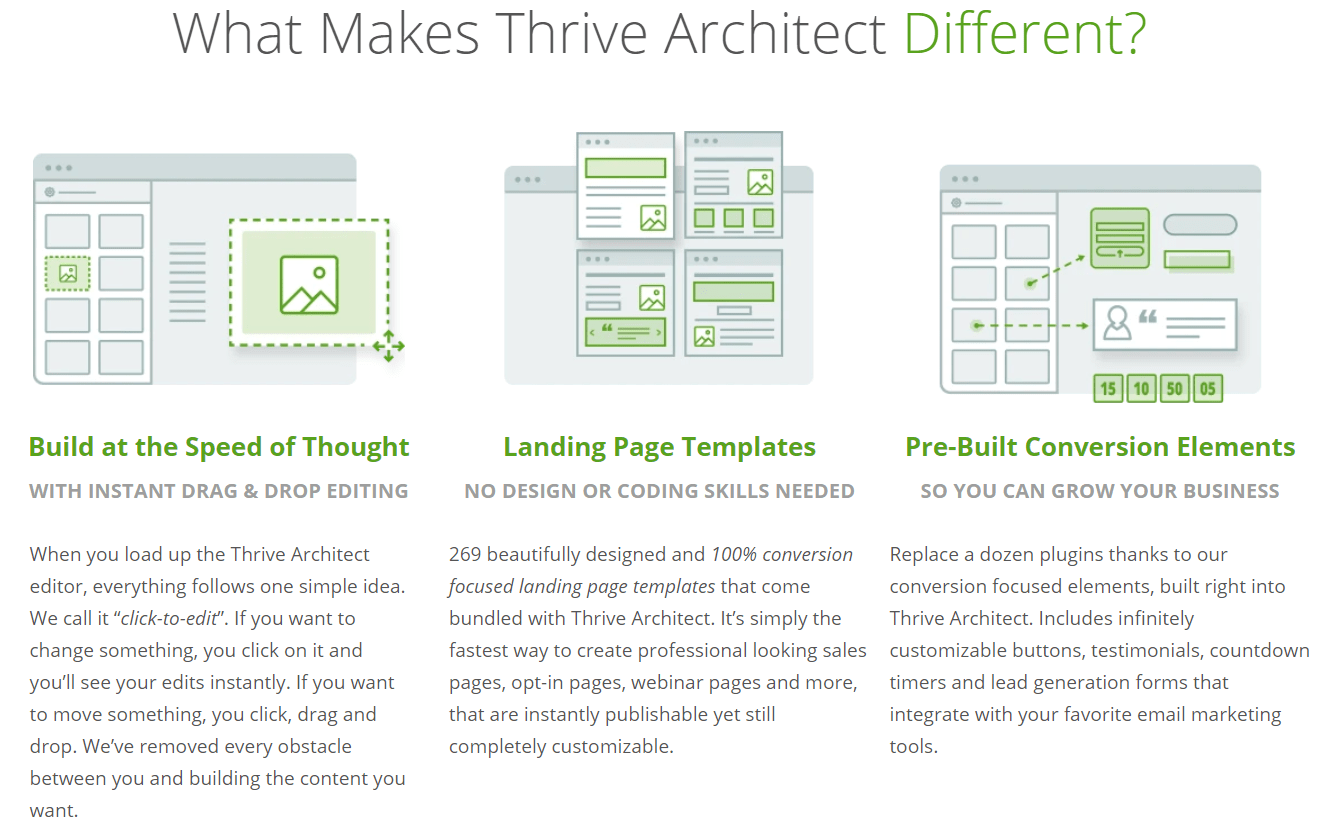 However, this has compromised its user-friendliness somewhat and made it slightly more convoluted. You will have to take some time and get to know its features better before commencing the web page design.  
Elementor also has a drag-and-drop interface which makes it a joy to use. Like Thrive Architect, Elementor also requires no coding and can be used by an absolute beginner to create beautiful web pages. 
It comes with right-click options and keyboard shortcuts that make it massively user-friendly and increases accessibility.
Thrive Architect vs Elementor: Pros & Cons
While both these tools might have some advantages and disadvantages, let's find the pros and cons of Elementor vs Thrive Architect.
Thrive Architect Pros
Plenty of templates to choose from. 294 so far and increasing. 

Thrive Themes have a whole array of advanced marketing features that you can choose from.

Thrive Architect is constantly improving so that you won't have to miss out on the latest trends. 

 Thrive Architect works with almost any theme
Thrive Architect Cons
The theme builder is not up to the mark in terms of features.

There are limitations to the external plugins that can be used.
Elementor Pros
There are thousands of external plugins available with almost every conceivable function.

Elementor will work with almost any theme.

Elementor is regularly improving and keeps bringing new features to the table.

You can create your own eCommerce store with WooCommerce builder.
Elementor Cons
The user interface is lagging behind the times.

Customer support is painfully slow

No one-time payment option. 
Quick Links:
Thrive Architect vs Elementor 2023: Which Tool Is Better? 
In this bout between Thrive Architect and Elementor , no one was able to land a knockout punch. 
This is a difficult comparison, and I believe it will come down to pricing for some.
Thrive Architect comes with lifetime updates, whereas Elementor is a yearly licensing fee
It's also worth noting that Elementor is far more polished and well-suited to comprehensive website construction.
Elementor Pro also has the ability to generate dynamic headers, footers, and post templates, which makes it more powerful
Elementor also has a plugin ecosystem that allows it to increase its capabilities.
Thrive Architect has a strong marketing focus, including capabilities like scheduled content, popup boxes, and deep integrations with Thrive's other plugins.