Bottom Line:

Elementor is a yearly subscription that you have to pay for, while Thrive Architect gives you updates for a lifetime.

By the way, Elementor is really well-made and works great for building entire websites. If you go for Elementor Pro, you'll have even more power because it lets you create cool headers, footers, and post templates that change dynamically.

Elementor also has a bunch of extra plugins made by other people that you can use to add more features to it.

Thrive Architect is more focused on marketing stuff. It has special features like timed content, pop-up boxes, and it works really well with other plugins made by Thrive.

All in all, Thrive Architect stands head-to-head with Elementor Pro and justifies this comparison.
Key Differences about Thrive Architect & Elementor: Quick View
User Interface and Ease of Use: Thrive Architect is user-friendly and simple, while Elementor offers more design options but can be harder to learn for beginners.
Pre-designed Templates: Elementor has landing page templates that increase conversions and generate leads for marketing. They also have templates for blogs, e-commerce, and more, making it suitable for any website.
Content Locking and Conversion Elements: Thrive Architect excels in marketing features like content locking, countdown timers, testimonials, and lead generation forms. Elementor has basic marketing elements, while Thrive Architect specializes in conversion-focused pages and A/B testing.
Pricing: Prices vary with plan and number of websites. Elementor has a Pro version with advanced features for a yearly subscription. Pricing varies by plan.
Third-Party Integrations: This product prioritizes its own marketing and conversion plugins, while Elementor offers more third-party integrations for greater compatibility.
Community and Support: Thrive Themes and Elementor both offer robust support systems with active communities, including knowledge bases, forums, tutorials, and third-party extensions.
Updates and Development: Thrive Themes focuses on fewer products, while Elementor has a bigger team and more frequent updates.
About Thrive Architect?
Thrive Architect is a powerful visual page builder plugin for WordPress, developed by Thrive Themes. It provides users with a drag-and-drop interface that makes it easy to create stunning and professional-looking web pages without any coding knowledge.

Thrive Architect offers a wide range of pre-designed templates and customizable elements that allow you to build landing pages, sales pages, blog posts, and other types of content with ease. It focuses on providing a seamless user experience with its intuitive interface and extensive library of conversion-focused elements.
About Elementor
Even though it was introduced quite recently in 2016, Elementor has rapidly conquered the web page builder user base.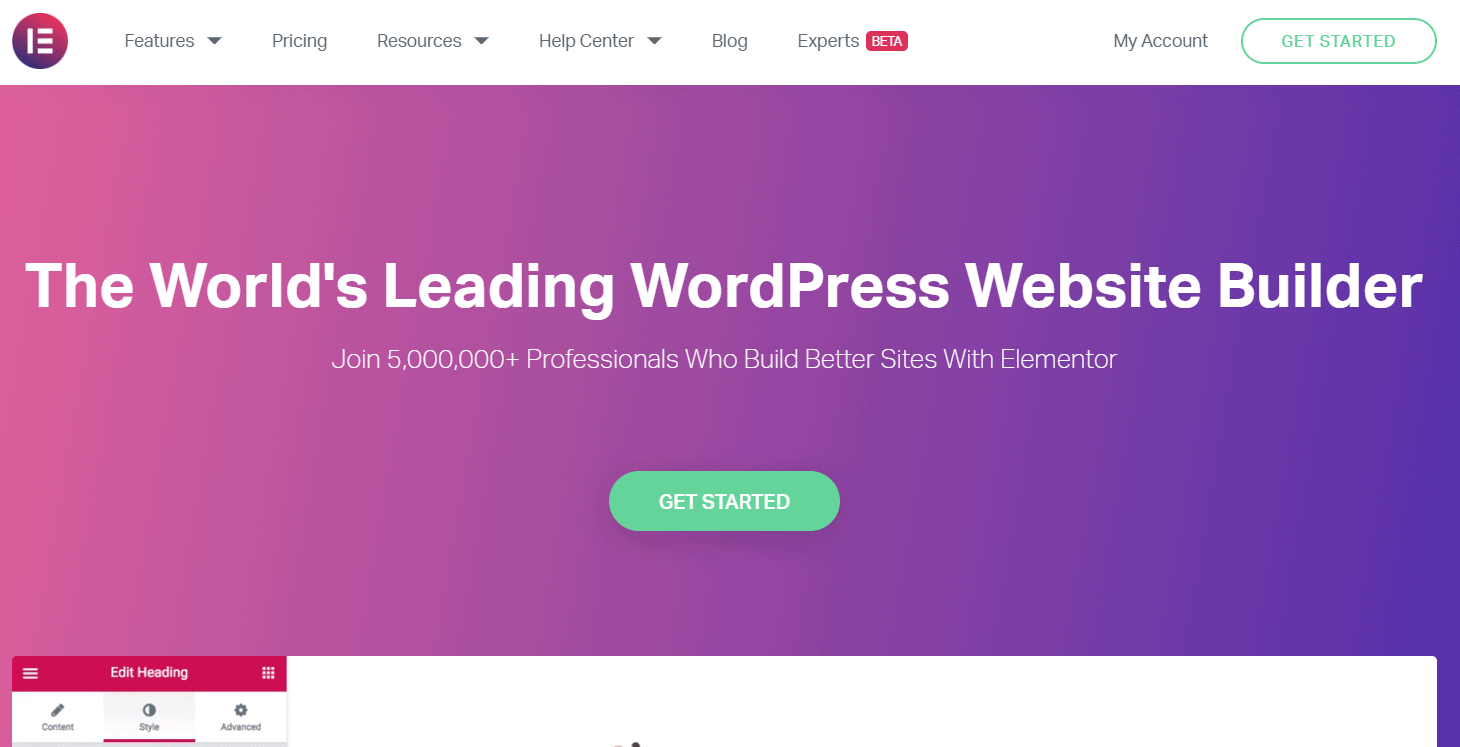 With over 5 million active downloads and counting, it wins the popularity contest by a country mile. It is also absolutely free to download and use, which explains its huge popularity. A paid version named Elementor Pro comes with beefed-up features compared to the free one. 
Set Up & Installation 
The first thing that I looked upon was the setup and ease of installation
Setting up the Elementor was fairly easy for me.
Here is a quick guide to set up Elementor:
Getting started with Elementor is a breeze. Search for the plugin, install the free version from the plugin market, and upgrade to a paid plan if you use its advanced features.
On the other hand, with Thrive Architect, you'll need to purchase the plugin externally and upload the downloaded zip file from Thrive Themes. Although the process is relatively simple, it's still easier to start with Elementor than Thrive Architect.
Ease-of-use
Thrive Architect was made for those who wanted to build stunning websites without the need for coding. It has the drag & drop option that web designers just love. Lately, it has started providing more advanced options to ensure that its features are not limited.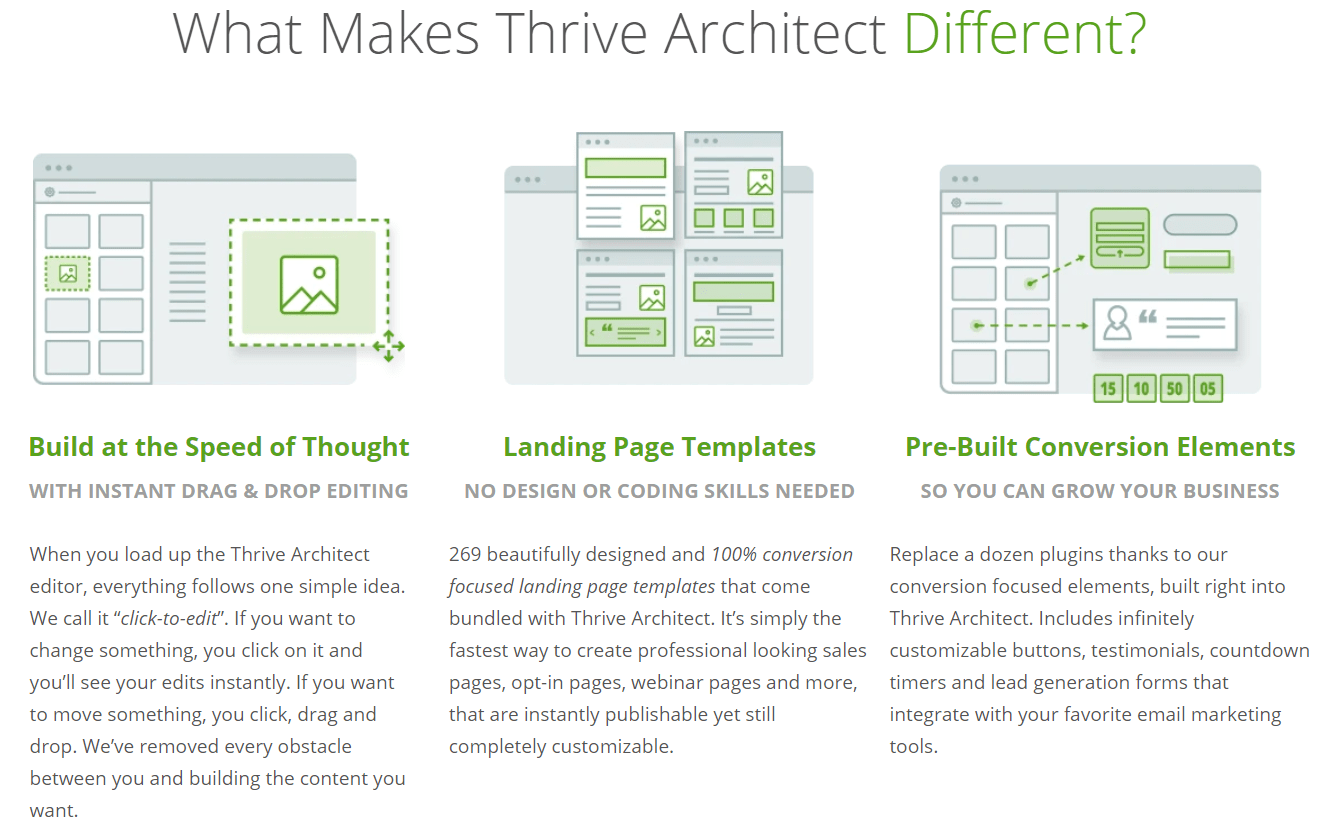 However, this has compromised its user-friendliness somewhat and made it slightly more convoluted. You will have to take some time and get to know its features better before commencing the web page design.  
Elementor also has a drag-and-drop interface which makes it a joy to use. Like Thrive Architect, Elementor also requires no coding and can be used by an absolute beginner to create beautiful web pages. 
It comes with right-click options and keyboard shortcuts, making it massively user-friendly and increasing accessibility.
Design & Usability
Thrive Architect has a user-friendly interface that makes it easy to quickly build pages with drag-and-drop elements. It also offers plenty of options when customizing the look and feel of your website, including fonts, colors, and backgrounds.
Elementor Pro's design is more complex than Thrive Architect's, but the extra features and options make it a powerful tool for creating websites. It also has an intuitive interface that is easy to use, making it great for those just starting page building.
Templates & Elements
Both Thrive Architect and Elementor Pro offer plenty of templates and elements to choose from when building your website. Thrive Architect has a wide selection of templates to choose from, as well as various elements such as buttons, social media icons, and more.
Elementor Pro also has a large selection of templates, but the focus is more on providing elements for creating custom designs. It offers an extensive library of widgets and assets that can be used to create unique webpages.
Block & Modules:
Blocks and modules are essential components in both Elementor and Thrive Architect, offering a range of design options. However, there are subtle distinctions between the two.
Elementor boasts a broader array of general modules and specialized elements tailored for portfolios, including features like testimonial carousels. This diversity can be particularly advantageous if your website requires these specific functionalities.
Conversely, Thrive Architect excels in providing an extensive collection of landing page templates. These templates are designed with marketing and conversion in mind, making it a robust choice for businesses looking to create compelling landing pages.
Furthermore, Thrive Architect grants users more creative freedom when it comes to incorporating full-width elements into their designs. This flexibility can be valuable if you have a specific vision for your website's layout.
Ultimately, both tools are highly capable, and your choice should depend on your unique website design requirements.
Thrive Architect vs Elementor: Pros & Cons
While both these tools might have some advantages and disadvantages, let's find the pros and cons of Elementor vs Thrive Architect.
Thrive Architect
| | |
| --- | --- |
| Pros | Cons |
| Plenty of templates to choose from. 294 so far and increasing. | The theme builder is not up to the mark in terms of features. |
|  Thrive Architect works with almost any theme | There are limitations to the external plugins that can be used. |
| Thrive Themes have a whole array of advanced marketing features that you can choose from. | |
| Thrive Architect is constantly improving so you won't miss out on the latest trends. | |
Elementor 
| | |
| --- | --- |
| Pros | Cons |
| There are thousands of external plugins available with almost every conceivable function. | The user interface is lagging behind the times. |
| Elementor will work with almost any theme. | Customer support is painfully slow |
| Elementor is regularly improving and keeps bringing new features to the table. | No one-time payment option. |
| You can create your own eCommerce store with WooCommerce builder. | |
Learning Offered by Thrive Architect vs Elementor:
Elementor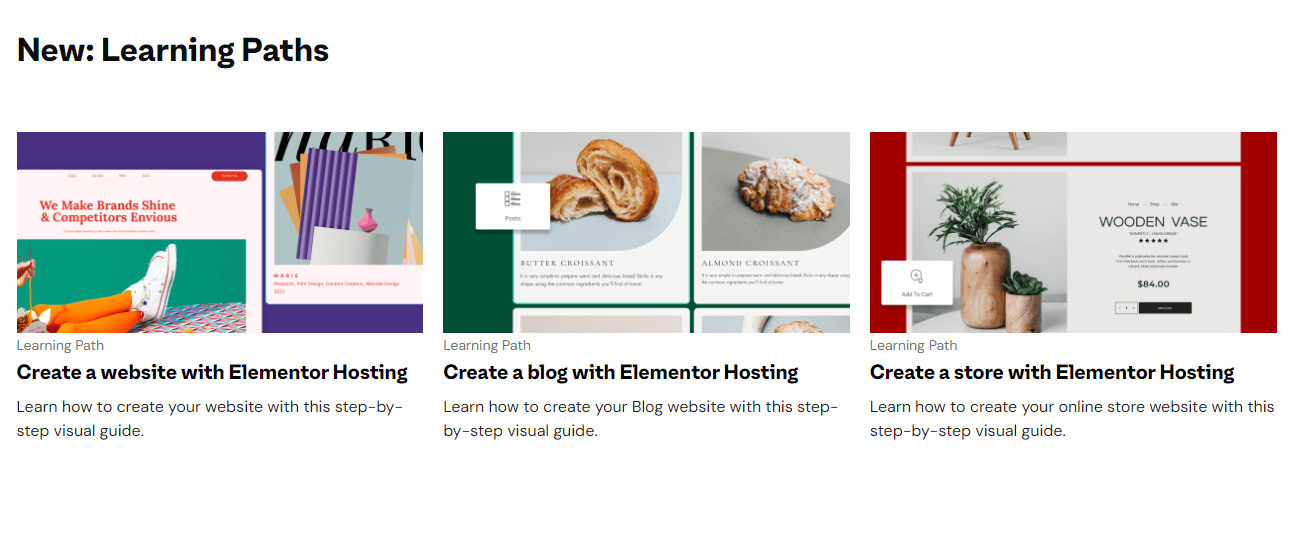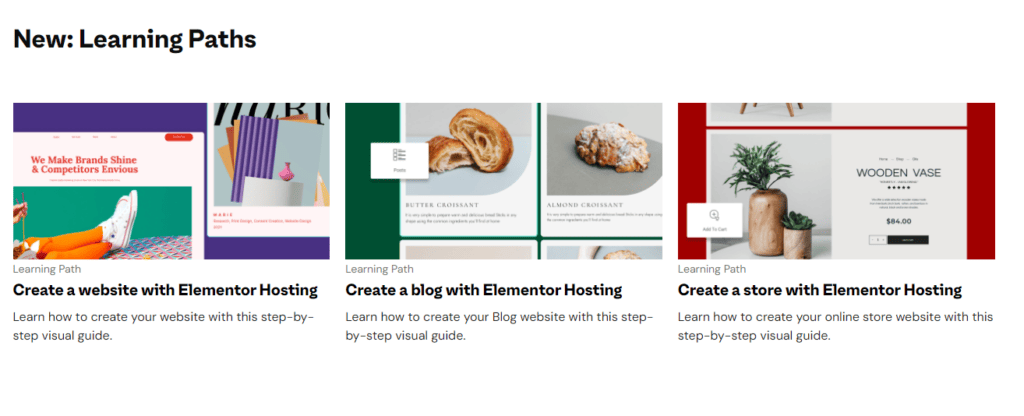 However, Elementor, one of the leading WordPress page builders, has been well-known for its commitment to providing a wealth of educational resources and support to its users.
Elementor's approach to education primarily involved offering an extensive documentation library, video tutorials on their official YouTube channel, a vibrant community forum for user interactions, and various online courses and tutorials created by third-party educators.
This robust educational ecosystem empowered Elementor users to master the page builder and easily create stunning websites.
Elementor may have introduced new educational initiatives or platforms, so visiting its official website for the latest information on educational resources and offerings is advisable.
Thrive Architect: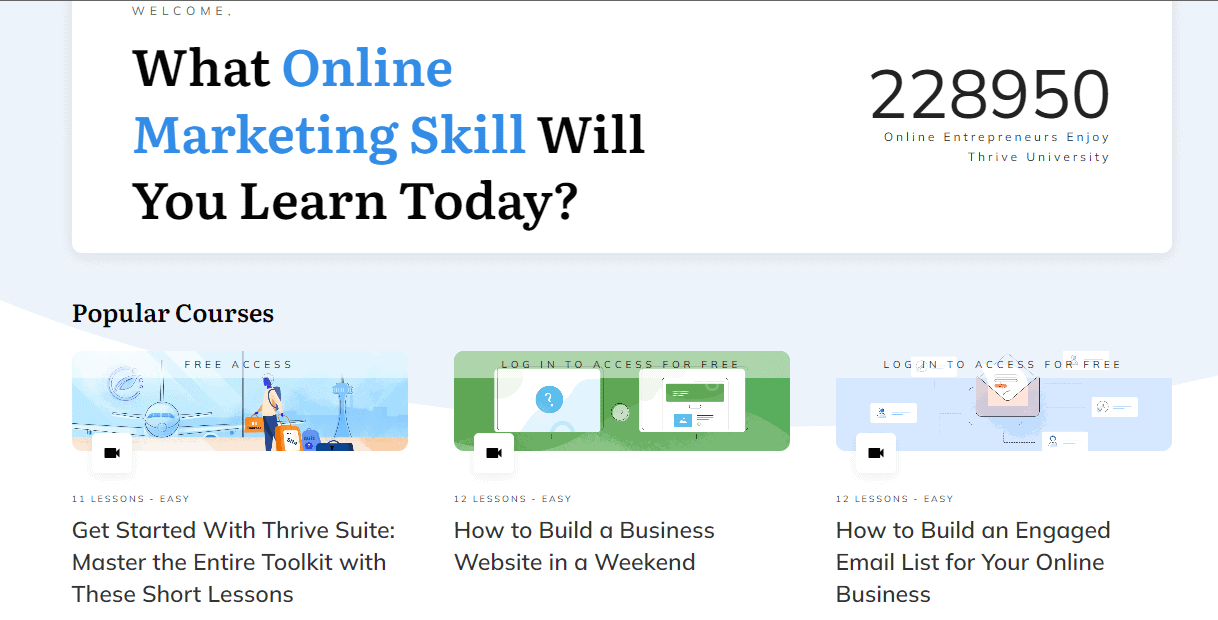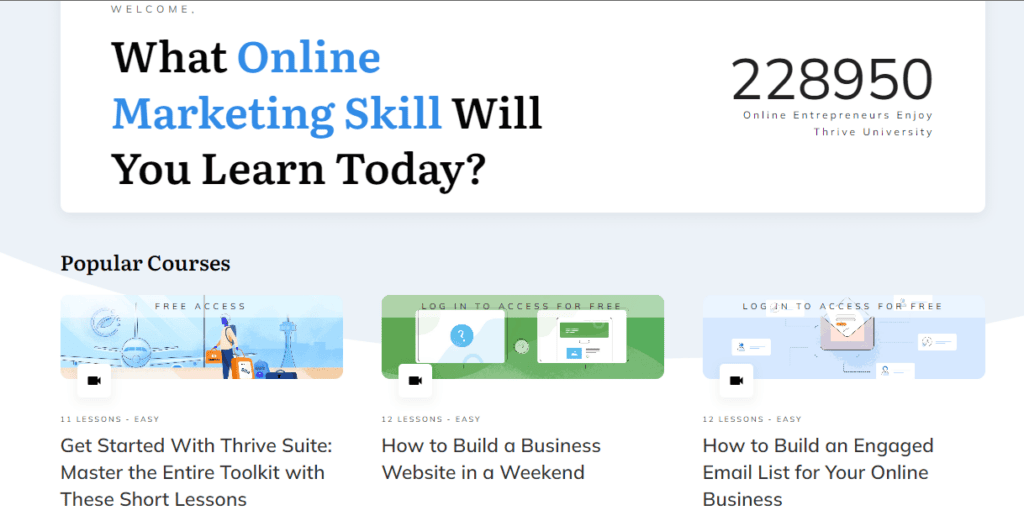 Thrive University is an online educational platform offered by Thrive Themes, specializing topics in WordPress themes, plugins, and marketing tools. It is designed to empower individuals and businesses by providing various educational resources focused on website design, conversion optimization, and more.
This platform offers a comprehensive library of video tutorials, courses, webinars, and downloadable guides, all aimed at helping users create and optimize websites that drive results.
Thrive University covers using Thrive Themes' products effectively, implementing conversion-focused strategies, and improving online marketing skills.
It's a valuable resource for both beginners and experienced website owners looking to enhance their online presence and achieve their goals.
Quick Links:
My Verdict: 
In this comparison Thrive Architect and Elementor , no one was able to land a knockout punch. 
This is a difficult comparison, and I believe it will come down to pricing for some.
Thrive Architect comes with lifetime updates, whereas Elementor is a yearly licensing fee
It's also worth noting that Elementor is far more polished and well-suited to comprehensive website construction.
Elementor Pro also has the ability to generate dynamic headers, footers, and post templates, which makes it more powerful
Elementor also has a plugin ecosystem that allows it to increase its capabilities.
Thrive Architect has a strong marketing focus, including capabilities like scheduled content, popup boxes, and deep integrations with Thrive's other plugins.