You want to create a high-quality website, without having to learn how to code.
No matter what you're building – an eCommerce site, membership community, or blog – WordPress is the best solution for your online presence. However, as great as it is, the default editor can be limiting.
Elementor and Thrive Architect are two of the most popular page builders around. They both have their own strengths and weaknesses that will help you decide which one works best for your project.
Here's a quick comparison between them so you can make an informed decision before investing in either one of them.
We have already covered everything regarding Elementor in our detailed Elementor Review.
Thrive Architect vs Elementor: 
What is Thrive Architect?
Brought to the market 7 years ago, Thrive Architect from Thrive Themes is built for non-techies. Their parent company Thrive Themes has all the products that are necessary to create a high-converting website.

Thrive Architect is a visual page builder for the construction part of a website. They have a ton of landing page templates to further simplify your foray into web page building. Thrive Architect has very enticing one-time payment plans that are perfect for beginners. 
About Elementor
Even though it was introduced quite recently in 2016, Elementor has rapidly conquered the web page builder user base. It is an Israeli software company that allows WordPress users to edit their websites with the utmost ease.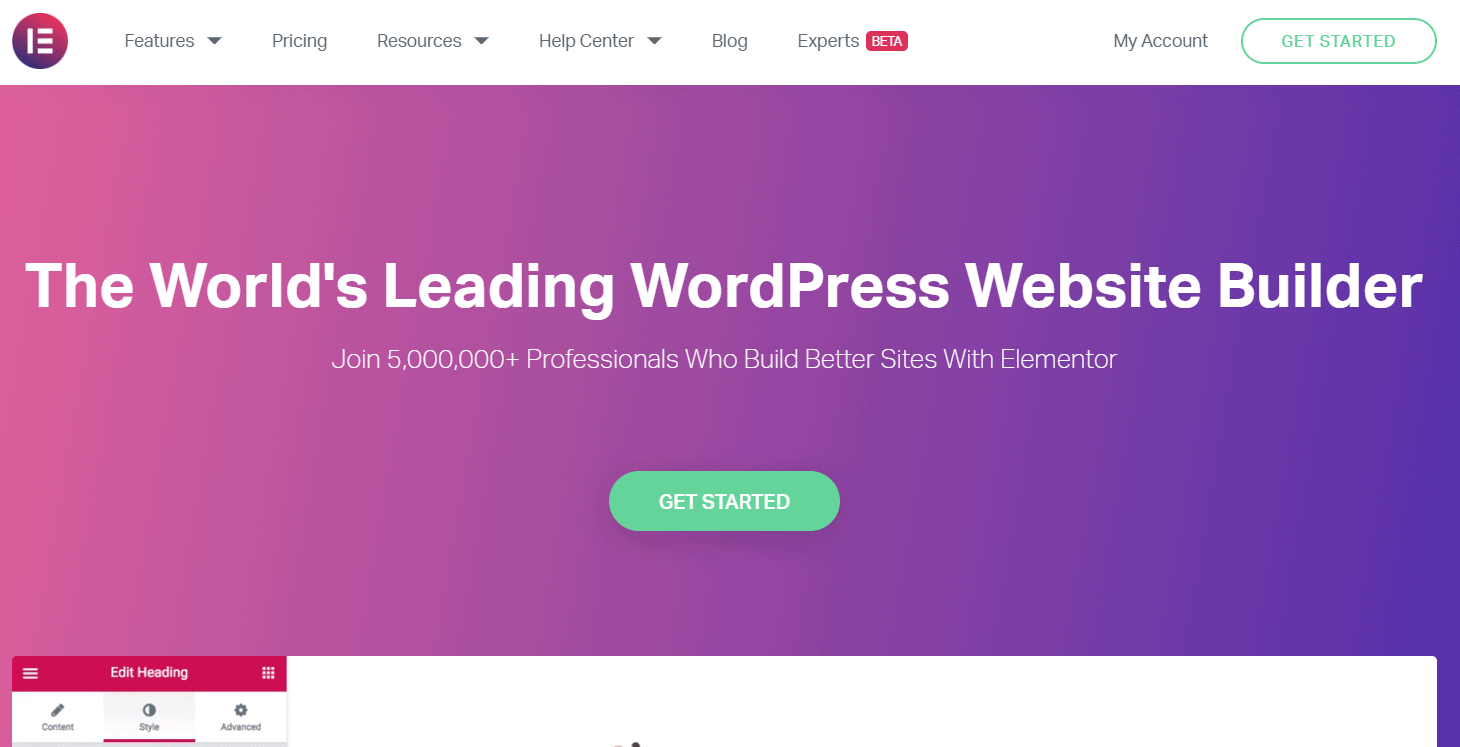 With over 5 million active downloads and counting, it wins the popularity contest by a country mile. It is also absolutely free to download and use, which explains its huge popularity. There is also a paid version named Elementor Pro that comes with beefed-up features compared to the free one. 
Thrive Architect vs Elementor: Ease-of-use
Thrive Architect was made for those who wanted to build stunning websites without the need for coding. It has the drag & drop option that web designers just love. Lately, it has started providing more advanced options to ensure that its features are not limited.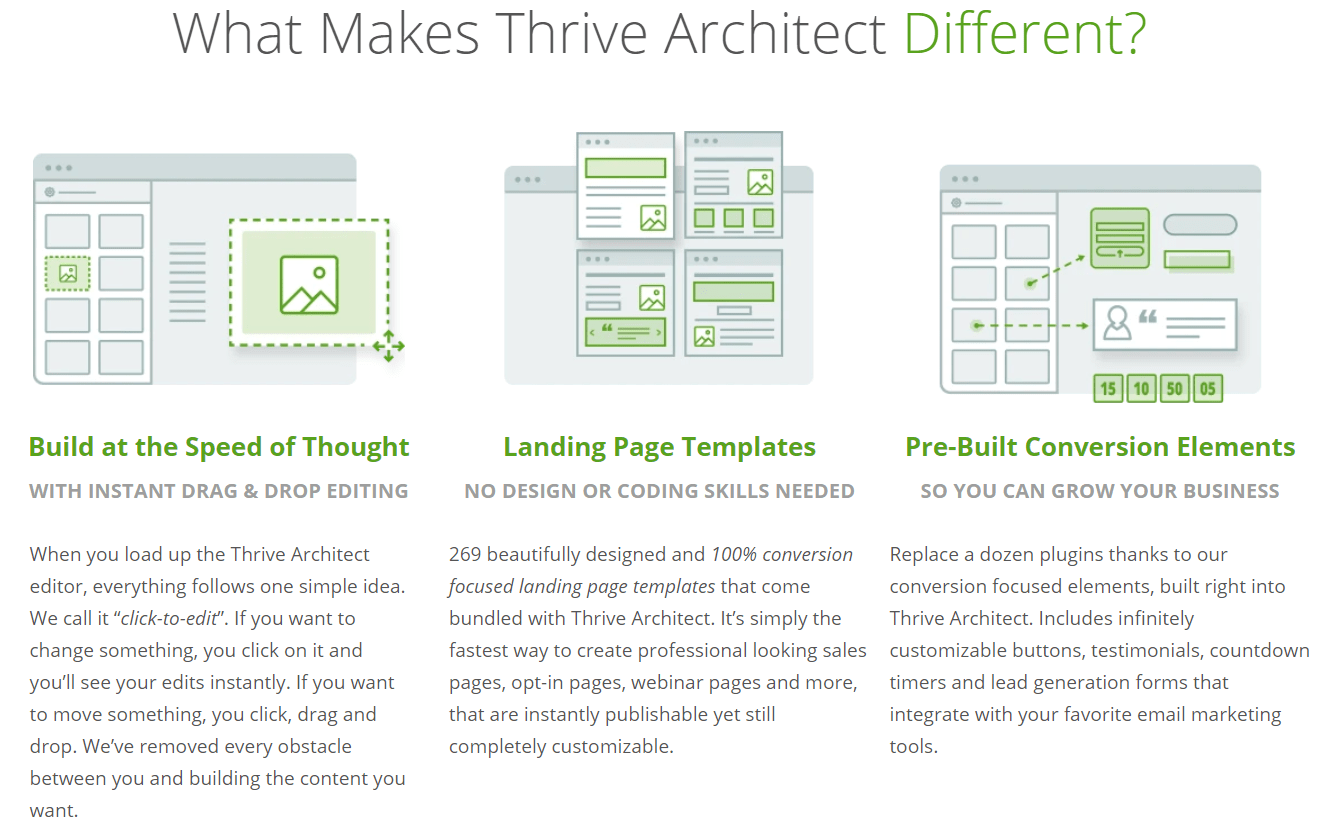 However, this has compromised its user-friendliness somewhat and made it slightly more convoluted. You will have to take some time and get to know its features better before commencing the web page designing.  
Elementor also has a drag and drop interface which makes it a joy to use. Like Thrive Architect, Elementor also requires no coding and can be used by an absolute beginner to create beautiful web pages. 
It comes with right-click options and keyboard shortcuts that make it massively user-friendly and increases accessibility.
Verdict: Both of them were fairly easy to use for a non-techie like me. However, Elementor wins this round by being much more simple and user-friendly than Thrive Architect
Thrive Architect vs Elementor: SEO friendliness 
Search engine optimization or SEO determines the visibility of your website to viewers. Experts say that low page speed and use of shortcodes in WordPress plugins can negatively impact SEO.
Shortcodes are simplified codes that allow non-designers to unlock the functionalities of a web builder. 
These shortcodes can also create an additional problem. If you ever want to uninstall a page builder, there is a good that these shortcodes won't be removed.
This is troubling on the SEO front as an unclean removal could cause complications and slow down the webpage considerably. 
Thrive Architect is an SEO friendly page builder that has one of the fastest load times. This is possible as Thrive Architect comes built-in with all the necessary features. Shortcodes don't present a problem in Thrive Architect. 
Thrive Architect has lots of built-in features like contact form elements, A/B testing, adding meta descriptions, etc. This allows it to be free from external plugins like Yoast SEO to make the web structure more SEO friendly.    
Elementor is the most SEO friendly page builder in WordPress. Its strict code standards and fast page loading make it more useful in that regard. External plugins like the Yoast SEO plugin can be used to further enhance SEO. 
Verdict: SEO ranking depends on a lot of factors. In my experience, both Thrive Architect & Elementor are very SEO friendly. And hence, this round ends in a tie. 
Thrive Architect vs Elementor: Performance & Speed
All the features available in the world will be for nothing if your web page takes sweet time to load. Having fast-loading web pages are critical to the success of any website.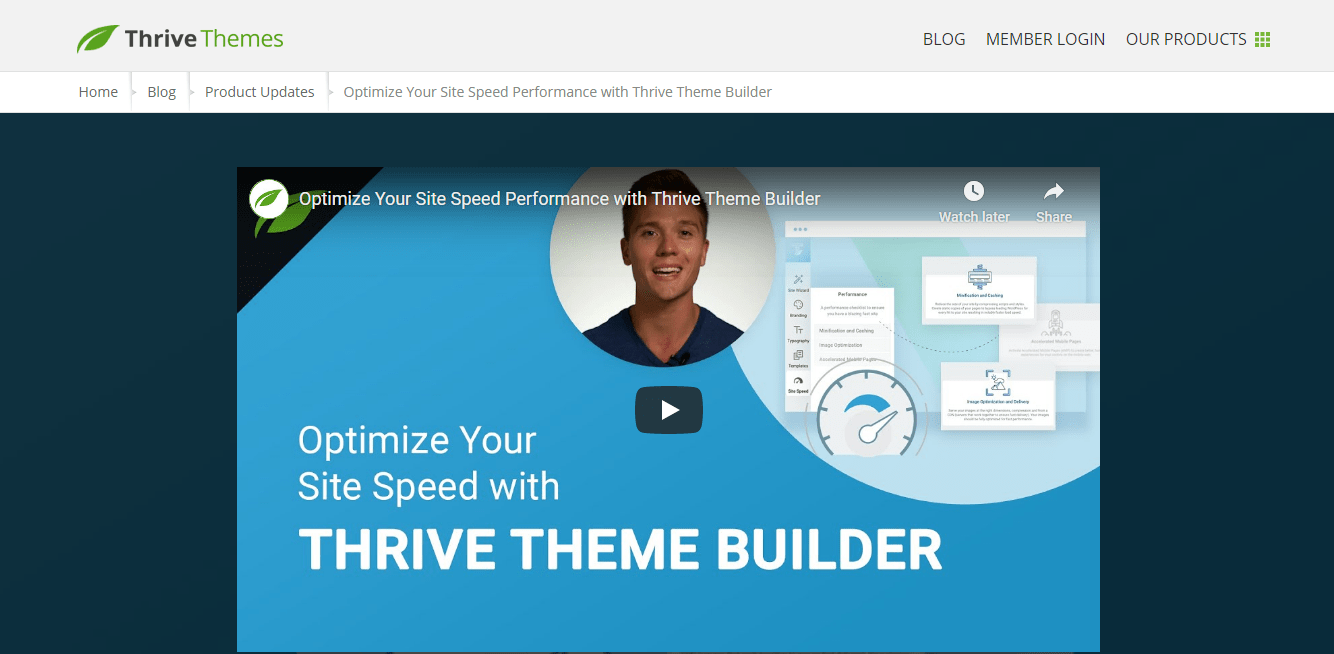 Apart from being more SEO friendly, faster loading websites would also make your website visitors happy. Also, browsers are inclined to spend more time at the website that has faster page loads compared to a competitor. 
From several speed tests I conducted, it was seen that Elementor was slightly faster. This should come as no surprise since Thrive Architect is loaded with features. This would increase the page size and will take slightly longer to load. 
However, when I rolled out my websites with all the pages, Thrive Architect was faster. This can be attributed to the fact that Thrive Architect doesn't require external plugins for regular functioning. 
Thrive Architect makes the following plugins redundant:
Shortcode plugins

Contact form plugins

Click-to-tweet plugins

Font icon plugins

Table builder plugins

Animation plugins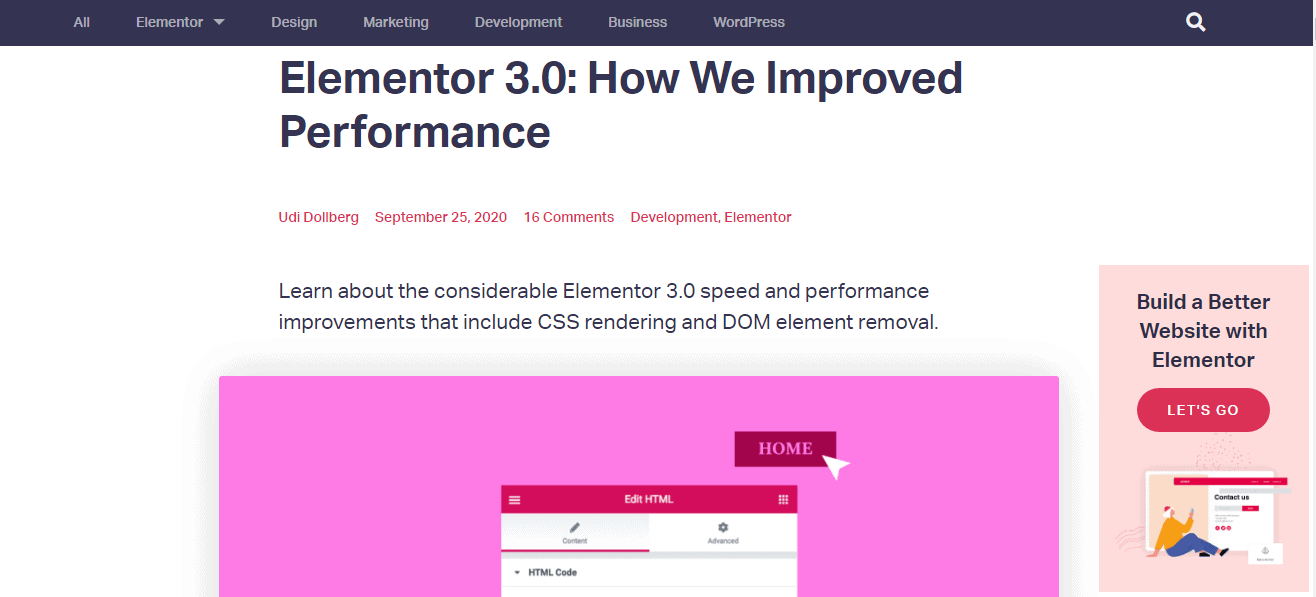 Verdict: Elementor is leaner than Thrive Architect. But the in-built features allow Thrive Architect to be faster in the long run and hence wins this round.  
Thrive Architect vs Elementor: Mobile Page Building
About 4 billion people around the world use smartphones and they vastly outnumber PC internet users. So it becomes critical that the website you are building is mobile-friendly to tap into this massive potential viewer base. 
Thrive Architect has features specially curated with the mobile crowd in mind. The mobile responsive features in Thrive Architect are:
Preview of different screen sizes with a single click.

Edit the visibility ratio of every single element.

Instant mobile responsive editing.
Elementor is largely a mobile-friendly page builder. It provides a lot of customizable features for mobile viewing without the need for any external plugin. 
Verdict: Both page builders provide adequate mobile responsive interactions. However, I found that the extra features in Thrive Architect made it more reassuring and hence wins this round.  
Thrive Architect vs Elementor: Customer Support
Elementor has an extensive and detailed support page with hundreds of articles to help you get started and master Elementor.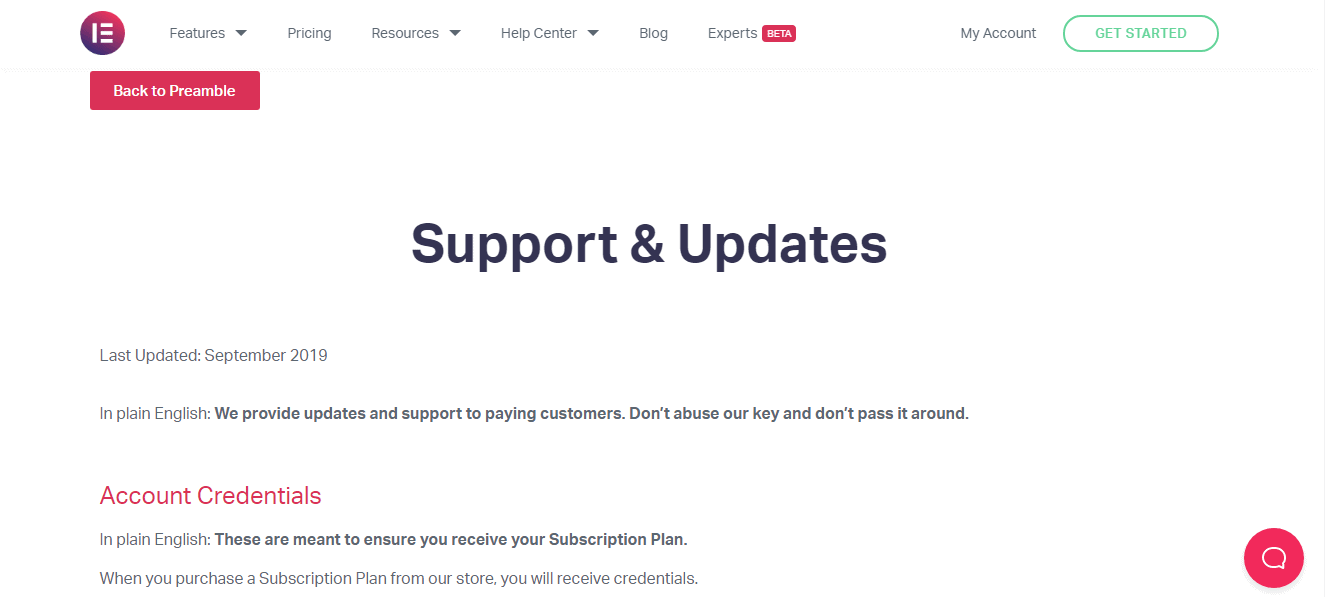 They also have a YouTube channel with hours of video to enhance your ease of understanding. Elementor has a community forum to answer all your questions that the articles and videos fail to address. Elementor Pro users can enjoy 24/7 support.
Before I switched to the Pro version, the support I received from Elementor was painfully slow. This might be a deliberate ploy to convert their free users into paying clients. Guess you literally can't complain when it's free. 
Thrive Architect also contains an extensive range of documentation to help you get familiar with various features Thrive Architect has to offer. They have a community forum and a Facebook group to answer any additional queries you may have. They also provide an option for you to chat with their technical support 24/7.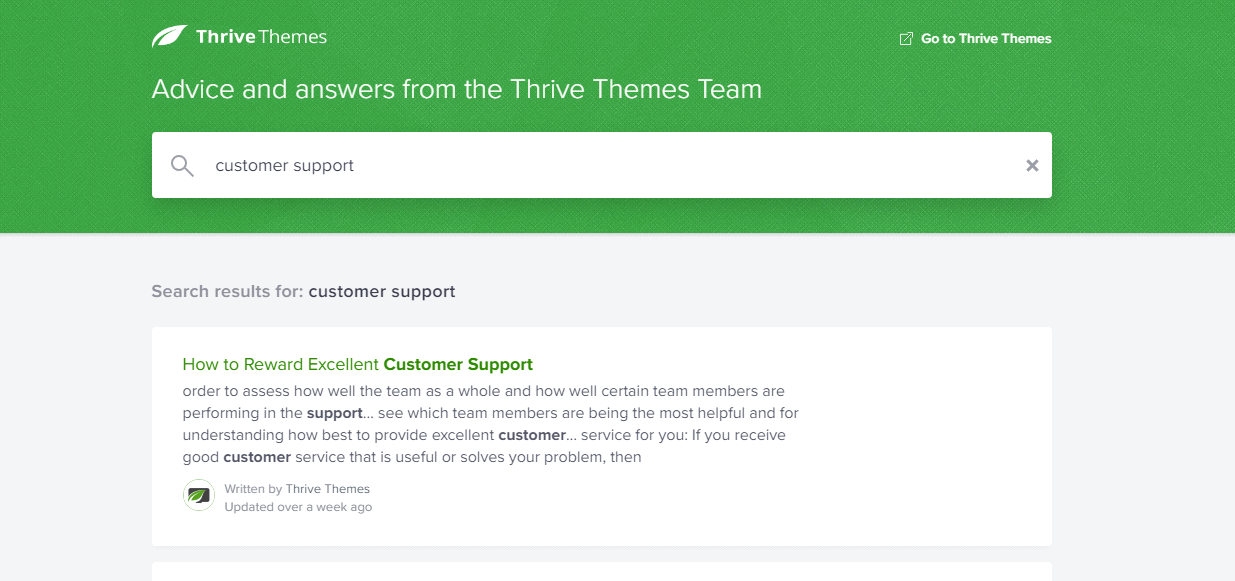 Verdict: Elementor support is slow-responsive. Thrive Architect has not had a problem in that regard. That is why Thrive Architect wins the battle of customer support.
Thrive Architect vs Elementor: Pros & Cons
Elementor User Reviews & Testimonials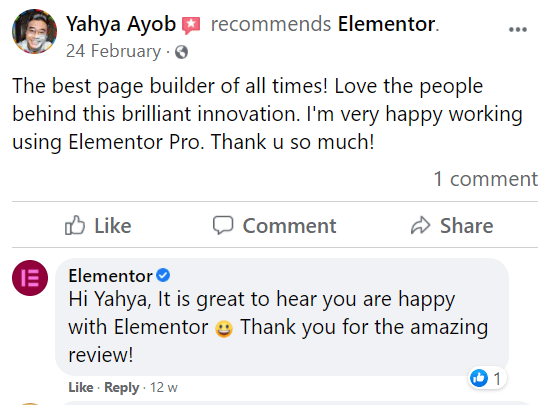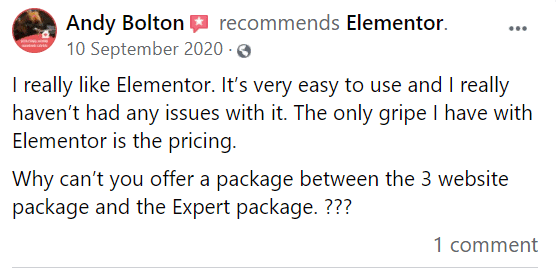 Thrive Architect Customer Reviews
Sherwood Tucker | THRIVE CUSTOMER

I would heartily recommend Thrive Suite because there is so much value. In addition, I am not a coder or even a website builder but Thrive plugins make it so much easier. I can create everything myself which of course, is much less expensive. Besides, it is fun!

Jeff Sauer
FOUNDER OF JEFFALYTICS

It's at the price point where it's affordable for anybody, somebody just getting started, but it's at the level of quality where it can scale with you and you can build a million dollar business off of it.
Philip Shaw
CLEVERCLICKS

We started using Thrive a few months ago and are beyond impressed. As the owner of a digital agency I've noticed an increase in conversions since we switched and I continue to be impressed with pretty much every aspect!
Quick Links:
FAQs on Thrive Architect Vs Elementor
☞Is Elementor free?
Yes! Elementor can be installed for free and there is also no annual fee to be paid for using Elementor. However, Elementor Pro needs to be paid for if you want an upgrade to more features and benefits. The price for Elementor Pro is $49, $99 & $199 per year for personal, plus, and expert plans respectively.
🙋‍♂️ Do I have to pay annual fees for Thrive Architect?
Yes and no. Thrive Architect consists of two one-time payment options for purchase at $67 and $97. There is also a $19 per month plan that has to be paid annually.
🤷‍♀️What happens after my one year of support with Thrive Architect?
You can easily renew your support plan for a small fee of $40 after the first free year.
📕Elementor Review (Hands-On in 2021): Is it the Best WordPress Page Builder?
Yes, it is. Elementor is famous for a reason - it is unquestionably one of the finest page builders for WordPress. If you wish to try it out, you may do so by downloading the free version from WordPress.org. Then, upgrade to Elementor Pro to unlock all of Elementor's features.
✅Do I need a WordPress theme if I use Elementor Theme Builder?
Yes. If you choose the Elementor Hello theme as a starting point for your theme builder, your site will be completely bloated-free. Elementor Hello is just the minimal essentials for powering a WordPress site. From there, you may utilize your theme builder to add just the features you want, without adding any unnecessary baggage.
📁What's the difference between Elementor (free) and Elementor Pro?
The free edition of Elementor provides an infinite number of design options. However, Elementor Pro equips you with additional professional tools that streamline your process and increase conversions and revenues.
⁉️Pricing: How Much Does Elementor Cost?
$ 49 per year is an attractive amount to pay to upgrade to Elementor's pro edition. It costs just $ 99 for a three-site license and $ 199 for a 1,000-site license. All WordPress users may install the free version of Elementor to get acquainted with the plugin's capabilities and limitations.
Thrive Architect vs Elementor 2022: Which Tool Is Better? 
In this bout between Thrive Architect and Elementor , no one was able to land a knockout punch. 
This is a difficult comparison, and I believe it will come down to pricing for some.
Thrive Architect comes with lifetime updates, whereas Elementor is a yearly licensing fee
It's also worth noting that Elementor is far more polished and well-suited to comprehensive website construction.
Elementor Pro also has the ability to generate dynamic headers, footers, and post templates, which makes it more powerful
Elementor also has a plugin ecosystem that allows it to increase its capabilities.
Thrive Architect has a strong marketing focus, including capabilities like scheduled content, popup boxes, and deep integrations with Thrive's other plugins.
Elementor Popular Videos
How to Use the Call to Action Widget in Elementor [PRO]?
How To Use the Video Widget in Elementor?
How to Create a Header Template With Elementor Theme Builder?
How to Fix the "Preview Could Not Be Loaded" Error in Elementor?
Thrive Architect Popular Videos
Thrive Architect Tutorial Walkthrough
How to Create a Landing Page in Minutes?
How to Add a Click-to-Call Phone Number in WordPress?
How to Use Categories & Tags in WordPress – The Masterclass?
Elementor On Social Media
Page Builder Summit 2021 (@summit_camp) is starting tomorrow! Get your FREE ticket and talk to over a 35 industry experts including @bpines1 . Excited to be sponsoring this great event. See you there! 💻🎉https://t.co/gDtFpUJLBH

— Elementor (@elemntor) May 9, 2021
Step aside and welcome our April 2021 Showcase. 🏆🌷 This month we applaud 10 design agencies from all around the globe. This diverse collection accounts for the Elementor web creation talent around the world. 🌎 https://t.co/bwwOUDQCuu

— Elementor (@elemntor) May 19, 2021
Thrive Architect On Social Media
6 Original Online Course Ideas and Why We Like Them onlinecourses courselaunch https://t.co/5FAPyDiQQr

— Thrive Themes (@ThriveThemes) May 21, 2021
Are you tired of repetitive web design tasks? webdesign thrivethemes https://t.co/5MC0LQqd9l

— Thrive Themes (@ThriveThemes) May 19, 2021