Out of the overwhelming market of WordPress Page Builders, we decided to write an in-depth Elementor Review because we have heard of it a lot and how the company boasts to have over millions of installs in just four years.
Honestly, I am not a big fan of WordPress page builders because they might limit, but Elementor was different for me. Trust me, It was.
Elementor is an easy-to-use drag and drop website builder that lets you create a website in minutes. It has powerful features, like the ability to import content from other websites, add unlimited sliders, and embed videos from YouTube with just one click.
So, this is exactly why I've put together this review to guide you through all the features, prices, pros and cons, and some alternatives to see if they are the ones you are looking for. 
Is Elementor Worth It?

Elementor is one of the easiest and most powerful WordPress plugins I have ever used. It has all blocks and templates prebuilt, making it easy to edit and copy/paste content. The feature-rich free plan is more than sufficient for many personal and even business websites.

If you are looking for an easy-to-use WordPress plugin with all the features you need, Elementor is definitely the plugin for you!
What is Elementor?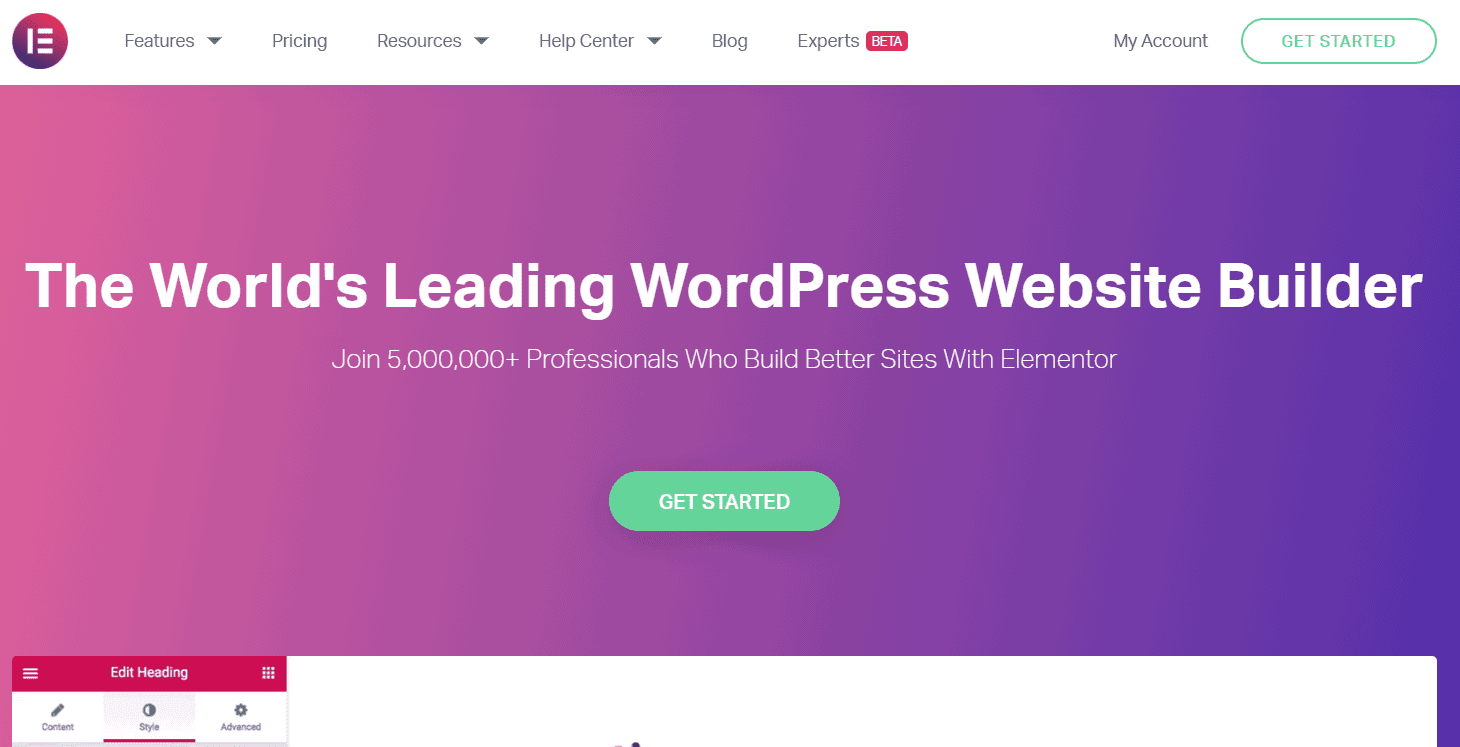 As the above image says- The world's leading WordPress Website Builder. I'd say that seems true to some extent.
Elementor is an excellent drag-and-drop page builder plugin for WordPress. Using Elementor would feel the same as how you would feel like using Wix or Squarespace. 
The best part- no coding knowledge is required and you can create a site from the scratch or use various ready-made templates.
Anyway, to sum it up, I'd say that for someone with 0% knowledge of coding, it is a perfect treat. 
I did a pretty good job with my WordPress site look using Elementor. It turned out just the way I wanted it to, which is super great for you too if you haven't a clue about the coding. 
Also, we know that it is important to know what you are getting yourself into.
So, to get started, let me give you a vague idea about how things will be laid out for you, neat and sweet. 
Here is why Elementor website builder is the best WordPress page builder in a nutshell:
Your own

content area!

Yes, ladies and gentlemen, this is your room for your beautiful artwork! Normally, you will be able to look at the usual theme outside two dotted lines in grey, and inside these two lines will be your space of comfort to build eccentric designs! 

The

widgets

and/or

elements!

Every new page idea needs a startup idea, now, we will call your startup idea a brick and your page idea a house design. Now, your bricks are the elements here and since they are essential, you will use them to build your house design, that is, your page. 

The

setting!

Like anywhere else you've heard this, it is the same feature that lets you add changes, helps you clear a doubt or query, undo the changes you've made, or in this case, an additional option of previewing the design you've created on various devices and honestly, much more! 
💥Who is Elementor Best Suited For? 
Elementor is a software that is best fitted for page builders as it can deliver multiple features and sources for free.
This page is considered the best for people who are passionate about design and want to design their own page without the use of any coding skills or HTML or CSS.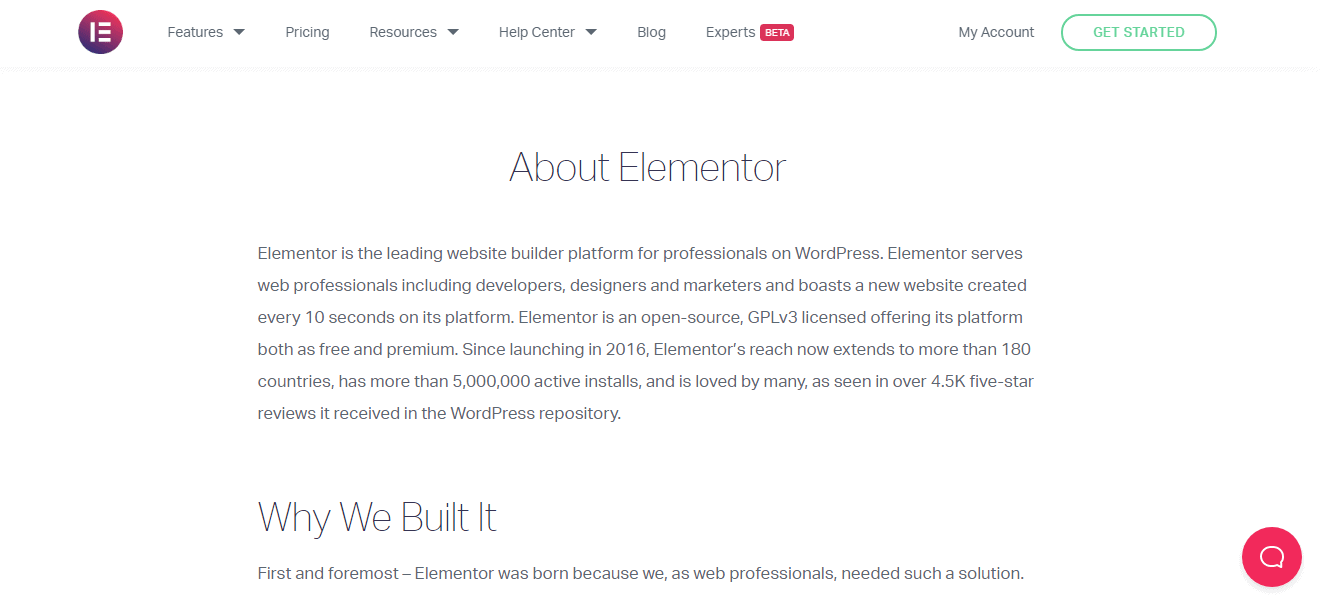 It also helps you move content about in order to get the best adjustment and best details in the features. This page also helps you be the master of your own work.
If you haven't got a degree in design or any other digital designing forums, you are still eligible enough to understand the working of the Elementor software. 
You can build your own page and be your own designer without having to depend on anybody else.
Basic Elementor Features
Now that you have had an overview of Elementor, let's dive into some of the basic features that are offered by this platform.
These features remain the same across the paid and free versions and are also offered by its top competitors. Let's see how Elementor fares.
Page Builder
With Elementor's drag-and-drop page builder you can make changes to your page, and see these changes in real-time. You can customize the smallest of things, such as a button's color, to the largest of things such as background images. 
There are different modules that you can drag to the preferred area and drop, such as images, buttons, and texts. With the Pro version, you get access to additional modules, such as pricing lists, media carousels, and heaps more. 
All this, with zero lines of code! Awesome, right?
Navigator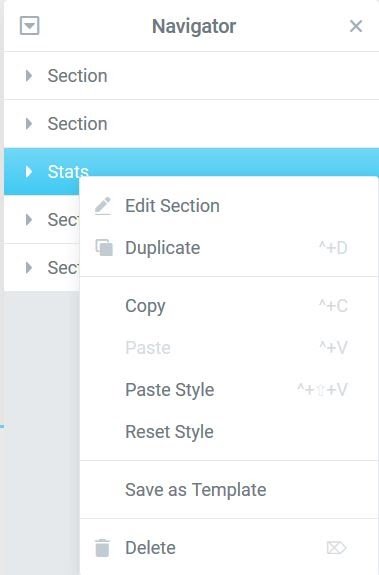 This feature helped me so much that I can't even begin to thank it! So what does it do?
It's easy to get lost when you have layers upon layers of elements, and if you want to edit it again it's like searching for a needle in a haystack.
Select the Navigator option, by right-clicking on the element, and the editing bar is automatically displayed for all such modules.
300+ Ready-made Page Templates

You don't always want to create pages from scratch.
If you don't want to do everything yourself, you can save some time by using the pre-made Elementor templates. And don't worry, these templates can be edited too, so you can customize and tweak them, as per your liking.
With the premade template library and template kits, your website will not only be uniform throughout but will also be up and running within a few minutes! 
Blocks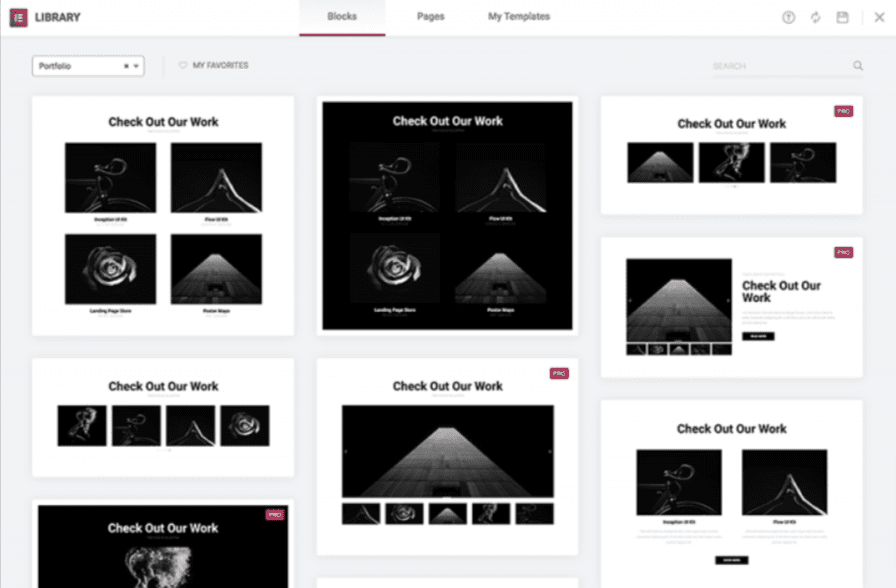 The smaller version of page templates, blocks let you add premade sections onto your page, and customize it.
Some of the over one hundred blocks that are included in the free version are About Us, FAQs, and testimonials.
You get additional blocks with the Pro version, to really fine-tune your page. Blocks too can be customized to your personal preference. 
Pages
These templates come as a free page design that you can import and tweak as needed.
Text Editor
This Elementor feature lets you directly edit text fonts and colors, directly on your page itself.
This makes the platform efficient and hassle-free and saves you from the frustration of having to load another window and edit and save and then reload the text! Thank the Elementor Gods!
Mobile Responsive Previews and Designs control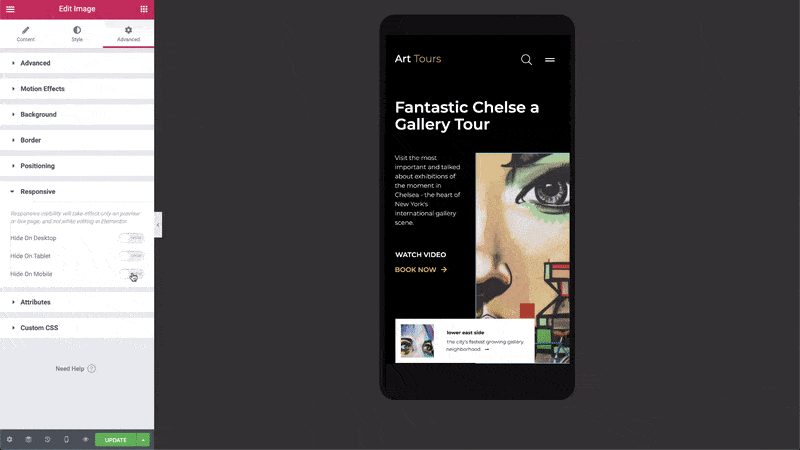 In the first quarter of 2021, mobile devices (excluding tablets) generated 54.8 percent of global website traffic.
With tons of users accessing different pages just by scrolling through their phones, you just can't do without a mobile version for your site!
So it's a great thing that Elementor has a Tablet and Mobile viewing version, in addition to the standard Desktop view.
You can work simultaneously on all three versions, without one affecting the other. Trust me this saves a lot of time, but don't get too carried away while exploring. 
Elementor also lets you preview your changes and designs as soon as you do that. You can switch between the different devices to see how your design will look in respective designs.
What makes Elementor stand out from others is it gives the flexibility to the users to show or hide the widgets as they demand. For example, you might want to hide a image or any widget from your mobile device to make it more responsive. But, this change will only be applied on mobile devices.
Version History
If you are someone like me, who ruins something already perfect, by taking things too far, this feature will be a blessing in disguise!
Sometimes you edit so much that you don't know how far Ctrl + Z can take you! So should you start over?
Absolutely not! With the help of the History panel, you can restore everything to your preferred older version. Restore it, with just the click of a button! 
WordPress Compatibility
This versatile and flexible page builder, allows you to work with both free and paid WordPress themes, seamlessly. The most compatible theme that is popular among users is the Astra theme. 
Unique Elementor Features
The features above are most common among the top page builders in the market. Here are the features that give Elementor an edge over them. The features listed below are available only for Pro subscribers.
Theme Builder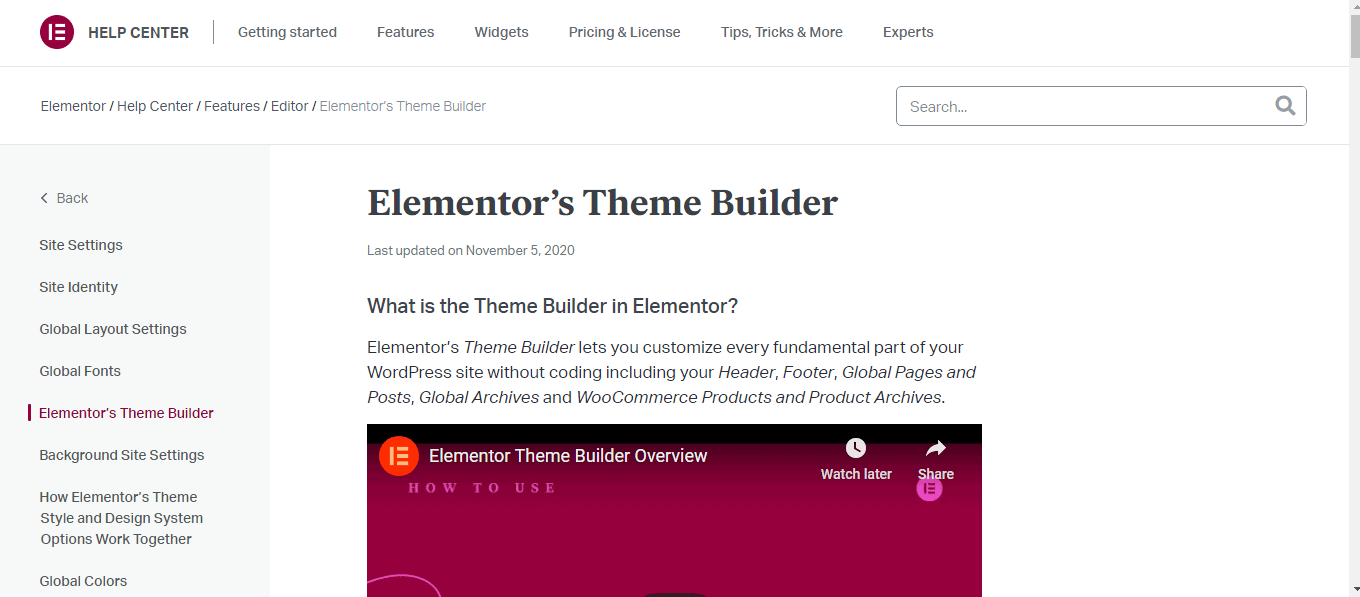 Though the page builder gives you access to tons of modules to customize your page and themes, it does have its limits.
Break those boundaries, with the Elementor Theme Builder, which lets you customize each and every single page detail imaginable, including but not limited to page headers and footers and error page customization.
Let your design bone sing, with this efficient feature!
WooCommerce Builder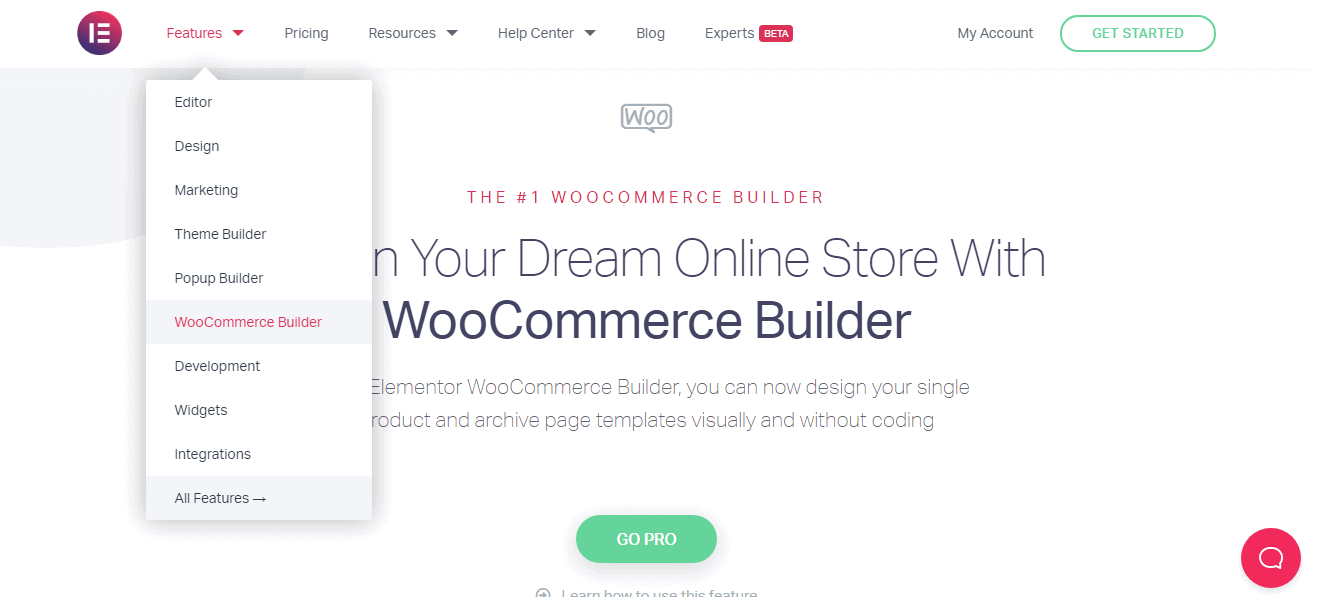 WooCommerce is a great e-commerce platform. So why not add an online shop to your page, using the WooCommerce Builder? You get access to over 15 premium WooCommerce widgets as well, to customize and edit! 
PopUp Builder
Want a nice little popup to welcome users to your page, or want a popup to display the amazing offers on your site?
This is a possibility with the Elementor popup builder, which lets you create the perfect popup with smooth animations. You can even select target audiences! Sounds great? Try it right now! 
Form Builder
Want to add a personal touch to the contact page?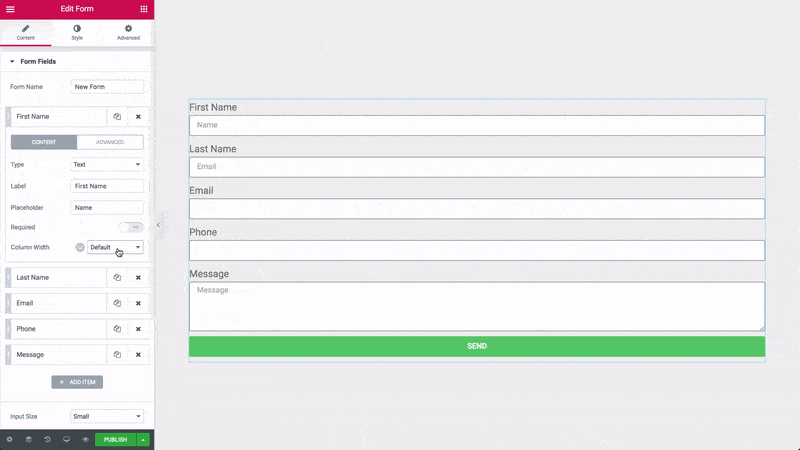 Using the Form Builder you can customize all your data forms in a matter of seconds, easily, with minimal effort! Create the perfect site, with customizations extending to your data forms! 
Global Widgets/Modules
Recently, I put myself in quite the hurdle. Picture this. You've got your perfect little site up and running.
The same widgets run across multiple pages seamlessly, and everything looks beautiful. But wait! That button is of the wrong color! Blunder! Should you go to each page and change the module?
Nope. The global widget feature does it for you! All you have to do is edit once, and see the magic work its way across the rest. Whew! I was so relieved! 
Integrations
If you want to take things to the next level, and want to aggressively create marketing campaigns and strategies, don't look any further!
With Elementor's adaptable integrations, you get access to add-ons offered by its integrations with marketing platforms, such as Zapier, MailChimp, Drip, and well, the list is quite endless.
Elementor offer integration with various 3rd-party marketing tools, WordPress plugins and social networks.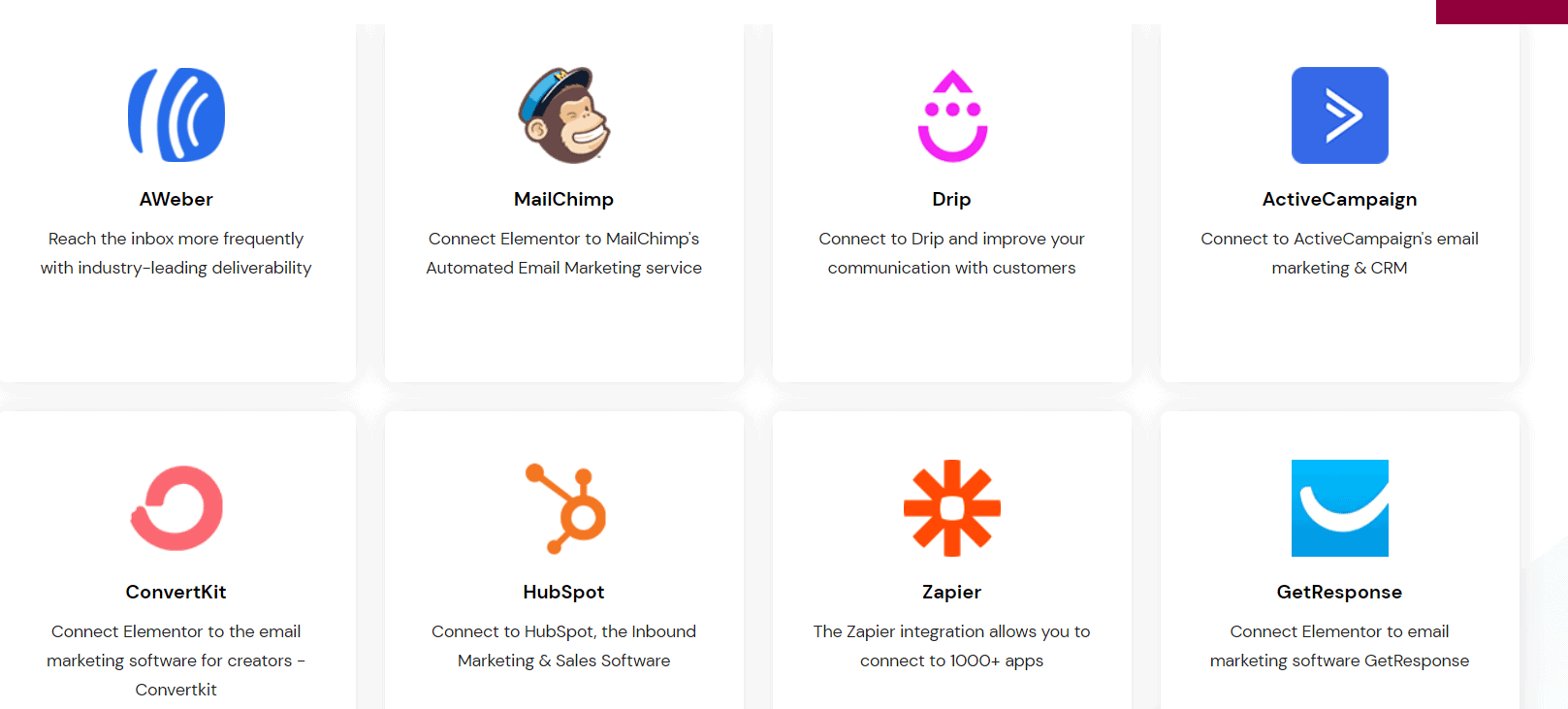 So get exploring to unlock the best of both (or multiple) worlds!
Role Access
If you work with a team of creative developers, there's a major chance that your opinions may clash!
You don't want multiple people moving different things, and compromising your precious site and giving you a headache!
With the role manager feature, you can easily designate access controls, to various users. Too many cooks will not spoil the broth, with this Elementor ingredient!
This is not the end! If I keep listing all the features here, it will be a bottomless pit!
These are the most helpful features, according to my experience. There are loads of features, which I'll give you the privilege and fun to explore!
Elementor Pricing: How Much Does It Cost?  
Still, reeling from all those features, and wondering how big a hole will be burned in your pocket? I have an answer that will make you jump with joy! It is totally free! I'm not kidding!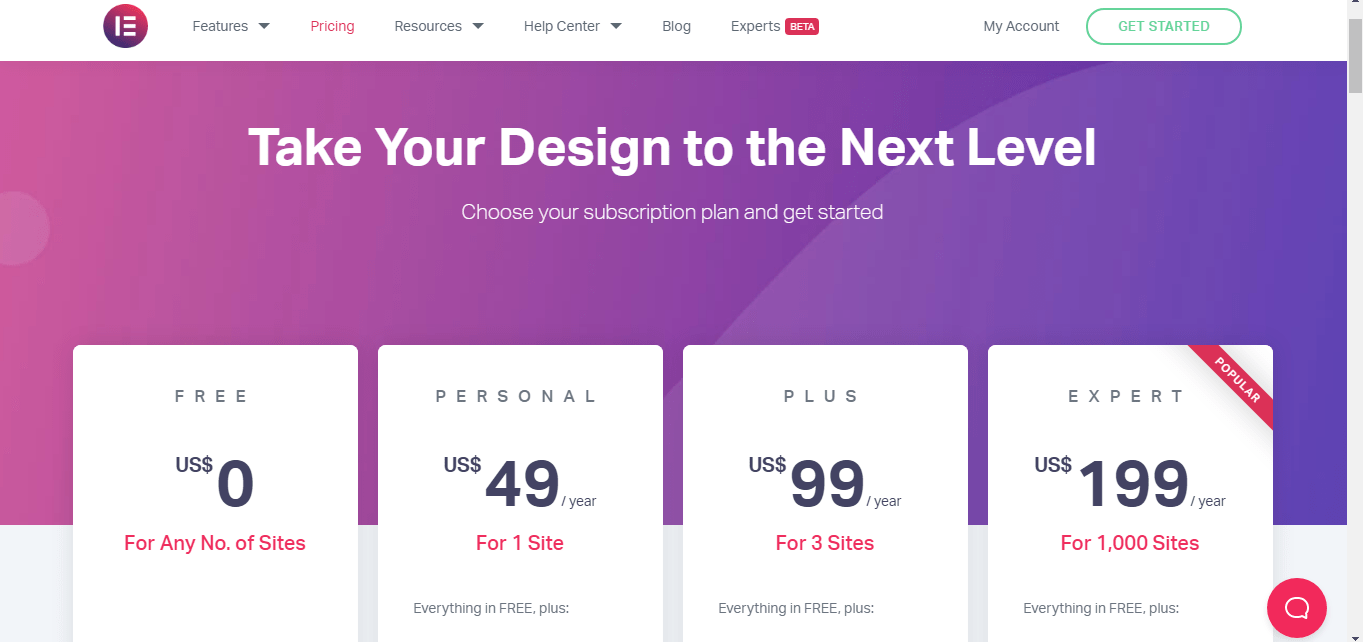 Well, okay there is a Pro version available with three pricing packages, but honestly speaking, I found that the free version gave me access to almost 90% of the features that Elementor has to offer. But if you have the budget for it, you can definitely opt for a paid version, to get that 10% edge! 
Here's what is available in the free version:
Can be used on unlimited sites

Complete access to the drag-and-drop page builder

More than 40  basic widgets

More than 30 basic templates

Around 100 block templates for testimonials, 'about the team' and other basics.
The Pro version has three different price points and is an annual subscription. All three versions have the same features offered, and the pricing varies based on the number of sites on which you can use Elementor. The three packages are:
Personal –

$49/year, with a license across a single site only.

Plus –

$99/year, with a license valid across three sites.

 
Expert –

$199/year, subscribing to which, you can access a thousand sites!
Here's what is available across all the Pro versions:
Everything included in the free version

More than 300 premium templates

More than 50 premium widgets

Global widgets 

Around 10 kits to build full website templates

Theme Builder, to create and design your own themes.

WooCommerce Builder

My personal favorite, the Popup Builder

Integrations with Email marketing platforms like MailChimp
In addition to these amazing bonus features, you also get access to a 24×7 customer support team, who can even help you by remotely accessing your Elementor dashboard. All these plans come with a thirty-day money-back offer. So try the Pro version in peace, and if you aren't satisfied with it, you can unsubscribe and continue with the free version. 
Elementor Customer Support
With the vast variety of features that Elementor has to offer, it is only natural to feel a little lost at times. With a large number of amateurs beginning to delve into the world of web design, the question arises, is the customer support any good? 
It is! Elementor provides you with tons of resources to get started, such as documented questions and answers from existing customers and an array of informative video tutorials that you can follow step by step and easily get the hang of. 
In addition to this, you are also given the opportunity to connect to web designers and creators who used Elementor as a platform to get started.
You can directly chat with them, and get handy tips and tricks, to help your page stand out amongst the crowd, or just connect with them to build the community.
And what if you run into a problem, which you just cannot find the answer for, on their blog? Not to worry!
They have a responsive 24×7 customer support team that will be at your beck and call and save you some invaluable time. This option is however only available for Pro subscribers, and not for the free version.
Regular updates and additional features are available on Elementor, which for me was a big plus.
Why?
It means that they are actually listening to our problems and suggestions, and doing something about it! Elementor is not only a great platform for web designing, but it also has a supportive community
How to use Elementor?
Elementor is a plugin from WordPress that requires the user to install and activate in order to use it just like another plugin you have used before.
After this, you can access the settings panel or choose to go to your WordPress and set up a new fresh one! Soon after this step, the next ones pretty much take you along without much confusion but it starts with an option of editing with Elementor.
This will take you straight to the next page which is the Elementor user interface.
This is the main page that has the test page access and other various feature introductions. The main parts of this page vary from the main canvas all through it to the page which helps you publish your work.
The main canvas or the main front page is the one where you can put and adjust the content blocks that you have. The parts of the content that are for usage will also be available here. 
The settings of Elementor that range from color and fonts to alignment and so on are accessed here. Through this page,  the user can come back to check the elements of the content that they are using.
There are global settings for each page that you work on and those can be reached through this page. The history of this page can also be accessed.
To build a basic page on Elementor, the user is required to be thorough with the page structure or to simply out it, the functional ranks of the page.  A single page can have multiple numbers of sections in it.
Each section of the page can have columns and not just one but again, multiple numbers of columns. Each of these columns can have more than one element of content.
Each element of content can be styled in their own manner and have their uniqueness. The hierarchical structure goes from page to section to column to content and lastly to styling.  
To start off the page, you can use a template from the settings or just start with a plain section. This new section further allows you to give rise to the rest of the lower parts of the hierarchical structure mentioned earlier.
Once this content block is ready to place,  you can adjust the details and its presentation.
This is done with the help of the three main tabs that are content, styling, and advanced. Using these to build on your content block individually therefore working to perfection on each of these aspects.
This will help you get the best content block out of your creative ideas. Elementor is relatively easy software to use. Once you work with it, the rest comes out easy.
Is Elementor Easy To Learn? 
This is a page that is very efficient and crisp about its instructions and takes into account the larger majority of the crowd that finds the learning of coding languages and so on difficult. It has a visual drag and drop system that makes most of the work easier.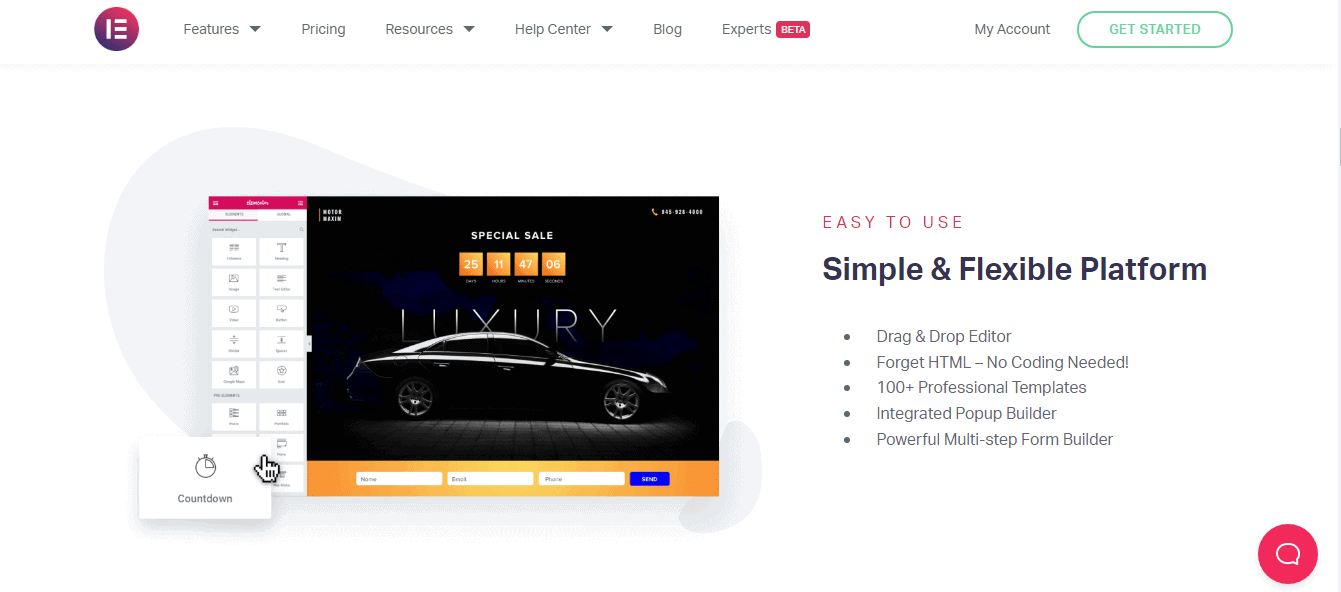 The wide array of elements put forth for you gives you a larger number of choices which helps you come up with the best design for your project. It is also easy to adjust your give better detailing to your content block using the drag and drop method and the main canvas. 
As it requires no coding and no computer language, most users consider Elementor as an asset and they claim that it has made their stress with the work much lesser than it was. With specific hierarchical structures, it is easy to organize the content on the website as well.
Top 5 Best Elementor Alternatives 2022
Now that you know what Elementor is all about, you might be wondering if there is something better out there.
After all, the best entrepreneurs and creators do not settle for the first tool they come across. Or are you here in the section, as the cons of the pros and cons list, put you off a lot?
Whatever may be the reason, here is a list of four alternatives, that are on-par with the features that Elementor brings to the table. 
1. Beaver Builder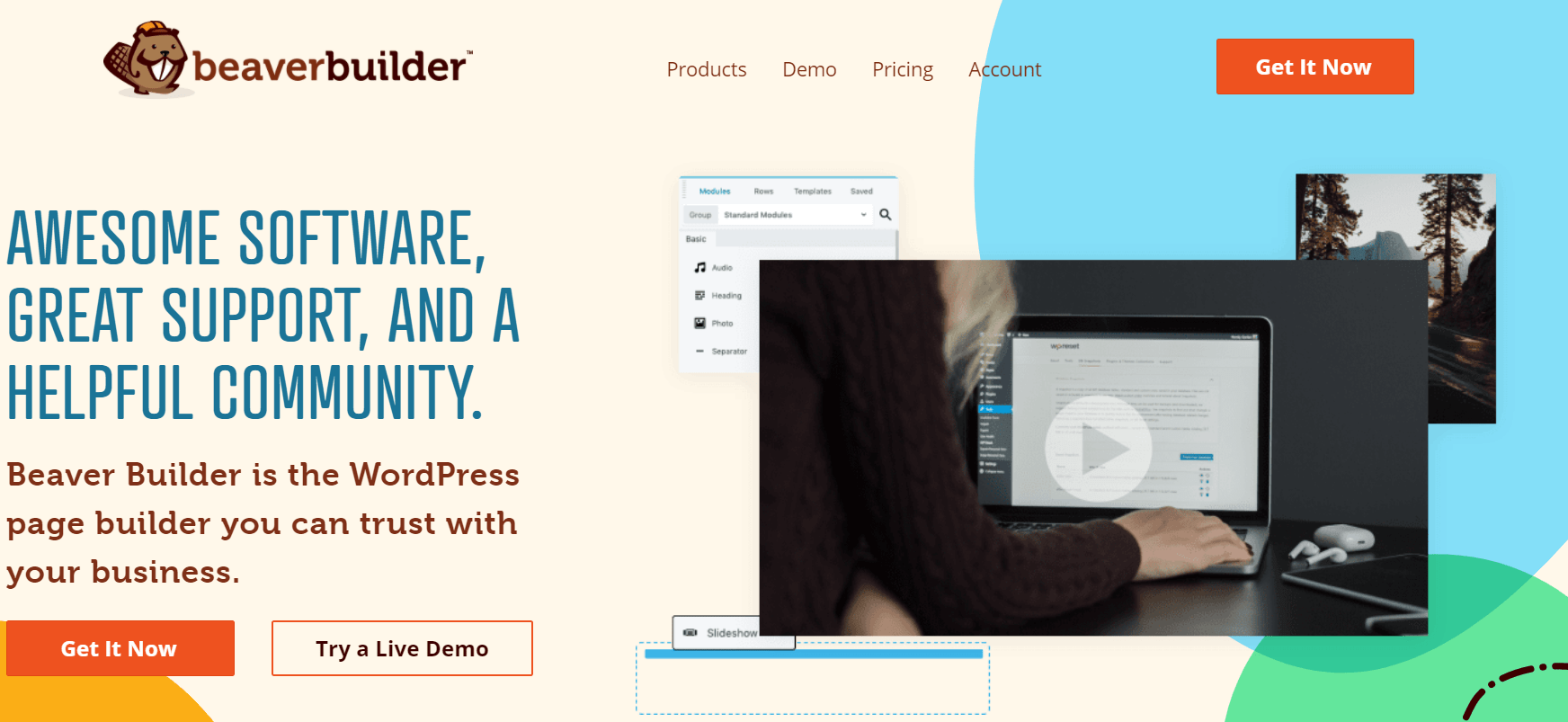 Launched in the year 2014, Beaver Builder is a leader in the arena of WordPress page builders. It is well known for the pretty stable and consistent core features that have helped it in establishing a loyal base of followers.
Though the core plugin is a page builder for the individual content pieces, it also has a separate official extension that supports complete theme building like the Elementor.
All in all, it is a great alternative when it comes to designing the entire theme or the individual pages.
It is easy to use, offers a large variety of templates and widgets, and you can have your website up and running within five minutes, with this flexible page builder.
It is a great option for beginners, who do not want tons of features that will leave them confused. Operating this platform is not rocket science, and you can use it through sheer common sense and no coding knowledge! 
This fresh new kid on the block may not offer as many free page templates and modules as compared to Elementor, but it does offer a faster page loading time.
It also boasts of its special onboarding panel, which makes it faster and more efficient. Some unique modules that you may find with Beaver Builder, are icon groups and post carousels. 
If you are looking for a faster page loading speed and better performance and are not that focused on the page aesthetics, you can use Beaver Builder to create something simple and minimal. The pricing for the premium version ranges from $99-$300 per year. 
2. Divi Builder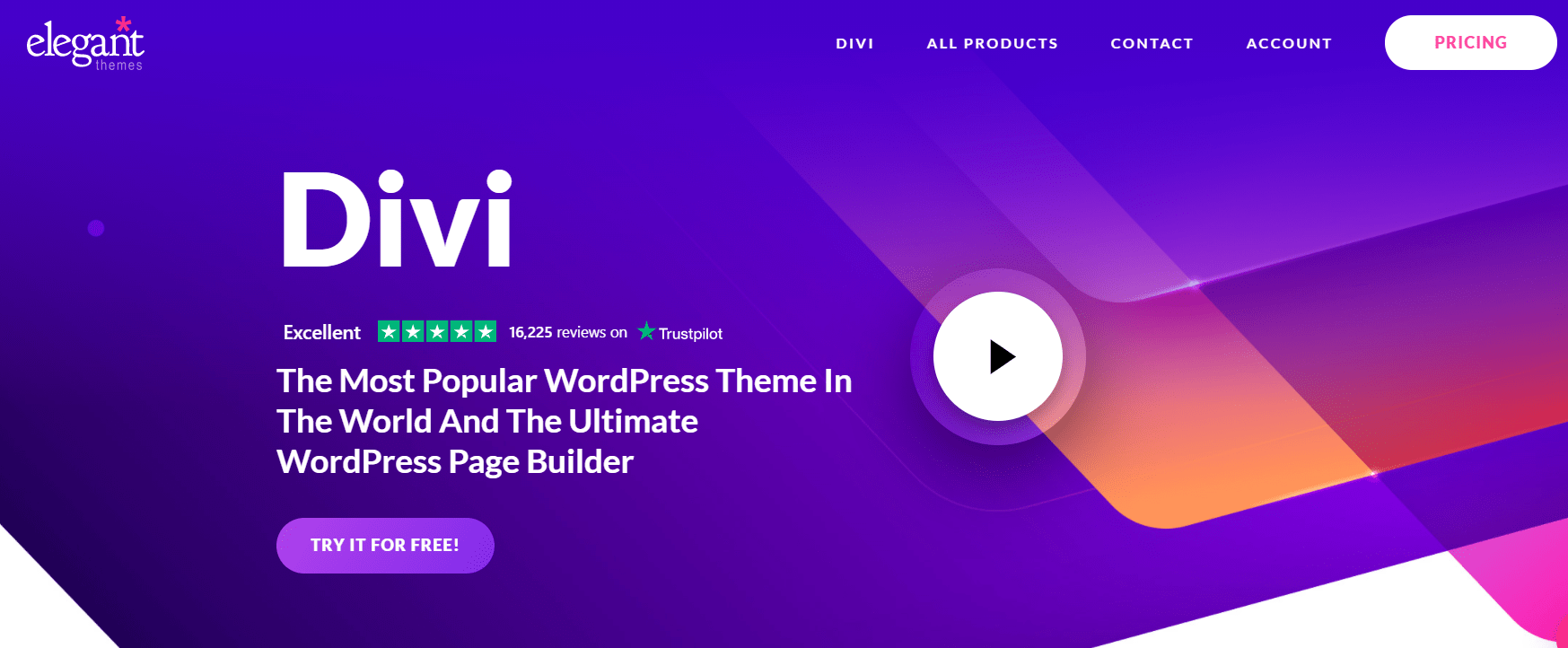 Divi is one of the most popular alternatives of Elementor when it comes to design flexibility. You get to lay hands on various styles and design rules through its interface.
It also offers numerous useful features like find/replace, copy/paste styles, and a lot more. This option is thus a great alternative for all those who are focused on the designers interested in adding a lot of effects and styles. It can work as both a simple plugin for a page builder as well as a WordPress theme.
The Divi Builder platform doesn't come with a free version. But, is it worth paying for? Divi Builder offers all the benefits that Elementor has to offer, plus a lot more additional customizable features. It may take a little longer to get a grasp of, but it's totally worth it in the end. 
The themes offered on this drag-and-drop builder are not just more in number, but they also look professional and beautiful. This popular platform offers an excellent and responsive customer support system, with an extensive network of documented articles. 
If you want to stand out in the block, with clean aesthetics and create a unique brand for yourself without all the hassle of hiring a professional or doing it yourself, this simple and easy page builder will fit your needs like a glove.
Pricing for Divi Builder, ranges from $89-$249 per year, with a thirty-day money-back guarantee. 
3. Themify Builder
If you want something that is even more affordable as compared to Elementor, you can try out Themify Builder. Though quite new in the field of page builders, Themify has shown that it can reach great heights quickly, and is becoming increasingly popular among web creators.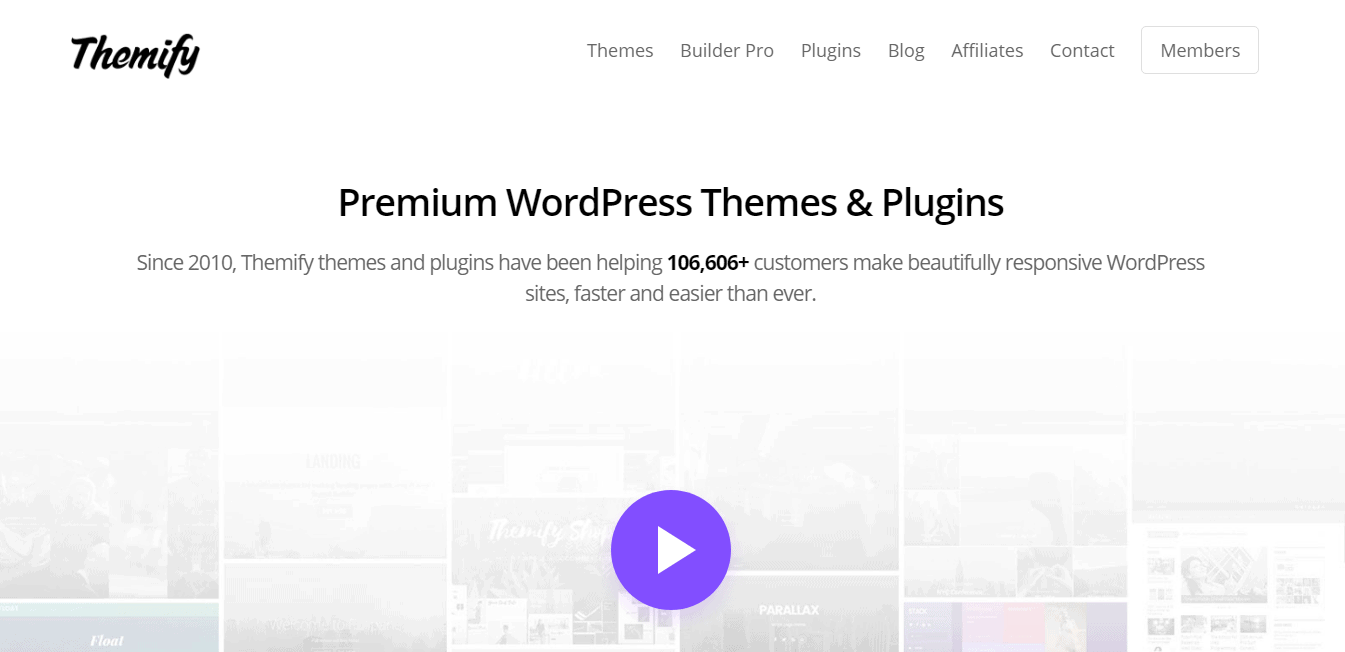 It offers a plethora of out of the box features, to guide you on your way towards creating an eye-catching web page or blog. The Themify Builder has great themes and templates, with creative and unique designs.
If you are not particularly fond of the live preview offered by Elementor, you can use the Themify Builder, where you can turn the front-end editing mode off. 
If you are a beginner and aren't sure of your capabilities, you should definitely go for Themify Builder. It doesn't overwhelm you with its features and customizations and is super easy to use.
The best part is that it is completely free, and if you want the premium version, it just costs $39 per year. The premium version offers an add-on bundle to advance your creativity. 
4. SiteOrigin Page Builder 
If you have a few coding tricks up your sleeves and don't want to pay a page builder for shortcodes, then head on to the SiteOrigin Page Builder.
It is cheap, efficient, and you end up with a clean, professional-looking website! 
Don't worry, you don't have to build the page or blog from scratch, as the builder comes with more than 25 pre-designed templates, customized fonts, and modules. You can however use a few lines of code to tweak these pre-made designs and make it unique to your brand. 
The basic version of the page builder doesn't cost a penny, and if you want access to some premium features, you just have to pay a mere $29 per year.
Yes, it is that affordable!
As it is comparatively new as compared to the big guns such as Elementor and Divi Builder, it is constantly adding new features and customizations. I can't wait to see how this builder develops in the future! 
5. WPBakery Builder
Sounds yum? Though it is a bit of a costlier alternative to Elementor, the WPBakery Builder brings a lot to the table, when it comes to page designing and editing.
It is popular among users due to its built-in features that increase the reach of your page, such as SEO instructions.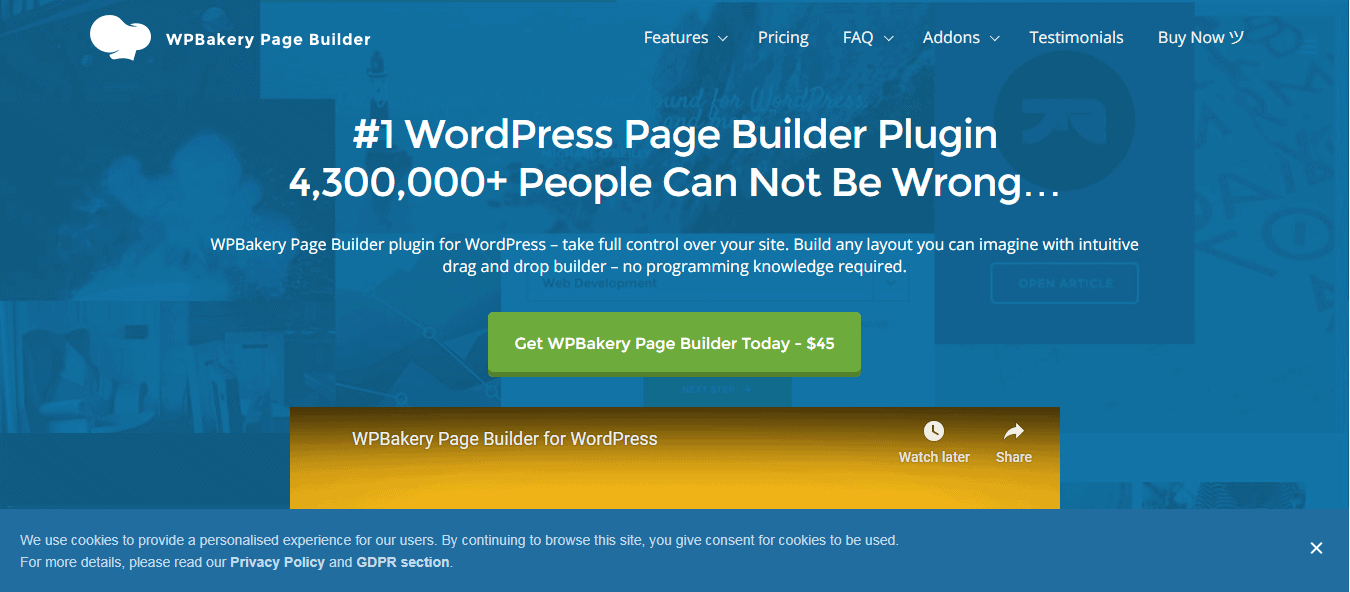 The best part about this builder is that it offers multilingual support!
It offers a lot of unique features that help it stand out in this list, such as customizable skins, WooCommerce compatibility, and a library of captivating pre-made templates.
WPBakery Builder is focused on helping you create a unique brand identity, with its SEO information and over 200 add-ons. It is more focussed on creating an aesthetically pleasing page. Its pricing ranges from $45 to $245 and there's no free version available.
They also boast of a responsive and quick customer support team that will lend you a helping hand on your page building journey. So if you run into any unforeseen obstacle, feel free to drop them a query through the mail, chat, or phone!
Read the WpBakery vs Elementor Comparison in one of our posts. 
Elementor Customer Reviews & Testimonials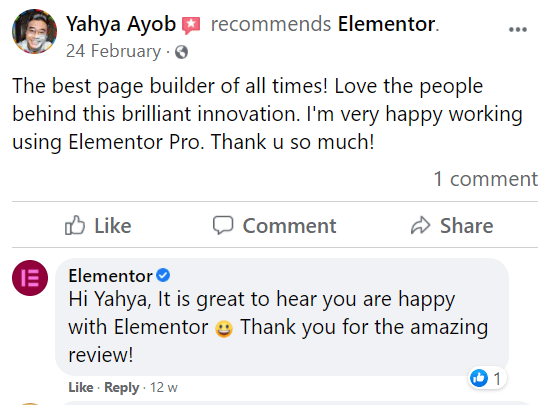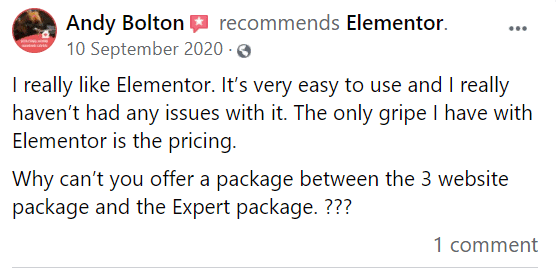 Elementor Review Reddit
Reddit users often share their reviews about Elementor: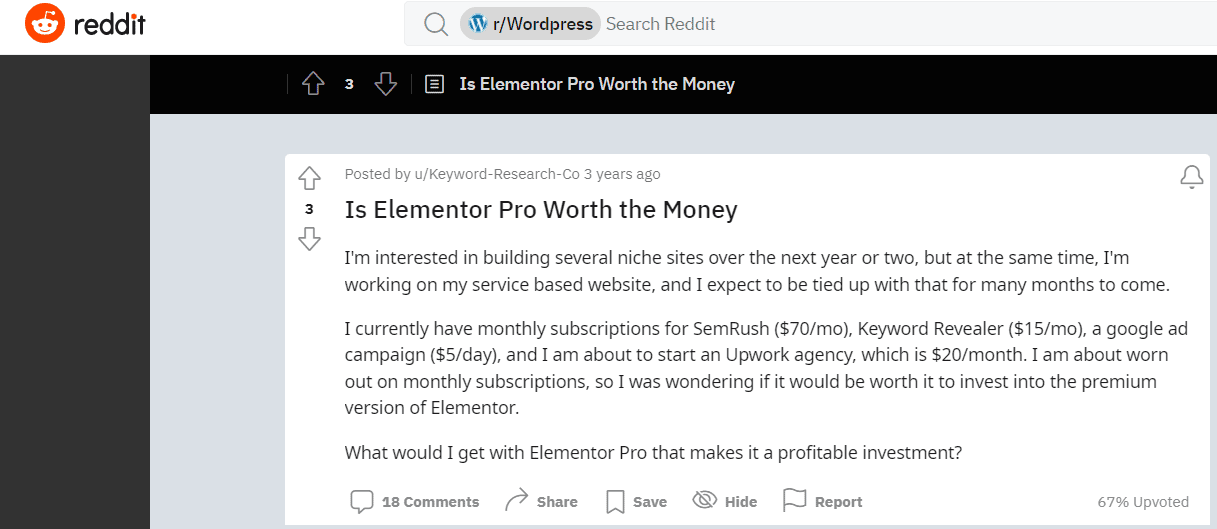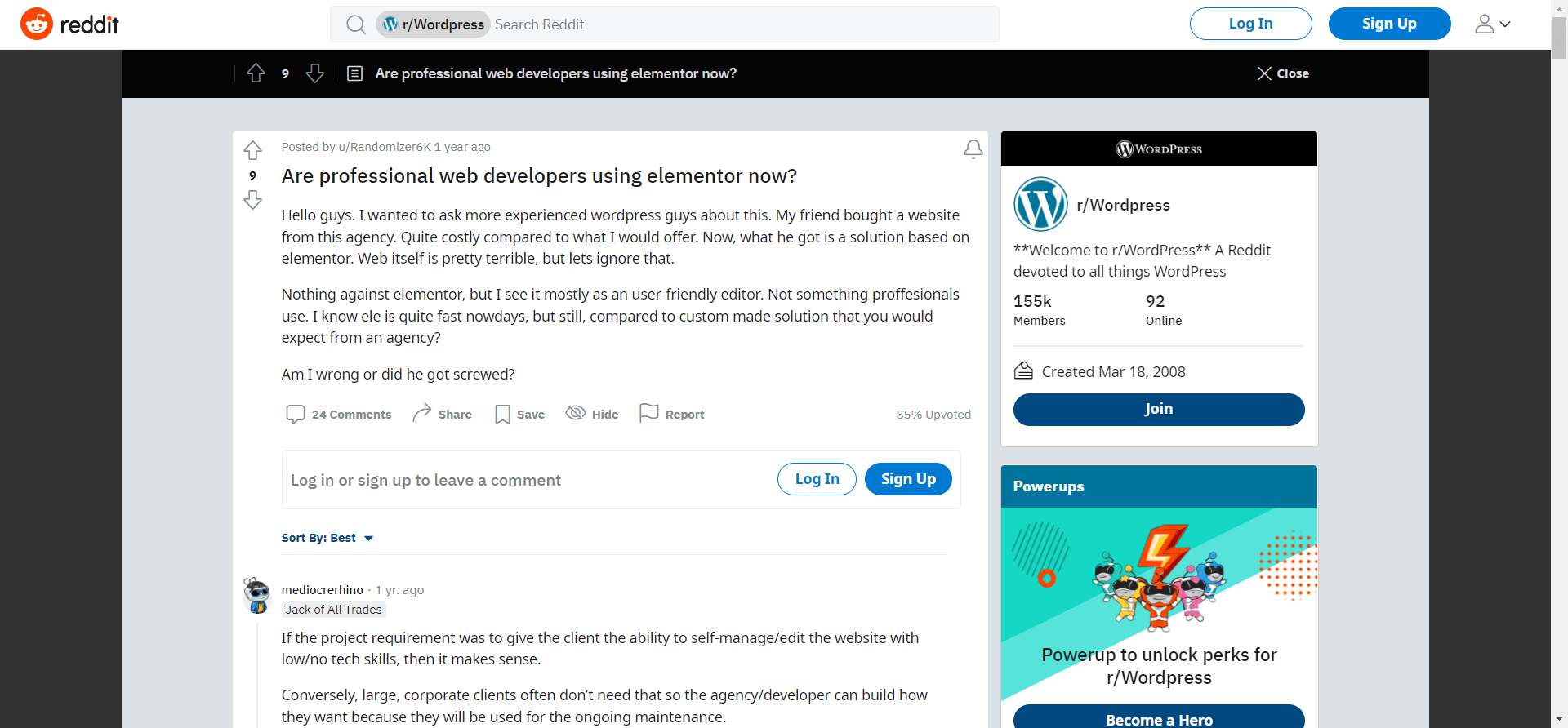 Quick Links:
FAQs About Elementor Review
🤷‍♀️What happens if I deactivate Elementor?
If you were a user of the Elementor Pro, deletion or deactivation of the account will result in the complete loss of all the designs that are advanced and made with Elementor Pro features and designs. However, if one uses the free version of Elementor, they will be able to save their designs. Such a situation can be readily avoided by using the auto-renewal option that yearly renews your account.
☞What happens if you don't renew your license after one year of using Elementor Pro? Will, it still work?
If there's a case of non-renewal that is if you have by any chance turned off the auto-renewal, the designs you have made will be as they were and in the case of features, if they are used in Pro, will function as they used to and this is the situation only if the versions of both Elementor Free and Elementor Pro remain in the exact same manner as before.
🙋‍♂️ Does Elementor slow down your site?
Elementor is a great software that can be used in most systems and for most areas especially because of its class and elegant style of builders. However, there have been several cases where the loading time of the software is a lot and takes some time to start up. This also results in bad user experience and therefore bad feedback. It is also possible that such a situation can result in the bouncing off of rates of your site and therefore significantly and disturbingly decrease the google ranking.
💯 Is it the Best WordPress Page Builder?
Yes, it is. Elementor is famous for a reason - it is unquestionably one of the finest page builders for WordPress. If you wish to try it out, you may do so by downloading the free version from WordPress.org. Then, upgrade to Elementor Pro to unlock all of Elementor's features.
⁉️ Do I need to know HTML/CSS to use Elementor?
No, you don't. that is the best part of Elementor.
✅What is the best add-on for Elementor?
There are a lot but if you're an Elementor user looking to augment the core page builder's functionality with creative components and widgets, Essential Addons is worth a try. Additionally, Essential Addons includes robust customer assistance in the form of live chat and ticket support to help you resolve any problems.
🙌Who Is Elementor Best Suited To?
Elementor is a WordPress page builder that utilizes drag-and-drop functionality. This plugin enables you to build visually appealing pages via the use of a visual editor. It's intended to let you rapidly create dynamic websites. This WordPress plugin is a one-stop shop, allowing you to manage all aspects of your website's design from a single platform. So, it is important for anyone with a website.
⭐️What are some of the advantages of Elementor?
sional widgets and features at a glance. Templates and blocks of superior quality Create shapes visually and combine them smoothly. Theme Builder enables you to completely modify your theme. With Elementor Pro Theme Builder, you are no longer limited by the limits of your theme.
👏 Is Elementor Right For You / What do I need to use Elementor?
Yes, it definitely is. Elementor is the greatest, simplest, all-in-one solution for anybody who wants to create websites fast and easily without having to modify any code. It is the most popular page builder for WordPress, owing to its simple 'drag and drops' interface.
😊 What's the difference between Elementor (free) and Elementor Pro?
The free edition of Elementor provides an infinite number of design options. However, Elementor Pro equips you with additional professional tools that streamline your process and increase conversions and revenues.
Elementor Review 2022: Is This Page Builder Worth The Hype? 
The Elementor software is one that is used among most of my acquaintances. The system itself has many quirks and it saves a lot of time brainstorming for ideas.
The features provided in it help come up with the best designs in a limited amount of time. The themes and builders of this software are especially the best. 
The price range for these is also worth concerning when it comes to the design-saving and safety aspects of the project.
There are several options to remind you of your renewal options which completely takes the idea of having to deactivate or delete your account because of payment issues.
Despite the several flaws that their system might have had, they are way stronger than before. They work towards and for their clients and in the best efforts to make the experience of the users most memorable and to offer them designs that cannot be argued with. 
For anybody who chooses to continue in design or work with something related to the same, Elementor is a very good start.
Elementor Popular Videos 
Elementor On Social Media
Page Builder Summit 2021 (@summit_camp) is starting tomorrow! Get your FREE ticket and talk to over a 35 industry experts including @bpines1 . Excited to be sponsoring this great event. See you there! 💻🎉https://t.co/gDtFpUJLBH

— Elementor (@elemntor) May 9, 2021
Step aside and welcome our April 2021 Showcase. 🏆🌷 This month we applaud 10 design agencies from all around the globe. This diverse collection accounts for the Elementor web creation talent around the world. 🌎 https://t.co/bwwOUDQCuu

— Elementor (@elemntor) May 19, 2021