Playing drums is not as easy as it seems. It takes time, effort and dedication. You need to practice a lot if you want to get good at it.
Sheila E.'s Masterclass has been designed for people who really want to learn how to play the drums well and fast, but don't have enough time or money to take lessons from a teacher in person.
This masterclass will teach you all the skills that you need in order to become an amazing drummer without having spent too much of your valuable time or money on lessons with teachers. All the information that she shares during this masterclass is worth every penny!
In this post, we'll do complete Sheila E. Masterclass Review.
About Sheila E 
For Sheila E, drums are like an extension to her body. And not only her, but she also gets this level of togetherness with drums from her father. The massively acclaimed percussionist Pete Escovedo is her father.
Now you know that the genes are strong. Her early childhood went sitting aside the stage and watching her dad play in local clubs.
Meanwhile, her mother worked late-shifts at a local dairy to make both ends meet. Sheila was born to rock those drums.
This masterclass will show how she got into jamming those drums at the mere age of only four. Most of the kids just start learning stuff, whereas she tried to play those drums as her father did.
It was only a few years later when she already started to fill her father's shoes and make him proud. She played the drums for great and famous artists like Diana Ross and Marvin Gaye around the time she was 20. 
Sheila E had her professional debut with Alphonso Johnson on his album "Yesterday's Dream" in mid-1976.
In 1977 she became a member of The George Duke Band, and since then she appeared on numerous albums by the Duke.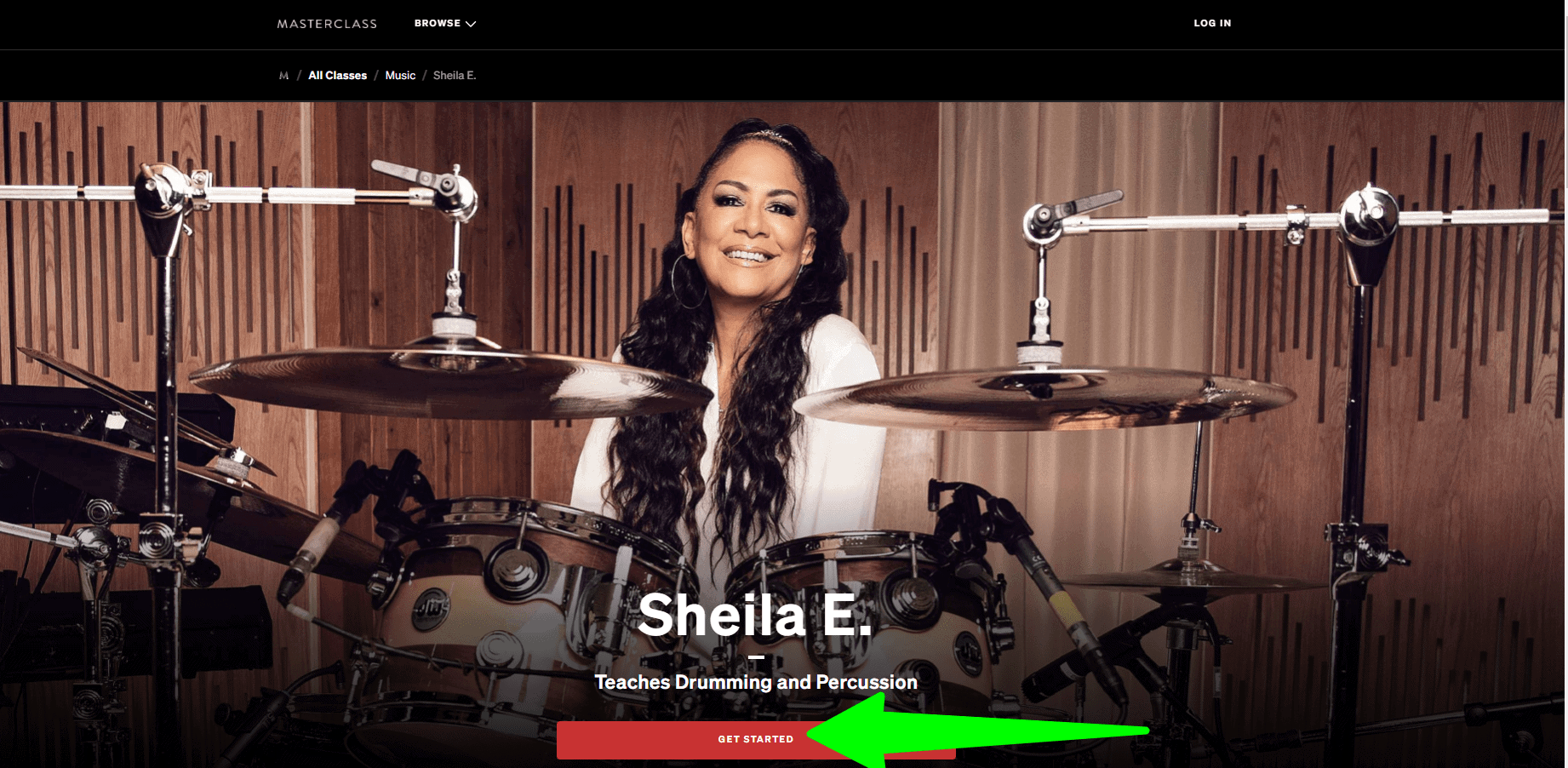 Her father and Sheila also performed together in the album "Happy Together" somewhere in 1980.
Legendary artist Prince spotted her, and it was in 1984 that they performed together on his album "Purple Rain".
It was the time when she had already made her mark in the industry and was hosting sold-out concerts all over Europe and the US.
Sheila E obviously has so much experience and knowledge having stayed and working for this long in the industry. In this masterclass, she wants to share this knowledge and expertise hers with numerous people who want to learn drums.
No matter if you learn drums for your will or to become an accomplished and well-known drummer, Sheila will surely catch your attention, and you will enjoy the course thoroughly the same as I did.
---
How To Grow And Improve Yourself To Be Able To Become The Bandleader
Being a bandleader is an even bigger responsibility than being the drummer for the band. Being a drummer only means handling yourself and the drums.
However, being the drummer means that you have to handle the entire team. 
You have to look at how each and every member of the band is performing, what they are lacking, what needs to be corrected, and such stuff. Being a bandleader is undoubtedly a big responsibility.
However, Sheila will tell you precisely what you can do to become a bandleader, what mindset you should have, and what your goals and ambitions should be. This video is not meant for you if you just want to learn the drums.
I found it irrelevant for someone who just wants to go around and learn how to play the drums.
However, if your dream is to become a bandleader, then surely go for it and watch the video. The video is full of knowledge and experiences.
Some Words For People Like Me
At the end of this masterclass, Sheila will share her experiences and some tips for the ones who want to be a musician in the future.
From my point of view, this advice is more inclined towards the people who want to become a musical for professional purposes and not just for a hobby.
The advice is definitely worth it for those types of people who want to grow up as professional musicians.
If you are one of those persons, just head up to this section and watch it thoroughly as it is very helpful.
Moreover, Masterclass has various other masterclasses too for other music-related fields such as Film music, Electronic Music, Acoustic training, and much more from the best artists in the world.
If you want to establish yourself as a musician, the masterclass is the way you should embark on.
Handling Solos And Fills
Solos are a thing every drummer feels a bit uncomfortable about.
However, when Sheila is here, there is no such thing as difficulty. She covers all the basics and tips for mastering out solos very easily. 
One thing I felt was that she didn't cover the advanced parts regarding solos.
She just skimmed over the basics and left off. Though the workbook provides a bit more information that's it.
Regarding the fills, no worries, she will thoroughly explain what to do with those.
She will tell you everything about fills from changing the direction to joining things together and leading the band.
Sheila also explains that sometimes playing only a minimal and simple beat can also have a significant effect.
Conditioning And Training For The Drummers
Undoubtedly the art of drumming is very demanding physically.
Sheila E. covers this aspect too in the course, which makes the course even more incredible.
She describes it well in her videos. In one of her videos regarding the warm-up she mentions that as compared to the right arm, the left arm takes a much longer time to warm up.
She also elaborates on the ways she adopts in order to deal with potential problems that she comes across when putting into use specific exercises.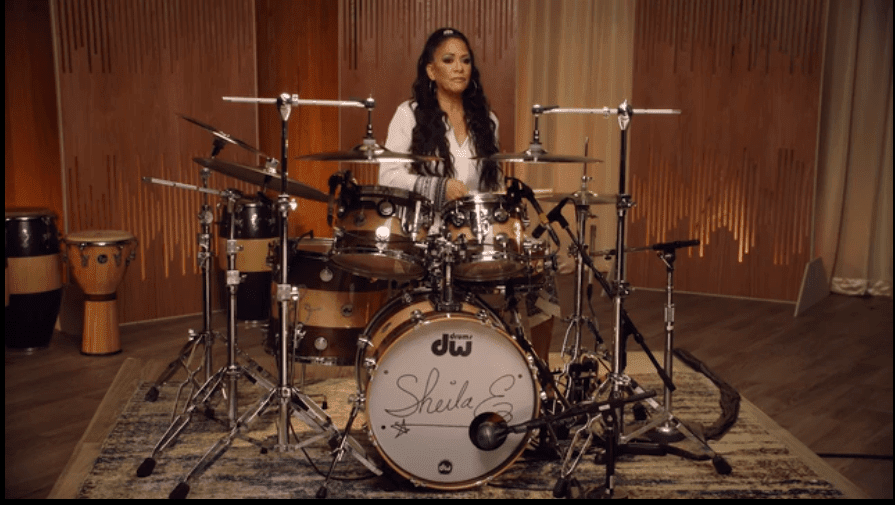 She digs deeper into the details in the conditioning and training video.
You can also get a glimpse of her pre-show preparations in these videos.
To me, it seemed to be pretty evident that her drumming has played a significant role in her incredibly maintained fitness and health. 
Though she is 63 years old (born in 1957) still she manages to play and move with such great energy and vigor as she used to back in the 80s.
How You Can Play The Congas
Congas are not my thing. They are weird to use and understand.
However, Sheila explained this too, and hence to write the review, I had to watch it.
Once again, Sheila is a great teacher when she explains stuff like this. She made me skim through Congas very easily and happily. The stuff she told me about was:
Conga setup and sound setup

How to position your body while playing congas.

Understanding the cha-cha pattern

How to keep up with time while soloing
The workbook also provides you with some additional tunes and parts to practice up.
The workbook also has various rhythms for conga and various other instruments too.
However, this part is only for those who are experienced enough to read music from a piece of paper.
The section is still worthy if you are not able to read music, in any case.
How To Get Around Timbales
I never thought that I would be paying timbales during my drum training, primarily due to the fact that it is used in Latin music that just sounds boring to me. I even felt that I should leave this part. 
However, I gathered some confidence and watched the video.
Guess what? I was very happy to see the article. It would have been a mistake if I didn't attend it.
It really opens up to various possibilities.
Sheila shares that she plays those Timbales very often to this day too.
This gives her the freedom to sing and the will to move. Sheila will cover the following stuff on this topic:
Timbales setup
Stick grips experimentation
How to modify or change your sound while playing timbales
Choosing and using the right sticks
Ways You Can Be Experimenting With Percussion.
Sheila goes beyond playing the music of other people by creating her own music.
It is no surprise that she loves experimenting with music and the best part is that you can get to see that in her videos as well. 
For amateur people, this will prove out to be a lot more interesting rather than instructional.
In my opinion, someone with more expertise in music will be able to make more out of this section as compared to ones' who are beginners.
FAQs
🤷‍♂️ What makes this masterclass distinct?
Well, unlike some other music courses, this course isn't just dependent on the musical instrument. Instead,it is dependent on the completeness of the user as a whole.
🤔 What makes Sheila so trustworthy?
Sheila is so experienced, and at the same time, she is so famous all over the world. She has an excellent reputation in all over the industry for her drumming skills. So who is better than her to help you learn drums.
🙋‍♀️ What if I do not like the course?
You have an option to get a refund for your course in the case that you do not like the course or you think that it is not worth your money.
Quick Links:
Final Thoughts: Sheila E. Masterclass Review 2023 
If you're a musician looking to learn how to play the drums from an expert, Sheila E Masterclass is just what you've been waiting for.
This class will show you all of the basics and take your drumming skills up to advanced levels in no time! You'll be playing like a pro before long with this masterclass by one of the most well-known female musicians around.
We hope that you give it a try today so that we can help make your dream come true as well!