Constantly updating many social media accounts with information about your company is a time-consuming and laborious effort.
See, according to stats on marketing automation, the most popular automated procedure is the scheduling of social media posts.
To get a particularly important message out to your social media followers, you may have to temporarily set aside a more pressing business need.
The vast majority of bloggers would agree that this is a tough task. You need to put in a lot of work to plan, track and automate your social media marketing efforts.
One of the most crucial factors in the seamless operation of any company or service is the ability to effectively manage one's time.
Delegating the proper tasks at the right time and working smoothly to accomplish your predicted objectives are essential components of efficient time management.
I get that you have to take care of the majority of the sensitive tasks on your own, but thanks to automation technologies, you don't have to consult an expert to do it.
Automating your social media actions, such as posting, updating, and promoting, is essential if you want to maintain a consistent and durable social media account for your company.
There is a wide selection of SMMTs available nowadays. However, there are obviously others that are much superior.
Some companies maintain your company's social media pages magnificently, while others provide you with a wider variety of services.
I've reviewed these resources and outlined their features so you can make an informed decision about where to begin.
6 Best Social Media Automation Tools 2023
Here are some of the lists:
Automation in social media management entails scheduling posts and updates so that they are published when they will have the most impact on the intended audience.
The Buffer social media scheduling tool is quite effective in this regard. You may use this tool to set up a delivery schedule for your articles by adding them to a queue.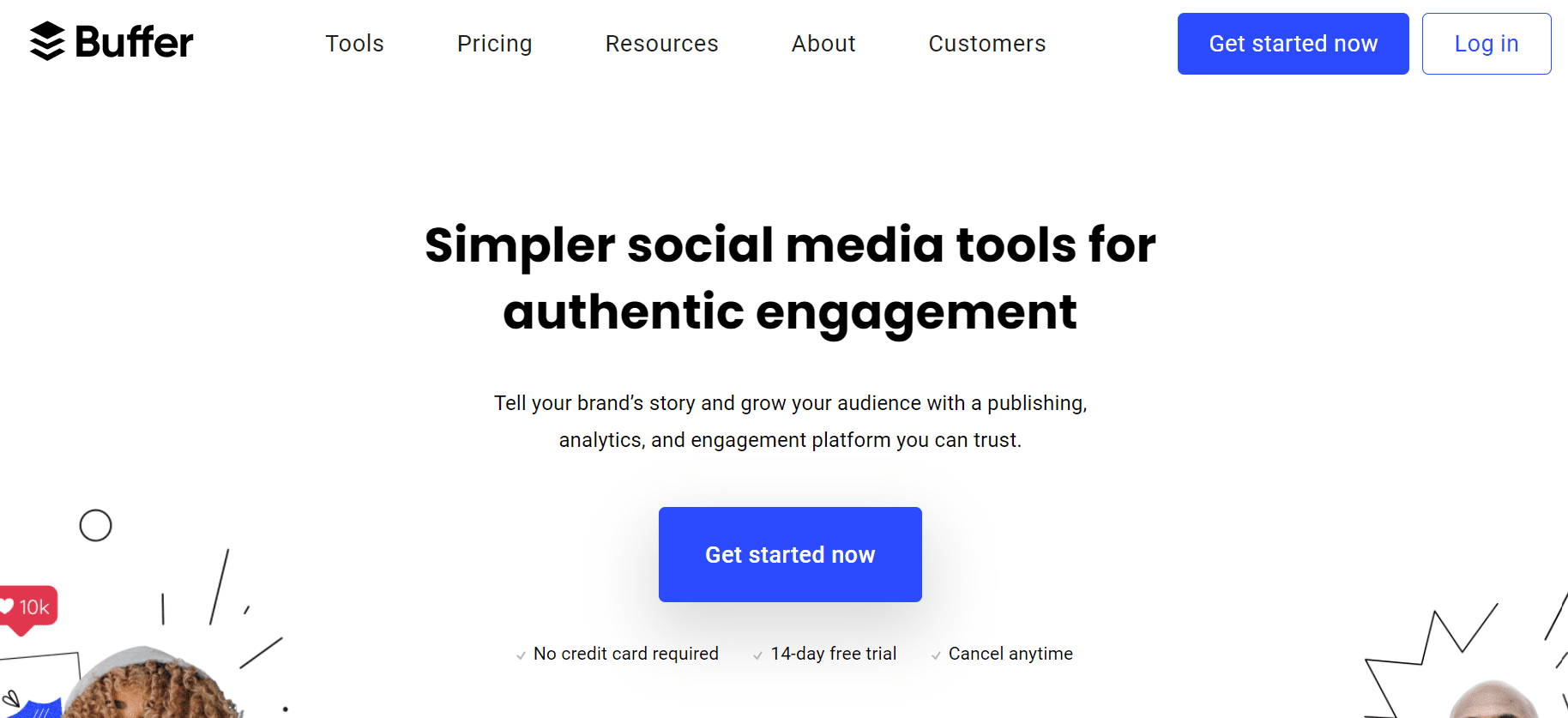 When it comes to scheduling posts on social media, this is one of the greatest platforms I have used (for SMB customers).
If you use Buffer, you can see how well each of your social media posts is doing by keeping tabs on the number of likes, comments, and shares it receives across all of your accounts.
Features:
You may use RSS feeds and Buffer to easily share posts from your favorite blog with the world.
It includes a social media calendar to help you schedule your posts in advance.
A dedicated analytics module (social analytics) provides insight into data for tracking and fine-tuning your advertising campaigns.
With so many useful features, this is one of the most popular social media automation tools in the digital marketing sector. Hootsuite's built-in statistics and auto-scheduling features make it a useful tool for social media management.
Hootsuite provides companies with a centralized dashboard for managing all of their social media accounts, monitoring their performance, and responding to comments and messages from customers.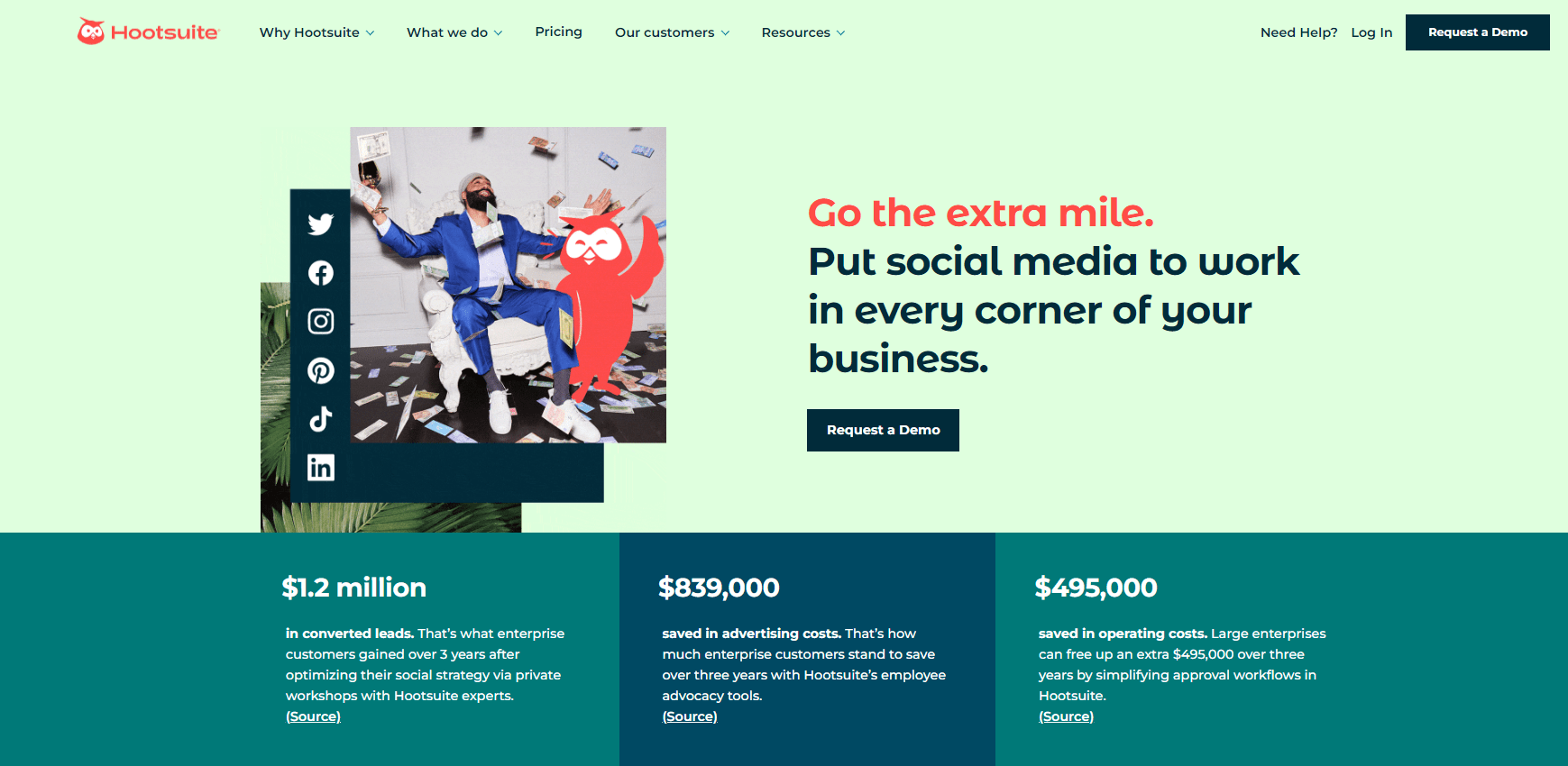 The vast majority of Hootsuite reviews highlight the platform's usefulness for centralizing the administration of several social media profiles.
To keep tabs on how often your company is mentioned online and to discover fresh internet leads, you may set up keyword search streams.
3. Post Planner
It's another social media management automation application that's meant to help your company's marketing efforts succeed on social media.
One of the most vital pillars of every organization is the ability to generate quantifiable results, and Post Planner makes that possible.
PostPlanner is a social media engagement app that makes it simple to schedule posts in advance, monitor engagement, and respond to comments.
This app has a built-in post scheduler so you may publish at a time that's convenient for you and your readers.
The Re-Cycle function in the Post Planner makes it possible to republish previously published material. Currently, this tool is only compatible with two social networking sites: Facebook and Twitter.
Pinterest, Google+, and LinkedIn are currently being added as other important platforms. The fast customer assistance that Post planner offers regardless of your chosen plan is one of its best features.
4. MeetEdgar
MeetEdgar facilitates the performance of a number of content management tasks, including the optimization and re-sharing of social media posts, the analysis of feedback, and the establishment of an expiration date for a seasonal post.
MeetEdgar allows you to easily distribute your most recent posts, which boosts interaction between your brand and its social media followers.
A useful feature of this automated application is the ability to schedule posts across a wide variety of content categories and timeframes.
MeetEdgar, like a select few other social media automation solutions, has a URL shortener with click tracking that lets you monitor and analyze click statistics.
Typically used by enterprises of all sizes, MeetEdgar is compatible with Windows, Linux, Mac, and web-based devices.
5. Dlvr.it
This is another excellent social automation tool; it was one of the few I used to start my digital marketing campaign.
With the help of this set of tools, you can easily organize and distribute material according to categories like keywords, tags, and even who created it.
Dlvr.it is relied on by prestigious media outlets and businesses including Reuters, Buzzfeed, ESPN, CBS, the guardian, and many more.
With Dlvr.it, you can schedule posts to go out on social media platforms like Facebook, Twitter, LinkedIn, Google+, and more.
There's a feature that will recycle your social media posts and status changes automatically.
RSS feeds Chrome extensions, WordPress, Google Analytics, and the widely used URL shortener Bit.ly are all compatible with this application.
6. Social Flow
If you're looking for a social media management platform that can streamline your marketing efforts and save you time, go no further than SocialFlow.
With this app, you may schedule posts to go live whenever it's most convenient for you. Like other automation programs, you set up your own personal queues of posting.
With SocialFlow, you can track conversion rates in real-time and tailor your content to your audience's preferences.
There's also a robust analytic component that provides a clear audit trail of your social media activity across platforms like Facebook, Twitter, and Instagram, allowing you to quantify your efforts in these areas.
Connecting through XML and RSS to their CMS, bloggers may also benefit from this social media automation solution. It also has a URL shortener for improved click tracking.
Quick Links:
Conclusion: Social Media Automation Tools 2023
When it comes to social media marketing, which happens to be one of the most important aspects of digital marketing, making use of automation tools for your business, particularly when it comes to social media marketing, can alleviate a great deal of stress and cut down on the amount of friction that is experienced when running your social media campaign.
Make your choice in accordance with what is feasible for you financially as well as your demands.