Fitness affiliate programs are an excellent way for people who have a passion for health and fitness to earn extra money.
Whether you're just starting out or you're already an established online influencer, partnering with any of these fitness-related companies can be beneficial.
With access to hundreds of products and services available in the fitness industry, there is something for everyone.
In this guide, we will look at some of the best fitness affiliate programs that offer generous commission structures, top-notch marketing tools, and a wide selection of products and services.
What Are Fitness Affiliate Programs?
Fitness affiliate programs are an effective way to monetize a website or blog, especially those related to health and fitness.
By joining a fitness affiliate program, you'll be able to earn commissions when visitors to your site purchase products from the companies you promote.
This allows you to make money without having to produce any of your own products or services.
Some of the most popular types of fitness affiliate programs include supplements, nutrition plans, workout equipment, and apparel, subscription boxes, streaming services, and digital fitness products such as books and online courses.
Many fitness affiliates work with multiple brands in order to maximize their earnings potential.
When deciding which fitness affiliate programs to join, it's important to research each company thoroughly.
Look at their products, customer service, shipping policies, and commission structure. You'll also want to consider the type of website traffic you have.
If you have a lot of visitors interested in health and fitness, then it makes sense to join a program that offers relevant products.
On the other hand, if your site is more general in nature, then it might be best to look for programs that offer broader products or services.
Finally, make sure you read through each company's terms and conditions carefully before signing up for any fitness affiliate program.
This will help ensure that you understand exactly how the program works and what is expected of you as an affiliate member.
With the right preparation, joining a fitness affiliate program can be a great way to make money from your website or blog.
27 Best Fitness Affiliate Programs 2023
Here are some of the best fitness affiliate programs we have mentioned here.
Myprotein is a company that distributes high-protein meals and snacks along with a variety of powders, pills, and potions, including vitamins and minerals.
Additionally, it sells items from its own brand of athletic wear.

With a presence in more than 70 countries and a diversified workforce that includes athletes and influencers, the company was founded in the UK in 2004 and has since developed into Europe's largest supplements brand.
Duration of Cookies: 30 days
Rate of Commission: Up to 8%
A one-stop store for exercise equipment, Net2Fitness has everything you could possibly need for at-home workouts, from barbells and weight plates to base layers and yoga clothing.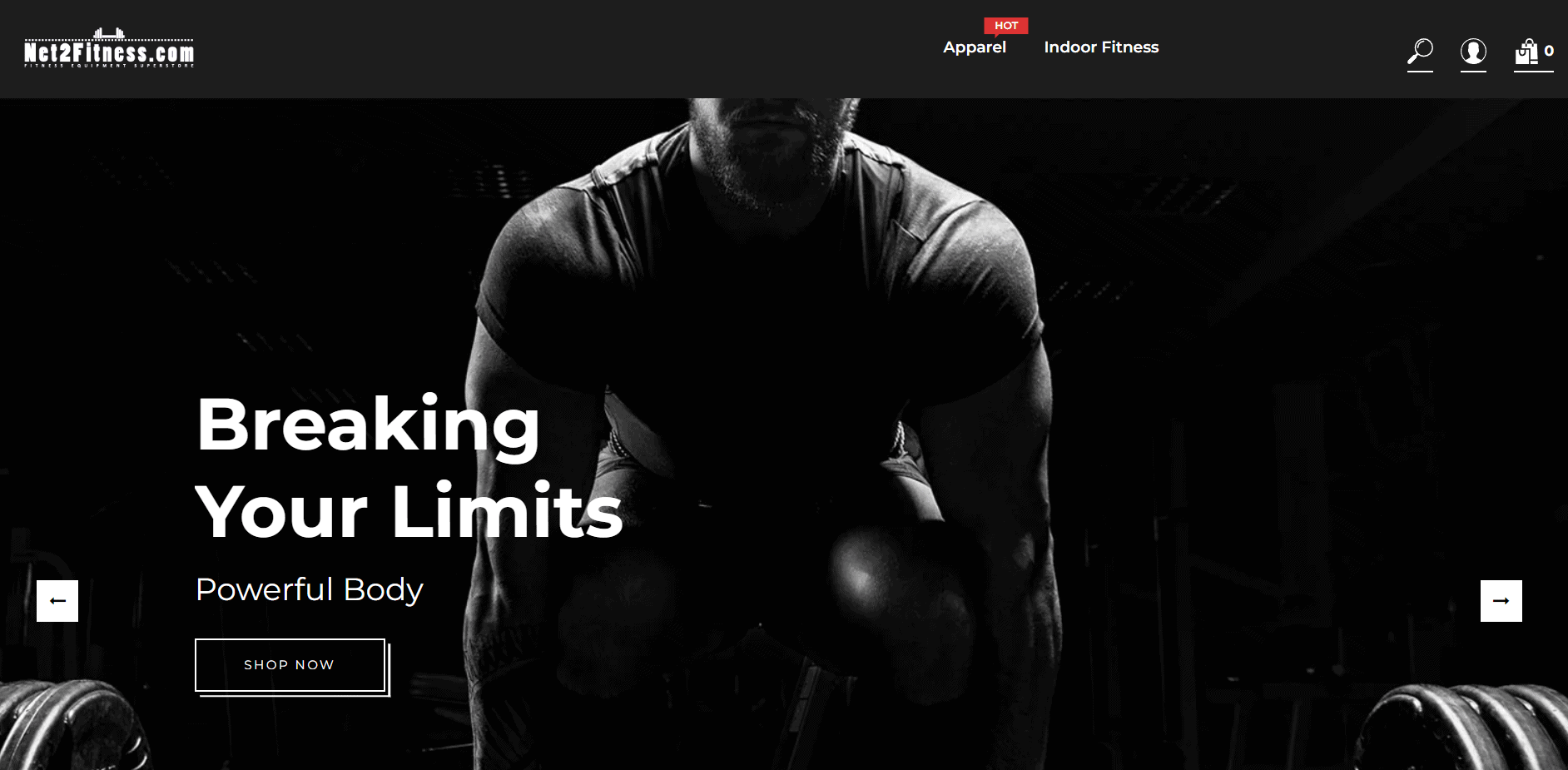 There is something here to fit a broad variety of audiences and demographics, with items ranging in price from $17.99 to $3,999.99.
This provides you with more opportunities to monetize your visitors and increase affiliate sales.
Duration of Cookies: 30 days
Rate of Commission: 8%
According to its website, Onnit offers "nutrient-dense and Earth-grown meals," in addition to vitamins, clothing, and workout gear.
As a result, you have access to a variety of goods to market via text links.

Joining Onnit's fitness affiliate program will allow you to promote a company that has received support from a number of well-known individuals, such as podcaster Joe Rogan and Olympic gold medalist skier Bode Miller.
It has a huge amount of brand recognition thanks to those endorsements, which makes it simpler to sell.
Duration of Cookies: 45 days
Rate of Commission: 15%
The top home exercise brand in the world, according to ProForm.
Although I'm not sure whether that is the case, the company's cutting-edge line of home exercise equipment, which includes a fitness mirror that allows you to watch exercise videos while reviewing your form, seems remarkable.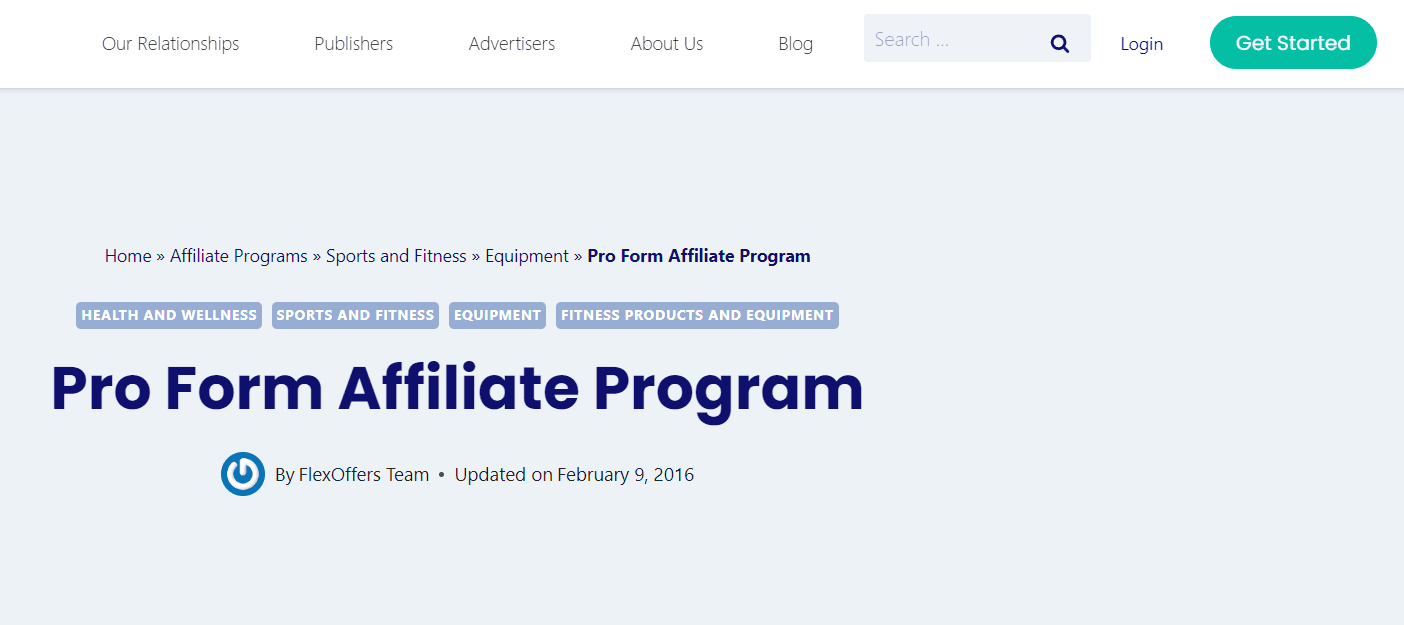 ProForm also provides more commonplace exercise equipment like bikes, ellipticals, and treadmills in addition to beautiful mirrors.
Considering that the average order value is above $1,000, it is obvious that it is primarily aimed at the high-end of the home fitness industry.
Duration of Cookies: 30 days
Rate of Commission: 7%
Another personal trainer in the women's fitness market with two first names is Jillian Michaels, which seems to be a trend.
She is very well-known for her work as a life coach and trainer, having aided millions of individuals all over the globe in achieving their own fitness objectives.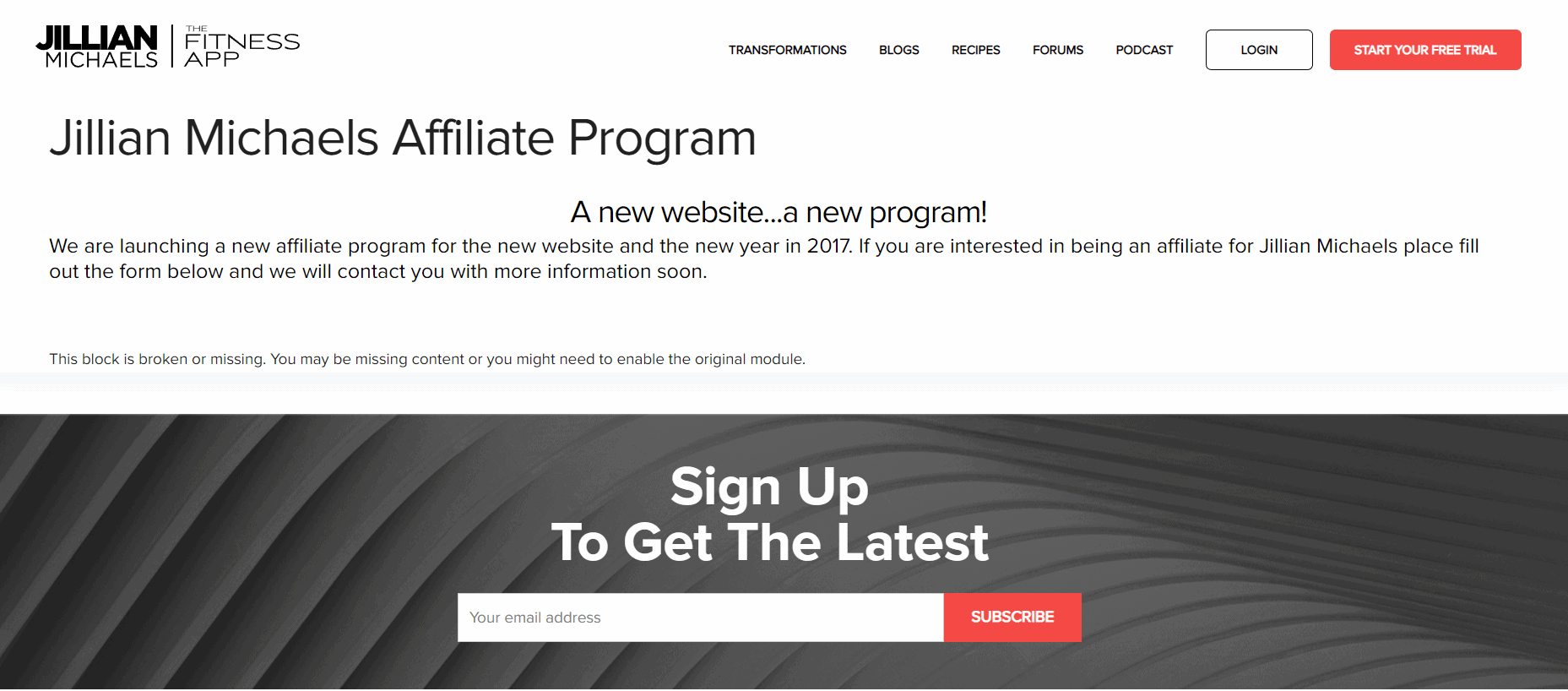 Members of her fitness program get access to more than 550 different workouts with HD video to assist them to attain the best technique.
Additionally, you can adapt the music to the pace of your workout and connect your activity with the Health and MyFitnessPal apps.
Duration of Cookies: 30 days
Rate of Commission: 20%
Body Spartan's mission is to alter people's bodies via its challenging training regimens, dietary supplements, and clothing.
The alarming titles of its training plans, such as "Savage Shred" and "Big Arm Bible," are all the proof I need that these folks achieve results.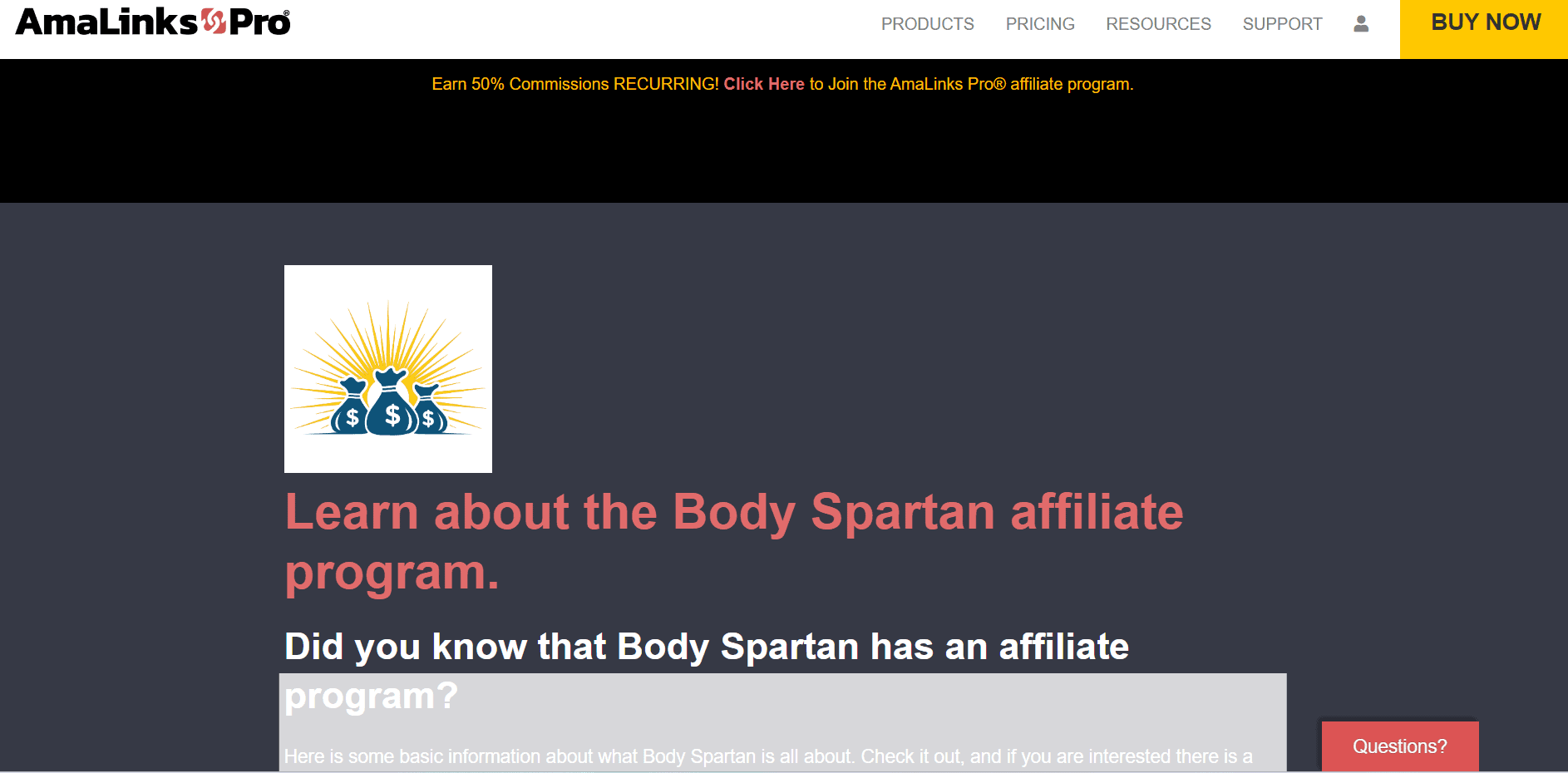 In conclusion, Body Spartan could be the right choice for you if you're seeking a bodybuilding affiliate program to advertise on your fitness blog.
It features a respectable Rate of Commission of 10% and a strong average order value of more than $80.
Duration of Cookies: 45 days
Rate of Commission: 10%
Bottled water is produced by HidrateSpark. That may not seem all that intriguing, but they aren't your typical water bottles.
Every bottle has a sensor stick inside that counts the fluids you consume and sends the data to a companion app so you can monitor your progress over the course of a day, week, or month.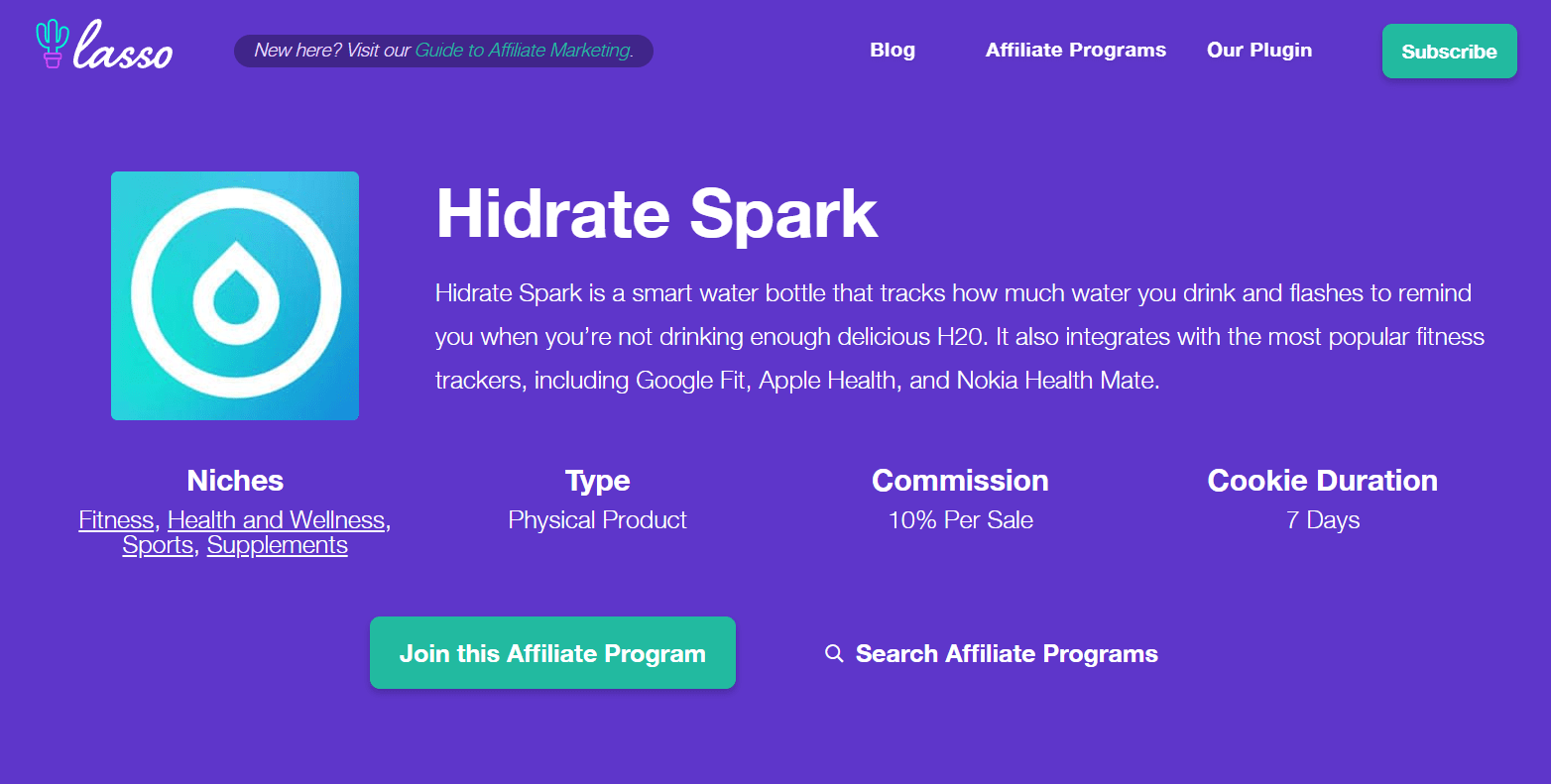 And you don't have to bother about charging them every night since they run on basic coin-cell batteries.
Given all that flexibility, it shouldn't come as a surprise that HidrateSpark is a little more expensive than the typical water bottle, which accounts for the relatively high average order value of over $70.
Duration of Cookies: 60 days
Rate of Commission: 10%
From bikes and treadmills to the menacing-appearing Max Trainer, Bowflex offers a variety of highly advanced home training equipment.
As you would expect, such goods are expensive, with the top-of-the-line Max Trainer costing over $3,500.

That suggests that the Impact Radius affiliate network-powered fitness affiliate program from Bowflex is a little more alluring than it first looks to be.
Given the relatively expensive pricing, the 3% Rate of Commission puts it at the lower end of all the fitness affiliate programs we've studied, but it still adds up to a sizable sum of money.
Duration of Cookies: 30 days
Rate of Commission: 3%
Despite having two first names, Natalie Jill is a highly regarded high-performance coach and weight reduction specialist committed to assisting women in achieving their fitness goals.
She does this by providing step-by-step instructions for each technique in her many books, podcasts, coaching sessions, and interactive activities.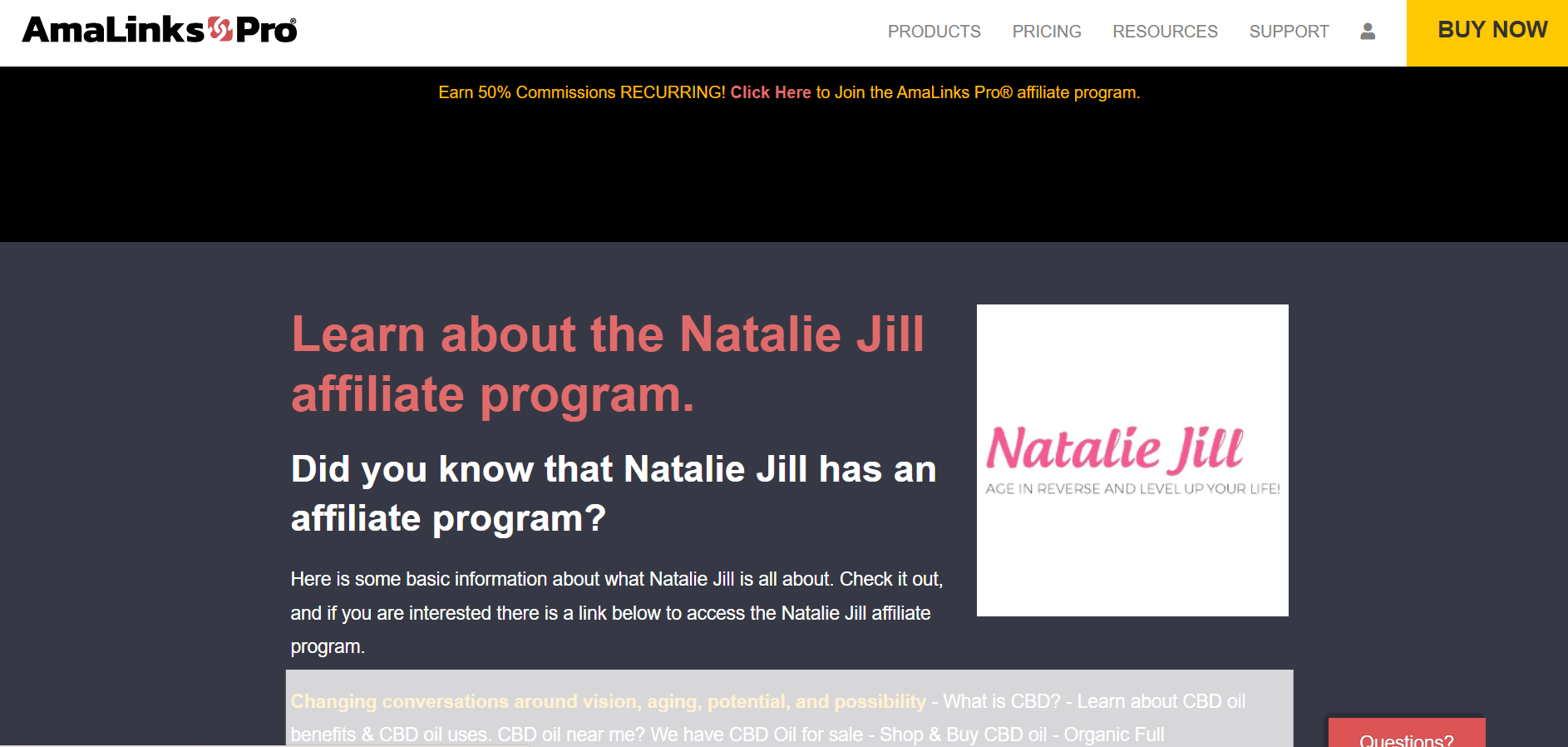 If you join the Natalie Jill fitness affiliate network, you will be pushing those exact goods, as you have probably already figured.
And because she operates one of the highest-paid affiliate programs out of all the fitness businesses we've looked at, it's clearly in your best interest to promote them.
Duration of Cookies: Lifetime
Rate of Commission: 30% – 50%
Nobody enjoys being lost, whether they are attempting to navigate a new city or are out for a stroll in the country. It's a hassle.
However, Garmin is here to assist with its selection of GPS-enabled wearables and smartwatches.
There is a lot of opportunity to monetize your fitness blog with this affiliate network as it also sells fitness trackers, competing with brands like Fitbit.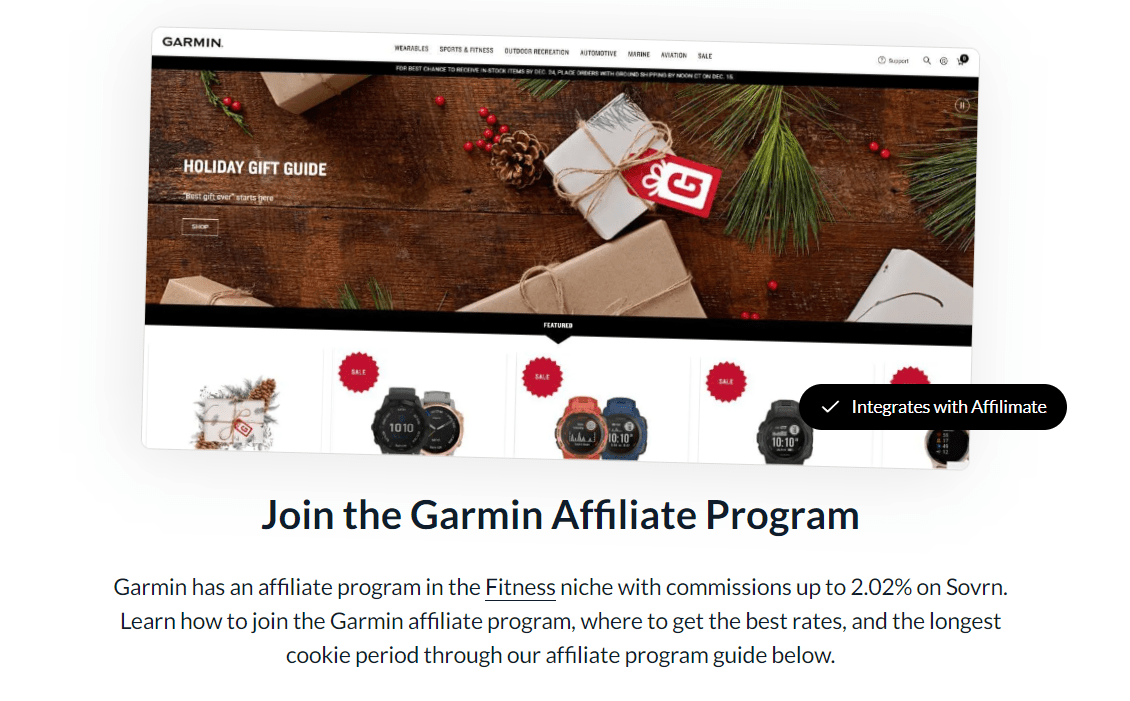 So far, so good, but now things get a bit trickier. You see, CJ Affiliate and FlexOffers are the two affiliate networks that provide Garmin's fitness affiliate program.
Each affiliate network provides radically different conditions, as is so often the case. FlexOffers has the lowest rate of Commission of all of the fitness affiliate programs on my list, at a pitiful 1.6%.
Duration of Cookies: 20 days
Rate of Commission: 1.6% – 12%
The second-largest sportswear brand in the world is Adidas. It was established in 1949 and has developed a reputation for producing cutting-edge athletic footwear and sportswear.
Sincere to say, Nike and Under Armour are only two of the other major sportswear brands with robust affiliate programs.
Although the average order value is quite large at $100 and the Rate of Commission is just 7%, there is still plenty of room for passive revenue generation in this scenario.
It should be noted, however, that Adidas is selective about whose affiliate marketers it works with (let's face it, it can afford to be).
Duration of Cookies: 30 days
Rate of Commission: 7%
Ever ponder why "Under Armour" rather than "Under Armor" is used? because the toll-free vanity number was only offered for the British spelling when the firm first began back in the 1990s. You are aware now.
Nevertheless, Under Armour specializes in performance sportswear, which is a fancy way of stating that their garments are made to keep you dry.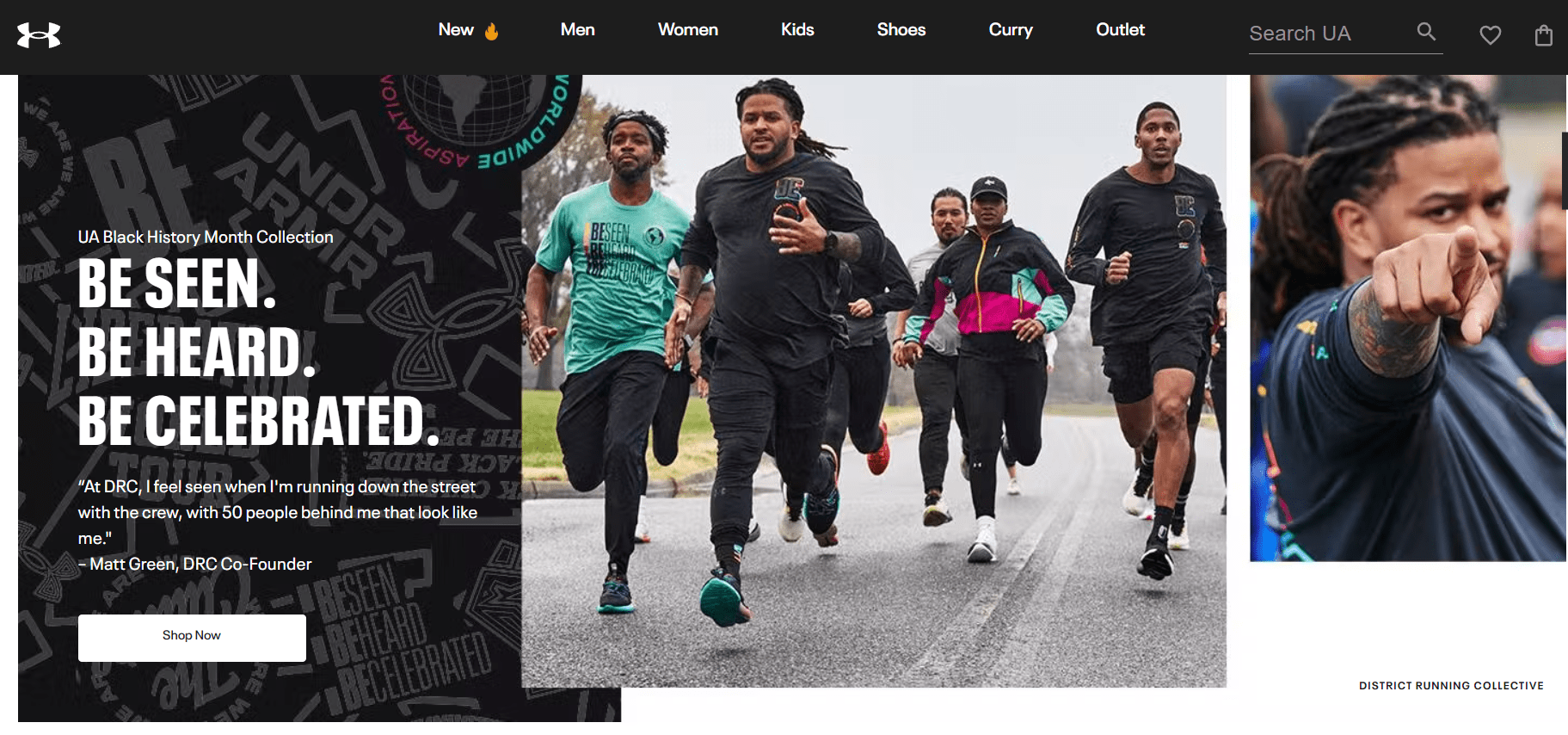 Actually, there's a little more to it than that, since it also manufactures shoes, apparel for accessories, sleepwear for athletes, and linked exercise equipment.
It has quickly developed into a major company with a fantastic reputation for offering high-quality goods, as seen by the $100 average order value.
Duration of Cookies: 30 days
Rate of Commission: 5%
GNC is a specialized store in the health and wellness sector that offers a wide range of performance goods, including vitamins, protein and exercise supplements, weight-management aids, and much more.
Those goods are not inexpensive. A bumper box of testosterone tablets really costs close to $170.
Higher pricing, however, equates to more commissions, as any fitness affiliate worth their salt will inform you.
Duration of Cookies: 7 days
Rate of Commission: 4%
In the market for wearable fitness equipment, Fitbit is without a doubt the market leader, selling more than 10 million units alone in 2020.
In all, Apple, Samsung, and Fitbit control a staggering 72% of the market for medical wearables. Fitbits are just so freaking handy, so it's not hard to see why.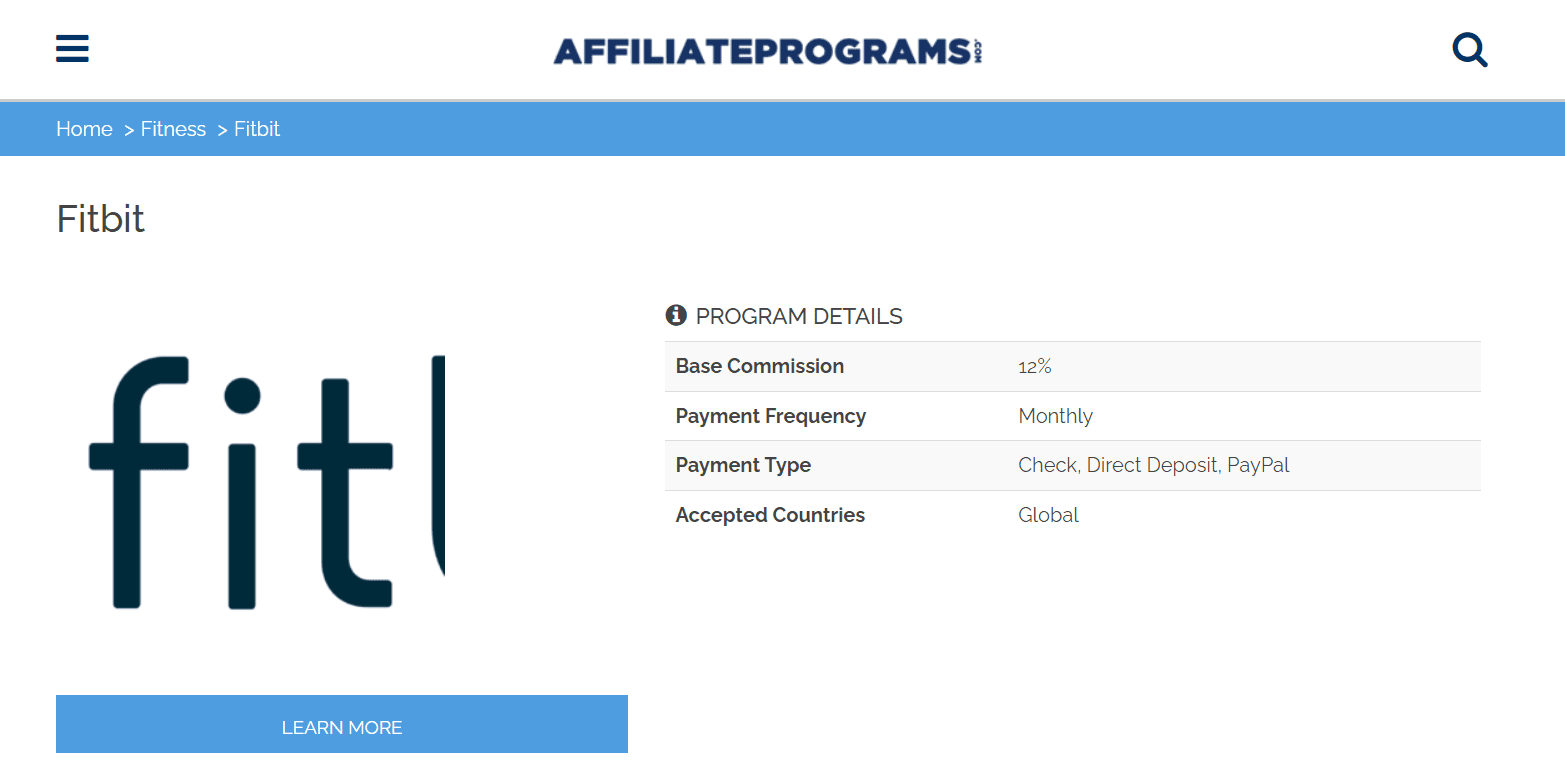 They wirelessly connect with the company's free social and motivating features, such as leaderboards, food diaries, challenges, and progress graphs. Additionally, they work with Windows, iOS, and Android smartphones.
Duration of Cookies: 15 days
Rate of Commission: 3%
For more than 40 years, Life Fitness has been a household brand in the home gym equipment industry, selling countless treadmills, rowing machines, and exercise cycles.
Millions of exercisers utilize its goods every day, from professional athletes to complete beginners and everyone in between.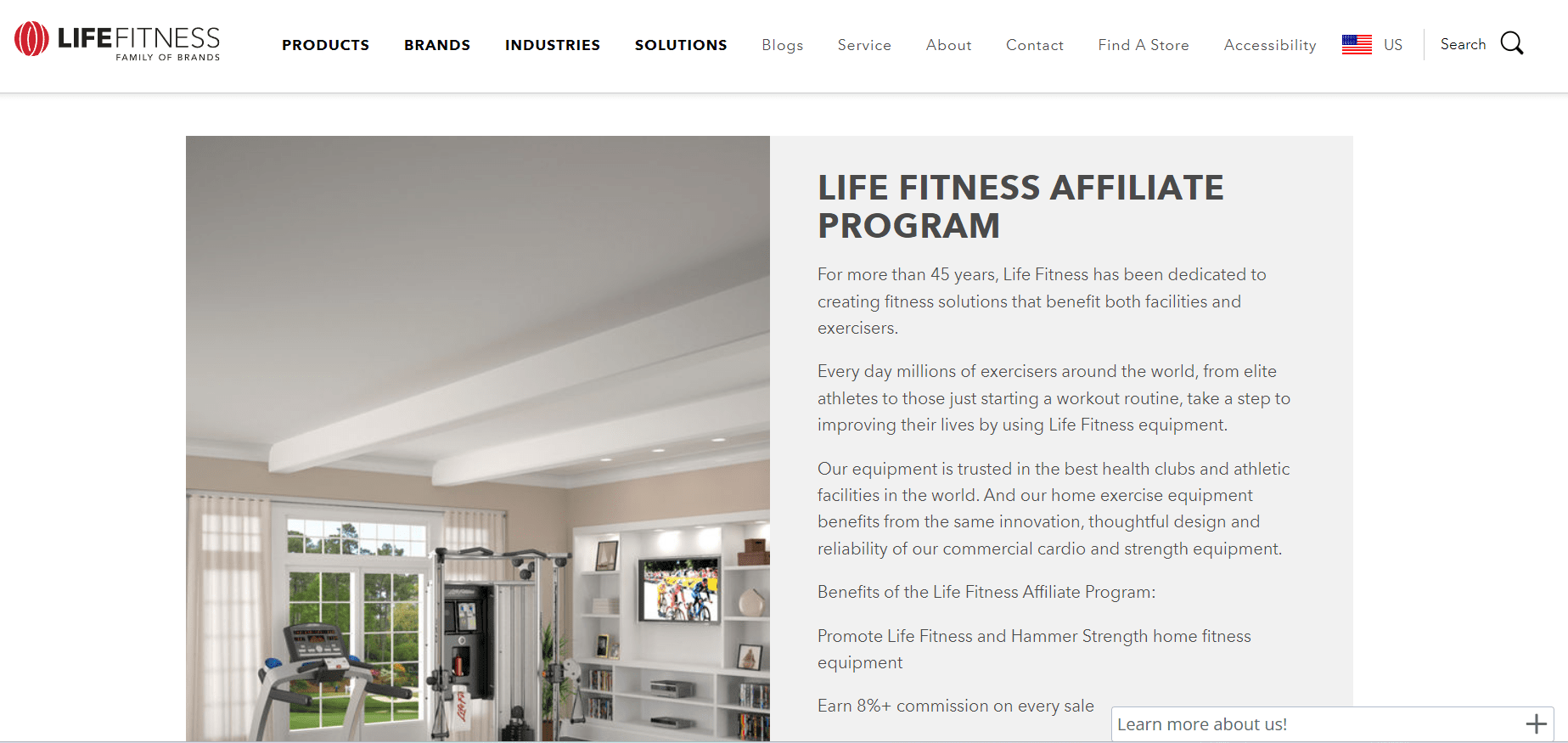 As a result, affiliate marketers get access to a large audience for their content.
The Life Fitness affiliate program is one of the better fitness affiliate programs we've seen, so it's certainly worth aiming for.
Duration of Cookies: 30 days
Rate of Commission: 8%
As you can see from the picture above, TRX very much developed "suspension training," which is essentially exercising with the use of a very large elastic band.

Suspension trainers from TRX help you advance your flexibility, fitness, and strength as well as your endurance, power, and cardiovascular health. Those are definitely some clever elastic bands!
Duration of Cookies: 30 days
Rate of Commission: 10%
Even while Gene Food may seem like a fitness affiliate scheme for GMOs, they genuinely assist you in choosing foods that are compatible with your genetic composition.
People often switch between fad diets, receiving advice from those who, well, aren't even close to being equipped to advise you on what you should and shouldn't be eating.
Duration of Cookies: 90 days
Rate of Commission: $15 per sale
Does Rebook require an introduction? You may be surprised to learn that they began operations in 1895 in a bedroom workshop in Bolton, United Kingdom.
Their company was founded on the sale of spiked running shoes to Olympic athletes, one of whom was an Olympic champion.
The name Reebok, which means "Grey Antelope" in Afrikaans, has come to be associated with premium athletic apparel and footwear.
Duration of Cookies: 7 days
Rate of Commission: 7% per sale
The "Back to the Future" shoes we've always wanted have finally arrived thanks to Hickies. A novel lacing method is the next best thing, so to speak.
If nothing else, the fact that they are composed of something called a robust thermoplastic elastomer makes them seem futuristic.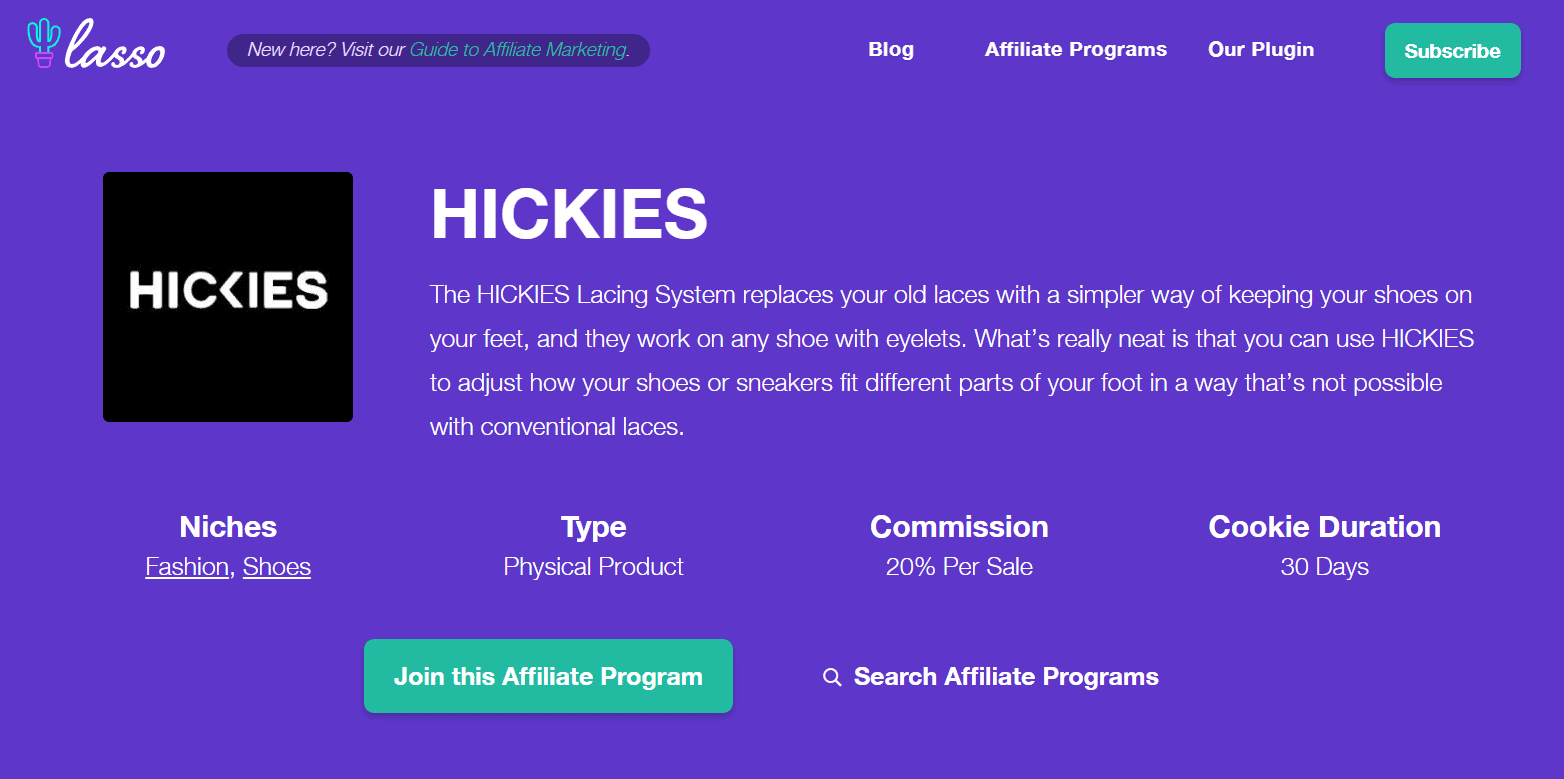 The Hickies Lacing System works on any shoe with eyelets and takes the place of your old laces with a much easier method to keep your shoes on your feet.
What's truly cool is that, unlike traditional laces, Hickies let you change how your shoes or sneakers fit various regions of your foot.
Duration of Cookies: 30 days
Rate of Commission: 20%
JumpSport has been around for a very long time—so long that I once promoted them on my website dedicated to trampolines. It's true, people.
But to be fair, JumpSport has been operating since 1995 and was in charge of developing a wide variety of trampoline safety enclosures.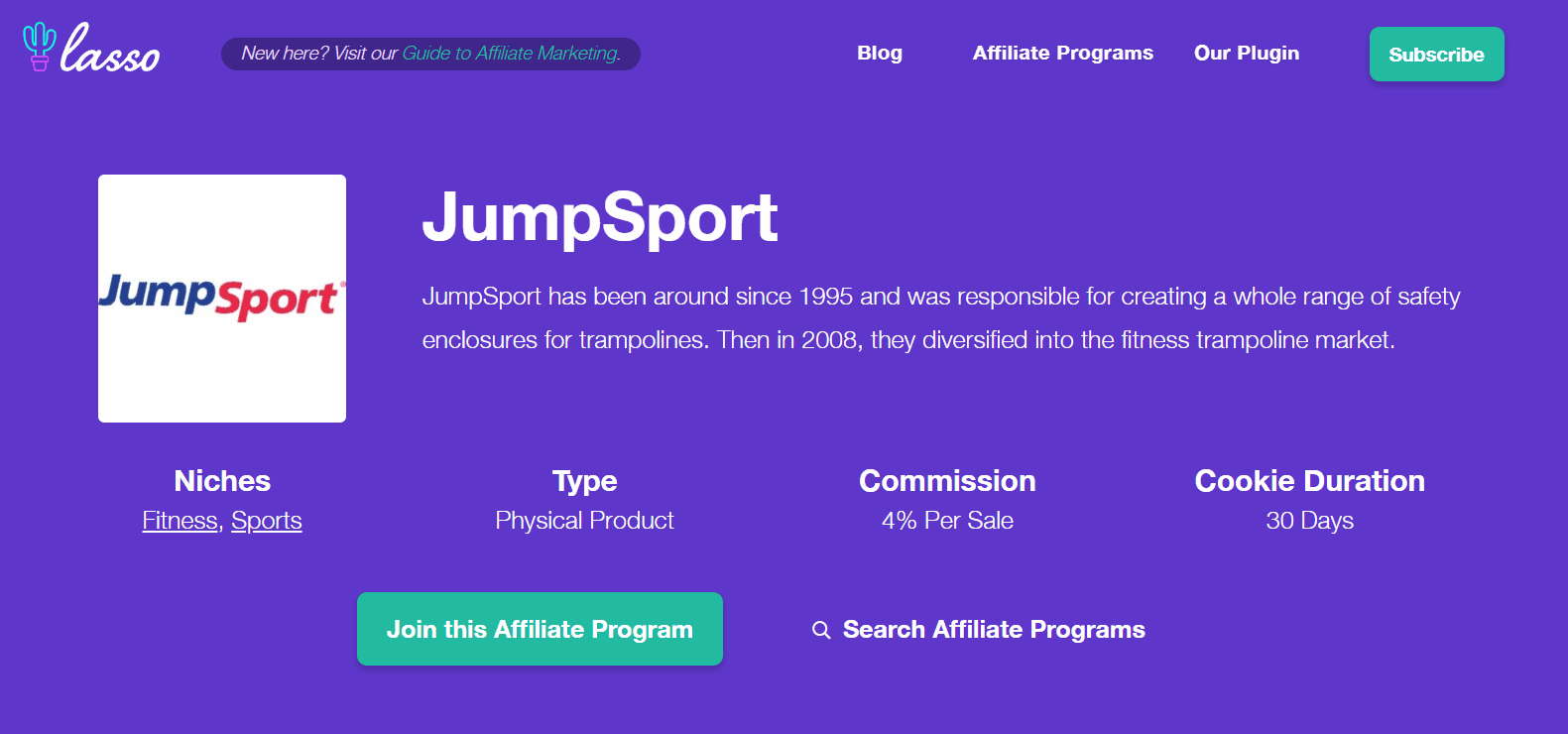 They then expanded into the fitness trampoline industry in 2008, which is why they are mentioned in this compilation.
Oh, and if you have any doubts about trampolines working your complete body effectively, feel free to disprove claims by working out on one for 30 minutes.
Duration of Cookies: 30 days
Rate of Commission: 4% per sale
A variation on the TRX equipment you may see at a gym is called Monkii, but it's smaller and more portable.
What you get is a bundle of portable workout equipment, which is how the name of this brand was created.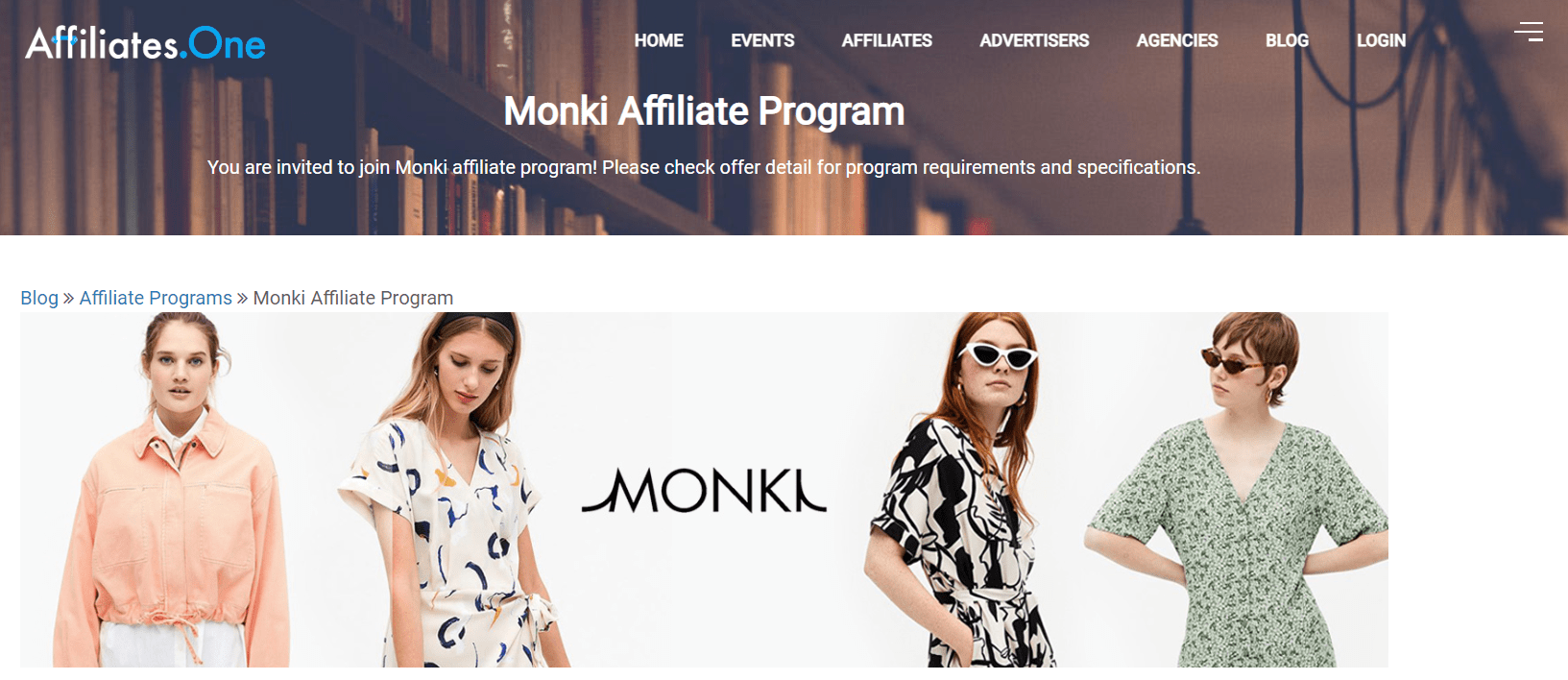 Anyone who often travels for business is aware of how challenging it can be to get in a workout, particularly if the hotel gym seems to have seen better days.
By enabling you to take a gym around with you practically in your pocket, Monkii eliminates that barrier.
Duration of Cookies: 90 days
Rate of Commission: 15% per sale
For the last 35 years, Johnson Health Tech, the business that created Horizon Fitness, has been producing sturdy training gear.
In fact, you could have unknowingly utilized their elliptical trainers, exercise cycles, rowers, or treadmills in your neighborhood gym.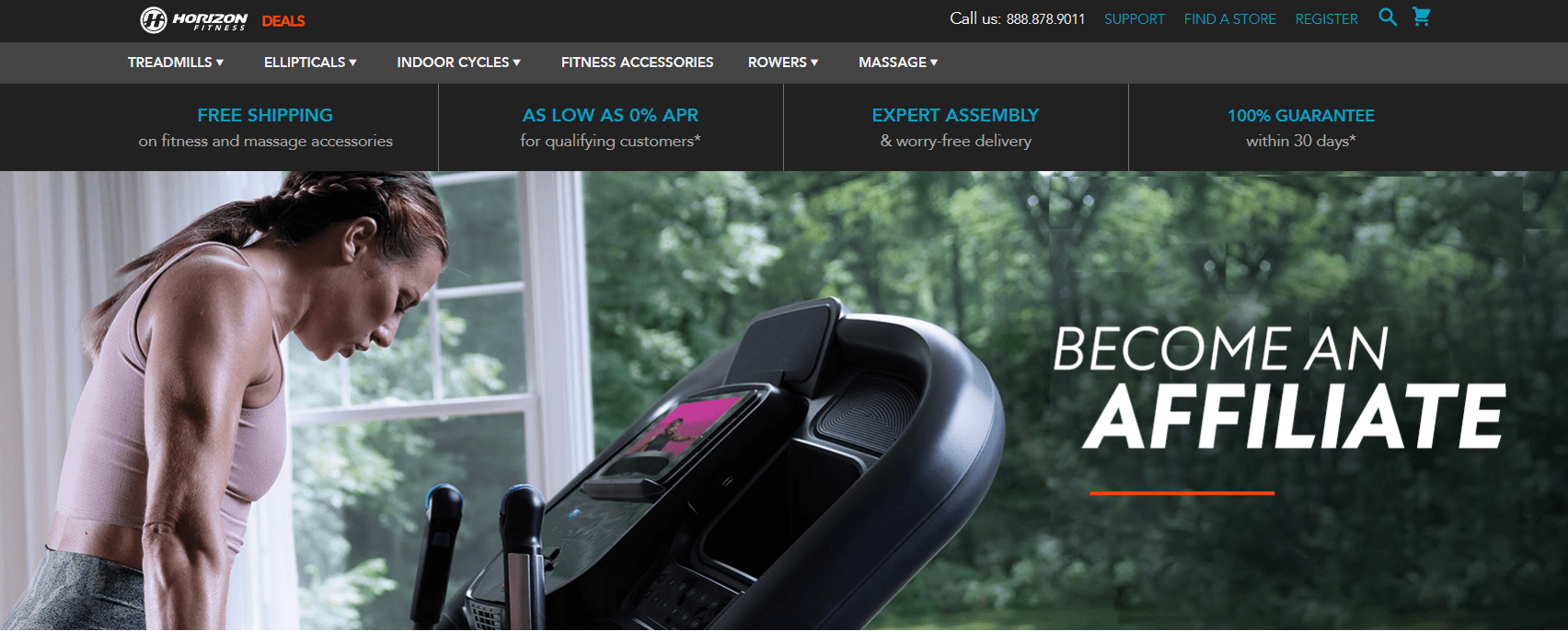 But not everyone has access to or wants to utilize a neighborhood gym, which is why the market for home workout equipment is so profitable.
People will pay for anything to work out in the convenience of their own homes.
Duration of Cookies: 30 days
Rate of Commission: 8% per sale
The National Academy for Sports Medicine isn't your standard affiliate program for the fitness industry.
In actuality, it's more geared toward those who are already physically strong and want to mentor others in order to help them achieve their highest level of fitness.
We are aware that the word "coaching" is often used.
However, in this instance, the NASM offers recognized certifications in fitness training as opposed to just membership in a haphazard organization that has no accreditation.
Duration of Cookies: 30 days
Rate of Commission: $25 per sale
Though you may not be familiar with them, IdealFit is now one of North America's fastest-growing fitness businesses.
Considering that they just started their firm in 2015, this is no small accomplishment.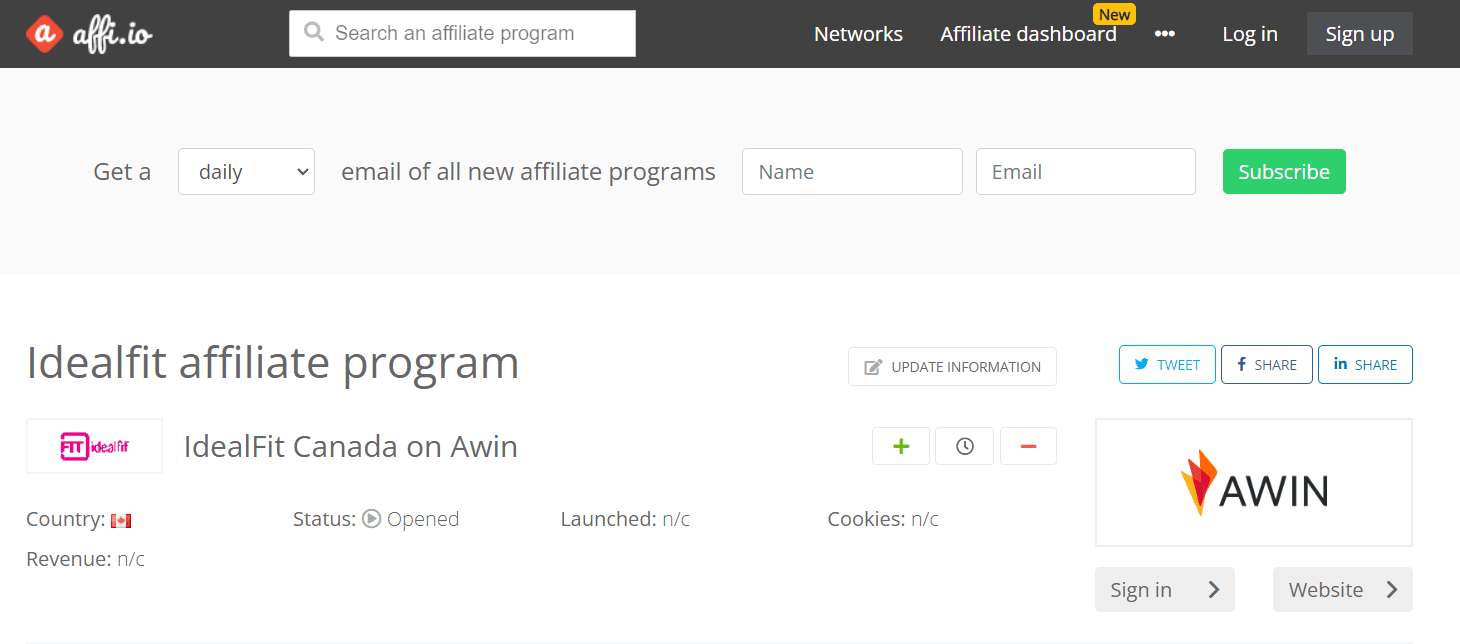 They stand out from the competition since they provide a variety of vegan and organic protein products as well as sports nutrition items tailored exclusively for women.
However, they also provide a selection of sportswear, including blouses, leggings, and sports bras, as well as a restricted selection of fitness accessories.
Duration of Cookies: 30 days
Rate of Commission: 8% per sale
As you may have suspected, All Volleyball is an online retailer of volleyball gear, apparel, and accessories.
Even though this specific activity may not immediately come to mind when you consider the fitness industry, you burn at least 300 calories an hour while participating in it.
The fact that 800 million people participate in it makes it one of the most well-liked sports in the world.
This fitness affiliate network offers a set payment of $30 per transaction, after which it offers a 5% commission on all transactions up to $250.
Duration of Cookies: 30 days
Rate of Commission: 5% per sale
People who like lifting, swinging, or even striking big objects may find a variety of goods at Titan Fitness appealing.
The good news is that their equipment doesn't cost the earth, allowing you to maintain a healthy bank account while losing weight and adding more lean muscle mass.
In terms of their compensation system, you get 5% on any product bearing the Titan Fitness name and 4% on all other items they sell.
Duration of Cookies: 30 days
Rate of Commission: 4%- 5% per sale
Compared to the other fitness affiliate programs we've looked at, ACE Fitness is a bit unique.
Instead of going after those looking to bulk up or become in shape, it offers fitness instructor certificates to ambitious professionals.

Since it has been doing this for three decades, it has amassed a network of over 90,000 weight reduction advisors, enabling it to establish itself as a reliable provider of lifestyle guidance.
Duration of Cookies: 90 days
Rate of Commission: 7%
FAQs About Best Fitness Affiliate Programs
What is a fitness affiliate program?
A fitness affiliate program is an agreement between two parties where one party agrees to promote the other's products or services in return for commission payments when sales are made.
How do I get started with a fitness affiliate program?
Getting started with a fitness affiliate program is relatively easy. First, research different programs that offer products/services related to health and fitness. Once you find one that interests you, sign up and get access to marketing materials, promotional codes, and more.
How much money can I make with a fitness affiliate program?
The amount of money you can make depends on the type of program you join, as well as your efforts in promoting it. Generally speaking, most programs provide generous commission rates and offer various incentives to help boost earnings.
Are there any risks associated with health and fitness affiliate programs?
As with any type of online transaction or activity, there is always a risk of fraud or other malicious activity when participating in an affiliate program. To protect yourself from potential scams, always research the company before joining its program, and be sure to read all the terms and conditions. Additionally, it's important to remember that there is no guarantee of success when it comes to affiliate programs.
What resources are available for fitness affiliates?
There are numerous resources available for fitness affiliates, including blogs, forums, and websites dedicated to helping affiliate marketers succeed. Additionally, many companies offer marketing materials such as banners and promotional codes, which can be used to drive traffic and increase sales. Finally, most programs offer detailed analytics, which can help you track your progress over time.
Quick Links:
Conclusion: Best Fitness Affiliate Programs 2023
Overall, participating in one or more fitness affiliate programs is a great way to monetize your passion for health and fitness while earning extra income.
By researching the different programs, you can find one that best suits your interests, skill set, and goals.
With a wide selection of products and services available through these affiliate programs, you are sure to make the most out of your efforts with minimal effort required.