Are you a travel enthusiast looking for ways to monetize your passion? Best travel affiliate programs offer an excellent opportunity to turn your love for traveling into an exciting business venture.
Whether you're a full-time entrepreneur or someone looking for part-time income, partnering with one of the best travel affiliate programs can help you earn money from wherever in the world you are.
By joining such programs, you will get access to lucrative commissions and various other rewards for referring customers to popular travel websites and services.
Furthermore, participating in top-tier networks also provides plenty of benefits like advanced tracking solutions, helpful customer support, extensive APIs, and more.
To save you from the hassle of finding the best program on your own, here is a list of the best travel affiliate programs available right now.
What Are Travel Affiliate Programs?
Travel affiliate programs are a great way to make money online.
Affiliate programs allow you to promote products and services from companies such as airlines, hotels, and car rental agencies in exchange for a commission when someone makes a purchase.
These commissions can range from small percentages of the sale to large bonuses depending on the company or program.
With travel affiliate programs, you can promote everything from flights, cruises, and hotels to car rentals and attraction tickets.
You can use your website, blog, email list, social media accounts, or any other marketing channel to generate sales and earn commissions.
By partnering with affiliates that offer excellent customer service and competitive prices, you can build long-term relationships with customers while increasing your income!
With the right travel affiliate program, you can build a successful online business while helping people find great deals on their dream trips. It's a win-win!
20 Best Travel Affiliate Programs 2023
To help you increase your income, I have compiled a list of the best travel affiliate programs available today.
With the help of the service Ferryhopper, you may arrange ferry travel between the Greek Islands.
They don't tack on an additional service fee as many other suppliers do, so you can be sure that your readers are receiving the best rate.
Nevertheless, the 1% basic commission rate isn't too high.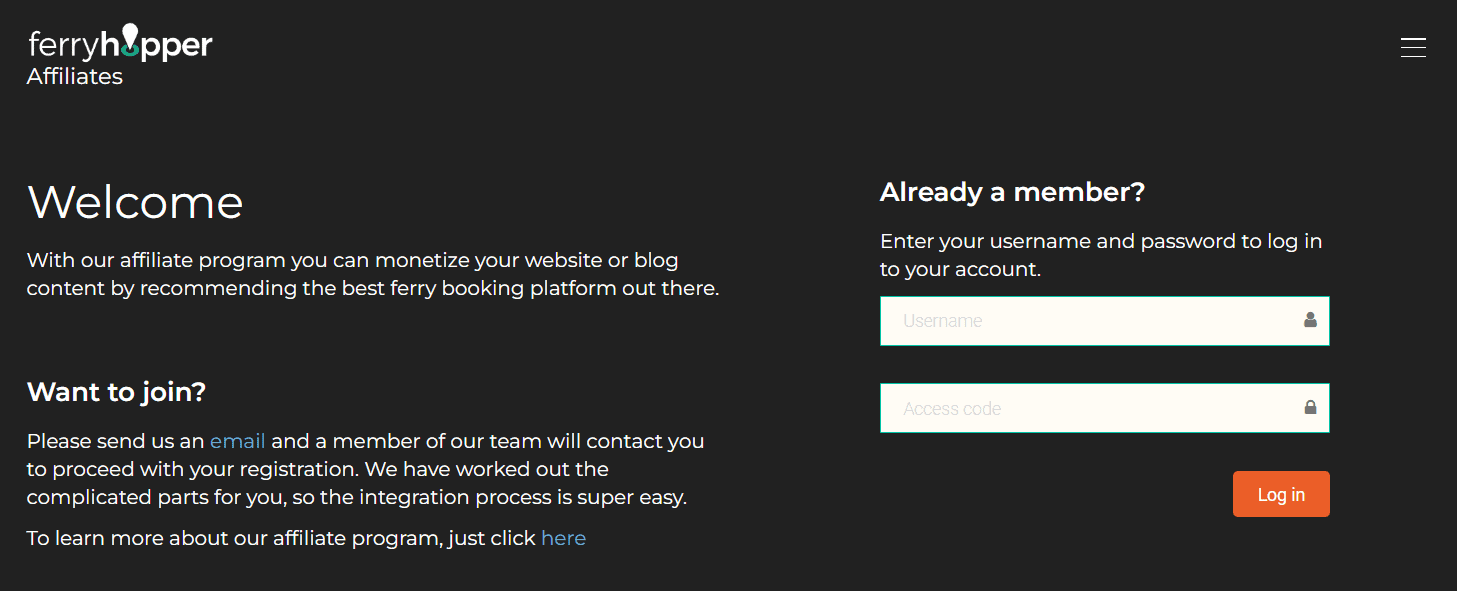 This is unlikely to be the main source of affiliate revenue for your travel blog since most ferries are reasonably priced when booked in advance.
However, this was aggressively advertised on a variety of travel websites with a concentration on Greece.
Therefore, if that's a location you cover, think about including some ferry-related information in the mix.
Cookie Duration: 30 days

Commission: 1% gross booking value
For making reservations for transportation, use Omio. On Omio's website, you may get information on trains, buses, airlines, and ferries.
Therefore, the Omio affiliate program might be a simple plug when it comes to trains, buses, and planes if you're describing to readers how to reach a certain area on your travel blog (for example, "Paris to Versailles").

Just be aware that there are affiliate programs for transportation that could work better.
For instance, on an equivalent order value, auto rentals and trip excursions both often provide larger % commissions.
Your best bet is always to provide a variety of alternatives and then track which ones result in clicks and conversions.
Cookie Duration: 30 days

Commission: 2 to 8%
Wise (formerly Transferwise) is a bank account that facilitates quick and inexpensive international money transfers.
They provide a "Borderless" account, which is a kind of bank account that enables you to store funds in many currencies. Anyone who goes abroad will find Wise to be a useful tool.
Wise is an excellent resource to recommend to regular travelers, business travelers, and digital nomads.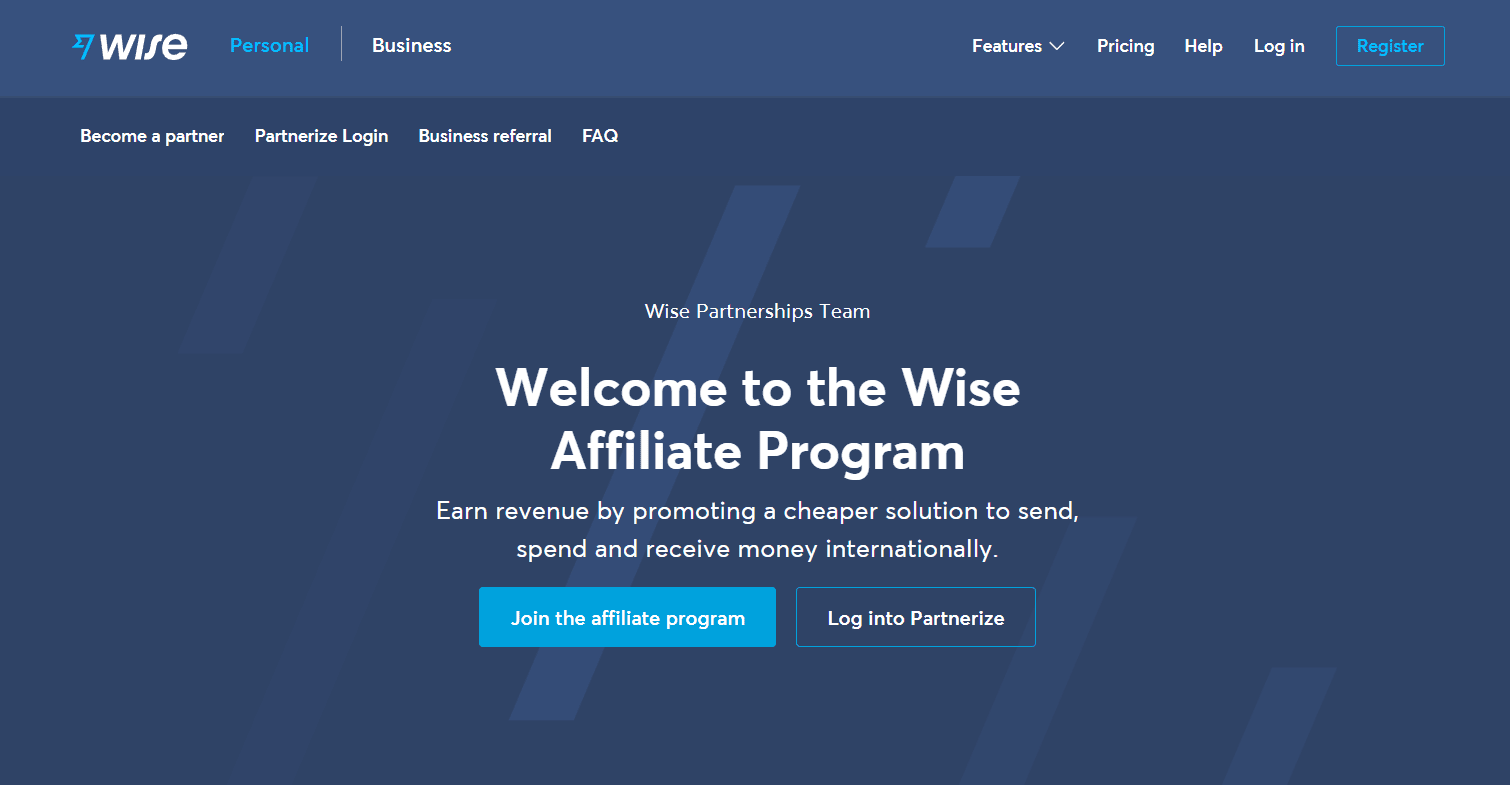 Commissions are a set amount that changes somewhat based on the currency of your payment. It costs £10 for personal users and £50 for corporate users to utilize the UK program.
Keep in mind that only financed accounts—not simply signups—get paid from you.
However, because of the "forever" cookie, regardless of how long it takes an account you recommend to be financed, you will still get credit for it.
Cookie Duration: Forever

Commission: EUR 50 for Business users, and EUR 10 for personal users
SafetyWing is among the first organizations to provide insurance for full-time nomads, expanding its scope beyond only travel insurance.
You may advertise the Remote Health insurance and the Nomad Insurance at a fee of 10% each as an "Ambassador."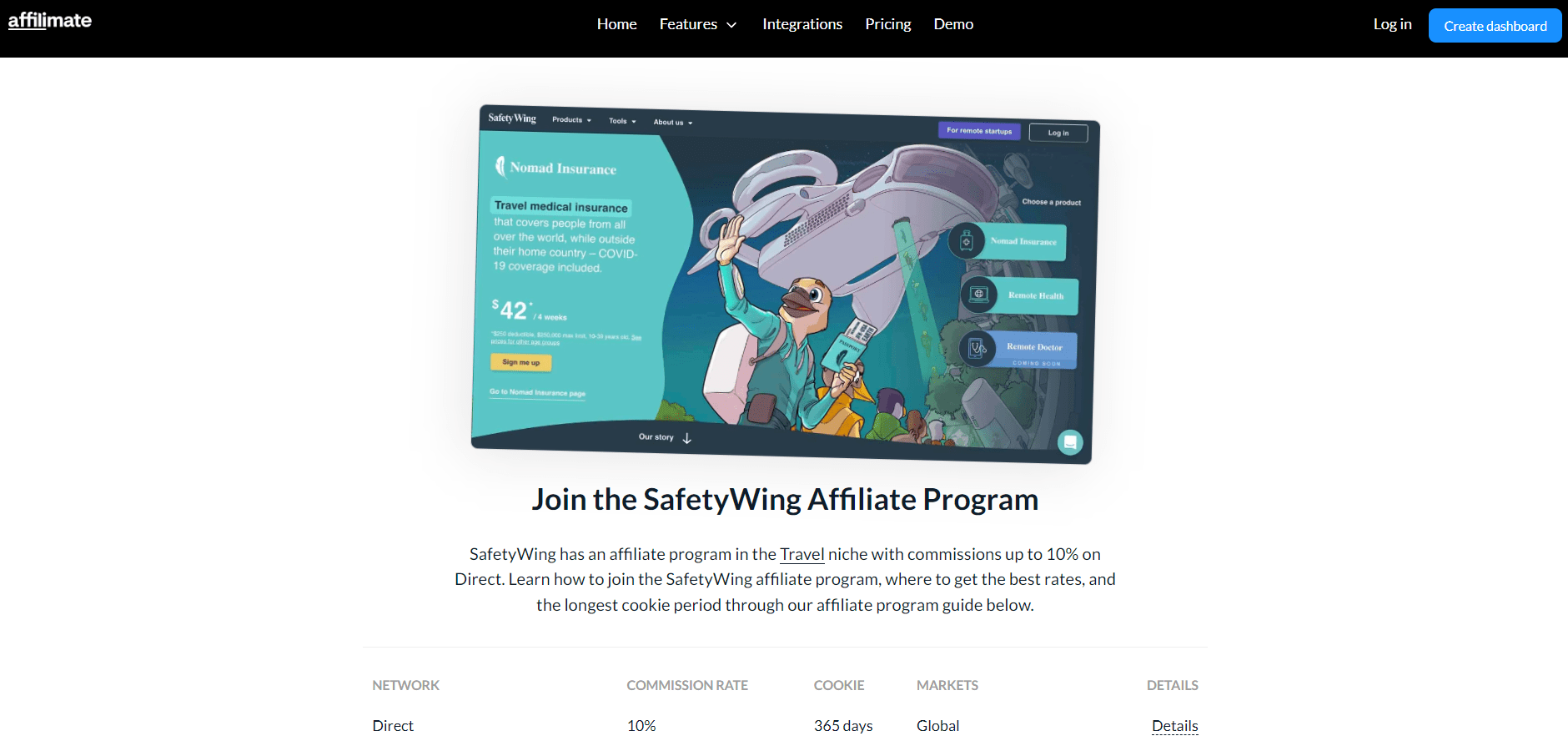 The distinction is that Remote Health is a 12-month coverage with monthly payments.
Therefore, you may keep being paid each month that the individual you recommended maintains insurance (as required by their contract).
Cookie Duration: 365 days

Commission: 10%
The ability to integrate travel insurance affiliate programs into a variety of current materials is one of their major advantages.
The drawback is that it will probably be difficult to rank for most keywords that include the word "insurance."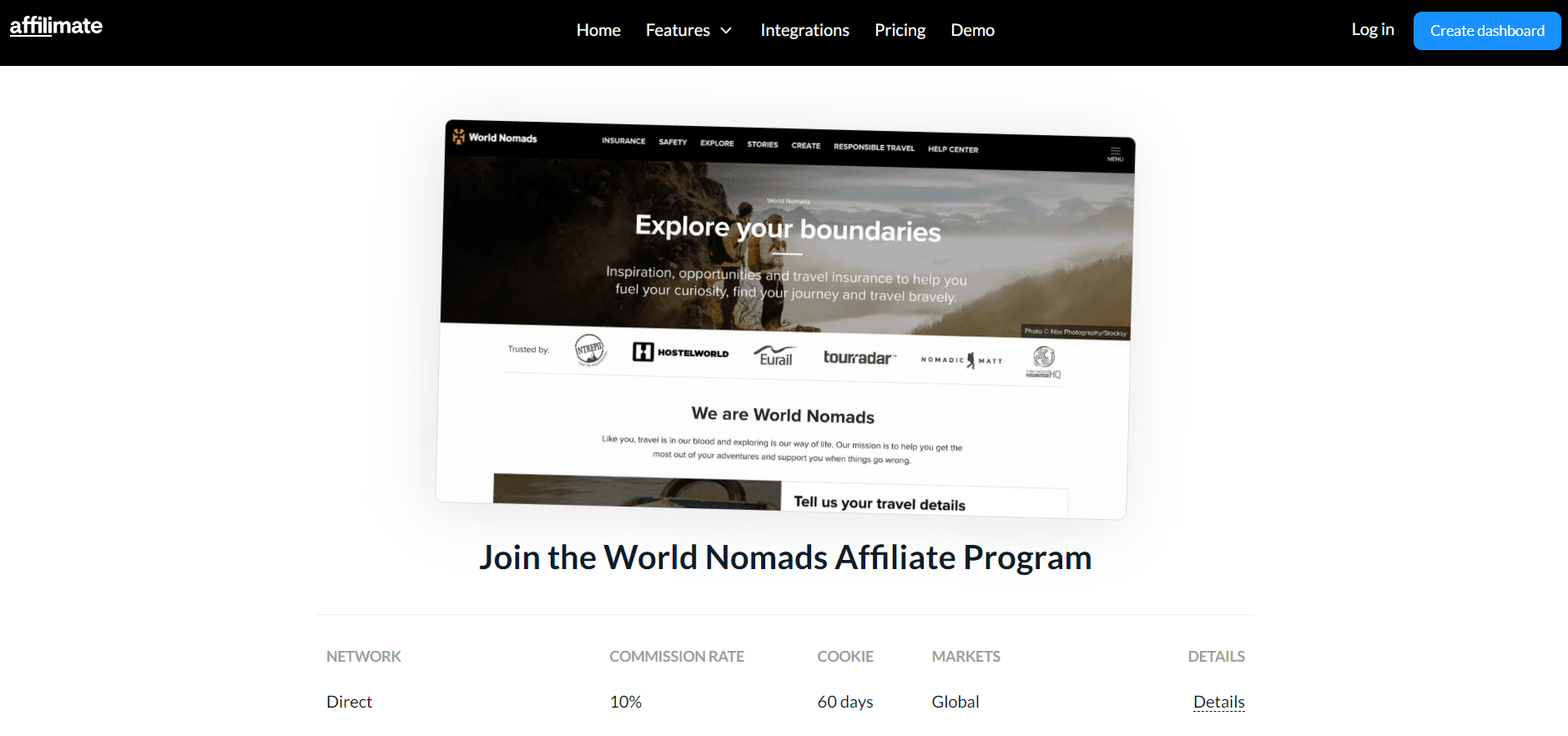 While compiling our data, we discovered that several well-known travel blogs link to travel insurance in almost all of their lengthy articles.
If you've got a common footer after your articles, this would be a nice area to incorporate a link to World Nomads.
Cookie Duration: 60 days

Commission: 10%
Have a wealthy, business-minded, or just frequent traveler audience? Owners of Priority Pass memberships get access to more than 1300 luxurious airport lounges worldwide.
The majority of memberships are available every year and, when reduced, cost between $89 and $359 per year.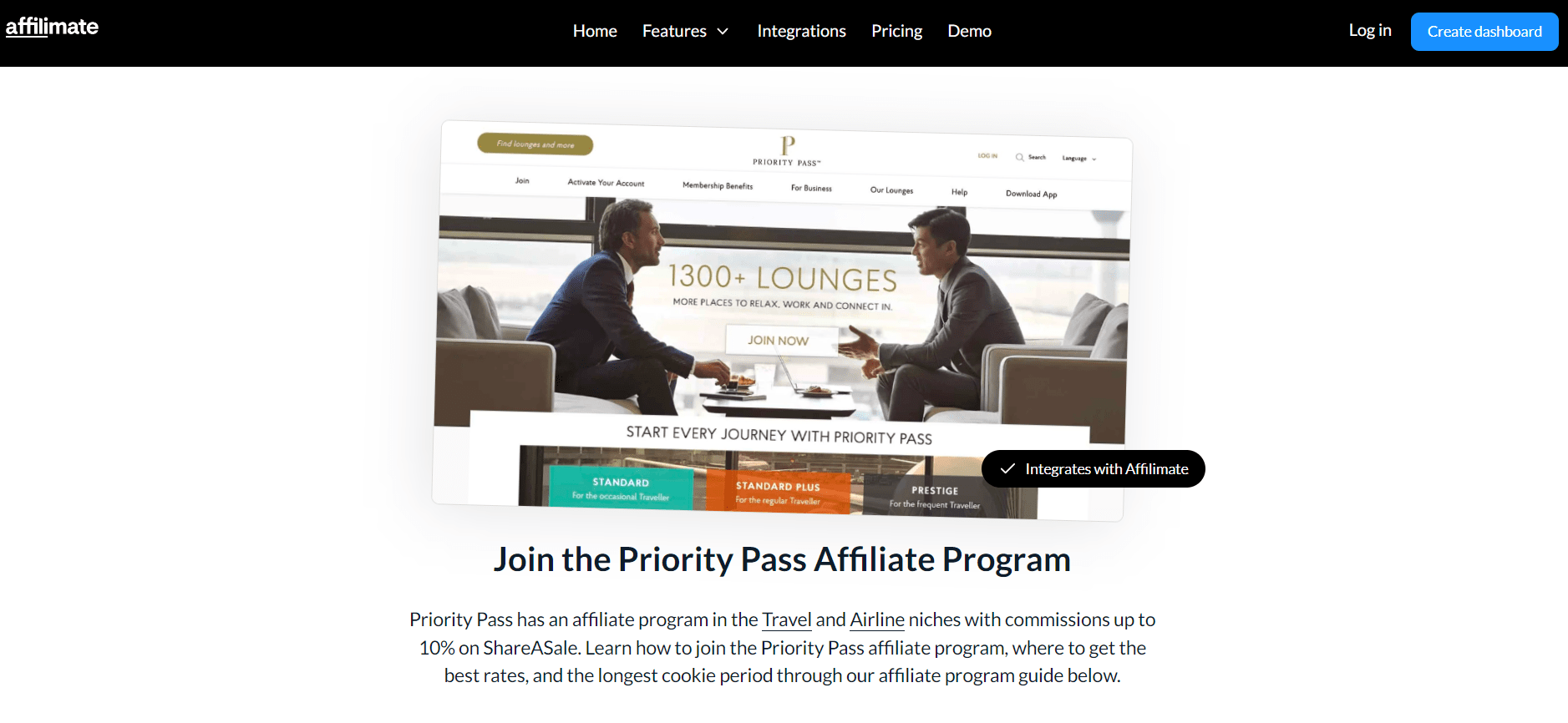 That amounts to $8.90 to $35.90 per conversion at a 10% commission rate, which is very acceptable on the high end.
They'll pay you a 15% commission on ShareASale for the first month, but it'll probably take you that long to find out how to effectively market the PriorityPass, so you won't make much money during that time.
Cookie Duration: 30 days

Commission: 10% on Pepperjam and ShareASale
Are you using your travel blog as an affiliate to promote significant US or Canadian cities?
To provide your audience access to offers and activities with just one payment, CityPASS can be a terrific addition.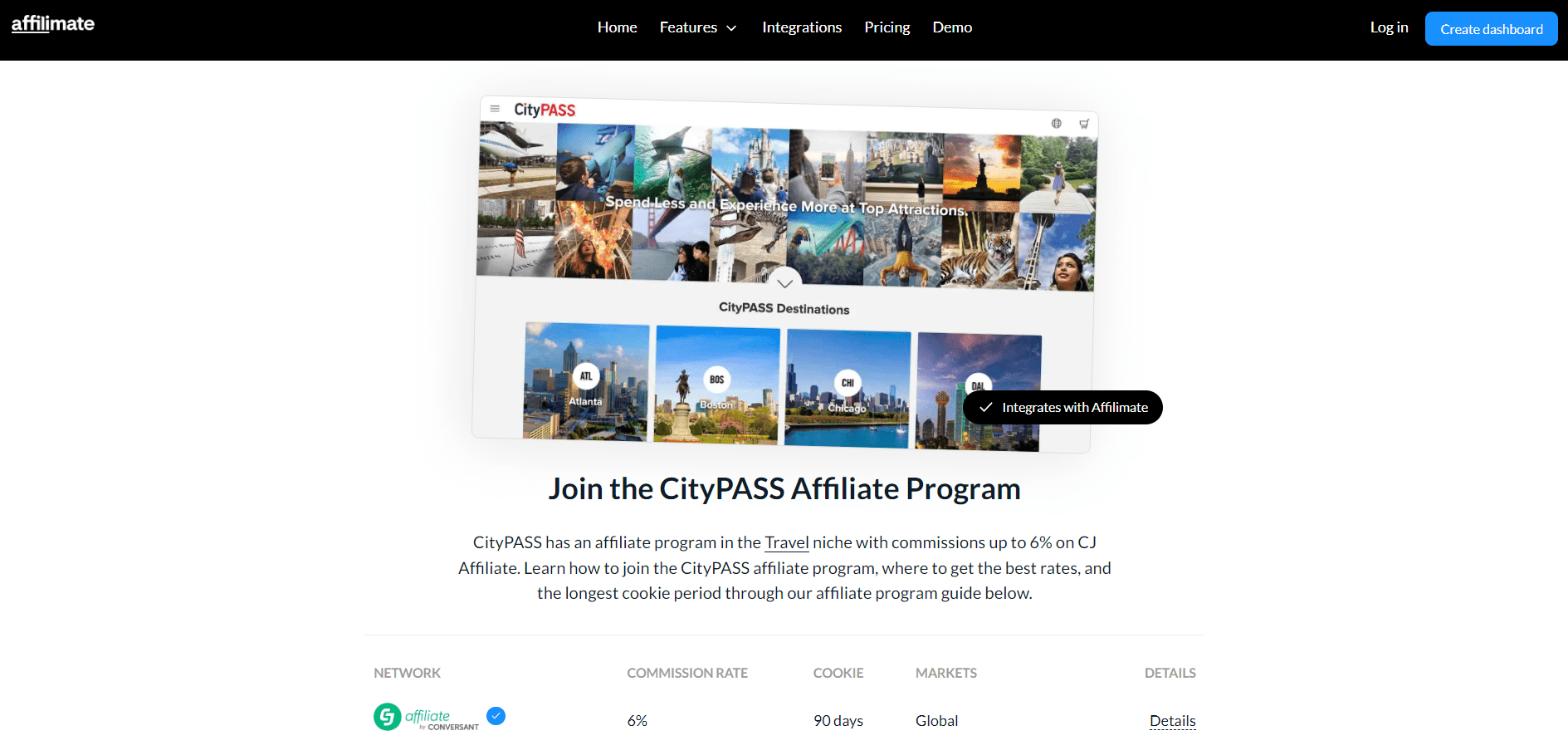 I noticed that they were advertised most often on family travel websites, perhaps because purchasing tickets might be difficult when traveling with children.
Any of the attractions in the "things to do" guides you're promoting may simply have CityPASS connections nearby.
Cookie Duration: 90 days

Commission: 6%
Consider Intrepid Travel as an option for many of the same locations that G Adventures visits.
Travelers from North America and Europe, particularly those heading to South and Central America, Asia, Africa, and the Middle East, are their main target market.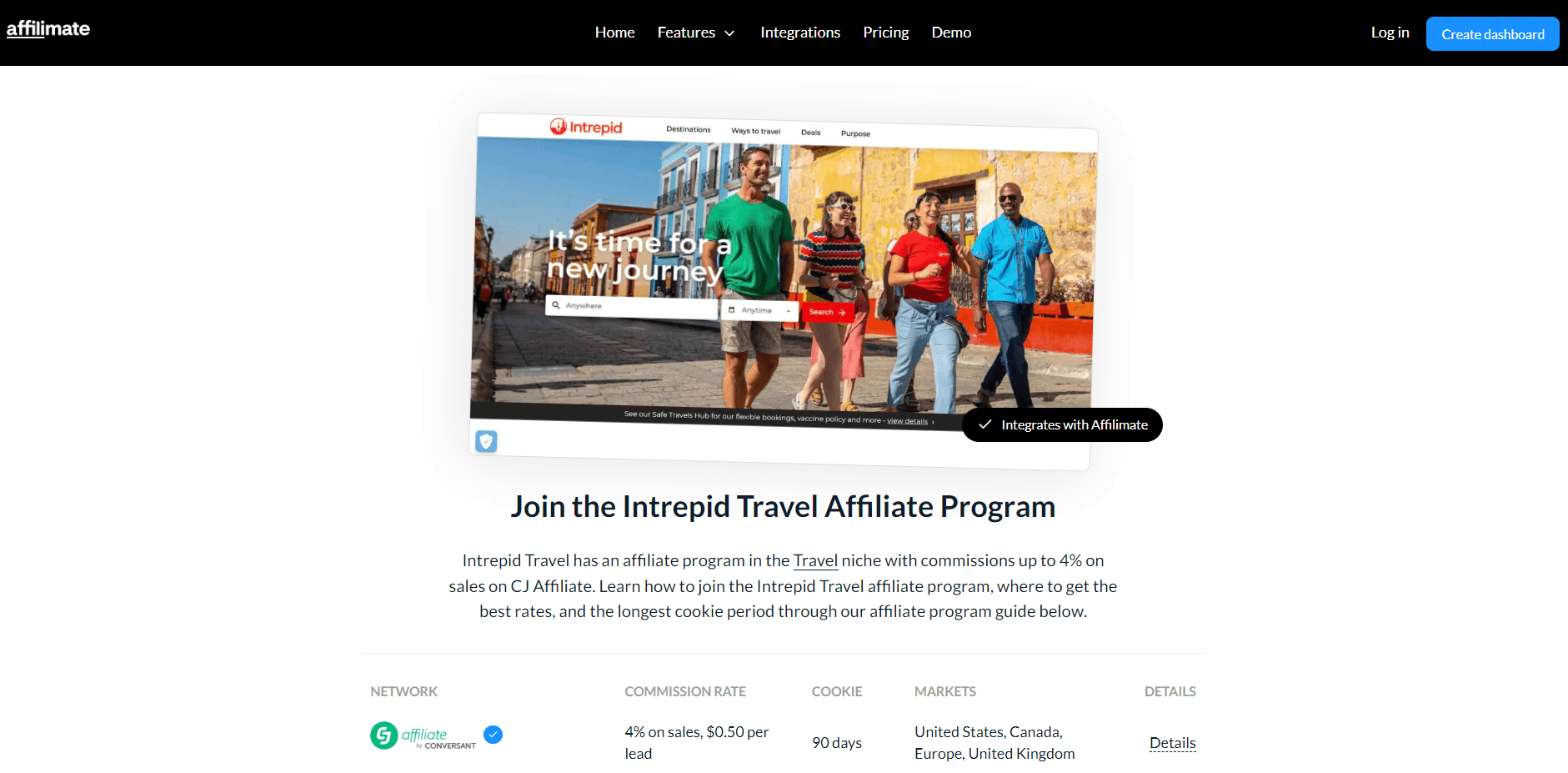 Similar to G Adventures, they sometimes run deals that you can advertise on pertinent sections of your travel site or share with your email list.
Focus once again on locations that can be complex or difficult to get without a tour.
Or areas where tourists may feel safer or more at ease going in a small group, such as the ones Intrepid Travel provides.
Cookie Duration: 90 days

Commission: $0.50 per lead, and 4% on sales
In contrast to GetYourGuide, Klook, and Voyagin, all of which are tour operators, G Adventures specializes in multi-day, small-group trips, which carry hefty price tags and commissions as a result.
The average order amount at G Adventures is $2,600, according to their FAQs. That amounts to an average of $156 for each transaction at a 6% fee.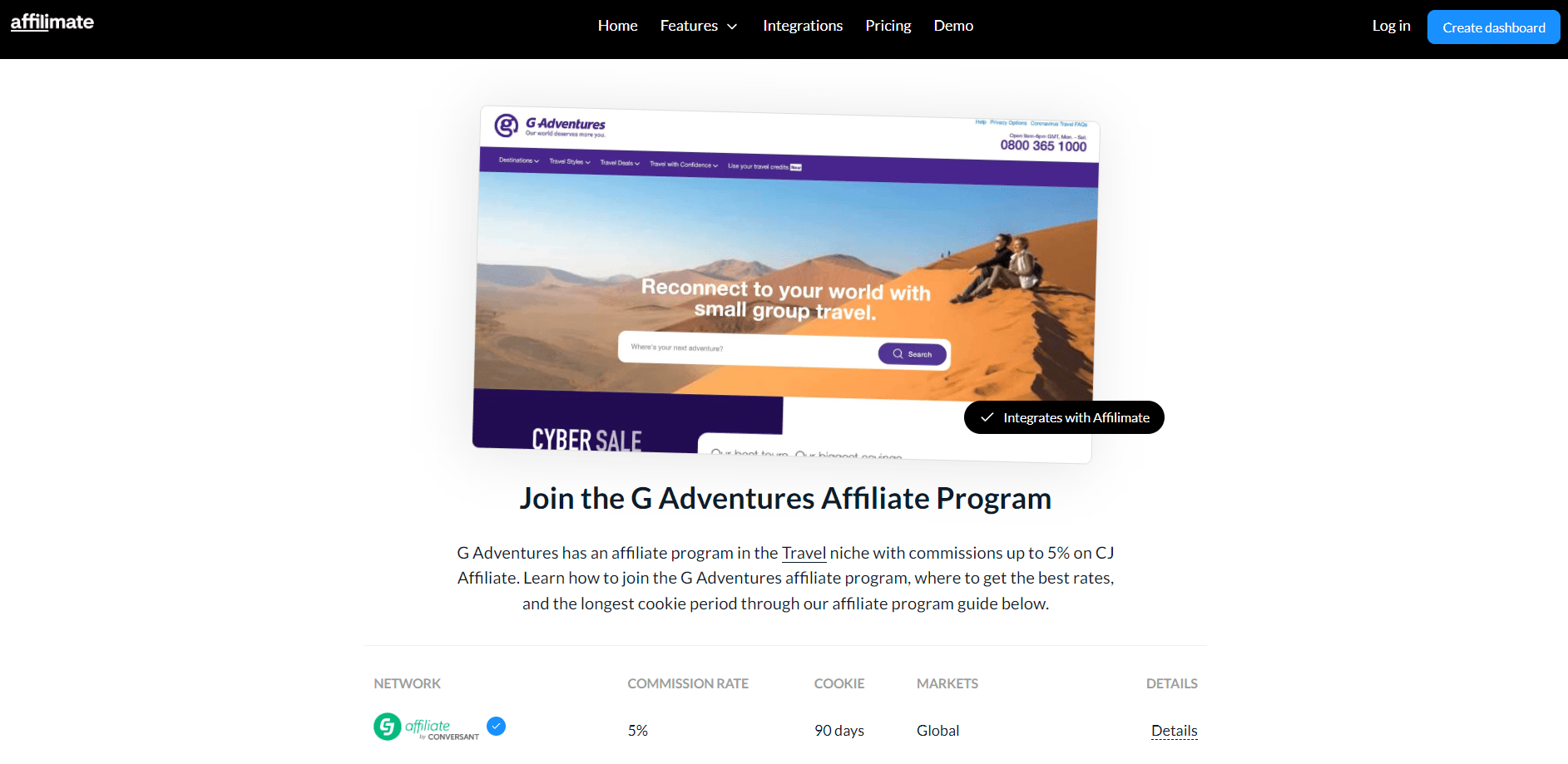 Naturally, choosing to purchase a trip of this kind takes considerably more time. Fortunately, G Adventures also offers a huge 90-day cookie window to its affiliates.
If you can get a reader's email address, you may give them a trip guide on the area and then follow up with a few emails about this tour.
These excursions sometimes include sales as well.
Cookie Duration: 90 days

Commission: 5%
One of the most well-known travel planning websites online is TripAdvisor. Links to restaurants, activities, and lodging are available on TripAdvisor.
In essence, rather than paying affiliates based on sales, the TripAdvisor affiliate program pays affiliates based on leads.
As a result, you'll earn many more, smaller commissions (often between $0.20 and $0.50) than if you connected directly to the lodging companies that TripAdvisor works with.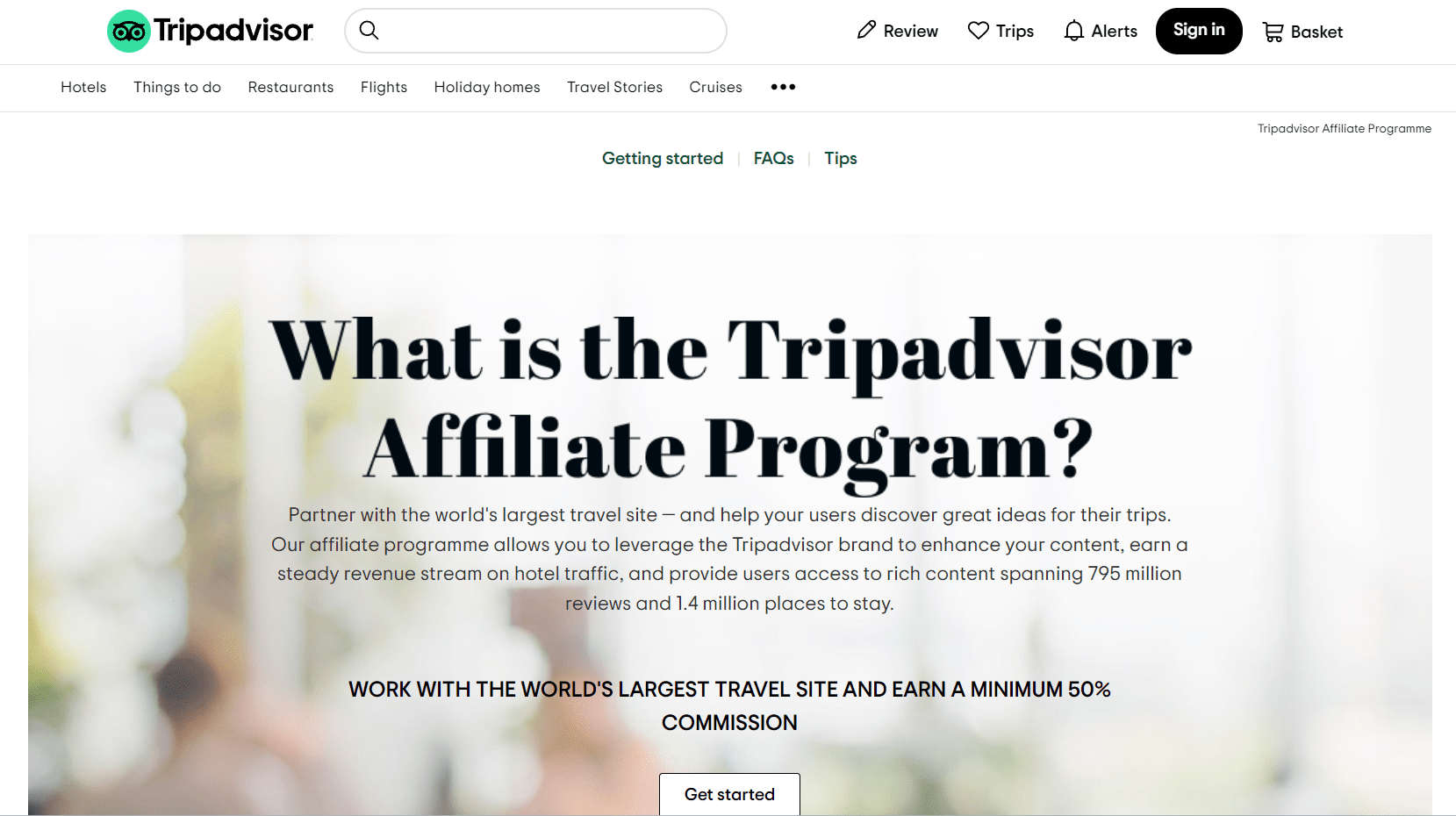 However, it's crucial to understand that you will only get affiliate commissions if the click you provide to TripAdvisor results in a visit to a hotel website.
No other click-out type results in a commission for you. This strategy's suitability for you will mostly rely on the kind of material you're producing.
This would make sense for information that is presented early in the trip-planning process.
However, instead of being deliberate about the kind of content and links you're advertising, you're still relying on the chance there.
Writing recommendations for readers who are actively making travel plans and advertising hotels on Booking.com, Agoda, or Hotels.com will probably provide more financial rewards.
Cookie Duration: 14 days

Commission: 50% of click out
Based on my analysis of hundreds of reputable travel sites, Booking.com is by far the most well-known travel affiliate program.
And with good reason—hotels are wildly successful. First of all, in many destinations, they cost approximately $100 each night.
Then, individuals often make reservations for many nights at once. Great commissions follow if your content catches readers just before they make a reservation.
As a hotel associate, you'll see a high cancellation rate, which may sometimes reach 30–40%. Given that free cancellation rules essentially incentivize this, it is difficult to prevent.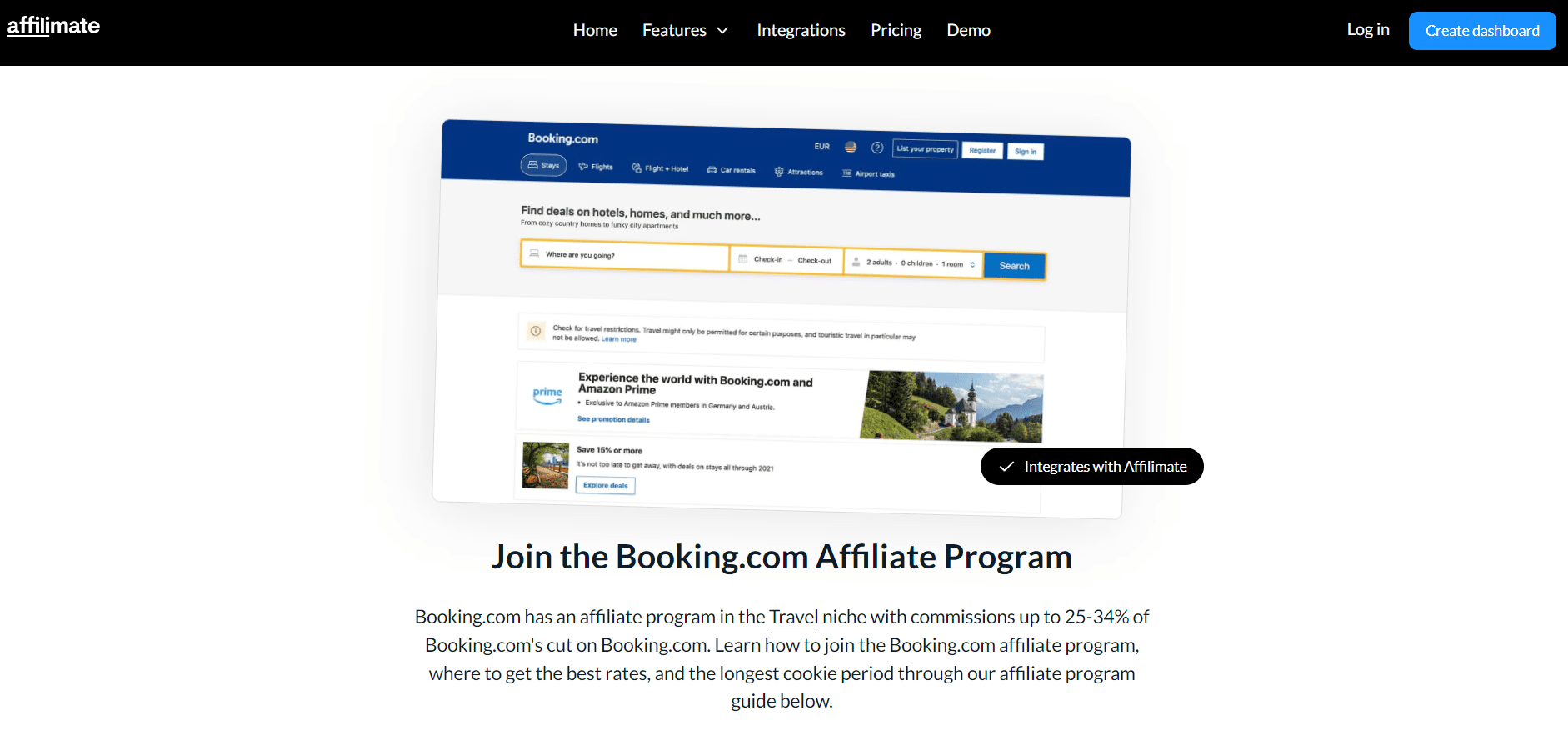 Nevertheless, there are still tremendous earnings to be had. The fact that Booking.com doesn't employ a real cookie is an odd feature of the website.
Only "in-session" bookings count toward your total. Therefore, to make a transaction, you need to target potential customers who are just about to make a hotel reservation.
Despite these issues, Booking.com is one of the greatest travel affiliate programs you can advertise because of its strong brand awareness and high conversion rates.
Cookie Duration: 0 days

Commission: 25-34% of Booking.com's cut
A rail ticket called Eurail enables train travel throughout 33 European nations. It offers passengers unmatched flexibility.
Most of the time, you can just take the next train if you miss one.
In most situations, you still need to make a reservation with a small 10–20€ premium for high-speed and night trains, but you also save the trouble of doing so.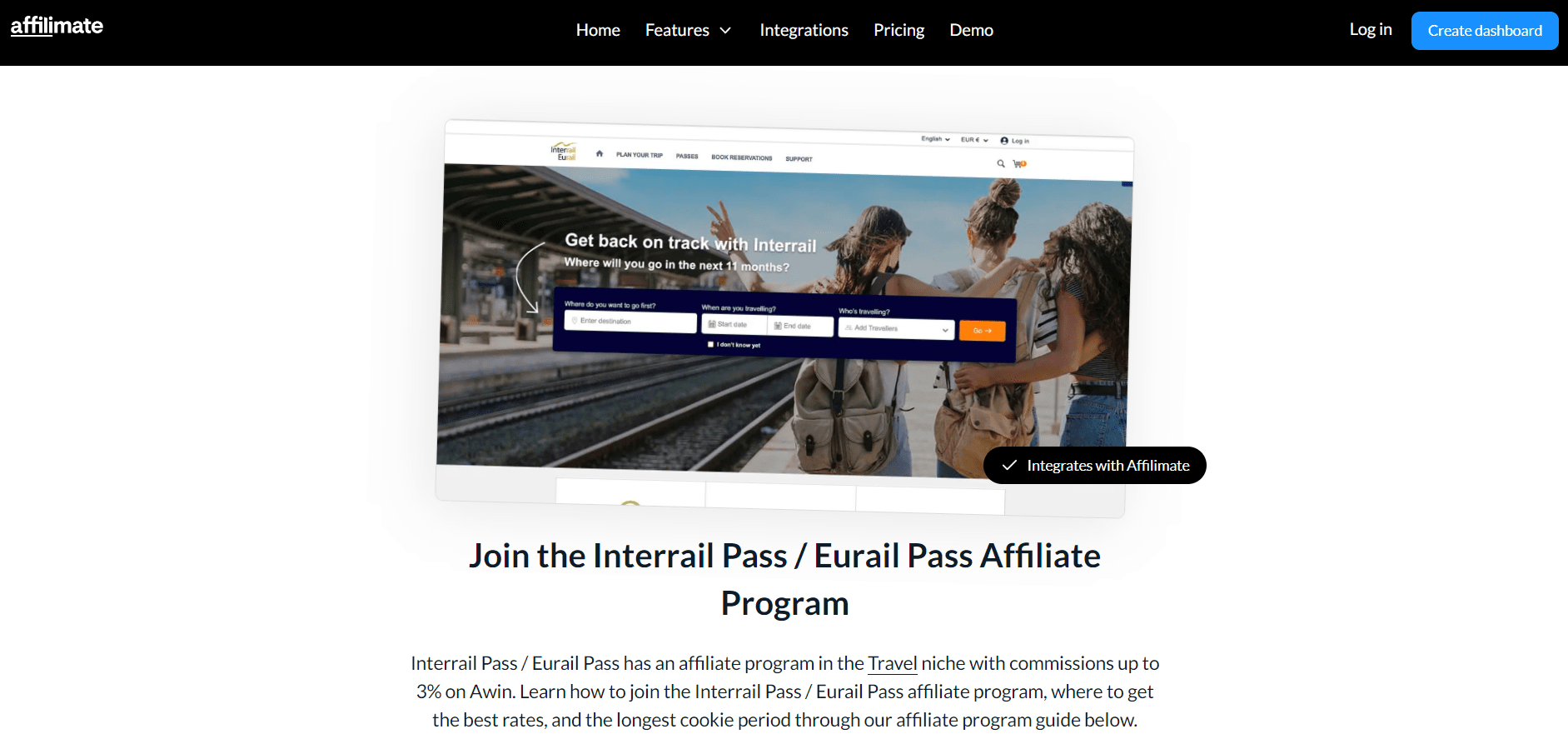 The multi-day and multi-country passes offered by Eurail allow visitors to customize their vacation.
If they want to extensively train travel inside a single nation, visitors may also choose a single-country pass.
Similar in many ways to Amtrak, Interrail is intended for those who live in Europe. You may get a 3% commission either way.
The average order value is £298.27 ($408.85), which translates to a fee of around $12.
Cookie Duration: 30 days

Commission: 3%
Got any thrifty customers? If your viewers are college students, young adults, or generally wanting to travel for an extended period on a tight budget, HostelWorld is a fantastic option for Booking.com.
I don't personally advocate staying at hostels since it's been a while since I did.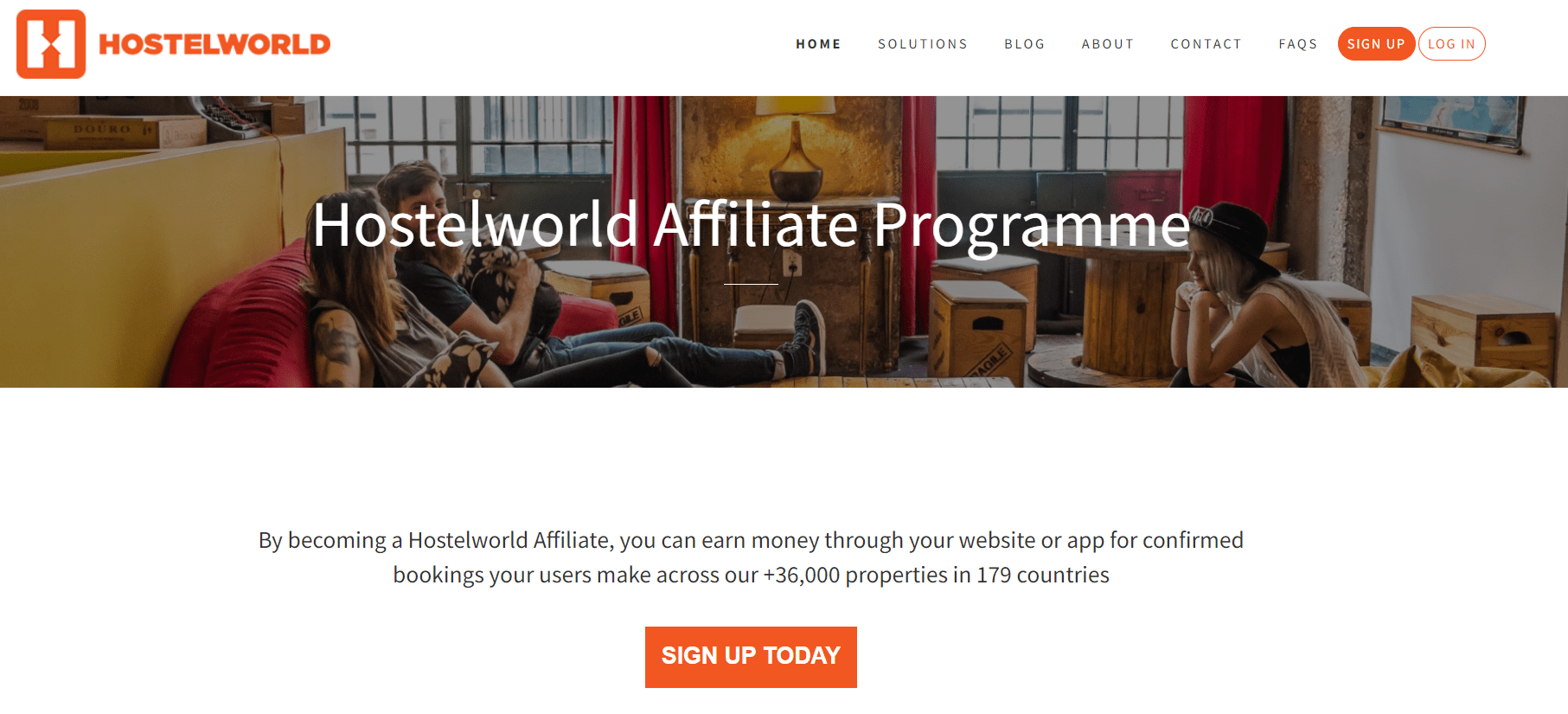 But throughout our investigation, we discovered a ton of HostelWorld connections on well-known travel websites and blogs.
HostelWorld also seems to be expanding into the now saturated market for travel experiences, even if you're not into hostels.
Cookie Duration: 30 days

Commission: 18 to 22%
The benefit of Mo mondo's affiliate program is that it accepts applications from even the smallest sites. So, if you're a new affiliate, this may be a fantastic chance.
They accept content websites, well-known travel websites, and even emails as long as the firm has already cleared the email's content.
All you have to do to get your link and incorporate it on your website is join up with one of the associate affiliate network partners.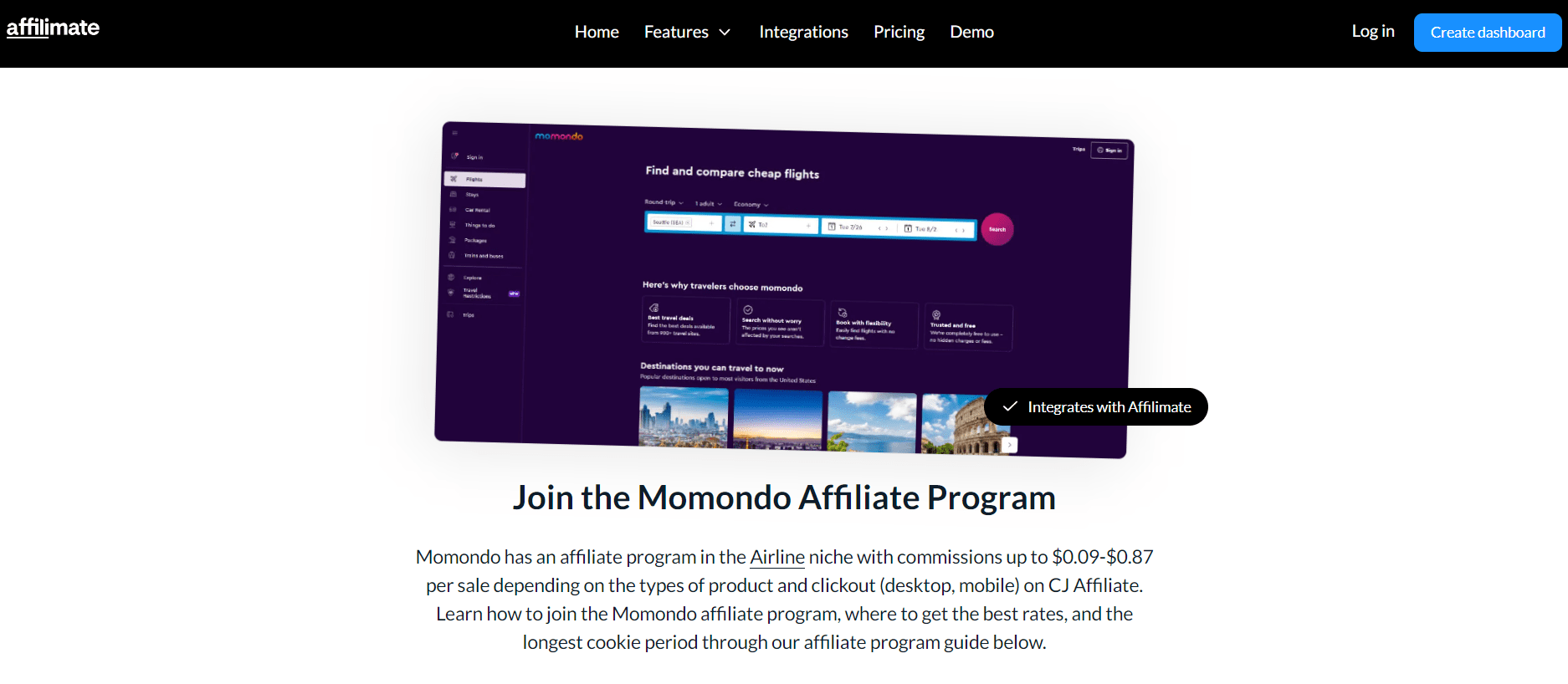 On computers, tablets, and mobile searches, you might make US$0.65 per click and US$0.45 per click, respectively. The affiliate product is now restricted to flights.
If you get more than 200,000 unique site visits each month, you should also get in touch with the company personally for further assistance and special offers.
Cookie Duration: Not listed

Commission: $0.06-$0.60 per sale
Scotch-based Skyscanner is a metasearch engine and travel company that receives over 100 million monthly visitors on average.
The website focuses on assisting visitors in finding, selecting, and booking from a large selection of airfare, hotel, and auto rental packages from more than 1,200 travel suppliers. Additionally, the website is accessible in 60 nations and 35 languages.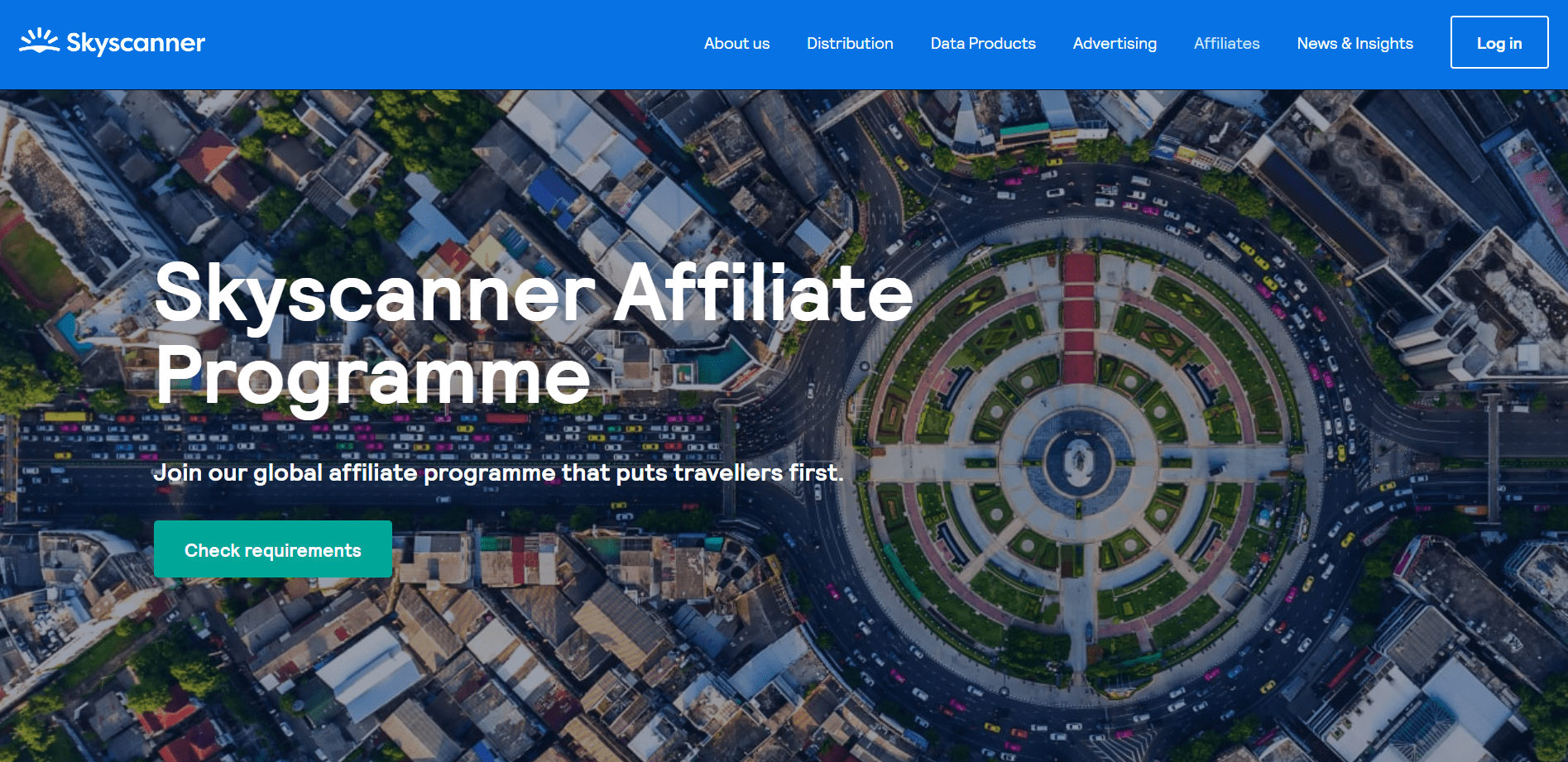 Given its name familiarity and the level of confidence, it has among frequent passengers, Skyscanner is an easy sell.
Currently, the company's airline affiliate program pays commissions on the purchase of tickets for flights and hotel stays.
The payments represent a portion of the commissions that Skyscanner's travel partners have awarded them. Expect to make about 20% in booking commissions.
Cookie Duration: 30 days

Commission: 20% & Direct Booking
The starting price for a stay at a Plum Guide property is 139 euros, and prices increase from there.
In some of the most well-known holiday spots, choose the top 1% of residences.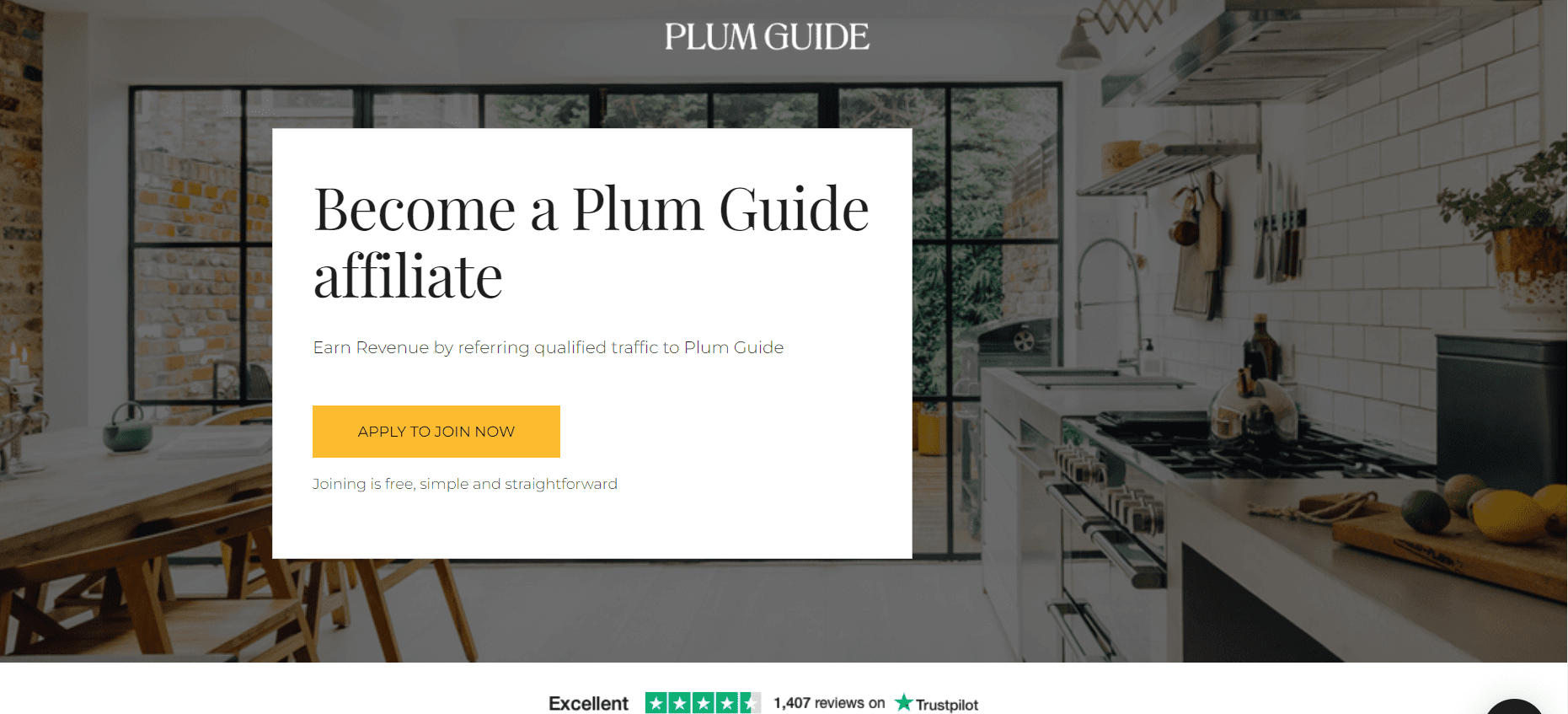 The reservations you may make via this service thus tend to be on the upper end if they go through, even if the properties on Plum Guide could be too pricey for the ordinary tourist.
Additionally, the lengthy 90-day cookie term gives you plenty of time for the visitor to book their stay after they begin their investigation on your website.
Plum Guide can be a fantastic complement to the hotel affiliate programs you currently promote if you target premium travelers.
Cookie Duration: 90 days

Commission: 7 to 10%
Klook is a travel and experience platform with headquarters in Hong Kong.
As a result, we discovered that Klook was more often advertised on blogs about Asian nations, including Japan, Korea, Singapore, China, Taiwan, and Vietnam.
In light of the pandemic and the decline in foreign travel to Asia, Klook has focused even more on its target customers in Europe and North America.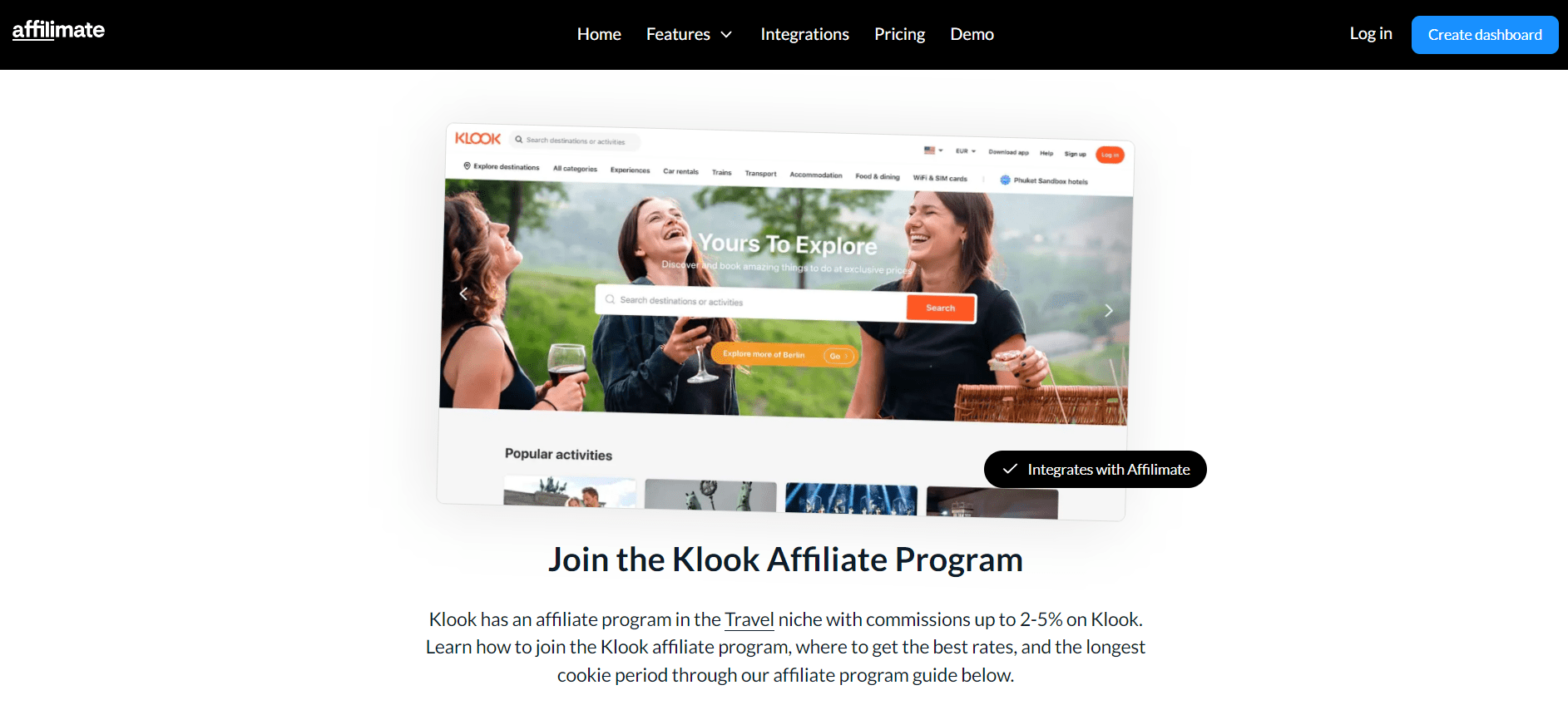 Therefore, you should try comparable marketing activities on Klook, Viator, and GetYourGuide to discover which is more popular with your audience.
The top-performing events and tours are shown rather clearly at the bottom of their webpage. Klook sells train tickets, WiFi rentals, and SIM cards in addition to excursions and activities.
You can certainly introduce your readers to a variety of goods and comforts using Klook, particularly if they are visiting Asia for the first time.
Cookie Duration: 30 days

Commission: 2 to 5%
You may reserve vacation experiences and activities online at GetYourGuide.com.
Consider city guides, boat trips, skip-the-line tickets, guided tours, and both big and small group excursions.
GetYourGuide not only collaborates with neighborhood tour companies but also offers its own Originals series of trips.
These trips are based on the vast quantity of information they have on the activities that individuals like the most.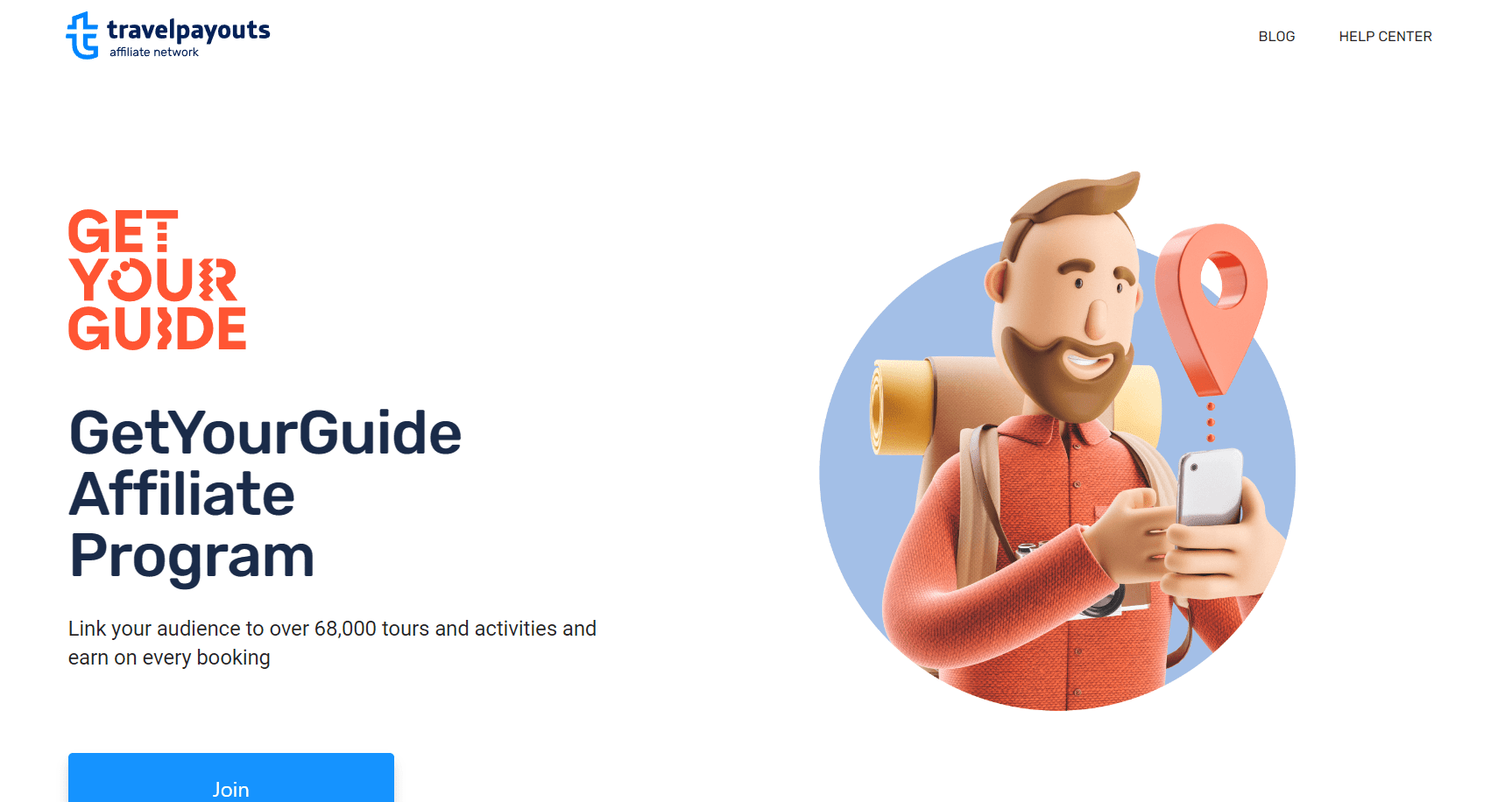 Successful affiliates may bargain for rates as high as 10 and 12%, however, GetYourGuide's direct program gives an 8% basic commission rate.
The rates are advantageous for earning commissions when combined with a 30-day cookie term.
Particularly if your travel blog focuses on Europe, given the excellent choices on GetYourGuide.
The secret is to advertise these events when people are most likely to make reservations and with the appropriate kind of material.
Cookie Duration: 31 days

Commission: 8% on GetYourGuide
Viator is a website where customers may reserve vacation excursions, activities, and experiences.
Viator offers a fantastic assortment of activities in the United States and Canada, whilst GetYourGuide can be considered to be more prevalent in Europe.
Therefore, if your travel blog's primary emphasis is domestic travel in North America, this affiliate program may be ideal. The direct program from Viator gives a basic commission rate of 8%.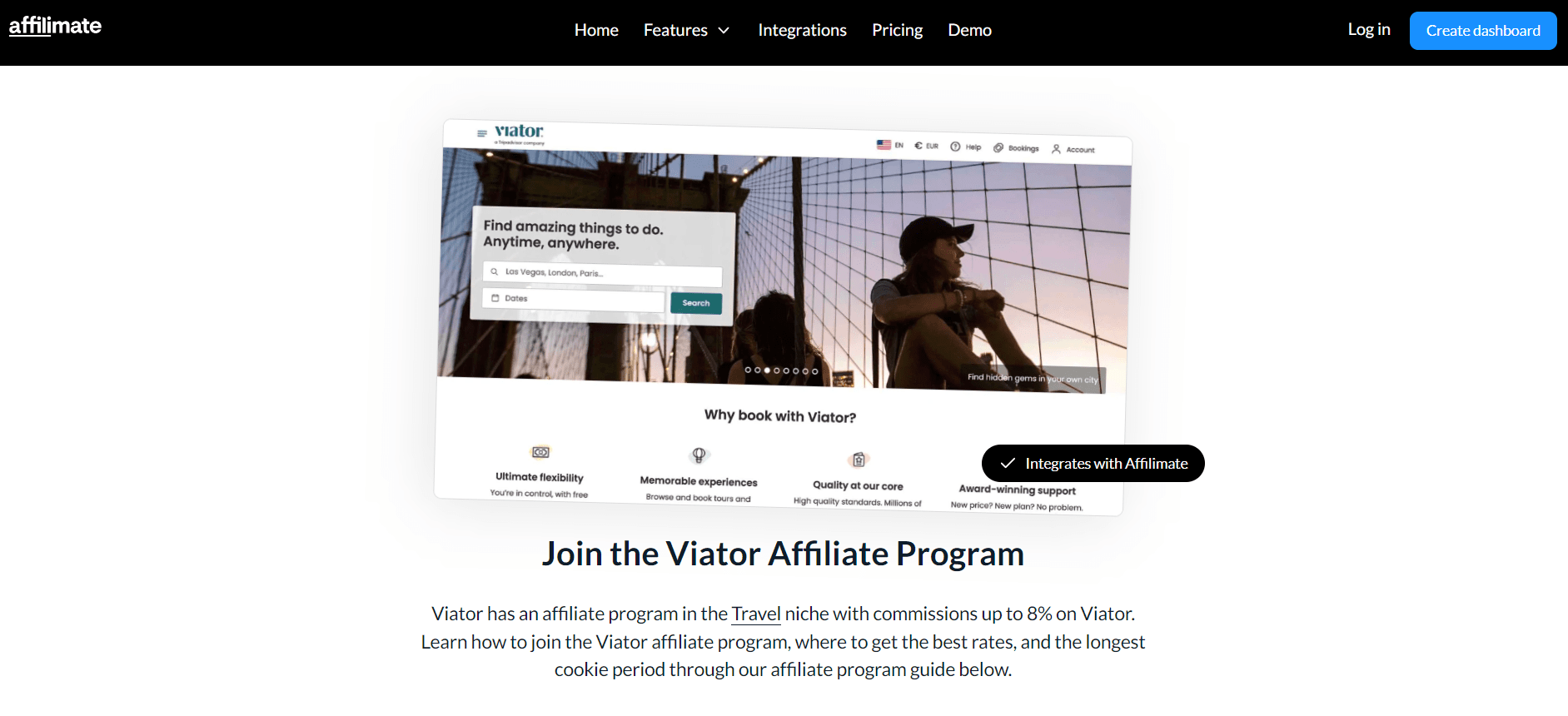 Coupled with the 30-day cookie duration, your reader has plenty of time to complete their vacation arrangements after clicking your link.
Make sure the tours you advertise on Viator have excellent reviews, ratings, and images to get the most out of the site.
A formula for a high conversion rate is to add your own and share a personal experience inside the article itself.
Cookie Duration: 30 days

Commission: 4% on ShareASale, and 8% on Viator
After Amazon, REI is the affiliate network that promotes outdoor items the most, based on our research.
Given that REI is a reputable company with strong customer loyalty, this is not particularly surprising.
They provide a broad variety of goods, including equipment for climbing, cycling, kayaking, jogging, winter sports, and more.
This includes camping and hiking supplies. Whether your website focuses on travel, nature, the outdoors, or sports, REI is the ideal brand to advertise.
The challenging issue is that REI and AvantLink are picky about who they let into their program.
Therefore, to have a possibility of being approved, you must apply via a reputable website.
Over 200 products from well-known manufacturers, including Arc'teryx, Black Diamond, Columbia, and Patagonia, are available at REI.
The brand pages are an excellent place to start if you can access them for information on the most well-liked and high-converting items and product categories offered by REI.
Cookie Duration: 15 days

Commission: 5%
FAQs Abot Best Travel Affiliate Programs
How can I make money from travel affiliate programs?
By joining an affiliate program, you will get access to a unique referral link that you can use to promote the brands and services of your affiliated company. When someone purchases through your link, you will receive a commission for it.
What are the benefits of participating in these programs?
Participating in one of these programs provides several advantages such as advanced tracking solutions, helpful customer support, easy integration with websites and apps, extensive APIs, and more. Additionally, most networks also provide rewards like bonuses and discounts.
How much money can I make from travel affiliate programs?
The amount of money you make depends on the type of program you join, as well as the commission rates and other rewards they offer. Generally speaking, you can expect to earn anywhere between 5% – 20% commission for every successful sale. However, some networks may also offer higher commission rates.
Is it free to join these programs?
Yes, most of the best travel affiliate programs are free to join. However, there may be certain networks or companies that require a fee for joining their program. Therefore, it's important to read all the terms and conditions carefully before signing up with any network.
Do I need to have a website or blog in order to join these programs?
Not necessarily. While having a website or blog can help you reach more customers and increase your sales, it is not mandatory when joining most affiliate programs. However, some networks may require that you own either of those before they approve your request to join their affiliate program.
Quick Links:
Conclusion: Best Travel Affiliate Programs 2023
Being part of one of the best travel affiliate programs can be an incredibly rewarding experience.
Not only will you get access to profitable commissions but also helpful resources and support from various networks.
Whether you are looking to make some extra money or establish a full-time career in the online business world, signing up for these programs is definitely worth it.