In this post, you'll get to know about the best WordPress Training Course Providers Online.
WordPress can be self-taught. Resources include blogs and YouTube videos. What a waste of time! Rather, I recommend a WordPress course. These courses will show you how.
You can ask the creator questions about the course. There are numerous WordPress courses. My best WordPress training services list may help. Let's look!
5 Best WordPress Training Course Providers Online
Here are some of the best WordPress Training Course Providers Online you should look at least: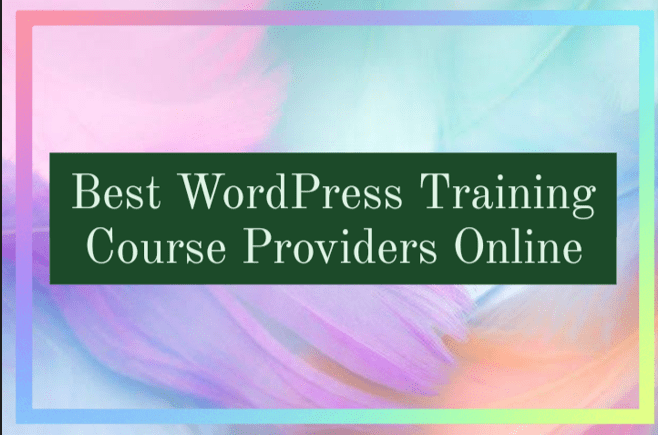 1. Beaver Builder's Course Library
The best place to learn Beaver Builder. The Beaver Builder Course Library offers six free courses. Learn how to utilize the page builder and Themer. Our library offers lessons on website hosting and domain registration.
It has videos and activities. It's free to use. They offer website hosting and Beaver Builder.
2. WP101
For WordPress newcomers, there's WP101. Since 2008, WP101 has taught WordPress to over 2 million people. Their extensive course offerings and step-by-step videos facilitate learning.
WP101 is ideal for busy people learning WordPress. One video is only five minutes. Student access to help forum. WordPress 101 is only $19 per month. All-Access plans are $49/year or $99/life.
3. WP Apprentice
wp-apprentice.com is another WordPress Your website may be up and operating in less than an hour with free training. WP Apprentice's extra courses address topics like SEO and e-commerce.
Your purchase includes a members' forum, Tune-Up Guide, and WordPress Security Training. Their prices range from free to $39, $75, and $99.
4. Udemy
For course developers, Udemy offers a location to sell their courses. Students may take courses on a wide range of subjects including WordPress on this comprehensive online learning platform.
When it comes to Udemy courses, you have to be really picky. Get the most up-to-date course with the most positive evaluations. Course duration varies as well.
Some professors have over a hundred lectures, while others have less than a tenth of that number. Udemy charges per the course, and the costs might vary widely. For $199.99, you can have access to some, but not all.
5. LinkedIn Learning
It is a learning platform. They provide a wide choice of career-enhancing courses, including one on WordPress. WordPress training is divided into three levels: beginner, intermediate, and advanced.
This course will help you get started quickly if you want to use WordPress professionally. You need a LinkedIn account to use LinkedIn Learning. After the free trial, the monthly fee is $29.99.
Quick Links:
Conclusion: WordPress Training Course Providers 2023
A newbie or an expert developer may always benefit from learning something new about the WordPress platform.
While it is feasible to study WordPress on your own, it is advisable to enroll in a well-structured course. Do have a look at one of the services we've mentioned for WordPress training.
In the long run, this will save you a great deal of time and frustration. There may be training courses or classes that we haven't included on the list that you suggest.
What do you think? Please share your thoughts in the space below.