In this article, we have featured Etsy Business Ideas In [year]. 3.7 million "makers" or sellers are presently using Etsy to create their companies, and entrepreneurs who wish to tap into their own creativity while beginning a business may want to join them.
Start by asking yourself what you truly enjoy doing if you're thinking about beginning a new business. Wherever your creative juices are flowing, you may want to consider joining the Etsy community of more than 3.7 million "makers" or sellers who use the site to grow their businesses.
Online marketplace Etsy has 69.6 million active consumers and increasing and draws shoppers who are searching for unique and one-of-a-kind things that they can't find anyplace else.
Only a portion of the whole market potential of Etsy was realized in the third quarter of 2020, when the company's gross margin sales hit $2.63 billion, according to Statista.
There are no fees for buyers or sellers on Etsy; merchants only pay for the costs of selling their goods, executing transactions, and collecting payments. Does it seem appealing to you? Take a look at these regularly popular categories among Etsy fans.
How do you decide what to sell And Get Etsy Business Ideas? 
When launching your own Etsy store, keep in mind that you don't have to invent the wheel from scratch.
Of course, a crowded market isn't the best situation. Look at what's currently doing well on Etsy and then give it your own personal touch. Even if you think this is a form of fraud, you should know that this is the way any firm operates.
To be clear, I'm not advocating blatant emulation here; rather, I'm urging you to forge your own path in an already crowded market.
Think about the automobile market. Every budget and requirement may be met by a different kind of automobile, and there isn't just one to choose from. Everyone has a place in a healthy market.
Find something you're excellent at and love doing, then let it grow from there. '
Crocheting sharks is simple if you are naturally talented, but if you've already mastered the art, you probably won't be reading this piece.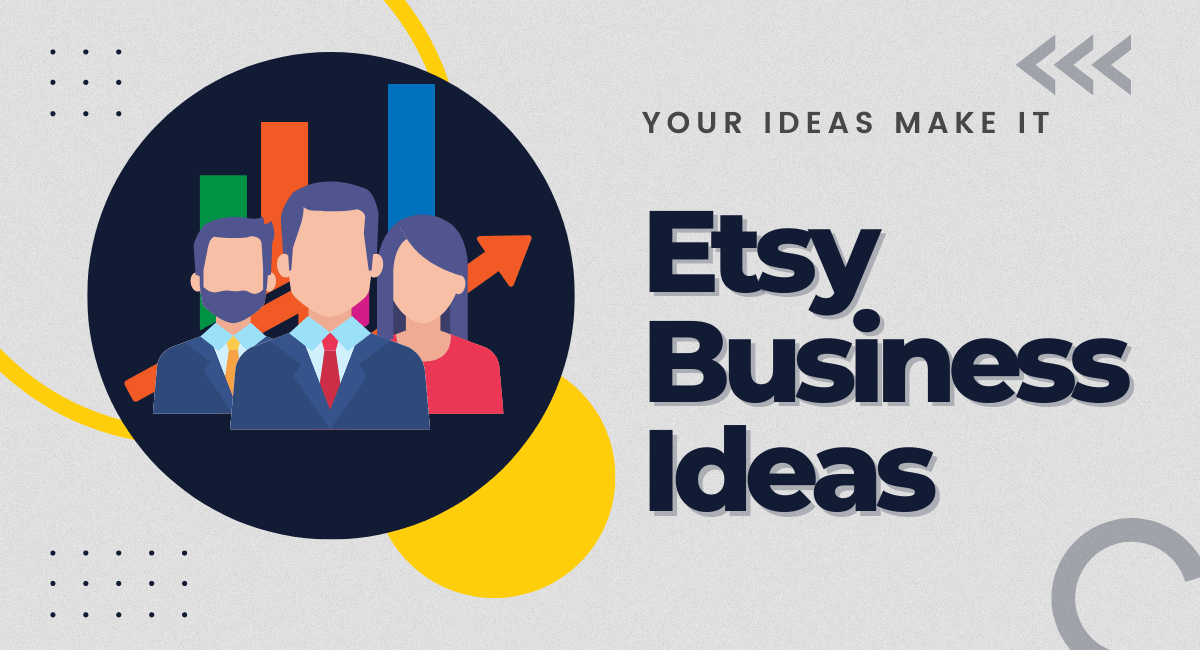 In Etsy, what items do well?
Etsy's best-selling items may surprise you. Actually, I was when doing the research for this piece.
I've been a buyer on Etsy for years, but only later did I decide to branch out and offer my own items.
From downloadable invites to hair bows to custom jewelry, I've purchased a wide range of items from Etsy's top sellers.
As a child, I assumed that Etsy was solely for handcrafted goods and jewelry, but now I know that isn't the case at all.
Best Etsy Business Ideas For 2023
Many people have found success with their Etsy stores by following the tips below. Etsy's top 300 merchants presently sell every single one of these products.
Personalized Jewelry
Personalized jewelry is always a success, and Etsy's current designs and stamping processes have brought up so many options. It's obvious that working in a store like this demands certain expertise, but you can gain the skills you'll need by watching instructional videos online.
Items made of yarn
Knitting may be a lucrative side hustle if you have a passion for the material.
Customers on Etsy like handcrafted goods, which makes selling baby clothing and other seasonal knits an excellent option.
To get you started, we've compiled a list of 10 easy-to-make knits that can be completed in a few hours over the weekend.
Wedding
As a result of brides and grooms delaying or reducing the size of their wedding celebrations in 2020, the wedding business suffered greatly. An increase of 34 percent in recent searches for wedding gowns on Etsy indicates that this trend will begin to recover in 2021. Brides and grooms-to-be are going to require a lot more than just a wedding dress and a bouquet of flowers. Etsy is a popular destination for brides-to-be looking for ideas as well as one-of-a-kind items that reflect their own wedding designs. When trying to capture the interest of this highly engaged audience, it may be worth looking into specialist macro-categories like rustic farmhouse or eco-friendly.
Essentials for the bath and body
Etsy searches for "relaxation" have increased 2,219 percent year-over-year, demonstrating the growing popularity of self-care as a trend. More than 875,000 Etsy product searches were made for "facial masks" in August 2020. Etsy has become a popular destination for those looking for self-care products that are simpler and more honest. Etsy's beauty and wellness aficionados are big admirers of clean, organic, and sustainable beauty. The FDA's particular requirements and Etsy's own laws control this area, so educate yourself about them before you jump into the pool of beauty..
Authentic Work of Art
Buying original paintings is quite popular. Original art can take many forms, including paintings, sketches, pictures, computer drawings, wall art, handcrafted cards and invitations, and wood carvings, amongst others.
There are many people on Etsy that are on the lookout for unique art pieces. All you have to do is discover your own distinctive aesthetic and include it in your work.
Quick Links:
Conclusion: Etsy Business Ideas 2023
Using Etsy to create a business, build a brand, and generate money is a terrific way to succeed. As you can see, there are countless goods that may be sold.
On Etsy, you'll find anything from handcrafted goods to craft materials to unusual pet products to wall art to antique finds to prints of all kinds.
There's something for everyone here, whether you're seeking creative do-it-yourself projects or ways to market your business online.