Course creation is a long process. We as course creators spend hours distilling our expert knowledge down to a few course lessons, all while hoping that it will connect with your learners. 
Right from converting your expertise into digestible lectures, ideate worksheets to finally create a curriculum that gives maximum value to learners. 
Your hands are full. Hence, while you are taking care of multiple things at one time, fretting about a not-so-reliable platform shouldn't be one of them.
You must begin with an easy-to-setup course platform that helps you build an awesome online course ecosystem.
This is where Graphy comes in. Graphy is a comprehensive no-fuss online teaching platform that helps you create, market, and sell your online courses. 
In this article, we'll give you a deeper understanding of what Graphy stands for and if it's worth giving a try.  
Read on!
In this article, I review Spayee – an Indian learning management system packed with some unusual and interesting features!
So, with no further ado, let's jump right into our review.
Graphy Review 2023 – Is it Worth the Money?
Snapshot Graphy Review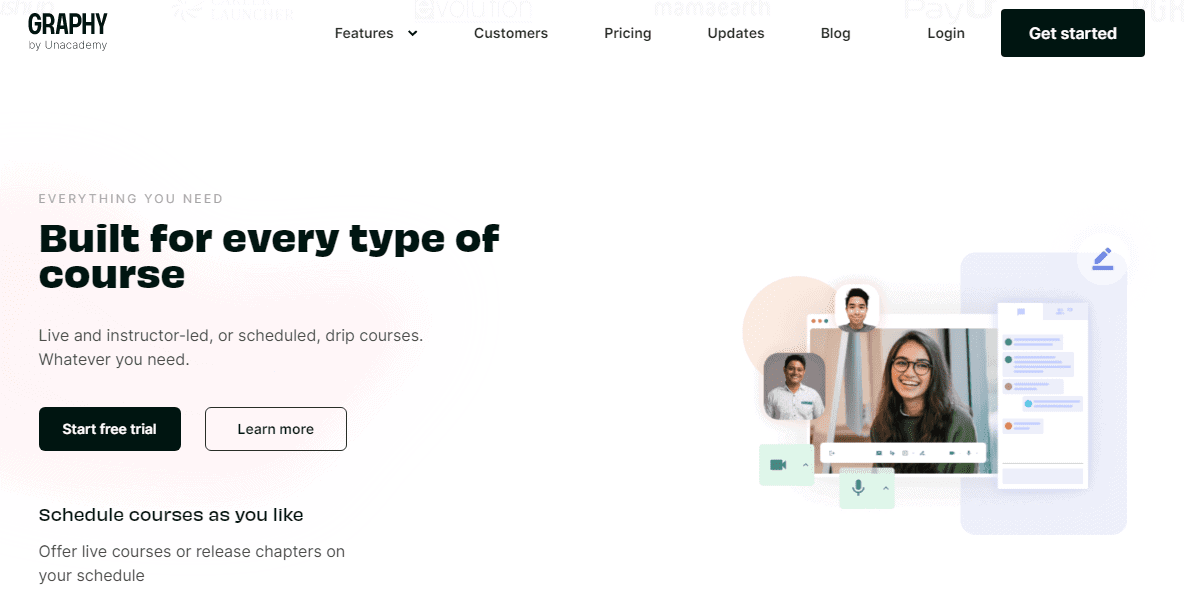 If you already have an idea about Graphy and don't want to read through the whole blog, this section is for you. 
The final verdict is that we recommend Graphy to all the course creators, and online teaching institutes out there. It's totally worth the money. 
Graphy has multiple basic and advanced features that are even suitable for larger knowledge businesses. The range of features that the platform offers is comprehensive.
Even in the basic plan, their offer is super impressive. As you move towards the advanced plan, you get your own apps as well. This feature is a steal.
We'll go over all of these features in detail throughout the rest of this article.
About Graphy 
Graphy is an online course platform that allows you to create, market, and sell your online courses, webinars, memberships, and digital downloads.
You can to quickly set up your online course ecosystem, upload your content and start selling up, all while taking zero technical headaches.
Everything that you need to sell your education business under one roof, is out there. Payment gateway integration, in-built live classes, white-labeled mobile apps, advanced marketing, and sales tools, to name a few.
While you run marketing campaigns, gain conversions and grow your business, Graphy gives you multi-layer content security. That's the best part of opting for Graphy over other course platforms.
Graphy helps you take care of every aspect of launching an online knowledge business.
Let's get into how much does it cost!
Graphy Pricing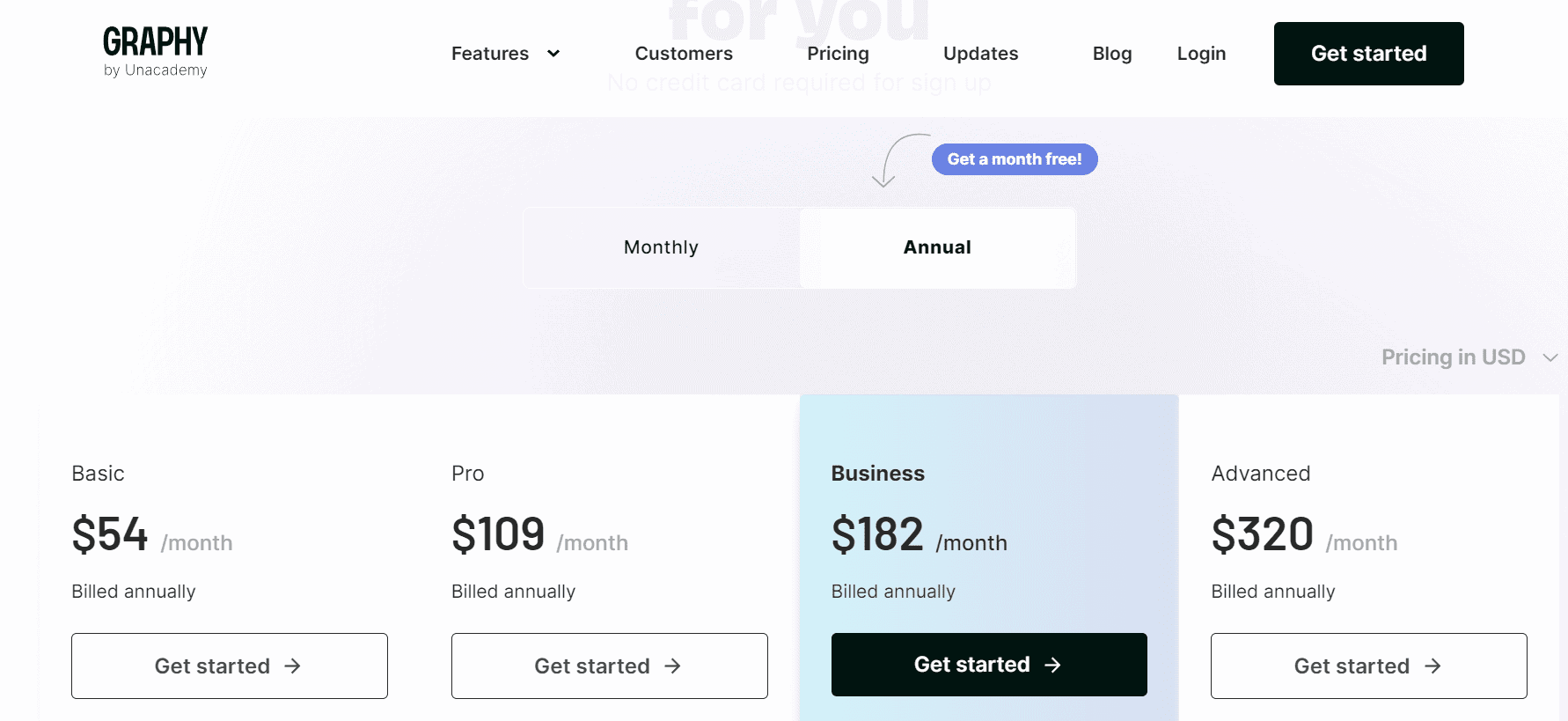 I think it is very hard to argue that Graphy is anything other than a bargain for what it offers. Its basic plans start with $54/month that includes almost everything other than mobile apps.
In the advanced plan, you get your white-labeled mobile apps along with a fully customizable course website. The Pro plan is priced at $109/month and that's their highest plan.
The business plan costs $182/month while the Advanced plan costs $320/month.
No matter what plan you are on, Graphy won't charge on commission on sales.
This means, whether you earn 100 dollars or thousands, you only pay your plan's worth. 
Graphy keeps updating its pricing from time to time, check out the company's website for the latest.
Easy-to-use course builder
Graphy has an easy and intuitive interface with a drag and drop course builder. 
The course builder allows you to stack all the forms of course content and then rearrange. You can create modules and sub-modules within every course that you launch.
The great thing is that the whole platform is a no-code platform and you can operate even with zero coding knowledge. 
Graphy supports multimedia course content, which means there are almost no limitations to what you can include in your courses.

You can include pre-recorded videos, quizzes, surveys, different types of audio files, PDFs, assignments, and much more.

You can schedule and launch your own live classes from within the platform.

All the branding elements that you need to include in the courses, like logos, color schemes, and banners, can be easily updated.

However, if you want to run your own codes, with Graphy's power code editor you can go wild and customize your site as per your requirement. 
Thinkific provides a very easy tool for designing your course to your exact needs. It ensures that, even if you don't have experience with coding or web design, you can develop the course you want to teach, and deliver it to students.  
In-built Live Classes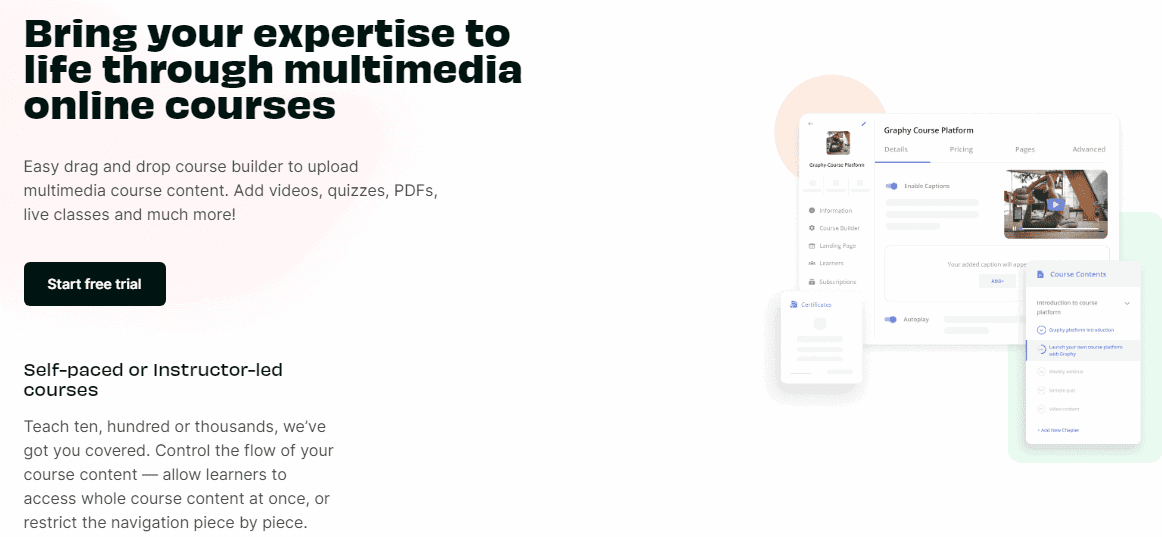 When you are running an online course ecosystem, uploading only pre-recorded lectures not might bring in the best results. You need to have regular interaction with your learners and bring in the personal touch into it. 
Graphy understands this pretty well!
Hence, you don't need to run behind another webinar platform to conduct live classes.  Graphy has in-built live or you can integrate Zoom, using which you can launch your live classes.
 Your learners don't need to leave the platform to attend live classes.

Record live classes and use them as course content.

Schedule your live classes and send multiple reminders to your learners through push notifications.
Local & International Payment Gateways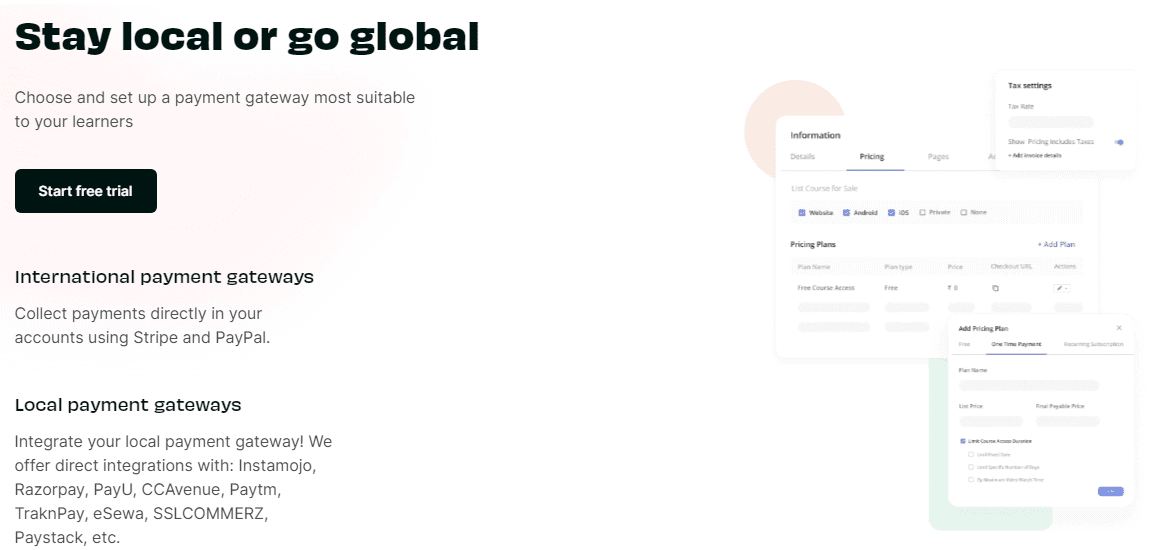 One of the drawbacks that we have observed about other course platforms is that they don't support local payment gateways. Most of them only support Paypal or Stripe.
However, it attracts complexity, multiple third-party integration, and increased cost. Being an Indian course creator, you must have the integration of an Indian payment gateway.
Graphy has got your back on this one. Being a global course creator, you don't have to worry about the payment gateway. It supports all the local as well as international payment gateways. 
If you sell to the Indian audience, these are the Indian payment gateways that Graphy supports: 
CCAvenue

Stripe 

Paypal

Instamojo

Razorpay 

Paytm 
Community & Engagement 

One of the best ways to garner more participation from your learners is to build a close-knit community for them. Here they should be able to ask questions, share their doubts, talk to one another and share their everyday progress. 
Having a sense of community is important to build a thriving business. Graphy is the platform that provides you with in-built student engagement tools.
If you use Graphy to launch your courses, you can use a public forum where all enrolled learners can communicate with you & with each other. In the course discussion forums, you can create separate communities with respect to their courses. 
In order to take it a step ahead, you can create exclusive content & share it among your learners in these forums. It doesn't just keep your learners engaged for your current course, but, helps you to create curiosity about your other courses as well. 
White-labeled Website & Mobile Application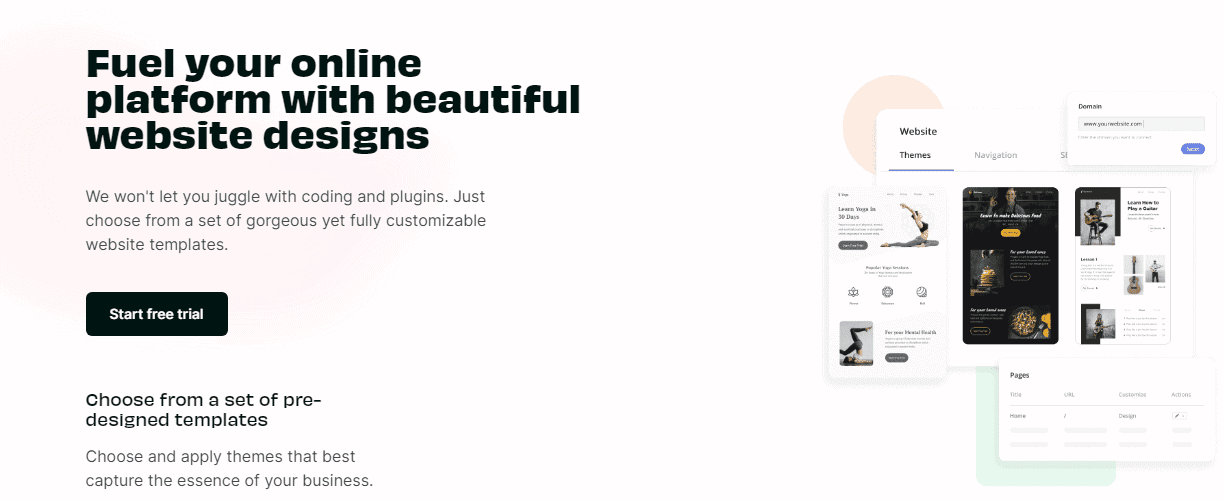 The whole world is on their mobile, all the time.
This is a no-brainer.
Hence, merely by launching the web version of your courses you are missing out on huge business growth potential.
Graphy solves this problem for you. Unlike other platforms, you can build your online education empire by launching your very own white-labeled website as well as the mobile application. 
This one comes with no Graphy branding, which means you will have your branded mobile apps on play store.
This would lead to more course completion rates and improved user engagement. 
You can get both android and iOS mobile apps on their advanced plan.
Protect your course content by app-screenshots limit.

App also blocks any third-party screen recording tool.

Your learners can access course content on their mobile app anytime.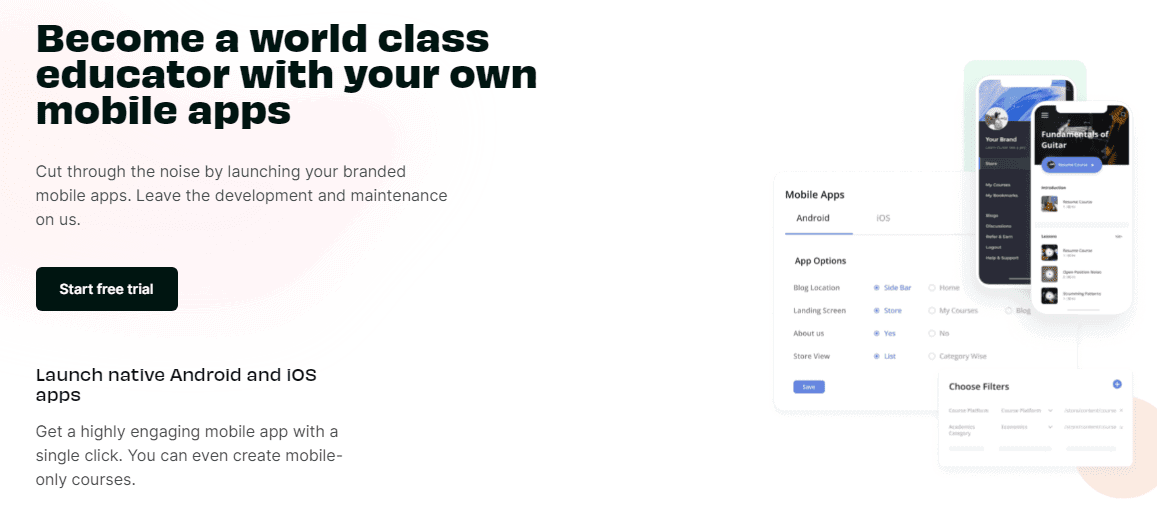 In-built Marketing Features 

Graphy helps you to create custom courses, build no-code websites & launch your very own mobile application. It also gives you a set of pre-designed templates which are totally customizable.
But, that's not all.
Your online course won't sell itself. You need to come in front of your target audience and actively promote it. You need to market your courses online so that you can have a profitable course launch.
Graphy understands this.
Hence, it has many advanced marketing and sales in-built features. 
Offers are an attractive way to market your online courses. You can generate discount coupons and share them with your ideal customers.
Nothing sales like word-of-mouth marketing. You can convert your learners and credible authorities within your industry into affiliates. In return, offer them a fixed amount of commission on every sale. You can run the whole affiliate marketing program within the platform.
The whole Graphy platform is SEO-friendly. That means you can attract free traffic on your platform and online courses. To empower this feature, you can also launch your own blogs in the separate blog section.
Design Highly Converting Sales Page 
Graphy's drag & drop page builder is very easy to use using which you build a highly appealing course sales page. Include opt-in forms too wherever required.
It's important to know where conversion and your course's performance are so that you can optimize your marketing strategy. Graphy helps you track sales through the 'Reports" dashboard. Here, you can track sales, affiliate commission, and much more. 
Just because you are using Graphy, doesn't mean you need to let go of your favorite tools. You can Hence, you can integrate third-party tools within your platform. Graphy also supports Zapier integration.
Stellar Customer Support 

Graphy doesn't keep its clients hanging behind email or chat loop.
Graphy is most popular for offering awesome customer support.  
Once you sign up on the platform, you get onboarding support and a personal account manager whom you can reach out to at any time. 
Not just that, you can reach out to their support team, not just through email and chat but also through direct calls.
Most of the leading course platforms don't have live chat or calling support. This can become tedious to you and might delay your course launch process. 
The customer support is incredibly responsive and helps you at every step of the way. This is the best part about choosing Graphy to host your online courses.
Multi-Layer Content Security 

For a creator like you, content is everything. 
You put in hours of your time creating incredible content that adds value to your learner's life. Hence, content security is a critical concern for all the course creators out there.
Graphy has a multi-layer content security feature for your course content. They are serious about content security and have multiple limits, restrictions, and features that help protect your content from piracy. 
Content security features that Graphy provides are:
Device Login Limit on web and/or app

App screenshot limit 

Dynamic Watermarking on PDF

Download Restrictions

Screen recording restriction on app
With such security features, you only have to worry about creating content and not protecting it.  
Quick Links
Conclusion Graphy Review 2023
To sum it up, Graphy is worth checking out for every course creator who wants to host their online courses. The interface is very intuitive, with an easy-to-set-up website, drag and drop course builder, and much more.
You don't have to invest time or money in maintenance. Apart from monthly charges, there are no hidden fees or transaction charges. 
Graphy is a great comprehensive course hosting tool. If you have even slight doubt, book a demo with their team, take a free trial first, and then decide for yourself.
The best part is, unlike other platforms, you don't have to keep upgrading plans to unlock the next set of benefits. We think Graphy is a great online teaching platform for course creators and institutes. 
Book your demo and dive in!