You don't need to be a tech genius to improve your business' digital presence.
If you're looking for ways to improve your SEO, you've come to the right place. In this blog post, we'll share three simple SEO hacks that will help boost your rankings and help you get more traffic to your website. But before we get into that, let's briefly discuss what SEO is and why it's so important.
SEO stands for search engine optimization. It's the process of optimizing your website so that it ranks higher in search engine results pages (SERPs). The higher your website ranks in SERPs, the more likely people are to find it when they search for keywords related to your business. And the more people who visit your website, the more traffic you'll get.
Best SEO Hacks to increase organic traffic 
1)  Use keyword-rich titles and descriptions.
One of the most important things you can do to improve your SEO is to ensure that your site titles and descriptions are both keyword-rich and accurately reflect the content on each page.
This tells search engines what your site is about, making it more likely to show up in relevant searches. It also helps potential customers know whether your site has what they're looking for before they even click through, which can save you valuable time and resources.
2) Optimize your images.
Search engines can't read images the way humans can, so they rely on image tags (known as "alt tags") to understand what an image is showing. When you upload a photo to your website, be sure to include a succinct, keyword-rich alt tag that accurately describes the scene. Not only will this improve your site's SEO, but it will also help visitors with visual impairments understand what's on your page.
This can be done by including relevant keywords in your file names and alt text. Doing this will help search engines understand what your images are about and index them accordingly. As a result, you'll see an increase in traffic from image searches.
3)  Make sure Your Site Is Mobile-Friendly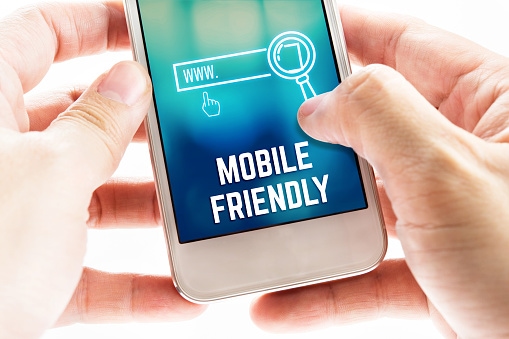 More and more people are using their phones and tablets to surf the web, so it's crucial that your site is optimized for mobile devices. Google now penalizes sites that aren't mobile-friendly in its search results, so if you want to ensure that your site is visible to potential customers, make sure it's responsive across all platforms.
Fortunately, there are plenty of great tools out there—like Google's Mobile-Friendly Test—that can help you determine whether your site needs some work in this area.
4) Create social media accounts and share your content.
Social media is a great way to promote your content and improve your SEO. Create accounts on popular social media sites (e.g., Facebook, Twitter, Instagram) and share links to your content. Be sure to include relevant hashtags so that people can find your content more easily.
When you share your content on social media, you'll not only get more eyes on it, but you'll also get more links back to your website. And the more links you have back to your website, the higher up you'll appear in the search results. So be sure to promote your content on social media regularly if you want to see a bump in your rankings.
5) Conduct Keyword Research
One of the most important things you can do to improve your SEO is to conduct keyword research. By understanding what keywords your target audience is searching for, you can tailor your content to rank higher in the search engines.
There are a number of different tools you can use to conduct keyword research, such as Google AdWords Keyword Planner and Moz Keyword Explorer. Simply enter a few seed keywords related to your business or website, and these tools will help you generate a list of related keywords.
Once you have a list of relevant keywords, integrate them into your website content, including your meta titles and descriptions, blog posts, and product pages.
5) Publish High-Quality Content on a Regular Basis
One of the best ways to improve your SEO is by publishing high-quality content on a regular basis. Why? Because fresh, relevant content helps you rank higher in SERPs. It also helps you build trust and credibility with your audience, which can lead to more sales down the line. Not sure what counts as high-quality content? Here are a few things to keep in mind:
– Write for humans first, not robots: This means writing in a clear and concise manner that's easy for people to understand. Avoid using jargon or technical language that only insiders would understand.
– Make sure it's relevant and informative: Every piece of content you publish should be relevant to your target audience and offer some sort of value. Whether that's tips, advice, or entertainment, make sure people will want to read what you have to say.
– Shoot for 1,000+ words: In general, longer articles tend to perform better than shorter ones. That's because they provide more value and show that you're an authority on the topic at hand. Of course, there are exceptions to this rule (like if you're writing a listicle), but shooting for 1,000+ words is a good starting point.
6) Implement Schema Markup Throughout Your Site
Schema markup is code (usually in the form of HTML) that helps search engines better understand the contents of your web pages. In other words, it helps them "read" your pages so they can determine which SERP features like featured snippets or rich results would be most beneficial for each individual page."
If all of this sounds a bit complicated, don't worry; there are plenty of resources out there that can help you implement schema markup without too much hassle.
Conclusion
SEO doesn't have to be complicated or time-consuming; there are plenty of simple things you can do to improve your rankings almost immediately. Just remember to conduct keyword research, optimize for mobile, and increase your page speed; by doing so, you'll be well on your way to better SEO results in no time at all!
Also read: 10 SEO Myths Debunked