A person who wants to earn then has only two choices, one is to do a job and the other is to start his own business/company.
But in both cases, "CRM" is necessary. Now, what the CRM means?
The abbreviation of CRM is "Customer Relationship Management" and the meaning is, "CRM is a model for managing a company's interactions with current and future customers".
Have you ever thought that, If there were no customers then with whom you can sign deals and sell your goods/items?
It's impossible that's why Customers are necessary for the business market. But the market is not made up of a single company; there is a participation of many companies.
Every company will try their level best to satisfy the customers by providing a lot of facilities like 24/7 support, on-time shipment, discounts, faster response, and much more.
Due to this, nowadays it's very difficult to stand and make/continue a company position in the market.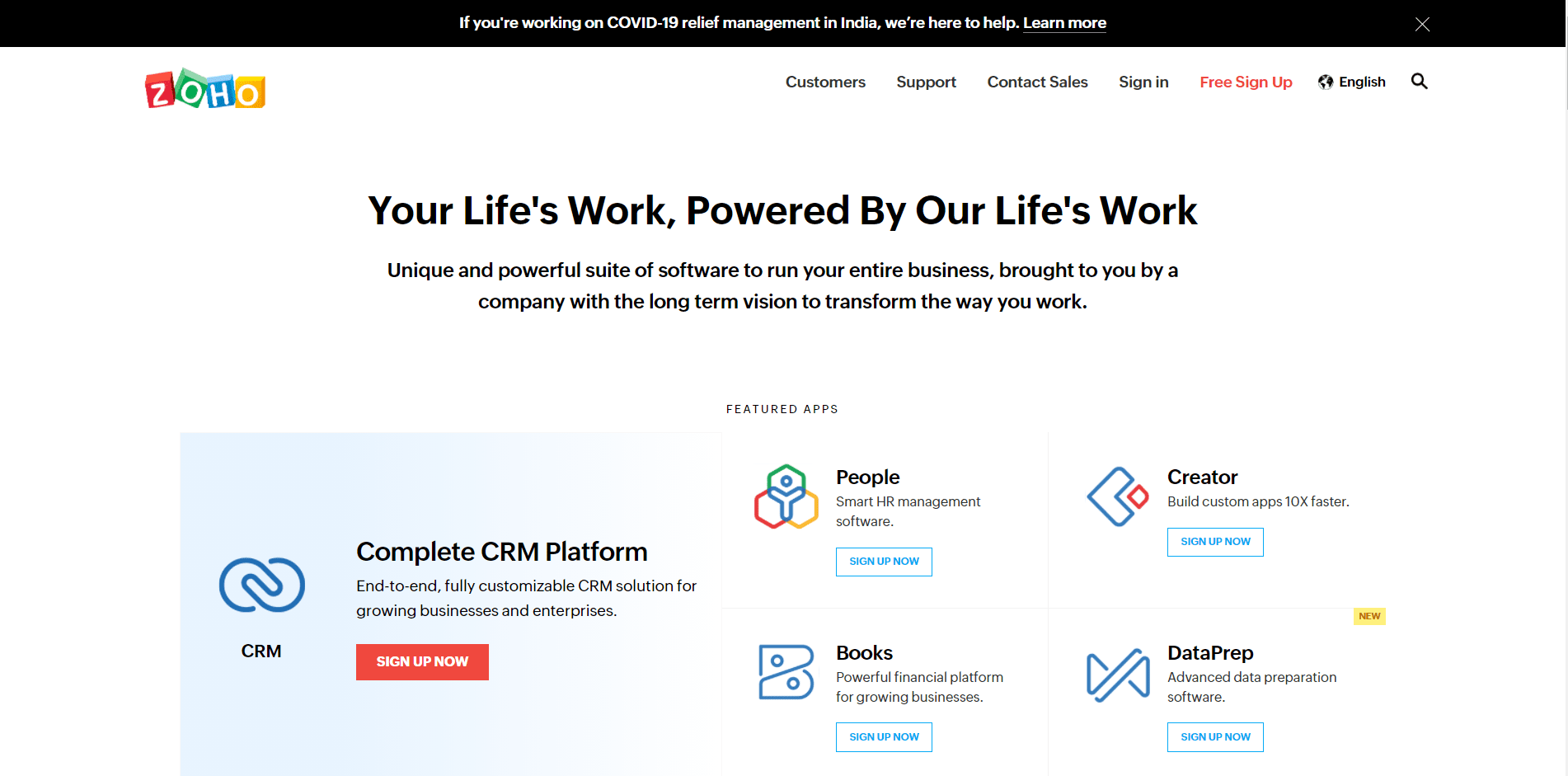 Even if a small mistake can create a huge loss to the company.
So, to avoid mistakes and to satisfy customers, I came through a website named "Zoho Support" which provides "Online Help Desk Software" to manage all the transactions and queries of customers for the entire organization.
What is Zoho Support?
Zoho Support is the Customer Support Software that provides the ability to manage all the customer activities of your company/organization and provides support to customers on time.
With this Online Help Desk Software, you can give a faster response to the customer by generating tickets and set up alerts on help desk tickets.
The best advantage is that you can customize your Help Desk as per your company requirement and ensure the satisfaction of your customer support experience.
In fact, I can say that "Zoho Support" reduces the company's work and increase customer support by satisfying them at any time.
What is Help Desk Software?
Help Desk Software is a web-based software consisting of three parts namely Ticket Management, Automation Suite, and Reporting & Optimization.
Ticket Management: If any customer calls or emails any organization for support then Ticket Management will automatically generate a Unique Ticket Number and store all the information about that customer to refer it later.
Automation Suite: Based on the customer queries Automation Suite will assign those employees who're capable of answering customer queries quickly and satisfactorily.
Reporting & Optimization: While providing the best customer support we also have to see the report that how far we can resolve the customer queries and in how much time. Based on that a report will be generated so that we can optimize customer service in less amount of time.
Key Features of Zoho Support:
Product Catalog
Zoho Support allows you to store product catalogs for faster searching. You can store their details such as product name, category, price, warranty period, etc., to be associated with a request.
So, you can create a product database with other modules such as Accounts, Contacts, Contracts, and Requests. This saves money on buying a different database for your company's product.
Ticket Management
For the incoming customers' requests, you don't have to put records in different columns depending on their requests because Zoho Support acts as your single point of contact for all your incoming requests.
You have control over all incoming customer requests to your support team whether they are contacted via phone, email, or web form.
Also, you can assign priorities to requests and respond to them on time.
Customer Support Portal
In case, if the customer wants some knowledge about anything related to Zoho Support/Online Help Desk Software or if he/she fails to contact the customer then for them you can develop an online Customer Support Portal so that they can have 24/7 support available.
They can log requests, track updates, find answers, start discussions, and more in one single place. This will improve your company's reputation in the market.
Social Media Support
Many customers are habituated to Social Profiles like Facebook and Twitter.
The company has to provide support on Social Profiles in any way to maintain CRM, keeping this in mind Zoho Support provides Social Media integration to support customers over Facebook & Twitter.
Contracts and Service Level Agreements (SLAs)
While dealing with customers we have to sign Contracts and Service Level Agreements (SLAs) to avoid future problems.
The company has a huge number of customers and if a problem arises with any of the customers then it is very difficult to carry all that papers but Zoho Support handles these hassles free by managing customer contracts and providing on-time support are critical to winning customers.
You can also set up your customer Contracts and SLAs so that your customers receive support as agreed.
You can define your business hours, holidays, support plans to set a request its due date and support auto escalate a request when it falls overdue.
Reports and Dashboards
A report gives the measurements of a Company's Growth. With the help of reports you can judge the position of the company and according to that take necessary and important decisions.
Zoho Support provides real-time reports to measure the health of your help desk and dashboard display summary information as well as vital customer support statistics.
You can also monitor ticket activity, agent performance, SLA compliance, request response time, and more.

Pricing Details for Online Help Desk Software:
Pricing is cost-effective and it totally depends upon your needs. Zoho Support has different pricing for different plans based on the features.
FREE Plan:
If you want to use Online Help Desk Software for FREE then of course there are some limits.
Pricing will be $0, but the limits are you can only receive 25 Requests / Day and 10 Solution Folders Only, so if you have a very small organization then this plan is good.
Enterprise Plan:
In this plan, you will get access to all features of professional as well as some extra features are available like Scheduled Reports, Cross Department Reports, Contract Management, Custom, Request Templates, Role-Based Access Control, Zoho BugTracker Integration, and Live Chat Support (Most Effective Advantage).
The pricing of this plan is $25 per agent/month and if you subscribe to this plan for one year then you will get a 10% discount.
Professional Plan:
The most popular plan of the Zoho Support is Professional Plan because it includes all the features which are needed by every company. Features like Multi Department Management, Social Media Ready, Helpdesk Automations, Service Level Agreements, and much more.
The pricing of this plan is $12 per agent/month and if you subscribe to this plan for one year then you will get a 10% discount.
Express Plan:
If you want the total team support solution then you can try the Express Plans for your organization. The pricing depends upon daily requests and features.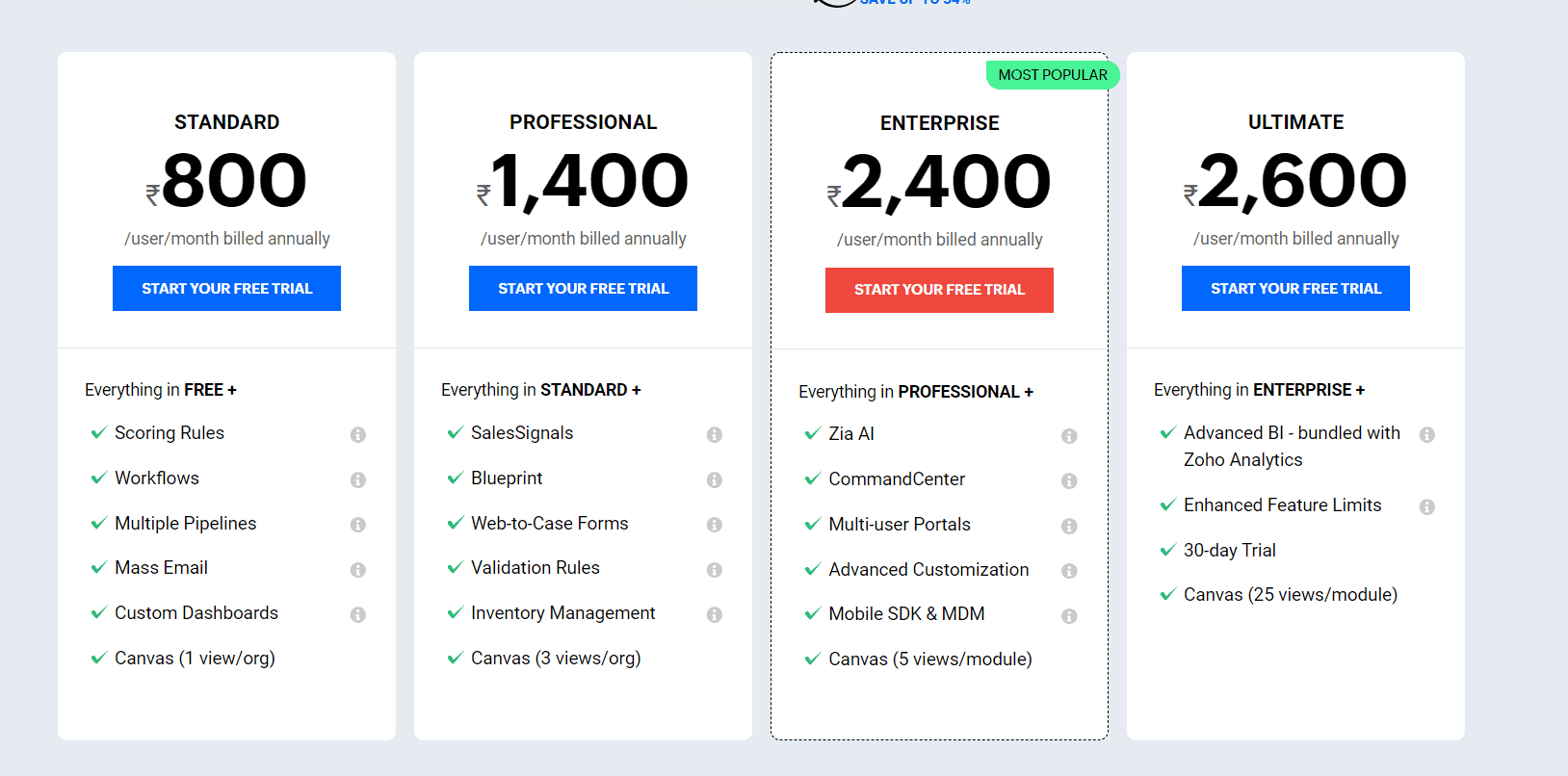 These are the plans provided by Zoho Support to use Online Help Desk Software.
Choose the best plan depending upon your company's/organization requirement and start managing relationships with the customers by giving the best service on time.
Quick links –