In this post, we have shared YesChef Review that includes detailed insights into YesChef also will help you get up to 50% off on YesChef the right way. So let's dive in.
Are you fond of cooking and don't have enough time to get cooking classes?
Don't worry here I will provide you the solution, Yeschef will help you to enhance your cooking skills. And, you can learn new things and recipes with some professional chefs that too digitally.
Isn't Yeschef a great opportunity for such people, who are very keen to learn cooking but couldn't manage classes due to various reasons?
This article is going to give you details about its classes and culinarian, its pricing and performance. Furthermore, Its pros and cons with general FAQs will also be examined.
If you have already joined Yes Chef and are thinking of joining then, this is going to be a guide to all your queries. This article will provide you with all the data about yes chef.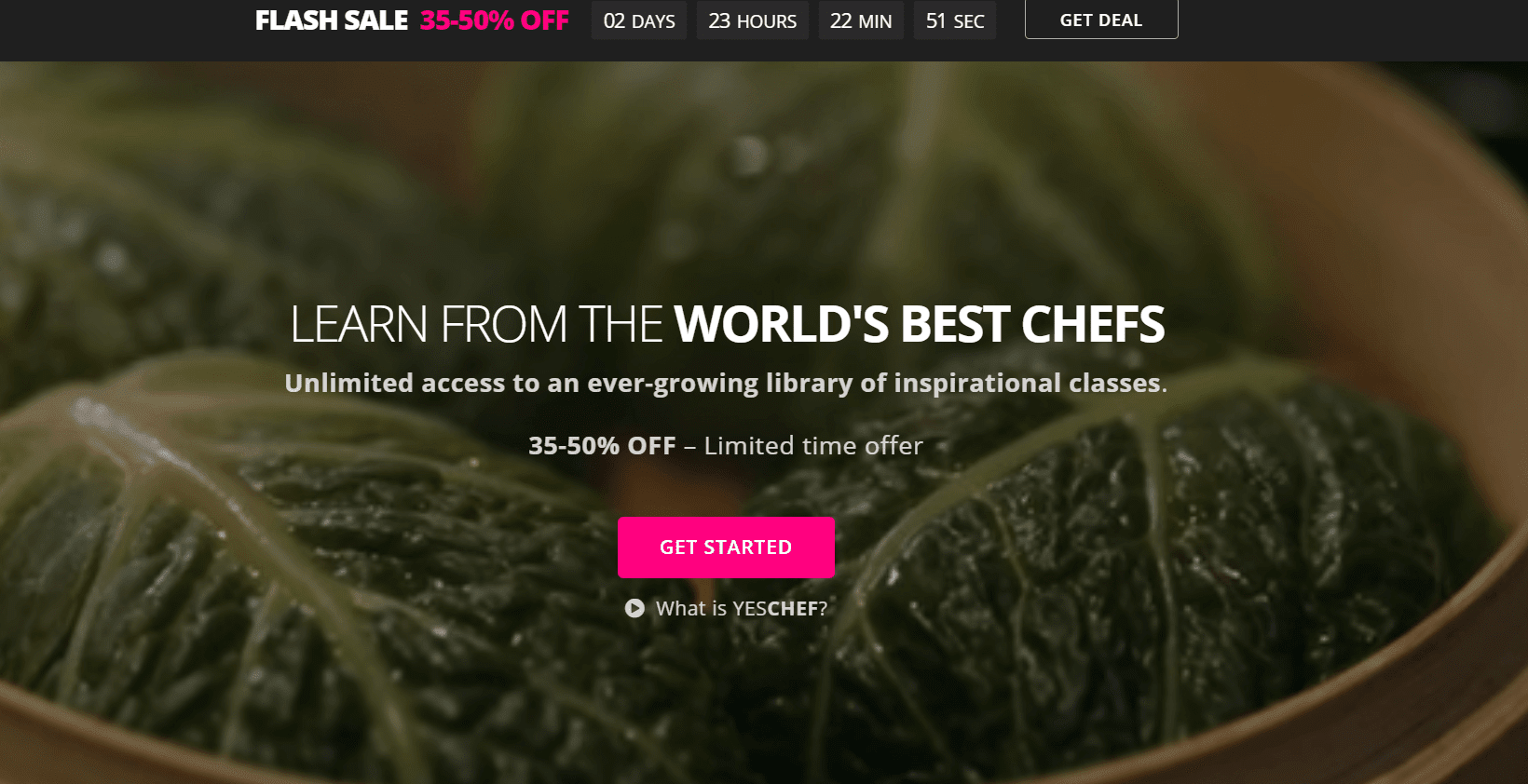 Here we will mention  its various features like:
Ultimate subscription forever going classes
About recipes and techniques
Step by step guidance detail with each lesson
Featuring captions (in English and Spanish).
Also, we will discuss its classes and chefs' details; it's pricing, and its performance. Furthermore, Its pros and cons with general FAQs will also be examined.
YesChef Review: In A Nutshell
(The World's Best Chefs Teach Home Cooking)
YesChef is the digital platform where you can take cooking classes from various chefs, these classes don't feel like teaching rather than storytelling. Its method of teaching in a documentary style or short tape is so stunning.
It will inspire learners to stand up from their beds and to move into the kitchen.
Every class is designed so well, taught by master chefs with great experience in cooking.
The storytelling method is so unique that it gets viewers' attention and keeps them engaged in the classes. 
YesChef provides so unique content with great understanding. This helps to boost up the viewers to try new recipes with some new tastes and methods.
YesChef has a subscription system that means you can learn new things now from the world's best chefs. It aims to be the 'Netflix of chefs', blending knowledge with short tales.
The outlet is composed in such a way that viewers can regulate the food series in any way they like to watch. 
The subscription is like tuition classes, you can get it for months or yearly.
The main intention behind this amazing idea of online cooking classes is to get people out of their room and get in the kitchen and want to make cooking easy and interesting.
Chefs are joined by various other people who share their inspiring stories. 
YesChef is an amazing platform to learn different aspects of cooking and enhance skills.
Features Of YesChef

Here are some of the cool features that make YesChef stand-out from the rest of the cooking tutorial platforms on the internet and make it the ultimate favorite learning platform for all cooking enthusiasts. 
Unlimited access to an endless library
YesChef, as a learning platform, is absolute value for money.
Rarely does one get the option to choose between either annual or, lifetime all-access subscriptions with the payment of a reasonable amount?
Moreover, the library of online classes from some of the best chefs from all around the world is ever-growing and exclusive.
Add to this the heavy discounts offered by the platform during the holidays and it becomes worth the money and time. 
More a journey than simple online tutorials
The classes subscribed to will feel less like formulaic lectures with the guide giving instructions and more like a culinary journey from the couch to the kitchen.
The exclusive videos have extraordinary cinematic shots, are made in a documentary style of storytelling, and offer an immersive, hands-on learning experience.
The classes of each chef are more than five hours long and have twelve in-kitchen lessons.
This surely feels like a beautiful journey from run-of-the-mill to superb culinary expertise.
Hundreds of recipes, techniques, and stories
Since the best culinary minds and hands have come together to offer this unique platform to the users, one can expect the variety of recipes and techniques being taught and shared in it.
Starting from Italian to Mexican and from fine-dining to backyard cooking, the recipes, secrets, and techniques are endless.
Accompanying such myriad options in tutorials is documentary-style storytelling revealing the evolution of the recipe over time and geography, the personal experiences of the participating chefs, and many more things. 
One of the features of this platform that aims to create an educating culinary experience for the users is that it's designed for various devices.
So the users can access it from either their phones while traveling back home from work or their laptops or desktops at home while cooking. This versatility shows that the technicians and programmers have put that extra thought to make it as user-friendly as possible. 
Step-by-step guidance synced with each lesson's video
Along with each tutorial that provides relaxed, cinematic content, is a step-by-step guide providing instructions to the cooking enthusiasts who like to follow instructions thoroughly, pause, and do that again exactly while cooking.
So, the platform suits the tastes and needs of all kinds of cooks. 
Captions and subtitles too
Added to the top-quality audio experience, is the feature of closed captioning and subtitling that is offered to the users.
The specially-abled and those who have difficulty understanding the language can thus use it with ease too. 
It thus opens up its services to a wide variety of users making the beauty of food and making it more accessible.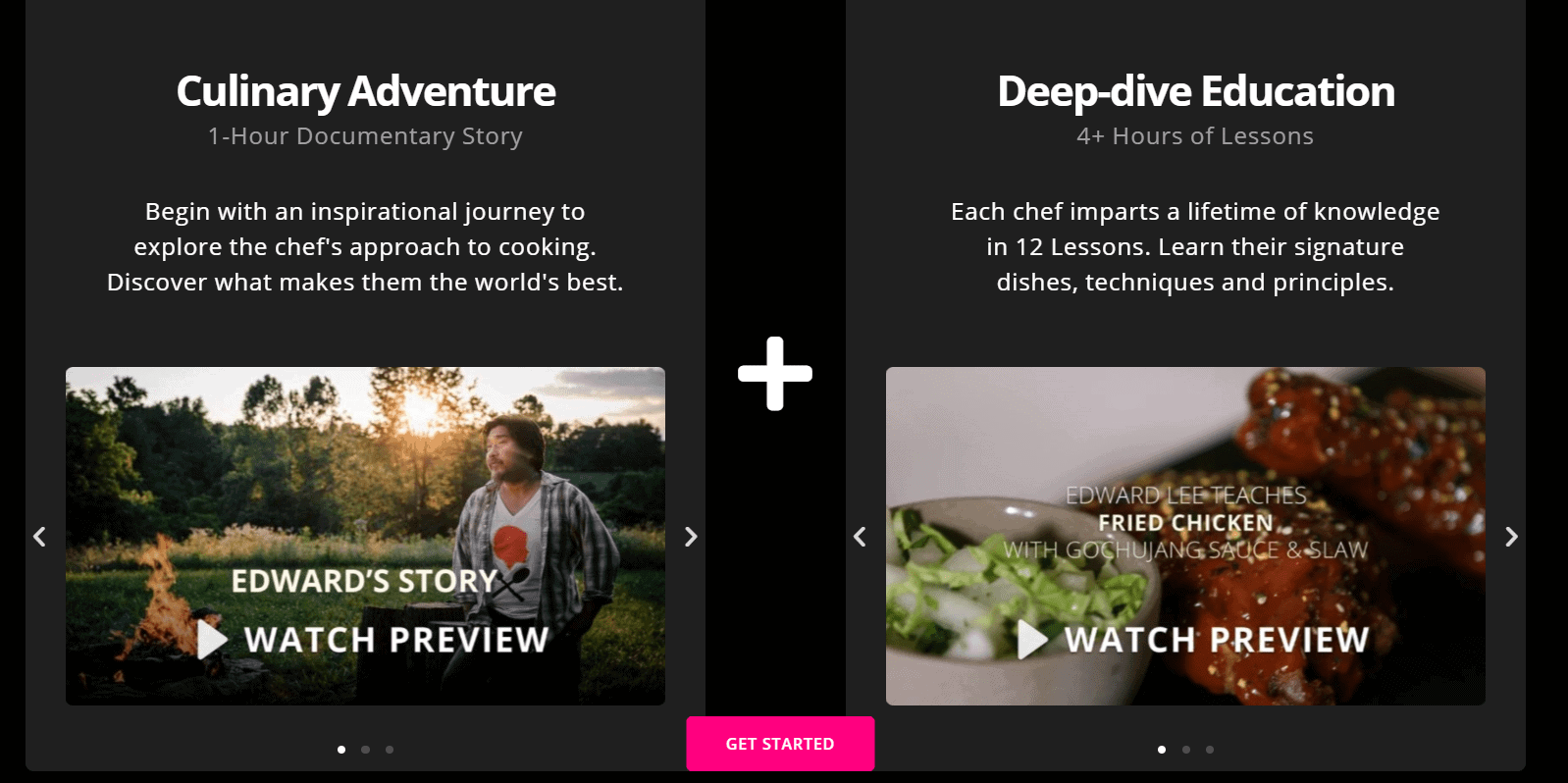 Chefs and Classes
Now that you've learned all about YesChef, it's time to meet the teachers.
YesChef has stayed true to its motto of "learn from the best" by choosing some of the finest names in the culinary industry to teach in each cuisine.
Coming from humble backgrounds, these award-winning chefs running Michelin starred restaurants had to battle through thick and thin to become industry heavy-weights.
In this part of the YesChef review, I'll introduce you to some of the biggest names YesChef is bringing to your kitchen.
Nancy Silverton (Pastries)
With close to 40 years of experience, Nancy Silverton is a pastry legend who kickstarted the artisanal bread movement that has consumed Los Angeles over the last decade.
Silverton has worked in some of the greatest kitchens in LA history under the wings of chefs like Wolfgang Puck and Jonathan Waxman.
Her culinary journey started in her college dorm room where she used to prepare vegetarian dishes in the dorm kitchen.
She eventually dropped out after deciding to pursue a career as a chef.
After graduating from the prestigious Le Cordon Bleu in London she worked with the best chefs in LA before opening her bakery, La Brea Avenue which was a resounding success.
Today, Nancy Silverton runs the Pizzeria Mozza which bakes what is hailed as LA's official pizza. She wrote two books, received many awards, and is considered the Queen of LA's restaurant scene.
If you're crazy about pastries and sweets like me, you should subscribe to YesChef immediately.
Chef Silverton's classes are more than worth the price.
Edward Lee (Southern and Korean Cuisine)
Edward Lee is a Korean-born chef who fell in love with southern cuisine when he toured Louisiana after graduating from college.
His love for southern ingredients such as Sorghum, Bourbon, and Ham along with his innate love for Korean food led to a fusion of Korean and Cajun cuisine that his current restaurant "Magnolia 610" is famous for.
According to Lee, food that grows on the same latitude may be separated by oceans but are similar in many ways.
He is also known for his appearances on cooking shows.
He first appeared as a contestant on Season 9 of Top Chef where finished in 5th position. 4 years later, he was the chief judge in the American adaptation of Culinary Genius.
Lee is also the author of "Smoke and Pickles" and heads the LEE (Let's Empower Employment) foundation in his spare time.
In YesChef, I was able to learn a lot about Korean cuisine and the ways he fused multiple cuisines to create a single dish.
Erez Komarovsky (Israeli Cuisine)
While Nancy Silverton started the artisanal bread movement in LA, Chef Komarovsky started the same in Israel. Both walked very similar roads in their culinary journey.
After graduating from Le Cordon Bleu, Chef Komarovsky returned to Tel Aviv to open his own catering company, Erez's Cooking Studio.
He later traveled to Japan and then San Francisco where he worked for Wolfgang Puck as a food stylist.
But an Israeli at heart, he left the United States for Israel and introduced Californian Sour Dough to Israeli cuisine at his bakery, Lehem Erez. This move is widely considered the beginning of the Bread revolution in Israel. 
Today Lehem Erez has more than 30 outlets. Chef Komarovsky sold his share in the bakery in 2008 and continues as a consultant to this day. He now runs a cooking school at his home in Mitzpe Mattat.
He is widely renowned for his ability to combine Ashkenazi, Sephardic, and Arabic cuisines to make rich and flavourful dishes that are unique to his skill.
I thoroughly enjoyed Chef Komarovsky's hands-on cooking approach where he used mortars and no electrical appliances.
Dario Cecchini (Tuscan Cuisine)
Regarded as the world's most famous butcher, Chef Cecchini is the 8th generation Cecchini butcher from Italy's Chianti region.
After enrolling at the University of Pisa to study Veterinary Science, Chef Cecchini had to drop out and take over his family's business after the sudden death of his father.
His theatrical methods of cutting meat spread his name far and wide.
Today, Chef Cecchini runs the centuries-old Cecchini family butcher shop. He also opened a gourmet burger joint, Mac Dario.
With his signature booming voice, native to the people of Tuscany, he spends his time laughing with his customers while selling them exquisite cuts of meat. No portion of an animal is of lower quality than others according to him.
On YesChef, Chef Cecchini will teach you how to carve your meat the Tuscan way, as he and his family have done for centuries.
 Narda Lepes (Argentine and Japanese Cuisine)
Chef Lepes runs the Narda Comedor in Buenos Aires, where she mixes her passion for Argentine cuisine with various others, notably Japanese cuisine.
She rose to fame after her TV appearances, which began on El Gourmet's Fusion. She then toured across the world demonstrating the vivid diversity of Argentine cuisine.
Later she published her first book, Eating and Having a Good Time before doing a host of other programs about cooking.
Although Argentine cuisine is heavily centered on meat, Narda has carved a different persona for her restaurant. Narda Comedor focuses primarily on vegetables with meat occupying an important but second place.
In 2020, she was named the best Latin American Chef.
On YesChef, Chef Lepes will teach you all about Argentine cuisine and her unique ways of incorporating veggies into the meat.
Sean Brock (Southern and Appalachian Cuisine)
Chef Brock lost his father at a very young age.
Growing up in an impoverished family with limited means, he started his culinary career at the age of 16 as a line cook.
Brock rose through the ranks quickly and in 2010, he opened his restaurant Husk and became a partner at McCrady's Restaurant.
He is well-known for using produce grown in his backyard.
He is also known for leading a movement to preserve the old ways of Southern cuisine.
He was eventually awarded the Best Chef: Southeast. He later ran 3 other Husk restaurants and served as an advisor to the chain before parting ways in 2019.
In YesChef, Chef Brock will teach you all about southern cuisine while sharing stories about its origins and history.
Pía León (Peruvian cuisine)
Pía León graduated from Le Cordon Bleu before working in various international restaurants, including Spain's El Celler de Can Roca and Astrid y Gastón in Peru.
Her tireless efforts and high standards later earned her the title of head chef at the Central Restaurant in Lima and with her future husband Virgilio Martinez (who is also a part of the YesChef family), Pía was key in establishing Central as the finest exponents of the fabled Peruvian cuisine. 
Today, Pía is running her restaurant, Kjolle.
The restaurant borrows its name from an indigenous, flowering tree that grows high in the Peruvian mountains.
It was 21st in Latin America's 50 Best lists in 2019, winning the Highest New Entry Award.
From Chef Pia, you will learn about the wonders of ancient Peruvian cuisine and the structure of her amazing 9-course meals.
Nina Compton (Caribbean Cuisine)
Hailing from St. Lucia, Chef Compton is all about the Caribbean swagger, a reason for her success in Top Chef season 11 where she was also voted the fan-favorite chef by the viewers.
Her culinary journey started in New York. She later worked in a myriad of other places before becoming the head chef at the Fontainebleau Miami Beach.
Today she runs the two restaurants she owns in New Orleans, Louisiana. In 2018, she received the prize award for Best Chef: South.
From Nina Compton, I was able to learn about the mesmerizing Caribbean Cuisine but I enjoyed her flair even more. 
Performance and Ease-to-use
YesChef is a wonderful tool for any home cook striving to learn the recipes and techniques used by the best professional chefs all across the globe.
It is so much more than a cookbook as it holds the wisdom and stories of 13 world-renowned chefs and comes with detailed video lectures to guide you at every stage of your recipes. 
YesChef provides a unique opportunity to step into the kitchens of these Masterchefs and visually learn the techniques ranging from beginners to advanced levels of cooking.
Its user satisfaction ratings are a testament to its performance as a practical way to learn how to cook.
It has recipes gathered from some of the oldest and most popular cuisines in the world including original Arabic and Israeli cuisine as well as the modern Mediterranean, Italian, Spanish and French cuisine.
Another great feature of this service by YesChef is its easy-to-follow step-by-step guides for each recipe which is synced with the video lectures provided by one of the 13 world-class chefs.
These audio-visual instructions accompanied by step-by-step guides make these lessons easy to follow, even for complete beginners.
But to the credit of the YesChef team, these videos are still are packed full of advanced cooking techniques that can help new chef refine their food in their kitchens.
Another example of the accessibility offered by YesChefs services is that it is available on all platforms and so can be used on a PC, laptop, tablet, or smartphone.
So any user can keep their tablet or smartphone handy or listen to instructions on a home speaker while cooking as to not miss any instructions or ingredients.
Pros and Cons
After going through thousands of customer reviews from around the globe and after talking to the creators of YesChef, we have compiled a list of both pros and cons of YesChef to give our readers a better and clearer idea about the services that YesChef is offering to you all.
Here is a list of all the pros and cons of YesChef:-
Pros of using YesChef:
The most major benefit of using YesChef gives you the liberty to learn something new and exciting from the comfort of your home.

During these difficult times of pandemic when we are all stuck at our houses, YesChef gives you a chance to develop some new skills without leaving your house.

YesChef provides video lectures with step-by-step guidance. Every video lesson comes with an explanation of every step and helps you learn the fundamentals of cooking.

YesChef provides you access to get one on one lessons with 13 world-class chefs who will share their personal stories and provide you with some tips and tricks of preparing Michelin star dishes. you will also learn the secret of their world-class cooking and become a great Chef yourself.

YesChef provides you with a plethora of recipes from around the world which you can try at your home and become a professional chef.

YesChef is extremely affordable and gives you tons of facilities for a very reasonable price range. You can also become a lifelong member of the YesChef family and if you just want to try YesChef you can also go with their yearly membership.
Cons of using YesChef:
Although YesChef is an extremely good platform for beginners to learn cooking from Professional world-class Chefs.
But there is a downside to everything so here are some cons of using YesChef which will help you in making the final decision of choosing YesChef.
One disadvantage of using YesChef is you might feel that the real-life guidance is missing. Although YesChef provides all kinds of video lessons, recipes, and chef's interactions which will give you a real-life feeling while cooking with YesChef, you might miss the face-to-face interactions which you can get by joining a  real-life cooking class.

YesChef provides you with a step-by-step explanation of every recipe. But if you are a social person and you enjoy real-life interactions and love asking questions face to face you might feel a little uncomfortable while using YesChef initially.
Customer Reviews About YesChef

Let's discuss customer reviews of YesChef. It has satisfied all the needs of its users and provides them with quick and good service.
According to its customers, their quality of video production is unique.
Their content is new and fresh every time with so much to attain.
The ideas and concepts with which they provide their content are so much like their users.
For many consumers, it is a wonderful way to improve their cooking abilities.
Many have said that it's the only digital platform that teaches or shares home cooking tips and recipes.
Well, that's the best thing about YesChef and this concept is liked by maximum users.
Many of their customers have a complaint regarding account access, even after paying for an annual subscription, few people failed to get access.
Sometimes the content is slow to appear and not regularly updated as many customers mentioned. 
Every coin has two aspects, hence overall I can tell you that YesChef is a great platform to learn new and unique stuff about cooking with impressive and talented chefs while sitting at home.
FAQs On YesChef Review
🤔 Is there some trial option where I can watch a sample video before I buy?
Absolutely! You can watch a sample video by visiting the YesChef youtube channel.
🙋‍♀️ What sort of privileges will I get if I purchase the All-Access Pass? Will I be able to download videos?
On purchasing the All-Access Pass, you can access any class available in the YesChef library. You can watch these classes an unlimited number of times but you cannot download videos. You can also watch them from multiple devices. YesChef is currently holding a 40 to 50% off sale so grab your passes at the earliest!
🤷‍♂️ Am I eligible to receive any certificate for attending classes on YesChef?
Unfortunately, YesChef focuses on cooking at home. Unlike a culinary school, YesChef does not have a curriculum. So YesChef offers no certificates for watching all the classes.
🙋‍♀️ Does YesChef have any refund policy?
Yes, YesChef has a refund policy. Every purchase includes a 30-day money-back guarantee.
💸 How much does YesChef cost?
The Annual Pass is $180 USD, the Lifetime Pass is $460 USD - both are All-Access. Your All-Access pass gives you unlimited access to an ever-growing library of classes by the world's greatest chefs.
Quick Links:
Conclusion: YesChef Review 2023
YesChef is a Revolutionary platform for everyone who wants to learn cooking in this locked down period.
Whether you are a beginner or an experienced Chef trying to learn and know about New recipes YesChef is a platform for you. YesChef provides facilities such as step by step explanation for each recipe.
Lessons from 13 world-class Chefs give you a chance to get to know their stories and learn different cooking tricks from them.
It also allows you to have access to the platform with any device whether a laptop or a mobile so you don't have any kind of limitation because of your device and can enjoy the experience of becoming a skilled chef from the comfort of your couch.
With the subscription of YesChef, you get access to the ever-growing library of classes with continuous addition of new techniques and recipes which will help you develop your skills as a chef and get a grip over dishes from different parts of the world and will also provide you with a golden opportunity to try different recipes from different corners of the world.
If you think that is in using such online platforms language will be your barrier then with us you can overcome this hurdle as well. 
YesChef provides you with subtitles in multiple languages such as English and Spanish which will remove any kind of language barrier coming in your way of learning.
So if you want to enjoy the pleasure of cooking from the comfort of your home you can use YesChef and can surprise your friends and family with your newly developed cooking skills.
Start your new year with some fancy cuisines with YesChef.
YesChef Popular Videos
YesChef On Social Media 
View this post on Instagram
Our upcoming teacher is a James Beard Rising Star Chef award-winner, best-selling author, and a leading cultural force in the modern culinary movement. Announcing Kwame Onwuachi's class "My Afro-Caribbean Kitchen" coming to YesChef https://t.co/NRpLfy2HjM pic.twitter.com/Cx0HXAVrGy

— YesChef (@yeschefhq) March 12, 2021