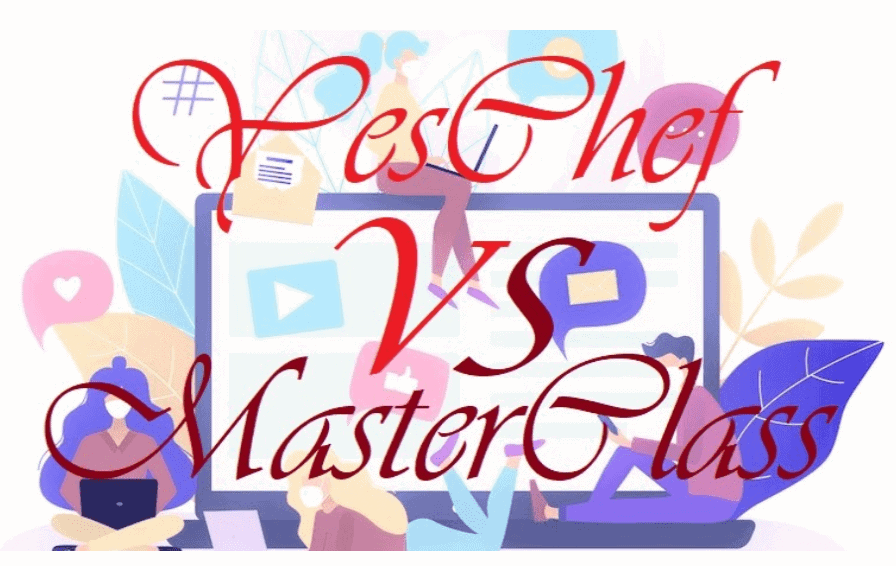 This article is to give an insight into which is a better choice when it comes to taking classes. 
This guide compares both the platforms on several bases:
Features offered by both
Benefits
Performance
Security
Easy to use 
Customer support
The price battle
Pros and cons
FAQs 
YesChef vs MasterClass: Overview
YesChef Overview
The YesChef is a program solely dedicated to teaching cooking online. It features thirteen of the best chefs around the globe who would teach you the art of cooking extraordinary dishes with a brilliant level of expertise.
This program was launched on 16th Dec. 2020 and in its first-ever online class, chef Edward Lee the award-winning author, teaches his Korean-infused Southern cookery, while the chef and baker Erez Komarovsky, the 'Godfather' of Israel gastronomy teaches modern Middle-Eastern cuisine and Michelin-starred baker and chef Nancy Silverton teachers her exquisite California meets Italy cuisine!
They intend to launch more of such classes starring multiple legends of the kitchen such as Narda Lepes, Asma Khan, Chris Bianco, etc. 
YesChef is an absolute platform that is dedicated entirely to this art that dwells in the kitchen, the home cookery art, by the help of video lessons that includes very well versed documentary along with the precious experience of renowned chefs all over the globe.
Overall, these video lessons are a perfect blend of storytelling and practical, making the user feel like it's a real-time experience.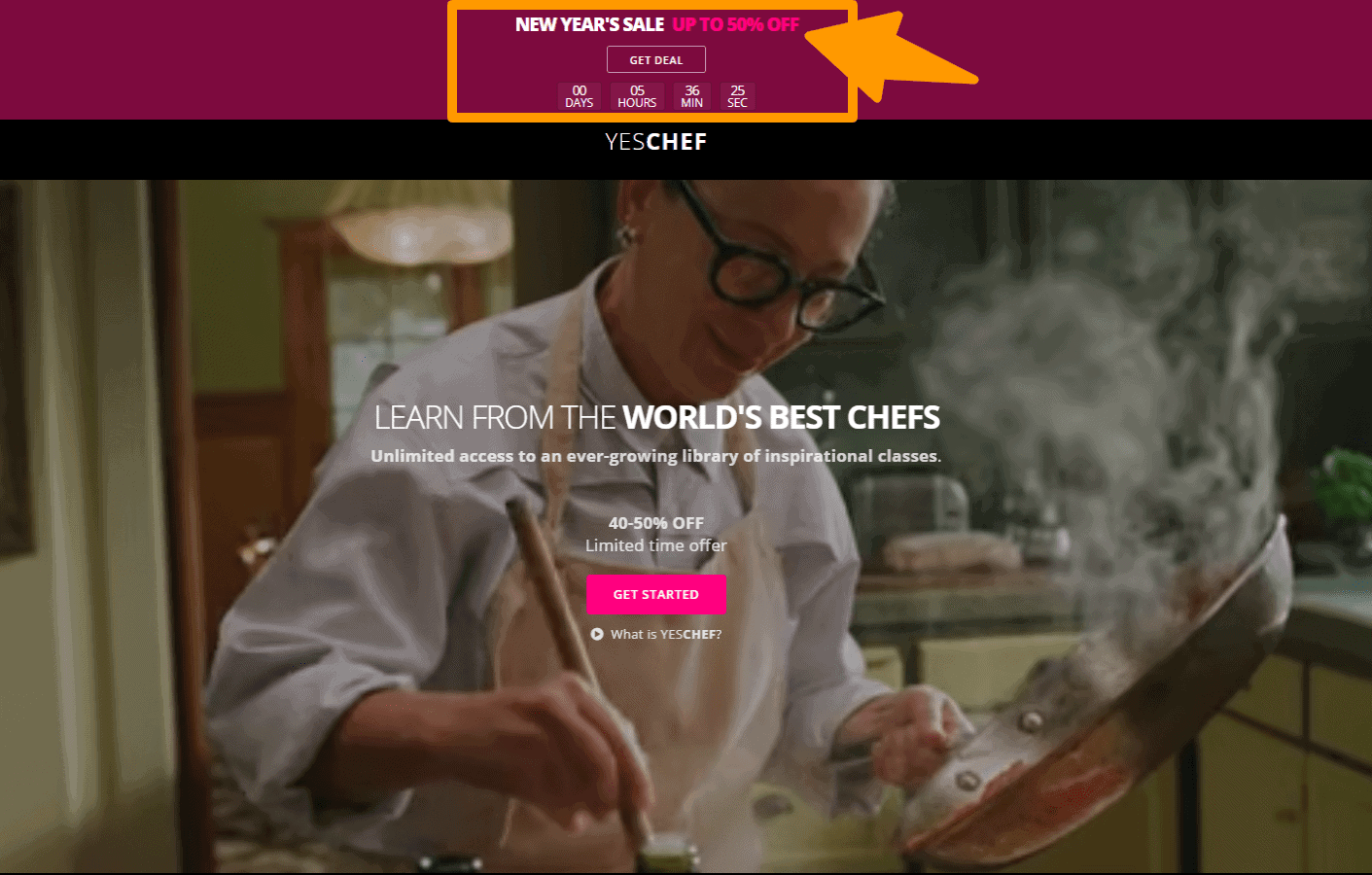 Each 5-hour class begins with a documentary tale before it carries you to the kitchen and then you go on a quest of knowing various recipes, preaching you with techniques, providing you knowledge of a lifetime along with their secrets and their world-famous dishes that made them.
Though it sounds a lot, you don't have to worry as it has a guided step-by-step with every minute detail which can be accessed with any device. 
My wife has always been good at cooking, but thanks to the YesChef, she has made so much advancement in the kitchen that whenever I see her work I wonder if it's my kitchen or has I walked into some high-class restaurant kitchen. 
Masterclass Overview
An online education platform based in San Francisco is an excellent program for creative professionals.
It allows you to attend the online lessons provided by them via computer or mobile phone, the only thing you have to do is just open an online class, and there you go!
It's a perfect platform for beginners to learn various things from the experts of their particular field such as learning Writing thrillers from James Patterson, you can learn Filmmaking from Martin Scorcese, Screenwriting from Aaron Sorkin, Photography from Annie Leibovitz, and the list won't end! 
TheMasterClass was launched in the year 2015 by Aaron Rasmussen an entrepreneur and film editor and director David Rogier.
The MasterClass provides courses for several fields such as writing, music, artists, chefs, painters, photographers, and creative professionals.
Moreover, it also provides classes on business skills and practical skills such as web designing, coding, etc.
It begins with an introductory video of about 5-10 minutes of every instructor and then the detailed journey begins.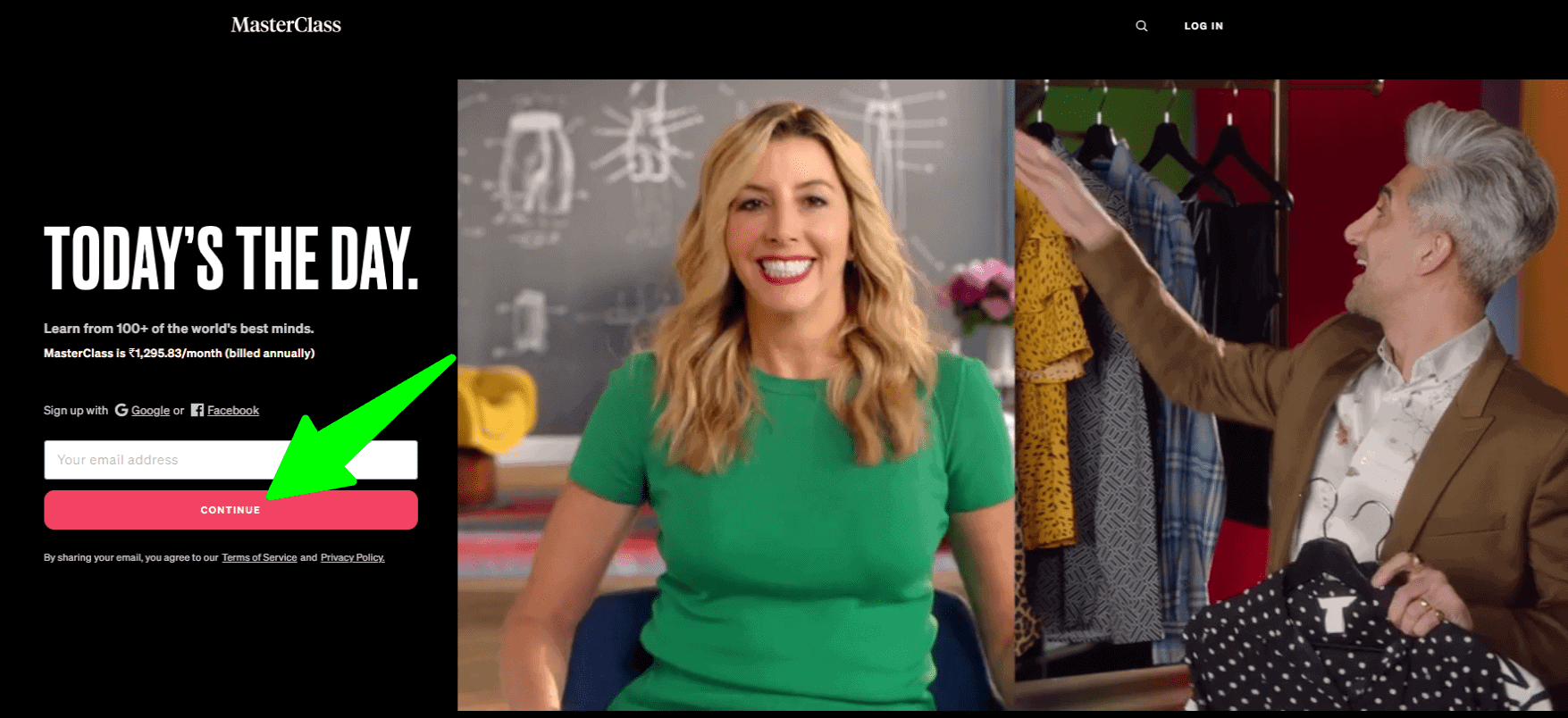 Initially, when I had enlisted in the MasterClass, the focus was majorly on writing and creative arts, but these days MasterClass's focus has widened as it now covers different categories including cooling, film, and TV, sports and games, fashion, lifestyle, science, and technology, etc.
Moreover, it continues by including the new content to its educational platform so you can always keep on learning without running out of options in just  $180 annually. To avail of this offer & get the best masterclass coupon code, visit the article here.
Emphasis
YesChef
YesChef lays its focus on unlocking the unsung mysteries of the why's and how's of the culinary world.
That is, I'll recommend you YesChef if and if only you're interested in a cooking class. 

Well, it's never a simple cooking class.
Every lesson offered by YesChef is the very incarnation of the techniques, concepts, skills, and emotions of the chef himself that might've taken him a lifetime to acquire. 
MasterClass
In contrast to the specialized character of YesChef, MasterClass is a much more generalized platform offering courses in nine different categories. They are-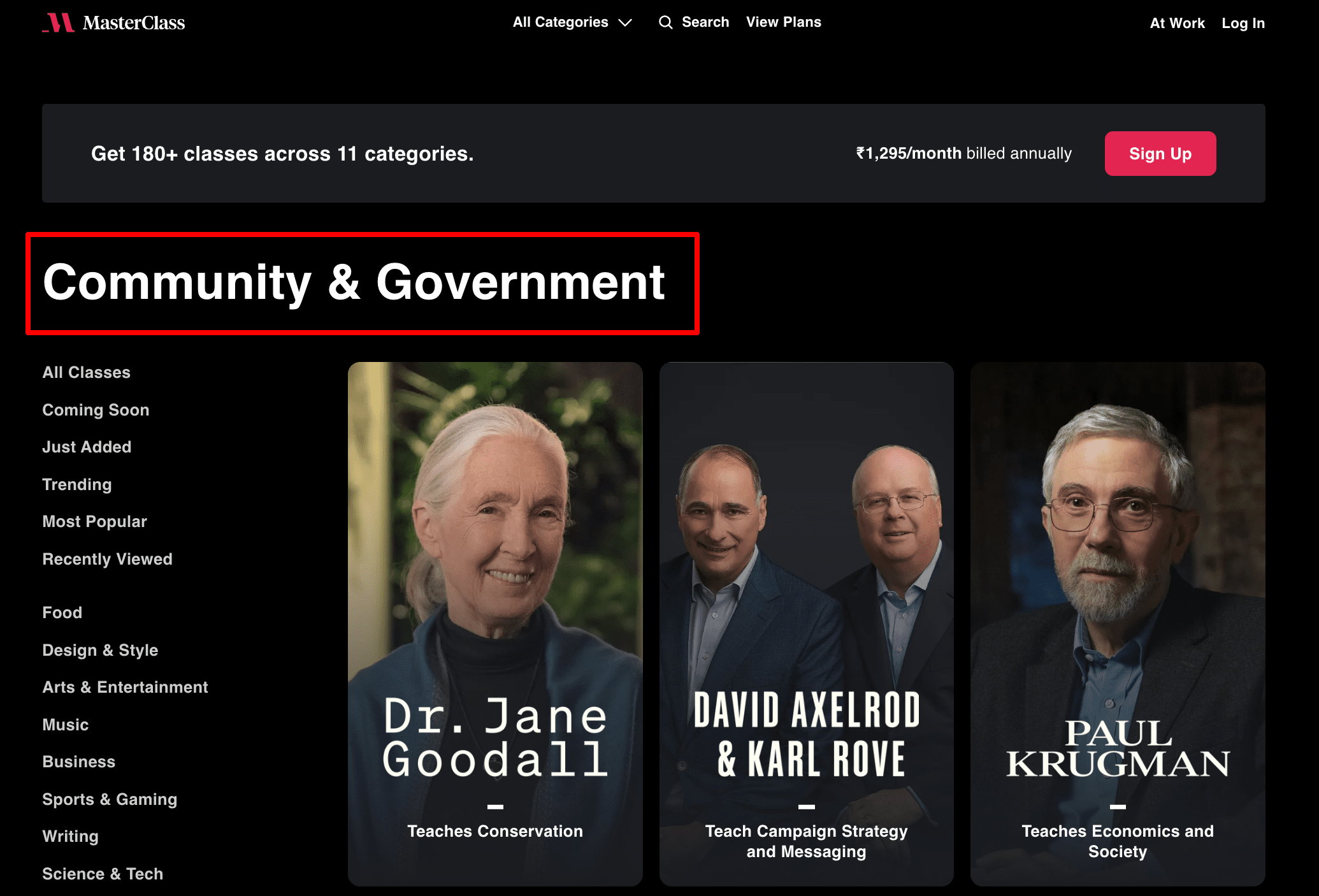 Filmmaking, directing, and acting

Music, musical instruments, entertainment, comedy, etc.

Writing (Content writing, storytelling, creative writing, writing for TV)

Culinary arts

Investigative Journalism, power politics, entrepreneurship 

Sports and Games (Tennis, chess, gymnastics, ballet, etc.)

Fashion designing, photography, architecture, and designing 

Lifestyle, makeup, and beauty

Science, Technology and Space exploration 
Therefore, I'd strongly recommend you MasterClass if you're interested in the disciplines mentioned above. 
Verdict
Both YesChef and MasterClass are robust platforms for honing one's skill beyond the scope of the usual academic cliché.
While YesChef is devoted to imparting the magic of culinary practices, MasterClass is a more generalized platform offering a plethora of courses in nine different categories.
However, if you're an academician who's aspiring for continuing education credits or course completion certificates, none of these platforms will serve your purpose.
Both these platforms consider Education as a liberal art that's imparted to hone one's life-skills. 
Class Content
Compatibility
YesChef
As far as YesChef is concerned, it's a web-based platform.
There is no Mobile-app and you cannot view your classes on your television.
However, the YesChef course platform is mobile-friendly and you can view your course content via any web browser on your Android or iOS.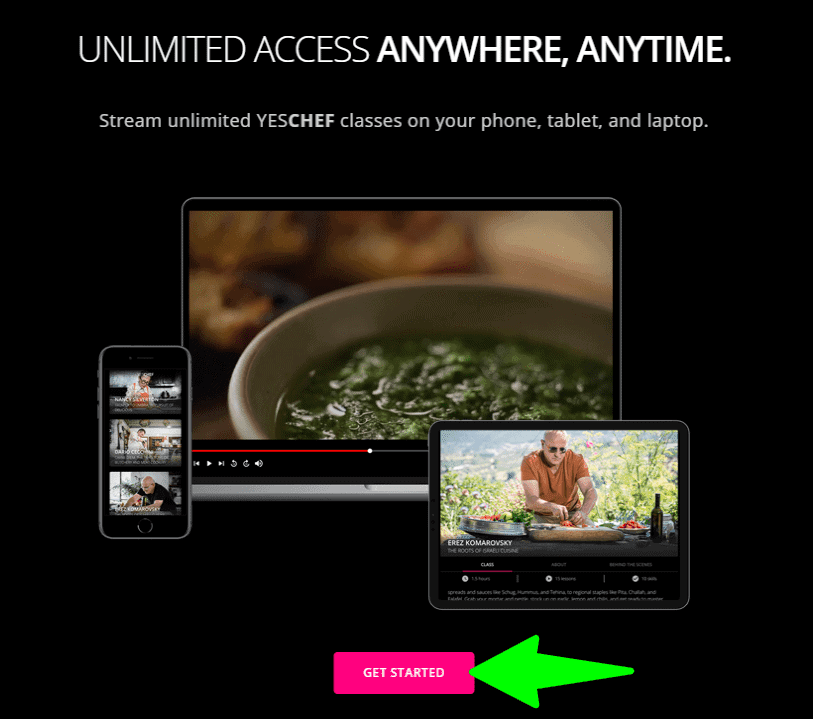 MasterClass
The masterClass is compatible with the following platforms:
Android TV

Apple TV (4th Generation or later)

ROKU TV (v. 9.0 b1 or later)

Amazon Fire TV

Android (app)

iOS (app)
Verdict
When it comes to devising compatibility, MasterClass is the clear winner.
Though the YesChef course portal is mobile-friendly, it doesn't support television platforms. 
Unique features Of YesChef vs MasterClass
YesChef
Special emphasis on the culinary art

Sessions start with a documentary on the chef-instructor

Closed Captioning in English and Spanish

Myriad of authentic recipes
 MasterClass
Courses offered in nine different categories

Downloadable PDF workbook and assignments

Web-based and Facebook student's community

50+ downloadable videos on iOS app

Audio-only version of some classes

Compatible with Android TV, Apple TV, ROKU TV, Amazon Fire TV

Android and iOS app
Benefits
Benefits of MasterClass 
MasterClass offers benefits to its customers and employers as well. 

It provides employment benefits to child care and parental leave. 

It provides paid leaves for adoption assistance. It also pays for adoption existence.

They also provide family and medical leave. 

It offers generous parental leave which provides up to16 weeks of parental leave for a primary caretaker and 12 weeks of parental leave for a secondary caretaker. 

It also offers volunteer days in the local community to its employees. 

They provide group discussions and brainstorming sessions. 

They follow an open door policy and open office plans. 

They also have a highly diverse management team. 

It provides health insurance benefits such as dental benefits, disability insurance, life insurance, vision benefits, and flexible spending amount, and mental health benefits. 

It offers perks and discounts and commuter benefits. 

They offer around-the-clock services that will be beneficial to the users. 

They have a 24*7 customer service which answers all the queries.

 MasterClass has a lot of customer reviews which are all positive reviews. 

The masterClass is an online virtual platform that defines the business, employment, writing, music, cooking, and other things as well. 

It plays a major role in encouraging young talent to explore different services provided by them. 

One can learn a lot from this which can be beneficial to them. 

The services offered by MasterClass lets you learn about culinary skills and gives you experience which you fail to gain in the real world. 

You can stream the videos from anywhere in the world at any time. 

Their mobile services are excelling at their best which provides a great opportunity to all the users.
Benefits of YesChef
The pandemic has made lives difficult for everyone but YesChef has added all the videos which can be useful to the users as they attracted users from more than 80 countries. 

The subscribers can learn directly from the world's topmost best chefs through an online platform – Netflix. 

The platform is designed in a way where users can navigate and control their services. 

As the pandemic caused a lot of crises, YesChef culinary classes are booming and gaining a lot of audiences. 

You can stream the services from your tablet, phone, or laptop from any part of the world at any time. 

They also offer a policy to their employers. 

They provide a few benefits and perks which include health insurance benefits and retirement plans. 

It is a great opportunity for home cooks to explore culinary skills. 

Users can explore various cuisines and techniques to gear up the skills of top-class chefs around the globe. 

It's a single trust source to many people who wants to learn from the online source while sitting at home.,

You learn to cook delicious meals from one of the most inspiring and best chefs. 

YesChef's one of the main traits is – It does not make users feel like they are in an educational session rather it makes them feel as if they are learning culinary skills on their own without any force. 

It's one of the best virtual platforms where users get to gain a lot of experience, insight into the cooking world, and learn the fundamentals of cooking. 
Performance and Speed 
MasterClass 
MasterClass offers online classes to all students at any level.
You can watch these online classes from anywhere in the world at any time. You can watch these videos from your phone, tablet, and laptop. New classes will be added every month.
The performance and speed are decent which offers hundreds plus classes from the masters, twenty lessons average per class and ten minutes average time per lesson.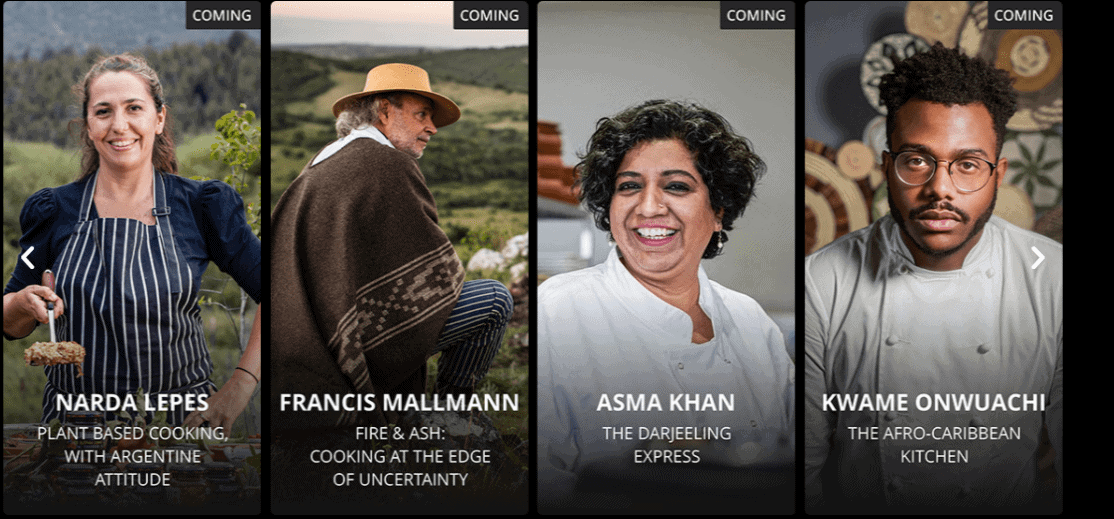 It provides a virtual online learning experience whether in business, photography, leadership, writing, or cooking.
Once you logged into the MasterClass, you will have a list of courses that may contain 20-25 video lessons. You can either watch these video lessons online or download them and watch them from anywhere in the world at any time.
The video lessons which are downloaded can be watched at one's own pace without causing any interruptions.
You will receive course notes from each video which can be about 2-5 hour-long videos. 
YesChef 
YesChef is an online source that is available on Netflix.
Its performance and speed are quite good. The fun fact is, YesChef is a culinary series that helps all the home cooks to have a great opportunity to learn from mute best chefs around the world through your phone, tablet, and laptop.
YesChef performance and speed depend on the control from head office level where a gathering of reports indulge in finance, management, stock summary reports, recipes sharing across the state.
The production management and products available should be maintained properly.
Their control of supervision is commendable as they take care of product and price management, order tracking for customers, email notifications, special deals, products, and stock availability.
Everything is taken care of and runs smoothly without causing any disruptions. 
Verdict 
MasterClass and YesChef both are excelling when it comes to performance and speed.
Both have amazing features with great speed performance which is helpful to the users and makes it all the easier to function and learn skills while staying at home.
They both are well-known to the world, as they have earned their place in virtual reality which is booming nowadays due to the pandemic situation which gives access to the users to brush up their skills in the culinary world and learning from the world's top-best chefs. 
YesChef vs MasterClass Security
MasterClass 
At MasterClass, they respect the user's privacy. It gives access to users without claiming fraud.
The content which is viewed by the users is safe and is used only for personal and non-commercial use.
While you're purchasing MasterClass, you get access to a license, non-transferable money, and limited exclusive.
When you register to the MasterClass, you get access to certain main features of the service. Your membership account, security, and passwords will be safe and should be followed responsibly by the user.
It also provides a money-back guarantee when you want the money. You can get access to mobile service as well.
YesChef 
Users' security is very safe when it comes to YesChef.
The operations team will secure the data of the user which may vary from a user's permission and experience in various areas.
YesChef has a control from the manager to a chief perspective where it provides access to each unit in an online purchasing system that stores the company's specific data in a single and centralized data pool.
Orders can be placed and tracked with this part of the application. 
Verdict 
I feel the security system for MasterClass is excellent when compared to YesChef because they offer a privacy policy which in turn offers services and provide terms & conditions which are beneficial to the users where they can utilize it to their best and learn skills without any interruptions or cause of fear of secured connection. 
YesChef is no less too, it offers amazing features which are top-notch and the quality of the content is commendable with high-tech quality of the videos can be a major plus to the users where they can get access to the content from anywhere in the world. 
Customer Support
MasterClass
 The MasterClass provides very efficient service to its customers.
Marking customer service as one of their primary priorities, MasterClass- surely strives to indulge more in being there for its customers.
The customer support option on MasterClass purely portrays the excellent work this company is doing! It answers the questions that you are majorly stuck with.
Apart from that, it enables customers to contact them through various modes of contact.
Firstly considering the Email option, it has Email Support Hours that stands strong for 24 hours/7 days.
Another mode of contacting the customer care service is directly through dialing by the acknowledgment of Phone Support Hours that runs from Monday – Friday, 9 AM – 6 PM PST on 1(855)981-8208.
Due to high call volume and limited phone support, it is advisable to reach out via email if you wish to get into instant interaction.
Also, if you are interested in getting Press Inquiries then you can mail press@MasterClass.com.
For other partnership-related inquiries, you can email partnership@MasterClass.com. Customer reviews displayed on the third-party websites show the remarkable services that MasterClass provides.
YesChef 
Customer service is an essential element that needs to be the major focus.
Every company is stiff in its being by allowing customers to connect and correct. YesChef, too, provides good services to its customers by lending them a helping hand through various modes of contact.
It primarily helps through the chat feature which allows you to inquire about your queries through text. The second option that promotes customer care service is E-mail. You can reach out to the help center through, support@YesChef.me.
You can also reach out the customer care directly through the contact number provided,i.e. 1-844-466-8296. Customer satisfaction has produced its essence of enthusiasm which is visible through the customer reviews.
The professionalism displayed in handling the issues faced by customers, speaks volumes about the great customer care service provided by YesChef.
Ease of Use
MasterClass
This application is very easy to use. To get started, you need to begin with registration.
The registration process requires you to go on to their page, put in your email I'd, password, and select the membership plan to go along. For accessing the catalog, of course, you need to pay by opting for a single package or either go for All-Access Pass.
It allows the availability of classes on offline mode, by downloading the episodes.
Courses are presented in specific categories which makes it easier to navigate the courses particularly.
The MasterClass is available on all internet- streaming platforms, and it runs on both Android and iOS devices through the application.
The contents of MasterClass can also be connected to your Smart TV, Amazon Fire TV, Roku device, or Chromecast.
It makes accessibility flexible for all kinds of users. After buying the course, you get workbooks and additional materials that help you to maintain notes and adorn that extra knowledge provided to you in the class.
YesChef
After purchasing any of the two subscription offers provided by YesChef, you will be able to access the classes consistently.
All you need to do to move towards the course is go directly to the app. YesChef. me.
Thereafter, you need to register by signing in through an email you used for purchasing the package or you can also sign using the magic link and set up a sturdy password.
YesChef is currently a web app and can be accessed on mobile, PC, or tablet.
To be able to access it easily on Android, you can go to the app.YesChef.me on Google, then click the three dots "Menu" button and select "Add to home screen".
YesChef will then appear like an app on your home screen. And then, you can easily watch the classes.
YesChef vs MasterClass Pros And Cons
 Masterclass Pros
1)Video-quality – One of the amazing things about MasterClass is video quality.
The lighting, the sound, and the camera shots are of extremely superior qualities. The video is produced well with a fluctuating function of speeding up or slowing down as and when necessary.
The videos provide an opportunity for the users to get a deep insight into the topics.
The high-quality videos keep the learning process very engaging.
It portrays the total feel of learning to live with the masters and makes the words sound as if their only student has always been you! 
2) Affordability- The classes offered are very easy to afford with $180 to access 90+ courses per annum.
It doesn't ask you for heaps of money to make merely a few courses available, rather it provides a chance to master all skills at a very cheap cost.
It is surprisingly surreal to get tons of tips from the masters themselves, that too, in a very affordable amount.
3) Great instructors- The instructors of all the classes are the masters of their craft. MasterClass- makes it a point to promise the accessibility of great learnings from the world's best in every field.
The great instructors provide nuanced knowledge, exclusive experiences, and depth of details.
It provides you with an opportunity to learn from the finest masters like Gordon Ramsay for cooking, Ron Finley to a tip-off about gardening, Robin Roberts for effective communications, and Serena Williams for Tennis.
4) Substantial classes- The classes are very substantial, it exceeds all the boundaries of learning and gaining knowledge through experiences of the masters.
The class's timeline ranges from five minutes to an hour. MasterClass- also enables you to get deep with your learning through 100-200 pages workbooks, that carve out more techniques that uplift your skills. It also consists of homework assignments that can be done as per your wish.
The workbooks also consist of margin space which helps you to keep a hold of your notes. 
5) Easy to use- The user interface of the application is very easy to work upon.
It easily enables you to master any skill, anytime.
It also allows you the opportunity to watch the courses and learn from virtually anywhere in the world.
6) Sets you for soft skills- It helps you to cater to all your creative corners and level up those demanding soft skills.
MasterClass offers you an opportunity to skill up completely through any course.
It sets you for music, writing, cooking, gardening, and many more of your artistic abilities by providing access to 90+ courses.
You can catch up with your call of interest and take up classes accordingly.
YesChef Pros
1) 30+ authentic recipes- It provides you with recipes to be a great home cook and move apart from the random routines recipes you stroll on YouTube and Instagram.
It provides authentic recipes that can be gorged with a scrumptious taste. 
2) Documentary on the chef- The classes do not directly begin with ingredients and crockeries, rather it starts by giving you an idea of the roots of the chef.
It introduces you to the chef, to make you more informed and innovative.
3) Imparts personal experience of the instructor- The instructor here refers to the chef, who makes the class engaging by giving in a personal touch through his own experiences.
It is an interactive class that focuses on conversations with the community.
4) Subtitles in English and Spanish- The subtitles are an important part of learning through videos.
Subtitling is both these two main languages provides the audience with an opportunity to learn with no cultural boundaries.
5) Full refund after trial-  YesChef allows you to get a refund after your 30 days trial period if you do not wish to continue further. This enables the audience to give it a try.
Masterclass Cons
1) No hard skills- MasterClass makes the greatest minds of creative masters very translucent.
If you are someone looking to plan the plot of your story or making melodies for music, then MasterClass is just impeccable for you!
But if you ask it to transcend your traditional career opportunities, then it will surely negate your expectations. It merely enables you to put your hands on soft skills and fill your passion.
2) No degree or certificate– In any academic aspect, the marking of knowledge and learnings is created through degrees and certificates.
It is one of the major motives to pursue a course and learn a skill, however, MasterClass demeans exceeding your count of certificates and the number of degrees that hold a space beneath your name.
3) Non- interactive community- Although MasterClass has a potent robust community, it is still marked with Non- interactive audiences.
When we invest in some learning, we often tend to look for the connected communities to keep themselves informed and inspired.
The non-interactive community of MasterClass makes the learning experience dull and one-sided.
YesChef Cons
1) Classes specific to cooking- It only provides the class of a particular category, that is, cooking.
It allows you to focus specifically on the class you opt for.,rather than disrupting you with the various catalog of contents.
2) Not compatible with television–  It can only run on cell phones or PC. It doesn't provide access to connect with your smart television.
3) No workbook or assignments-  It doesn't provide you with workbooks or assignment and thus disable you to keep a tab on your progress throughout your classes
4) Absence of community-  There is no community, and thus the course gets very one-sided. It demeans your level of motivation required to complete the whole class.
5) No Android or iOS app– YesChef is yet to launch its app on Android and iOS.It is only accessible through Google or Chrome on any device. It is a web app and thus is not easily accessible.
YesChef vs MasterClass Testimonials
YesChef Customer Review

MasterClass Customer Review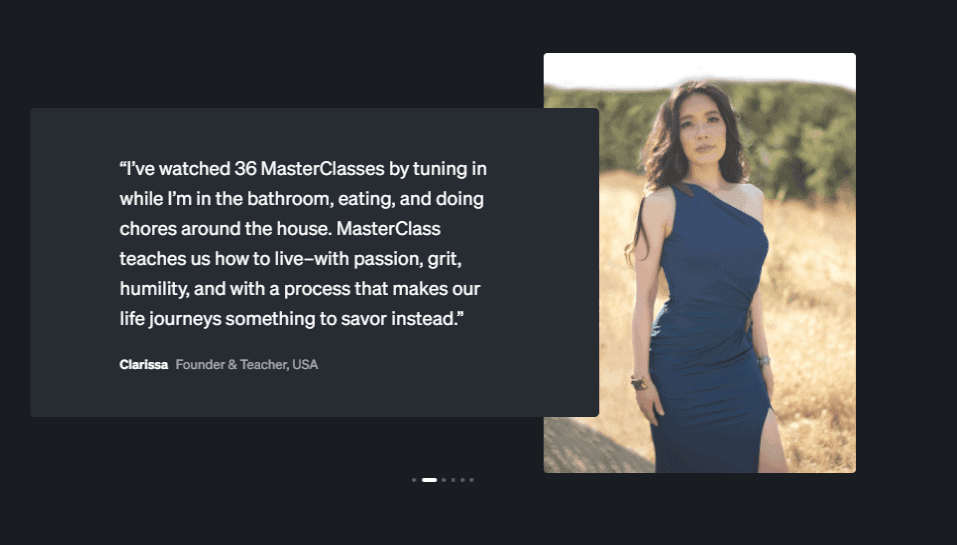 FAQs | YesChef vs MasterClass
🤔 Can you put MasterClass in your resume?
It depends on how it works. If it is a lecture series then you can't put it on the resume as you don't get a qualification document with it.
🤷‍♂️ Is the MasterClass cooking course worth it?
Yes, as for cooking in general as well as learning some exquisite dishes. It provides you with a lot of tips and recipes.
🙋‍♀️ Does YesChef have any refund policy?
Yes, YesChef has a refund policy. Every purchase includes a 30-day money-back guarantee.
💸How much does YesChef cost?
The Annual Pass is $180 USD, the Lifetime Pass is $460 USD - both are All-Access. Your All-Access pass gives you unlimited access to an ever-growing library of classes by the world's greatest chefs.
🤑 How much does MasterClass cost?
The annual membership is ₹15,550 and provides unlimited access to all classes and new classes as they launch. All MasterClass memberships include access to our mobile and TV apps, high-definition videos, and downloadable class workbooks.
Quick Links:
Conclusion: YesChef vs MasterClass 2023
Since we are too caught up in our daily routine, online platforms are an excellent option to learn new things.
In the above analysis, we could see that both platforms are prime options for acquiring different skills.
The YesChef emphasizes cookery and is an excellent platform to learn the art of cooking.
The classes provide you with excellent recipes along with detailed steps and wisdom and experience of world-class chefs. It provides all the videos in English and Spanish CC.
YesChef is a mobile-friendly program website however, it is not compatible with TV and is not available in the app. 
While the MasterClass is a platform that does not emphasize a single aspect but provides courses about different topics including cooking. Though all the videos are in English, only a few videos have Spanish and German CC.
There are various options such as a pdf workbook, assignments, the community tab, video download is available on iOS, and some videos are also accessible in audio format.
The MasterClass is not only mobile friendly but also supports Android TV, Roku TV, Amazon Fire TV, similarly the app is available for both Android and iOS.
If the overall aspect compared the winner is obvious. 
The winner of this online learning program comparison is MasterClass, as it provides a wide variety of courses and also has never-ending add ons. Also, it is available on various platforms.
However, if you wish to only learn cooking, YesChef is definitely a great option to be considered.
In my personal opinion, for cooking lessons, YesChef is an incredible choice, but if you prefer learning various things time after time, the MasterClass is the best! 
Masterclass Popular Videos 
YesChef Popular Videos
Masterclass On Social Media 
I enjoy these classes very much. It has personality and passion that most conventional classes are lacking. Thank you for your work, I will keep watching them.

— Botond Bertalan (@botondev) May 5, 2021
Tthank you for your wonderful @MasterClass @judyblume I've enjoyed every minute & learned so much. Am inspired to continue my journey as a writer for children & young adults. It was refreshing to see another person as emotional as I am. #Writers I absolutely highly recommend!

— Dr Helen Edwards, Psych PhD, MG+YA Author (@drhelenedwards) May 7, 2021
So this afternoon started watching @Cmdr_Hadfield's @MasterClass with my 2nd grader. This evening's craft project is to rectify our lack of non-lego rocket toys – pictured is the main rocket and two of the planned three boosters… pic.twitter.com/VuYkxLdKHe

— Shannon Clark (@rycaut) May 4, 2021
YesChef On Social Media 
View this post on Instagram
Our upcoming teacher is a James Beard Rising Star Chef award-winner, best-selling author, and a leading cultural force in the modern culinary movement. Announcing Kwame Onwuachi's class "My Afro-Caribbean Kitchen" coming to YesChef https://t.co/NRpLfy2HjM pic.twitter.com/Cx0HXAVrGy

— YesChef (@yeschefhq) March 12, 2021