In This article, I have shared  "Top 9 Benefits Why Organizations Should Opt For E-Learning". A learning experience offered through an electronic medium is known as e-learning.
The rise of eLearning has been enormous over the last decade, and the pandemic epidemic has only added to its popularity among educational institutions and corporations.
With today's technology and internet connectivity, we have an almost limitless number of alternatives for both producing and delivering eLearning.
Organizations have been utilizing the ease of learning and flexibility of eLearning since the early 2000s. The company's motto has always been to upskill personnel so that they can do a better job.
Everyone may use eLearning to upskill their staff in onboarding, learning & development, compliance training, customer engagement, and more, regardless of whether they work in a small, medium, or large-scale sector.
E-learning entails much more than merely learning on the internet. Mobile learning, interactive simulations, gamification, and so on are all part of it.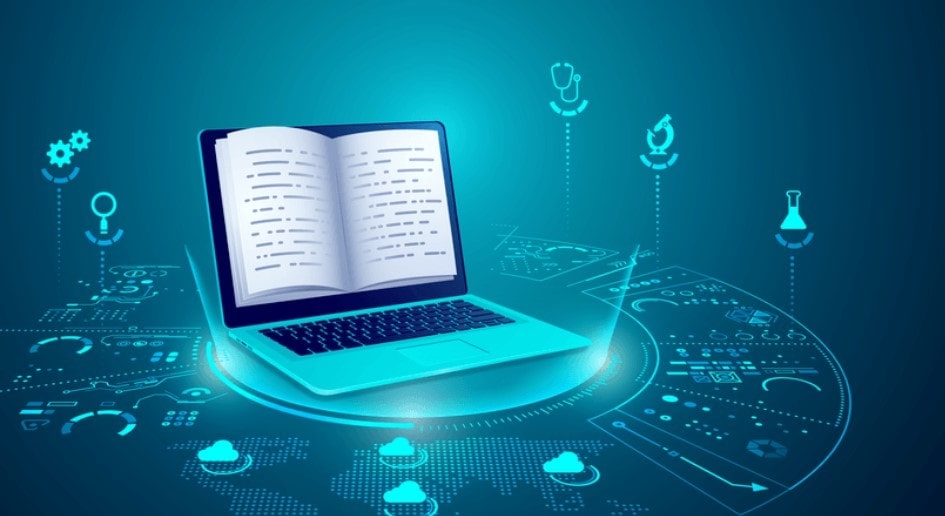 With eLearning, businesses may provide tailored learning to their employees. Along with this, there is a slew of other advantages to eLearning, which are detailed below.
1) Saves time:
One of the biggest advantages of eLearning is that neither your eLearning instructors nor your business learners have to travel. They can work from the comfort of their own home. In eLearning, the time it takes to get ready and travel to a site does not exist.
In addition, scheduling sessions in eLearning is easier than in-person training. Corporate learners can also attend sessions and access eLearning content from anywhere and at any time, making it the most convenient alternative.
Because everyone nowadays has a smartphone, e-learning has become the most popular option.
2) E-learning courses are fast and efficient:
eLearning is faster and more efficient than in-person training. The eLearning course may be offered to an unlimited number of individuals because it does not require a physical classroom or infrastructure, and there is no limit to the number of people who can enroll.
If you live in the United States, for example, you can still access the eLearning course from India. This is a fantastic choice for remote companies with people all around the world. Interactive simulations, gamification, and other fun aspects make it efficient.
LMS software is preferred by organizations for delivering eLearning courses because it allows them to effortlessly create, manage, and deliver training content.
They can follow their employees' progress, allowing them to make necessary changes to the eLearning course in the middle of it, as well as making the course more engaging by incorporating all of the interactive components and capabilities that an LMS provides.
3) Standardization:
Your corporate learners will have access to the same high-quality eLearning content regardless of where they attend the course. Your corporate learners don't have to wait for the trainer to make adjustments to the course because it may be viewed by all of them at the same time.
4) Better learning experience:
Your corporate trainees can learn at their own pace because there is no time limit, unlike in-classroom training. They get access to all of the interactive features and components that engage employees, such as gamification, quizzes, and edutainment.
These diverse engagement tactics let corporate learners interact more fully with the course. The ability of eLearning content to engage employees is one of the many reasons why a training program succeeds.
There is no way anyone can benefit from an eLearning course if you can't engage your staff with the information.
5) Better knowledge retention:
Organizations must modify their tactics to engage their corporate learners as more Millenials and Generation Z enter the workforce. Gone are the days when your corporate learners had to read the material and figure out what it meant. Podcasts, videos, animations, and graphic eLearning content are all popular these days.
Designers may use eLearning to make eLearning content more interesting and engaging. Your business learners will retain more information if your eLearning content is more interesting.
As a result, engaging your corporate learners with interactive eLearning content is crucial for enhanced information retention.
6) E-learning is consistent:
The instructor's in-classroom training changes frequently, resulting in differences in the manner subjects are delivered. Tutors are prone to making blunders. You can, however, avoid these blunders by using eLearning.
With eLearning, you always get consistent and standardized instruction. Regardless of where they take the course, each of your corporate learners has the same learning experience.
7) Training reinforcement:
After a few weeks, your corporate learners will forget what they have taught, which is a natural occurrence. However, using eLearning, they can memorize the concepts.
Reinforcement tactics such as spaced repetition, continual post-assessments, and gamification aid in knowledge retention for your business learners. Understanding and grasping topics are considerably easier using eLearning.
Additionally, your corporate learners will be able to refer to the eLearning content multiple times, making it easier for them to remember the principles.
8) You can find the gaps easily:
You can quickly identify training shortages on a certain topic using assessments. You can break down each module using analytics and data to see which ones are working and which ones aren't.
If you discover that a module has to be reworked or is unnecessary, you can easily replace it, and all users will be able to access it at the same time.
You can constantly try to improve your eLearning material with learning management systems and various eLearning technologies.
9) High return on investment:
When it comes to employee training, one of the most important factors that every company considers is the return on investment.
As previously said, eLearning has a high level of engagement, which means that information retention and productivity will be higher as well. When it comes to eLearning, it's a win-win situation for both the organization and the personnel.
Quick Links: