Anna Wintour, a leader in the fashion world, has been in charge of Vogue for 32 years. In her MasterClass, she teaches creative leadership and effective team management in 12 lessons.
This review aims to help you decide if Anna Wintour's MasterClass is the right choice for you.
Personally, I've always been creative but struggled with decision-making and leadership.
Recognizing this, I decided to take a leadership course and found Anna Wintour's MasterClass.
This Anna Wintour MasterClass Review will share insights into the lessons, suitability, and my thoughts, helping you determine if Anna Wintour's MasterClass is worth your time and investment.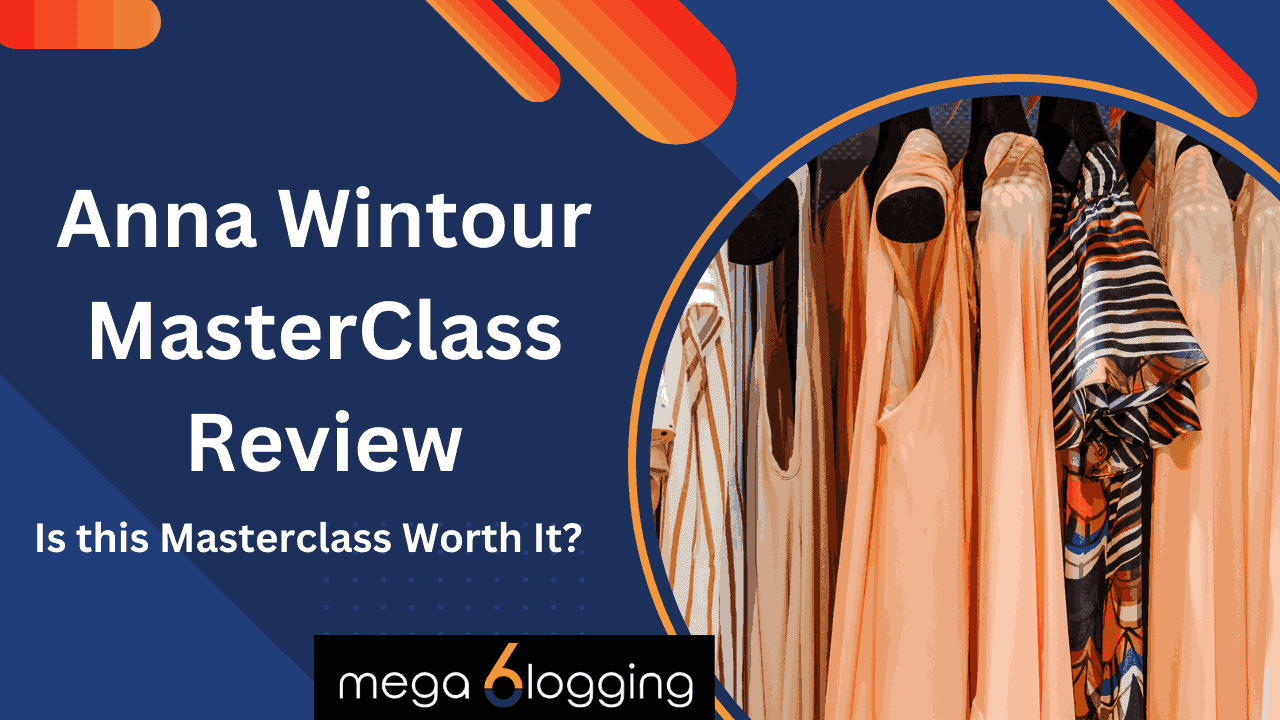 Anna Wintour MasterClass Review 2023 | (Can You Really Trust This?)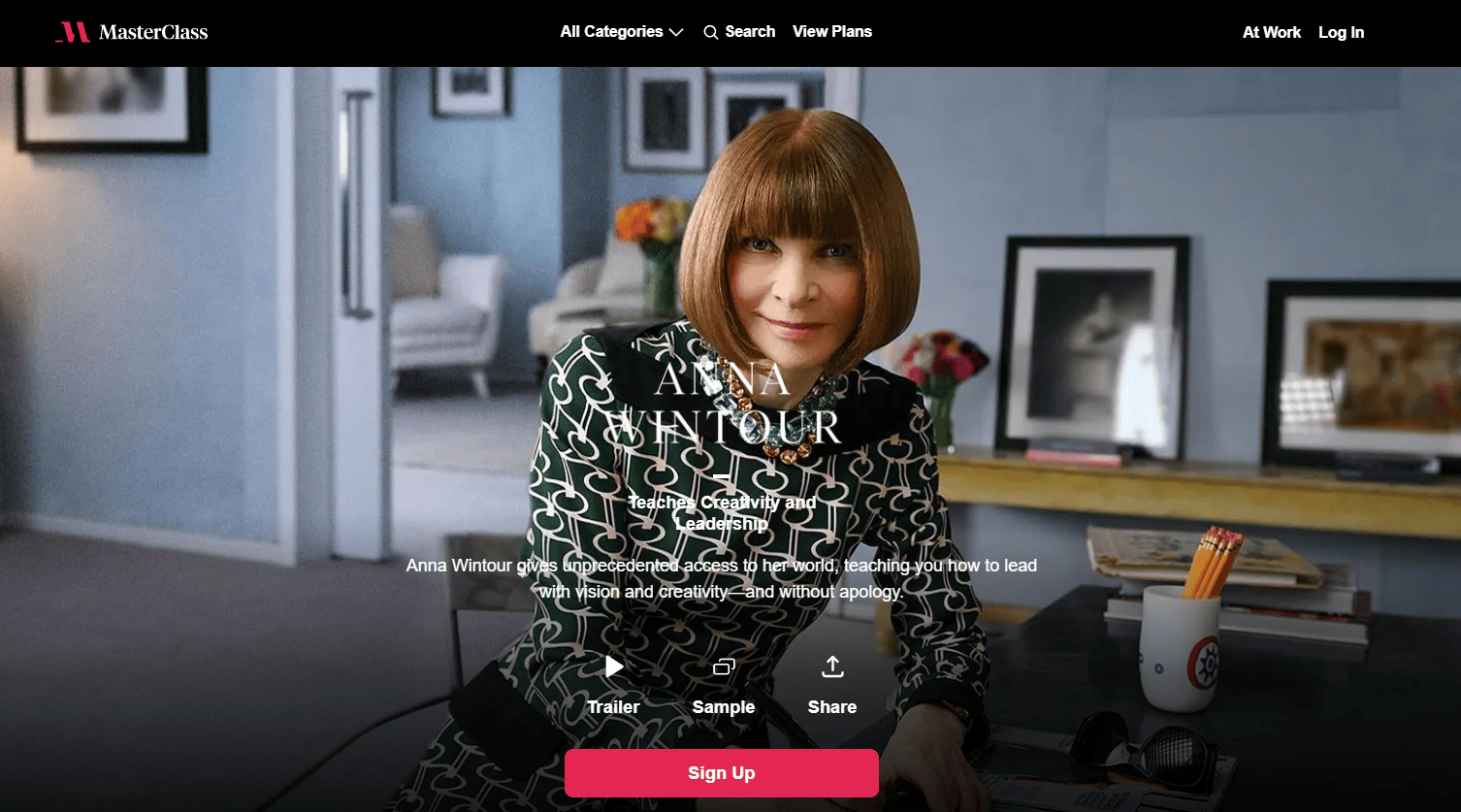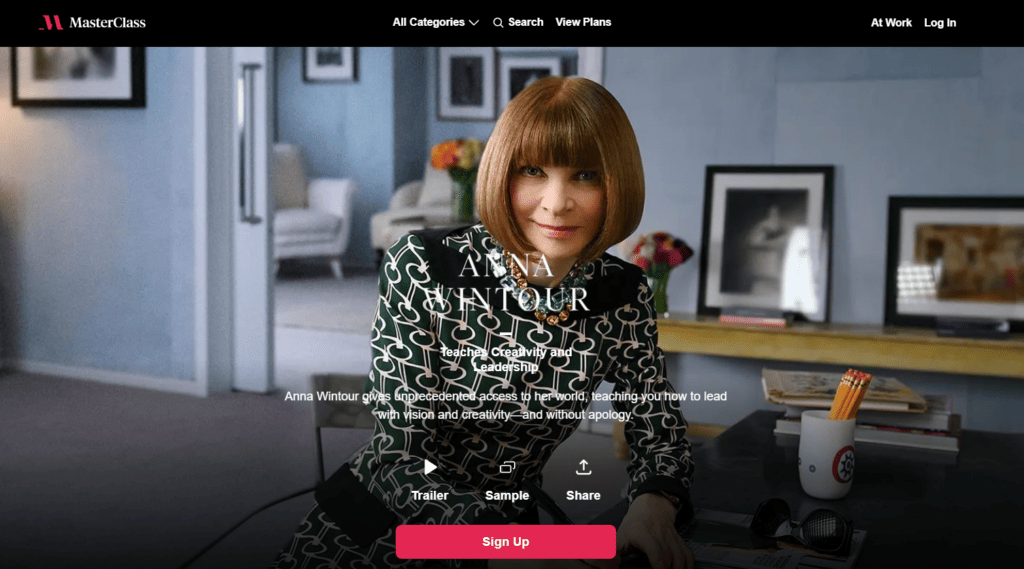 Getting to know Anna Wintour!
Dame Anna Wintour is a renowned fashion journalist and editor who has been editor-in-chief of Vogue since 1988 and artistic director for Condé Nast, Vogue's publisher, since 2013.
She is currently Artistic Director for Conde Nast and also the Global Content Advisor.
Wintour is an important figure in much of the fashion world and has been widely praised for her eye for fashion trends courtesy of her trademark pageboy bob haircut and dark sunglasses.
She is also known for her support for younger designers.
She is considered by many in the industry as a strong leader who has been the head of many successful teams while doing several projects across many countries.
Her style of leadership is considered to be highly effective, earning herself the nickname "Nuclear Wintour" due to her demanding and aloof personality!
Almost the entire fashion world and fans from across the world have always marveled at how she keeps up with her flamboyance and glamourous persona while maintaining her ground as the most respected and followed fashion expert of the modern era.
People have wanted to know her side of the insider secrets of the industry and how she became what she is today, but she has rarely spoken about her professional life to the world. That is up till today!
Today, Dame Anna Wintour is on her toes to share her life, secrets, and strategies of creative management in the fashion industry with the entire world, especially the ones who really want to learn and be like her someday, through her very own Masterclass!
Anna Wintour MasterClass!
Anna Wintour's Masterclass is for any person out there who has the urge and motivation to be a leader in the field of creative management, particularly in the fashion industry!
You are sure to benefit from her leadership tips and insights on managing a creative team because the best way to learn how to become a remarkable woman like her is to learn from this remarkable woman!
Her elaborate and in-depth masterclass comprises __ lessons that will provide you valuable insight into how she works and what the things that make her tick are.
Once you are through with her course, you are sure to have the chance to become a successful personality like her someday in the future!
Management Tips by Anna Wintour!
Anna Wintour tees off her course by explaining that having a good team is what uplifts you! She genuinely showed through this video how much she appreciates and enjoys being surrounded by a diverse group of people.
Through this video, she talks about all the qualities that she always looks for in the members of her team. She also discusses the various questions and things she asks someone before hiring them.
The contents of this video lesson were so refreshing. She also shared her leadership style with the viewers. The best thing she points out about being a leader is to understand and value the fact that everyone will not always do things her way.
So, she proceeds to share many key leadership tips with her students during this masterclass like:
Hiring and building a great team?
Keeping track of your work by building a system
Why do you need to be direct and give quick feedback?
Learning why it is important not to micromanage
Being thoughtful about how and why you run meetings
Be true to your vision and yourself!
Dealing with criticism is perhaps one of the main challenges a leader has to face in any field. Sometimes, people, leaders in general, tend to get carried away by what other people say about them and their way of working.
Getting driven off course due to these things is something one must resist. All you need to focus on is staying true to your vision and to yourself!
However, the bitter truth is that even if you are being true to yourself, some people will probably feel uncomfortable or upset.
The power to choose is always in your hands to resist the temptation of trying to convince people and make them feel happier. Anna, however, does not say that you should completely ignore what people have to say.
You should always listen to others and understand their opinions and perspectives. She urges you never to be afraid or scared to question what you are doing. Always try to do those things healthily!
Anna further continues to demonstrate how she manages to balance listening to others while in on a meeting at Vogue with you while still championing her own vision.
This section was a great way of revealing some interesting insight into how the magazine works!
Editorial decision-making!
This video can turn out to be the perfect guiding light for you if you want to master the tricks and principles involved in deciding what to publish and which story is the best possible choice to tell to the world.
Anna Wintour conducts this section to talk about some of the interesting and noteworthy decisions she has made in her professional career, be it good or bad!
Anna shares here how she has learned that passion is perhaps the only thing that actually engages people.
Having a lack of passion or interest in your work will ultimately garner nobody's interest. She also gives you a golden chance to revisit the editorial meeting for the March 2019 edition of the Vogue magazine in this section.
You get to know how the editorial board decided what to include and what to leave out.
You will get to see here how different and creative ideas evolved during the meeting. This section was indeed highly informative and fascinating to watch.
Execution of your vision!
Every person lives with a vision, regardless of what profession they serve!
However, executing the vision is always a challenge that most people face, including influencers and professionals.
If you want to learn and imbibe the principles of executing your vision the right way, then this would be the most entertaining and inspirational video for you in the course.
In this section, Anna discusses how she and Andrew Bolton, who is the Head Curator of the world-famous Metropolitan Museum of Art's Costume Institute in New York City for 21 years, transformed the MET annual gala.
This section is literally a chance to learn and understand, in detail, how this glorious event has evolved over the past so many years.
More to learn about Creativity & Leadership!
Anna  Wintour states that you always need patience so that you are able to build and realize your vision! If you do this the right way whenever needed, you will surely learn how to build the ideal relationships while working by bringing in all the essential elements you need to succeed.
Being diplomatic at the right places is also important, as Anna tells us how she uses diplomacy as an essential element in being the leader she is. This also involves knowing when you should push and when you must hold back.
You also gain some valuable insights into how Anna and Andrew choose a theme and bring it into shape.
This is an extremely vital tool to learn and apply when it comes to your event's marketing!
Using the power of visual cues & images!
Having a visual approach to everything is extremely important if you want to have an impact, regardless of what you are doing.
The simple and direct mantra that governs this principle is that every human tends to respond the most to what they see! It has been scientifically proven over and over again that more than half of our brain is active, working to pick up and process whatever we see in the visual world.
So, you surely need to learn to use images and visual cues effectively if you really do wish to influence someone!
Anna conducts this section to demonstrate the power of images and visual cues by sharing how exactly some of Vogue's photoshoots have captured the spirit of an era.
This section covers several picturesque examples like the China shoot Vogue did. This part of the video will show an image of China that you probably wouldn't have imagined up till now.
Putting your brand at the center!
This, according to me, was one of the most informative and knowledgeable lessons of Anna's Masterclass, where she explains that a good leader always prefers working to keep their brand relevant.
They will always be looking forward to making their brand look attractive!
Though this is not an easy thing to do, Anna describes how this is possible if a leader is always alert of everything that is going on in their industry and culture. A good leader will always be aware and alert of the ongoing trends in their market.
Anna uses a wide range of iconic Vogue covers to demonstrate how she has done this throughout her professional career. She gives an example of how Vogue always needed to use people who had broad appeal.
Vogue's solution to this was to hire celebrities and start shooting stories.
Vogue always remains at the forefront of this particular style of photojournalism and fashion, which every fashion magazine in today's time does.
Start creating instead of re-hashing!
This is the stage of the course where Anna Wintour emphasizes the fact that you should always be looking forward to creating new trends. Simply adding to an existing ongoing trend is an easy and lazy thing to do.
It is simply like rehashing what every other person out there is doing.
That does nothing to enhance your qualities and boost your skills.
You need to see when and where something important happens, and for that, you will need to lead the way so you are able to find creative ways to stay on par with the constantly evolving culture.
Learn about design from Anna Wintour.
What's very interesting about Anna's Wintour personality is that she has a very bold and challenging way of thinking. She likes taking extreme decisions and gives it her best to get the best out of them.
She even advises her young designer fans to try something extreme instead of just playing it safe. Dig deeper and take things as far as you can so that you are able to explore who you are and what your true capabilities are.
Stretching yourself beyond the safe area will help you discover what is right for you and what is not.
Anna proceeds towards the end of this section, discussing the creation of the much-talked-about CFDA Vogue Fashion Fund.
The information in this part of the video will come in real handy for you if you are a young designer based in America and are hoping to secure funding.
You will also get to learn a lot about the selection process and putting together possibly the best application you can.
A chance to learn from other creative leaders!
What's even more respect-worthy about Anna Wintour is that she equally respects the success and achievements of other creative leaders in her network as well.
So much so that she takes this section to share some examples of other creative leaders from whom you can learn!
All the people she talks about are well-known and respected figures of the fashion industry, about whom she discusses several interesting facts and stories, including how every single one of them managed to differentiate themselves from the crowd.
These creative leaders include:
Christopher Burberry
Michael Kors
Miuccia Prada
Leading with Impact
Anna kept this section pretty short and crisp, emphasizing why you should do everything in a meaningful and thoughtful manner.
She reminds everyone to be purposeful if they want their brand to have a real impact. She once again talks about the MET Gala event to elaborate on what she means.
Furthermore, she continues to share why the Vogue Forces of Fashion was created.
For those of you who don't know much about this, Vogue Forces of Fashion is a unique conference developed to inspire others in the industry and has become an important extension of the Vogue brand itself.
The objective is to help move things forward in innovative and new ways.
Anna Wintour's workbook
Now, when it comes to the Masterclass Workbook, I really like Anna Wintour's workbook.
It is so deeply informative that it can truly work as a bible for the struggling and newbie fashion designers who look up to fashion industry idols like Anna.
Her workbook is simply excellent, and once you go through it, you might particularly like its layout as well, like I did.
Since her course is about creativity and leadership in the fashion industry, she made sure that her workbook is informative visually as well, much more than the other Masterclass workbooks.
The layout of her workbook itself makes it really easy for everyone to use and understand.
Quick Links:
FAQs | Anna Wintour MasterClass Review
💁 What is a Masterclass?
Masterclass has some of the best A-class teachers like Bob Iger teaching business, Aurel Stein teaching writing, and the list continues. Just demand a course and they have in their list along with the best teachers.
🤑What is the pricing of masterclass ?
Masterclass All-Access Pass is billed at $180 and comes with a 30-day moneyback guarantee.
📺 Where can I watch?
With MasterClass, you can learn and be inspired anytime, anywhere, including your smartphone, personal computer, Apple TV, Amazon Fire TV, and Roku streaming media players. You can even download your favorite lessons and watch on the plane or listen during your commute in audio-only mode
🤷‍♀️ How does the 30-day guarantee work?
Their goal is to make sure that you have the best learning experience possible. If MasterClass isn't for you, then email them within 30 days of the date you purchase your subscription, and They will offer a full refund.
Conclusion: Anna Wintour MasterClass Review 2023
Anna Wintour's MasterClass shows how a leader can make a brand better. I liked her confidence, especially as a woman facing challenges.
Many students found the class useful and easy to understand. But, it mainly talks about specific cases and lacks general advice.
If you love fashion or leading creatively, it's good to watch. Just know it focuses a lot on Anna's career and cases. It's especially helpful for young women wanting to lead. Anna's encouraging words at the end are motivating.
I hope this Anna Wintour MasterClass suits your purpose well and helps you get better insights into this MasterClass.