Do you have a WordPress website?
Have you ever thought of having an online community for your website? How would you feel if I say, it is very easy to build a social network consisting of your website members and visitors? Yes, it is possible with a free plugin called BuddyPress.
This is a social networking plugin that helps you create your community, teams, and groups for your website. With this plugin, it is easy to create user profiles, share updates, and many more.
It facilitates better communication and connections between you and your audience, customers, and website users. What's more? It is easily compatible with WordPress.
Get more insights into BuddyBoss here.
The best part of BuddyPress is that it comes with more than 50 themes having the best features to make your website more modern looking, efficient and will give a better user experience. A great looking BuddyPress theme and a hosting provider is all you need to get your social networking site rolling.
Your website visitors and members can sign up on your site and create user profiles. That's it! They are all set to make connections, have conversations, create groups, follow each other, and share information. This, in turn, will help your business become more popular and also solve the customer queries quickly. All this by just installing the best theme provided by BuddyPress.
In this article, we will have a look at some of the efficient and best BuddyPress themes used for WordPress websites
The offered themes of WordPress plugins are very much reliable, feasible,& adaptable.
Some of the features of buddy press themes like buddy boss lack options of customization & personalization.
One such Plugin is BuddyPress. It is a community Plugin resourceful enough to assist you in growing your site and taking it above the level of 'just a blog'. A large number of people having familiar interests on the internet is known as an Online Community.
BuddyPress Overview:
In case you are a regular and frequent user of the WordPress website, then you must know that to enhance your experience with it there are multiple software additions available to personalize applications, programs, etc on the computer. They add to the serviceability of the website, so to speak.
One such Plugin is BuddyPress. It is a community Plugin resourceful enough to assist you in growing your site and taking it above the level of 'just a blog'. A large number of people having familiar interests on the internet is known as an Online Community.
BuddyPress has characteristics of such online communities such as notifications, groups, activities, streaming, links, etc that ensures to make your site wholesome.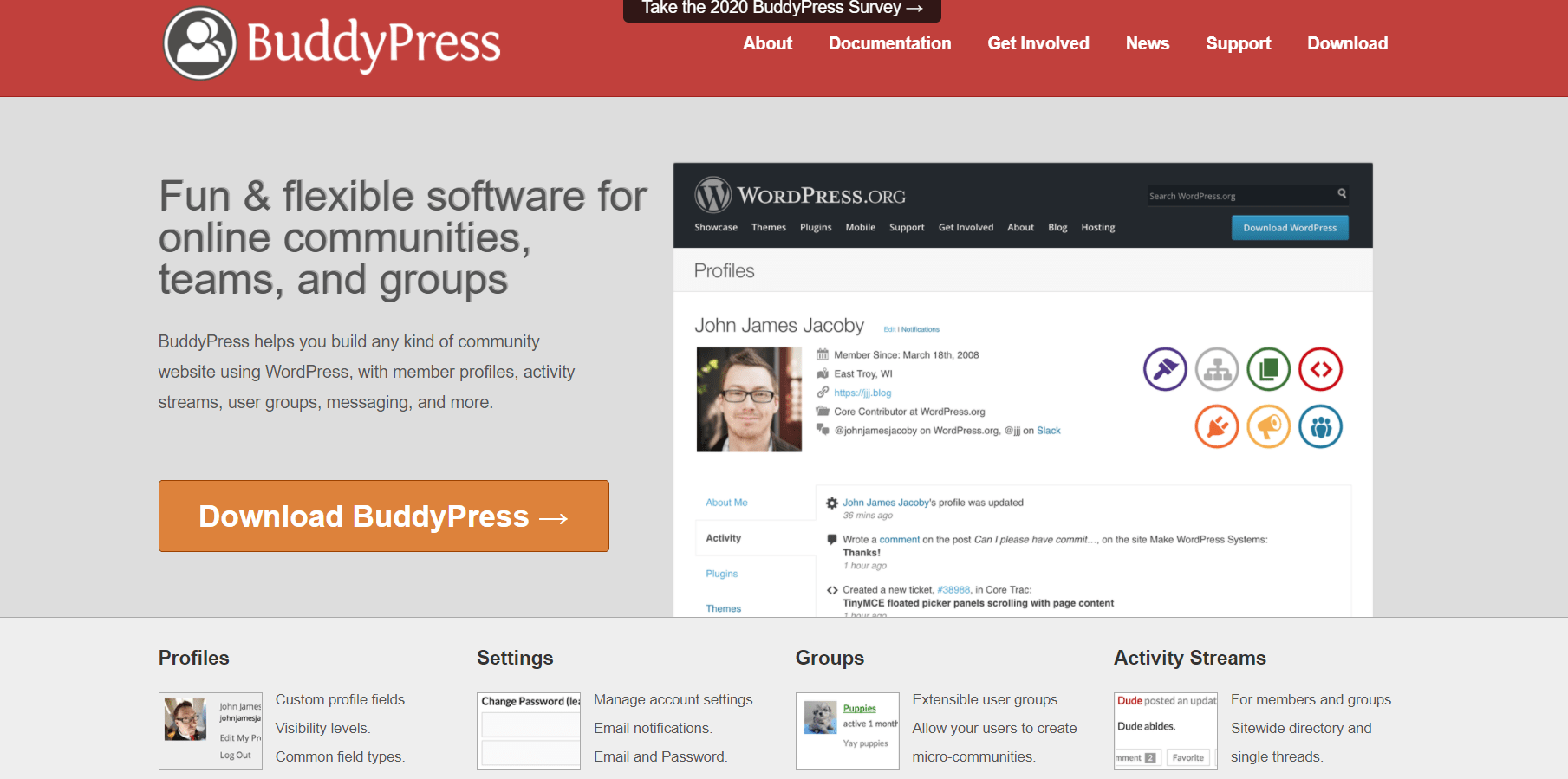 You are not forced to use all the features of BuddyPress, you can use just as much as you please and it will simply adjust to your needs for the same. It can amalgamate with straightaway with your website as well as with other plugins too. It will automatically disable the features that you have deselected.
The BuddyPress site has a General Public License and is meant as a project for open use i.e. for anyone to openly study, use, modify, and distribute for their purposes.
Some Commonly Seen Uses Of BuddyPress 
Concentrated community interests related to specific products and services.

A central instrument used for divulgence in your establishment.

An inner circle for internet communities of people having common likes and/or dislikes.

Merging with bbPress for the betterment of community symposiums.

A common media platform for schools or universities.
A quick sneak peek into BuddyPress & themes
Buddypress themes is a social networking WordPress plugin, which helps us to create a social environment for communication with our friends, clients, partners, family. It is a flexible software that facilitates collaboration & cooperation with certain businesses.
It even helps us interact with our target audiences and communities. Through buddy press, customers can create their profiles, send messages, form communities, and groups. Buddy press is well equipped with several components. It even provides good customer support services
Buddy press, a part of WordPress plugin when integrated with splendid add on features, and WordPress along with good themes provided, creates innumerable possibilities and opportunities for its users.
Best BuddyPress themes mentioned are, Boss, specifically created by the specialists of buddy press, with excellent designs and layout offering good customization options and have trusted customer support.
Secondly, kleo is one of the best seller WordPress themes, with the best quality pre-designed templates, it is a multi-purpose theme with remarkable features.
Thirdly, the reign is the best-suited WordPress theme for all the users thinking to form interactive websites and to create social space by creating their communities to have social networking. It has wonderful and easy functionality. We can even create personalized websites suited to our needs.
Benefits
BuddyPress themes are by far the easiest and quickest to install. You don't need a developer for its installation. Other than the fact that it is Free, this plugin is best integrated with WordPress. BuddyPress themes offer equal benefits to businesses and audiences. Here are the top benefits of using their themes:
It enables your business to instantly connect with its customers and vice versa.

The users can create their profile and build a network of their own, send messages and updates to each other.

Your users can reach out to you directly and get their queries solved faster. This will help you in building a loyal customer base.

Since it easily integrates with WordPress, the BuddyPress theme will automatically get updated with WordPress. This will save your time and ease out the complications associated with the support functions of managing different platforms.

As we know, BuddyPress is a content management system, all your updates, advertising promotions, and support can be conveyed through this one platform.

Almost all the BuddyPress themes have customizable templates with a drag and drop tool. This makes it easier for businesses to change the contents of the themes as per their requirements.

You can control and manage the working of your social media site. Your users can make changes to their profile and interactions if you permit. Also, you can restrict the operations of the members as per your policies.
11+ Best BuddyPress Themes In 2023 (OUR TOP PICKS)
1) Boss Theme
Buddyboss is also said to be the expert of Buddypress which has created Boss. The whole design structure of this theme is outstanding and premium. If the users of this theme are not convenient with the fact that your job site or www site is created as cheap and not willing to show it then the boss is one of the awesome choices you have made.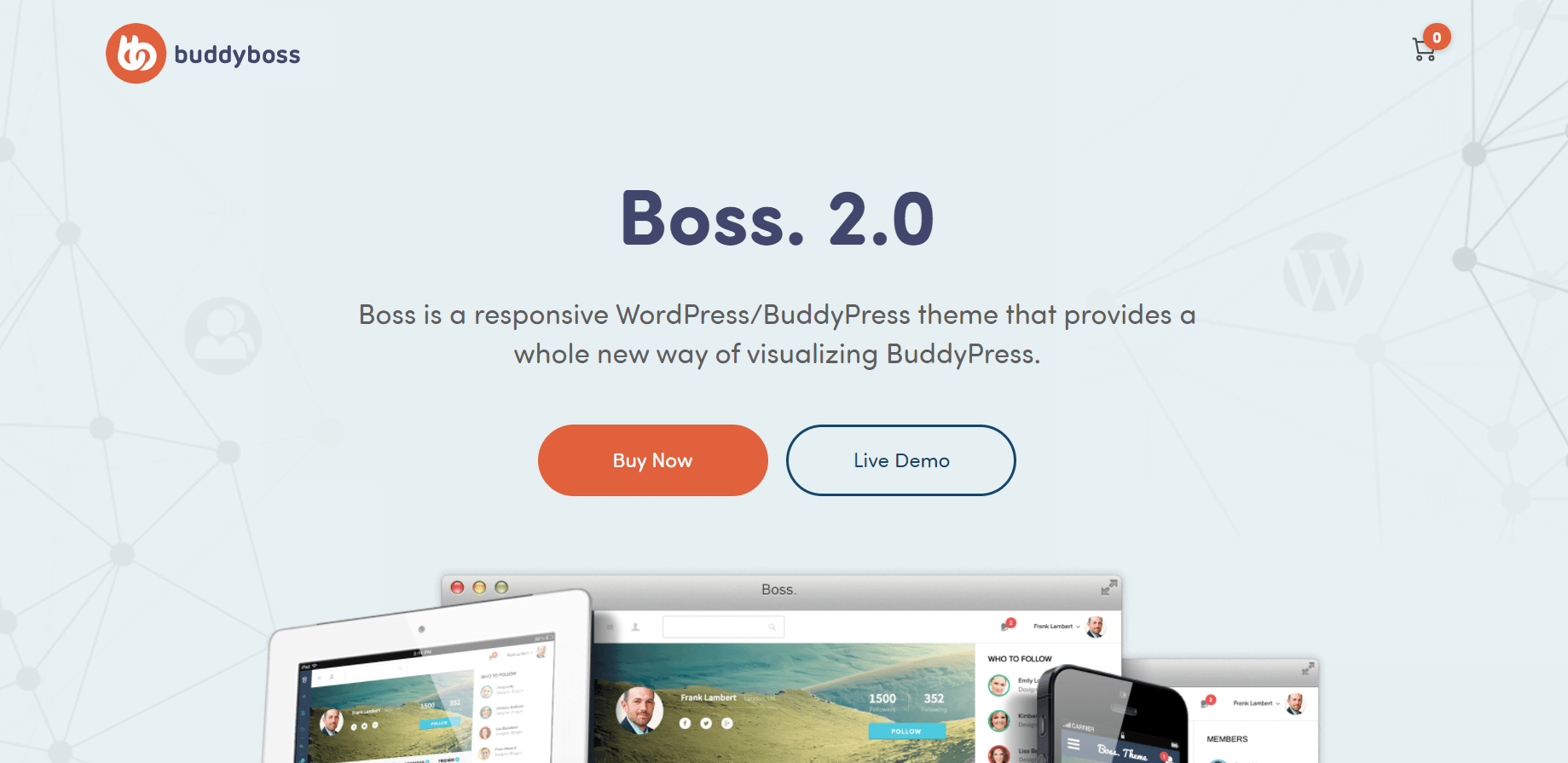 During the construction of the internet site, you have your jurisdiction all over the theme, templates, and design structure of the site. You can personalize the options with which you can handle, overall features and mountings and you can also know about your website programming works.
Verdict – if you are searching for the free membership plan pro plugin or multiple membership plans, the boss is the brilliant choice for themes as it offers you a practiced expansion system. It also provides you potentiality charges for ingress your internet sites by utilizing payment methods like Paypal, 2checkout, stipe.
2) Reign Theme
If you are looking to set in motion and need a bilateral website that not only consists of overall features but also has a beautiful and unique design then reign is the theme you are looking for. This is one of the uncompromising themes.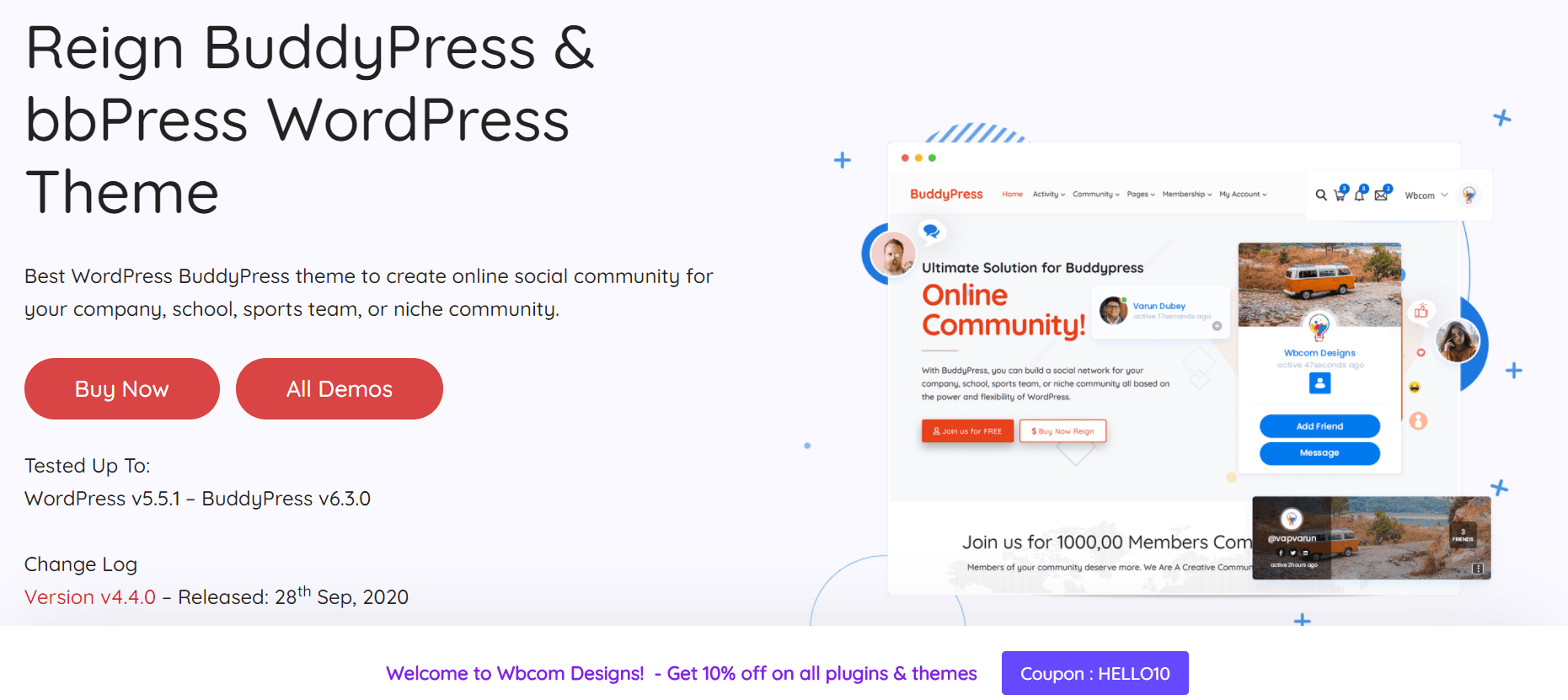 As reign can provide you with a good purchasing brace, vend the physical outcomes and also logarithm backups from your WordPress internet site are effortless and gathering the money after purchasing for other motives.
If you hesitate to personalize your internet site you can directly go to the control panel option and choose the suitable option.
Verdict – when you operate the BuddyPress theme in reign, it provides you multiple templates, designs, layouts and you also have access to some widgets which to show the Buddypress content, multiple features are available in this site like you can log in to the social media platform or search for any web pages or profiles.
3) BeSocial Theme
The features of the internet community have multiple offers and plans in BeSocial. Adding up the remarks and comments just like Facebook in your internet sites becomes very convenient and uncomplicated.
The audience on your website is given various options to be in touch with your content and with the others. The BuddyPress members can also be in contact with you and can see mutual friends on your website.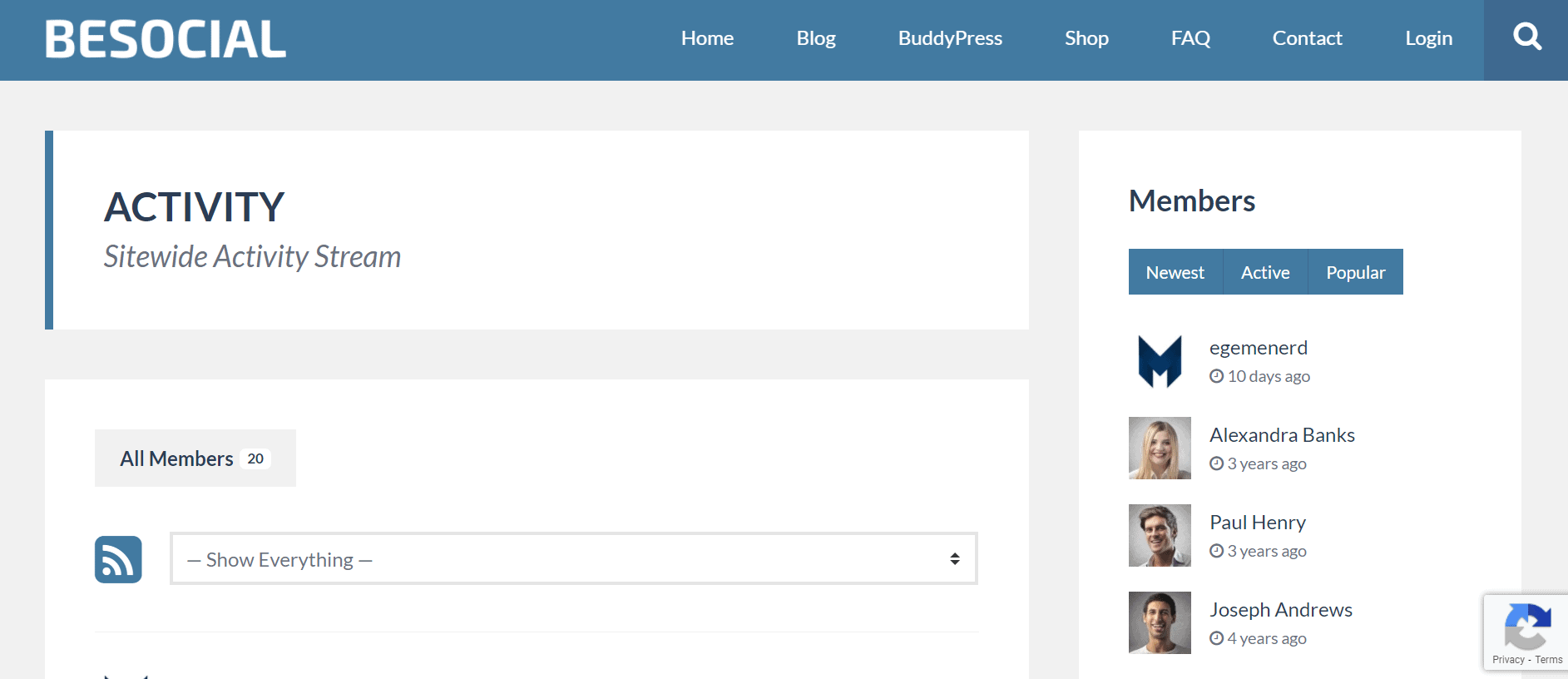 Adding the media like photos and videos is also one of the sections of the plan or package. You can also try the Admin demo of this theme, this special feature will help you to know more about BeSocial. The package also includes 20 usage widgets with fulfilling the features of the BeSocial theme.
Verdict – BeSocial is very useful when we talk about personalizing the internet sites and their separate pages. The page creation plugin for WordPress consists of almost all the features and functions which can satisfy your needs.
4) Thrive Theme
Thrive is one of the significant WordPress themes which helps you to construct internal networking, external networking, and also online internal community gateway. Using the devices, your audiences can also construct their profile and can come in contact with others at the same time.
All the gratified layouts are combined in this plan of thriving, including the signing up process with login and uploading the profile pictures. Thrive ensures to match your essentials and necessities. 
Verdict – Thrive compromises the premium slider revolution plugin, providing you the personalization in which you can easily prepare your demo slideshow presentation from only one scratch. These features give you routes to increase your online services in multiple amazing ways. 
5) Seeko Theme
Combining BuddyPress and WordPress, Seeko has been outlined to construct a group-friendly dating company. You can make your company website of any category with Seeko, if you are having an idea to begin a dating community internet site then you can look forward to this incredible theme and its amazing features.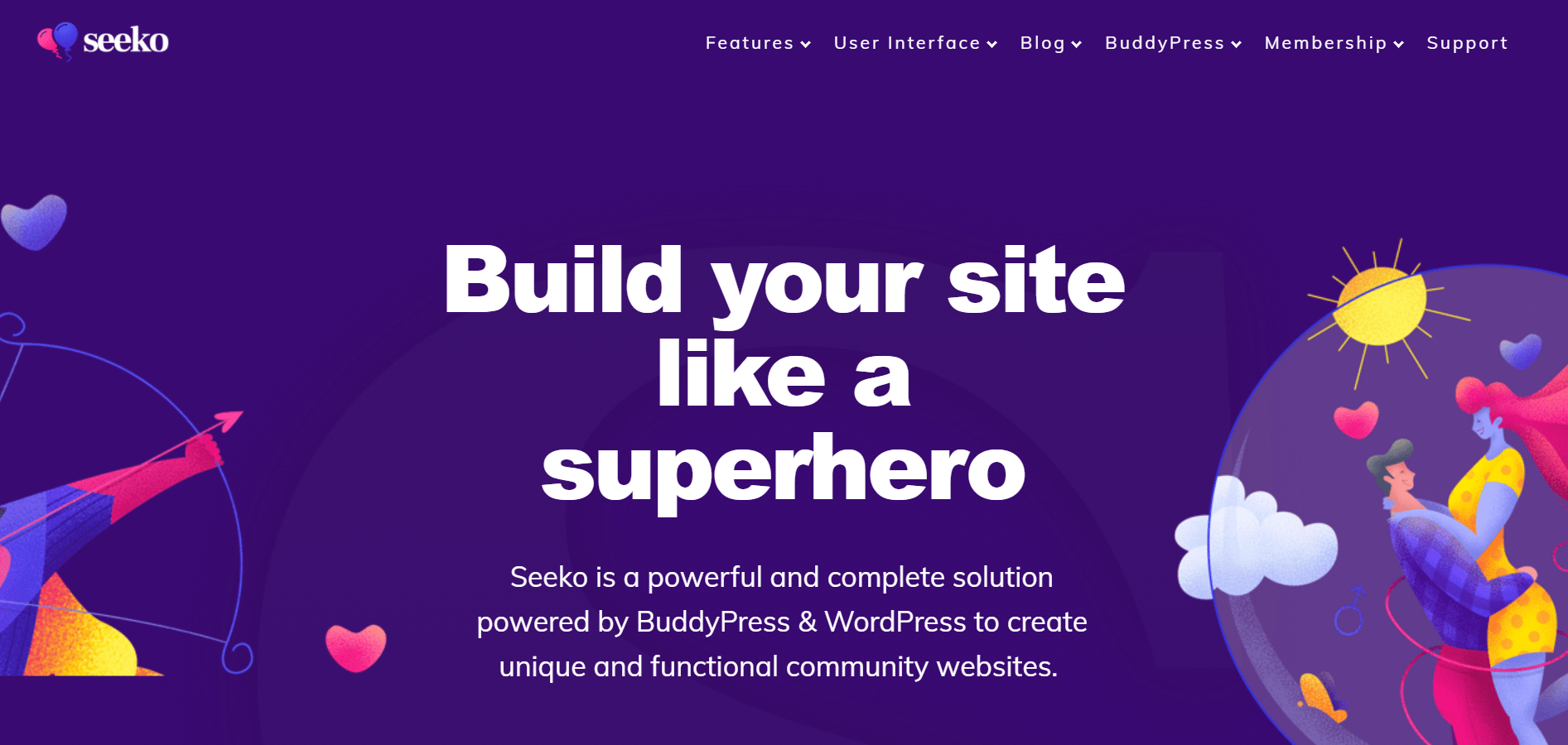 You should begin a substructure for this company rapidly if you are selecting Seeko. You can also rebuild and pleased the content and you will also get some of the amazing features which will help you to make your internet site a favorable result.
For instance, this website provides your audience to look for their perfect match even though you can adjust the features and characters of the theme.
Verdict – you can conveniently personalize the layouts and themes of the Seeko as per their package. Seeko is practical and easy too, you can also charge the users for using the internet site. The features here are very easy and well designed.
6) Lynk Theme
Lynk is an internet community wordprocess theme that is constructed in the presence of the BuddyPress plugin. When you are launching with the websites for the visitor, Lynk has multiple types of demos.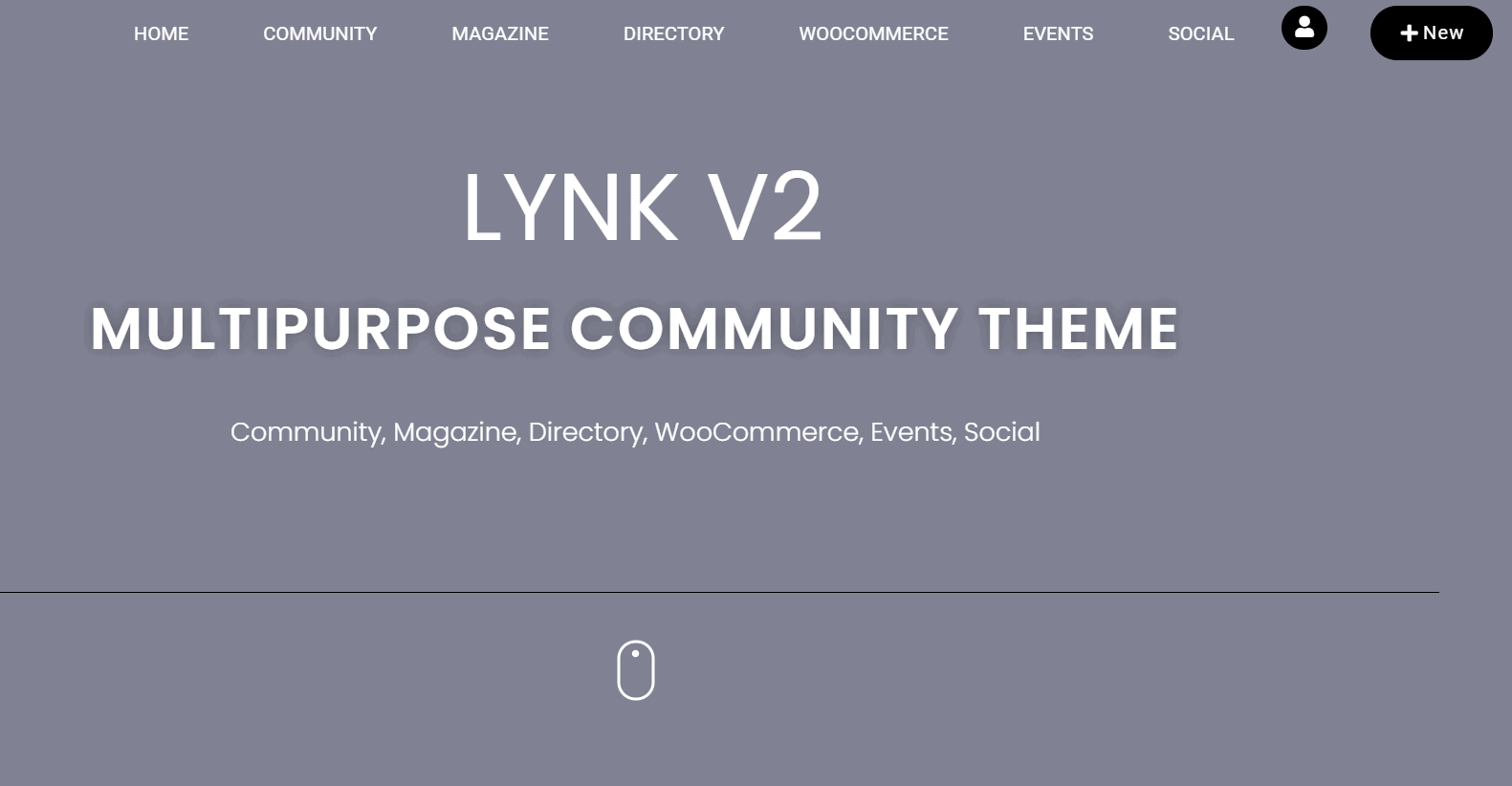 You can show your audience and also explore them with these demos on the Lynk site. Not only this, the demos consist of the layouts and templates for mutual magazines, e-magazines, social media, and also many online company sites. Every type of demos will give an idea to your audience about how your website page visualizes in real.
Verdict – the most important feature of the linked website is a one-click demo importer device, it is an amazing fitting in the website as it tells you the to get up the system and organization and a useful precept or say online documentation rules that make you understand how to utilize this theme. It also has access to sell the products online or they also set a particular amount for your users to use or visit your content.
7) Cera Theme
If you have a private WordPress network and you want a theme for your intranet websites; the Cera is the best option for you. This theme derives its advantageous features from its renowned social networking plugin.
You have the ease to add members and group directories to your website with the help of their features and functional aspects. You have options to display the list of your user list in a comprehensible format with wide range of details. It has an eye-catchy user-friendly dashboard area and credibility to your users.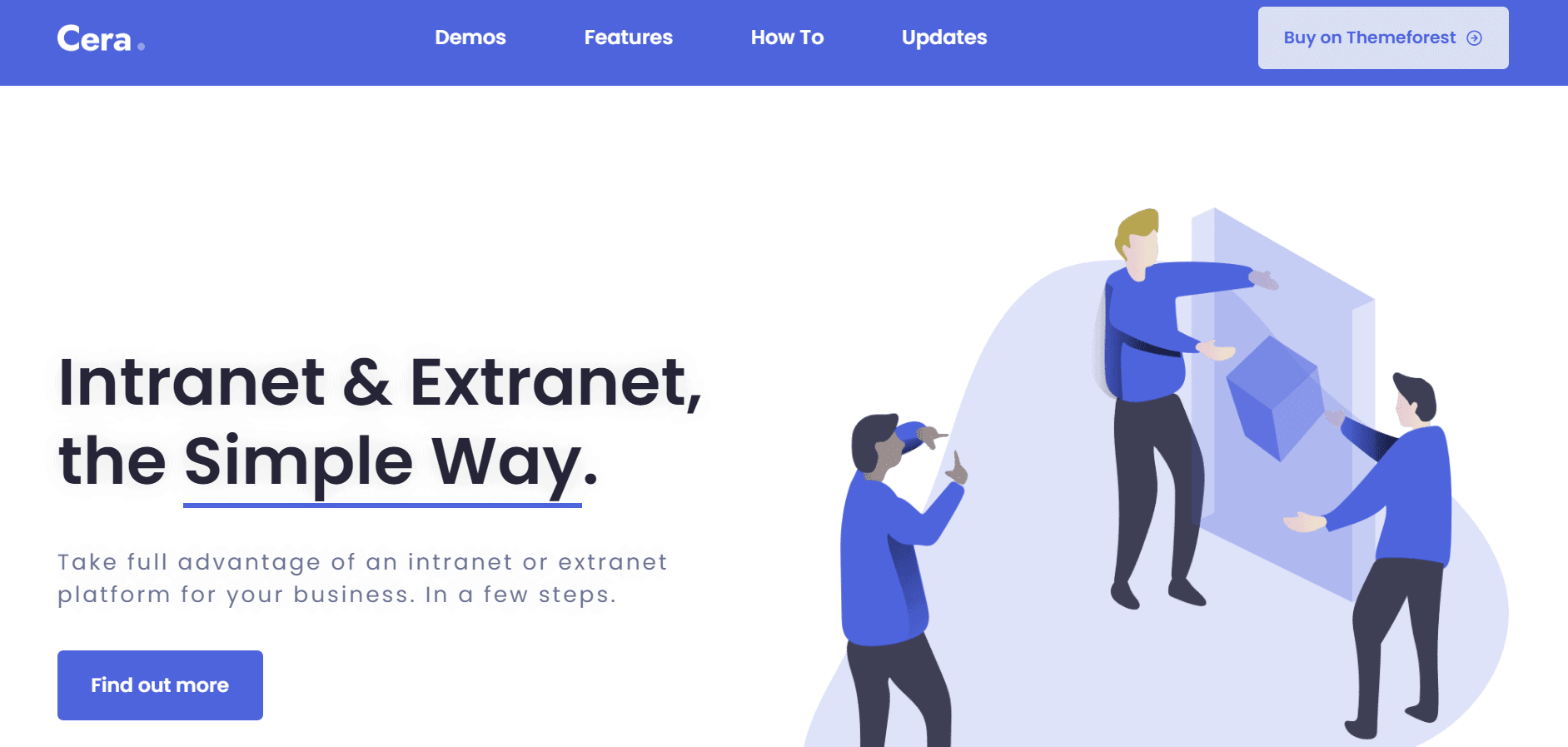 Your users can communicate through the medium of the website itself. Safe private communication and texting system makes it more effortless to access the features even when in an alarm of a technical glitch.
It is also compatible with the bbPress plugin and allows you to design a section where registered users can post their messages, discuss questions and opinions or share ideas, and get acquainted.
Its add-on makes it more sociable and interactive. Cera theme avails a lot of templates to choose from and customize from. It also provides 4 different demos to its clients and lets them choose the best for themselves. With Cera you have the liberty to add more features according to needs and interests.
8) KLEO Theme
KLEO theme is the most renowned theme among the users when you consider the ThemeForest BuddyPress category. To date, it has made more than 20,000 sales. Basically, it is among the most popular multi-purpose Plugins which includes more than 40 stack the deck user templates along with demos for different situations.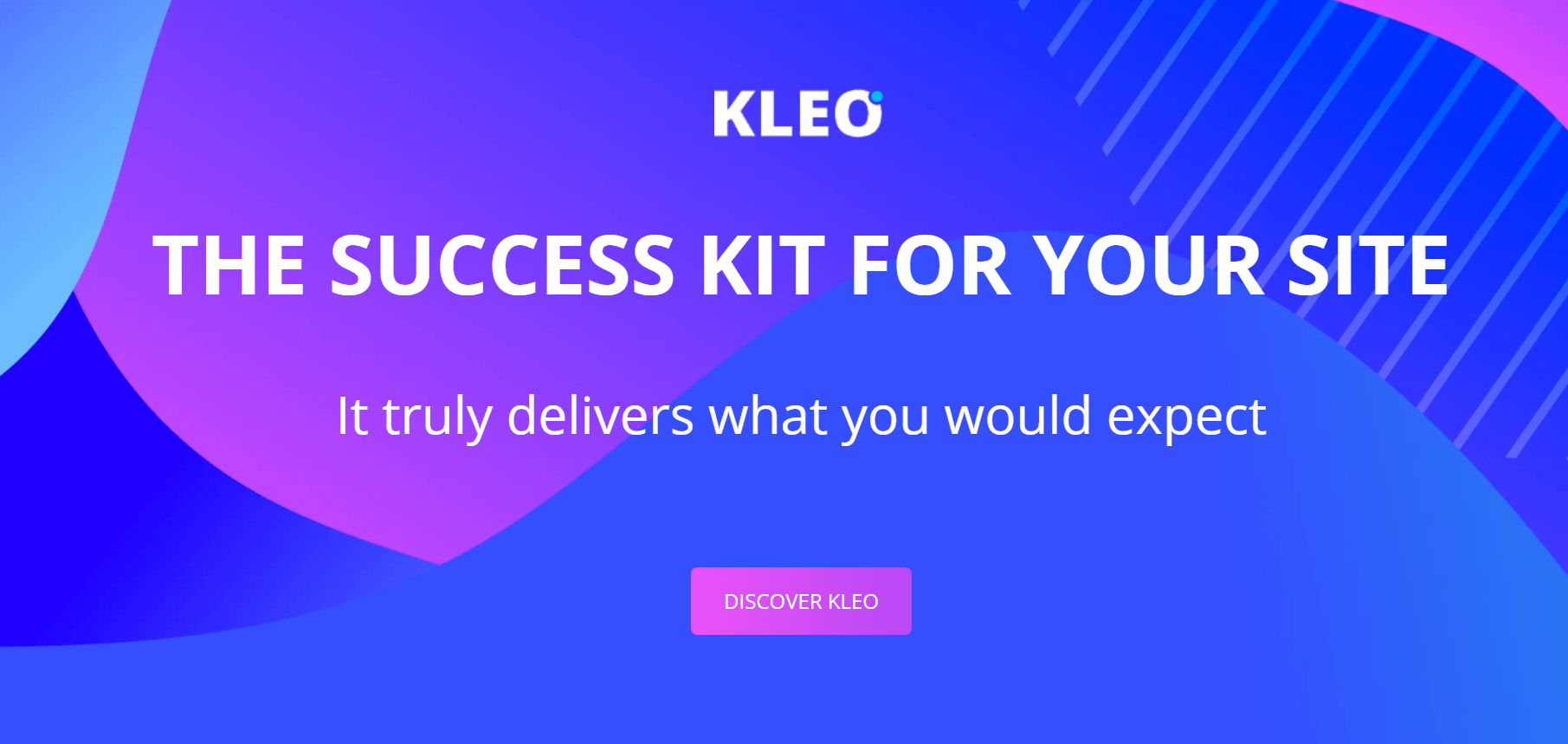 Literally KLEO is a factotum of all the available trendy and premium features known to the WordPress sites. These features allure many BuddyPress users.
It is a full-fledged package that has page templates for website creation, social networking, and growing an online community. A BuddyPress Profile has a simple search tool and a backup with a geo-directory plugin which are very useful in adding location-based posts and features in the community.
KLEO provides you innumerable customizable designs along with stunning third party plugin integration for the inclusion of various additional features to your site. You can download the demos in just a few clicks. KLEO not only claims but proves to be a Multi-purpose theme. With KLEO you can add shops, blogs, e-Learning, forums, and much more in almost no time.
9) Olympus Theme
Olympus' theme is generally used for social networking.  The unique templates make it a worthy option for the BuddyPress websites. It allows you to add unlimited social networking features and there is no end to the number of communities you can include on the site.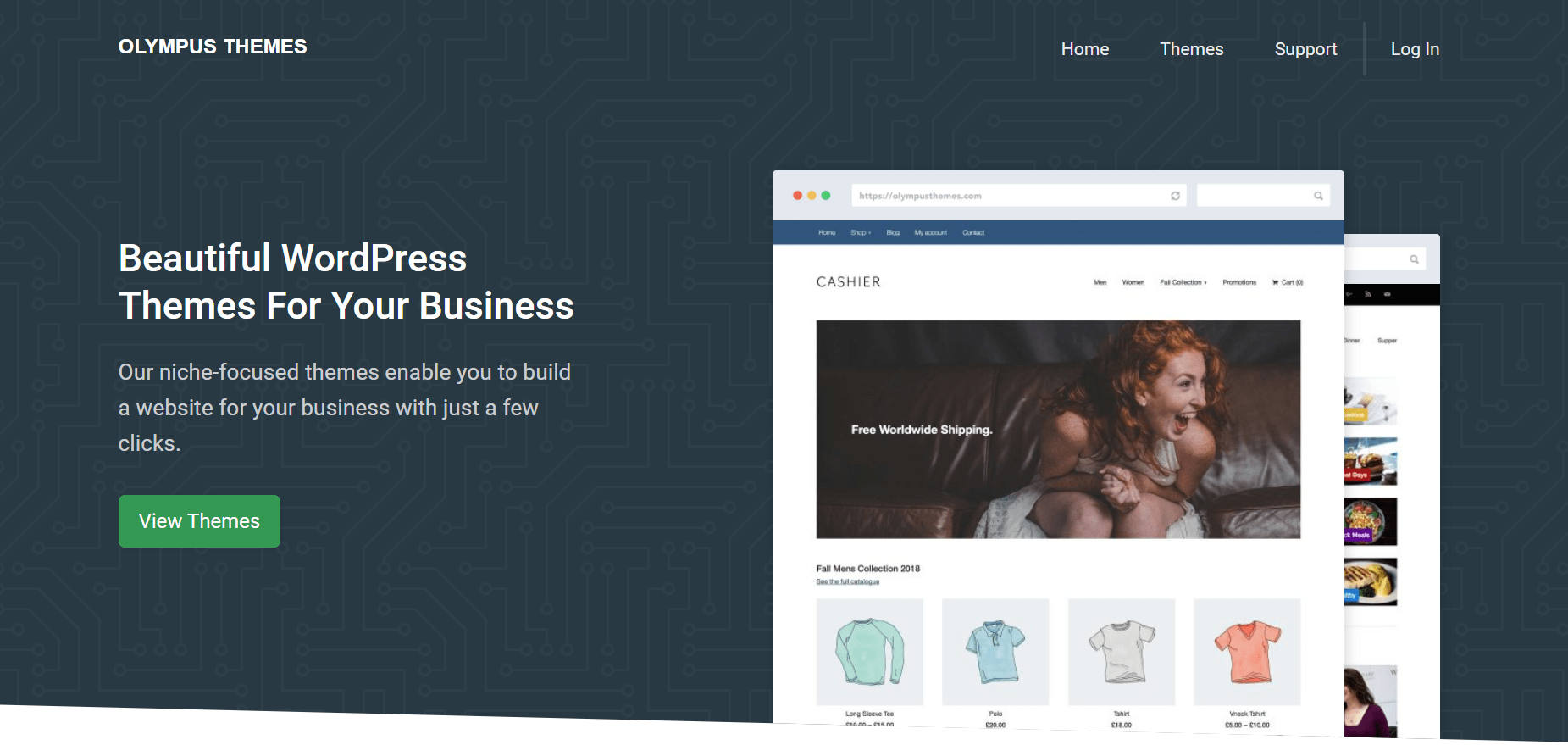 It avails the visitor with demos, wherein it shows the procedure to create online directories, event sites, and online retail business. It is the decision of the user whether he wants to add a FAQ section, an activity wall, or a profile diary to his website.
It even aids you in the creation of a social media community on the basis of your topic of interest. Olympus does this by presenting a user profile in a fashionable manner and adding a profile picture, contact details, or optimized newsfeed on the webpage.
The privacy of the user is given the utmost priority and security of data is properly taken care of. Olympus is an entirely customizable theme including the WPBakery page builder plugin.
10) Cinematix Theme
Cinematic has a bold visual display that makes it unique in comparison to other themes. It provides a 10 color inclusion scheme that attracts the interest of its users if he likes his websites more vibrant and fluid.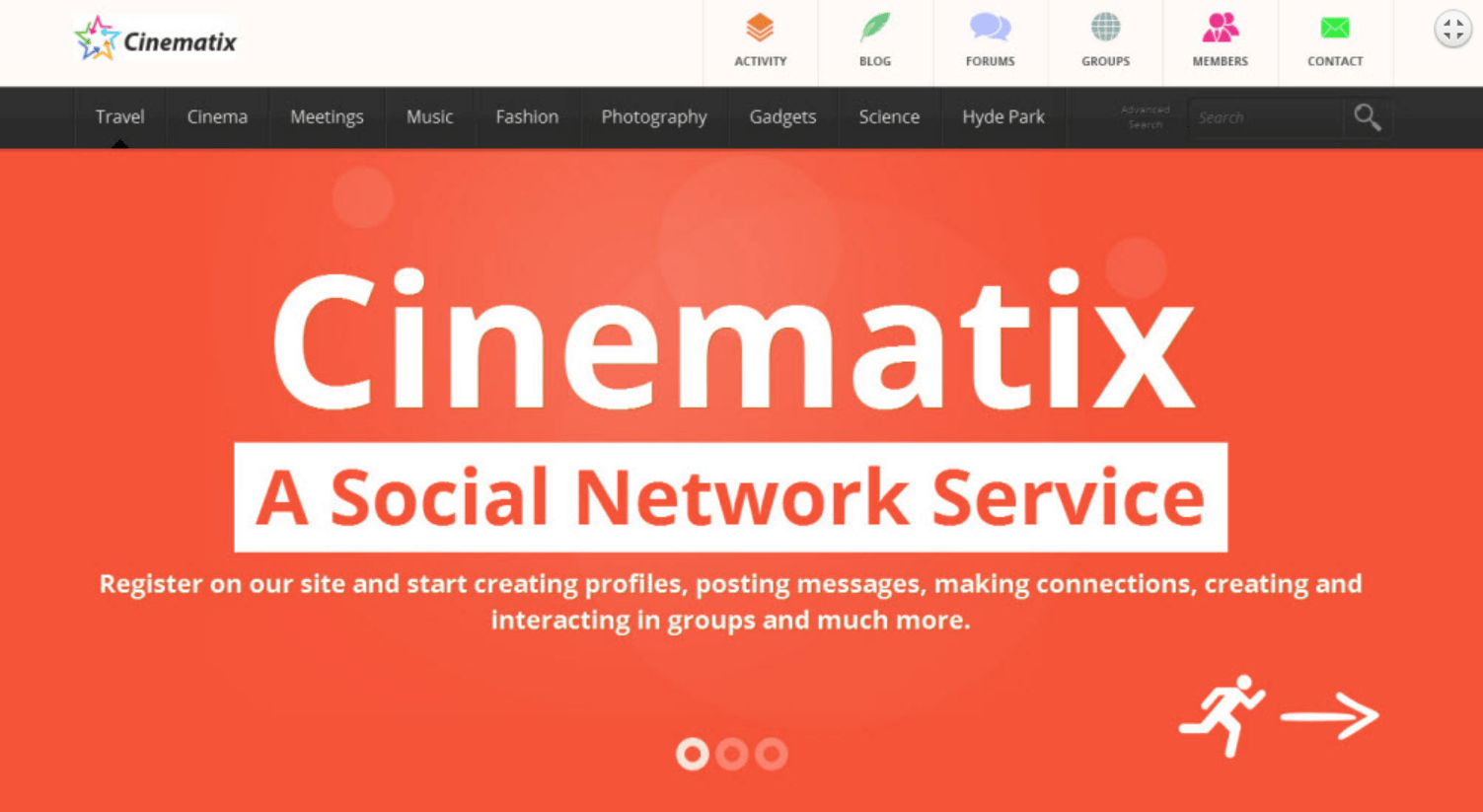 Out of the two front-page alternates that it has to offer, the metro- design is the personal favorite of its user. Along with a wide range of shortcodes, it provides templates that are more in breadth than the conventional 1280ps width. 
It is friendly to BBPress and BuddyPress sites. Although you can add this theme in your WooCommerce or any other event manager. You will encounter no difficulty in using it with WordPress Multisite network. 
It comes with a unique feature of a global button, more than 40 well designed social pages, built-in fragment cache, etc. The makers of this theme believe that language should not be a barrier for anyone, so they incorporated it with efficient translation tools.
You can easily install the demo in just a single click. Its efficient responsive mechanism allows real-time trade of physical goods and live notification.
11) Socialize Theme
Provides animation effects that have been designed solely to attract viewers of your page and to hopefully bring them back once again. It provides you with six different options to choose the layout of your website.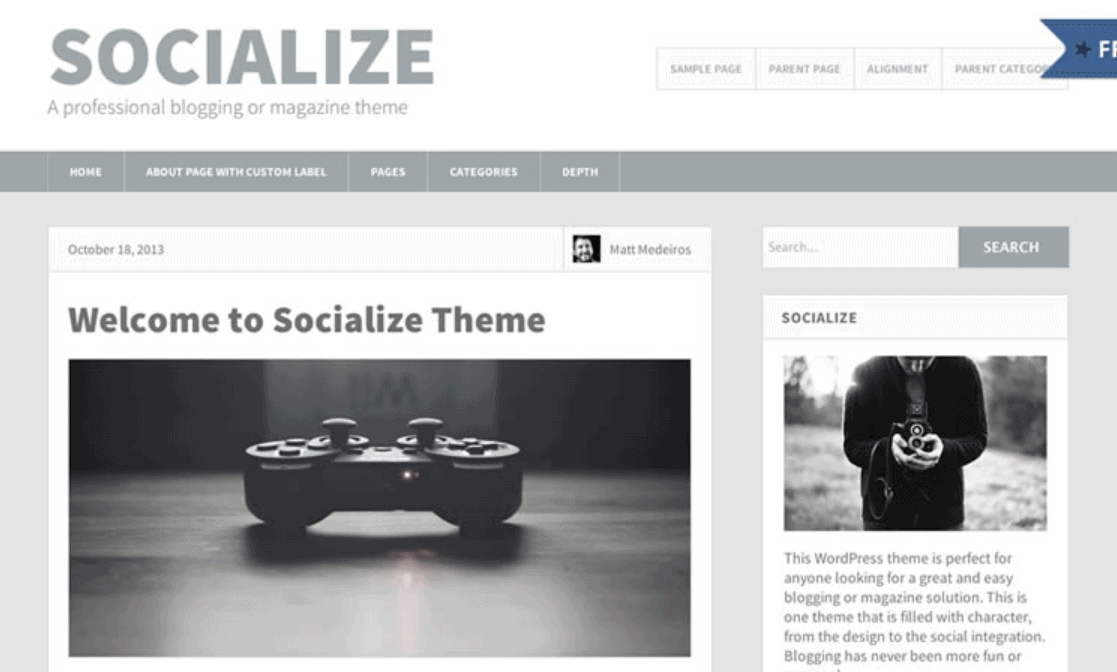 Best of all it can be used for many purposes, and it's not targeted at one particular niche.
12) Sweet Date Theme
This template as you probably guessed from the name is primarily for dating websites. But the benefit of this template is that one can customize it quite easily. Yet you must integrate it with Paid Membership Pro, as it is a membership-based platform that you are building.
The feature that puts the "Sweet" in the Sweet Date template is that you can build any kind of community you want on your platform!           
Pros
The buddy press themes can establish a community that gives boosts to the website, involving and allowing the target audience to interact and share a social space.

The offered themes of WordPress plugins are very much reliable, feasible,& adaptable.

It is extremely customer-friendly, provided with features of famous websites like Facebook and Twitter.

Customers and clients can register and contribute to a much larger audience for the website.

Buddy press is easy to use, based on the functionality of websites like Facebook.
       Requires similar working and operational features.
  It has a hospitable group of the customer support team. Many customers found their experience and interaction with them as completely fantastic. The team is 24×7 willing to help to resolve an issue.

It has been integrated with social networking platforms. Which proves out to be a humongous benefit for all the users.

It has modern designed and customized templates.

It has been worth working on such features giving a boost to the website.

 It has reliable email alerts and other notification features.

It even helps all the non-technology freaks to create such a social networking website. Helps them in building an online community for businesses.
Cons
Some of the features of buddy press themes like buddy boss lack options of customization & personalization.

Sometimes it is extremely hard to learn about some features and options, & without required tutorials, we cannot figure out its functionality.

The Setting option is not systematically laid, it does not indicate the option we search for, which contributes buddy press themes to the major fault and disadvantage.

Buddy press does not offer and serves all customers equally.

Buddy press has contributors who are genuinely devoting their 24×7and are full time working without any remuneration in return.
hence, they are unpaid for their job
The development is time-consuming and extremely slow.

Sometimes It does not offer ideal solutions to those clients who are willing to create their social sphere by expanding their online community and presence specifically on WordPress.

Buddy press somewhat is very incomplete, plugins are needed to be added for some basic features. And some added features are really hard to understand and discover.

A website with numerous plugins introduced by various developers, different customer experiences, and whenever there's any plugin update, the other one is lost summing up poor experiences of the users.

Buddy press in real life has some features which are extremely difficult to customize.
FAQs
On which operating systems can we test or check our themes?
The themes can be checked on the latest versions of safari, followed by Internet explorer. Themes can work on any of these operating systems. Yet, they work only on the newly installed version, not on the outdated ones.
Will the best buddy press themes work with my plugins?
Yes, the best buddy press themes work with the innumerable plugins. But, it does not provide you with assurance to work within the specified plugin. There are countless buddy press and WordPress plugins, therefore, it feels highly difficult to go about testing the themes with each kind of set up. It cannot be tested with any required themes specifically.
What kinds of videos and pictures a user can insert in wall posts?
A user can insert images with ( gif, jpeg, png ) only when a customer enables the option of "user photo uploading".Even the videos and pictures can be inserted from the required websites by pasting the link or URL from Instagram, daily motion, YouTube ( private videos cannot be attached), and other such websites allow them to refer to hold attachments.
Quick Links:
Conclusion: Best BuddyPress Themes 2023
Here, we have seen that BuddyPress is a free plugin for WordPress and one of the most efficient content management systems. The themes offered, make your website look good and organized. As we can see BuddyPress has a large variety of themes in their kitty. Every theme has competitive features.
Whatever your vision of the website you want to build or the way you want to interact with your audience, BuddyPress themes fulfill all your requirements based on your needs. You can create your interactive website which looks great and offers ease of use to your audience.
The themes come with pre-designed templates, customizable options, and useful widgets. You can create online directories, digital downloads, online shops, and also add an LMS component to your website.
Your search for a free WordPress theme ends with BuddyPress. Both, when combined become one of the best and powerful platforms available today.