You want to create an amazing learning environment for your students, but you don't know-how.
Not only is it hard to create a great learning environment, but it's also difficult to find the right tools that support your students from wherever they are in the world.
BuddyBoss uses WordPress plugins by building custom solutions to address specific project needs. They have a base in Vancouver, Canada. The team is disturbed across ten different countries and regularly sponsors Word camp events globally.
BuddyBoss is used by thousands to manage their content.  You can also sell your content at BuddyBoss which helps in growing your business.
BuddyBoss Review: Should You Consider It?
BuddyBoss is a platform that helps you in creating online communities. Buddyboss is a theme that aids in the operation of a website.
BuddyBoss allows you to create a platform for open or private groups, as well as private messages.
BuddyBoss allows you to promote products and expand your business globally using free or paid plug-ins. It helps in the promotion of your products as well as attracting a large audience to your website and generating sales.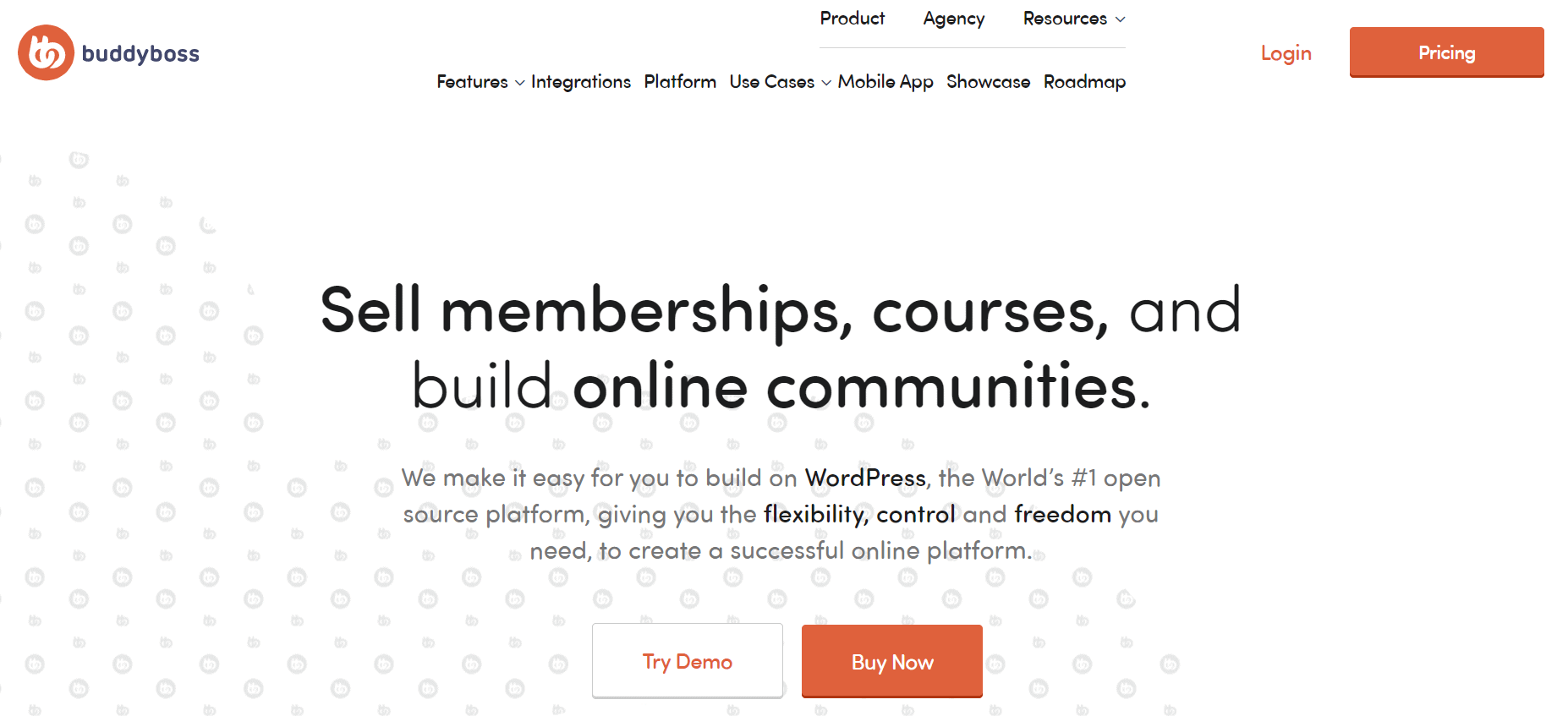 The BuddyBoss theme is more than WordPress themes, but the value it provides is enormous.
BuddyBoss provides excellent customer service. When you encounter an error or any other type of issue or problem on the website, customer support is always available. They will be available 24 hours a day, 7 days a week, with people working in various time zones and shifts around the world.
How to log-in To BuddyBoss Account?
You are just a few steps away to build your community with BuddyBoss.
Some given below instructions need to be followed:-
1. Install or download WordPress.
2. After this, BuddyBoss needs to be downloaded.
3. Now, log-in to your WordPress account and access the domain or the dashboard.
4. Click on Add-new (in the plug-in)       
5. Click and upload the zip file, BuddyBoss-platform.in
6. Click active once it finishes off with uploading.
Before downloading the BuddyBoss Platform, make sure you meet all the requirements for the Word Press and the server. 
What Features Does BuddyBoss Offer? 
BuddyBoss has a number of features that help users and customers stay connected to your products and services. BuddyBoss has the following features to offer.
1. Community:
Buddyboss believes in teamwork and bringing people closer to your brand. As a result, it highlights the community feature, which helps your customers or followers stay connected to your brand.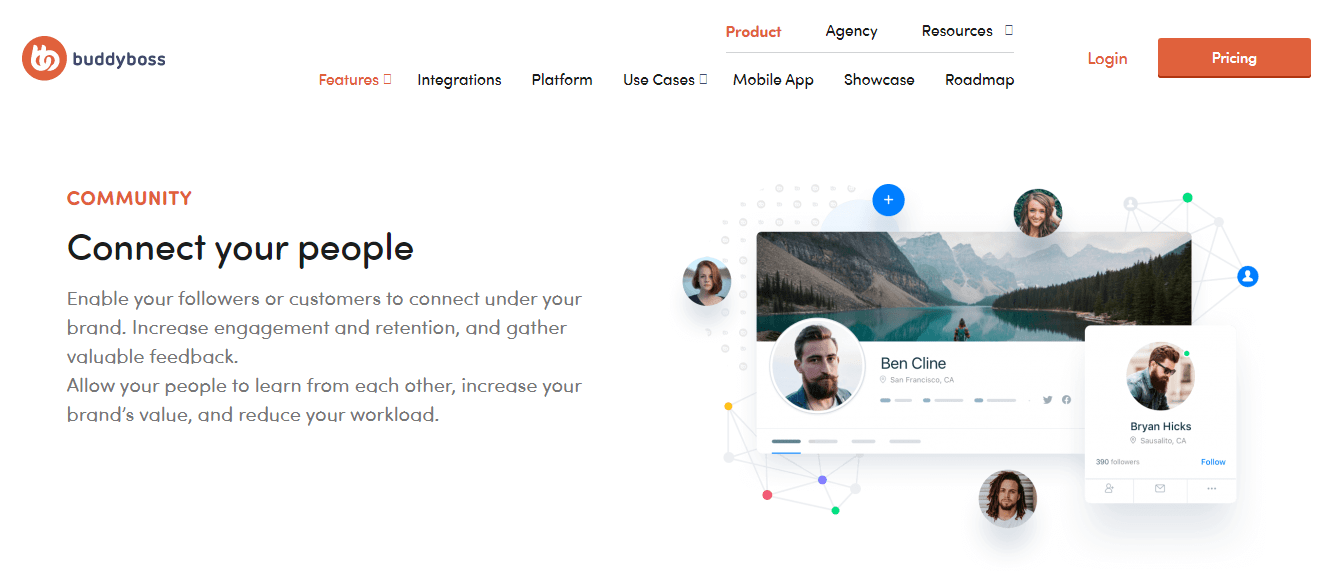 It aids in increasing user engagement and keeps track of feedback. It also assists your employees in learning from one another and increases the value of your brand. BuddyBoss offers a variety of services, such as:
1. Member profiles: Any member of the community gets the opportunity to customize his profile which enables them to share their details.
2. Social groups:  The members of the community can organize themselves into public, and private groups.
3. Forum discussions: Forum discussions helps the members to communicate with one another in defined structures and bulletin–board style.
4. Private messaging: Private messaging enables the members to interact with each other individually or in their social groups.
5. Album and media: BuddyBoss offers album and media features to help your brands and individuals be more creative. These features allow anyone to upload and share photographs and pictures, organize them into albums, and check comments.
6. Events: It provides an inbuilt styling for popular events, calendar pros, and other extensions.
2. Monetize:
BuddyBoss integrates seamlessly with WooCommerce, allowing you to sell access to your community members. You can charge members a one-time fee for access to your community and courses, which helps you generate revenue.
BuddyBoss provides the following features to monetize your community
Subscriptions and memberships,

WooCommerce store

One-time purchases

Membership plugin integrations
3. eLearning:
BuddyBoss has a feature that allows you to create and sell online courses. It enables you to create, launch, and share your course with your group and communities, as well as for members of your community to learn from one another in one place.
BuddyBoss aligns with the LearnDash learning management, which allows you to create and supervise your courses from the WordPress Dashboard.
Learndash is sold as an extension and is necessary for allowing eLearning features.
BuddyBoss has developed action sequences that make your course more useful to your members and customers. It has the following features:
LearnDash learning management integration

Customizing Courses

Conducting Quizzes

Drip feed content

Reports

Certificate
4. Gamify:
BuddyBoss allows you to engage your members and followers in a variety of fun activities that encourage them to stay connected to your course and community.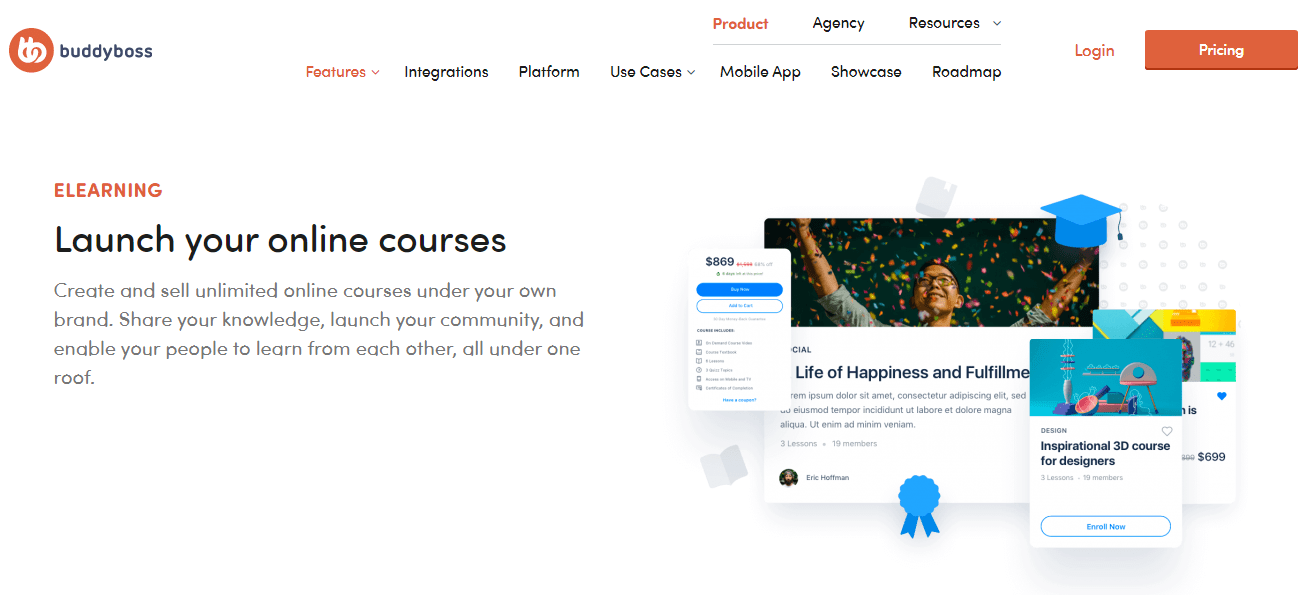 It instructs members on how to earn badges, points, and ranks, as well as receive certificates and achievements. This gives your followers a sense of authority and encourages them to follow along.
Points

Ranks

Rewards

Achievements
5. Setup and Customize :
BuddyBoss provides a clean and clear platform where you can customize your brand with your own choices.
It provides you a while label background that can adopt your brand, and the open–source solution design is flexible to meet your brand requirements.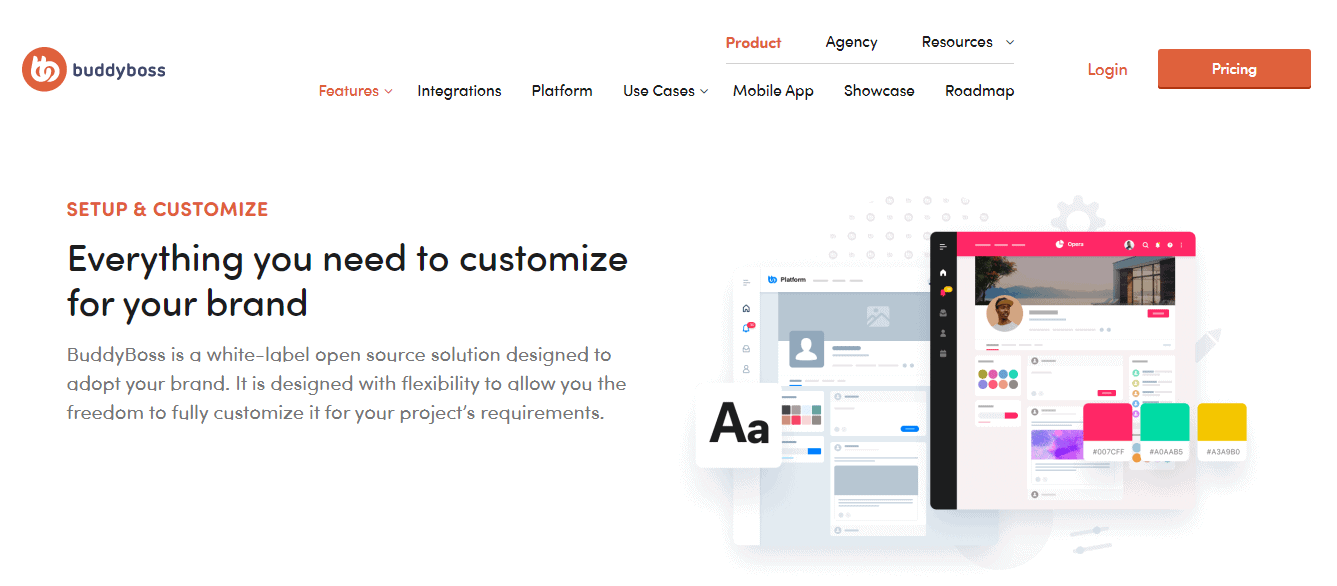 It offers the following features:

Demo

data

import

Multi

–

lingual

and

RTL

support

While

label

and

branding

Flexible

layouts

Page

Builder

integrations

Custom

header

and

footer
6. Mobile app:
Customers and followers of your brand are on their phones. As a result, you must maintain contact with them at all times.
BuddyBoss provides you with a mobile app that allows your members to easily access your courses or communities, which leads to the development of loyal followers.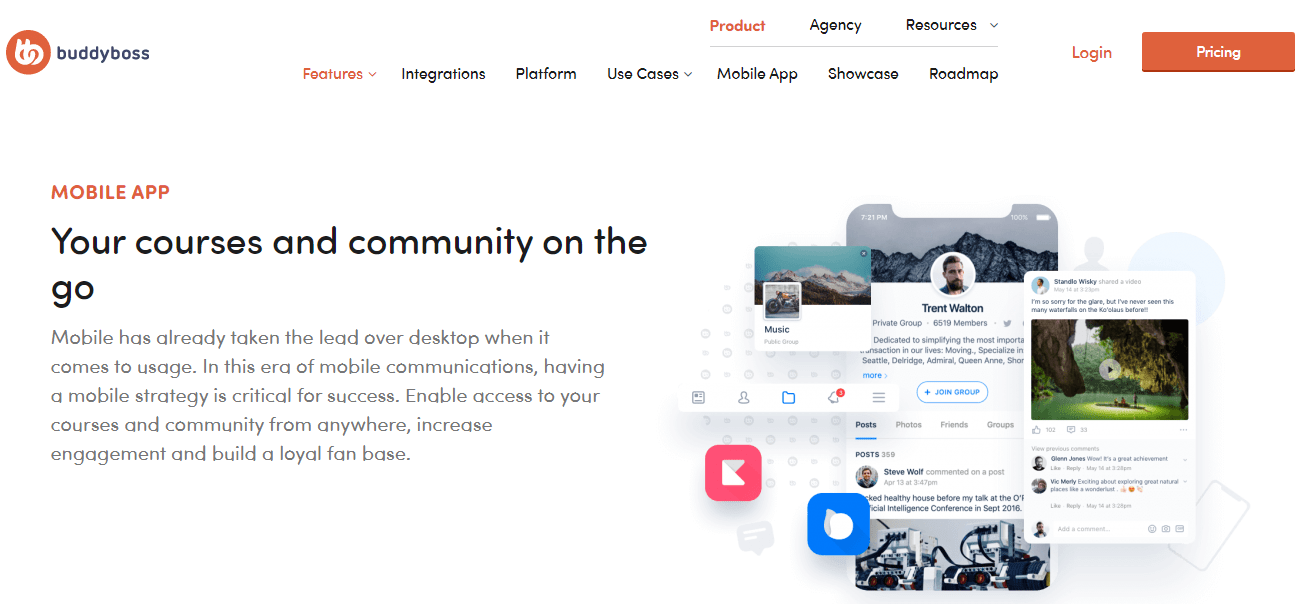 Buddyboss extends its services with: 

White label mobile app

Native iOS and Android App

In-app purchases

Real-time syncing with website

Push notifications

Published on your accounts
With all these means BuddyBoss enables you to get connected and retain your loyal customers.
BuddyBoss Customer support
BuddyBoss aims at creating a community platform, so it is dedicated to supporting the creation of your community. The BuddyBoss team is always ready to guide you through step-by-step procedures and also with video tutorials that help you to go through the platform.
The step-by-step instructions provided help you to customize your community portal. The team is always ready to answer your question, all you have to do is submit a ticket, The team will be ready to resolve the issue.
Help Desk
The documentation and FAQ section has most of your questions answered, yet if you feel any issues, the help desk of BuddyBoss is the only way you can raise your ticket and get support.
To approach the help desk one needs to have an authorized license for the product.
The BuddyBoss products are guaranteed for a 1–year update and have the permit to help desk, but once the duration comes to an end, the license expires.
BuddyBoss Service support:
BuddyBoss extends its services in the process of installation, configuration, and utilization of the product.
BuddyBoss Refund policy:
Buddyboss provides a 14– days refund policy. In case you dislike the product or you wish not to use the product, then feel free to approach  BuddyBoss and they will try to resolve the issue or refund the paid amount.
BuddyBoss Pricing Plans: How Much Does It Cost? 
Here are the pricing plans offered by BuddyBoss: 
1. Starter Plan
Ease your way by launching your website here.
This pack includes:-
BuddyBoss Theme

BuddyBoss Platform Pro
License for 1 site.
1-year priority support
1-year updates
The price of the starter plan is $228.
2. Pro Plan
A perfect solution that gives your business booze and growth. It is an upgraded version of the starter plan and includes further things:-
Gives you full priority support.

1-year support is being provided.

Gives you a license to 5 sites.
The price of the Pro Plan starts at $288.
3. Advance Plan
This plan will induce you to grow your business agency perfectly. This includes more facilities than the last two plans, Starter Plan and the Pro Plan.
Pro theme

Updates for 1 year

Gives you a license to 10 sites.
This package is priced at $348.
---
Pros and Cons Of BuddyBoss
Quick Links:
FAQs About Buddyboss Review
Is Buddyboss required to resume the license?
You do not have to be overhauled and recharge your permit. It happens consequently after 1 year. From the date of purchase of the package, your permit is substantial until one year. With a dynamic permit, you will proceed to get programmed overhauls and support.
Does BuddyBoss require Word Press to work?
Yes, completely it can work. BuddyBoss comes with a plug-in named, The BuddyBoss Stage, and a topic, The BuddyBoss Topic can be introduced on your Word Press. A Word Press installation is required to introduce all these on your Word Press.
What in case I ought to cancel my Buddyboss subscription?
After the buy of the arrangement, you will anytime cancel your membership. The permit key will not be actuated naturally and will lapse after 1 year from the date of buy. Once the permit is terminated, you won't be getting any back or overhauls, say any security update. Yes, but from your account region physically your permit can be re-established by enacting your subscription.
Conclusion: BuddyBoss Review 2023
BuddyBoss is your answer if you want to build an online community for your company. Even people with a non-tech background can easily use BuddyBoss to build their social community platform.
BuddyBoss is a boon for anyone searching for an intuitive and seamless solution to create and manage a social network to engage their existing users or build a community.