List Of Top Money Making Smartphone Apps 2023
12. Media Insiders:
You get to earn money by using your smartphone with this app. The app measures your normal activities like sharing, clicking, downloading, etc. The app also identifies the TV shows you enjoy watching on your phone.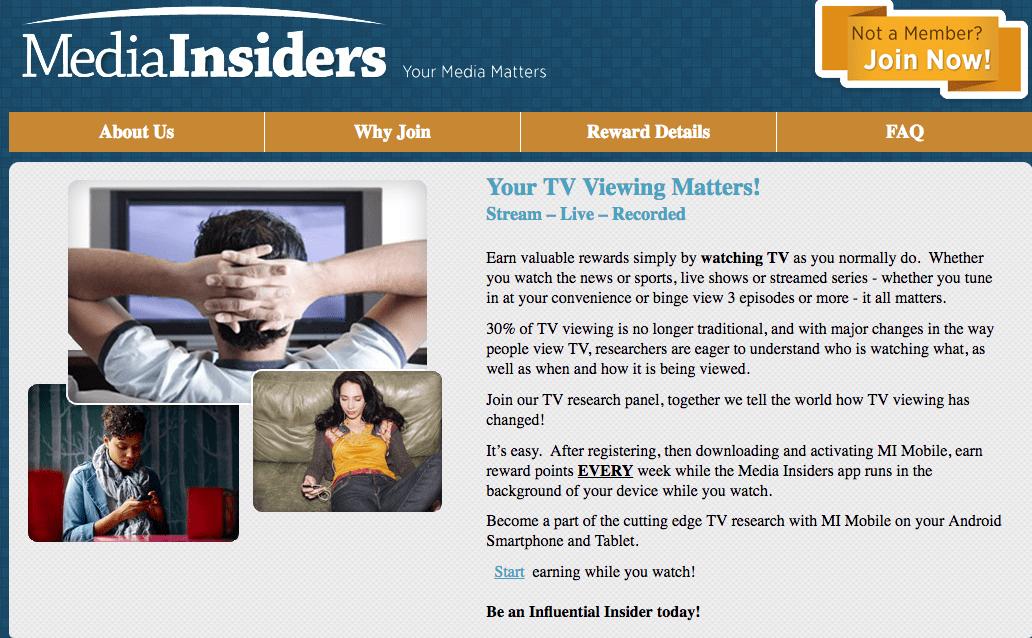 The best part of the app is – it lets you make money by simply doing what you generally do on your phone.

The app is basically a TV Viewing Research App through which you are rewarded for watching the TV shows on your mobile.

    Trust me; the rewards are piled up quickly!

The mission of the app is simple and straightforward. They only wish to know how the general audience view TV programs these days – Streamed, live, or otherwise.
       Just share your TV preferences with them, and they reward you!
Download and activate the app on your phone, and while you watch, TV makes sure the app is running in the background.
Also, install the app on three devices including your smartphone and tablet to triple your earnings!
Earn additional rewards for survey participation and more.
The payment is around $15 monthly + a bonus of $5 after completing 12 weeks. All this sums to $185 years as your passive income.
11. iBotta
Have you ever thought of earning money while you are shopping! Yes, with the iBotta app this is possible, and especially when you are doing grocery shopping, you earn gift cards and even cash!
Surely, iBotta is an excellent way to relieve you from the pain of grocery shopping and keeps you motivated.
The cash rewards are unlocked by simply finishing some of the home tasks. You can then buy products from any of their supported stores and send the picture of the receipt to the app. The supported stores are myriad in number right from Walmart to Target and CVS to Publix all are on their list.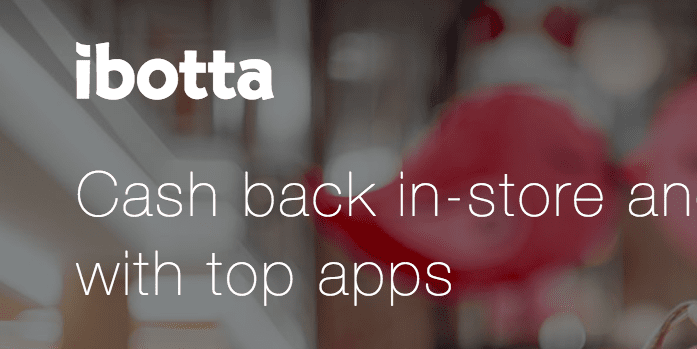 In 48 hours, the cash gets deposited into your account. Also, there is an option to link your loyalty account to add rewards while you shop. Other fantastic options in the app, lets to earn money when you buy through Boxed, Groupon, DoorDash, and other similar apps.
Get started by downloading iBotta for iPhone and Android.
10. Bitwalking
Did you ever think that you could earn money by simply walking? Yes, Bitwalking has made it possible. This app generates Bitwalking Dollars (BW$), a virtual currency like Bitcoin. When you walk, the app converts your steps into BW$.
By walking approximately 10,000 steps, you can earn 1BW$. On average, a US adult takes around 5117 steps daily so in a year he takes, 1,867,705 steps. Thus, earning around 186BW$ yearly.

Also, in developing countries, the app is doing amazingly well. Like, it has been reported by BBC that Salim Adam who belongs to Malawi walks 6 miles daily to reach his workplace. He earns $26 monthly and is able to earn 26BW$ as well monthly by only walking his way to work.
The virtual money collected through the app can be spent at Bitwalking Store and also at other third-party partners. Also, there is a facility to transfer your BW$ to somebody else's account, irrespective of their location.
9. Job Spotter
With Job Spotter, you don't earn cash directly but yes Credit at Amazon Store. Earning credits at Amazon is as good as earning hard cash, I believe!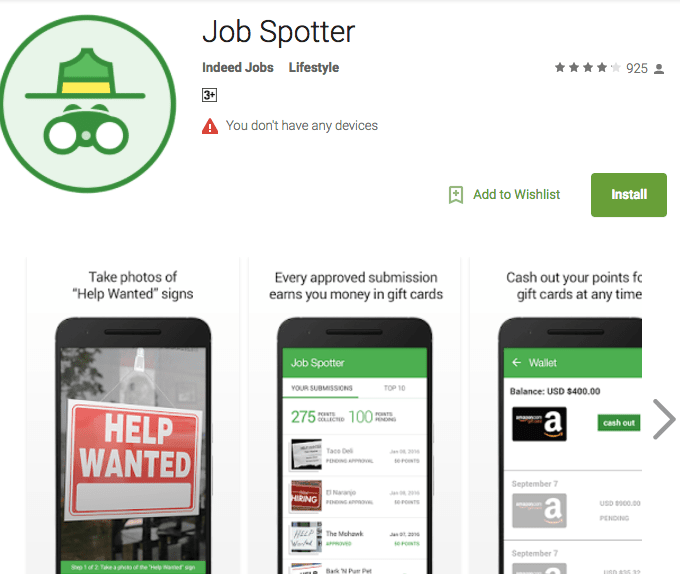 With this app, you can earn credits very quickly. Click photographs of the help wanted signs of the local businesses in your area and submit to the app. On every approval, you earn $.50 which gets converted to the Amazon Gift Card when you earn $1.
Keep on accumulating and spend on your spouse to give a surprise!
8. Swagbucks
I am sure you must have heard and used Swagbucks! Earn money by simply shopping online, taking surveys, or playing games online. Although, I'm sure many of you must be earning dollars through Swagbucks by watching videos in your ideal time.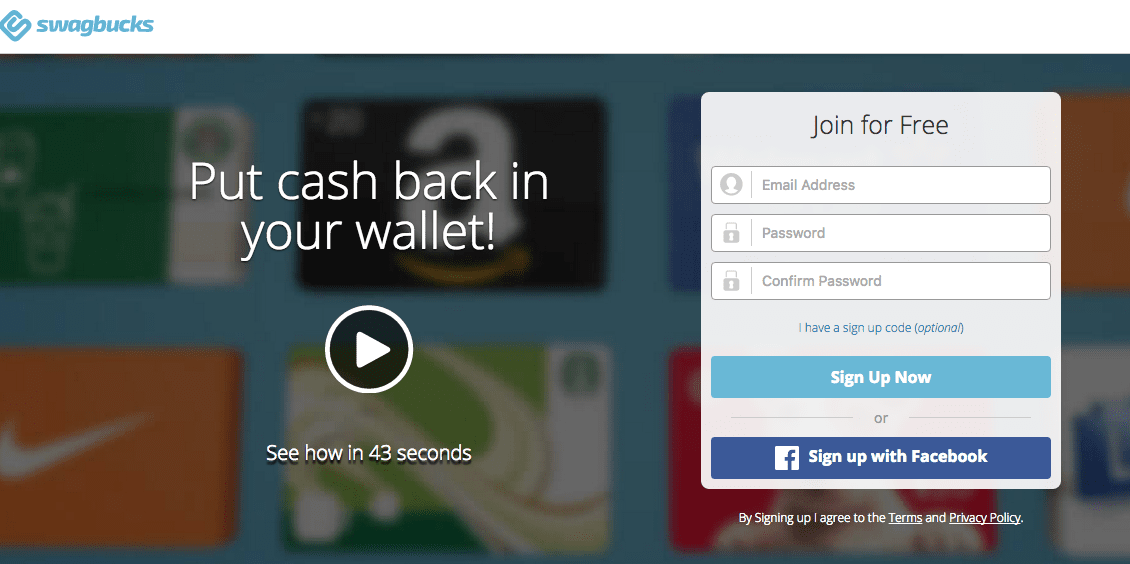 The app pays through PayPal or lets you earn gift cards from many e-commerce sites.
7. Cross Media Panel
Previously Cross Media Panel was known as Screenwise Panel. This app lets you earn $110 yearly.
The app is operated by Google and is just a research marketing program. The app allows you to understand your devices and the World Wide Web better to improve internet marketing.

To use this program, you will be required to download a browser extension. After joining, Cross Media Panel, you help Google in improving its search results and also aid websites to know more about the wonders of internet marketing.
The Information accumulated is based on the devices used, searches, and traffic patterns. The entire data is kept private, so no worries on the security aspect too.
By downloading the extension, your internet searches are analyzed, and you earn gift cards to be used at your favorite online stores.
6. Google Opinion Rewards
This app helps you earn money by answering survey questions on your Android mobiles. Many users call it Google Surveys also. It is a free app through which users make money by sharing their thoughts and opinions.
You can earn from 10 cents to 1 dollar by answering questions. To increase your income, you can even answer surveys in stores.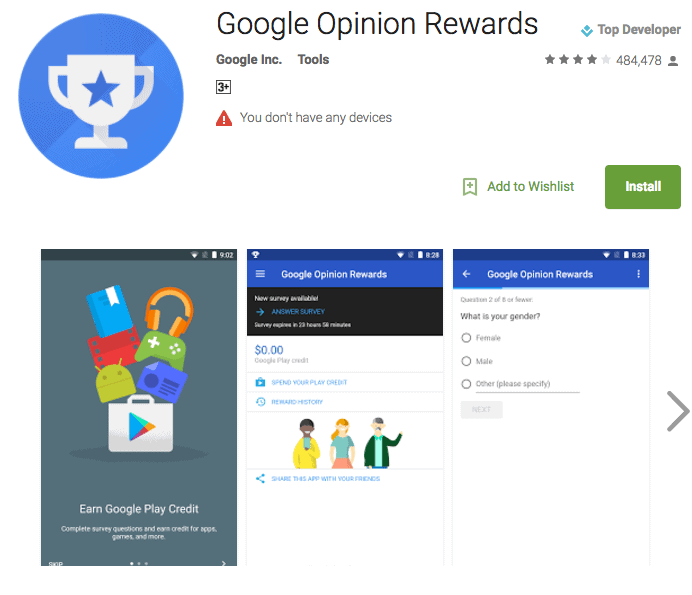 The money that you earn through this app can be used to buy movies, books, and even in-app purchases for your favorite games like Clash of Clans without spending your money.
Also read: 
5. Watch & Earn
After being successful in the year 2016, Watch & Earn App is going to rule 2017 also. You make money by watching videos and downloading apps in your free time.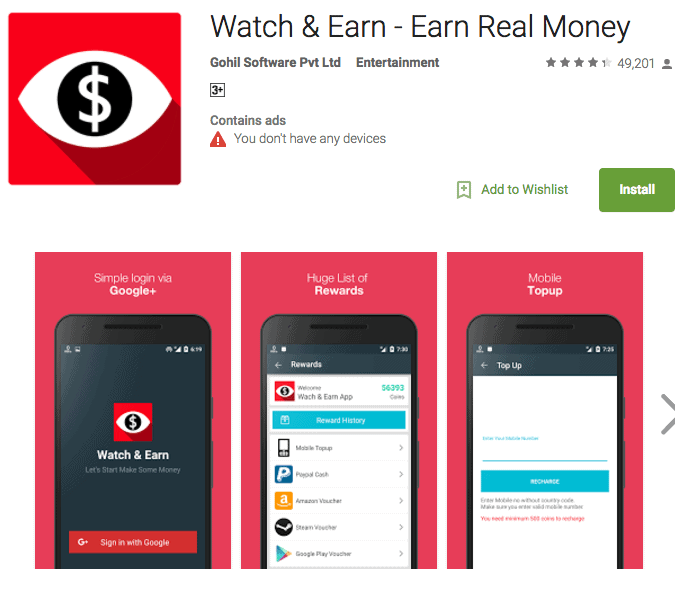 For every app you download or video you watch, you accumulate a certain number of coins. These coins can be redeemed for rewards like gift cards from popular shopping sites like Amazon or can be used as a credit in Google Play. You can even get Paytm cash vouchers or cash through PayPal.
Download the app right away to multiply your earnings!
4. BookScouter.com
This app is great for readers. I am sure readers accumulate so many books in their life that they don't have the space to keep the old ones, but still can't resist buying new ones. Why only readers, what do you plan to do with the textbooks collected over the years! BookScouter.com provides you a great solution.

With the BookScouter app, you can earn money by selling your books. Simply scan the barcode of the book that you no longer want and compare the buyback price of the book from more than 41 book buyback vendors. Select one and ship for free and get paid!
3. Foap
If you have an eye for photography, then use your best-clicked pictures to earn side income. Sell your photos at the rate you like.
So, your money-making ability with Foap is unlimited. If the quality of your photographs is top-class, you will be highly paid. Why not give it a try, download the app on both Android and iOS enabled phones.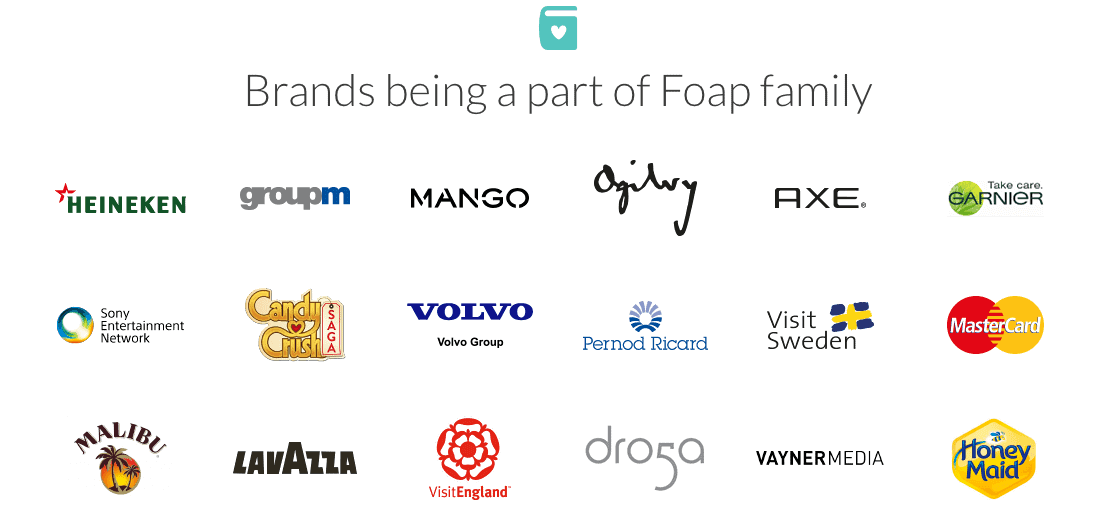 So, without any further delay, download the app and continue clicking the pics!
2. Field Agent
With the Field Agent app, search for certain task-related jobs and get paid. For instance, some jobs are like completing a survey, checking in-store prices, or clicking photographs of particular store items. According to the task, you get paid, but normally the payment varies from $3 to $12.
The app is available on both iOS and Android.
1. CashPirate
In 2016, CashPirate stood 2nd in the ranking of the best money making apps while for the year 2023, the app has topped the charts. The app has improved their payments for watching videos and downloading apps one of the bigger reasons for it to jump to the number 1 spot.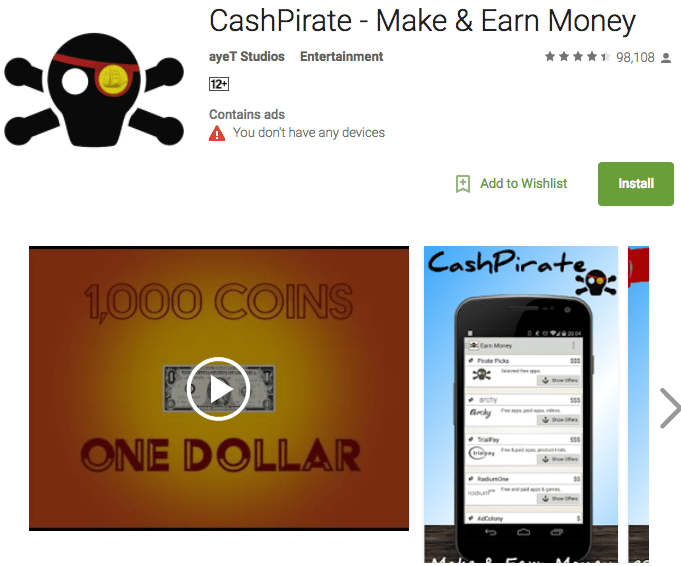 The app has earned more than 65,000 5 star ratings and is highly popular and loved globally.
The app has a coin system where you accumulate them and can exchange them for Bitcoin or PayPal cash.
Through the app you are paid for:
Downloading free games and apps.

For referrals, you earn 10% of coins, and 5% of coins are generated by the referrals of your referrals'.

For completing regular surveys and voicing your opinion.

Watching short videos

Taking trials of certain free products via TrailPay, SponsorPay, and others.
When you accumulate 1000 coins, you earn $1 but can cash out only when you earn $2.50 or 2500 coins. To make %5 virtual money like Bitcoin, you need to collect 5000 coins.
You can also become an Amazon seller to earn money. Check this amazing Amazon seller tool to get started with.
Quick Links
Conclusion: Best Money Making Apps 2023
Do not forget to try out the apps that excited you! Many of these apps also give you a bonus for referring them to your friends. Do let us know in the comments below, which is your top money making app for the year 2023.