Do you want to boost your productivity with the best WordPress Chrome extensions? Extensions can help you work more efficiently and get more done. We have compiled a list of the best WordPress-related Chrome extensions that you should try.
It is a good practice to use WordPress plugins and Chrome extensions together. Each will help you do your job faster and better than ever before.
Here is a list of the top ten most functional WordPress plugins and Chrome extensions that I think will do perfectly for your website development needs:
List of Best WordPress Chrome Extensions
Grammarly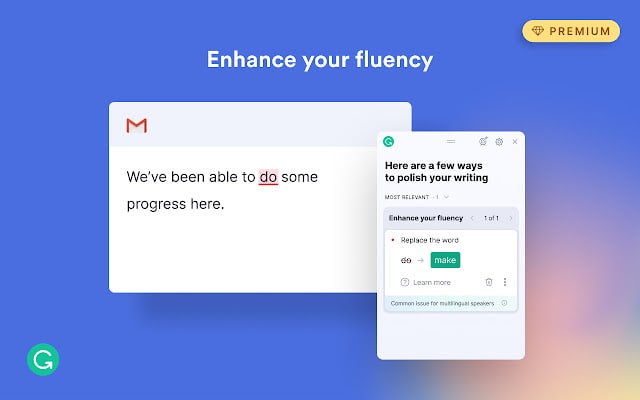 Grammarly is an excellent plugin for WordPress that makes your text look appealing and readable. It helps you with spelling, punctuation, and grammar mistakes in your articles.
This will help you to get more traffic because people will be able to read your articles without having to stop due to misspelt words or incorrect grammar usage.
The Grammarly Chrome extension is an even better tool that will help you fix your mistakes as you write. Not only does it check spelling and grammar, but it also checks for plagiarism to see if what you have written is unique from other sources. You will be able to write without having to worry about making any mistakes because Grammarly does all of the work for you.
LastPass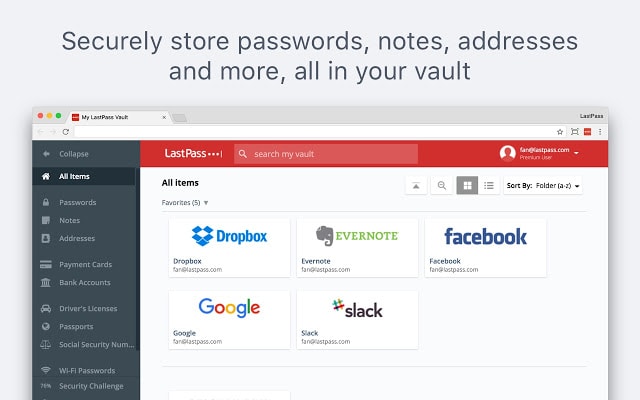 LastPass is a password manager that can help you manage your passwords and accounts across different browsers.
It has a unique feature that lets you create a master password for all of the other passwords that you have stored on it, so you will no longer have to remember each one. You just have to remember one.
This will save you a lot of time because now you do not need to go back and forth between your browser, emails, online forms, etc., to find what account or site it is registered under.
The Chrome extension makes the most out of the WordPress plugins because it allows you to autofill any saved information onto fields when they appear on websites or online forms.
You can quickly log in to any of your accounts from this extension alone without having to remember all of the different passwords. It is a much more efficient way of logging into websites compared to using an actual password manager program or writing them down on a piece of paper.
SEMRush

SEMRush has many different features that are beneficial for any webmaster or blogger who is looking to grow their traffic and expand their audience. One of the best things about it is that it helps you research what keywords your competition is ranking for, then SEMRush will give you advice on how to improve your site's rankings.
This can be very helpful if you are trying to find new ways to generate organic traffic without having to pay for ads.
The Chrome extension will alert you every time a keyword shows up in Google search results so you don't have to waste time checking them yourself manually. You will receive an instant notification whenever there are changes regarding the content's position within Google SERPs (Search Engine Result Pages).
It will help you stay on top of any changes and keep your website up to date.
 Nimble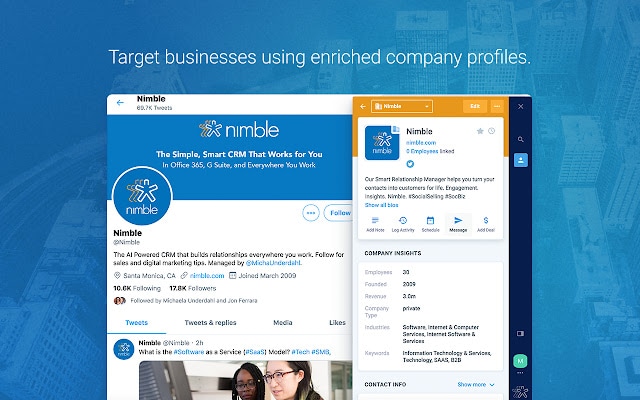 Nimble is a CRM (Customer Relationship Management) tool that helps manage and develop relationships with the contacts in your business or company.
You can also use this as a WordPress plugin to automatically create profiles for every contact you come across, such as potential customers online, new subscribers, etc. This will save you a lot of time by not having to manually create each profile one by one, but instead it does it all for you.
The Chrome extension makes this plugin even more efficient because it will sync with the people that are already stored inside your Nimble account so that they are automatically added to your list of contacts on WordPress. You will be able to see the contact's social media profiles and websites right underneath their name, which can help you with any sales or marketing campaigns that you are trying to push through your website.
Google Drive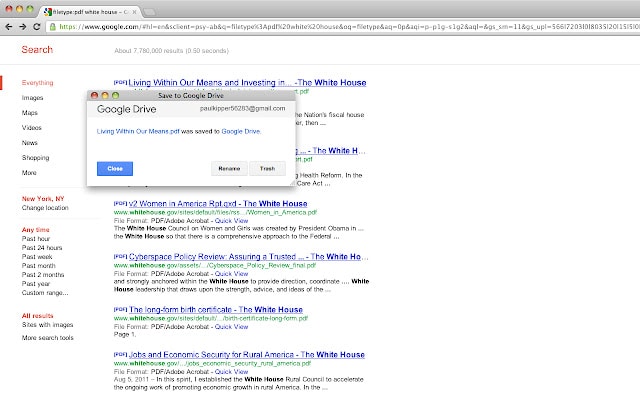 Google Drive is a cloud storage service that can help you store and manage all kinds of files in one place online. You can access it anywhere in the world regardless if you are using a computer, laptop, phone, or tablet. You can sync documents across different devices so that when you switch from one device to another, you have access to the same file immediately instead of downloading it again from Google Drive's website interface.
This Chrome Extension allows you to upload and save all of your WordPress images to Google Drive so they can be accessed from everywhere in the world without having to download them to your computer first.
This is very helpful if you are writing an article about how to set up a blog on WordPress but forget the image that shows readers how it should look like. You can easily find that image again through Google Drive's interface instead of having to try and remember which folder on your computer it is saved in.
Evernote Web Clipper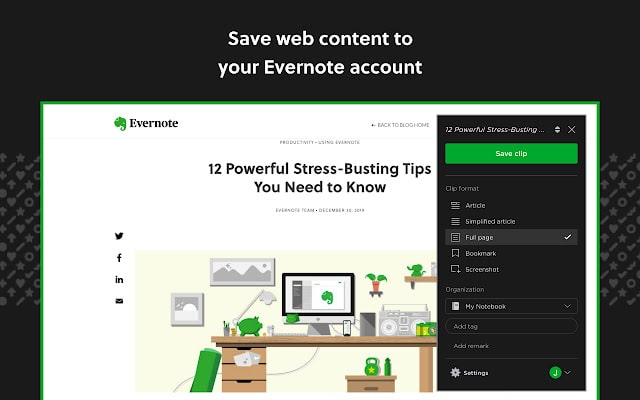 Evernote is a way to store and organize all of your ideas, random thoughts, business plans, and much more in one place. You can access any note from anywhere in the world through its website interface or through its smartphone app.
The best thing about it is that you don't have to worry about ever losing any ideas because they will always be accessible when you need them.
The Chrome extension allows you to save interesting articles straight into Evernote without having to manually add them one by one.
All of the web pages that you see on your screen will automatically get saved into Evernote's main Notes section so that you can read them at your convenience whenever it suits you. It makes this entire process a lot faster and easier so you can have more time to spend on other important things.
PandaDoc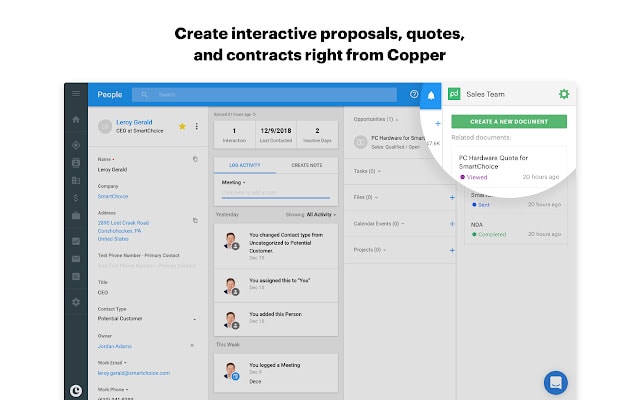 PandaDoc is a Google Chrome extension that allows you to organize the order in which your clients approve invoices or quotes without having them go through every single page of your document.
They will get a notification from PandaDoc when they have been sent an invoice, which takes them straight to its specific confirmation page where they can see all of the items being charged for and click either "Approve" or "Reject".
The great thing about it is that once approved, PandaDoc automatically saves everything into one file with no chance of losing any changes made in the past. The invoice sent to your client will always be up-to-date and you won't have to worry about sending outdated ones again in the future.
No matter if your company is selling products or services, it has to make sure that its invoices are completely accurate when presented to clients so they don't get rejected for no reason.
PandaDoc can help you with that through its Google Chrome extension because there's no need for users anymore to manually fill in every single field on an invoice document before sending them over because this plugin automatically fills out everything according to what was last changed.
WPSniffer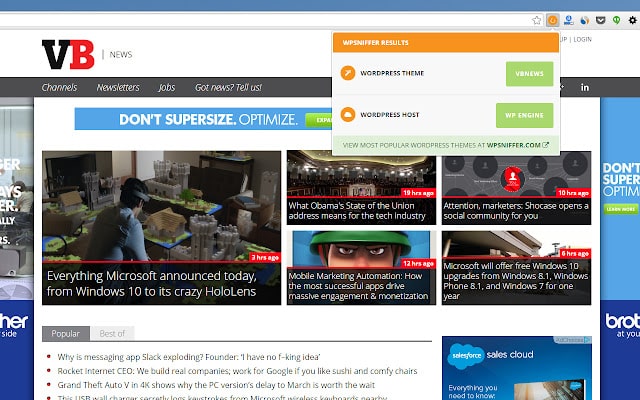 WPSniffer is a WordPress plugin that helps you detect all of the other websites on your network and alerts you if somebody is trying to hack into your website.
It also lets you know which user had made the modifications so that you can prevent this type of intrusion in the future by removing admin rights from that person or changing their password.
The plugin automatically sends an email report to its administrator when changes happen on the site so they get notified immediately. This eases stress levels by letting them know what's going on with their website at all times without having to check its dashboard every few minutes because it will let them know through an email instead.
When your company is trying to reach out to its customers, you need to make sure that your website is fully functional and shows the best version of itself at all times.
WPSniffer can help you achieve such a thing by sending notifications straight into your email inbox when any changes take place on the site so you always know what's going on with it without having to check manually.
WordPress Admin Switcher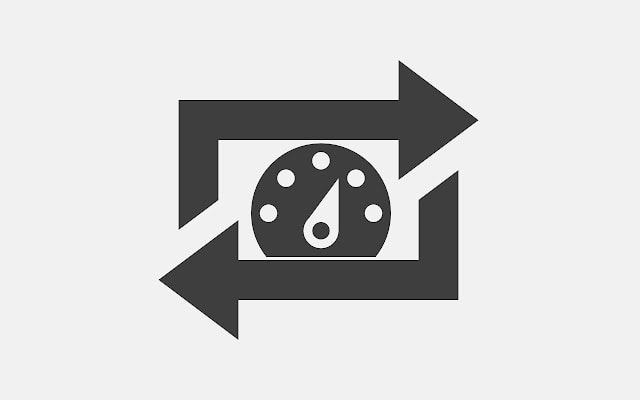 WordPress Admin Switcher is a Chrome extension that allows you to switch between admin pages on your WordPress site. It enables you to navigate to the WordPress login page without having to type wp-admin into the browser tab.
With a single click, you can also move to the post editor in your WordPress admin area while viewing a post on the website.
To access the admin login screen, press 'Cmd + Shift + A' on a Mac or 'Ctrl + Shift + A' on a Windows computer. You can also switch to your WordPress admin login page by clicking the extension icon in your browser.
Conclusion
Hopefully, you found this article useful in finding the best WordPress Chrome extensions. We have also compiled a list of the top WordPress tips, tricks, and hacks to improve your website.