Poetry is an art that has been around for quite some time, and it's a great way to express yourself. However, many people get intimidated by the idea of learning how to write poetry.
With Billy Collins Masterclass you'll be able to learn everything there is about poetry and become more confident in your writing skills. You'll also be able to have access to the best resources on the internet when it comes down to writing poetry.
This masterclass will help you with all aspects of writing good-quality poetry from scratch so that you can feel comfortable enough expressing yourself through this beautiful form of expression.
In this Billy Collins Masterclass Review, we'll talk about his reading and writing poetry course and do a detailed analysis of his lessons.
About Billy Collins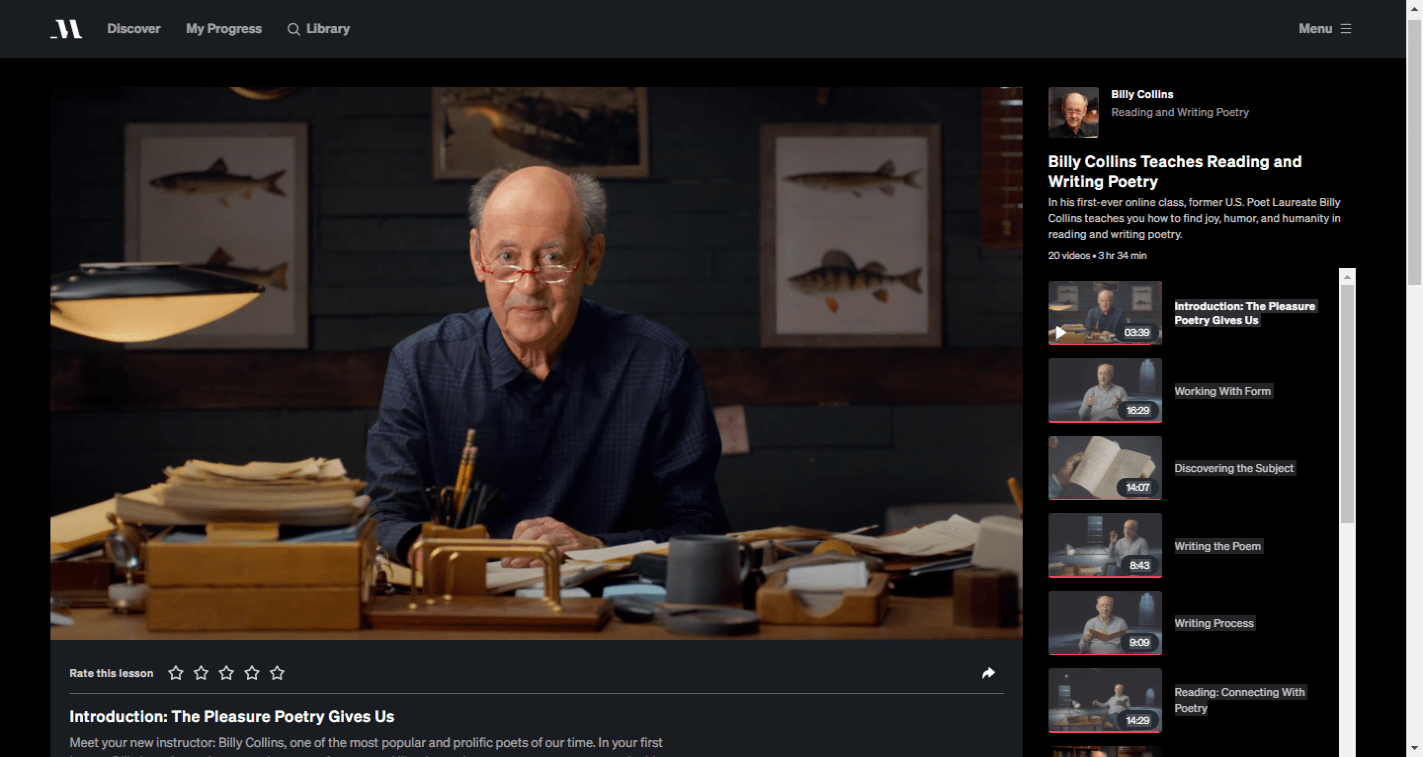 Billy Collins is deemed as the most popular poet in the United States by many people.
His work in the field of poetry has been unparalleled, and his career has spanned quite a few years.
He has authored almost ten collections of poetry, earning him an appointment as the poet laureate of the United States from the year 2001 to 2003.
Billy's work covers a variety of topics related to his personal experiences as well as the world around him.
He is a true gem in existence when it comes to classical poets and authors.
Former Distinguished Professor at Lehman College of the City University of New York, Billy has been inducted into the American Academy of arts and Letters.
Billy Collins Masterclass Course Structure: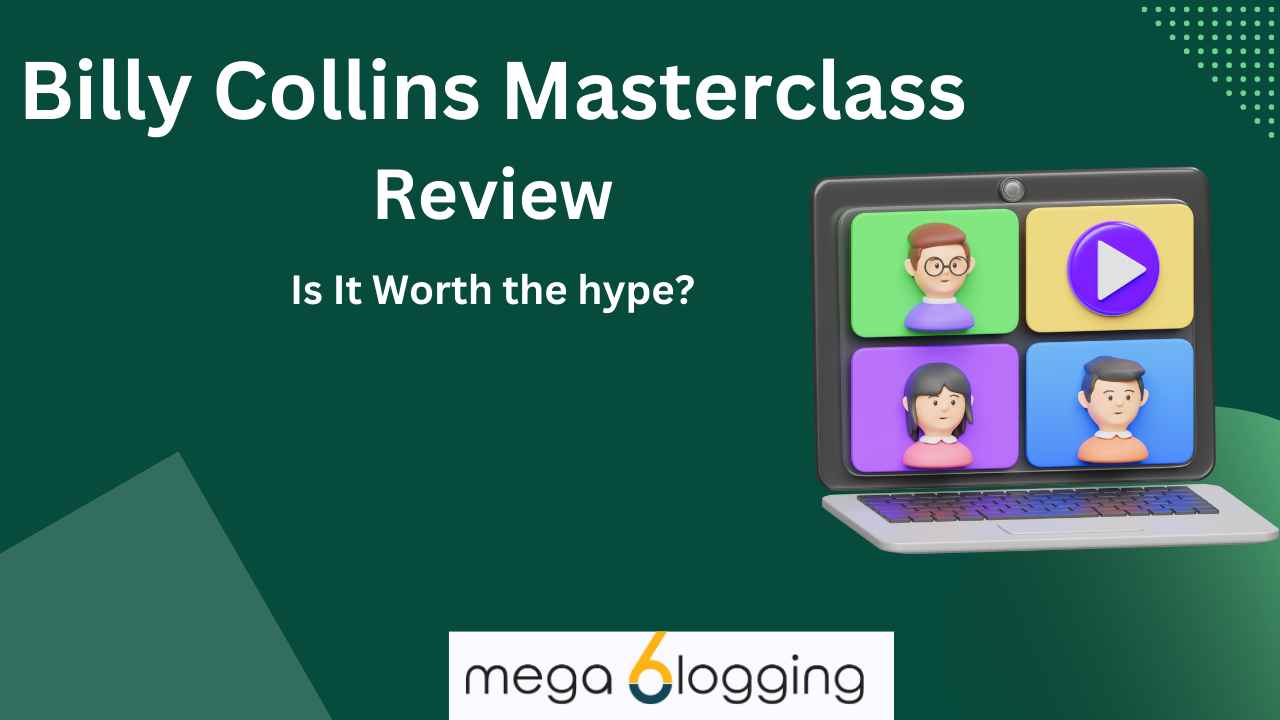 Section-1
In the first section of the Billy Collins masterclass, he describes how poetry has been perceived by the masses for the past couple of years.
He tells us how emotions and feelings have a strong connection to the way you put your thoughts on paper.
Initially, it was believed that only young women could pen down their feelings, but as time progressed, poetry became an escape for everyone.
He says when you write a poem, your audience should clearly see the fact that you love poetry more than you love yourself, although it might not be true in real life. 
Section-2
The second session has Billy Collins talk to us about the freedom that poetry provides us with.
According to him, you can write a poem about anything.
No topic is big or small in the eyes of a poet.
As you embark on a journey to find the topics that you wish to write about, make sure you have a clear thought process dedicated to it.
With so much to write about, young poets usually get lost trying to explain different things.
Billy's advice: stay true to the core of the poem. One should not dwindle away from the whole vibe of the poem.
Section-3
As we progress into the third section of the masterclass, we get down to the writing of a poem.
Billy has some good pointers to give you in the first session of this section.
Rule #1: always be in possession of a notebook.
I just laughed at this point, because I, too, have had incidents where I had a certain thought in my mind that I wanted to write down, but there was no notebook nearby.
Billy says if you are unsure about how to write the beginning of the poem, just jot down some first lines that you like.
From them, pick out a line you think would do justice to the second line.
He says that you should always start writing from the beginning.
Starting from the middle or writing the end first kills the continuation of thoughts and events happening in your head.
Section-4
The fourth section has Billy talk about how he prefers writing in a journal rather than typing his thoughts on the computer.
This section explains that whenever you don't like your lines, you cut them out and create a mess while on a computer, you delete those lines.
This mess is very important as you can always go back and compare the stanzas you have now to the ones you had earlier.
Also, it helps you figure out the stuff that you clearly should not write with reference to the core of the poem.
Toward the end of the session, Billy reads out his poem, The Grand Central, and shares how he wrote this poem using his power of imagination.
Section-5
The fifth section of this masterclass starts off with Billy Collins explaining that poetry and ambiguity go hand in hand.
I thoroughly relate to this statement. A single poem can mean two or more entirely different things.
According to Billy, the process of understanding a poem is actually frustrating.
However, this ambiguity is necessary to enrich the essence of the poem.
He says that once you sit down to read the poem, you should always write down beside each stanza about your learning from the lines.
This habit makes you a good reader and makes it fun to understand what the poet actually is trying to convey.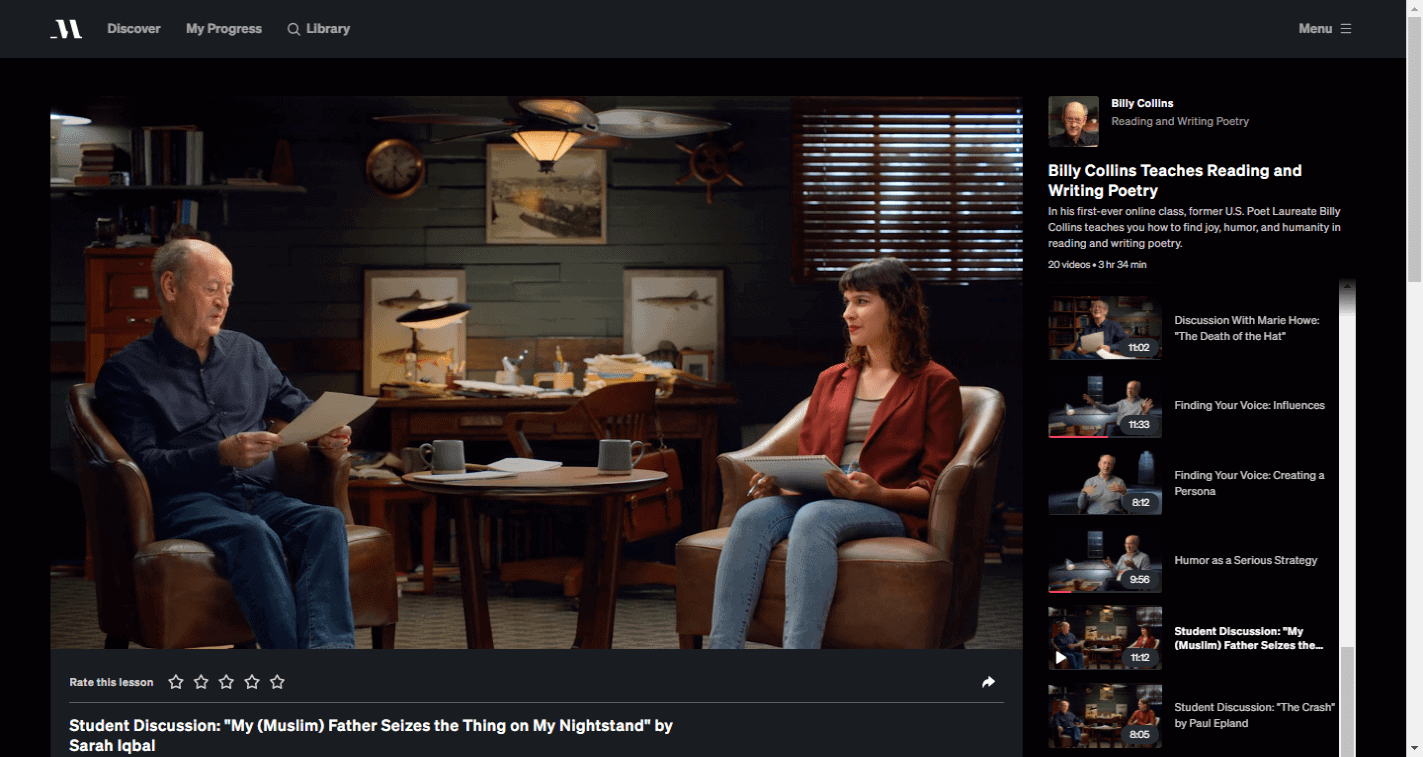 Section 6
We are introduced to a guest teacher in this section. Billy invites her friend and beloved poet Marie Howe to have a fruitful discussion about some writings of Emily Dickinson.
Marie reads out one of Emily's poems, 'i felt a funeral, in my brain'.
Then, the two poets proceed to share some insights into what they were able to grasp out of this poem.
At some points, Billy shared a different understanding of the poem than Marie.
This proves the fact that every reader makes the poem his own. They discuss the methods of Emily Dickinson to write poems and feel that she provides the readers with the stability of emotions. 
Section 7
In this section, we have both poets react to the writings of none other than the great William Shakespeare.
Both of these poets break down each and every line written by Shakespeare in his famous 'sonnet 73'.
Billy carefully describes how the writings of William have such intricate tunes attached to them. Every single work of Shakespeare is different than the rest, which sets him apart.
Section 8
The next section, titled Working with Form, has been divided into quality sessions.
In the session, Billy talks about how a poet can use sound techniques to his advantage.
I personally have come across some poems that do not have a specific rhyme scheme, yet they pack a powerful punch and get you to think.
Billy considers himself to be a terrible rhymer. I know that most of us can relate to him.
It gets difficult to rhyme and provide readers with the clarity of emotions.
Hence, Billy advises that one must focus on providing the reader with a visual picture of the feelings or references in the poem. If your poem can have the readers embrace their imaginative powers, your job as a poet has been well done.
Section 9
In the next section, Billy describes how he likes to present his poems playfully to the readers. He says adding some sort of imaginative twist or turn midway through a poem can do wonders.
He then describes to us how there are different turns in poems like The Monday and Baloney by Louis Jenkins.
The following three sessions see the return of guest poet Marie Howe.
Here, both poets discuss Marie's most acclaimed work, 'What the Living Do.' She describes the base of this poem as coming out of a letter to her brother. She finally says that as a poet, you can find inspirations to write from anything happening around you.
Section 10
In this next session, it's time to review Billy's poem 'The Death of the Hat.'
One can easily see that this is a poem about a hat dying, but with closer analysis, Billy explains how it is actually an elegy to his father. Billy has cleverly added certain instances and stanzas that do justice to the thought behind the poem.
Marie applauds the poem as a whole.
Section 11
The second last session has Billy explain who his influences in life were. He says that for every growing person, having an influential person is always a plus point.
He says it is important that budding poets read the works of other established poets in order to connect with them and learn from them.
He confesses that he was personally inspired by Philip Larkin through his poem 'The Mower'.
Section 12
In this section, Marie Howe describes the utmost goal of a poet should be to stop writing 'just' poetry.
As she explains, you should find your voice and then stick to it. All the famous and iconic poets and writers were much more than just poets; they were expressionists all over the world with their thoughts and voices.
Find your unique voice in the community and hold on to it.
But what is this voice? And how does one find it? Not to worry, Billy comes to our rescue with this much-needed section on finding your voice.
According to Billy, to become a successful and acclaimed poet, one must be able to push himself out of the crowd.
You must have a unique writing style or a creative angle to how you explain things in order to stand out from fellow poets who are writing about the same things as you are.
Humor is an integral part of a poem, only if it is used in the right manner.
Billy explains how he uses just the right amount of humor in his poems.
He gives us his thoughts on the poem 'The Swan by the Edgewater Lake, and he shows how it has a funny perspective to it.
Section 13
In the final section of this masterclass, Billy brings on two of her students and listens to and reviews their poems.
The first student, Sarah, and the second student, Paul, sit down beside Billy and explain their perspective on their writings.
I was inspired by how these young students have such talent when it comes to writing poems. Clearly, they have been taught by the best.
Alas! This is the last session of this deeply insightful masterclass. Billy leaves us with some inspirational words to join the poet community and start writing.
He explains the process of getting your poems published and tells us that we should always stick to the path.  
Is Billy Collins's Masterclass Worth It?
There is no shadow of a doubt that students who are interested in poetry should enroll in this class. Individuals who are already writers. On the other hand, the good news is that you do not need to have a great deal of experience in order to get something out of this course.
This lesson will most likely appeal to those individuals who are admirers of Billy's previous work. Therefore, you may present it as a gift to the person in question. Or, an even better option would be to provide them with an all-access pass to the website masterclass.com.
They have access to all of the more than fifty different classes that are currently being offered, in addition to any and all of the new classes that are being added.
The all-access pass represents exceptional value for money. It is priced similarly to what you would have needed to spend to attend just two of the seminars individually. Therefore, you will receive at least 48 courses completely free of charge.
I decided to get an all-access pass. When I started writing this essay, I had already taken twenty of them, and without exception, each and every one of them was excellent. Therefore, I am confident in recommending that you check out Masterclass.com.
Quick Links:
FAQs | Billy Collins Masterclass Review
💁 What is a Masterclass?
Masterclass has some of the best A-class teachers like Bob Iger teaching business, Aurel Stein teaching writing, and the list continues. Just demand a course and they have in their list along with the best teachers.
🤑What is the pricing of masterclass ?
Masterclass All-Access Pass is billed at $180 and comes with a 30-day moneyback guarantee.
📺 Where can I watch?
With MasterClass, you can learn and be inspired anytime, anywhere, including your smartphone, personal computer, Apple TV, Amazon Fire TV, and Roku streaming media players. You can even download your favorite lessons and watch on the plane or listen during your commute in audio-only mode
🤷‍♀️ How does the 30-day guarantee work?
Our goal is to make sure that you have the best learning experience possible. If MasterClass isn't for you, then email us within 30 days of the date you purchase your subscription, and we'll offer a full refund.
Billy Collins Masterclass Review 2023: Conclusion – Should you go for it?
If you have been interested in writing poems and have a knack for literature, this masterclass is for you. No matter what level of experience you have in writing poems, this masterclass will serve you right. 
The course offers Different viewpoints provided by fellow poets and students & an In-depth review of classic poems.
I am highly inspired by the author of this masterclass.
As a kid, I was always into reading and writing. This course has helped me cement my skills and learn new things about poetry. It has cleared my doubts about writing lines and actually encouraged me to write more.
I can already see my journal getting filled with all sorts of rhymes and stanzas.
Billy Collins Masterclass Review On Social Media 
Taking @ReneeMLaTulippe's Lyrical Language Lab course gives you the tools for writing #poetry. Then Billy Collins's @MasterClass shows you how to use those tools to build mermaid lairs, cottages in dark woods, and castles in the sky! #amwriting

— Teresa Robeson 何顥思 (@TeresaRobeson) November 30, 2020
Unlikely to come down to earth for a while yet after the Masterclass yesterday with legendary US poet Billy Collins, then hearing him read tonight in Armagh – wow!
Have had a fab time at #JHISS , head-wrecking(but in a nice way!) #poetry #writing pic.twitter.com/WEwQ5skjj1

— Louise G Cole Writer (@louisegcole) July 25, 2019