In this Howard Schultz Masterclass Review, we'll talk about his Business Leadership course and analyze his lessons.
About Howard Schultz
Who doesn't know Starbucks??? The largest and most significant coffee chain in the world. Drinking coffee at Starbucks is its own experience !!!
Well, this masterclass is by the former CEO of Starbucks, Howard Schultz, who gave us his valuable business and leadership knowledge.
The amusing part of this course is that it is only available for members with an all-access pass, so as we mentioned earlier, buy an all-access pass for the masterclass; it is worth it, and guess what? You will be able to access this course too.
At the onset, this course is a little over 90 minutes with an introduction and 3 more sections consisting of 13 video lessons.
Howard Schultz Masterclass Lessons Structure: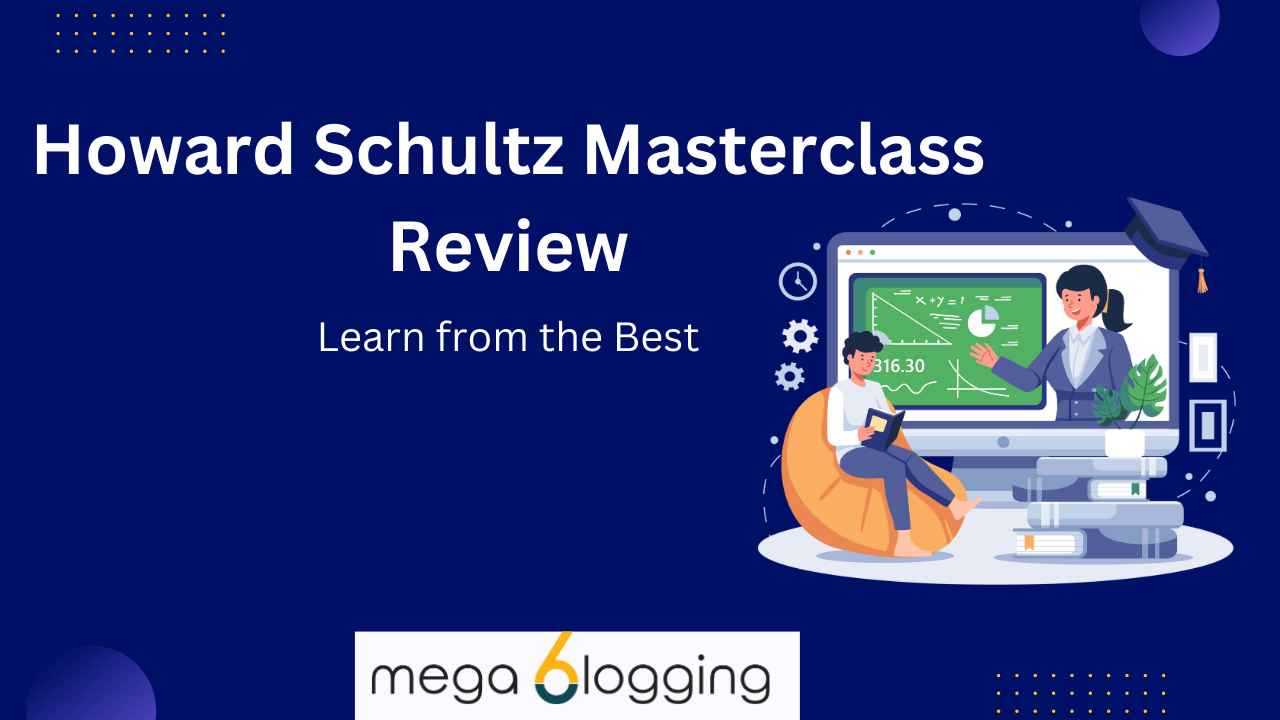 Section-1
The first section is the introduction of Howard Schultz which is around 4 minutes long.
Here Howard Schultz talks about how he started his journey as an entrepreneur despite not attending any IVY League school or having an MBA degree, just a regular guy like us having a dream of building an enduring company.
He bought Starbucks in 1987 and built it into a global powerhouse in the coffee business.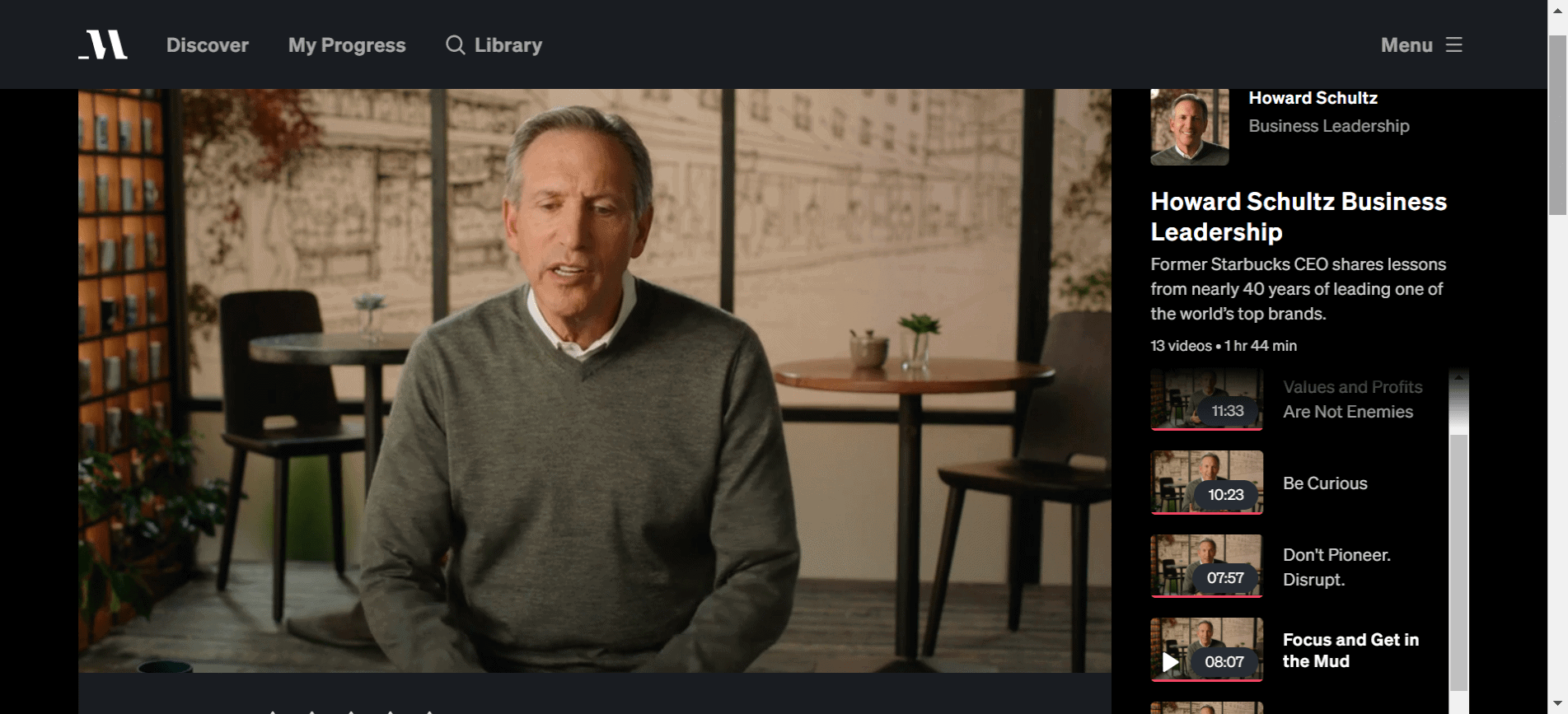 He is the living proof of the American Dream and shows us that you don't have to have an MBA degree from Harvard to succeed in business in America.
Much of what he has learned is through his experiences and instincts, which can apply to people from all walks of life.
He thinks it is the best time for a young entrepreneur to start a business as the cost of operating a business has lowered due to technology.
There are no barriers regarding how large a market can be as long as they do it with great discipline and thoughtfulness and do it with responsibility not only towards their investors but also the communities they are trying to serve.
Section-2
The second part of the video talks about how to deal with self-doubt.
In this section, he shares his personal journey and the origin story of Starbucks.
He talks about his lack of degree but the passion and conviction that he had to create a company that would achieve the fragile balance between profit and responsibility.
This video also talks about investing in values and achieving financial performance: Expanding into China.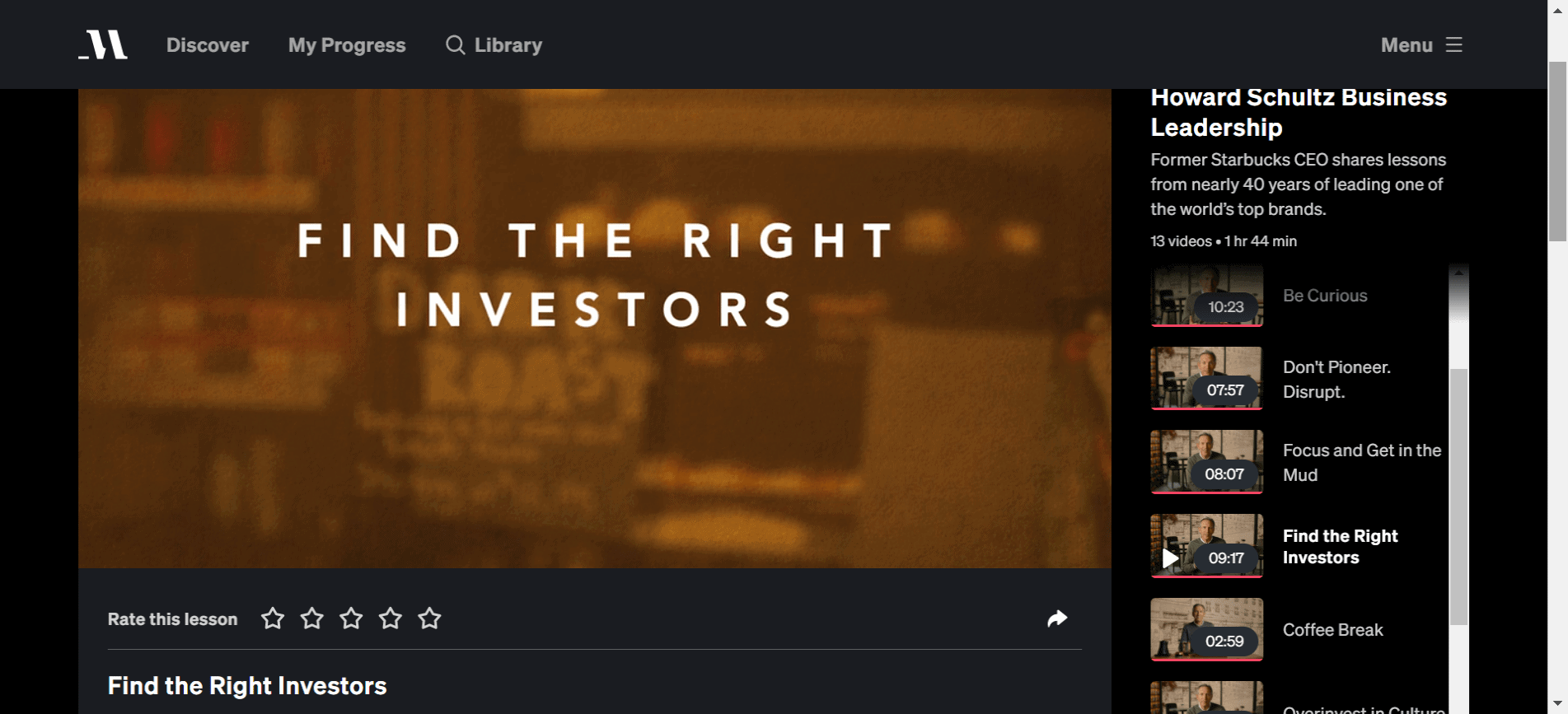 Personally, I loved this story shared by Howard Schultz as how they were unsuccessful in China for 9 years and how he held himself responsible for that and for the management mistakes that he made not with incompetent people but with efficient people given the wrong assignment and how it all changed with Belinda Wong.
Starbucks China's CEO changed Starbucks's trajectory in a traditional tea-drinking society and paved the way for success.
He talks about how being a value-based company it is essential to financially perform.
The second video is about Be Curious, which is around 10 minutes long. In this video lesson, Howard talks about why it is important to be intellectually curious, learn on the job, and find a mentor for yourself and your business.
Section-3
The third section is about Building the Business, with around 5 sub-video lessons.
The first video lesson is about Don't Pioneer, Disrupt, and is around 8 minutes long.
Here, Howard Schultz gives his two cents on the most asked question by entrepreneurs: whether to disrupt an existing category or start a new one.
He advises disrupting an existing category instead of starting a new one as it is easier to target existing consumer behavior than it is to change consumer behavior. He also gives tips on reducing the risk of failing in business.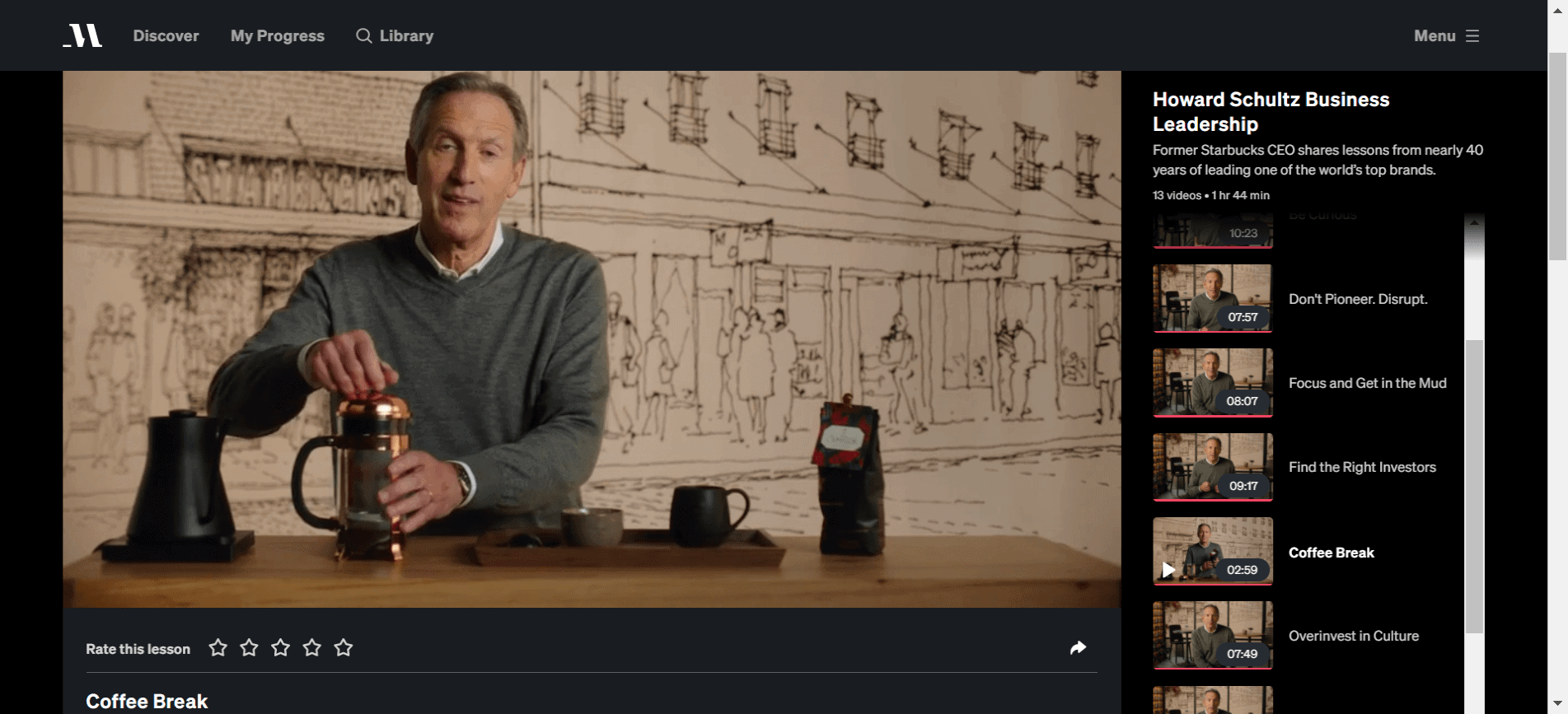 The next video lesson is about Focus and Get in Mud, which is around 8 minutes long.
Here, Howard talks about how leaders within an organization must establish the priorities for his/her organization.
He explains how unit economics works and gives an example of a brick-and-mortar business and what is the suitable business model for operating that business.
He also talks about how entrepreneurs should keep track of their numbers and actively engage with people in their company to avoid unwanted surprises.
Lastly, he talks about how to keep your employees, whom Howard calls his partners and customers, in mind when making critical decisions or strategies for your company.
The third video lesson in this section is Finding Right Investors and is about 9 minutes long.
Here, Howard Schultz gives ideas and tips on onboarding an investor to your company, and how you do a background check on your investment is equally important as the investor doing for your company.
He also gives advice on how to communicate with potential investors.
The video lesson is about overinvesting in culture and is about 7 minutes long.
Here, Howard talks about the importance of defining the culture in your organization early on, just like raising your children, because you imprint the child with self-esteem and a set of values.
He also talks about how he audits his company's culture and brings in outside resources to add value to the company's culture.
Finally, he talks about work-life balance, which is a fundamental issue for everyone working in a company right now, especially the young generation, and how it is important for a company to establish a balance.
The last video in this section is about cannibalizing yourself, which is around 7 minutes long.
Here, he talks about how to deal with the competition, how to be in control of your destiny, and how to keep innovating to be ahead in the growth curve of the business.
Section-4
The last section again has 5 videos. The first video lesson is about hiring a Value-Based Team, which is 11 minutes long.
Your primary job as CEO is to hire a team that shares your values.
Howard talks about how to accomplish this by getting personal in interviewing your team and how to handle and prevent hiring mistakes.
The next video lesson is about Don't Manage, Lead and is around 7 minutes long.
People don't want to be managed; they want to be a part of something larger than themselves.
They want to be a part of a vision that they can buy into, and they want to see themselves in that vision, and they also want to see themselves valued and appreciated.
Howard effectively advises how to lead your team by establishing a standard of excellence and with performance appraisals and feedback. The third video is a coffee break where Howard shows you how he makes his favorite French press coffee.
The fourth video is about Real Leadership: What Do You Do in Crisis and is around 12 minutes long.
It is very easy to lead a company when everything is going well but equally tricky when there are setbacks, and that is when you ask yourself the most important question, do I have what it takes to lead the company and its people?
In this video lesson, Howard shares his experience of leading Starbucks through a crisis in 2008 as a case study.
He also advises on how to make significant cuts in your company when it is in crisis and how success is not entitled to you, but you need to work every day to earn it.
The last video of this masterclass is named onwards, where Howard gives parting advice on when it is the right time to take a leap and start your business and shares his story about starting Starbucks.
There is also a class workbook that you can download, which is 20 20-page PDF consisting of all the topics Howard explains in his masterclass.
Howard Schultz Masterclass Review | Pricing Plans
There are two ways by which you can purchase a MasterClass, a single MasterClass and an All-Access Pass for any of the gurus on the platform.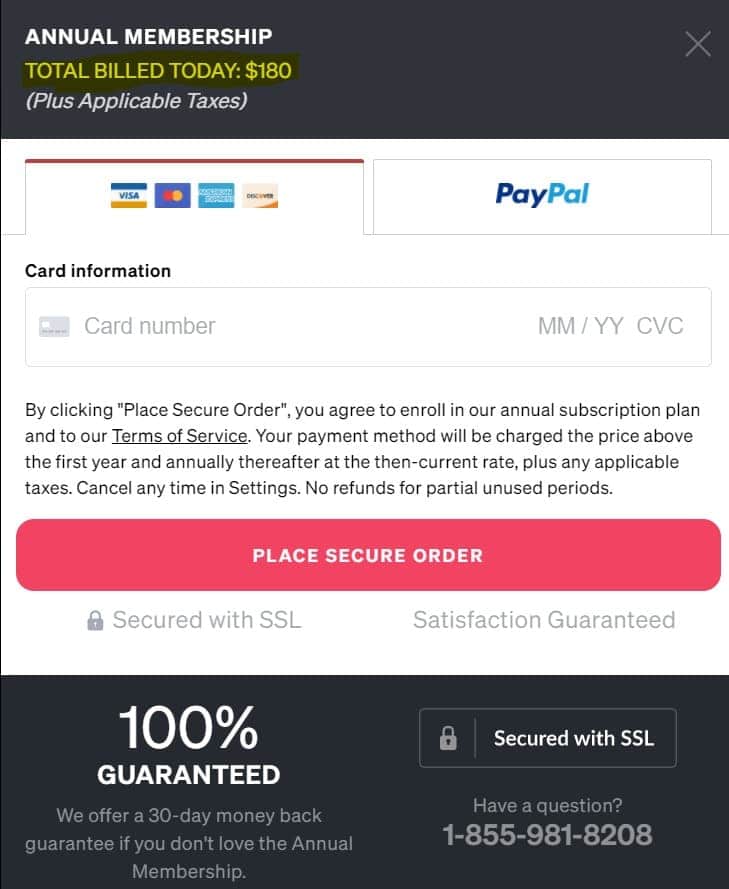 Single MasterClass: $90
All-Access Pass: $180 per year
The All-Access Pass comes in handy when you wish to take more than one MasterClass, so there is no limit on the number of MasterClasses on the All-Access Pass.
A 30-day money-back guarantee is also available for any of the Howard Schultz MasterClass Review packages you purchase and you will get a complete refund of the amount in case you are not satisfied with their services.
Quick Links:
FAQs | Howard Schultz Masterclass
💁 What is a Masterclass?
Masterclass has some of the best A-class teachers like Bob Iger teaching business, Aurel Stein teaching writing, and the list continues. Just demand a course and they have in their list along with the best teachers.
🤑What is the pricing of masterclass ?
Masterclass All-Access Pass is billed at $180 and comes with a 30-day moneyback guarantee.
📺 Where can I watch?
With MasterClass, you can learn and be inspired anytime, anywhere, including your smartphone, personal computer, Apple TV, Amazon Fire TV, and Roku streaming media players. You can even download your favorite lessons and watch on the plane or listen during your commute in audio-only mode
🤷‍♀️ How does the 30-day guarantee work?
Our goal is to make sure that you have the best learning experience possible. If MasterClass isn't for you, then email us within 30 days of the date you purchase your subscription, and we'll offer a full refund.
Conclusion: Howard Schultz Masterclass Review 2023
In my opinion, this masterclass consists of leadership advice and building your company culture right by a man who has spent 40 years building Starbucks as the company and brand we know today.
It is very informative for those looking to create a company culture or what the right leader should do for his company, employees, and customers.
You can follow Masterclass's social media handles, like Facebook, Twitter, Instagram, Linkedin, and YouTube here.