In this David Baldacci Masterclass Review, we'll talk about Mystery And Thriller Writing By David Baldacci course and do a detailed analysis of his lessons.
David Baldacci Masterclass Course Structure: Overview  David Baldacci Masterclass Review
This course is set to help young writers who are focusing on developing their mystery and thriller writing skills.
You'll have exclusive access to his 18 video lessons where he'll get down to the specifics of every context so that the viewers have a clear understanding of what he is trying to teach.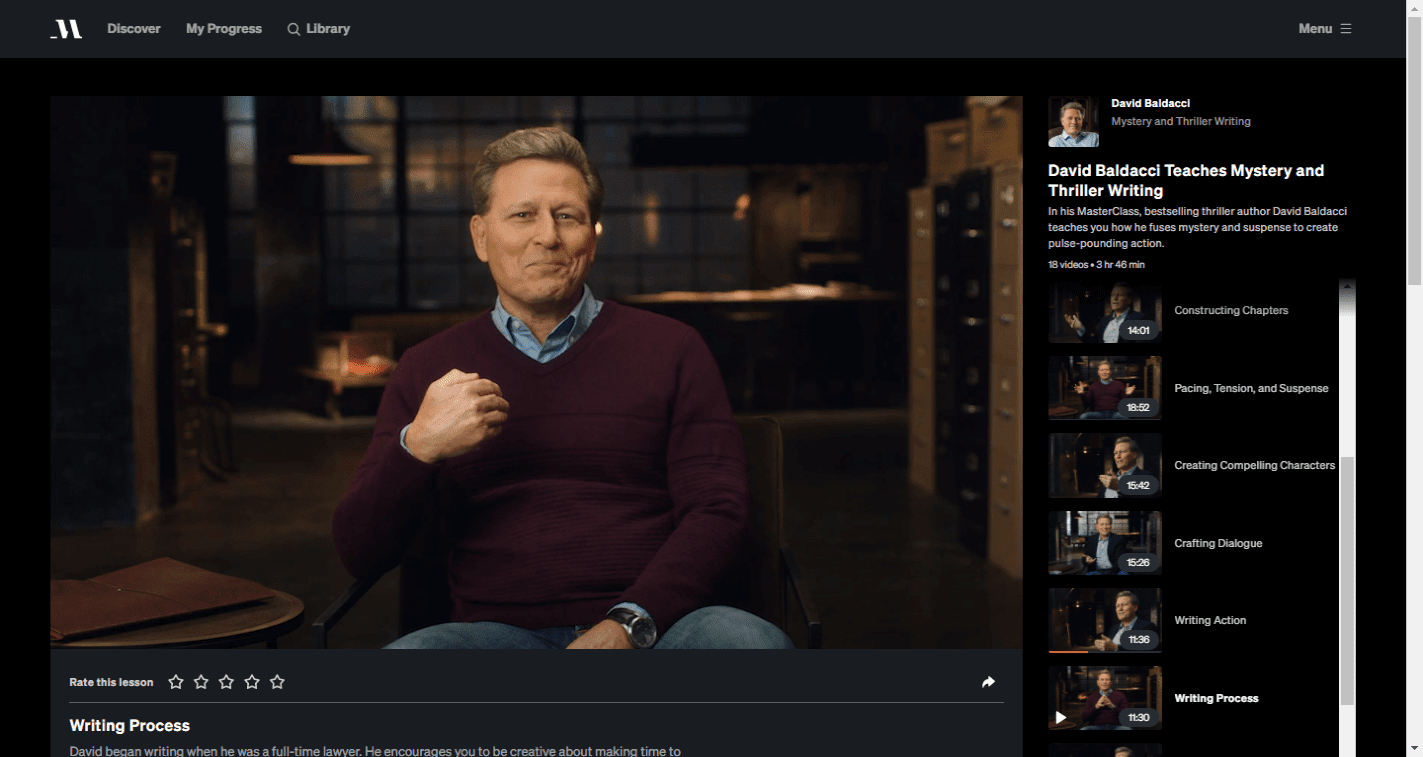 In this course, you'll learn about the business side of the writing world and David Baldacci has covered this extensive topic with the deepest precision.
You'll learn about the strategies that he uses to pitch ideas, work with agents and editors, negotiate deals with publishers, and a lot more. 
Constructing chapters, creating compelling characters, outlining, research methods and a variety of important aspects are a part of this MasterClass.
You'll also get a 97-page pdf document that has included the absolute details of David Baldacci's years of experiences and thoughts.
He has also provided outlines of his two books- THE FIX and THE INNOCENT, which help you apprehend what goes in the initial steps of writing a book.
At every step, you'll realize that the things which he is giving off on every page are going to make a huge difference to your writing.
A Walk Through Each Section
Navigating The Publishing Business:
David Baldacci councils all the young writers to learn the business side of writing a book that will put you in control of your career. 
In this section, David will talk about his experience and what he learned from that road he went on, trying to understand and learn about the publishing industry.
Your job is not over even after your book is published.
There's a business side to it and you can't lose sight of that.
The main task is learning to promote your book. Start working with an agent.
The agent will guide you through numerous aspects of your business like helping to perfect your manuscript, selling it to an editor, negotiating your contract with a publishing company, and also keep an eye on the publisher throughout the publishing process. 
You can start working with your publisher.
You have to be very receptive to the feedback from the publisher and handle them diplomatically. 
Your publisher will definitely market your book but when it comes to its publicity, you can do much more than your publisher.
Interviews, speaking to the crowds, and getting the readers interested are all in your hands.
Understanding your publishing rights, selling your rights, utilizing booksellers, and various other stuff comprises this section. David explains every little detail of what goes into learning about the business side of a book.
Writing Action: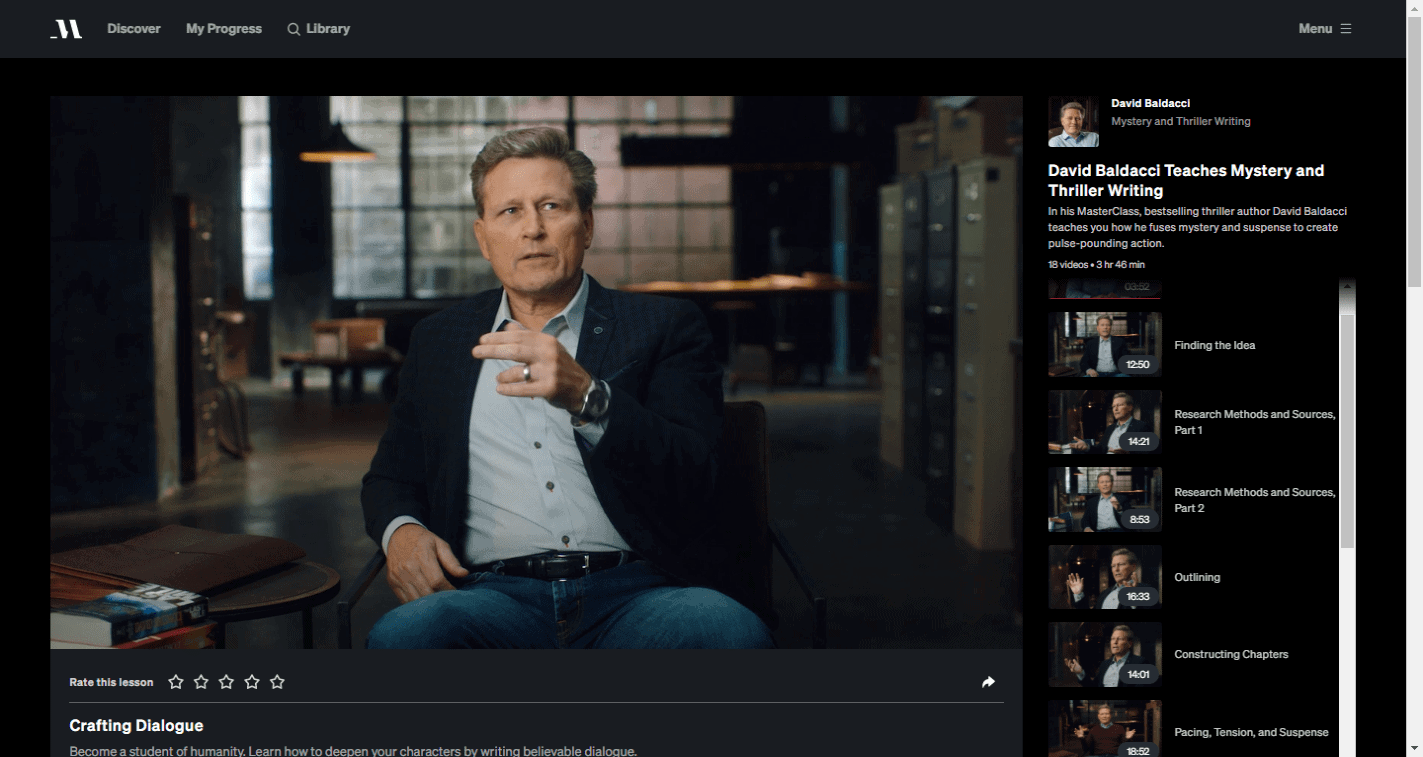 This chapter covers David's tools for writing thrilling and believable action sequences.
Credibility comes from understanding the real-life consequences of your action elements and then rendering them with clear description and sensory detail.
Action can excite the reader by heightening the danger to your main characters.
It can create movement and momentum. It can also show you just what a character is made of.
FILL GAPS WITH SENSORY DETAILS– You might think an action scene has to be a race, but don't be afraid to slow things down and allow the reader to savor the scene.
Take a moment to describe a punch, or the sound of a bomb, or the way a building collapses.
David uses this technique at the peak of his action scenes because it allows the reader to have a visceral experience. To give your descriptions more impact, you'll need to get a handle on sensory details.
WRITING EXERCISES– Think of your main character, and make a list of actions you associate with him or her. Write down the things that seem most natural for them.
Write whatever comes to mind, no matter how trivial.
This is an exploration of your main character and should help you imagine their physicality.
When you're done, make a separate list of things that would be awkward or unlikely for that person. You will get to know more about this section in his video lessons and the class workbook which is attached to his MasterClass.
Who should do this Course?
The writers who have aspiring dreams and hold the desire to be a writer someday, this MasterClass is downright for you.
The video lectures give you a good start and put you on the right path once you complete it. Some writers know how to write but feel perplexed at the start.
And the hardworking writers who are trying to make it while having a day job, getting a lot of rejections, feel that their confidence is ebbing away. He is here to assure that he was in this exact spot.
And he knows what it takes to be able to propel yourself to success from that point. 
Right from researching for a book to promoting yourself, working with the publishing house, and getting accustomed to the business world that plays a huge part in the book, are generally the things that make you flustered.
From the copious details that David Baldacci covers in his MasterClass, you'll realize different aspects and possibilities which can refine your writing skills and bring a colossal surplus for yourself. 
David Baldacci Masterclass Review: Pricing Plan
There are two ways by which you can purchase a MasterClass, a single MasterClass, and an All-Access Pass for any of the gurus on the platform.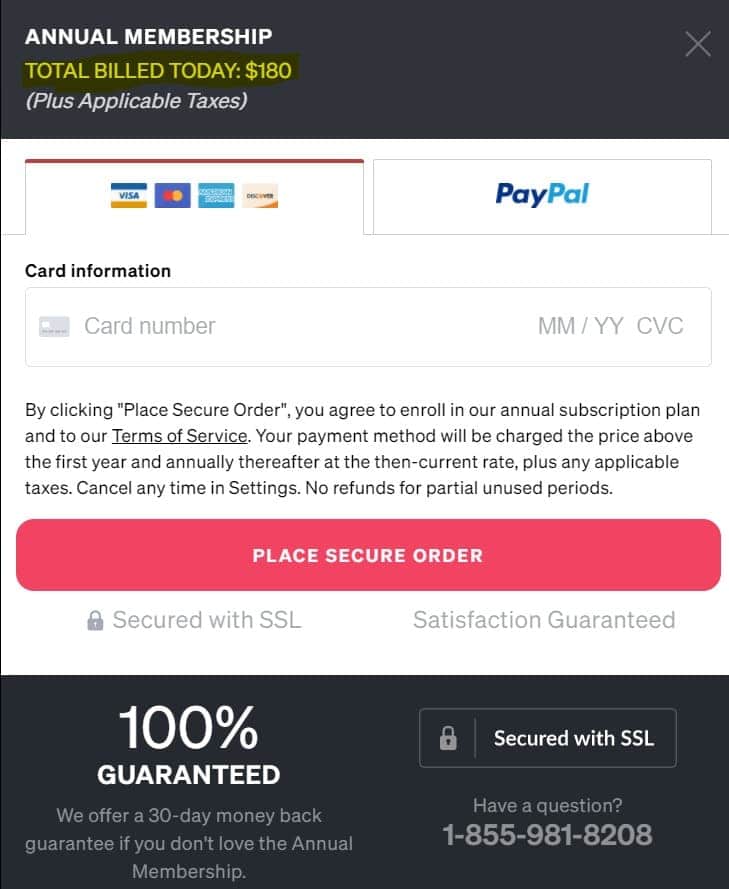 Single MasterClass: $90
All-Access Pass: $180 per year
The All-Access Pass comes in real handy when you wish to take more than one MasterClass, so this means that there is no limit on the number of MasterClasses on the All-Access Pass.
A 30-day money-back guarantee is also available for any of the David Baldacci MasterClass Review packages you purchase and you will get a complete refund of the amount in case you are not satisfied with their services.
Quick Links:
FAQs | David Baldacci Masterclass Review
💁 What is a Masterclass?
Masterclass has some of the best A-class teachers like Bob Iger teaching business, Aurel Stein teaching writing, and the list continues. Just demand a course and they have in their list along with the best teachers.
🤑What is the pricing of masterclass ?
Masterclass All-Access Pass is billed at $180 and comes with a 30-day moneyback guarantee.
📺 Where can I watch?
With MasterClass, you can learn and be inspired anytime, anywhere, including your smartphone, personal computer, Apple TV, Amazon Fire TV, and Roku streaming media players. You can even download your favorite lessons and watch on the plane or listen during your commute in audio-only mode
🤷‍♀️ How does the 30-day guarantee work?
Our goal is to make sure that you have the best learning experience possible. If MasterClass isn't for you, then email us within 30 days of the date you purchase your subscription, and we'll offer a full refund.
David Baldacci Masterclass Review2023: Conclusion – Should you go for it?
Being a bookhound ever since I remember, I even slowly started to realize that I might have great potential for writing books. So I decided to write in the mystery and thriller section because that's what pulled me towards it the most. 
It was normal to feel perplexed while starting to write and the things you require to work on as a writer.
But I knew that MasterClass has made it extremely easy to access the information we need on our particular subjects.
So I decided to subscribe to David Baldacci's MasterClass on mystery and thriller writing. 
His words hit me right in the introduction where he says that if you are not alone in something, all of the insecurities start fading away. And he is here to assure you that everyone goes through this phase of insecurity and self-doubt. 
Getting to learn about how to come up with great characters, creating good outlines, pacing your story in a way that writers don't feel satisfied until they complete their book, gave a perfect start and substantiation to my book. 
So all in all this was an irreproachable start that I could imagine having as now I get a good head start with a whole lot of things I didn't know before. 
I highly recommend Mystery And Thriller Writing By David Baldacci and if you wish to pursue the course go for it.
You can follow masterclass social media handles, like Facebook, Twitter, Instagram, Linkedin, and Youtube here.
David Baldacci Masterclass On Social Media 
I've seen all the MasterClasses by writers. The ones by David Baldacci, Dan Brown, James Patterson, and Neil Gaiman are excellent. Of those I've named here, I've only read Gaiman. #WritingCommunity

— MR_Subias (@MR_Subias) May 25, 2020
I've always been a fan of David Baldacci. His thrillers take suspense to a different level, and you have to keep turning the page. When Masterclass came out with the David Baldacci class, I so excited. #masterclassreview #davidbaldacci https://t.co/DLgnbBU3lL pic.twitter.com/hr48vIpsL9

— Bryan Collins (@BryanJCollins) May 21, 2021