In this post, we will be doing an Honest & Trustworthy Bobbi Brown Masterclass Review 2023, We will talk about MakeUp and Beauty, so Let's get started…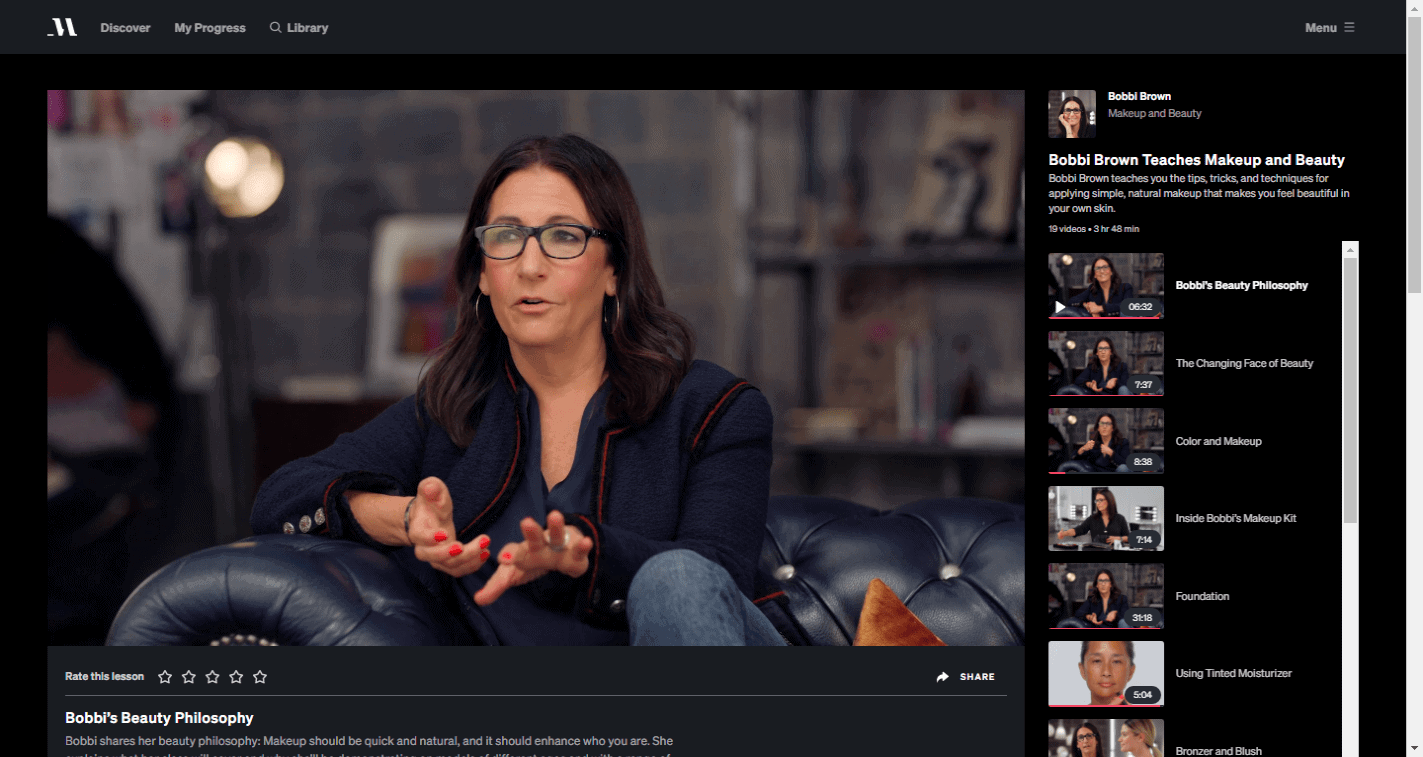 Apart from this, Brown has written nine books about beauty and wellness and is a New York Times bestselling author.
In this masterclass, she explains everything in detail and so easy that even a non-makeup person would understand every little aspect.
Guys, honestly I adore Bobbi brown, and doing this review is truly an honor for me.
What is the course offering- a brief overview and why one should go for it?
So, this masterclass course offers a deep insight into the world of makeup and skincare.
Along the course you will learn everything about makeup and skincare; from doing skincare to learning skin tones to nude makeup to editorial makeup.
Bobbi Brown also gives you some very helpful tips on building up your profile, helpful lessons on workplace ethics, the evolution of makeup, and much more.
We also get a bonus session at the end of the masterclass, so don't forget to watch this video till the end to know what more do we have.
Bobbi Brown Masterclass Review: Course in Detail
A walk through each section
This particular masterclass comprises 5 sections and the total duration is around 3 hours and 47 mins.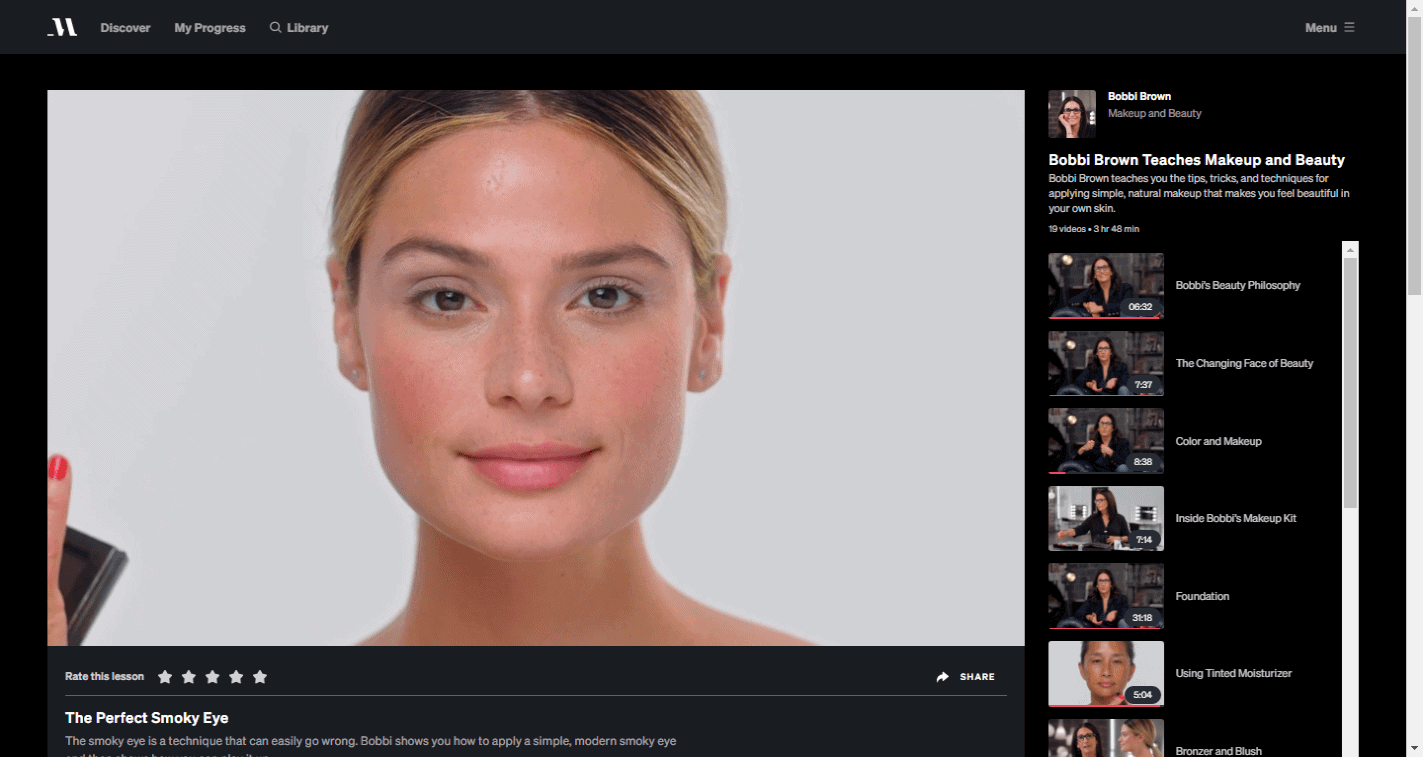 Section – 1
So now, moving forward to the 1st section, we have 1 video of 6 mins in which Bobbi Brown shares her beauty philosophy.
She commences her masterclass by talking about how beautiful and glamorous her mother (snippet 6) used to look which made her fall in love with makeup at a very young age.
(Chuckles) She also said that her first makeup look was awful because the makeup artist tried to make her look something that she wasn't. To brown, beauty is something nice happy, and authentic.
she teaches you how to make your own hybrid products like tinted moisturizers and face scrubs.
Furthermore, she explains what her class will include in terms of foundation application, eye enhancement, common makeup mistakes, and a lot more.
Section – 2
The second section is all about efficient makeup application and the common makeup mistakes. This section has 6 videos of 1 hr 48 mins in total.
The 1st video in this section is about (snippet 7) skincare essentials where she talks about how different products should be used for different skin types.
Further, she explains how a simple, affordable product like coconut oil can work amazingly well as a moisturizer, a body lotion, and even a cleanser for dry skin type.
You should adapt to your products when you're on a vacation, when you're unwell or when you're aging. Also, take a break from makeup and of course, no smoking.
The next 2 videos in this section are all about foundation, concealers, and tinted moisturizers.
Here, Bobbi Brown shows how to find the correct shade (snippet 8)of the foundation, the right texture, the right lighting, and the right way of application. Here, she demonstrates foundation, concealer, and tinted moisturizer application on light, medium, and dark skin tones.
It's always advisable to prep the skin well before putting foundation and concealer. Brown uses complexion sticks which are really unique in my opinion. Also, her goal is to make makeup easy and multi-use her products.
Moving on to bronzers and blush. In the 3rd segment, Bobbi brown shows how to work with cream and powder products for different skin types and tones. She also discusses the tools and techniques to be used.
Bronzers are used to even out the skin and add a tint. Bobbi Brown takes into account all the minute details while working on her models.
The 4th video is about working with your (snippet 9) eyes, correctly filling your brows, eyeliner, and mascara application techniques. Brown mentions that you only need a light, medium, and dark shade for your eye shadow. Here, she demonstrates an eye look including flat shades and shimmers.
Later in the video, brown also explains the formula of different types of eyeliners, namely, pencil gel and liquid. She loves using black mascara.
Bobbi Brown also states that an eyebrow product can be a shadow or wax-based pencil and demonstrates the application for the same.
There are certain common mistakes that we often neglect.
In the last video of this section, brown addresses these mistakes (snippet 10) and teaches them how to fix them.
Here, she talks about some common mistakes like black brow product, light foundation shade, over highlighting, lip shade selection according to skin tone, and demonstrates the process of fixing it without removing the entire makeup.
I'm giving a little secret of hers, she suggests soaking a cotton swab in micellar water and using it to fix the mistakes.
 Section – 3
The 3rd section is all about doing the right makeup for the workplace. This section has 4 videos and is 27 min long.
The first video in this section is about color and makeup.
It's about how different skin tones cant be of one single undertone, some have neutral, some pink, and some yellow.
Brown says that one should test out colors and makeup on bare face to understand their shade, be it lipstick, foundation, or blush. Also, she is not a fan of trends unlike me; but she states that one should not go for a product just because it's trending rather pick a product that works for you.
Now moving to the most-awaited segment, Bobbi's makeup kit. Honestly, I was so excited about this video, when I saw it, it came to me as a shock that she carries a handful of products for her daytime, nighttime, and travel kit.
For daytime makeup essential kit, she customizes her products to make them multipurpose and carries only 8 items.
She believes in minimal products, easy work. For her nighttime kit, she includes 6 products including compact powder with a mirror, highlighter, lip gloss, long-wear lipstick, a toothbrush, and lipstick to touch up the blush.
One should take minis and unbreakable packets for carrying their makeup while traveling. Also, do not forget to label them.
The 3rd video is all about workplace makeup. One should choose the makeup which is appropriate for the type of office he/she works in. Workplace makeup should always be minimal and quick with a little polish.
Here, brown demonstrates workplace makeup where she fills in the model's brows, uses a tinted moisturizer, complexion sticks, some blush, and a lipstick; not too strong, not too pale. Blotting papers are a must.
We often struggle with time while doing our makeup for work, right? brown has covered this aspect too in the last video.
It's essential that you use minimal products that can be used in multiple ways.
No brushes no compacts, nothing. It should look fresh and natural. You can apply a bronzer instead of foundation, a complexion stick or concealer under your eyes, mascara, a cream blush which can be used as lipstick too, and you are done in a minute or less.
Section – 4
Alright, moving on;  in The 4th section of this masterclass, she teaches how to convert your daytime makeup into nighttime makeup. This section has 3 videos of 39 mins in total.
The first video is about creating a statement lip.
Here, brown teaches you how to perfect your lip game. She uses one of the most challenging shades, plum, Deeper shades are not forgiving and so she teaches the right way to do a classic lip. Start from the center of your lips, the inner corners of lips are not supposed to be overlined, clean up with a foundation in case of any goof up, and take your time with the lips.
Moving on to the 2nd video: switching a daytime look into a night-time look.
Here, Bobbi Brown asks a model to do her own makeup. The model starts by touching up her makeup with a little bit of foundation. Next, she creates a beautiful smokey eye with a pop of shimmer.
Finishing the look with cream blush and a statement red lip. It's so easy to turn a daytime makeup into a night one, isn't it?
The last video is all about creating the perfect smokey eye.
Brown starts by using the layering(snippet 12) method to create the perfect cool-toned brown smokey eye. She layers the shades starting from the lightest to the darkest, softly blending the edges.
Moving on, she uses a black liner and mascara to define the eyes and adds sparkle to add some fun to the look. Getting rid of the fallout is very important.
Section – 5
Moving on to the 5th and the last section, makeup artistry.
Brown shares lessons from working as a world-renowned makeup artist and entrepreneur. This section has 5 videos and is 47 min long.
The first video is a talk through the changing face of beauty; meaning the evolution of makeup over the years.
Brown says that you should learn how makeup evolved. This will not only boost your knowledge but will have a huge impact on your skills.
She gives various references to understand the peaks and downfalls in the makeup industry over the years. She then explains how 'Bobbi brown cosmetics' was born with a simple idea. Later in the video, she also talks about ít' girls and how they have always been trendsetters.
In the next video, brown explains her work in the 90s and shares her experience, which is honestly remarkable.
She always urges a makeup artist to show his/her model, a mirror, this will make the model comfortable resulting in great photographs. Next, she shares her experiences with various photographers and how she learned things from each one of them.
She asks you to be communicative with your team for the best results.
Also, make a digital portfolio on Instagram, you won't believe me when I say this, but brown took models from Instagram for her book. It is one of the best platforms to get work from.
The last 2 videos are all about editorial makeup and some personal lessons.
I really like the fact that all the products to be used are listed before diving into the look which is extremely helpful. Here, she tells that even though bold colors are not her comfort zone, she is never afraid to experiment.
One should be ready for anything and everything.
She talks about how you should not try to cover any scars or freckles and how to just experiment with the look.
Keep taking feedbacks, always understand the texture of a new product before using it; at the end, if you like it, it's art; if not, fix it.
Brown concludes by saying few simple yet effective sentences: be on time, be nice to people, work hard, ask if people need help and be the best version of yourself at work and in life.
The most informative segment regarding business philosophies is this bonus segment.
Brown states some very essential pointers regarding her business philosophies: prioritize your responsibilities, take time when building a brand, try different things, and go all out. actions speak louder than words; make sure you know how your idea looks, not on paper but in real life.
So those were all the sections covered, now let us move on to who should be taking up this masterclass.
This masterclass is for anybody and everybody; if you are a makeup fanatic like me; go watch and re-watch this masterclass or even if you aren't interested in makeup, you should go for it. Confused? I'll tell you why.
This masterclass course provides you with in-depth product knowledge for different skin types, makeup for the workplace, some amazing insights on building your brand or business, and of course nude makeup.
These things are the ones that everyone needs at some point or the other in their lives.
Joyce Carol Oates Masterclass Review: Pricing Plan
There are two ways by which you can purchase a MasterClass, a single MasterClass, and an All-Access Pass for any of the gurus on the platform.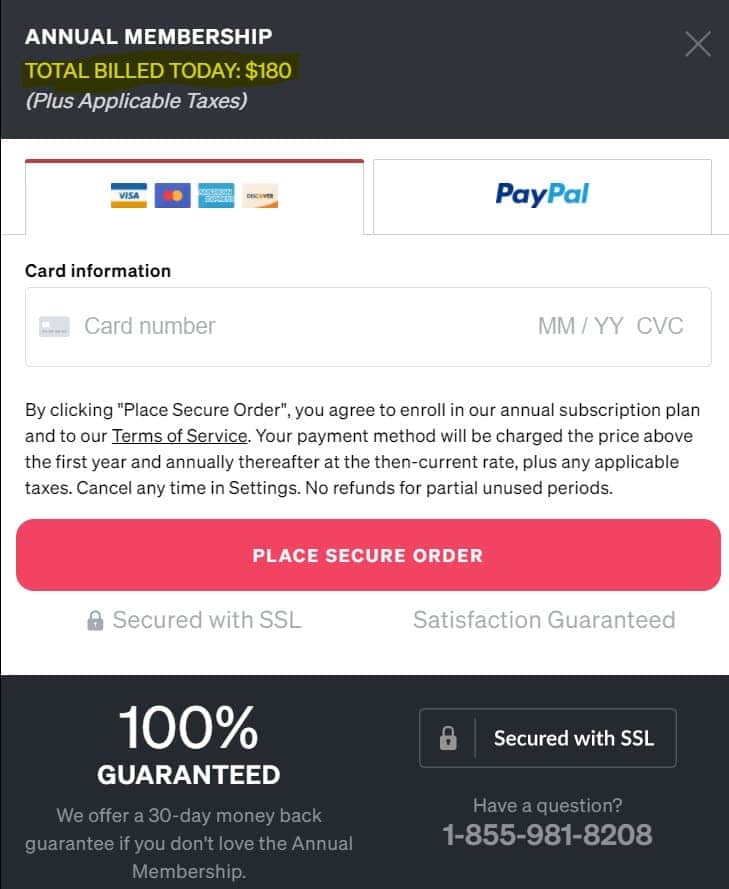 Single MasterClass: $90
All-Access Pass: $180 per year
The All-Access Pass comes in real handy when you wish to take more than one MasterClass, so this means that there is no limit on the number of MasterClasses on the All-Access Pass. Grab this pass with the Masterclass Discount code now.
A 30-day money-back guarantee is also available for any of the David Baldacci MasterClass Review packages you purchase and you will get a complete refund of the amount in case you are not satisfied with their services.
The things that I appreciated most about Bobbi Brown's MasterClass are:
a wealth of expertise gained from working in the industry for a lifetime
It is evident that Bobbi Brown has spent her entire career working in the cosmetics and beauty sector.
The training is full of invaluable pointers, the likes of which you could only have learned by devoting a significant amount of time to the field of makeup application.
These tidbits of information are what distinguish it from the plethora of other makeup tutorials that are available on the internet and in other formats, and they range from suggestions about which everyday products to leave at home for a photo shoot in a studio to minute specifics that can really make a bridal look stand out.
Dedicated to bringing out the very best version of you, Many times, despite my best efforts and following the steps in a YouTube makeup instruction to the letter, I have ended up with an awful result.
It is not because of my lack of experience with applying cosmetics (OK — maybe somewhat!) but rather because I am a completely different person than the one who was demonstrating the product. What is successful for them may not necessarily be successful for me.
Throughout the entirety of the class, Bobbi Brown will continually circle back around to the subject that is of the utmost significance: you.
She encourages you to think carefully about your skin, your appearance, what you like and don't like about yourself, and to embrace the best version of yourself rather than just mindlessly following the crowd.
Because the scar is an integral part of the model's identity, Bobbi decided to display it in its natural state on the forehead of one of the models.
It was incredibly refreshing to see something like this in this day and age of the airbrushed Instagram aesthetic, where everyone is sculpted to seem the same.
Quick Links:
FAQs | Bobbi Brown Masterclass Review
💁 What is a Masterclass?
Masterclass has some of the best A-class teachers like Bob Iger teaching business, Aurel Stein teaching writing, and the list continues. Just demand a course and they have in their list along with the best teachers.
🤑What is the pricing of masterclass ?
Masterclass All-Access Pass is billed at $180 and comes with a 30-day moneyback guarantee.
📺 Where can I watch?
With MasterClass, you can learn and be inspired anytime, anywhere, including your smartphone, personal computer, Apple TV, Amazon Fire TV, and Roku streaming media players. You can even download your favorite lessons and watch on the plane or listen during your commute in audio-only mode
🤷‍♀️ How does the 30-day guarantee work?
Our goal is to make sure that you have the best learning experience possible. If MasterClass isn't for you, then email us within 30 days of the date you purchase your subscription, and we'll offer a full refund.
Conclusion | Bobbi Brown Masterclass Review 2023: Should you go for it
Personally, I have learned so much from this masterclass.
I saw Bobbi brown use a flat brush, so I tried and I can't keep my hands off it.
She grabbed my attention towards every small portion and explained it so beautifully. Even when I talk about her business philosophies, it has changed and upgraded so many ideologies that I had earlier.
It's a blessing to even watch her do makeup.
So, I hope you guys enjoyed reading my Bobbi Brown Masterclass Review.
We would love to hear your thoughts on the same in the comment section below. You know by now that I'm definitely gonna recommend the beauty and makeup Masterclass course by Bobbi brown 
Also if you really like this review then please like and share It on your social media handles. For Masterclass discount, check our masterclass all-access-pass here.