In today's digital age, book affiliate programs have become increasingly popular.
With the growth of e-commerce and online publishing platforms, many authors, publishers, and booksellers are now offering various types of affiliate programs to help promote their books.
These programs are designed to reward affiliates for referring sales or lead to the company.
By partnering with the right program and leveraging the right strategies, you can earn income while helping authors get their books seen by more people.
In this article, we will be covering some of the best book affiliate programs of 2023 and providing tips on how to make money through these programs.
What Are Book Affiliate Programs?
Book affiliate programs are an excellent way for publishers and authors to increase their income by leveraging the reach of their books.
Through these programs, publishers or authors can partner with websites and services that promote their books through links on the website or other services like newsletters.
When a customer clicks on that link, they're taken to the book's landing page, where they can purchase it from the publisher or author.
The affiliate then receives a commission from each successful sale made as a result of their promotion.
The amount of commission an affiliate earns depends on the terms agreed upon between them and the publisher/author but typically ranges anywhere from 5-20% of each sale.
This means that if someone were to buy a book that costs $10, the affiliate would receive anywhere from 50 cents to two dollars in commission.
Book affiliate programs are beneficial for both publishers/authors and affiliates alike.
For authors, it helps to increase their sales by getting their books promoted on websites that specialize in book marketing or have large website audiences.
For affiliates, it provides an additional stream of income and can be a lucrative business for those who dedicate time and effort to promoting and selling books.
14 Best Book Affiliate Programs of 2023
Here are some of the best book affiliate programs we have mentioned.
A worldwide online book marketplace where customers may purchase books, collectibles, and even art, AbeBooks has been around since 1996. books that are hard to locate, uncommon, and no longer being produced.
This is significant since you will be able to provide your website's visitors with some exclusive affiliate items. Certain of these books won't be available in other retailers, notably not on Amazon.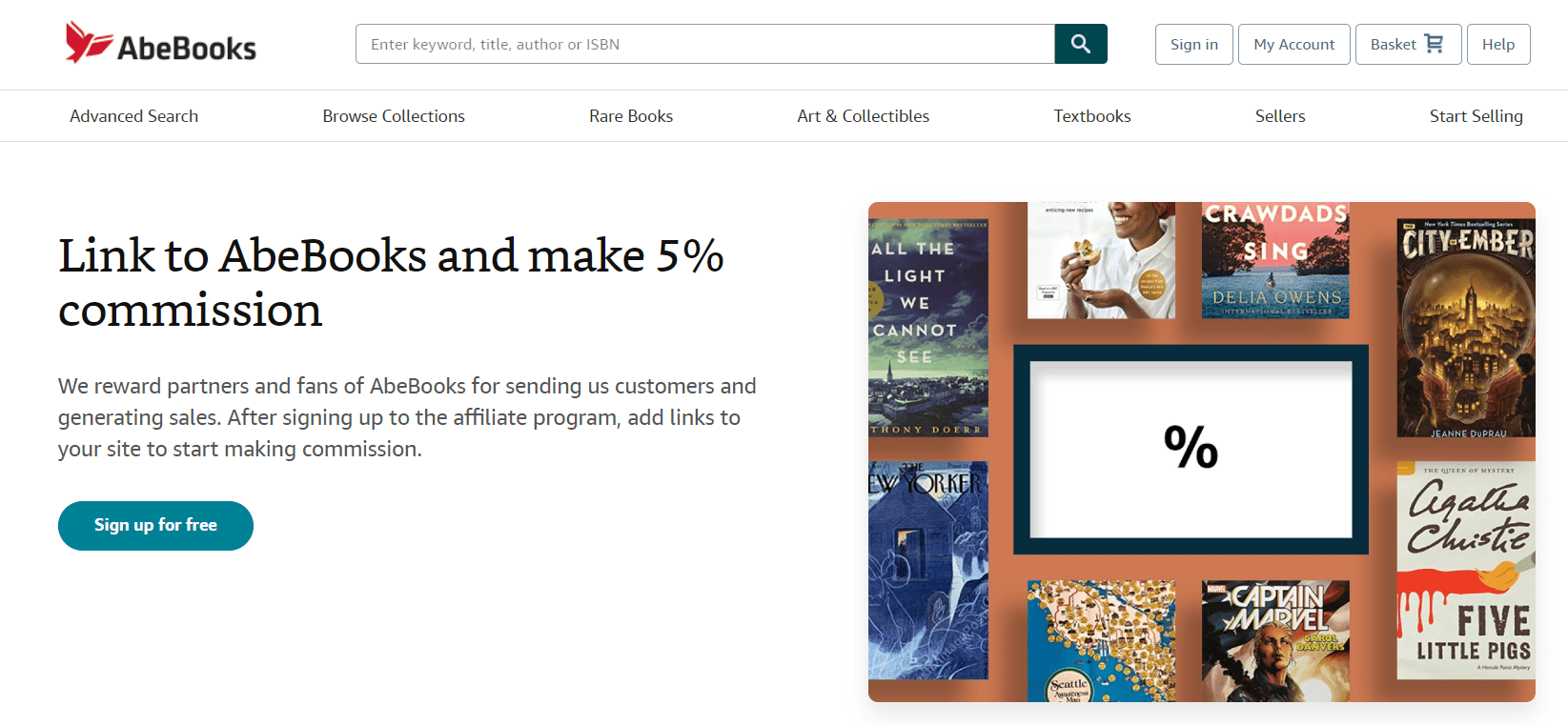 It's most likely the reason Amazon acquired AbeBooks a few years ago.
Give them a try if that's your thing; this is one of those special book affiliate programs due to the uniqueness of the items they carry.
Every sale made on AbeBooks using your affiliate link will earn you a 5% profit. Prior to submitting an application for this program, you must create an Impact Radius account.
Cookie duration: 30 Days
Commission rate: 5%
A hybrid store that combines a bookshop with a gift shop is called Chronicle Books.
In their collection, they have a ton of bestsellers in a variety of genres, including Art, Design, Entertainment, Food, Lifestyle, and more.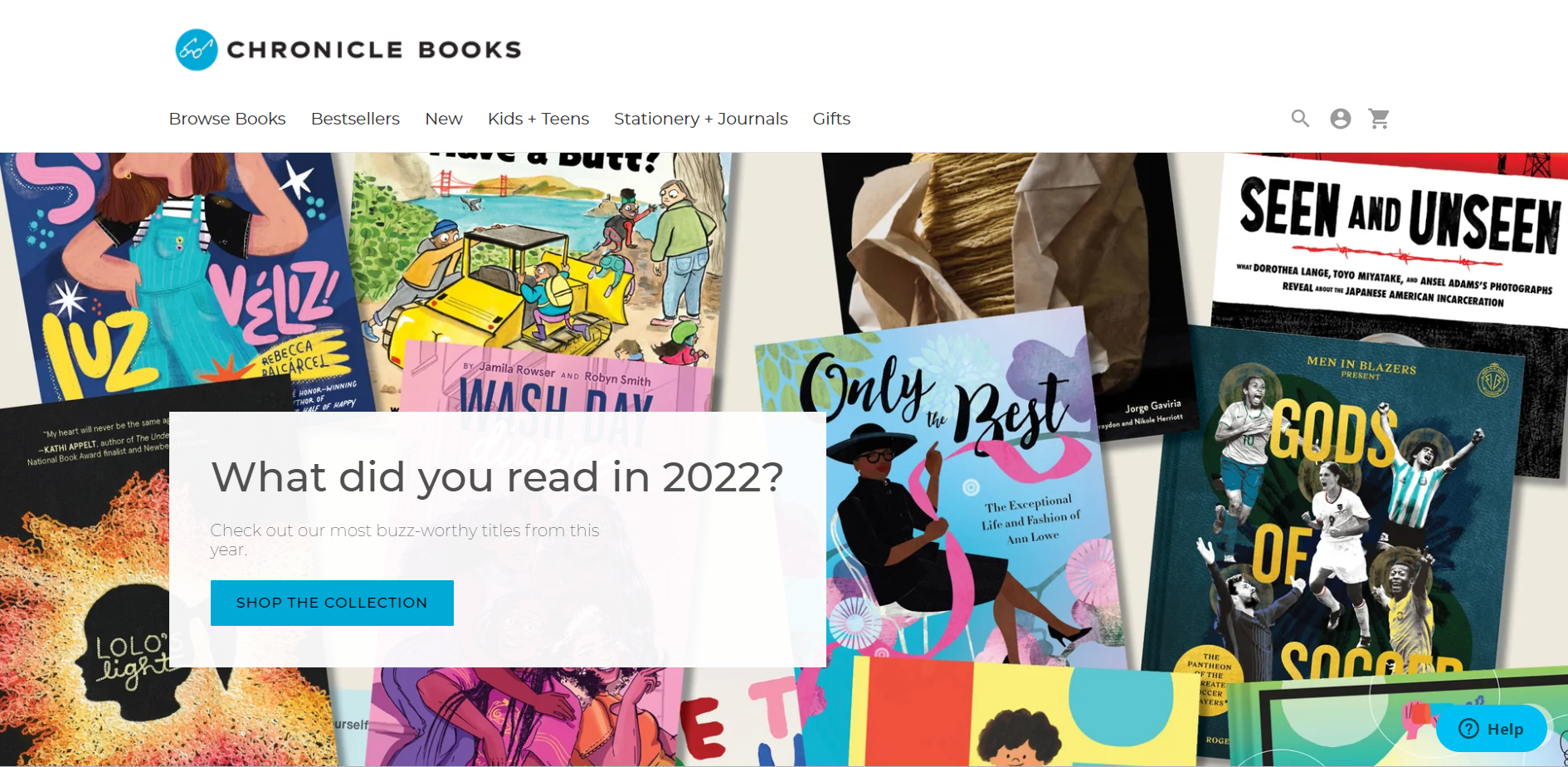 Additionally, they provide presents, stationery, and books for children and teenagers.
The Chronicle Books affiliate program allows for a 10% compensation rate for affiliates. Their cookie lifespan of 30 days is also rather respectable.
Cookie duration: 30 Days
Commission rate: 10%
A book club for youngsters is called Bookroo. Although it differs somewhat from all the other book affiliate programs I've discussed on this page, we're still here.
You can make this work, however, if you run a parenting blog, a mommy blog, or any other online specialty focused on the family and children.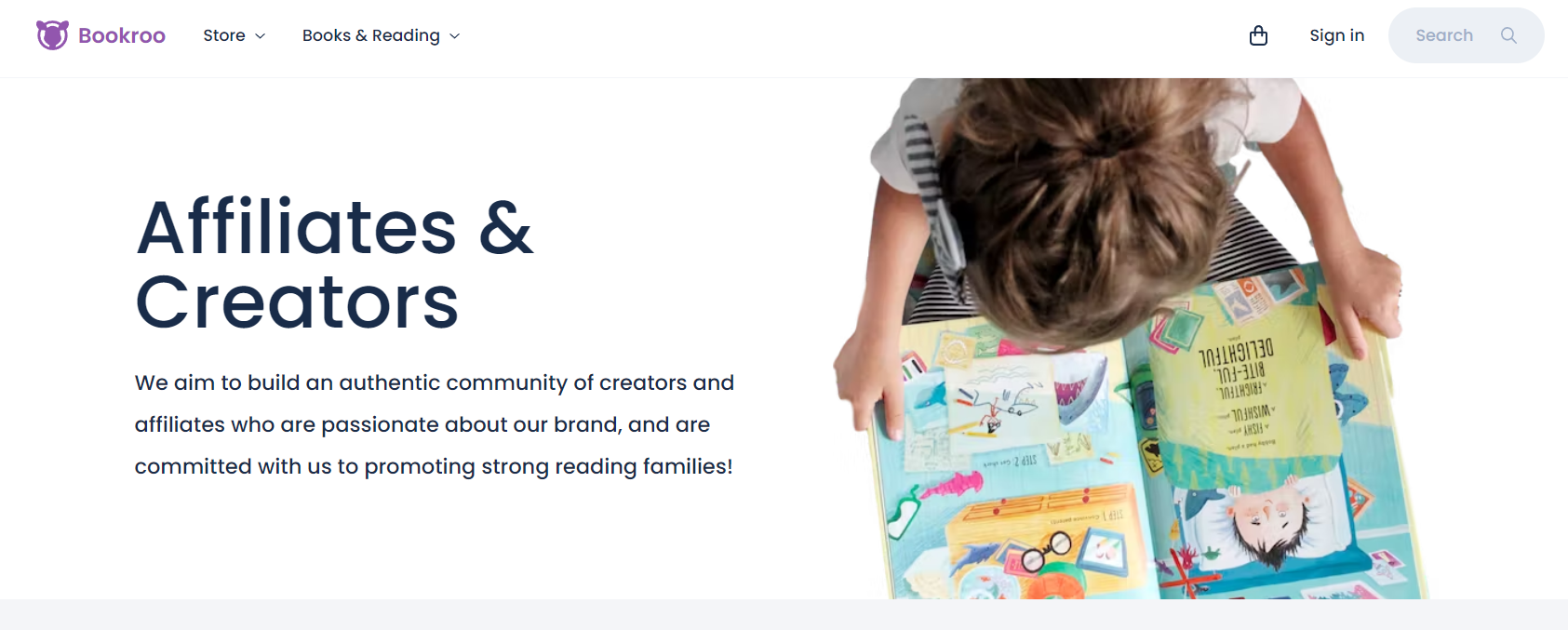 The core concept is quite cool; Bookroo is a monthly subscription service box that sends out children's books. Because their boxes and books are focused on the kids' ages, there is a wider choice available.
Cookie duration: 30 Days
Commission rate: 10%
Textbook Solutions, a different service for renting textbooks, focuses only on one thing: saving students money.
Additionally, students may sell their own old textbooks to Textbook Solutions and get cash immediately.
Their ShareASale affiliate statistics are respectable, with a high EPC, a solid conversion rate, and auto-deposit.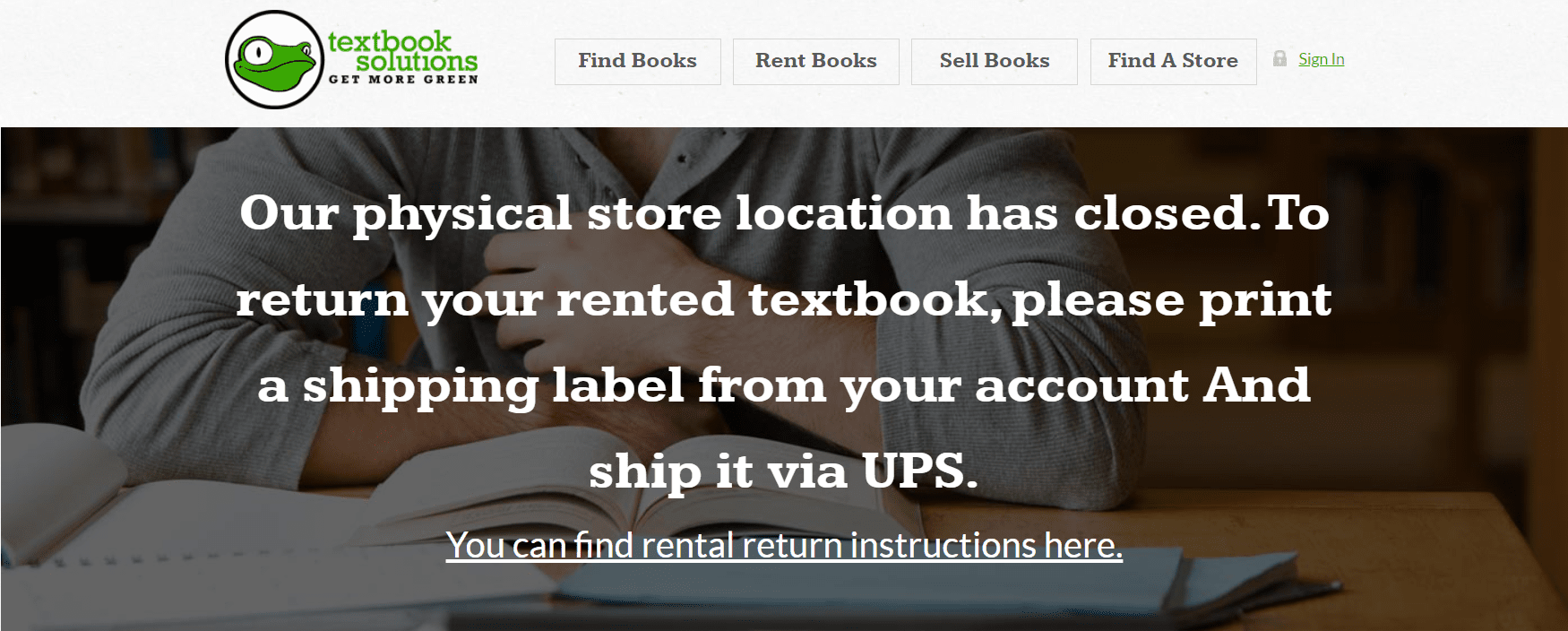 The one-day cookie length is the one aspect of this book affiliate program that I dislike. It's just a window that's too tiny, especially in comparison to other programs of the same kind.
Cookie duration: 1 day (meh).
Commission rate: 5%
Are books… audiobooks? Many people seem to agree.
Listen, I'm clearly kidding, but to me, a book is a freaking book, which is to say it's a solid rectangular object packed with several pages of paper that smells like Narnia.
The truth is that audiobooks are very popular right now, and it's not uncommon to see many blockbusters sell more audiobooks than print editions.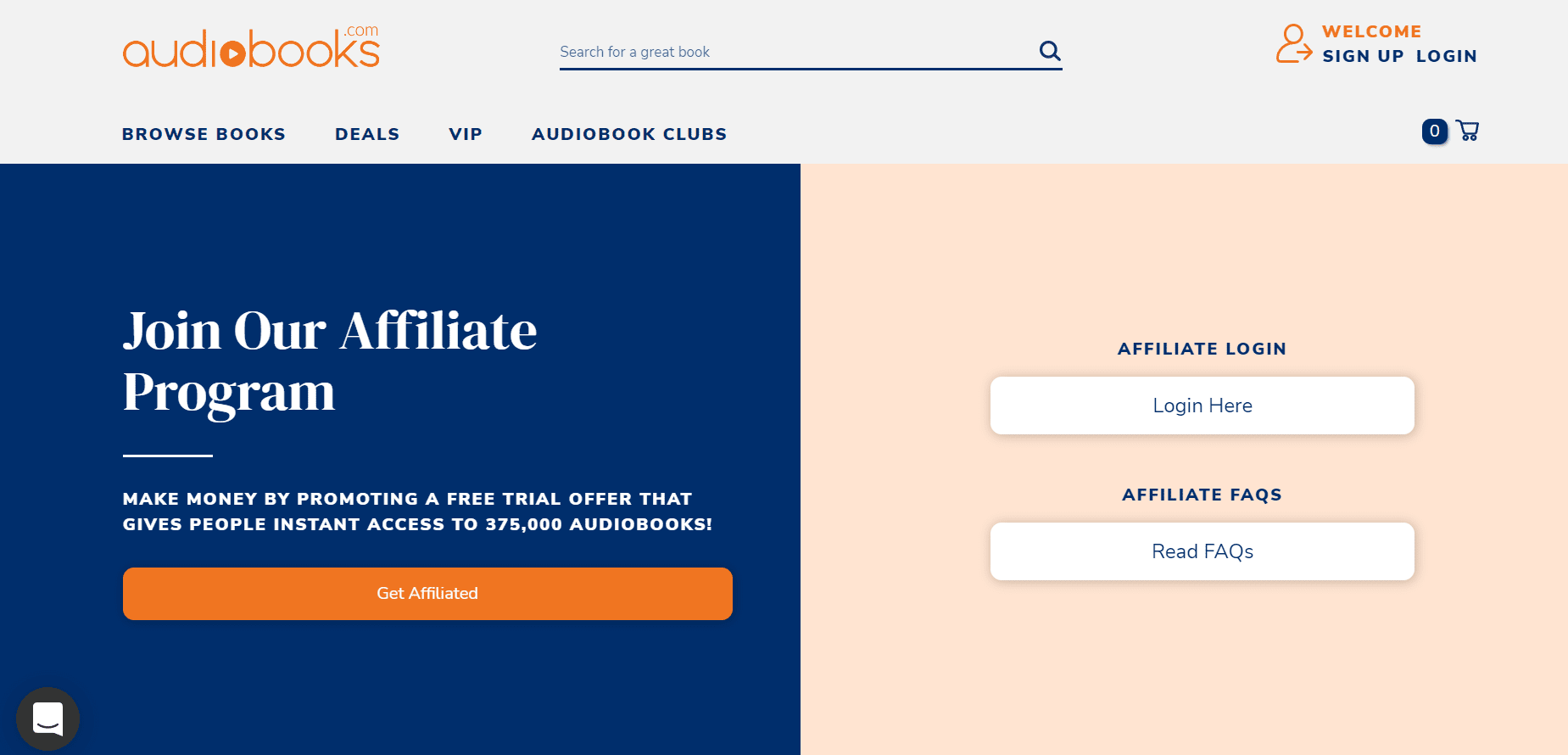 Even yet, I understand that if you're tired of listening to the same radio stations over and over again when you're driving, walking, or exercising, an audiobook can be the ideal combination.
One of the largest online retailers where your customers may get audiobooks at discount costs is AudiobooksNow. They offer several free titles among their more than 80k titles.
Cookie duration: 15 days.
Commission rate: 10%
Another website where students may go and borrow inexpensive textbooks is Knetbooks.
By choosing to rent their textbooks from Knetbooks' extensive selection of more than 6 million volumes, students may save up to 85% on textbook costs.
The fact that delivery is free, including return shipment, is fantastic.
The books may be rented for a semester, a quarter, or for a shorter period of time, like 58 days; often, some students will prolong this time.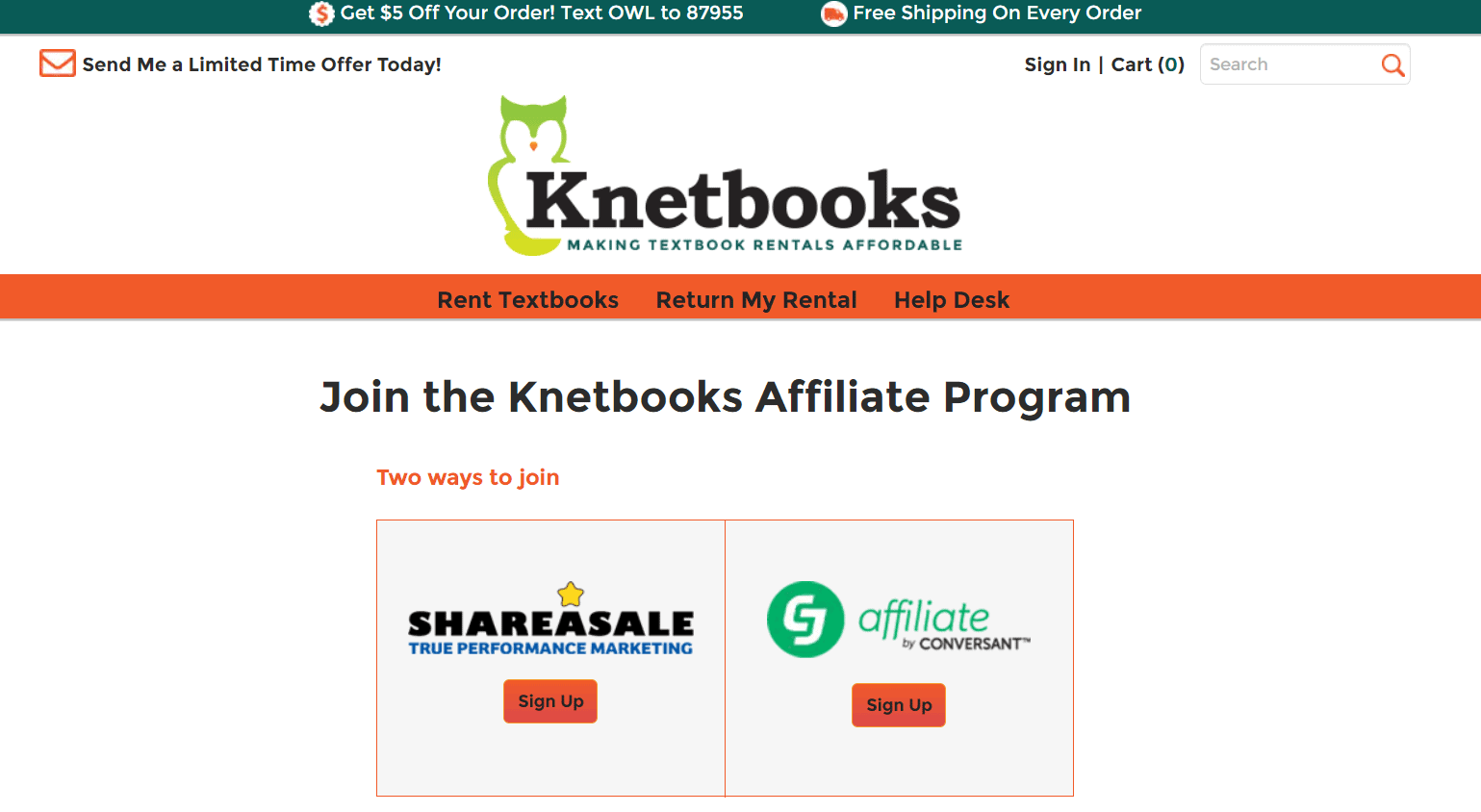 The Knetbooks affiliate network can be a wise decision to join if your blog's readership is primarily interested in students and education.
On ShareASale, you may find this book affiliate program, which shockingly has a rating of 676 in their PowerRank (which means the program is popular).
They have a strong conversion rate of around 15%. Sure, the typical commission may be on the low side, but then again, with book sales, that's typically the case.
Cookie duration: 45 Days
Commission rate: 8%
Another bookstore committed to assisting small, independent businesses is IndieBound.
Additionally, it's a fantastic opportunity for readers to get in touch with independent writers and ask for book suggestions.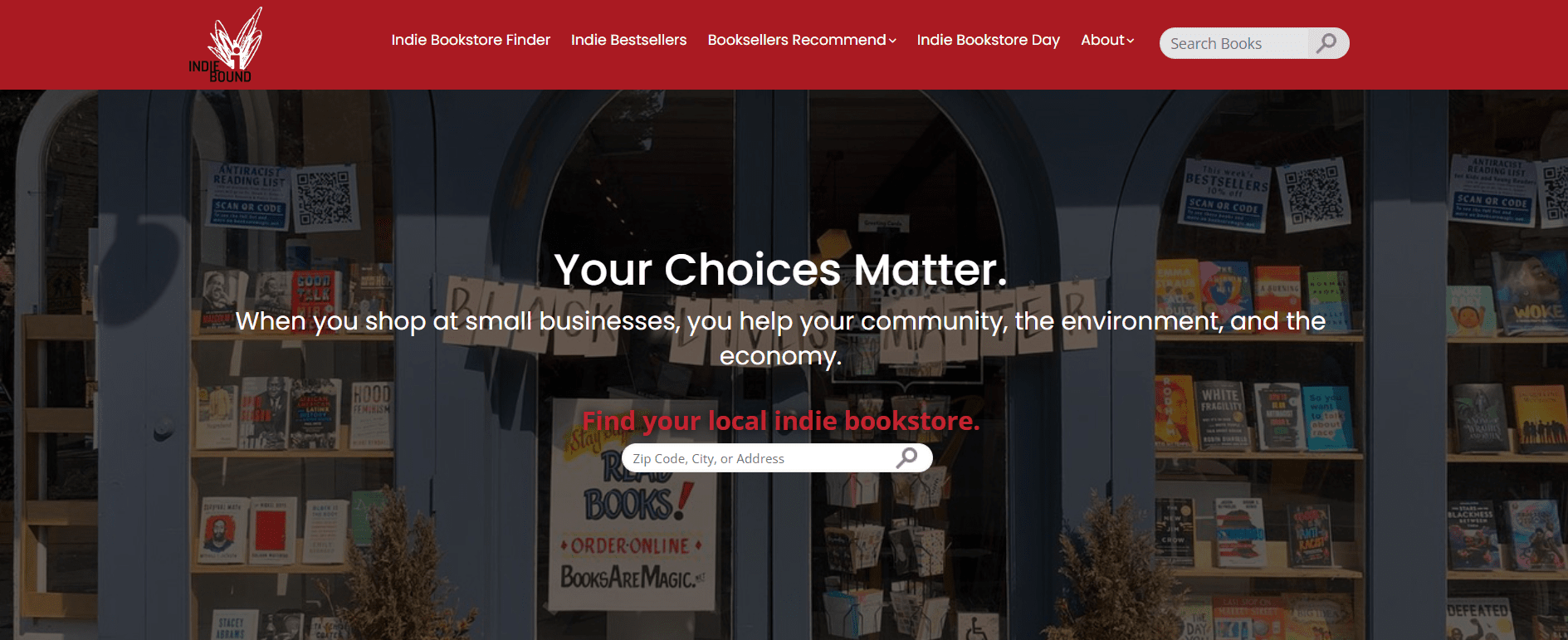 Users of IndieBound will be directed to nearby independent bookstores where they may buy books.
Therefore, all of the money supports the neighborhood, which is fantastic for people who object to Amazon's business tactics.
Cookie duration: Unknown
Commission rate: Unknown
Such a catchy domain name. When readers are brought to this website, they instinctively know what to anticipate; can you guess what they sell? Clearly, they sell eBooks.
The website is fantastic since it offers a ton of specialist categories with eBooks that Amazon does not carry.
So give eBooks.com a go if you want to advertise more distinctive affiliate items on your website.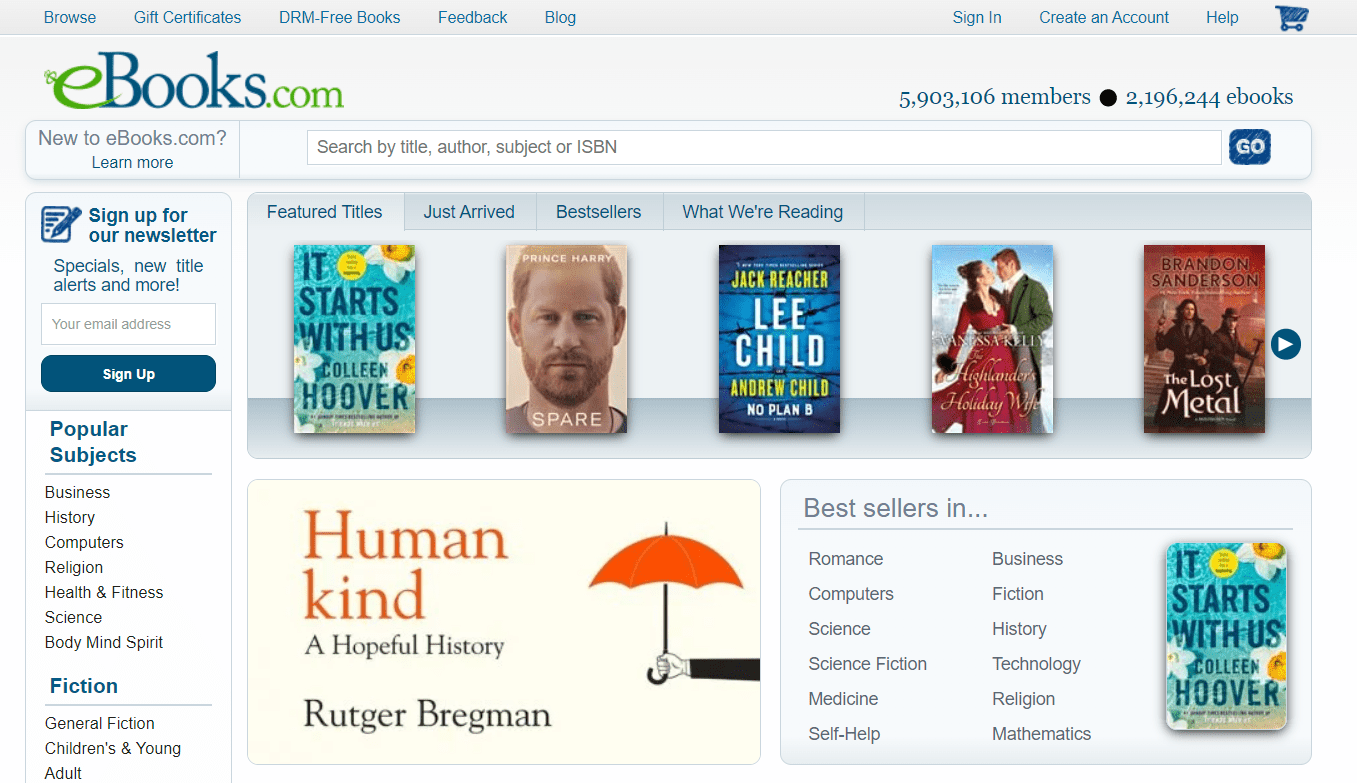 The CJ Affiliate network's eBooks.com affiliate program has the wonderful feature of allowing you to enhance your compensation rate to 10% if you generate more than $500 in affiliate sales and even up to 15% if you generate more than $2,000 in sales.
Cookie duration: 45 days.
Commission rate: 8%
In order to assist neighborhood bookshops without a website, Bookshop was created.
You see, their whole goal is to persuade internet customers to stop using Amazon and start patronizing their neighborhood bookshops.
The procedure is as follows: When someone wishes to purchase a book, they are prompted to locate a nearby business they would want to support.

When people purchase the book, 100% of the money goes to that neighborhood shop.
Some of the money goes into a pool that is then utilized to assist the businesses in various ways because there isn't a local store.
Because I don't really like the concept of Amazon becoming a book empire, I, for one, think it's a great cool idea and I fully support it.
Cookie duration: Unknown
Commission rate: 10%
Because this shop is more focused on textbooks for students than other book affiliate programs, VitalSource is a little different.
Try out the VitalSource affiliate program if you own a website in the educational area.
They provide a wide selection of textbooks, and students may save up to 80% by doing business with them rather than another website.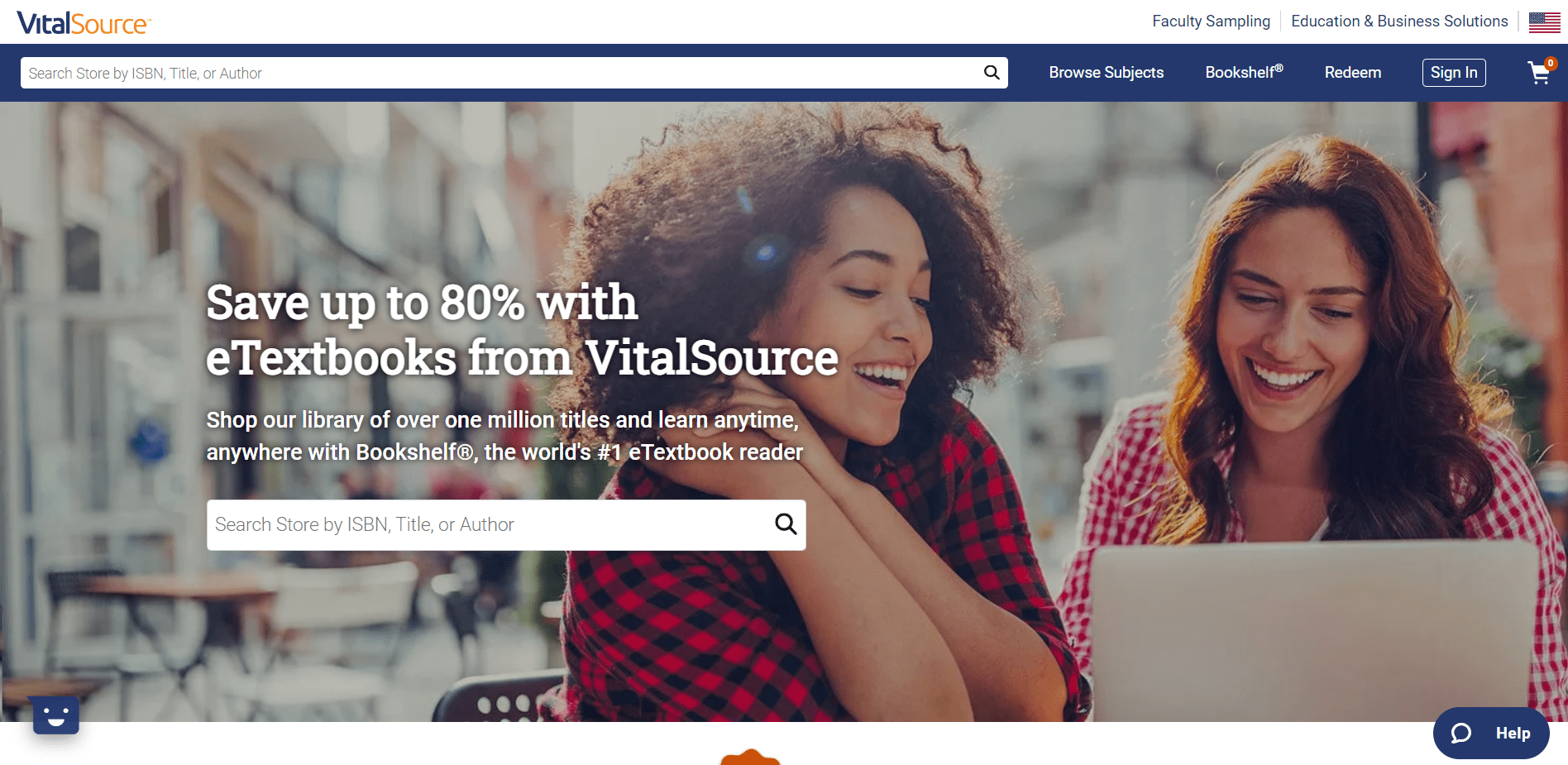 Through the Commission Junction affiliate network, you may sign up for the VitalSource book affiliate program.
Because of their high EPC and network revenues, it is clear that other affiliates have had success advertising this product.
Even though their commission rate is just 3%, the price of the textbooks is considerable, so you may still make a respectable income (as you can see in the above picture, notice how high the EPC is).
Cookie duration: 40 days.
Commission rate: 3%
Although Book Depository is a UK retailer, they do provide FREE delivery on all purchases anywhere in the globe, which is fantastic.
The online bookstore was founded in 2004 by an Amazon employee, but it was eventually acquired by Amazon in 2011 or so.
The bookstore is still rather well-liked online, and the evaluations are generally favorable.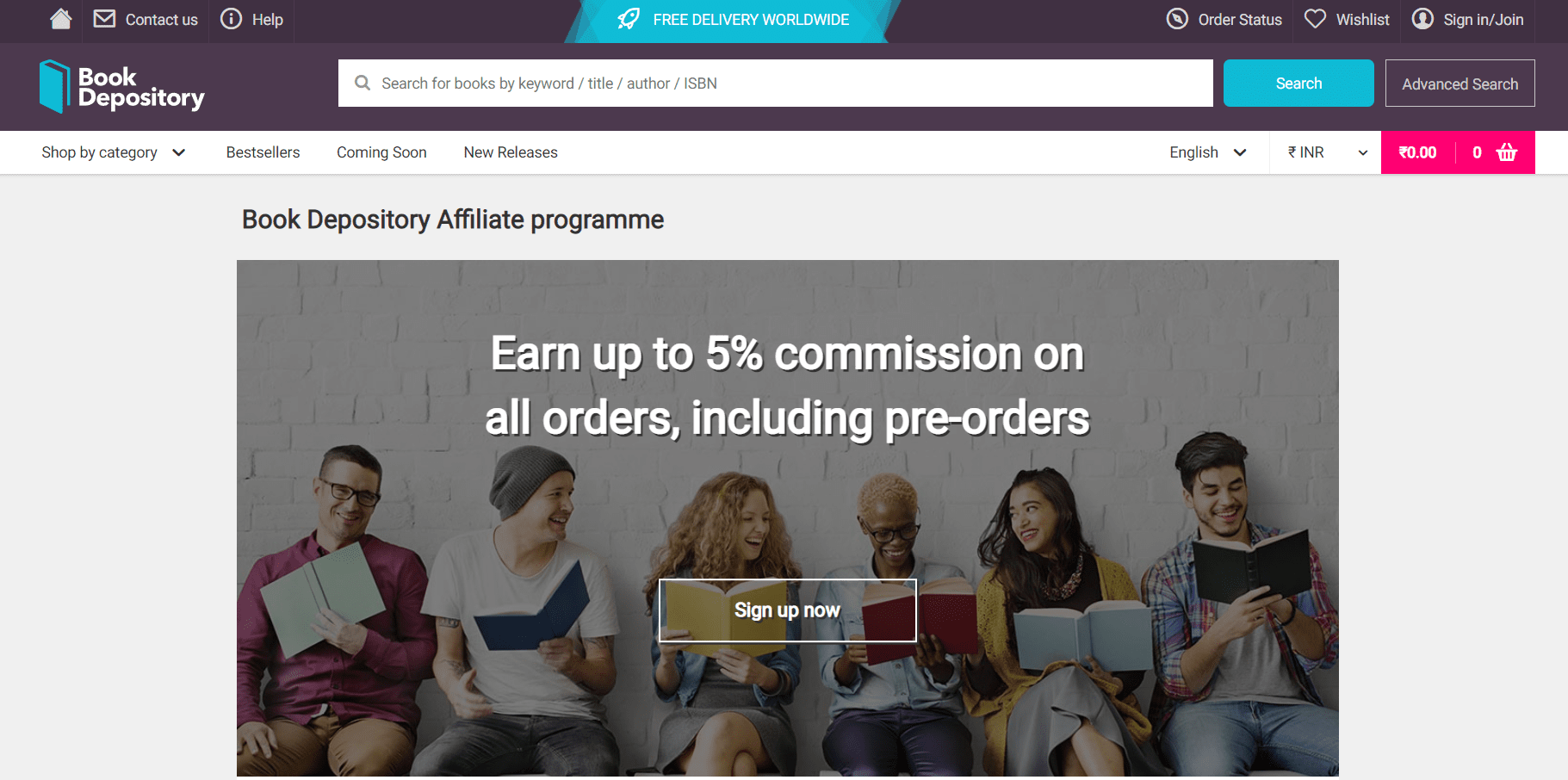 The only drawback is that I'm not sure how long their cookies last; you'll have to join up and find out for yourself.
Cookie duration: Unknown
Commission rate: 5%
Better World Books has a fantastic book affiliate program as well. This bookshop is fantastic because, as its name implies, it strives to improve society.
The organization raises money for many charities and libraries in addition to donating and recycling millions of books.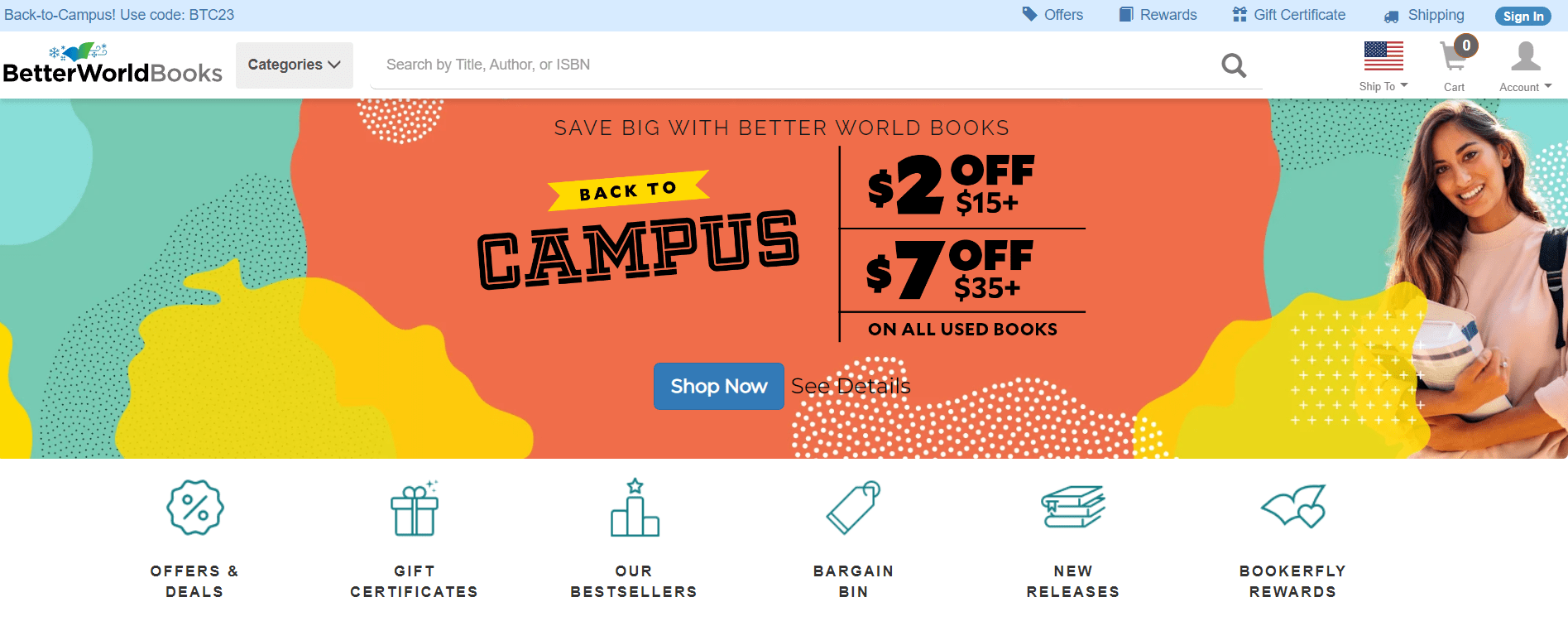 This makes them very well-liked by customers, and as a result, they have excellent ratings and have gained the confidence of millions of buyers.
I must admit that I also respect them for this, thus, if I were to market books as an affiliate, I would without a doubt go with them.
The commission rate for the Better World Books affiliate program is 5%.
Cookie duration: 45 Days
Commission rate: 5%
Another sizable retailer that competes with Barnes & Noble is Books-A-Million or BAM!
Although they also offer toys, presents, collectibles, and other exciting items that you may advertise as an affiliate, they don't simply sell books.
If you've launched a site about books and the culture around them, the additional income streams you can use to promote Books-A-Million might boost your affiliate earnings even more.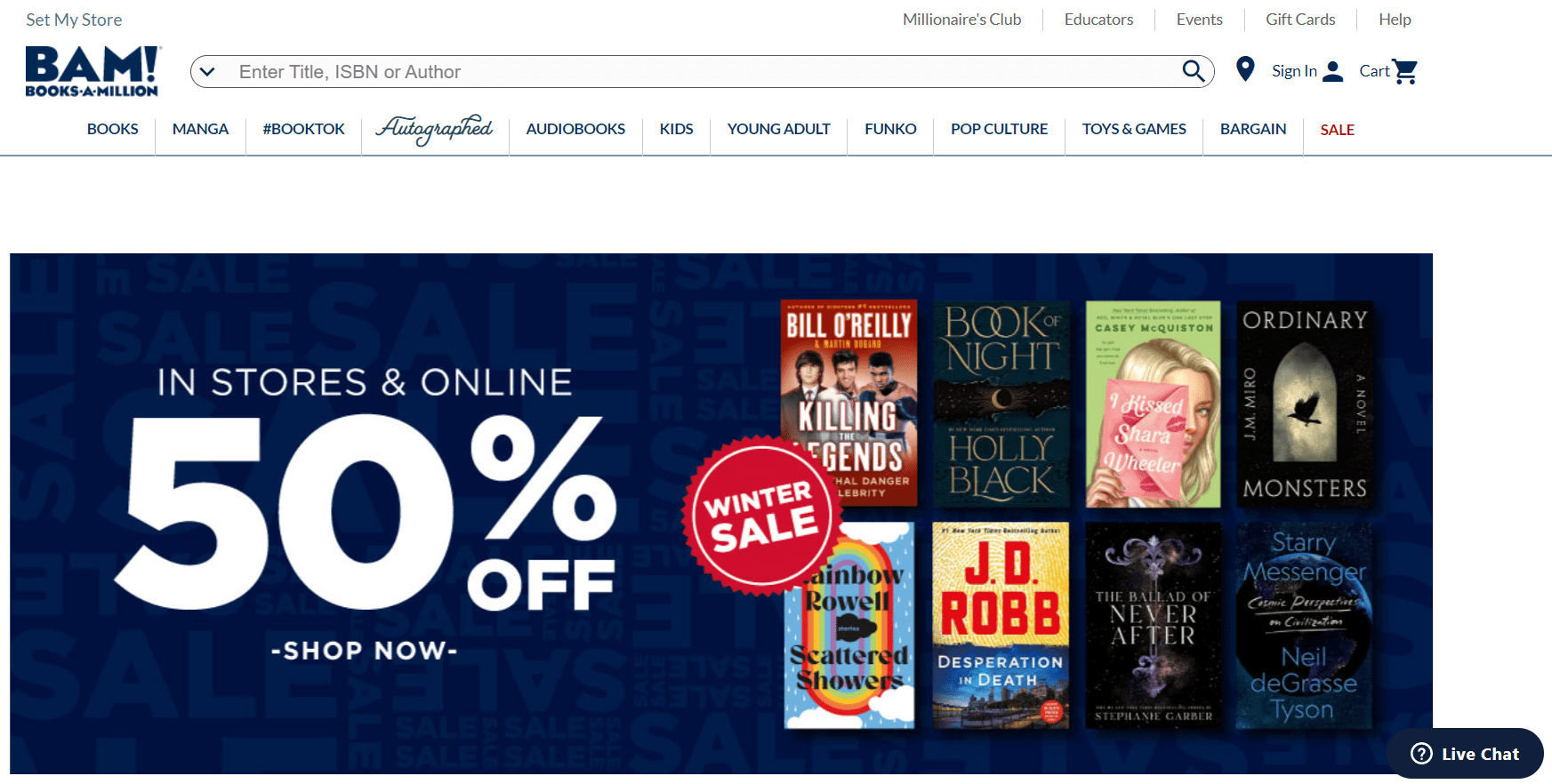 For instance, all of their pop culture souvenirs, or "Funkos," which are essentially figurines, are modeled after well-known figures from literature, television, and film.
This provides you the chance to provide your audience with something more distinctive while simultaneously promoting books.
Cookie duration: 30 Days
Commission rate: 5%
The most well-liked bookshop on this list is Barnes & Noble. Additionally, it defeated Amazon Books to take home the title of #1 bestseller in the country.
It proves that persistence and striving for success are more crucial than anything else. Who would have guessed that Amazon is not America's top bookseller? That's certainly not me.
Nevertheless, despite Barnes & Noble's relatively modest commission rate (only 2%), it could still be a smart idea to advertise their books due to the appeal of their brand.
Popular companies like Barnes & Noble and Amazon get stronger consumer responses. Therefore, the conversion rate ought to be greater in principle.
Cookie duration: 1 Day
Commission rate: 2%
FAQs About Best Book Affiliate Programs
How do I become an affiliate for a book?
Becoming an affiliate for a book is relatively easy. Most companies will have an application process that includes signing up on their website, providing contact information, and agreeing to their terms and conditions. Once approved, you will be provided with links or other methods of promotion that you can use to refer customers and earn commissions.
How much can I make as a book affiliate?
The amount of income you can make as a book affiliate depends on the program you are working with, how successful your marketing efforts are, and other factors. Some programs offer higher commission rates than others, so it's important to research the different programs before signing up for one. Additionally, some programs may also have different incentives or bonuses that can increase earnings potential.
Are there any special strategies I should use when promoting books?
Yes! One popular strategy is to focus on niche markets rather than trying to promote books broadly. By focusing on smaller niches, you can increase your chances of success since you are targeting a more specific audience. Additionally, it's important to leverage social media and other digital marketing channels to reach as many people as possible. Lastly, be sure to track the performance of your campaigns so that you can identify which strategies are working best for you.
Quick Links:
Conclusion: Best Book Affiliate Programs 2023
Book affiliate programs are a great way for authors, publishers, and booksellers to promote their books and earn income.
By partnering with the right program and leveraging the right strategies, you can turn book affiliate programs into a lucrative business.
In this article, we've covered some of the best book affiliate programs of 2023 that are worth looking into if you're interested in promoting books for extra income.