In this article we have featured, Best Catchy Words, Using the right and catchy words makes a significant difference in creating your content lightning and engaging. If the words are used correctly, it can change your blog from boring to fantastic.
This journey of making your blog fantastic and engaging majorly depends on the type of words and lines you use. There are numerous bloggers, editors, digital marketers, and ad copywriters to stand out from people in your field; you need to use catchy words to give a better vision to your blog.
Headings and Titles are another part of this blog that should be focused upon as they are the whole theme of the blog. If your title is good, then many visitors would get attracted to it and read your blog, which would increase the traffic.
What are Catchy words?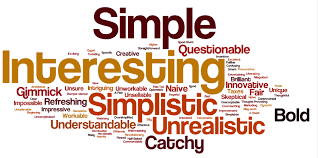 Definition of catchy words might vary from person to person. For one person, amazing might be catchy, while fantastic might be a better word for another. In general, catchy or powerful words are described as the words which trigger at least one of the following in the reader's mind:
Happiness
Excitement
Anger
Curiosity
Sense of emergency
Or any other emotion
If the reader feels any of the following emotions, then your title would get more attention that would increase your Click-through-rate.
Importance of Catchy Words
Numerous bloggers, content writers, and digital marketers use catchy words but have you ever wondered why they use these words. The primary reason is that it engages the reader into the narrative behind the words. Furthermore, some people use it so that readers focus more on the context instead of thinking of a reason for using these words.
Let us know why people use catchy words to create brilliantly engaging titles:
1. Attract the readers: Bloggers yearn to spark the content by using words that entice the customers. These catchy words help in getting the attention of customers, which increases the CTR.
Catchy words make the content engaging and create excitement among the audience. Thus, if you want readers to eagerly wait for your content, use these powerful words in titles and content.
2. Psychological Impact- A few words: make the content engaging and allure the audience to hear your point. For example, "reasonable," "Guaranteed Results," "Quality assurance," etc., if people read such headings, they open the link and want to read what is in for them.
These words have a psychological impact on the customer and people tend to read what you write.
3. Clarity: The usage of power words helps the bloggers as these words help convey the story's intensity efficiently. If these words are used correctly, then the essence of the message can be understood quickly by the readers.
4. Focus on the point: Undoubtedly, catchy words help the blogger entice attention to focus on a point. The primary aim is to convey the message, which can only happen if you can focus appropriately on the point. Thus, use catchy and straightforward words as that is the easiest way of paving the reader's attention.
Best Catchy Words List That We Can Use
Suddenly
Now
Announcing
Introducing
Improvement
Amazing
Sensational
Remarkable
Revolutionary
Startling
Miracle
Magic
Offer
Quick
Easy
Wanted
Challenge
Compare
Bargain
Hurry
Join
Become a member
Come along
Accordingly
As a result
Because
Caused by
Consequently
Due to
For this reason
Since
Therefore
Thus
Anonymous
Authentic
Backed
Best-selling
Cancel Anytime
Certified
Endorsed
Guaranteed
Ironclad
Lifetime
Money back
No Obligation
No Questions Asked
No Risk
No Strings Attached
Official
Privacy
Protected
Proven
Recession-proof
Refund
Research
Results
Secure
Tested
Try before You Buy
Verify
Unconditional
Amazing
Absolutely Lowest
Love
Luxury
Magic
Mainstream
Mammoth
Miracle
Excellent
Exciting
Exclusive
Expert
Exploit
Extra
Accordingly
Advice
Alert famous
Amazing
Anniversary
Money
Secrets
Secure
Security
Selected
Sensational
Shrewd
Simple
Simplified
Simplistic
Since
Sizable
Skill
Announcing
Adorable
Approved
As a result
Astonished
Attractive
Fascinating
First
Focus
Fortune
Free
Full
Monumental
More
New
No Obligation
No questions Asked
No risk
Authentic
Fundamentals
No strings attached
Soar
Backed
Genuine
Noted
Special
Bargain
Gigantic
Now
Special offer
Spot light
Obsession
Greatest
Basic
Beautiful
Growth
Odd
Startling
Because
Guarantee
Offer
Strange
Best
Best-selling
Sturdy
Superior
Surprise
Thus
Trust
Unconditional
Unlimited
Unparalleled
Weird
Successful
Suddenly
Surging
Portfolio
Terrific
Tested
Timely
Promote
Protected
Under priced
Understand
Unique
Quickly
Unlock
Useful
Urgent
Valuable
Verify
Pioneering
Wanted
Sure Fire
Popular
Survival
Technology
Premier
Privacy
Professional
Profit
Today
Nowadays
In recent days
Tremendous
Influence
Eye-grabbing
Stunning
Stupendous
Ultimate
Proven
Quality
Quick
Rapid
Hurry up
Rare
Peculiar
Recession-proof
Unsurpassed
Unusual
Reliable
Value
Importance
Significance
Result
Overcome
Flawless
Supreme
Enthusiastic
Revealing
Wealth
Revolutionary
Willpower
Win
Victory
Wonderful
Opportunities
Outstanding
Perspective
Plus!
Hot
Hot special
Powerful
Practical
Profitable
Promising
Improvement
Protect
Informative
Protect
Improvement
Augment
Ultra modern
Protect
Informative
Insider
Inspires
Instructive
Reduced
Refund
Refundable
Remarkable
Research
Study
Revisited
Reward
Safety
Sale
Sampler
Save
Health
Help
Helpful
High tech
Highest
How to
Huge gift
Anytime
Imagination
Immediately
Important
Improve
Increase
Innovative
Interesting
Introducing
Ironclad
It's here
Join
Just arrived
Know
Largest
Last chance
Conclusion: Catchy Words (Most Powerful Words)
At the end of the day, try messing around with new combinations of the list of catchy words above and your keywords to create a truly unique and eye-catching headline.
If you are still stumped, try out the suggestions from our blog title generator and see what you can come up with.
It's a free headline generator and you'll find content ideas for what to write about in a matter of minutes.
Words pack a punch, some more so than others. Writing catchy headlines and creative blog post titles can help you create more viral content and grow your readership.