In this post, we'll talk about Christina Aguilera Masterclass Review, Christina María Aguilera, or simple Christina Aguilera, as the world knows her is an incredibly gifted singer, songwriter, actress, and television personality, who is one of the world's best-selling music artists and one of the most successful female artists in the Pop and R&B genre. and has won six Grammy Awards and also a star on the Hollywood Walk of Fame.
Let's take you closer to this vibrant personality and what she brings for you with our Christina Aguilera Masterclass Review. 
After embarking on an extremely successful music career, Aguilera is now on Masterclass to teach her followers, admirers, and future singing stars what all it takes to become a singing sensation like herself, or even better!
So, if you have always had that Aguilera playlist on loop or cover her songs, hoping to hit the mainstream musical circuit someday, then here is your golden chance, TO LEARN FROM THE STAR HERSELF!
Welcome To The Christina Aguilera Singing Masterclass!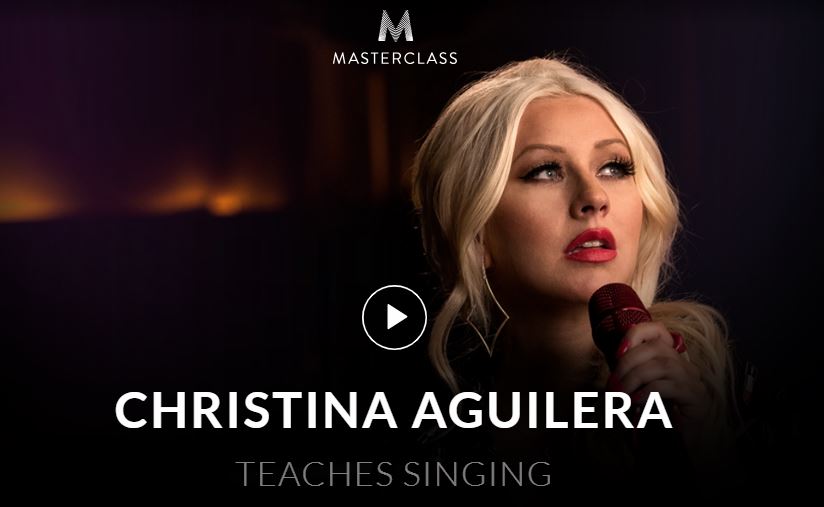 Throughout her illustrious musical career, Aguilera has found herself topping several musical charts countless times and also was ranked at number 58 on Rolling Stone's list of 100 Greatest Singers of All Time in 2009.
AND NOW SHE IS HERE TO TEACH YOU HOW IT'S DONE through her own Singing Masterclass!
Say Hello To Your New Singing Teacher!
Christina Aguilera has taken the initiative to teach you and thousands of her keen followers from different parts of the globe to master the techniques that have earned her six Grammy Awards expanding your range and finding your voice.
Throughout her lessons, you will learn warm-up exercises, breath control, vibrato, and also her signature growls. Furthermore, you will also get to hear Christina break down her biggest hits.
About Christina Aguilera
The name Christina Aguilera is one that doesn't require much of an introduction.
It's likely that you've heard of her if you've ever dabbled in the world of pop music, whether as a listener or as a musician. She's one of the most successful female artists of all time.
Her first album immediately ascended to the top spot on the US Billboard 200 chart, and it has since been officially certified eight times platinum.
In addition to her success on the charts, she has been awarded a total of five Grammys and has served as a judge on an earlier season of The Voice.
Christina's Masterclass Lesson Plan
Here is a quick description of all the 23 lessons that are a part of Christina's Masterclass course.
This is an introductory video about your new vocal coach Christina. Here your coach will begin your training out of the conventional rule book as she shares what she has planned for your class.
Christina Aguilera has learned a lot of things and secrets throughout her storied career. Learn and understand these secrets of powerful performances that she herself learned from music legends like Billie Holiday and Nina Simone. This lesson helps you learn how to tap into your emotions, embrace your flaws, and gather inspiration to better connect with your audience.
Learn how to treat your vocal cords like any other muscle of your body. Christina teaches you how to stretch and warm up your vocal cords before a performance. Here she will walk you through the vocal warmups and exercises that she personally uses before getting on to the stage for a live show.
Next, Christina makes you understand the importance of treating your voice as an instrument. Christina will talk about how to protect your voice and the top three things you need to avoid, cures to heal a strained voice, and adjusting to different environments.
Expand your vocal range with Christina. Learn her secrets for nailing those high notes and building your range. Use the Range Finder tool at the end of the lesson to put into practice what you've learned.
Student Sessions: Pop Style
Through Christina's student critique, you will learn how to add a new dimension to your performance by understanding how to change your vocal placement and posture.
Student Sessions: Simplify
In this lesson, Christina reveals a vocal technique that allows you to emotionally connect with your listeners by coaching a student on projection.
Student Sessions: Rock Style
Christina is known for her gritty style on songs like Fighter. Through her critique of a pop vocalist, Christina will help you learn the techniques she personally uses as she demonstrates how grit and attitude can transform a performance from pop to rock.
More than sounding perfectly polished, Christina explains the importance of perfect diction and enunciation and learns how to tell a story through your performance.
Mastering Vocal Techniques
Master the classic vocal techniques like Harmony, Belting, Vibrato, Slides as Christina breaks them down for you step-by-step.
Playing with Textures and Tones
It is necessary and rather important to know how to use different textures and tones, from gritty growl to haunting sadness. Christina is here to demonstrate exactly this so that you learn how to emotionally charge a performance.

Duets Part 1: Rehearsal Prep
As a musician, you need to know how to gel with other musicians on stage during a duet performance to create an unforgettable duet experience. Christina will teach you what to look for in a duet partner, how to perfect your timing, and how to navigate the rehearsal process.
Duets Part 2: Perfecting the Performance
Once you have understood your partner on stage, it is important to learn how to perfect duets. Watch and understand carefully as Christina breaks down the pitch, timing, and emotions that are needed to captivate an audience with your partner.
Experiment with a beat and learn how to develop your inner rhythm to reinvent a performance. Watch Christina breathe new life into her classics like Say Something and Aint No Other Man as she plays with the beats and tempo.
Rehearsing in a studio and handling the mic in front of a live studio are two completely different things. In this lesson, Christina will show you how to own the live mic as she teaches you the vital microphone techniques to create an incredible performance in front of a massive audience and a venue of any size.
Knowing your way around the studio recording procedures is extremely crucial, including Mic checks. Christina will talk about the microphone techniques she has perfected over her career and will also break down the difference between live performance and studio time.
You will also get to witness Christina perform her iconic song 'Beautiful' and also get a rare glimpse into the recording booth as you watch.
Performance anxiety is a very common thing and even Christina has experienced it. Learn how to center yourself before a show and deal with your nerves.
Watch Christina let loose on 'Fighter' as she teaches you her approach and tricks for pumping up an audience by turning a studio performance into an engaging live performance.
Christina teaches you how you would recover from mistakes during a live performance like singing the wrong lyrics of a song while performing at the Super Bowl.
Watch her reflect on the most difficult mistakes of her career and how to overcome them.
Christina shares her wisdom about ignoring the haters, finding yourself as an artist, and adjusting to the life of a successful artist as your career expands with time.
Christina has challenged the norms of sexuality and shame with her music over the course of her career and will teach you how to challenge the opinions of those around you while staying within your comfort zone by using your art to express your voice.
Christina shares with you the most important lessons she's learned along with the ways she reflects on her career journey.
Now that you are through with the lessons, it's time to learn how to own the difficult moments and take the next step to continue following your dreams.
More about Masterclass!

The masterclass is an online education platform where you can learn the pristine art of singing from the Pop and R&B starlet herself.
Yes! The masterclass is a platform that enables you to learn various forms of art from creative professionals Entrepreneurs, top influencers, and award-winning personalities like Christina Aguilera and others from the art industry.
The biggest point that gives Masterclass an edge over other online education platforms is that it features Gurus of international fame and recognition from the art industry. Masters at Masterclass are of top international stature and have several accolades to their names including Oscar award winners, Grammy award winners, filmmakers, actors, screenwriters, Multi-billion dollar grossing directors, sports stars, master chefs, musicians, and many more.
This platform allows students and enthusiasts from around the globe to learn various forms of arts from skilled experienced writers, photographers, artists, musicians, painters, and creative professionals at their own pace using a computer or even via your mobile phone.
How does Masterclass work?
There is nothing too complicated in understanding Christina Aguilera Masterclass Review. On a general basis, the basic course structure by Masterclass involves:
Over 51 Classes from the masters

These classes are neatly divided into around 23 to 24 Lessons

All of these lessons are conducted online

The video lengths average 12 Minutes per lesson
Benefits of Masterclass
Suitable for writers, musicians, artists, and creative professionals

Online courses that help students learn business skills like marketing or more

Practical skills like coding or web development basics

You can access the lessons anywhere anytime on the go using mobile apps for iOS and Android devices.

Watch your chosen courses using your computer or phone and consume the materials on the go.
Quick Links:
FAQs | Christina Aguilera Masterclass Review
🤷‍♀️What does Christina Aguilera teaches ?
Christina Aguilera teaches you how to expand your range, find your voice, and master the techniques that have earned her five Grammy Awards. In her first-ever online singing class, you'll learn warm-up exercises, breath control, vibrato, her signature growls, and hear Christina break down her biggest hits. You've never had vocal lessons like this before.
🙋‍♂️How long are Christina Aguilera MasterClasses ?
Christina Aguilera MasterClasses contains 23 video lessons (3h 43m)
💁What is MasterClass?
MasterClass is the streaming platform that makes it possible for anyone to watch or listen to hundreds of video lessons taught by 100+ of the world's best.
📺 Where can I watch Christina Aguilera MasterClasses?
With MasterClass, you can learn and be inspired anytime, anywhere, including your smartphone, personal computer, Apple TV, Amazon Fire TV, and Roku streaming media players. You can even download your favorite lessons and watch on the plane or listen during your commute in audio-only mode
🤑What is the pricing of masterclass ?
Masterclass All-Access Pass is billed at $180 and comes with a 30-day moneyback guarantee.
🤷‍♀️ How does the 30-day guarantee work?
Our goal is to make sure that you have the best learning experience possible. If MasterClass isn't for you, then email us within 30 days of the date you purchase your subscription, and we'll offer a full refund.
Conclusion: Christina Aguilera Masterclass Review 2023
To sum up this Christina Aguilera Masterclass Review, I would say this is a really great masterclass with some of the amazing lessons from Christina Aguilera.
  If you are a beginner at singing, I am would highly recommend you to go for this masterclass course.
If you not a beginner and have some experience in singing, you can still consider this Christina Aguilera Masterclass as this will surely give you a new perspective and you will learn much more about this art from Christina Aguilera.
Christina Aguilera Masterclass On Social Media 
🎉 Celebrate ten years of @NBCTheVoice🎙 and dive into writing, producing, and performing with MasterClass instructors @aliciakeys, @Usher, and @xtina. https://t.co/dKb7Cf24Y9 pic.twitter.com/eX9BrzmOoX

— MasterClass (@MasterClass) April 27, 2021
#MasterClass instructor @xtina teaches you the vocal techniques that will help you sing those high notes. https://t.co/fpGkEx6VyP pic.twitter.com/KmiKb70u6F

— MasterClass (@MasterClass) March 22, 2019