It's important to know when to hold and fold in poker; some people make millions of dollars playing professionally, while most of us have trouble beating our friends. Daniel Negreanu, a poker veteran, offers a MasterClass for those keen on the game.
Negreanu, known both for his play and online influence, shares 20 years of experience. You can learn poker from him in his MasterClass. It was cool when I tried it, but not everyone will like it.
In this review, I'll break down Daniel Negreanu's MasterClass to help you decide if it's right to improve your poker game. If you're in a hurry, here's the quick version.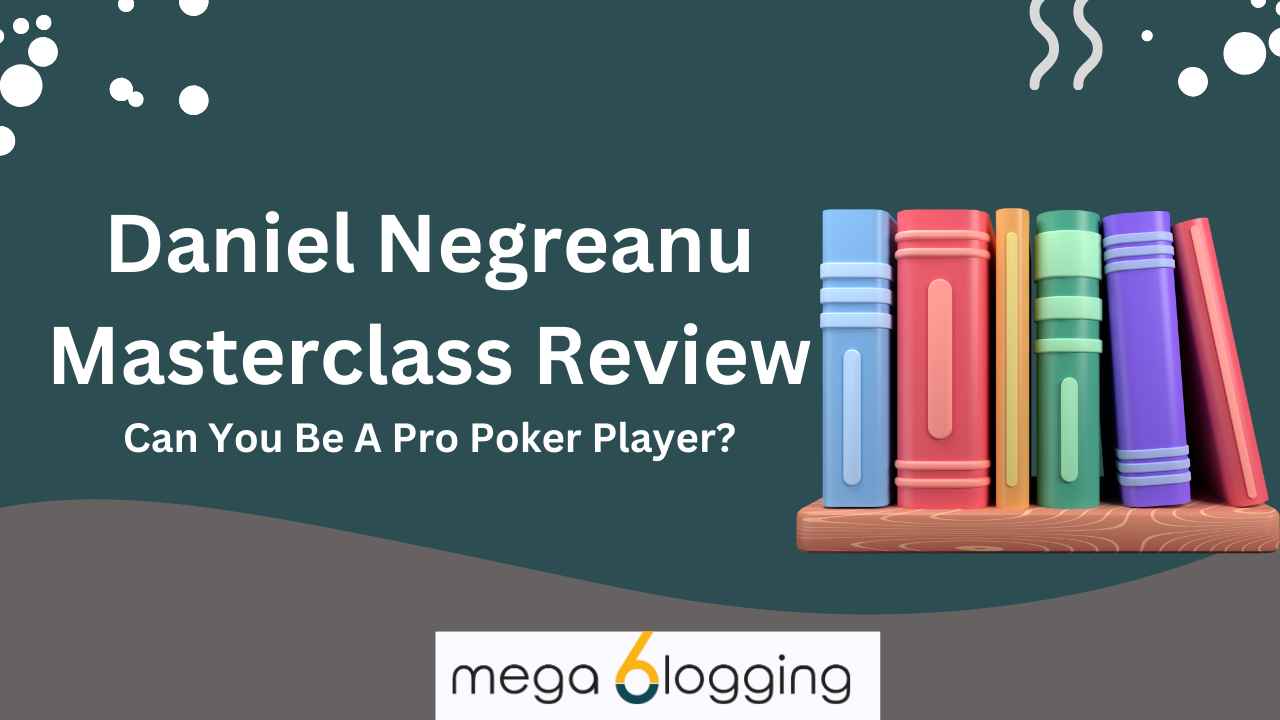 Say "Hi" to Kid Poker!
Daniel Negreanu, aka "Kid Poker," is a multi-time World Series of Poker (WSOP) bracelets winner along with two World Poker Tour (WPT) championship titles, establishing him as one of the professional poker players in the 21st century.
Learning how to play poker when he was 15 years old, he began nursing dreams of a career as a professional snooker player.
He soon started spending a considerable amount of his time in pool halls, hustling, sports betting, and playing cards, and from there on, he embarked on a journey that today has made him one of the most accomplished tournaments and cash game players in the circuit.
The Daniel Negreanu Masterclass!
The six-time World Series of Poker bracelets (WSOP) winner, two-time World Poker Tour (WPT) championships winner, and a Poker Hall of Fame inductee, Daniel Negreanu is nowhere on the Masterclass stage to show all his followers and admirers how it is done. 
The biggest live tournament poker winner of all time, Daniel Negreanu, is here to help sharpen your mental game through demos on reading opponents and spotting tells.
Learn the tactics and advanced theories from the six-time World Series of Poker champion and practice through hand-reviews of his winning games.
Daniel Negreanu Masterclass Lesson Plans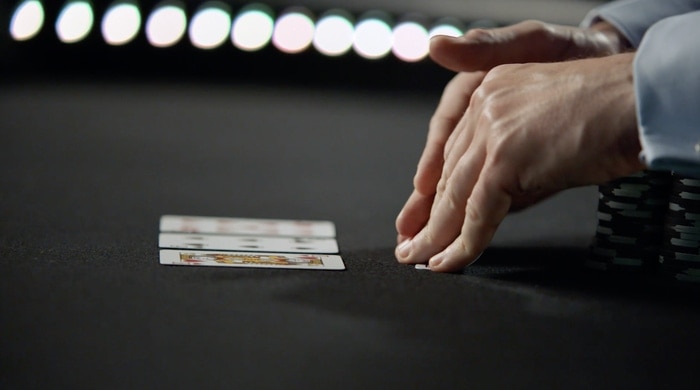 Join Daniel at the table on his exclusive Masterclass lessons to get your game "In the Money" and learn how to increase your win rate and grow your ROI.
One of the longest courses in the Masterclass platform, Daniel's Masterclass covers all the essential aspects one must learn about Pro-level Poker.
His lesson plan includes 38 elaborate chapters long, with Daniel's Masterclass workbook that has extra material for reference. 
Introduction
The six-time World Series of Poker bracelet winner Daniel Negreanu is here as your instructor.
Watch how "Kid Poker" starts his class with an outline of what you'll learn. And if that's not enough, he even assures students that even the most complex poker concepts can be learned.
Understanding Position
Learn from Kid Poker how to play the right cards at the right time to improve your game immediately. In this lesson, Daniel will provide tips on how to capitalize on the opportunities as he helps you evaluate early, middle, and late position strategies that each position affords.
Hand Ranges and Board Texture
Daniel demonstrates how to identify ranges based on board textures, betting patterns, and player tendencies as he tactfully breaks down hand range theory using specific scenarios.
Ranges: Hand Review
Daniel walks you through his entire thought process using footage of a hand from The Big Game as he deduces his opponent's hand range in real-time.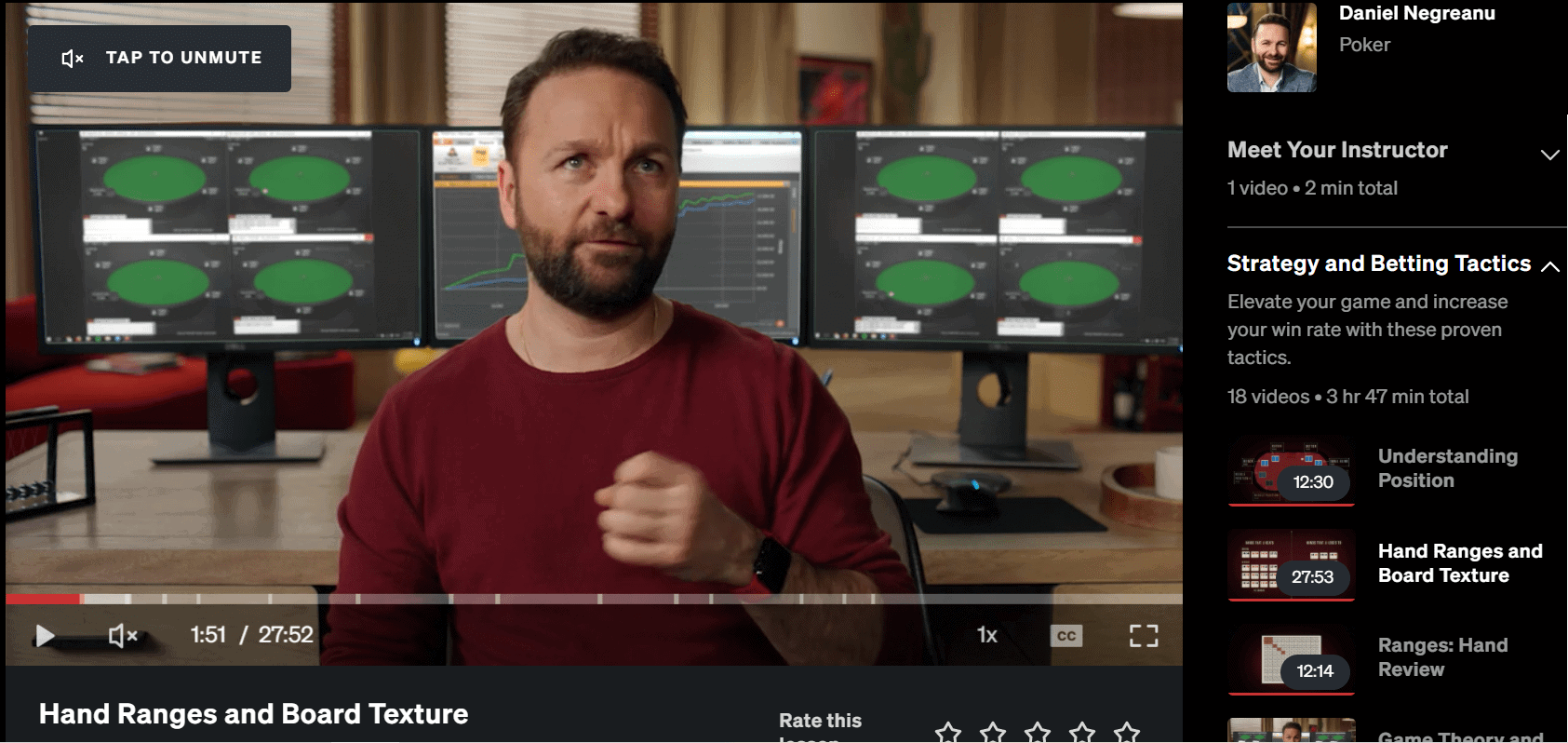 Game Theory and Math
Daniel provides tips on how to calculate pot odds and fold frequency as he discusses Game Theory Optimal poker at game speed.
C-Betting
Learn the best times to make a continuation bet and understand how it works as a valuable tactic under the right circumstances. Daniel will also teach you how to use this tool to maximize profits.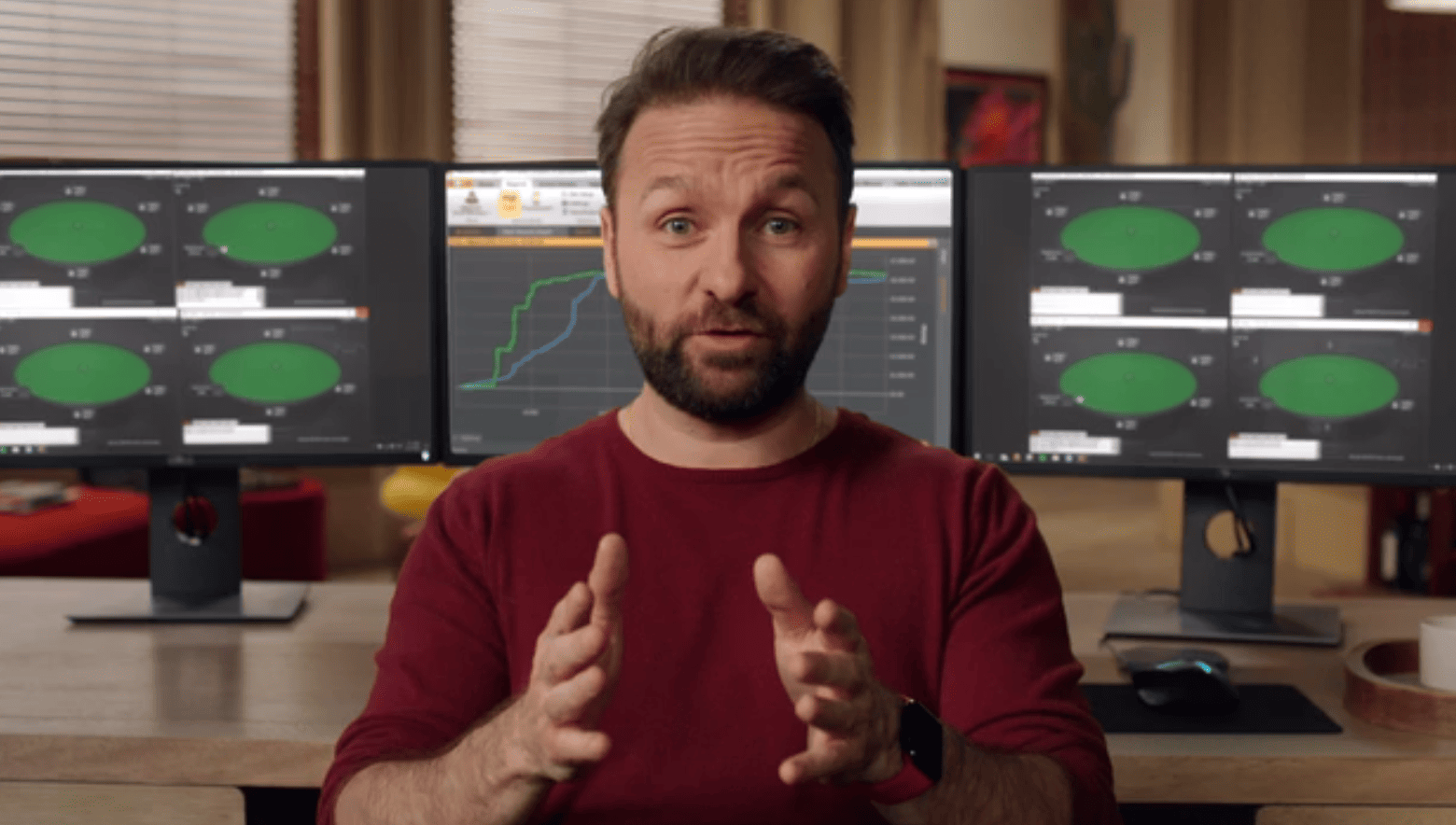 Check-Raising
Learn how to open up bluffing opportunities and extract extra value by adding the check-raise to your toolkit so you can keep yourself from getting run over when you're out of position.
Three-Betting
Three-betting is one of the most prevalent gaming tactics in modern poker, and Daniel is up and ready to teach you how to defend against it. Follow this lesson carefully to learn how to use the three-betting tactic in your own game without becoming predictable.
Three-Betting: Hand Review
Daniel illustrates the importance of modifying your three-betting strategy when encountering resistance by using footage of a hand from an EPT Barcelona Super High Roller event.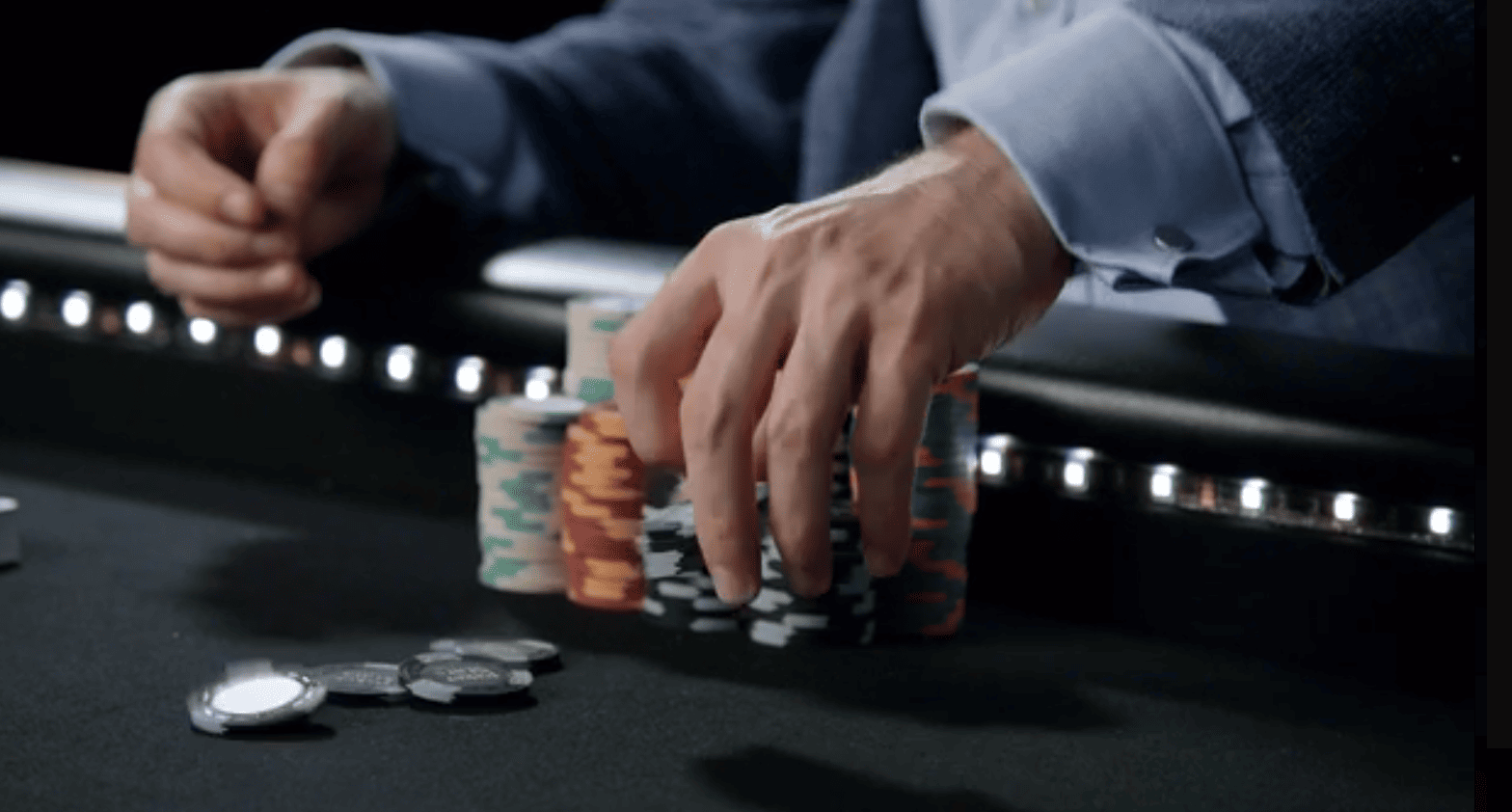 Detecting and Executing the Bluff
Learn how a successful bluff requires more than a good poker face, and then use board texture, capped ranges, and blockers to make your own bluffs believable and identify an opponent's bluff.
Executing the Bluff: Hand Reviews
Daniel reveals how he detects value-to-bluff ratios and exploits player tendencies using footage from three different hands. Watch how "Kid Poker" pulls off amazing triple-barrel bluffs at game speed.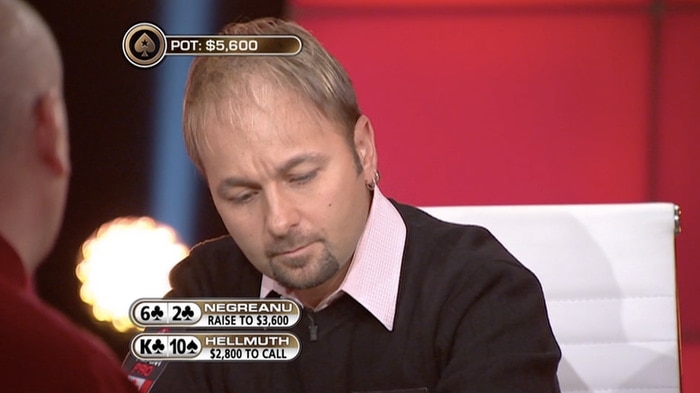 Bet Sizing
Bet sizing is a subtle yet crucial art, and Daniel is here to teach you how to maximize value while minimizing risk.
Over-betting
Learn how to use the over-bet tactic as part of your winning strategy, the ideal conditions for using an over-bet, and how to price it in winning ways.
Multi-way Dynamics
It is extremely crucial to change your strategy to keep up when the number of players at the table increases. Daniel teaches you how to adjust your play as he explains the nuances of multi-person pots and ways to tackle such unique situations.
Mixed Strategy
If you are a predictable player in the game of Poker, then you will be an easy mark. Daniel shares his personal method for randomizing sub-optimal plays as he teaches the importance and tactics to keep your opponents guessing by adding layers to your game.
Mixed Strategy: Hand Review
Daniel provides a case study to demonstrate how a mixed strategy could have saved one poker legend a lot of money as he uses footage from a hand between three-time WSOP winner Antonio Esfandiari and pro player Tony G.
Pre- and Postflop Mistakes
Daniel teaches you how to avoid them in your own play as he breaks down the most common mistakes players make as hands progress past the flop.
Tournament Strategy: Early and Middle Stages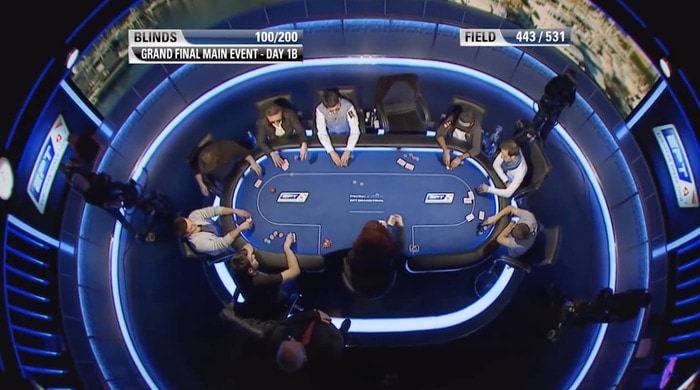 The final outcome of any game you play in Poker is largely affected by the way you play in a tournament early on. Daniel Negreanu teaches viable strategies specific to early and middle-stage play.
This includes essential aspects like how to be mindful of stack sizes and account for blind structure from the get-go.
Tournament Strategy: On the Bubble
Learn Daniel's strategies on how to avoid ICM suicide and get in the money by leveraging big stacks and other strategies for navigating the precarious "bubble."
Tournament Strategy: Late Stages and Final Table
Now it's time to bring home the prize once you've made it past the bubble. Daniel teaches you how to execute strategically-timed aggression to become a tournament champion by taking some calculated risks.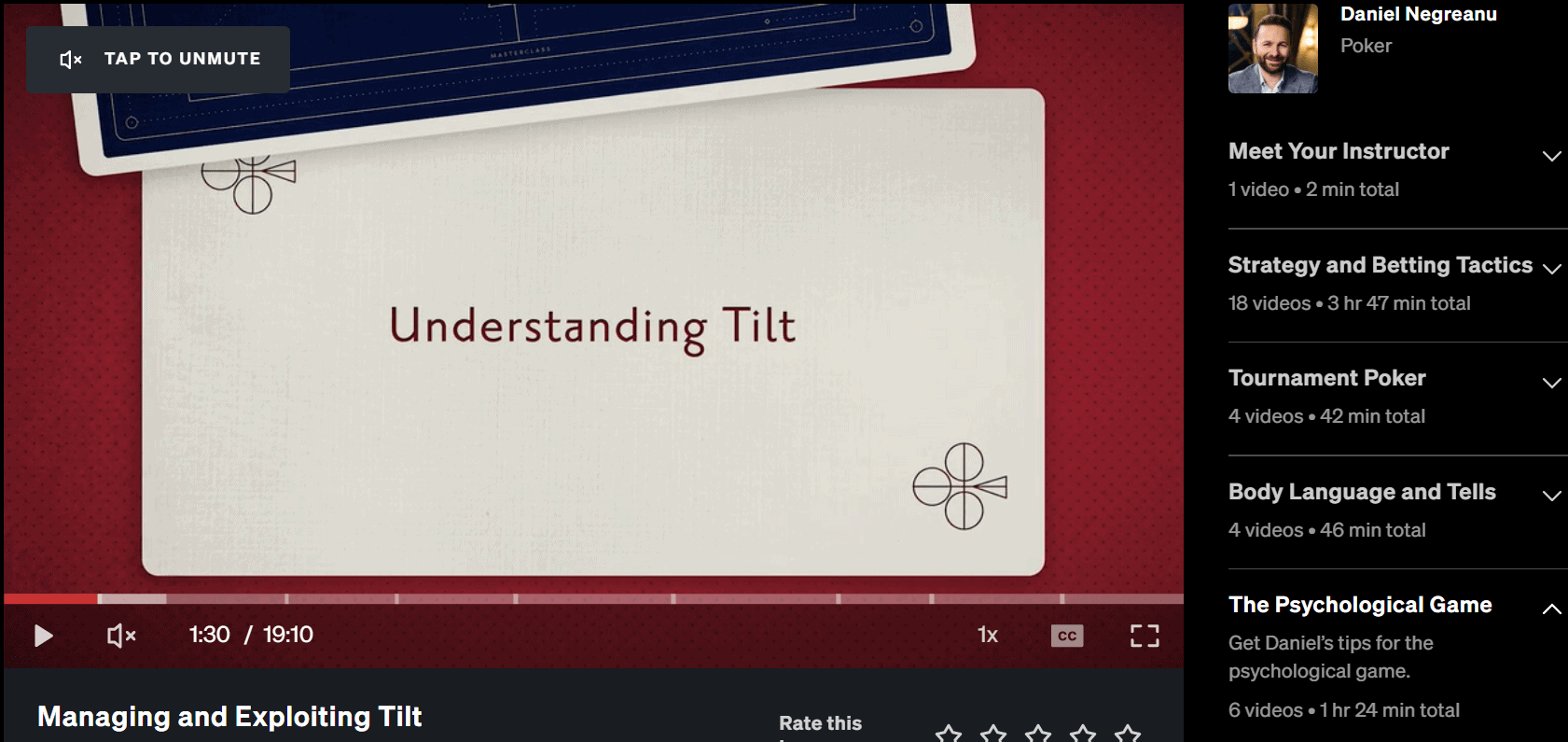 Universal Tournament Strategy
Regardless of the stage or the type of play, this lesson will teach you the universal tactics that will help you from table to table throughout the ever-changing tournament landscape.
Cash Games
Learn how to avoid common mistakes in cash games by effectively playing stack sizes and maximizing value.
Masking Tells
Masking tells is one of the crucial moves to learn in Poker, and Daniel is here to walk you through his methods for masking tells. This lesson will also include how to maintain a consistent physical baseline, practice the perfect poker face, and protect your cards.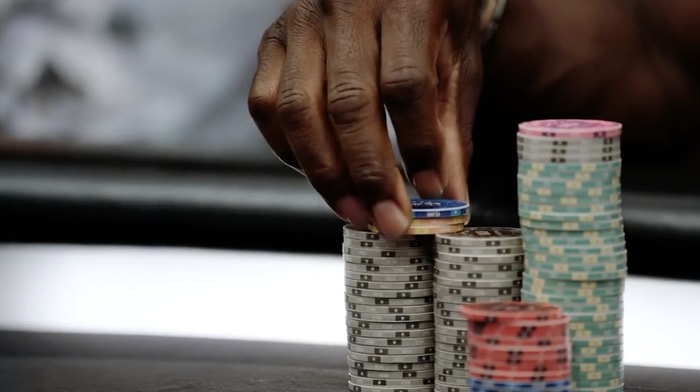 Spotting Tells, Part 1
Daniel reveals the physical tells he's spotted in opponents and teaches his exact process for determining if a player is bluffing. These tactics have made him the most cash.
Spotting Tells, Part 2
Daniel demonstrates how craftier opponents may try to trick you with the notorious "reverse tell" as he delves deeper into his analysis of body language.
Spotting Tells: Hand Reviews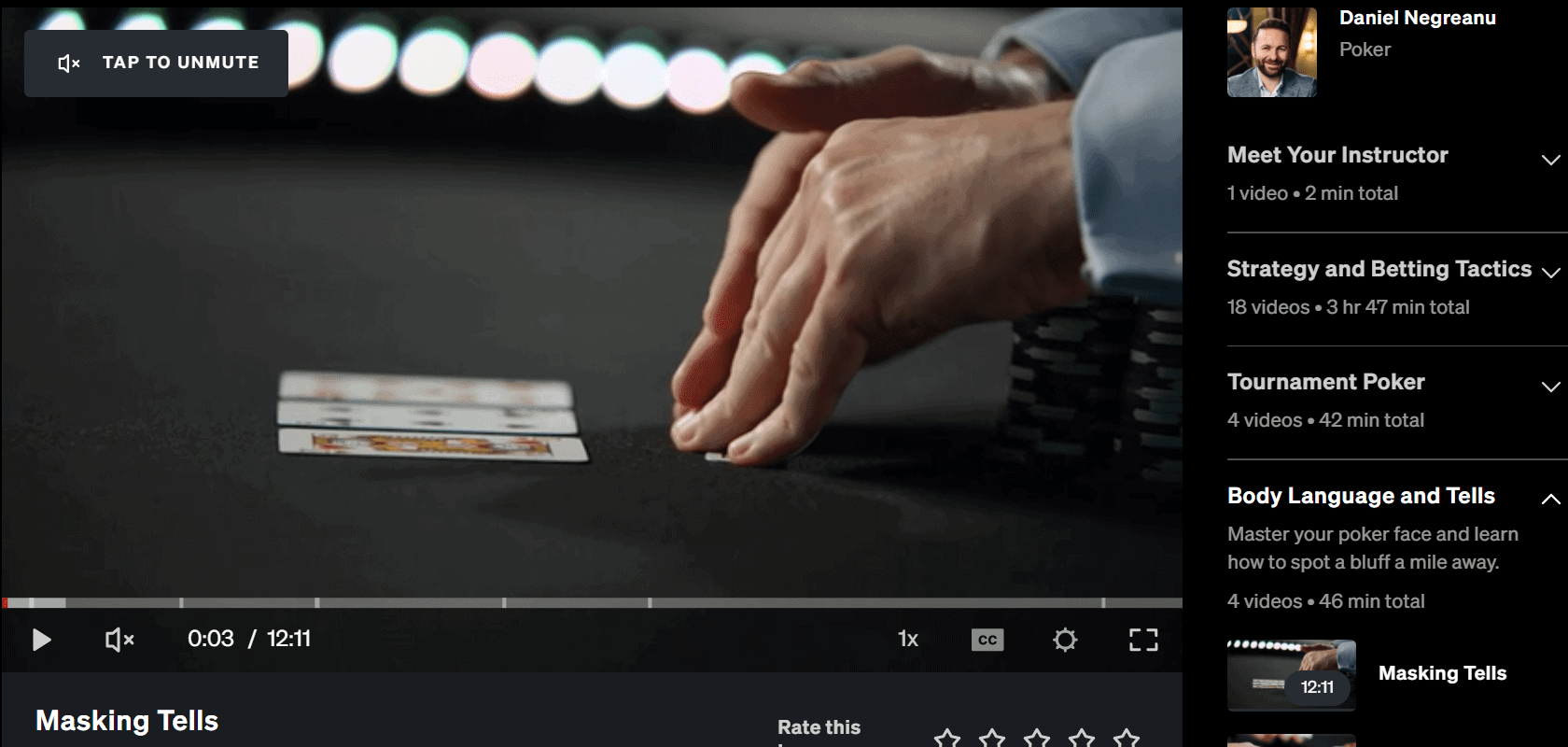 Daniel reveals how he used the exact moments and valuable information to maximize value and mitigate loss from live reads using footage from two different hands from his opponents.
Table Talk
Learn the crucial steps you can take to protect yourself from prying players in sophisticated ways. Daniel personally uses it during his games, like table talk, to get valuable information from his opponents.
How to Think at the Poker Table?
Daniel believes that one of the most vital aspects of playing it is to not let emotion get in the way of logic. In this lesson, you will learn the checklist Daniel uses to keep a clear head and the common mental traps poker players need to avoid.
Managing and Exploiting Tilt
Daniel has been a master at encountering TILT, just like many other established Poker players. Learn how to use TILT as a weapon against your opponents and the mantra he uses to keep his emotions in check.
Table Image and Metagame
Daniel teaches you how to use your table image and stay one step ahead, playing the metagame to get inside your opponent's head.
Table Image and Metagame: Hand Reviews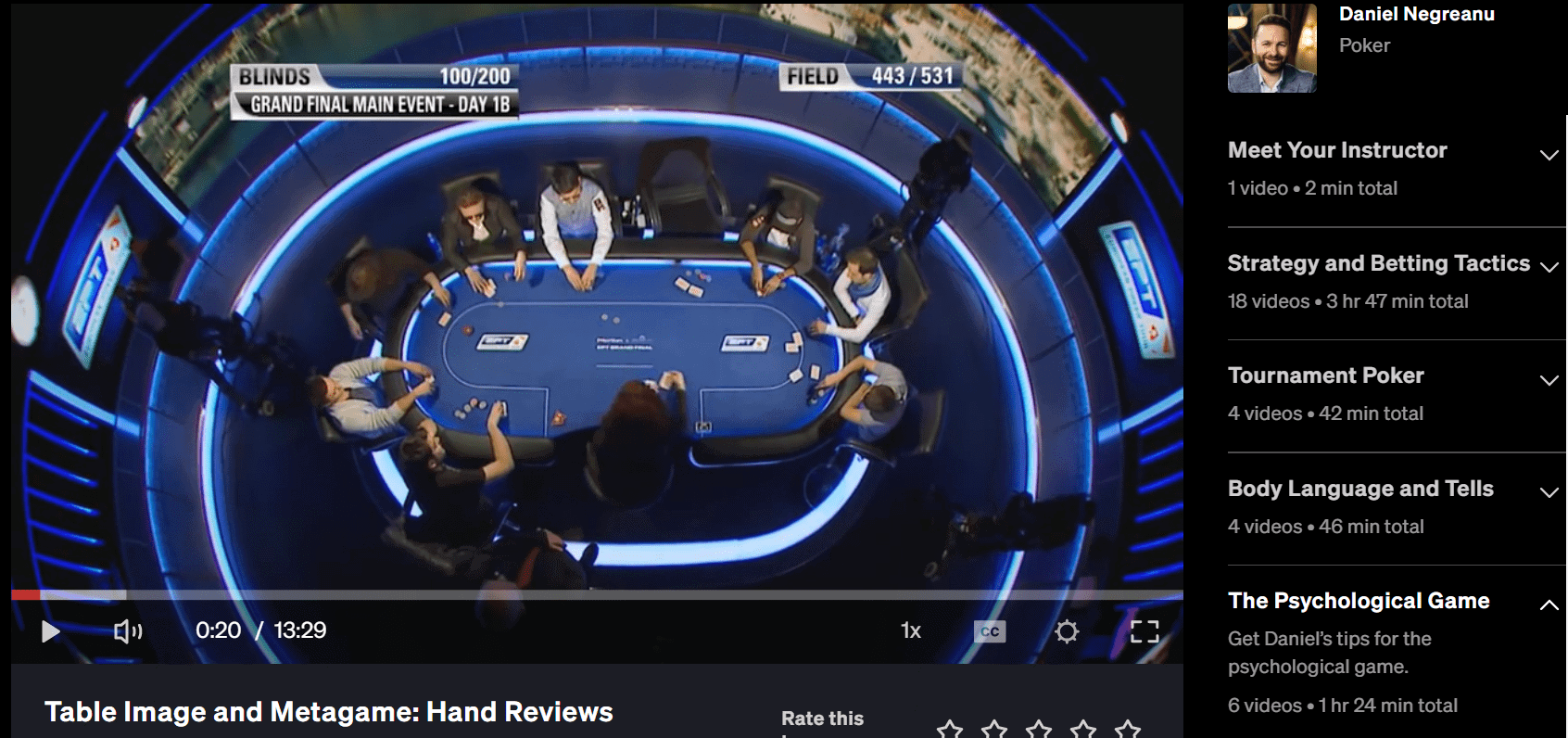 Daniel shows how to incorporate his table image into his four-betting range using footage from two different hands and also how to use metagame as a weapon to steal a pot from his opponent.
Player Profiling
There are different types of players you will encounter at the tables, and Daniel takes this lesson to profile the different types of players you will come across in the Poker world. Learn the quickest ways to identify them and how to adjust your strategy to beat each type of player.
Game Selection
Before identifying the types of players you may encounter, it is important to identify your ideal table. You must always go for a table where you can realistically win, maximize your earnings, and have a good time.
Bankroll Management
Learn how to keep yourself in the game for the long run by picking the right stakes and preparing for losing streaks to become a pro at good bankroll management.
Off-Felt Training
Learn how practice, meditation, and a balanced lifestyle can optimize your training time away from the felt.
Life as a Poker Player
Daniel draws crucial similarities between being a poker player and running a business so that you can ensure that your "business" thrives through critical thinking, emotional stability, and adaptability.
Closing
Daniel shares the best piece of advice he's ever received and lessons learned from his most challenging experiences and then encourages you to start training.
Bonus Material: Online Play
Daniel Negreanu shares advice on how to avoid hurting your earn rate by analyzing the fundamental differences between online and live poker.
5 Good Things For Poker Learners In Daniel's Poker Masterclass!
In my view, learning each segment of the Daniel Negreanu Masterclass bit by bit, thoroughly knowing the knowledge he is teaching you, and then applying it to your poker games immediately is a much better idea.
If you want to get the most out of this poker course, it will be better to research it over weeks or months to fully understand and apply all of Daniel's high-level concepts.
1. Clear poker instruction for beginners and experienced players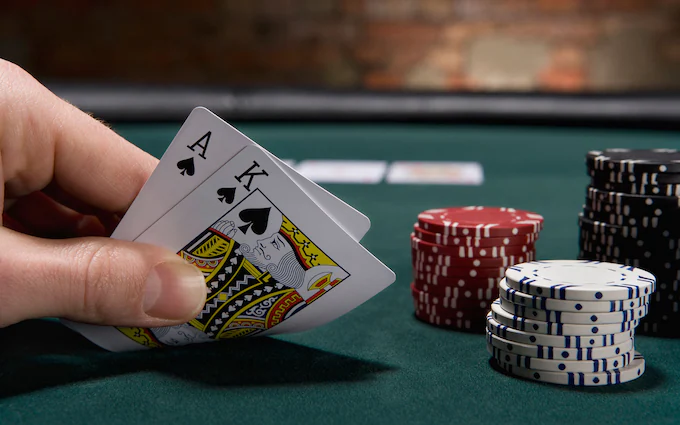 If you're a novice, this is the ideal poker course for you. Daniel does not use abstract words or go through math too deeply. Of course, he's covering it. Yet, it still sticks to core values.
He teaches you how to do 2nd nature equations as simple and normal as breathing.
Therefore, virtually everyone can pick up what they need to learn and become a much better player quickly.
2. Easily navigate Negreanu poker masterclass
It is also very well thought out. You can quickly find the plays you want to know about and the techniques. This course is much easier to step into and out of than any of the other courses on masterclass.com.
Months after you have taken it, you can quickly find what you want and go back through the material. Every single video has a worksheet that can be downloaded.
Or you can download anything as a workbook in one hit if you wish.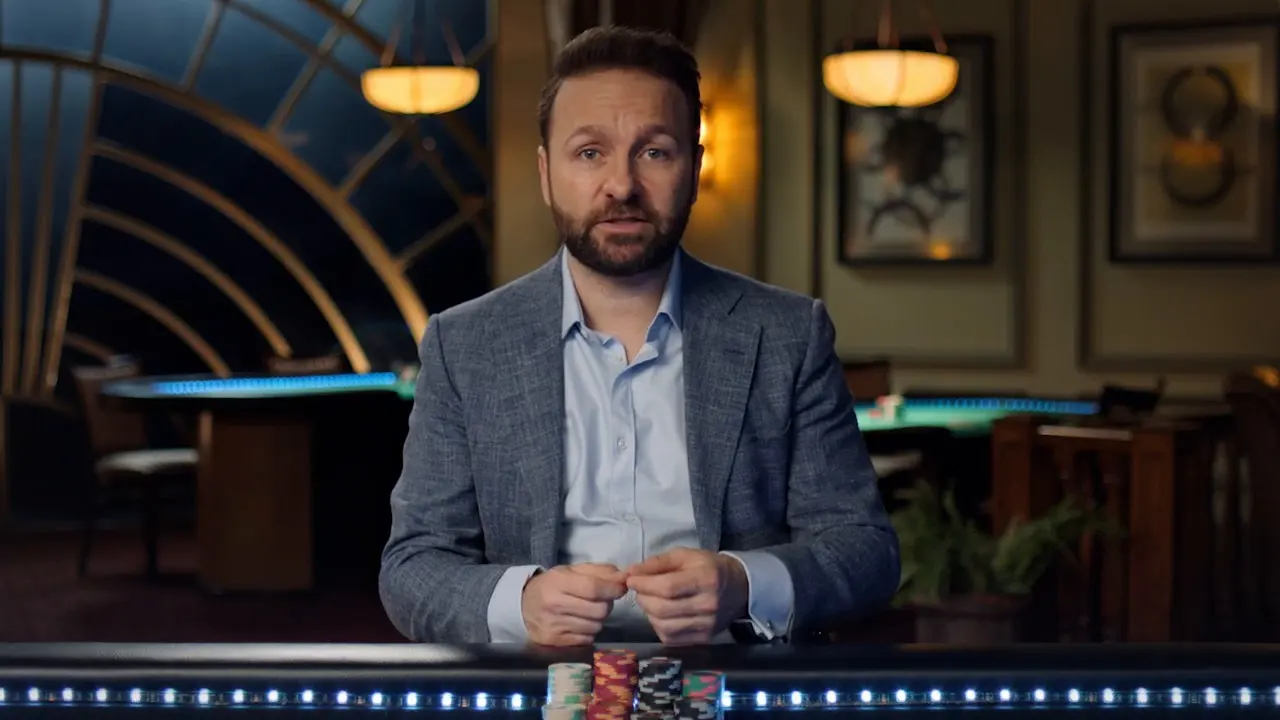 I'd say there are advantages to doing this. In this way, you can see the full-scale diagrams, of which there are quite a few. In his Masterclass, Daniel stimulates all the senses.
That's important because the best poker players know their surroundings and people very well. They've got to learn to see it all. To find out what your adversary is doing, the box, the pot, the table, and most importantly.
The other thing that Daniel clearly points out is the need to understand yourself and how you think, feel, and act. It definitely isn't just about practicing the hands and work. There is a need to learn far less obvious skills.
Throughout the course, he shares tips, tricks, and techniques to help you develop the skills you need to learn about yourself, discipline, and people reading.
3. Poker playing techniques
This is one of the longest and most thorough courses on masterclass.com. There are 38 in-course videos. And, like I said before, I can't go through every one of them. Instead, I'll tell you below about the playing technique your fellow students have already rated as the most useful.
4. Hand Ranges and Board Texture
This is one of the course's longest videos and one of the most popular and commented on. This is clearly one of Daniel's most valuable lessons.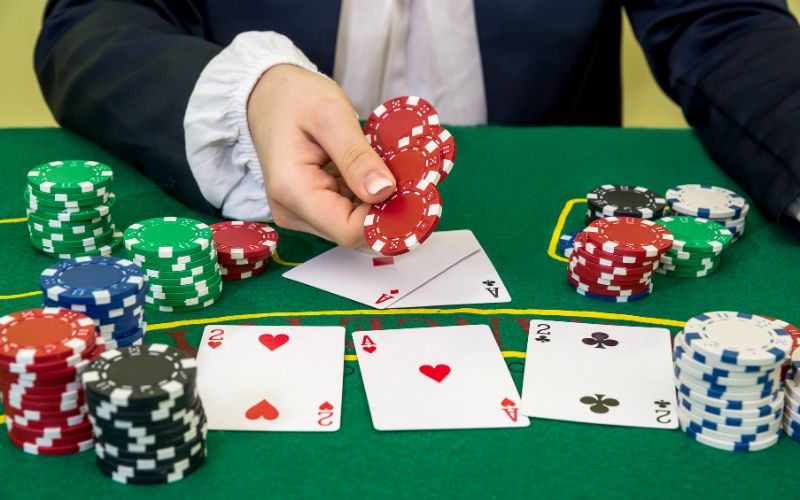 Throughout it, Daniel discusses how to see all the possibilities rather than just playing one hand at a time. The video he covers includes:
How to think ahead?

Counting combinations within a range of hands

Narrowing down ranges using blockers

Spotting the advantages of your range 

Making adjustments based on perception to improvise your ranges 

Narrowing the range by identifying unusual betting patterns

Keeping your range balanced

Understanding the advantage of your range on dry flops

Gaining a range advantage on wet flops
The more precisely you can identify the range of an opponent, the more sophisticated your choices will be.
More significantly, they'll be much more reliable, too. There's no doubt this section of the course is worth going through several times.
5. Tournaments and Cash Games
One thing I've found interesting about Daniel Negreanu's Masterclass is he's not just focusing on one style of poker.
While Daniel is known mainly for his success in poker tournaments, he also spends plenty of time in the side games, like other pros.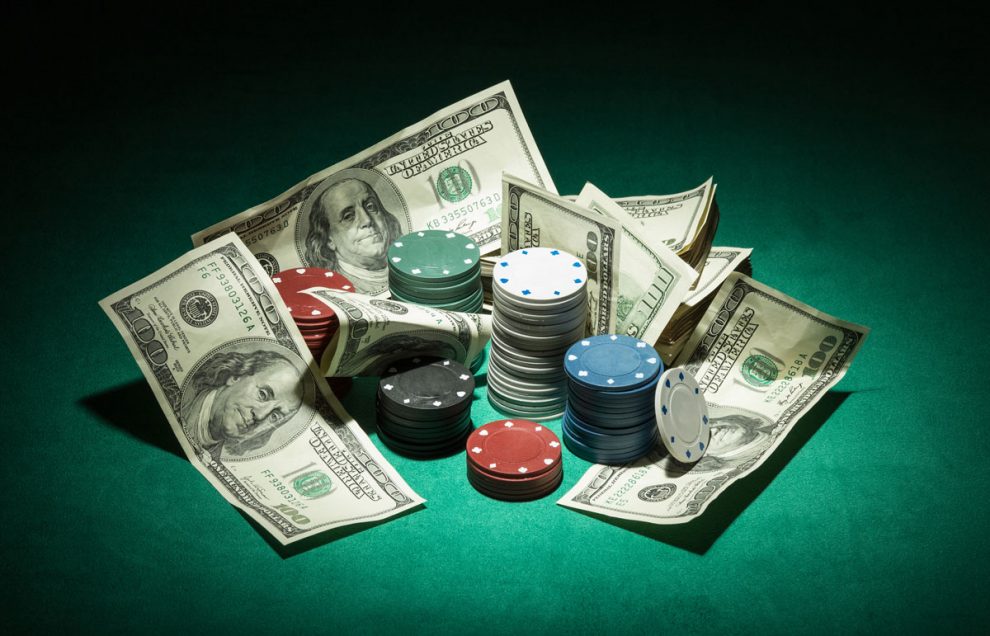 Many people don't realize that there are often cash games where you can find some of the juiciest action and the biggest poker games on earth. So, Daniel teaches you all you need to know to beat the poker tournaments like:
Early-stage tournament strategy

Middle-stage tournament strategy

Bubble theory

Final table strategy
He goes on to show you how to beat the side games after that. In my view, this portion of the poker course is actually some of the best stuff, and it cuts to the essence of what Daniel Negreanu is best known for the art of putting someone on a hand correctly.
He shows you how to say spots, how to cover tells on your own, how to read hands, and how to use table conversations to your benefit.
Those are all vital skills you need to learn, especially if you're playing live poker.
Daniel Negreanu's Masterclass Workbook
As you can see clearly, Daniel's Masterclass covers a wide variety of topics for both tournaments and cash games, from bet sizing, bluffing, spotting, hand reading, and poker math.
It is taught through hundreds and hundreds of videos and a massive workbook of 122 pages to direct you through all the material.
Daniel's class workbook is accessible and blends in well with this course's lesson plan, so you can review the content at your own speed during your free time and advance through the course.

This is a good thing, as I would definitely advise against watching all 38 videos and going all at once through the entire course workbook.
There's also a wide community to help support you as you make your way through the material, and there are even hours in the office where you can ask your own "Kid Poker" questions!
FAQs
🔥 Who is Daniel Negreanu ?
The six-time World Series of Poker bracelets (WSOP) winner and two-time World Poker Tour (WPT) championships winner and a Poker Hall of Fame inductee, Daniel Negreanu is nowhere on the Masterclass stage to show all his followers and admirers how it is done.
👍What is Daniel Negreanu Masterclass Lesson Plans?
One of the longest courses in the Masterclass platform, Daniel's Masterclass covers all the essential aspects one must learn about Pro-level Poker. His lesson plan includes 38 elaborate chapters long with Daniel's Masterclass workbook that has extra material for reference.
🤷‍♀️How much does Daniel Negreanu Masterclass cost?
Masterclass All-Access Pass is billed at $180 and comes with a 30-day moneyback guarantee.
📺 Where can I watch Daniel Negreanu Masterclass?
With MasterClass, you can learn and be inspired anytime, anywhere, including your smartphone, personal computer, Apple TV, Amazon Fire TV, and Roku streaming media players. You can even download your favorite lessons and watch on the plane or listen during your commute in audio-only mode
💁What is MasterClass?
MasterClass is the streaming platform that makes it possible for anyone to watch or listen to hundreds of video lessons taught by 100+ of the world's best.
Conclusion:
To sum up this review, I would say becoming a pro player at Poker takes a lot of experience. But with this masterclass, you can get that kind of experience with an already-known expert in Poker, i.e., Daniel Negreanu.
For serious poker players who play online, live, cash games, tournaments, sit and go, 6max, full ring, or zoom, Daniel's Masterclass is best. Even for small-stakes poker players, it is also extremely cost-effective. 
With his knowledge, techniques, and experience, learning poker and even becoming an expert poker player will be a lot easier and more effective. This masterclass gets a huge thumbs up from me. Go for it!