In this post, we are going to walk you through a comprehensive  James Patterson Masterclass Review that includes detailed insights into his course and how he teaches his viewers the art of professionally writing best-selling books. So, let's get started here!
James Patterson has been globally described by fans and acquaintances as a passionate campaigner to make books and reading a national priority and encouraging Americans of all ages to read more books.
Having sold more than 300 million copies and was the first person to sell 1 million e-books, he holds a Guinness World Record of a total of 67 #1 New York Times best sellers by a single author.
Having a successful career track record like that has allowed him to grow the universe of admirers who show him much love and respect and also many of them aspiring to become a successful author like him someday.
Well, if you are amongst those who want to be an extraordinary writer like Patterson in the future, and learn how he reached from zero to infinity, then you are reading just the right post!
The James Patterson Writing Masterclass!
James Brendan Patterson, or simply James Patterson, as he is widely known as, is a renowned author and philanthropist, and one of the highest-paid authors of the modern era, with an income of $95 million with his total income over a decade is estimated at $700 million.
So, if you are thinking that his Masterclass will be just like a typical online learning lesson where you'll just sit in front of a screen, listening to the coach, and yawn, then you are sadly mistaken!
When it comes to writing, James Patterson is a sure-shot professional who knows what all it takes to turn an ordinary piece of writing into an extraordinary piece of art that captivates the ones who read it.
His Masterclass consists of 22 elaborate lessons where he'll take you through the entire journey of writing, step by step.
He also aids the contents of his lessons with a separate workbook which consists of some extra material for added reference and learning.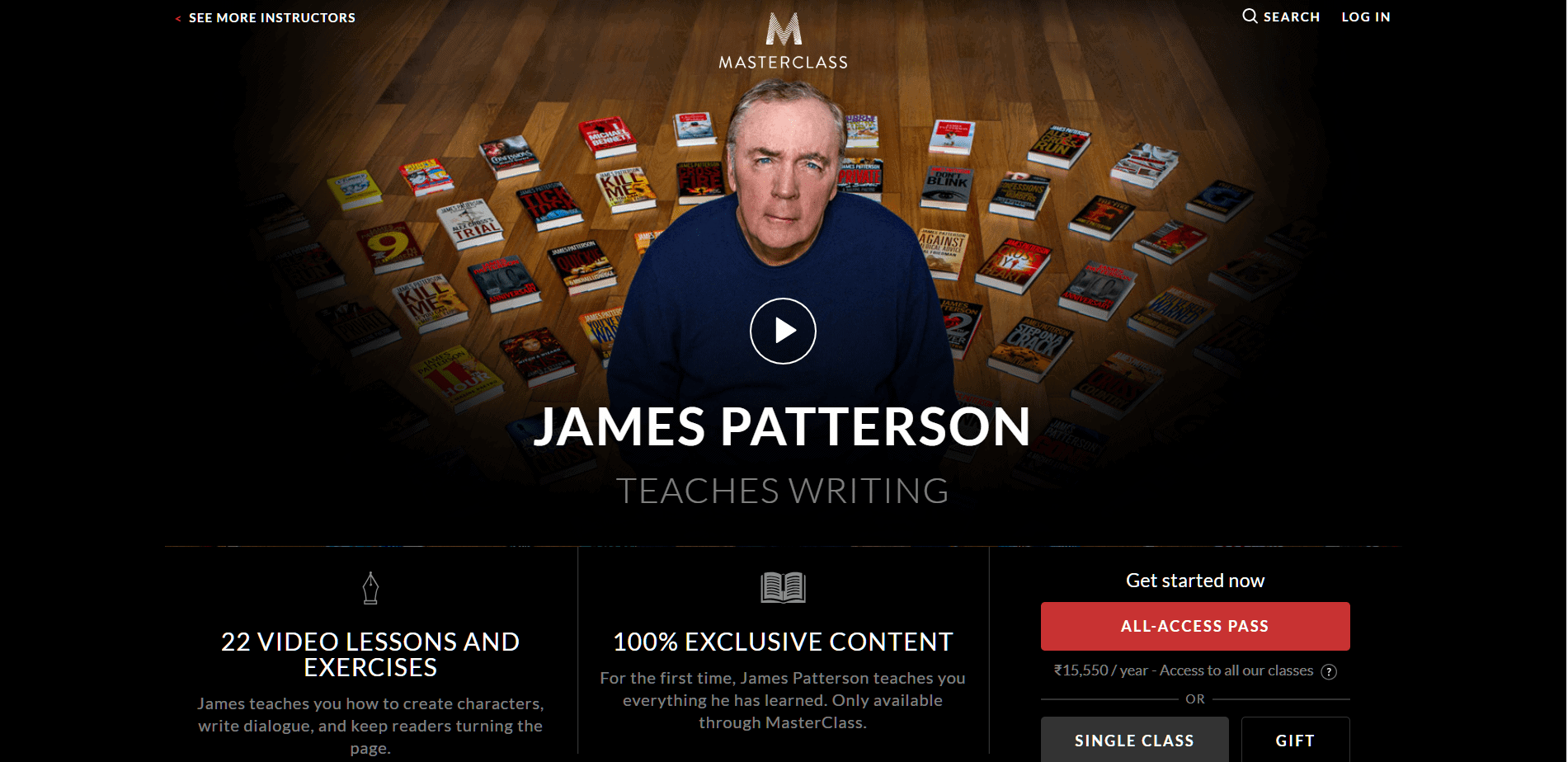 James Patterson Masterclass: Lesson Plan
In this course, Patterson will guide you through every part of the book writing process so that you too can soon set out to write a best-selling book one day.
Introduction
This is an introductory lesson where all the students get to know their instructor James Patterson. Get to know his plans and what the best-selling author in the world has in store for you.
You will also get to know what you'll need to learn to start writing your own best-sellers.
Passion + Habit
Writing a best-seller is not possible if you can't get into the proper mindset. Come aboard with James Patterson as he shares his secrets for staying focused, productive, and motivated.
Raw Ideas
Giving your final story the perfect shape requires you to recognize a great idea and figure out if it's worthy of your effort. In this lesson, James spells out the techniques he uses to generate his ideas.
Furthermore, he even shows you how he separates the good ones from the less compelling ones.
Plot
If you want your readers to stay engrossed with your story and they don't stop turning the pages, you need to find the right plot.
In this lesson, James measures out his unique approach to developing plot lines that keep readers wanting more.
Research
James Patterson claims that conducting in-depth research boosts his credibility with his readers and also makes his writing better.
In this lesson, you will find out how James incorporates it into his writing in a thoughtful way and how he conducts his research.
Outlines: Part 1
Setting up a comprehensive outline followed by a fast and successful first draft is James's secret weapon. These are some crucial aspects of this lesson that you must not miss!
Outlines: Part 2
Throughout his illustrious career, "Honeymoon" has been one of his best-sellers and James has never shown its outline to anyone, not even his publisher.
But that changes with this Masterclass lesson. James further explains his process so that you can follow along with the outline provided in your Class Workbook.
Writer's Block
James Patterson already has 76 best-sellers to his name and still counting. Even when you've written as many books as him, you may still end up staring at the blank page which becomes scary at times.
Follow this lesson thoroughly to learn how to conquer those fears.
Creating Characters
Since the day he shot to success, James has mastered the art of creating complex and memorable characters from Alex Cross to Michael Bennett.
Be it Hero or a villain, James will teach you how to make your character stay with your reader even after the book has ended.
First Lines

A catchy first like always and instantly grab the attention of your readers and make them hold on for dear life. James shares his personally tested tips and guidelines for getting your reader hooked from the very first line.
Writing Dialogue
Good dialogues always help the story progress forward. In this lesson, James explains easy ways to avoid common dialogue pitfalls.
Building A Chapter
James is well known for his numerous short and snappy chapters. Learn how he propels the reader through the book with an outline as his roadmap.
Writing Suspense
The secret to suspense is…
Ending The Book
Sometimes even the greatest books with amazing beginnings have terrible endings. James will now help you choose the right one of the infinite possible endings.
Editing
James is liberal with a red pen and he has mastered the art of editing the first drafts he creates. His editing is the key to keeping the reader engaged and now even you can learn how to trim the fat with the Masterclass interactive editing assignment.
Working With A Co-Author
Collaborations and Co-authoring are very common aspects in the field of writing once you start achieving success. In this chapter, James will discuss crucial points like when does decide to use a co-author, and is it a true collaboration? You will even get to meet two of his most trusted co-authors who share their process for making a collaboration truly successful.
Getting Published
James holds the unique Guinness World Record for the first person to sell over 1 million eBooks. After having written and publishes 76 best-sellers James will now share a thing or two about getting published and what all he has learned.
Book Titles And Covers
In this chapter, you will learn how to craft the perfect and apt book title and cover for your work because, in the end, readers do indeed judge books by their covers.
Marketing The Patterson Way
As mentioned earlier, James was an executive at a top ad agency in New York before he published his first book. Find out how James used his effective advertising knowledge to change the book marketing game and what James has learned about from his time in advertising.
Hollywood
Hollywood recreating your book into an attractive movie is an extremely common thing. If you right and great book and it goes viral, odds are that Hollywood may take an interest in your story. From his own experience, James shares the best and worst moments from his time on the set when his books were being converted into a movie.
Personal Story
James shares his long, winding path from being a student to becoming a master in his field and becoming the world's best-selling author.
Closing
Now that you have been given the tools to help write your next book, James closes his Masterclass with some final words of wisdom and guidance.
What did I like about Patterson's Masterclass?
James Patterson is one of the most respected authors in the world, so naturally, his Writing Masterclass is of top quality.
So, after going through his Masterclass, let me talk about the things that I liked offered by his lectures.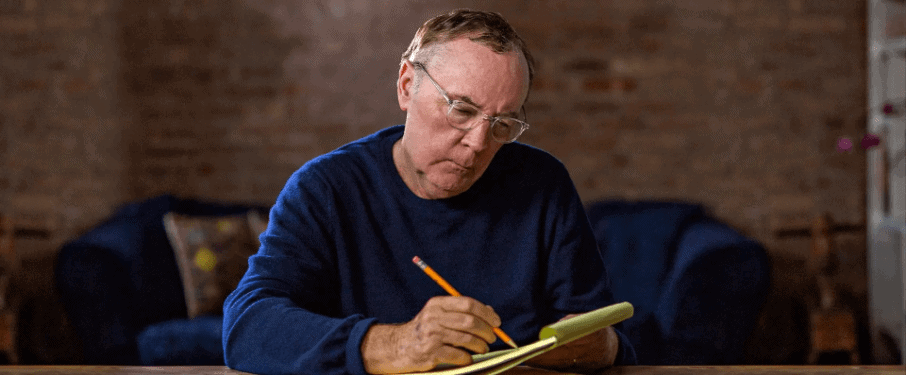 Generalized structure
Just like other writing courses on Masterclass, the general structure of Patterson's writing course remains more or less the same.
So, if you have accessed other writing courses like Jude Blume Dan Brown before this, you'll find yourself easily fitting into his course structure.
Patterson focuses his lectures on the timeline of writing a novel, striving for a complete picture of the writing process while also paying careful attention to key concepts such as designing characters (lesson nine) and constructing a chapter (lesson twelve).
Patterson shares valuable strategies!
A very good thing about Patterson's lectures is that When he claims he can tell you the secrets and techniques of commercially successful fiction writing, then he's not kidding.
Patterson attempts to do just that within nearly four hours of video material, covering everything from editing and planning to collaborating with a co-author and the rigors of getting written.
Keep up with the pace!
Though one big plus of Masterclass is that students can study and learn at their own pace, but Patterson's lectures seem intended to be watched in close succession.
He recommends students stay on pace with his lectures, If not one after another then certainly not weeks apart.
Content neatly is broken down into lessons!
Although the subjects beautifully break things up, perspectives are not even between classes. Patterson takes a congenial approach – the audience is very much in his business – and often gradually or through a personal anecdote he gets to a point.
This doesn't mean the material isn't there: lesson four, on plot, begins with a quick-fire list of excellent advice this incorporates all the previous chapters.
The quality produced video lessons!
The videos are produced slickly, and Patterson is an amiable teacher. Despite the strong intention of the Masterclass to hire the crème de la crème, you may be worried that other lecturers are only in it for a paycheck.
If they are, Patterson is not among them, and all media are of the highest standard apart from the office hours videos (recorded on webcam and thus giving a nice feeling of one-to-one involvement. This is a high-quality product in all respects and one which is not available anywhere else.
Patterson's Masterclass Workbook
Like other Masterclass courses, James Patterson provides his students with a workbook too! The workbook is presented as a PDF document where practical exercises are used to build on the lectures given by Patterson.
Here, the course goes a bit deeper, even taking a slightly more forensic approach by including a sketch of one of Patterson's novels.
While exercises are not marked, the work of fellow students is included and criticized to give some back-and-forth to the learning process.
Despite this, the workbook is on the short side and is unlikely to be enough to change your experience of what's on offer when considered alongside the rest of the course.
Every course of this nature should have some sort of supplementary material to help students get acquainted with the main content, and that's what's offered – it's not insubstantial, but it also doesn't add significant value to the course proper.
James Patterson Masterclass – IN A NUTSHELL!
Mr. Patterson's Masterclass covers some of the topics: Where he gets his ideas. How his characters are designed — and what makes a character compelling. Villains.
Triggering anxiety. Dialog. Here he goes into some detail about the importance of writing a dialogue, which doesn't sound like real life — which would be tedious.
Alternatively, writing dialog is witter, smoother, more packed with dramatic tension and suspense than what actually happens around the dinner table, or anywhere else in the true, not-particularly-exciting life that people seek to escape when they pick up a novel by James Patterson.
Patterson's guidance is on the money regularly, and his lectures explain his theories with examples from his own work.
What he has to say is advice that should be considered by all writers and you're not going to leave one of his lectures wondering what argument he was making. There is the detail and it's presented clearly.
More about Masterclass!
The masterclass is an exclusive platform that allows you to connect with leading creative professionals, entrepreneurs, top influencers, and award-winning personalities from the art industry including Oscar award and Grammy award-winning filmmakers, actors, screenwriters, Multi-billion dollar grossing directors, and many more to learn various forms of arts like Creative Writing, Photography, Directing, Cooking Techniques, Acting, Music and much more under one platform.
The educators on Masterclass are authentic A-List legends in their fields. The quality of their insight and experience is coordinated by beautiful video and attractive workbooks.
Masterclass FAQs
🙋‍♀️ Is MasterClass Worth The Money?
The answer depends on what kind of educational experience you are planning ahead to get. If you want to learn independently, then MasterClass is the perfect option for you. All of the classes are perfectly organized and filled with information. As a result, you can learn your favorite subject at your own pace. You can get either one episode at a time, or you can binge-watch a whole course series just like you do on Netflix. The quality of their course is also pretty high, and the instructions have credibility. So you can be sure that you are experiencing quality learning. Also, it does not cost you way too much. So yes, it is definitely worth your money.
🤷‍♂️ How Much Does MasterClass Cost?
There are two plans that MasterClass has. You can either go for the individual to pass or go with the all-access pass. With the individual pass, you will only be able to access one course at a single time. Also, each course costs you $90. While the all-access pass costs you $180 in a year and it allows you to browse all the website content without any restrictions.
✅ Does MasterClass Give Any Certificates?
As of now, MasterClass does not offer any certificate to their students on course completion. However, they do send their students an email confirming that they have completed the course. The email will feature a congratulatory message along with some tips on how to further use the site to continue your studies.
🔥 Does MasterClass Have A Free Trial?
MasterClass used to provide a free trial in the past. However, back in August 2018, they stopped giving out free trials. And this is no longer available.
🤔 Is MaterClass Any Good?
In a single sentence answer, yes, the MasterClass is good. You will get a comprehensive video course from a world-class successful person in their specific field. So you already know that you are going to get quality information. Also, the website covers a wide range of topics. The topics range from tennis to comedy to acting to singing to writing. Also, the website is bringing new topics now and then. Plus, with just a one-year subscription, you will get to access different topics and learn something new. Also, it is pretty affordable compared to many platforms available out there.
Uninterrupted learning on the go!
The masterclass is for authors, photographers, craftsmen, artists, painters, and innovative experts. It's optimal for students who are glad to learn at their very own pace utilizing a PC or mobile.
You can download the Masterclass app for your iOS or Android device for free from the App Store and Play Store and access your Masterclass lessons anywhere. Not just that, you can even save lessons as favorites, adjust the playback speed, and watch them anytime on the go.
Download Masterclass app (App Store)
Download Masterclass app (Play Store)
Quick Links:
Final Verdict: James Patterson Masterclass Review
To sum up this James Patterson Masterclass Review, I would say to all the beginner writers out there looking to learn about writing and skills that this masterclass comes from the best writing mentors.
It is without a doubt made for you and I would highly recommend it.
You can learn and work on your writing skills and then portray your passion with your words. With this masterclass, you get to know all there is to know about writing a best-seller and more from James Patterson himself.
James Patterson Masterclass On Social Media 
I'm really enjoying the James Patterson @masterclass on #amwriting

Good stuff pic.twitter.com/DlZXDzFFLv

— ⚾ J. Daniel ⚾ (@JDaniel2033) December 4, 2019
Listening to a James Patterson masterclass. Right now he's talking about outlines. Fascinating. "Don't think about the sentences; think about the story." #amwriting #WritingCommunity

— Jessica Terry (@JessicaLTerry) July 30, 2019