If you're torn between Elementor Cloud and Elementor Plugin, I'll help you decide by highlighting four key differences.
Yes, I understand. It's difficult to choose because both options are good, but what exactly do you require? What offers the best value for money? Which is the better option for you right now?
Comparing Elementor Cloud vs Plugin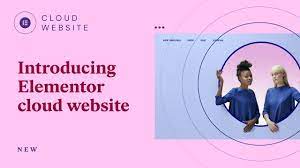 Here are our four metrics of differences for comparing the Elementor cloud and Elementor plugin.
1. Value for Money 
People always think about money when they are making a decision. Even if you can afford to try a lot of things, some people need to think about the good and bad things before they decide.
The Elementor plugin lets you use the great features of Elementor Pro. But you have to first buy hosting that has a WordPress installation, and then install the Elementor plugin.
With the Elementor Cloud, for less than one hundred dollars, you can get a complete solution that includes all of Elementor Pro's capabilities, hosting, and WordPress installation.
2. Total features 
When installed on a WordPress site, Elementor turns that platform into a drag-and-drop website builder with a visual editor. It's totally free and unrestricted, so you may make as many web pages as you like or even an entire site.
I recommend trying out Elementor Pro if you can afford it. The design options in Elementor's free edition are practically endless. However, Elementor Pro has more advanced features that will improve your workflow and let you modify any part of your website with ease.
Most hosting companies charge extra for services like SSL, CDN, backups, bandwidth, and others. But a WordPress website owner isn't happy, even though they pay a high price, because the interface is hard to use, customer service takes too long, and sometimes the website takes too long to load.
Elementor Cloud is an all-in-one solution that lets you cover both hidden costs and the technical side of WordPress hosting. No longer do you have to choose a domain registrar and a hosting provider for your domain. The "future" is Elementor Cloud Website.
3. Service period 
Elementor has created 1 million websites as of July 5, 2018. It published version 3.4.2 of its free plugin and version 3.3.7 of its paid Elementor Pro on August 19, 2021.
If you are looking for a product that has been around for a while and has been helpful to web designers, I recommend the free edition or Elementor Pro.
Elementor Cloud has all the features you need and it is a very good value for your money. One of the best things about Elementor Cloud Websites is that they offer an automated 24-hour backup service. This is a great feature, because many other organizations or hosting providers charge extra for daily site backups. With Elementor Cloud, you get this service at a reasonable cost.
4. Use 
If you already have a web host and WordPress installed, the Elementor plugin is a great choice. You can use the free version, but the Elementor Pro has more features that could be useful. There are four tiers to choose from Basic, Advanced, Studio, and Agency.
Conclusion 
You should try Elementor Cloud! You will have access to the benefits of the Elementor ecosystem, such as professional design, cutting-edge Pro features, a lively community, and, most importantly, the freedom to do whatever you want.
Sites made with Elementor Cloud can be fully transferred or exported at any time, just like any other WordPress site.