In this Gordon Ramsay Masterclass review, we'll take a look at his comprehensive masterclass lessons.
For all the MasterChef and Hell's Kitchen lovers out there! If you have always felt that your passion lies in cooking and want to become a master in cutting the veggies, marinating the meat, mixing up spices, blending flavors into creating the best delicacies, then you are reading just the right post!
If you really do have that passion for cooking, then I'm sure you must know or even follow Gordon Ramsay, one of the most popular and respected chefs of the modern era.
If you are a fan of his, and admire his skills in the kitchen, or even better, aspiring to become a MasterChef like him one day, then Ramsay's Cooking Masterclass is the right place for you to be! 
Gordon Ramsay is here to turn your cooking into something you've never experienced before.
Learn the master cooking essentials from kitchen setup and buying the freshest ingredients to constructing unforgettable dishes with one of the most decorated Michelin-starred chefs as he takes you into his home kitchen in his Cooking Masterclass!
SAY HELLO TO GORDON RAMSAY – Your New Cooking Teacher! 
Gordon James Ramsay Jr. or simply Gordon Ramsay, is a world-famous chef, restaurateur, and television personality currently from Great Britain. Ramsay's restaurants have been awarded 16 Michelin stars in total and currently hold a total of 7.
Over the course of his storied career, Ramsay has established himself as one of the best-known and most influential chefs in British popular culture. He has been a prominent personality on reality television since the early 2000s.
Known for his fiery temper, strict demeanor, and frequent use of expletives,
Ramsay has often been a talking issue due to his blunt and controversial comments on reality television including insults and wisecracks about contestants' cooking and restaurant facilities.
Welcome to Gordon Ramsay's Cooking Masterclass
Ramsay is not just here to teach you amazing recipes, but he will also teach you how to take your cooking to the next level with his 20 Masterclass lessons.
In this Gordon Ramsay Masterclass review, If you want to enhance your skills around your kitchen, if you want to give your veg and non-veg cooking techniques the perfect edge, or in simple words, if you want to do things the MasterChef way, then you have the MasterChef at your doorstep to help you out!
Gordon Ramsay's Cooking Masterclass: Lesson Plan
Gordon Ramsay's Masterclass lesson is the most comprehensive and professional guide you can find nowhere else.
This Masterclass consists of Ramsay's personal guidance and methodologies systematically broken down into 20 lessons to help enhance your cooking skills and take your cooking to the next level.
Each lesson runs for about 25 minutes, which feels like a great time period where you don't lose control and stay amused and concentrated. Here is a description of the skills and strategies you can pick up when you take Masterclass.com's Gordon Ramsay Teaches Cooking course.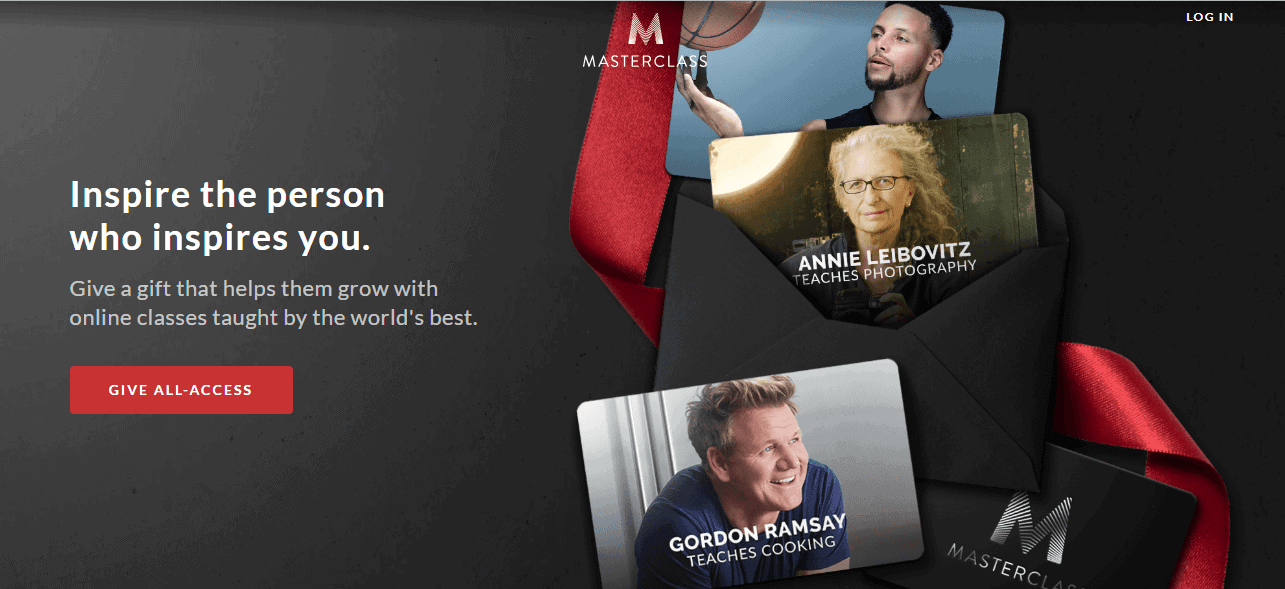 1. Introduction
This lesson is an introduction to the Michelin star chef. Bedazzled with Gordon Ramsay's amazing kitchen and learn what he has got planned for his students. 
2. Gordon's Journey: Learning from Masters
Gordon Ramsay opens up and shares his journey and secrets on how he became one of the most recognizable and respected chefs in the world. Learn about his die heart passion for cooking which began from his mother's home and brought him to some of the greatest kitchens in the world.
3. Method: Kitchen Layout
Gordon Ramsay shares the design concepts driving his majestic kitchen as he takes you through a tour of his own kitchen to show you how just a few good pots, pans, utensils, and a hot plate are all you need to get cooking.
Even if you know how to do this already, you will always enjoy watching this instructional video and will certainly share it with my son, who is just getting into cooking. I especially liked the fact that he pointed out the oysters found under the chicken and suggested that you make a great soup or stock using the carcass.
4. Mastering Ingredients: Vegetables & Herbs
Understand the unsaid rules and secrets about various vegetables and herbs. Learn how to master essential ingredients and select great produce to create phenomenal dishes. Gordon tells you how they taste? Which are the most versatile herbs? And much more.
He teaches you things like how to tell whether it's ripe for butternut squash with a hard shell-like skin.
Plus, why should tomatoes always be kept on the vine? In addition to going into quite a bit of depth on how each vegetable is cooked and what other ingredients it fits well with. He then goes on to recommend three ingredients that go well with them.
For hundreds of other vegetables, he goes into similar levels of detail.
The segment on herbs in this video is also encouraging. I would never have thought of using thyme for a mint ice cream crumble or spike.
5. Method: Knife Skills
Knowing how to handle the knife is one of the most essential basics to learn, including sharpening and holding these critical tools. Gordon shows you how to properly do these and the best ways to practice and improve your knife skills.
You need this masterclass if you have not received a hint on how to carry or use a knife!
It is important to have strong knife skills, regardless of how long you've been cooking. So, this section of the course was very important to me. This prompted me to go out and purchase a new collection of knives.
A collection of handles that were the correct size and better quality for my hand than the ones I already owned. If your knife skills still require practice, then they can greatly improve with Gordon's assistance.
The following interesting topics are also discussed in this lesson:
How to sharpen a knife?

The right way to chop up a shallot

How to chop fast?

The safe way to chop up awkward vegetables

Mastering a fine dice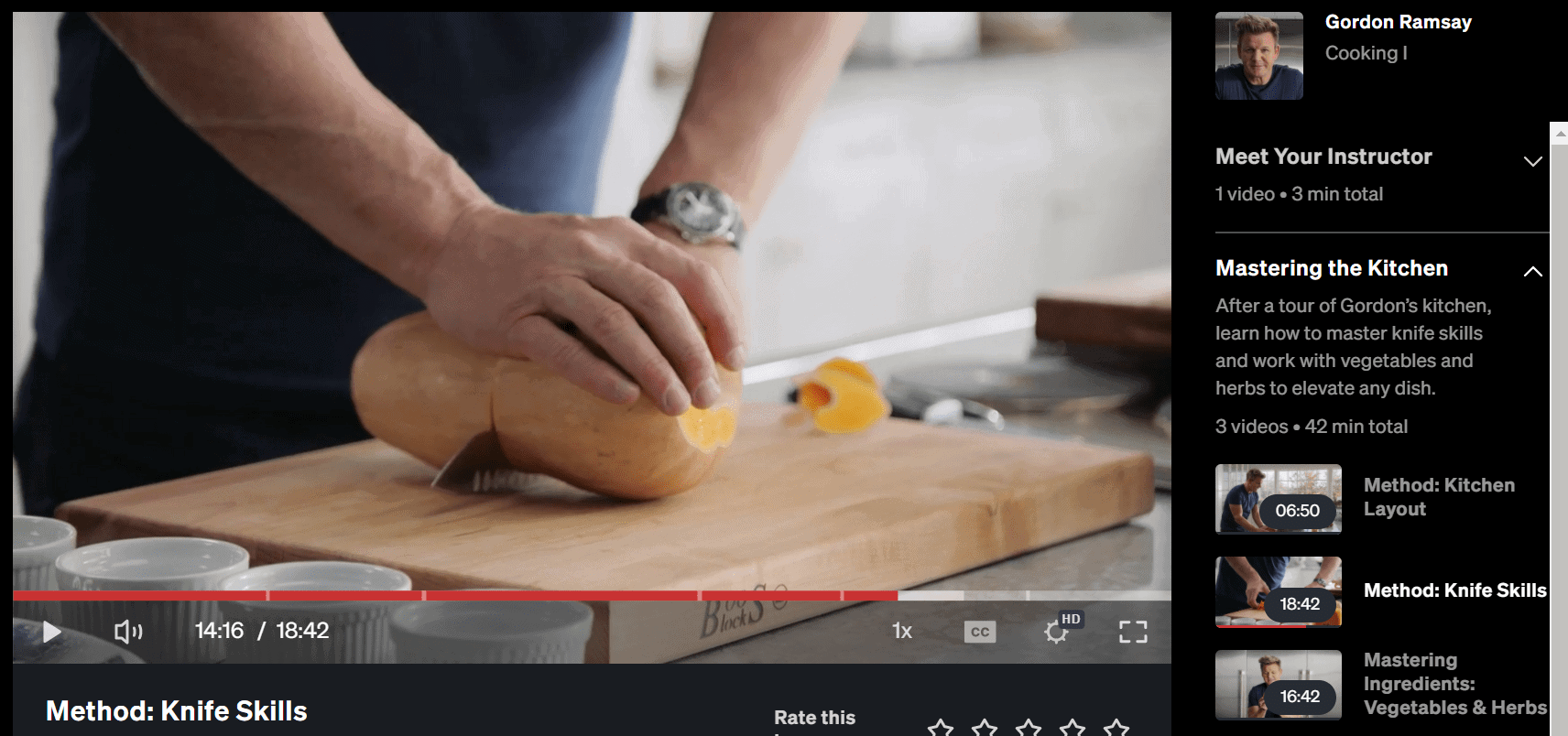 6. Make: Poached Egg & Mushrooms on Brioche
Gordon shows you how to master one of his go-to breakfast dishes and you learn how to make perfect poached eggs every time. The little tips from Gordon have made all the difference.
When Gordon said that before serving, I should drain the fat from the mushrooms,
I figured that he was crazy. But, again, he was right, 100 percent.
You are simply intensifying the taste of the mushrooms instead of leaving any of the flavors on the kitchen towel by serving them that way.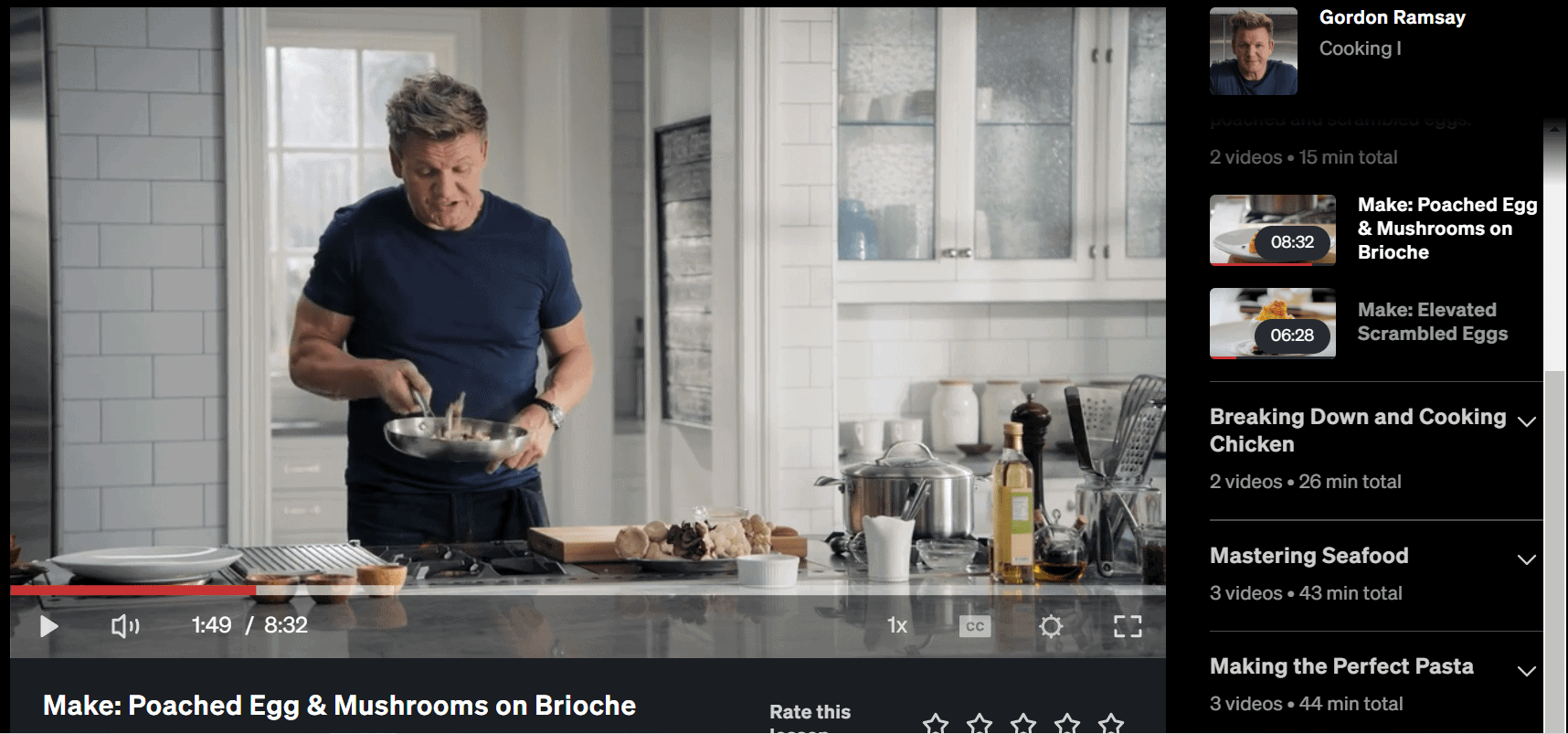 7. Make: Elevated Scrambled Eggs
Cooking eggs are one of the most difficult tasks, be it at home or at a restaurant. Check out how Gordon makes the perfect scrambled eggs and adds sea urchin and white truffle to elevate them. 
Ever since this masterclass was published, people have been talking about this recipe, so I know it'll be nice.
But I can't just get hold of the sea urchin that he suggests adding. In my field, it is not accessible.
However, because of what I learned from this portion of the course, my daily scrambled eggs have certainly improved.
For starters, before they are cooked, I no longer season my eggs, because, as Gordon explains, salt breaks down the eggs' structure.
8. Method: Breaking Down a Whole Chicken
Gordon teaches you how to break down a chicken into parts to get every ounce of goodness from a chicken.
9. Make: Chicken Suprême with Root Vegetables
Check out how Gordon Ramsay creates a simple, yet delicious entrée using this humble protein from the stove to the oven. From cutting down the herbs and chicken into pieces to roasting his root vegetables before plating this dish, you would not want to miss how things are done the Chef Ramsay was.
It was fascinating the way Gordon roasted the root vegetables for this dish. I would never have thought about this way of doing it.
Lay it all on a bed of herbs, heat, and smoke the veggie on the gas for a few minutes, before putting it in the oven to roast.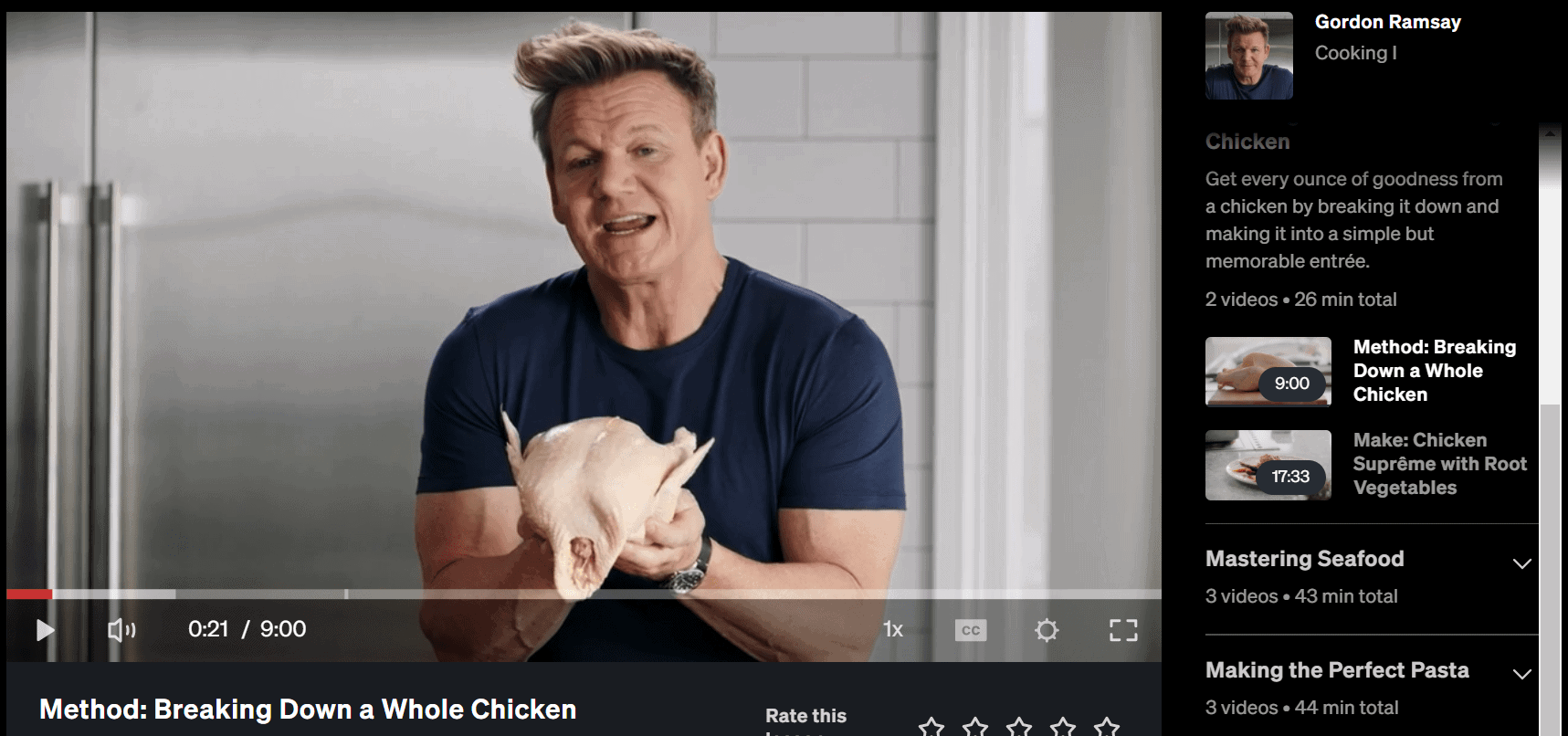 10. Mastering Ingredients: Fish & Shellfish
If you want to make sure you only get the best quality ingredients, Gordon Ramsay teaches you the top tips on what to look for at the fishmongers. "As Gordon said," you have to be on point with fish.
Your fish dishes are bound to turn out much better after you have gone through this portion. He has a passion for these ingredients, obviously.
In this portion of the course, one of the most interesting points was when he demonstrated how to set scallops in the fridge.
Using so makes a big difference in the way they cook well. It was also nice to have his tip about weighing mussels, cockles, and clams in your hand to verify that they are new. It's something that I'm going to try every time I go shopping for them.
11. Gordon's Journey: Becoming a Master
From opening his first restaurant, to gaining his third Michelin star, Gordon details his path for mastering his craft and to building a culinary empire to being known as one of the best in his field.
12. Method: Breaking Down a Whole Fish
Gordon Ramsay is a master player when it comes to meat, be it chicken or fish. Jump online and catch him in action as he gives you a step-by-step tutorial on how to fillet a whole salmon.
This part of the course deals with so much more than just breaking down an entire fish.
It includes, for instance, how to check the freshness of the fish you purchase. It's also great to see Gordon go a step further than other chefs and describe the various cuts you can get from a flatfish.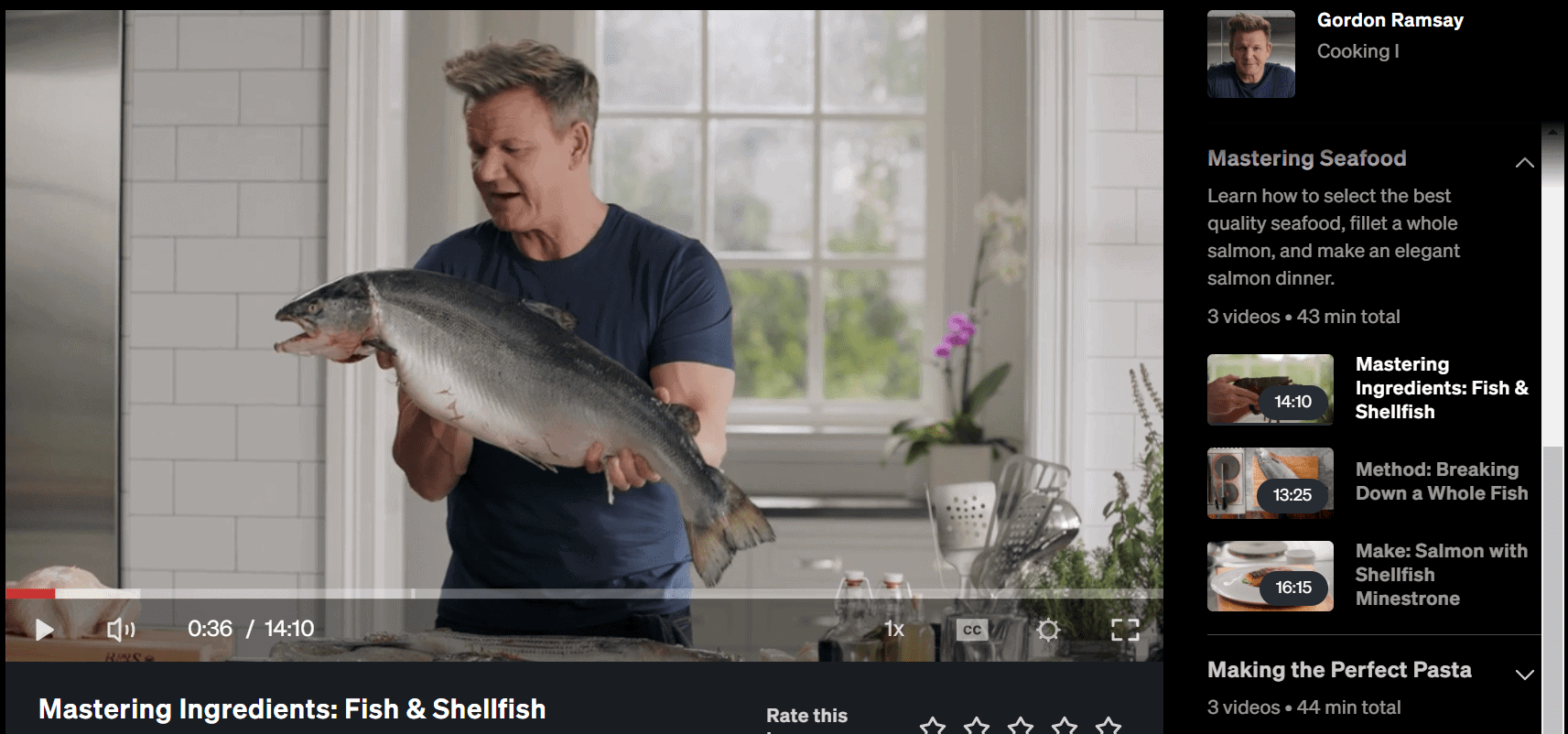 13. Make: Salmon with Shellfish Minestrone
Gain essential tips and tricks for cooking skin-on fish fillets. Gordon shows you how to perfectly cook salmon and create a delicious, light supper with an elegant shellfish and vegetable minestrone.
14. Method: Making Pasta Dough
Gordon shares with you the process of creating handmade fresh pasta for incredible Italian dishes while he was studying in Italy. Learn what he learned and master this popular Italian delicacy.
15. Method: Rolling Pasta Dough
Rolling out the best Pasta dough is an art that Gordon Ramsay has mastered perfectly over the course of his storied career. He is nowhere to show you how to make the best ravioli, tortellini, fettuccine, and a variety of other noodles by rolling out delicate, paper-thin pasta.
It is a little overwhelming the way Gordon does it. He also called his assistant at one point to support him. Don't be put away. Simply break the strip of pasta into three or four and keep rolling.
That way, it's much simpler. Will you like to make tasty pasta to please your dinner guests? Serve the perfect pasta EVERY TIME with this roller and cutter from KitchenAid!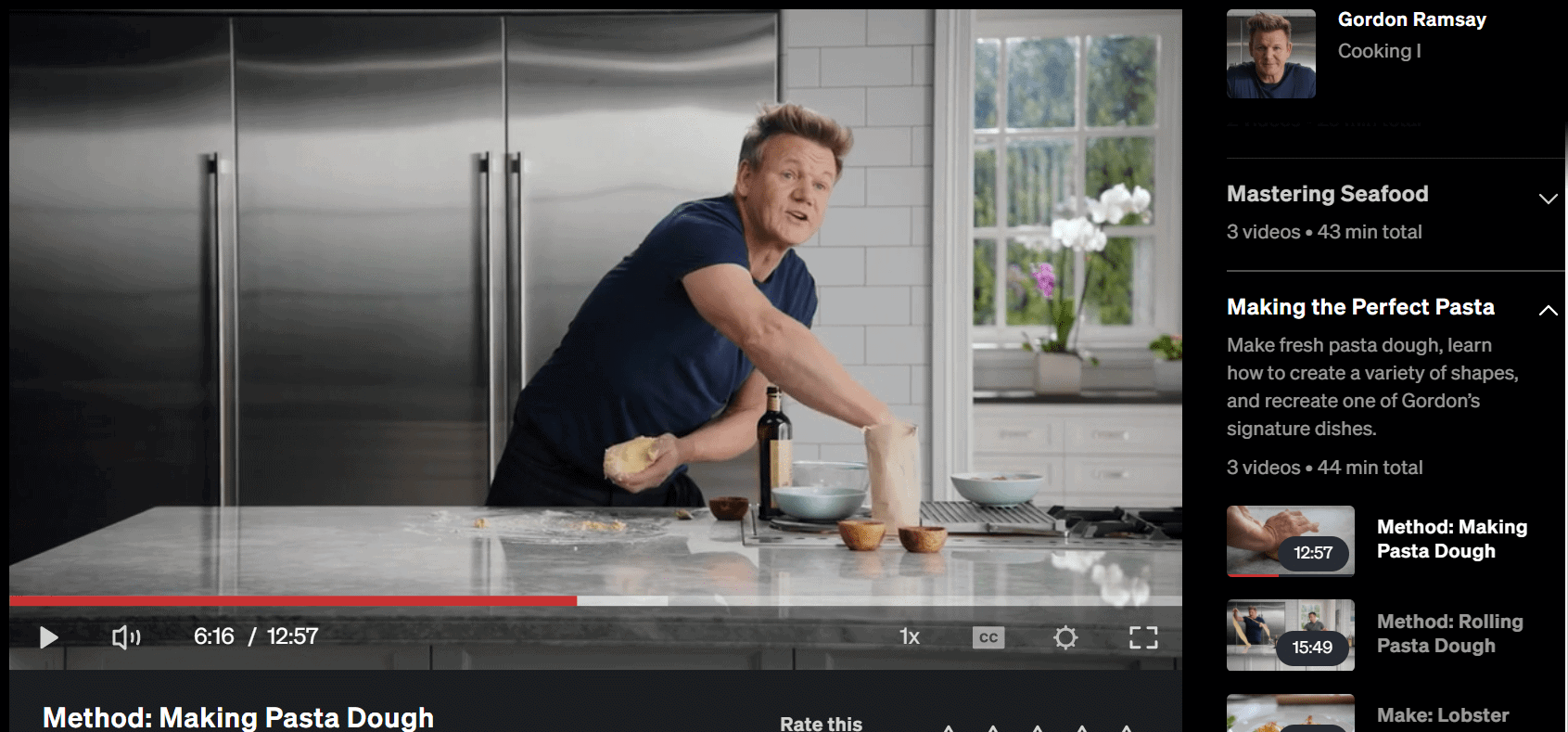 16. Make: Lobster Ravioli
Lobster Ravioli is the only dish that has remained as a constant on the menu at three Michelin star Restaurant Gordon Ramsay since its opening. Keeping that in mind, Gordon is ready to show you how to shape the perfect ravioli and fill it to perfection as he shares the recipe for its signature filling.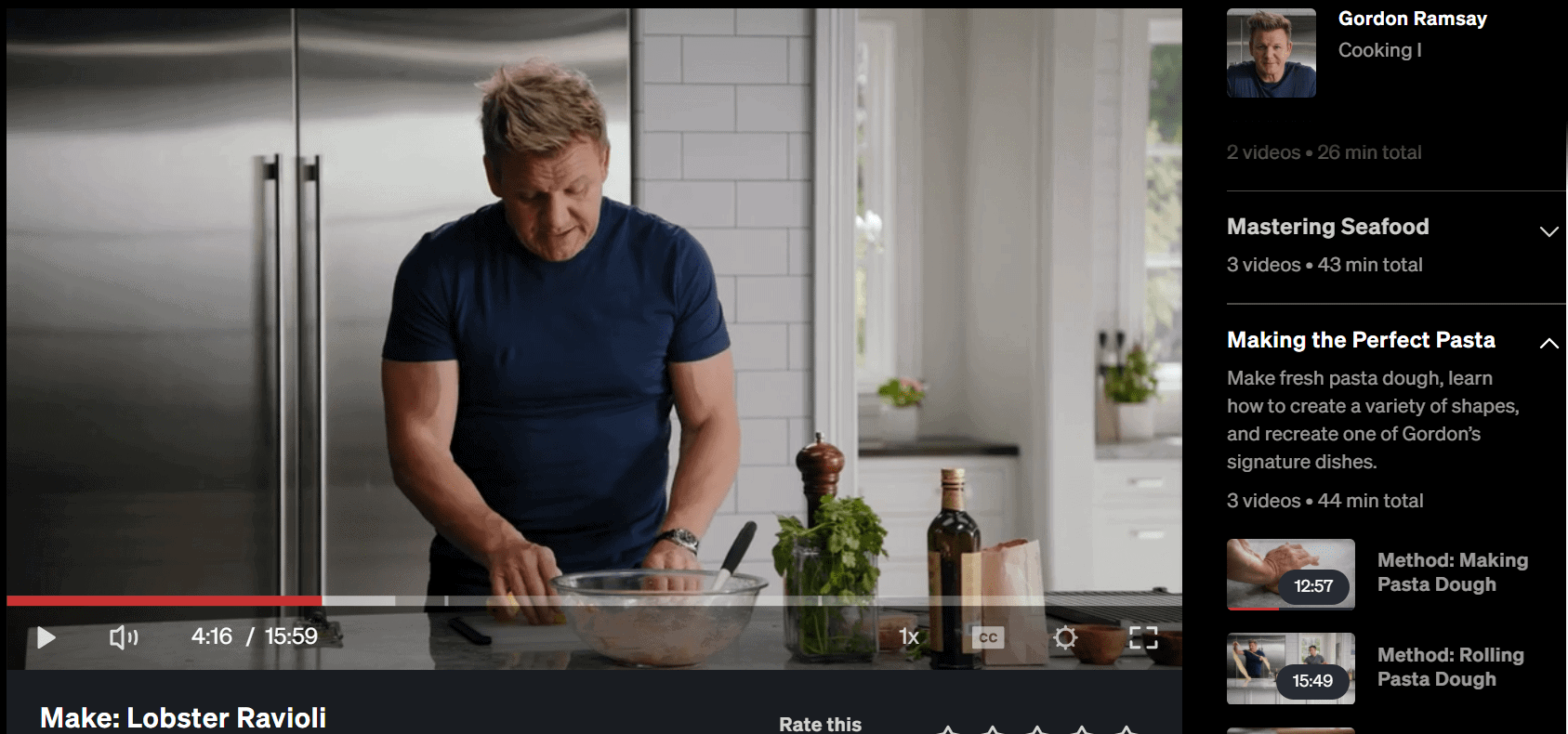 17. Mastering Ingredients: Beef, Lamb & Pork
Gordon always insists that it is not at all necessary to plush and expensive with the ingredients you use to cook. In this lesson, he teaches you how to get the most from a variety of cuts of beef, lamb, and pork without the luxury of cooking with expensive ingredients.
It felt like it was a bit light on detail in this part of the course. The fact that meat is such a big topic is the main explanation for this.
I only hope that another Masterclass.com course will be published by Gordon that covers the subject of beef, lamb, and pork in more detail. That said, I'm still learning a few things.
18. Make: Beef Wellington
Beef Wellington is an iconic dish that Gordon Ramsay has served over a million all around the globe! Now Gordon is here to breakdown his iconic dish for you to try out yourself and share it with friends and family.
19. Advice for Life
Success isn't an easy dish to serve, neither has it ever been easy for Gordon. Listen to his universal advice on how to succeed.
20. Closing
Here are the few final words of encouragement from Gordon to wrap up your Masterclass with a pinch of motivation.
Gordon Ramsay's Masterclass Workbook
What's more, a workbook comes with each class, too. These workbooks summarise the key points (this encourages learning) and allow you to perform assignments as well.
These workbooks literally contain a heap of information.
Gordon Ramsay's workbook for the Masterclass is outstanding. Far better than those supplied by other chefs from Masterclass.com. This contains plenty of additional data.
Extra recipes and links to other tools that describe the science behind his advice and tips or tell you more about a technique.
For instance, why never add salt to uncooked eggs? Another pleasant little touch is leaving space to make some notes along with the hand. His videos for this course are also exceptional.
He has taken the time (apart from the Beef Wellington one) to properly bookmark each of them.
Some Extra Tips From Ramsay
Gordon describes small ways in which the recipes can be modified and used differently across the videos and throughout the workbook.
He pays careful attention to making sure that his meals can be enjoyed by people with special dietary needs.
Having him, including some vegetarian dishes in this course, is also refreshing.
What to make in advance and how to store it?
He tells you what can be done in advance if you pay attention to Gordon Ramsay's Masterclass Chapter 3. Importantly, he clarifies how much anything can be made in advance and how to store it.
The basil crumb from his lamb meal rack, for example, can be made up to a week in advance. One of my new favorites is this one. I have also used it for chicken and fish, as suggested by Gordon.
Plenty of plating up advice
I'd describe myself as a professional home cook, but someone who doesn't have a great deal of finesse. So, I was particularly pleased to see Gordon going into detail on how the food should be plated.
Little tips like cutting your asparagus to a length that fits nicely on the plates you are planning to use, make a huge difference to how good your meal looks.
Helpful cooking timelines for most recipes
I struggle to remain organized in the kitchen, like most people. So, I considered really helpful the timelines that are included in the workbook. In the most productive order, they ensured that I did everything and did not forget anything.
If they had included real timings, the timelines would have been much more valuable, but regardless, they were still helpful.
Alternative ingredient and beverage suggestions 
Advice on what to do if you cannot locate a certain ingredient is also included in the workbook. Use green instead of red harissa, for instance, or make your own, including a recipe that shows you how to do precisely that.
Or, if you have to use stock in the supermarket to ensure that it is the unsalted kind.
You definitely don't want to add salt to Gordon's recipes anymore. In fact, he uses a lot of it, too much for my tastes, which is something to be a little vigilant about when you prepare this course's meals.
3 Things I Loved About Gordon's Masterclass
Gordon Ramsay is one of the most respected and admired personalities in the cooking circuit who is followed and looked up to by millions across the globe.
So for those people, Ramsay's cooking Masterclass is a joy for they get to learn the art of cooking from the star himself. Here are 3 things about Ramsay's Masterclass that I loved the most. 
1. The quality is just as good as Netflix
It is something that cannot be overlooked. Hands-down the video output quality will be the best you'll encounter from any online education course you'll find on the internet.
The videos are well-crafted, incredibly fun to watch, and easy to follow.
I mean, the video quality is at such a level that you can feasibly binge-watch every single lesson in a single day.
Now I'm sure you may wonder if the production quality distracts you from the contents of the lessons.
No, they don't. Yes, it makes it easier to navigate. The lessons are structured to get the message across in the easiest way possible and the development of quality video makes digestion easier.
2. It feels like Ramsay is teaching you one-on-one
I didn't expect this, but it really feels like Ramsay is just talking to you while giving you cooking advice at the same time, whether it's cooking or life in general. In particular, what I liked was learning about Gordon Ramsay's life.
He talks about his journey, and the challenges he faces in his life. It is really captivating and perspicacious.
To be honest, even if you are not interested in cooking, you would probably still get a great deal out of just listening to the journey of his life. He will teach you about passion, dedication, achievement, and the benefits of going through life challenges.
He shares his story of how he used to be a normal child, dreaming of becoming a boys' soccer star, going through struggles, and then discovering a new love (cooking!) and just running with it.
He not only played with it but he built an empire out of it pretty much.
He will also share some great tips about business (he's pretty darn good after all) and how you can make money out of your passions. The most interesting thing I found was the value of learning from your failures.
It also involves food. Every mistake that you make is a learning opportunity.
3. I learned some practical cooking tips
So that's the reason I first signed up. Know how to eat, for you! And I also learned some useful tips that made it so much more enjoyable to eat my meals.
I learned to make pasta, poached eggs, and a supreme wellington beef. Even, now I really know how to bring together different ingredients to get that amazingly delicious taste.
The Last Line?
I will be able to use the lessons I've acquired from cooking during this course for a very long time.
3 Things I Disliked About Gordon's Masterclass
While Gordon's Masterclass is truly a delight for anyone who is passionate about cooking and has been a great fan of elite cooking shows like MasterChef and Hell's Kitchen, there are also some minute downsides of his cooking course.
Not too many, and it may vary from person to person, but here are 3 things about Gordon Ramsay's Masterclass which I personally didn't like. 
1. Very limited recipes to explain
Although I learned a lot about different ingredients and what's going together, I felt like I didn't get enough of the recipes.
The course concentrates a bit more on the cooking behind-the-scenes. You will learn how to cook such meals, including poached eggs, and a supreme wellington of beef, as I described above.
But you're not going to get the actual recipes that allow you to cook a full meal. I consider this very frustrating. The lessons are all about learning the cooking basics.
This speaks about skills such as slicing which dicing and using recipes rather than recettes.
But, if you want to develop your culinary skills in general, you will be getting a lot out of it. Yet I guess a lot of people are going to take the course assuming they are going to be having recipes.
That is not the case here. Yet my advice is to get the All-Access pass from chefs like Wolfgang Puck and Thomas Keller and take more Masterclass cooking lessons.
This will not only allow you to learn better well-rounded skills but when you put it all together, you'll also get more recipes.
Altogether Gordon Ramsay will give you some useful skills.
They've helped me make my meals more delicious and tastier. But don't expect the great Chef to get full-bodied recipes.
2. You might not learn a lot if you're an advanced cook
I'm going, to be honest, the lessons to me were great because I'm a terrible cook. I had to know the basics. Yet if you're an experienced cook then in terms of professional skills you might not know a lot.
Most of it probably you already know. If you're an aspiring chef, though, you could get a lot out of the back-the-scenes advice he gives.
He has an immense amount of experience in running restaurants and business in general, so I'm sure you'll find some pretty useful tips out there. But if you already know the cooking basics then don't expect to learn much about cooking skills.
3. You may not be able to complete some of the lessons due to the absence of some required tools
All along the course, this happened to me quite a bit. I couldn't take action on any of the lessons because I didn't have an expensive Japanese knife or a large kitchen like Ramsay.
Although seeing Ramsay get to work in his kitchen was very enthralling, I found some of the lessons just difficult for a beginner like me to do.
It would have been great if he'd worked with normal tools in a more normal kitchen. Everyone may therefore understand what Ramsay was doing.
Mobile Apps
You can download the Masterclass app for your ios or Android device for free from the App Store and Play Store and access your Masterclass lessons anywhere.
Not just that, you can even save lessons as favorites, adjust the playback speed, and watch them anytime on the go.
Quick Links:
How does Masterclass work?
There is nothing to complicate in understanding the Masterclass. On a general basis, the basic course structure by Masterclass involves:
Over 51 Classes from the masters

These classes are neatly divided into around 23 to 24 Lessons

All of these lessons are conducted online

The video lengths average 12 Minutes per lesson
Perks of joining Masterclass
The Masterclass is one place where students and enthusiasts learn various forms of arts from creative professionals like writers, photographers, artists, musicians, painters from around the globe at their own pace using a computer or even via your mobile phone. Here are some benefits of joining Masterclass:
Suitable for writers, musicians, artists, and creative professionals

Students can learn business skills like marketing from several online courses

Easily learn web skills like coding or web development basics

Use the Masterclass mobile apps for iOS and Android devices to access the lessons anywhere anytime on the go.

Watch your chosen courses using your computer or phone and consume the materials on the go.
FAQs on Gordon Ramsay Masterclass Review
🙋‍♀️ Is MasterClass Worth The Money?
The answer depends on what kind of educational experience you are planning ahead to get. If you want to learn independently, then MasterClass is the perfect option for you. All of the classes are perfectly organized and filled with information. As a result, you can learn your favorite subject at your own pace. You can get either one episode at a time, or you can binge-watch a whole course series just like you do on Netflix. The quality of their course is also pretty high, and the instructions have credibility. So you can be sure that you are experiencing quality learning. Also, it does not cost you way too much. So yes, it is definitely worth your money.
🤷‍♂️ Does Gordon Ramsay's Masterclass has Workbook
Yes These workbooks summarise the key points (this encourages learning) and allow you to perform assignments as well. These workbooks literally contain a heap of information.
🤔 Is MaterClass Any Good?
In a single sentence answer, yes, the MasterClass is good. You will get a comprehensive video course from a world-class successful person in their specific field. So you already know that you are going to get quality information. Also, the website covers a wide range of topics. The topics range from tennis to comedy to acting to singing to writing. Also, the website is bringing new topics now and then. Plus, with just a one-year subscription, you will get to access different topics and learn something new. Also, it is pretty affordable compared to many platforms available out there.
✅ Does MasterClass Give Any Certificates?
As of now, MasterClass does not offer any certificate to their students on course completion. However, they do send their students an email confirming that they have completed the course. The email will feature a congratulatory message along with some tips on how to further use the site to continue your studies.
🔥 Does MasterClass Have A Free Trial?
MasterClass used to provide a free trial in the past. However, back in August 2018, they stopped giving out free trials. And this is no longer available.
Conclusion : Gordon Ramsay Masterclass Review 2023
The masterclass is an online education platform where you can learn the art of cooking some amazing dishes and delicacies from master chefs like Gordon Ramsay and Thoma Keller.
Not just cooking though! This is a platform from where you can follow and connect with leading creative professionals, Entrepreneur, top influencers, and award-winning personalities from the art industry and learn various forms of art like
Creative Writing

Writing

Basketball Shooting, Ball Handling, and Scoring

Photography

Directing

Cooking Techniques

Dance Music

Filmmaking

Acting

Comedy

Writing thrillers

Dramatic writing

Screenwriting
And much more
It is considered the biggest and most powerful online education platforms in the world and features Gurus of international fame and recognition from the art industry having several accolades to their names including Oscar award and Grammy award-winning filmmakers, actors, screenwriters, Multi-billion dollar grossing directors, sports stars, master chefs, musicians, and many more.
Gordon Ramsay Masterclass On Social Media
FINALLY!
I present a relatively successful poached egg (courtesy of @GordonRamsay's Masterclass) with garlic butter and Cayenne pepper. pic.twitter.com/EHXwYtXEnQ

— Shaakira IYI (@shaakimellow) May 30, 2021
I wasn't sure if @MasterClass was worth the $160. But it really is! I'm loving all the classes, taught by experts in their field! We're talking @GordonRamsay @JoyceCarolOates @SamuelLJackson @JP_Books @neilhimself (a personal favorite course) and the fabulous @MargaretAtwood !!!!

— Jesse C Maddux (@jcmaddux) April 25, 2021