We all know that being a successful performer is not easy. It takes years of practice, commitment and dedication to be the best at what you do. But it's hard to stay motivated when you don't have someone telling you exactly how they did it.
Usher gives us an inside look into his life as a performer, husband and father in this masterclass course. He shares his own personal stories of success and failure so we can learn from him rather than just imagine what he has accomplished over the years.
This masterclass will teach you everything about performance, from stage presence to vocal delivery – even how to develop your own style!
You'll gain insight on how Usher developed himself into one of the greatest performers of our time with some very useful advice along the way!
Today I am going to give you a compressive look into the Usher Masterclass Review and tell you everything you need to know about his lessons, and how these can help you achieve the dream of becoming a great performer like him!
Latest Usher Masterclass Review 2023: 
Usher, one of the most popular and successful R&B performers, an incredibly talented songwriter and dancer, having produced the number-one singles "U Remind Me" and "U Got It Bad", receiving numerous awards and accolades including 18 Billboard Music Awards and eight Grammy Awards throughout his illustrious career is nowhere to share his knowledge and experiences about performing professionally on stage through his own Masterclass.
If you have been a follower and admirer of Usher and wish to follow his footsteps to stardom and success, then his Masterclass "The Art of performance" is the right resource for you. So, let's dive straight into it!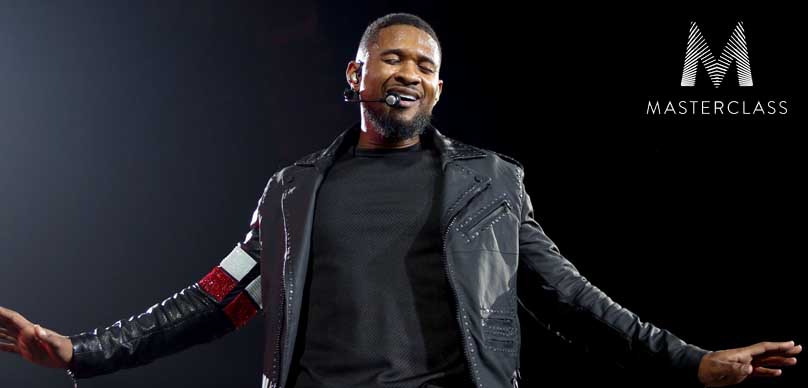 Usher Masterclass: A Brief Outline!
Each video lesson lasts about ten minutes and has an aesthetic of Inside the Actors Studio, with Usher dispensing his wisdom from a vacant stage.
His style of the lecture is intense yet chatty; you soon discover that he likes the term chutzpah. In the early lessons, he uses it a lot which emphasizes that tenacity is the most valuable quality for an aspiring performer.
"I tried it, you name it," he recalls his early career. "If I knew someone [important] was with me in the same bathroom, I 'd start singing to try and get his attention." (I wonder if he will regret this advice the next time he's recognized in a urinal).
I've heard about certain activities that Usher suggests improving your lung ability, such as singing while doing cardio with high intensity. I don't know how this hasn't been a lifestyle craze in New York.
15 steps to success!
Being a winner of 8 Grammy Awards over the course of his storied career, Usher reveals the technical skills, career lessons, and breakthrough advice that he has used to captivate audiences for over 25 years.
Whether he is on the mic on stage or in front of the camera for you, there is a lot you can learn when Usher takes the platform.
Through Masterclass, Usher takes the initiative for the first time ever to teach his followers the art of approaching performance and how he wins over audiences from the studio to the stage.
His Masterclass lessons have been neatly divided into 16 lessons which are mentioned below.
Introduction
This lesson is an introduction to your instructor Usher Raymond IV, as he shares why he's excited for you to start your journey and what you'll take away from his Masterclass.
Usher guides you to take the first step as he leaves you with your first-class assignment after showing you how to find opportunities to perform, use social media to grow your audience.
There is no creativity that exists without inspiration. Thus, Usher shares with you the unexpected places he gathers his inspiration from and how to expand your own library of references.
Usher shows you how to take favorite elements from gathered inspiration to understand the difference between imitation and inspiration. Learn this skill and then apply it to your future performances.
Your voice is actually your most important instrument if you're a performer. Thus it is extremely essential for you to identify and expand your range, warm up your voice, and take care of it before and after any kind of performance.
Interpretation and individuality are the keys to a captivating dance performance when you are singing on stage in front of a live crowd. Usher teaches the importance of discovering your own style so that you can master those dance moves.
With a little bit of singing and dancing, comes a little bit of acting. Usher makes sure that you don't have to learn this the hard way as he shares the techniques he mastered through years of trial and error. At the end of this lesson, you will discover new parts of your personality with his creative assignment.
Preparing For Live Performances
If you stay ready, you don't have to get ready. Usher shares how he preps himself from pre-show rituals, rehearsal techniques, and mindful meditation, for exhilarating live performances.
In this lesson, Usher shares his best tips on how to capture your audience's heart by reading a room and trusting your instincts. And if that is not enough, then prepare to be dazzled as he also breaks down one of the hardest performances of his life.
Even superstars run into hurdles and goof-up during a live performance, so it takes a lot of maturities to understand that there is no such thing as perfect. You need to show a sense of confidence and commitment from the moment you walk on stage to the moment you walk off. Usher highlights the importance of perseverance, and what it means to put on a flawless show.
If you missed Usher's last world tour, then you definitely should not miss this one as he walks you through his latest tour performances at London's O2 Arena.
Collaborating and working with others takes you a long way. This is though not always easy, Usher is here to guide you through his approach to collaboration. This chapter includes valuable insights into his work with artists such as David Guetta and Alicia Keys.
Creating A Personal Brand
Mainstream success makes you a personal brand as time passes by. Thus, you need to know and understand the secrets to branding success so you can create your personal brand. From social media to sex appeal, Usher breaks down the tools you'll need to set yourself apart.
Learn how to build the inner drive to lead you on your own journey by navigating the pitfalls that line the path to success.
Discover the unknown chapters from Usher's life and career that you've never seen before.
Follow his life story, and stories of his successful career spanning over 25 years and get exclusive insight into what made him one of entertainment's most successful artists.
Usher's Masterclass Workbook!
There is also a digital workbook in the course, and each lesson ends with a homework assignment.

My favorite was an exercise intended to show you the value of working through unforeseen performance failures: "Tap two buddies who think they're pranksters," Usher instructs, "let them come up with two or three ways to disrupt your practice … see if you can get through the performance without missing a beat."
Final views!
Just like any course, you get out of Usher's Masterclass pretty much what you put into it — which is to say, in the case of a somewhat skeptical journalist with quite literally no performing talent, very little. (Except maybe a few tips and tricks for her next evening at a karaoke bar, which will happen soon.)
My favorite part of the Usher Masterclass experience, though, was browsing the corresponding online "lesson discussion" board, which is a font of encouragement and positivity. 
Learn anywhere, ON THE GO!
Masterclasses also developed mobile apps for devices running on both ios and Android so that you can access your lessons anywhere on the go. The app is available for free on the App Store and Play Store.
A very good thing about this app is that its overall design is extremely intuitive and easy to use. Students can easily save lessons over a cup of coffee at lunch as favorites, adjust the playback speed, and watch them anytime.
Quick Links:
FAQs | Usher Masterclass Review
🤔Who is Usher ?
her, winner of 8 Grammy Awards, reveals the technical skills, career lessons and breakthrough advice that he has used to captivate audiences for over 25 years. For the first time ever, learn how Usher approaches performance and wins over audiences from the studio to the stage. There has never been a class like this before.
💁 What is a Masterclass?
Masterclass has some of the best A-class teachers like Bob Iger teaching business, Aurel Stein teaching writing, and the list continues. Just demand a course and they have in their list along with the best teachers.
📺 Where can I watch Usher Masterclass?
With MasterClass, you can learn and be inspired anytime, anywhere, including your smartphone, personal computer, Apple TV, Amazon Fire TV, and Roku streaming media players. You can even download your favorite lessons and watch on the plane or listen during your commute in audio-only mode
🤷‍♂️ How many video lectures are available of Usher Masterclass?
Usher Masterclass has 15 video lessons (2h 29m)
🔥 Does MasterClass Have A Free Trial?
MasterClass used to provide a free trial in the past. However, back in August 2018, they stopped giving out free trials. And this is no longer available.
✅ Does MasterClass Give Any Certificates?
As of now, MasterClass does not offer any certificate to their students on course completion. However, they do send their students an email confirming that they have completed the course. The email will feature a congratulatory message along with some tips on how to further use the site to continue your studies.
Conclusion: Usher Masterclass Review 2023 
If you're looking for a way to get in on the ground floor of your dream career, this course has what you need.
Usher is one of the most sought-after performers in the world and he shares his knowledge with you on how to not only become successful but also maintain that success as well.
This course is highly recommended for some who wants to start learning from Usher who knows first hand about performing arts!
Usher Masterclass On Social Media 
Today's @MasterClass is @Usher , who teaches 'The Art of Performance'. Loving this class so far!
Being a fan of him when I was a teen and getting to learn something from Usher!!! that I've always dreamt of doing, is such a dream come true! Ok I'm going back to the class now! pic.twitter.com/m250SuURup

— miziQue (@miziQue) April 1, 2021
🎉 Celebrate ten years of @NBCTheVoice🎙 and dive into writing, producing, and performing with MasterClass instructors @aliciakeys, @Usher, and @xtina. https://t.co/dKb7Cf24Y9 pic.twitter.com/eX9BrzmOoX

— MasterClass (@MasterClass) April 27, 2021