Online education continues to grow in popularity and enrollment: In anticipation of the increasing enrollment in 2020, universities have initiated new online programs.
Ph.D. candidates and lifelong learners alike use online learning resources increasingly regularly to acquire new knowledge and skills. Despite the apparent increase in demand, many providers continue to struggle with establishing enticing programs for prospective students. Growing demand for online education Are Suppliers Prepared?
Local and national institutions, as well as emerging online education titans and newer nondegree providers, are among the several competitors fighting for a share of the online education market.
Given the magnitude of these market shifts and the intensifying competition they promise, it is possible that online education providers will require more than minor adaptations to survive, advance, and succeed.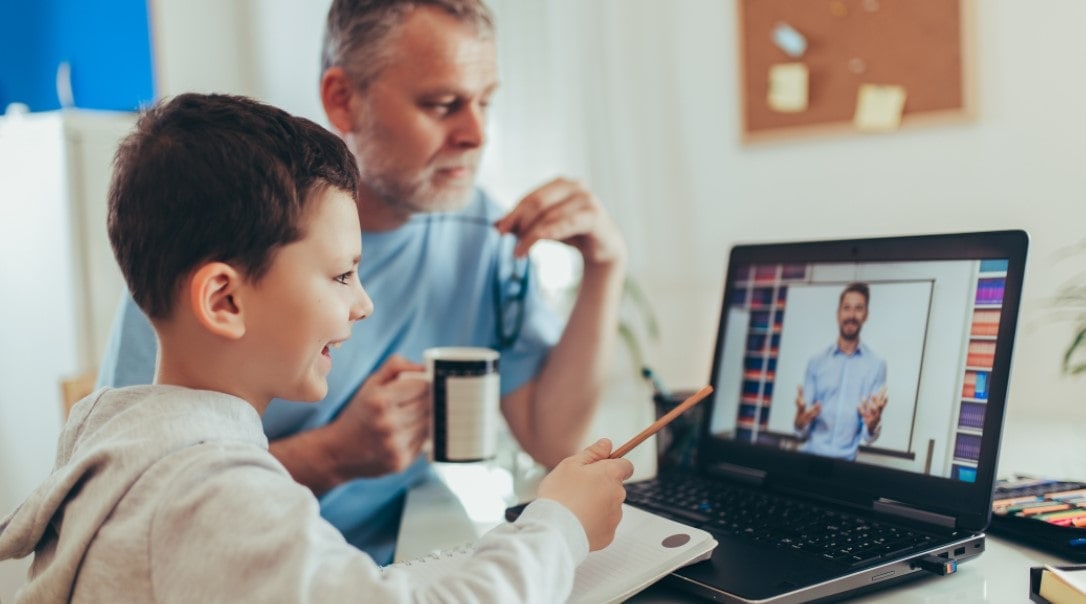 In which LMS platform should you invest your time and money? This review will tell you more about it
Major Market Forces
Four primary market forces are reshaping the online education industry, including increased competition, consolidation among a few significant organizations, an influx of investments, and rising quality standards.
Due to the increased demand for online education, the business has become more competitive, with providers vying for the attention of a diverse spectrum of potential students.
The number of students enrolled in massive open online courses (MOOCs) surpassed 220 million by the end of 2021, up from 300,000 in 2011. The number of hybrid and distance-only students enrolled in traditional universities increased by 36 percent between 2012 and 2019, and the COVID-19 epidemic in 2020 exacerbated this increase by 92 percent.
Against the backdrop of increased student demand, the market for online education has consolidated around a limited number of significant providers of online degrees.
Four of the largest open-access online education providers — Southern New Hampshire University (SNHU), Liberty University, Western Governors University (WGU), and Grand Canyon University (GCU) — saw an average increase of 11 percent in total enrollment from 2019 to 2020, whereas the market for degree programs as a whole decreased by about 3 percent over the same period.
However, there are newer, digital-native competitors competing with online degree-granting universities for the same student demographics. An increase in venture capital funding encourages a significant number of digital education startups to disrupt the market.
From 2017 to 2021, edtech venture capital in the United States climbed from $1 billion to $8 billion. Several successful initial public offerings (IPOs) of edtech companies in 2021, including Coursera (valued at more than $4 billion), demonstrated the public's demand for these investments.
As online services expand and institutions continue to shift toward blended learning supported by innovative digital tools, edtech investment may be positioned for growth.
Increasing expectations for the quality of online education have contributed to the demand-driving dynamics. For example, new alternatives are blurring the boundary between degree-based and nondegree learning, creating a new set of educational competitors.
In cooperation with Coursera, Google's Grow with Google initiative provides courses in in-demand subjects such as user experience design and data analytics, and enrollment has increased significantly.
These programs give students options for degree programs that are short and economical. Traditional online education companies that prioritize degrees may choose to incorporate these offerings into their strategies for growth and competition.
Students are becoming more astute about the returns on their educational investments as a result of increased demand and elevated quality expectations.
For some prospective students, the opportunity to learn in-demand skills may be more important than a program's or institution's reputation, particularly those who intend to enter profitable areas such as IT.
In our learner segmentation study, over fifty percent of respondents said they would only consider paying for education programs with a positive expected return on job outcomes, while twenty-one percent said they would only consider enrolling in a "top-ranked" college to receive a degree.
Two Strategic Moves That Could Unlock Opportunities
These market pressures present online education providers with potential for growth, but in order to seize these chances, providers may need to take risky measures by modifying and reorienting their strategies.
Through online education, adults of varying ages can quickly gain the skills necessary to fill these positions and enhance their careers.
Employers in fields ranging from healthcare to cybersecurity struggle to locate qualified candidates. Workers are reevaluating their employment possibilities and seeking to enter higher-paying industries.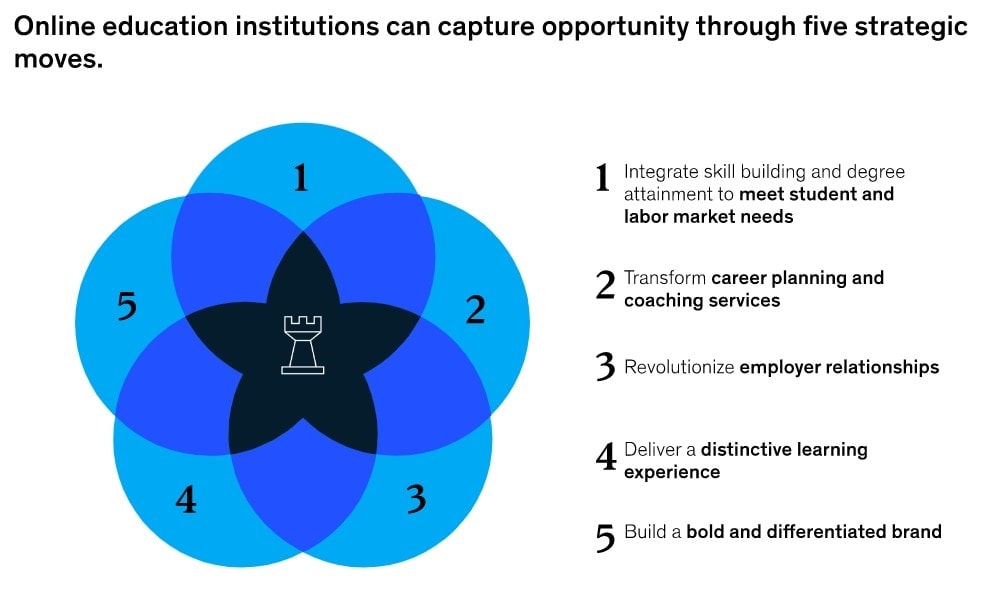 Sources: https://www.mckinsey.com/
1. Meet student and labor market needs
Historically, educational institutions have placed a greater emphasis on learning and knowledge development than on professional preparation. However, students, particularly those who want to enroll in online classes, are more concerned with the return on investment (ROI) of their degree, or more specifically, the kind of careers for which it will prepare them.
The requirements of the employment market are likewise changing rapidly. Institutions, which are a significant source of talent, should adjust to these changes by reevaluating degree requirements and program structure in order to better prepare students for the evolving industry. Institutions should consider the following three options:
Programs should be changed to match market demands. Numerous institutions, including unorthodox online universities, build programs using an archaic and time-consuming method that is typically distant from the demands of businesses and industries.
This method not only results in graduates' skills being out of sync with market demands but also rarely permits the rapid development of new programs to meet market gaps.
Institutions can stay ahead of the curve by implementing an iterative "learn and design" program creation process that includes understanding current trends across industries, identifying changes in technical and nontechnical skills, and redesigning existing programs or developing new ones to best prepare students.
For example, between 2016 and 2019, a Mexican university determined that new programs accounted for 34% of all new enrollment.
This university focused on generating new programs by spotting shifts in labor market trends and in-demand professions, determining whether competing institutions were offering programs to address these workforce shifts, and selecting swiftly which new programs to provide based on these considerations.
The development of new programs was then centralized through an agile content development team (rather than scattered across several "schools"), allowing the production of new programs to be completed in less than three months.
Combine degree programs with non-degree programs. In the education sector, programs leading to certification but not a degree have traditionally been seen as distinct entities.
Each has both benefits and drawbacks. Certificate providers are now considered comparable to more established institutions of higher education by adult students.
This suggests that institutions should best serve the student population by eliminating barriers between degree and nondegree programs and by offering an integrated package that incorporates credit-bearing certifications and certificates into the overall process of earning a degree.
Universities do not always need to invent the wheel to develop such integrated programs. Traditional institutions may cooperate with prominent non-degree providers such as Udacity or Grow with Google to develop a comprehensive solution for students.
In contrast, nondegree providers may seek collaboration with degree-granting schools so that their students can, if they so desire, obtain credit for their efforts and advance toward a degree.
For instance, the City University of New York (CUNY) partnered with the New York Jobs CEO Council to launch the EverUp Micro-Credential Program, which combines traditional degree programs with 100-hour online intensives.
These credentials, which were created with the assistance of New York City's largest corporations, are intended to better prepare students for jobs or internships by teaching them specialized job-related skills.
2. Transform career planning and coaching services
35 percent of respondents to McKinsey's learner survey cited stagnating employment or job hunt as their top motivation for exploring further education.
Online schools might proactively and routinely communicate with students to create clear goals, work toward those goals, and modify programming as needed to provide students with stronger and better-aligned professional outcomes and increase the likelihood of job placement in well-paying positions.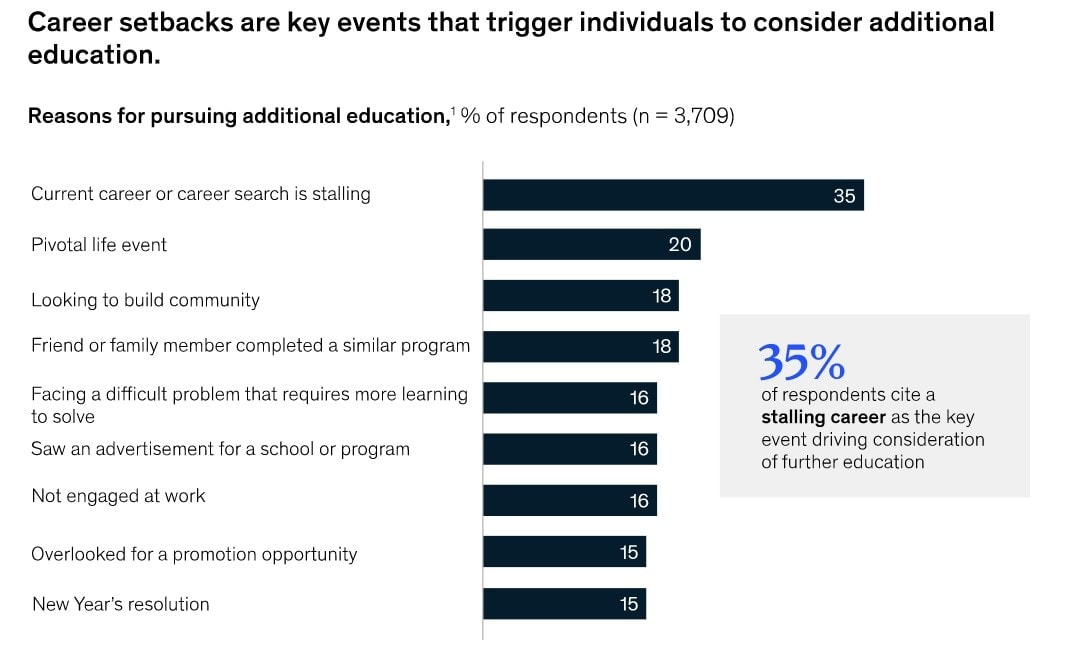 In the past, students began their professional lives by selecting a major in the first or second year of a degree program and searching for employment in a relevant field before graduation.
This paradigm provides no practical support for learners throughout their journeys and assumes that learners are knowledgeable about choosing programs or courses to undertake.
Particularly in digital environments where networking, information sessions, and other forms of exposure to careers may be lacking in quality and quantity, it is unlikely that merely providing an educational experience with little connection to a learner's postgraduate context will be sufficient to help students achieve their career goals.
According to a Strada poll, more than one-third of respondents would select a new major if they could start over. People with higher salaries indicated less remorse regarding their primary choice.
Get a Huge Discount On the greatest LMS platform
Quick Links: