If you're considering launching an internet company, you've undoubtedly already knee-deep in research. It's all too easy to become lost in the sea of eCommerce tools and software. Many of them are geared toward website creation, while others include marketing tools, automation capabilities, and/or helpdesk functions.
As a result, we're looking at two products that take a comprehensive approach to online business support: Kartra and Kajabi.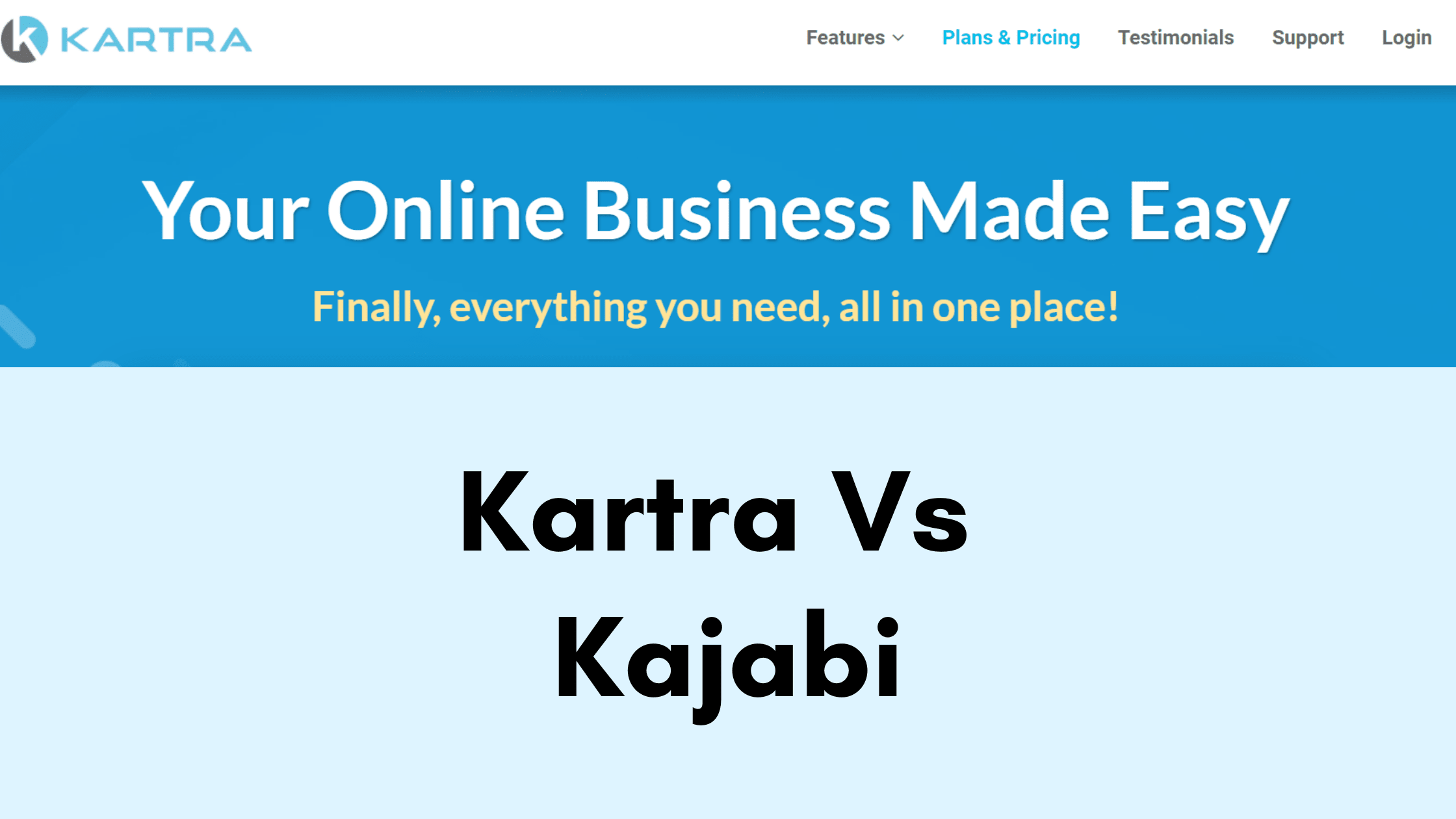 These SaaS (Software as a Service) solutions enable you to easily create and deploy a website for selling your goods and services. Additionally, they have marketing and support functionality!
These all-in-one solutions enable you to manage your complete organization from a single dashboard. Having said that, there is one key distinction between Kartra and Kajabi that we must note before comparing them in a review.
You may sell both digital and physical things using Kartra. In comparison, Kajabi is purpose-built for businesses interested in selling digital content and online courses.
With that in mind, Kajabi is not the best solution for launching an eCommerce business. As a result, we're retaining a digital emphasis on our evaluation.
Without further ado, let's compare Kartra with Kajabi.
Kajabi vs Kartra: Main Differences
Before we go any further, let's take a broader look at how these two tools stack up.
Kartra has an integrated scheduling and calendar system that enables you to effortlessly schedule and manage appointments as well as advertise your availability. Kajabi does not provide this functionality. However, you may obtain equivalent functionality by embedding a third-party software such as Calendly.

Kartra has an integrated helpdesk, which enables you to integrate live chat into your website. Whereas Kajabi does not provide an integrated support desk/chat feature. Rather than that, you'll need to install a third-party plugin such as Live Chat.

Kajabi enables you to include a blog in your website. In contrast, Kartra does not provide this feature.

Kartra's primary purpose is to serve as a marketing platform. However, almost as an afterthought, it also provides digital goods hosting. By comparison, Kajabi is primarily an online course platform that also enables you to create websites and advertise your material.
Kajabi vs Kartra: Email Marketing & Automations
Let's begin by discussing Kartra's email marketing capabilities. To begin, the whole list management process in Kartra is accomplished via the use of various lists and tags.
Kartra's visual sequence builder assists in sequencing. Additionally, there is an integrated KartraMail system that allows you to send emails to your prospects or connect to your SMTP server.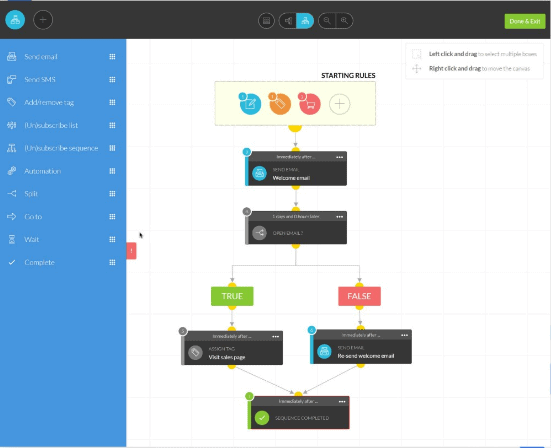 Additionally, the specific "Automation" capabilities allow you to design simple "if" & "then" rules that apply to all emails, including double-opt-in emails.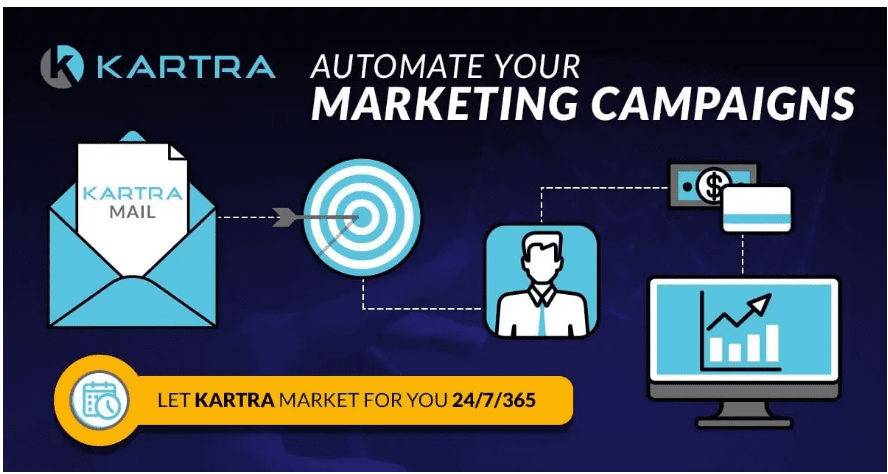 By comparison, Kajabi's automation builder is more robust. Although the email automation builder is not visually appealing, it is really powerful. However, it is lacking in adaptability.

Whether it's pipelines, posts, events, forms, bargains, or offers, you won't have to worry about sending emails or automating the process of sending them using Kajabi's unique automation building tool.
However, Kajabi's competitive advantage comes from the automation technologies it utilizes to achieve exceptional outcomes. Additionally, you may manage all of your automation under a single umbrella, "Automations."
 We have to award this one to Kartra because of its sequence builder and centralized management of automation.
 It has a more powerful sequence builder and a unified location for managing all of your automation.
Kajabi vs Kartra: Courses and Memberships
Are you intending to develop a digital membership area or an online course? Take note if this is the case. 
The course builder in Kajabi is straightforward to use. With a single click, you may build a new product and easily add courses and modules one by one.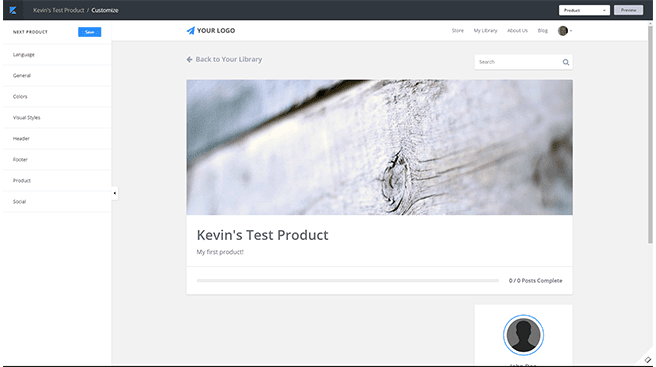 Additionally, you may utilize the bulk upload function to import all of your course material simultaneously. Then Kajabi prepares a lesson for each of them automatically.
Rearranging your lessons is also simple, so you can be certain that you have complete control over the framework of your course.
Kartra lets you create courses and membership sites, in addition to selling physical and digital things. As a result, this platform's concentration is divided, as seen by its course builder.
The product is not the most intuitive on the market, and at times seems clumsy. However, Kartra has over 15-course construction features, giving you a good deal of versatility when it comes to adding and customizing course material.
Unfortunately, Kartra lacks Kajabi's bulk and cloud import features.
Kajabi has several elements that support learning and student engagement. Most importantly, you may create tests and quizzes, create an online community, and drip feed/lock your material as needed.
Thus, if you want to guarantee that students finish courses chronologically, with exams to check their comprehension, this is doable.
Kartra, on the other hand, is more restrictive in this aspect. Because you cannot develop quizzes or surveys, you must utilize a third-party application to assess your pupils.
Additionally, it lacks the capability necessary to develop a community section. Indeed, the sole feature shared by Kartra and Kajabi is the latter's capacity to drip feed and lock material.
When it comes to courses and memberships, it's clear that Kajabi prioritizes these features far more than Kartra does.
Kajabi vs Kartra: Integrations

 As mentioned in the price section, Kartra integrates with a variety of well-known payment processors, in contrast to Kajabi, which only accepts PayPal or Stripe.
Apart from the aforementioned, Kartra is also capable of integrating with over 20 additional products, services, and tools.
Both Kartra and Kajabi enable Zapier integration; however, Kajabi's integration method is more robust than Kartra's.
Kajabi is a platform that is quite similar to Kartra. Additionally, it supports a variety of seamless connections. Users also demand user-friendly inbound and outbound webhook support. Additionally, Kajabi seems to interface with Zapier.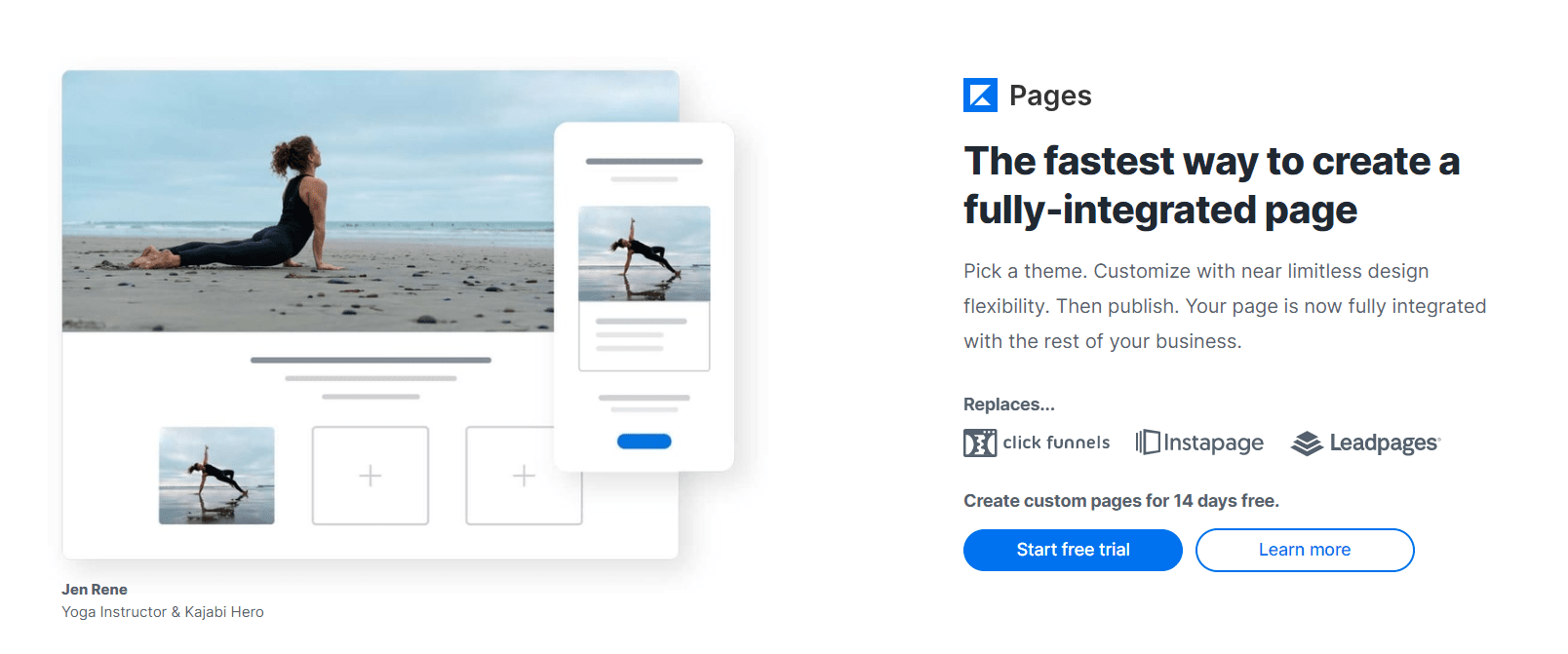 It's a tie since both systems have their distinct benefits, and each has something that the other lacks. 
Kajabi vs Kartra: The Design & Page Builders
Kartra's page-building function includes a slew of new and sophisticated choices that allow users to establish a fully customized web presence. 
Additionally, I like Kartra's features, which include a variety of themes from which users may choose based on their company.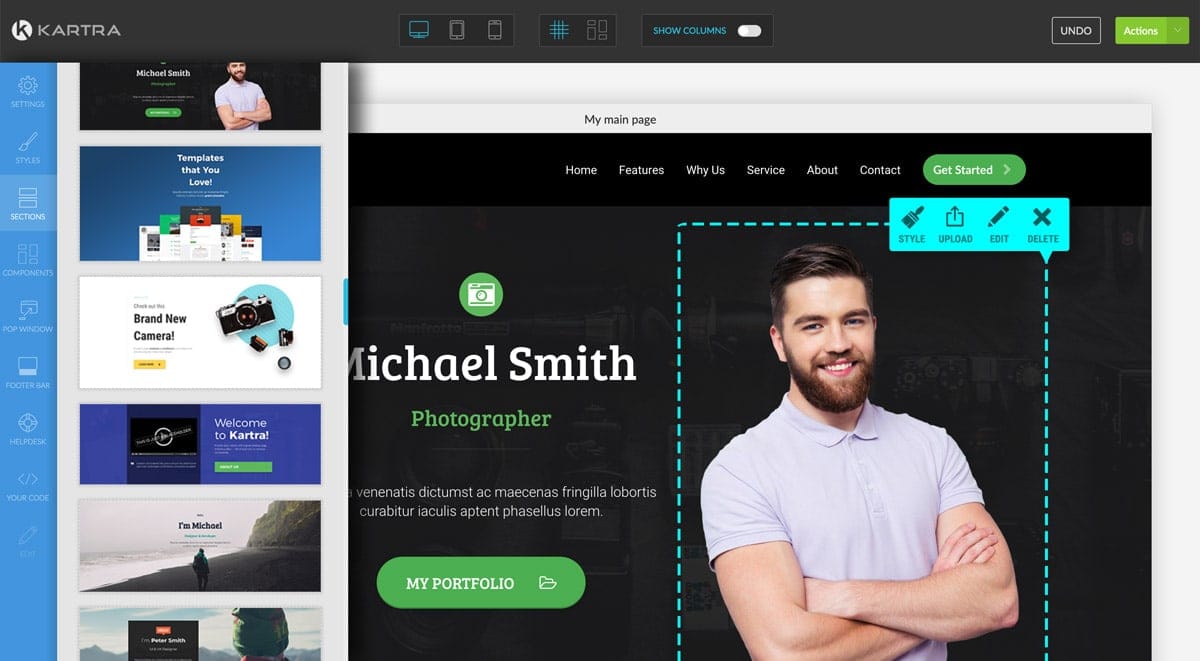 Additionally, the hundreds of templates offered with Kartra have some incredible features like a countdown timer, call-to-action buttons, and other areas that can be changed and used by users.
 Kartra's page builder is also mobile responsive. This enhances the likelihood of your website receiving more traffic, given that 4.38 billion internet users worldwide now access the internet through their smartphones.
Additionally, because of Kartra's mobile responsiveness, you can easily move between mobile, tablet, and desktop platforms. Additionally, by using some excellent productivity-enhancing tools, such as "display columns," you may promote the rapid growth of your website. 
Additionally, there is the A/B testing technique, which allows you to evaluate the performance of up to four pages simultaneously and choose the best one. You may even divide the traffic amongst the several pages if desired.
In a word, Kartra gives you a lot of flexibility when it comes to designing and constructing your website.
Although Kajabi does not have a large number of features to discuss here, it eliminates the bother of offering tools, features, and alternatives by directing you straight to a particular website. 
This website has a selection of pages from which you may choose according to your preferences. Simply click on any page to update it, and the interface will prompt you to do so.
Additionally, you get ten or more themes and a plethora of customization choices for creating a custom-tailored website.
The visual page builder included with Kajabi includes a variety of components that may be utilized to enhance the functionality of your websites, like countdown clocks, accordions, videos, CTAs, and forms.
To summarize, Kajabi's page builder is the primary reason for the ease with which a whole website may be created here. In comparison to Kartra, the builder seems more luxurious to use and offers more practicality.
There are other alternative no-code website builders, such as WordPress, that provide online courses in addition to LearnDash. You can see the difference between Kajabi and WordPress here.
Kartra, on the other hand, outperforms Kajabi with its hundreds of section-creation templates.
This is a tie between the two because, although Kartra provides more capabilities for editing and customizing your website, Kajabi provides tens of themes and a page builder to improve the page building experience.
Kajabi vs Kartra: Pricing Plans
When it comes to acquiring any kind of software for your company, the cost is usually a major consideration. Which of these online tools, therefore, offers the most value for money? Consider the following.
Kartra provides four distinct subscription options. If you pay yearly, you'll save 25% off the pricing below. You may cancel or change your subscription at any time. Kartra also includes a 30-day money-back guarantee if you are unhappy with the program for any reason.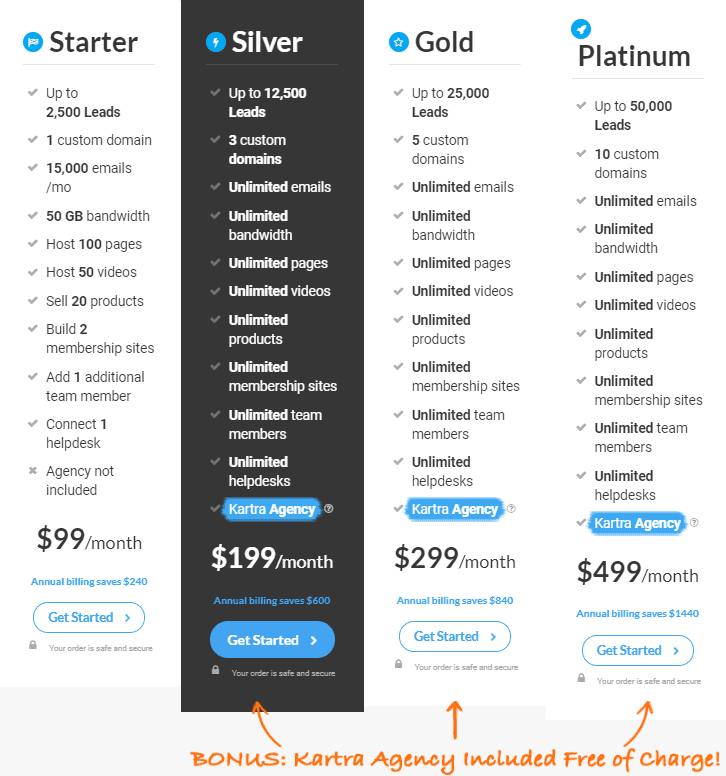 Each Kartra package offers access to the company's funnels, campaigns, email marketing, and video capabilities, as well as an online checkout and page editor
The primary distinction between the schemes is in their upper limits:
The $99 per month Starter Plan restricts you to 2,500 leads and allows you to operate from a single custom domain. Additionally, you're restricted to 100 pages, 50 GB of bandwidth, 15,000 monthly emails, and 20 goods. In other words, this is sufficient if you are just getting started or do not want to venture out much.
For $199 per month, the Silver Plan increases the lead limit to 12,500 and lets you connect three custom domains. This strategy eliminates all other constraints. That is correct! Emails, websites, movies, goods, and membership sites are all included. Additionally, you may add as many team members as you wish.
Additionally, the Silver plan and subsequent packages provide access to Kartra Agency. As a result, agencies may assist customers in managing their internet enterprises. From their Kartra dashboard, agency users may access all of their accounts.
For $299 per month, the Gold Plan increases the lead limit to 25,000 and allows you to connect five custom domains.
Finally, at $499 per month, the Platinum Plan enables you to deal with up to 50,000 prospects across 10 custom domains.
 Assume you're OK with your plan, but the constraints are tightening. Additionally, you may buy add-ons such as extra domains, additional emails, and greater bandwidth in this situation. Additionally, you may utilize Kartra's API to create your unique add-ons.
Kajabi keeps things simple by offering just three-priced programs. You'll save 20% on the pricing if you choose their yearly payment plan. Additionally, Kajabi provides a 14-day risk-free trial and a 30-day money-back guarantee. Unlike Kartra, though, you will lose out on some of Kajabi's features if you do not upgrade.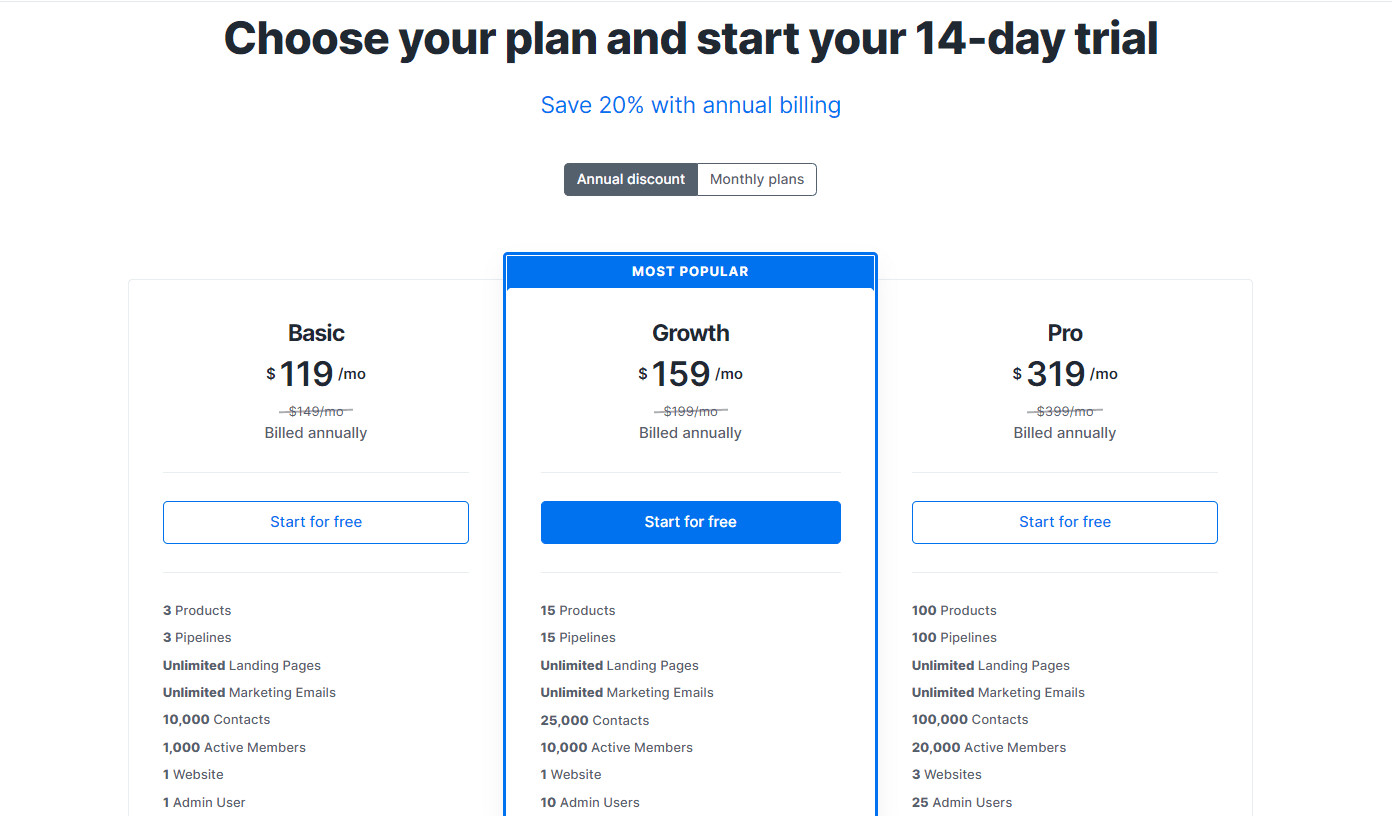 Take note that Kajabi was giving a discount at the time of writing. As a result, the prices seen in the snapshot differ from the costs listed below.
Additionally, the plans have restrictions on the number of things you can sell and the number of people you can add. Having said that, all services allow you to generate an infinite number of landing pages and marketing emails.
The Basic Plan is $149 a month and provides access to three products and three pipelines. On a single website, you may nurture up to 10,000 contacts and assist 1,000 active members.
Additionally, you gain access to webinars and events, exams and quizzes, chat assistance, and automation.
For $199 per month, you may sell 15 goods and establish 15 pipelines with the Growth Plan. Your contact limit has been increased to 25,000; you now can support 10,000 active members and register ten administrator users.
Additionally, you'll have access to 24/7 chat support, powerful automation, and affiliate marketing options, as well as the ability to remove Kajabi branding.
 Finally, the Pro Plan is $399 per month and increases your product and pipeline maximum to 100. You may send up to 2,000,000 marketing emails, nurture up to 100,000 contacts, support up to 20,000 active members across three websites, and register up to 25 administrator users. Additionally, the Pro Plan enables access to Kajabi's code editor.
If we just consider pricing, Kartra is unquestionably the winner. Kartra does not restrict the features available on any of its plans. Rather than that, you begin with restrictions that are proportional to the size of your firm and gradually extend them as your business grows.
Not to add, Kartra's basic package is less expensive than Kajabi's, while allowing you to offer more items.
Kajabi, on the other hand, has stricter lead restrictions. Thus, if you have a large number of contacts but few items, Kajabi may be a good fit. Otherwise, I believe Kartra is a better bargain.
Kajabi vs Kartra: Customer Support
Kartra's support service may be contacted through online tickets or live chat. Monday through Friday, from 8 a.m. to 12 p.m. PST, you may contact live chat help.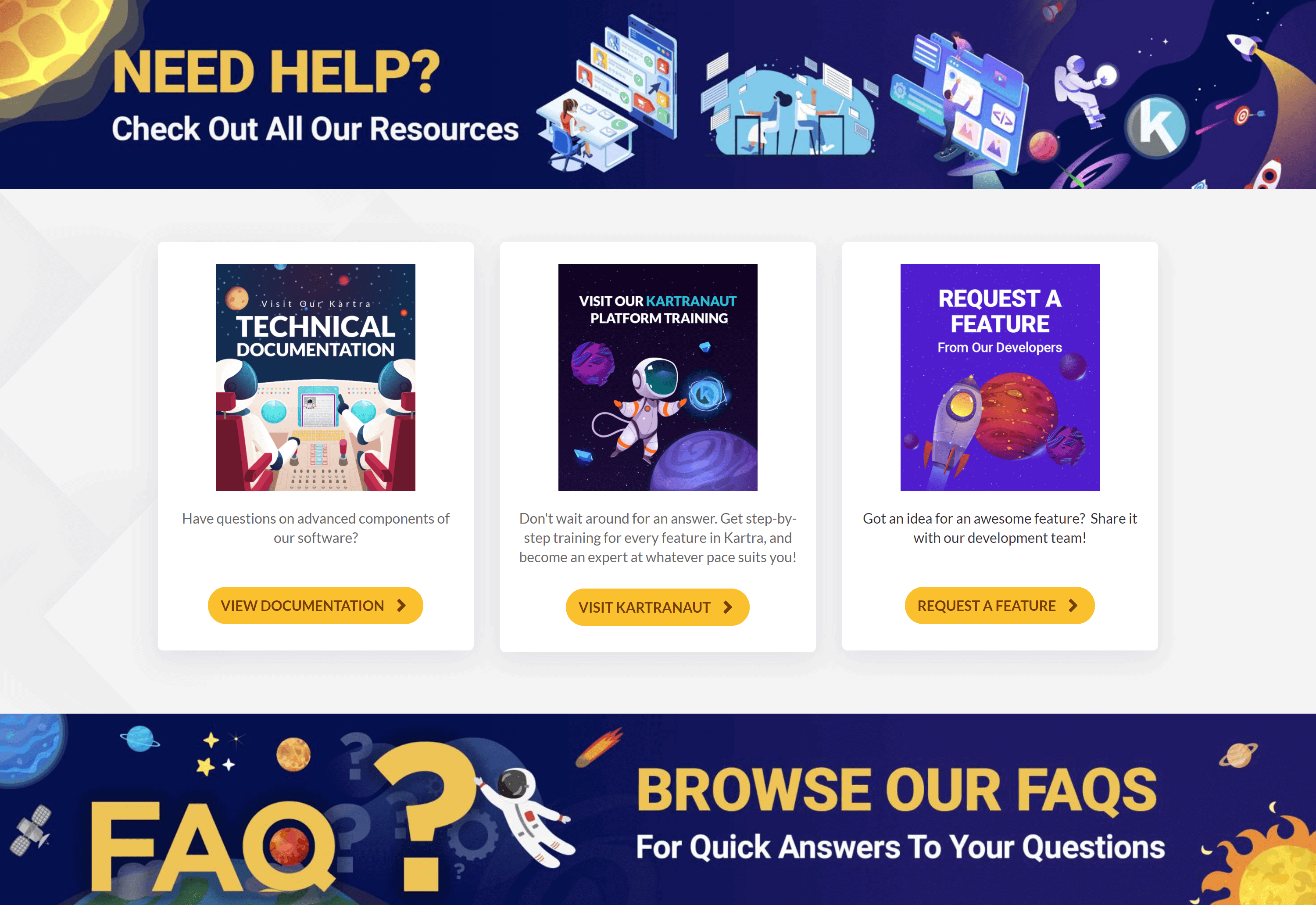 Additionally, you may use Kartraverse online, which is their training program for maximizing your use of your Kartra account. It's a lighthearted method of bringing you through the Kartranaut training process.
You'll find several lessons, marketing advice, and a FAQ area here. This unconventional approach to the online material is exciting, but a little more difficult to explore. Fortunately, it includes a site map outlining what may be found there.
The degree of customer service provided by Kajabi is determined by the price tier you've selected.
The Basic package includes live chat assistance. This service is only available 24 hours a day with the Growth plan.
Alternatively, you may email Kajabi. Each package includes access to the Kajabi University. This includes many hours of video instruction on how to utilize Kajabi's tools.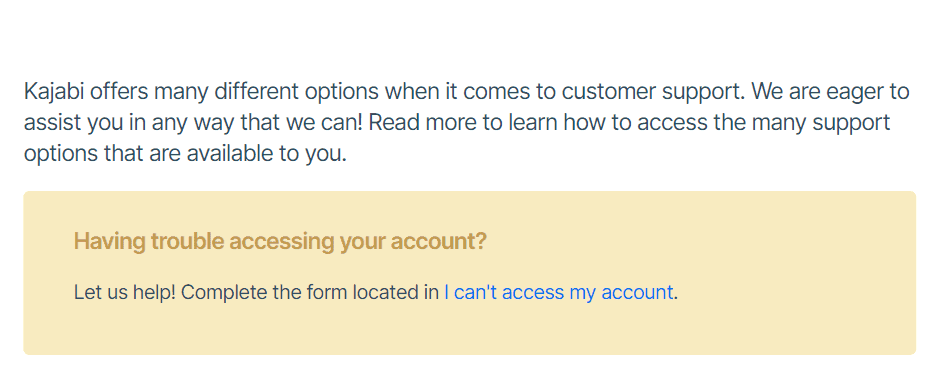 Additionally, there is a thriving community of Kajabi users with whom you may network. This is an excellent resource for obtaining help and discussing the most effective techniques for promoting and using Kajabi.
Kartra and Kajabi both provide a comparable level of customer care. If, on the other hand, you're ready to pay an additional fee for 24/7 live chat help, Kajabi may be worth considering. If not, either platform will take care of you.
FAQs of Kajabi vs Kartra
🤔Is Kajabi better than Kartra?
Kartra and Kajabi both provide a comparable level of customer care. If, on the other hand, you're ready to pay an additional fee for 24/7 live chat help, Kajabi may be worth considering. If not, either platform will take care of you.
🤩What is Kartra and Kajabi?
Kartra's primary purpose is to serve as a marketing platform. However, almost as an afterthought, it also provides digital goods hosting. By comparison, Kajabi is primarily an online course platform that also enables you to create websites and advertise your material. Kajabi enables you to include a blog on your website.
🤷‍♀️ Is ClickFunnels better than Kartra?
As of the present, Clickfunnels does not have a built-in calendar feature. However, you may incorporate a third-party calendar system into your marketing funnel, such as Google Calendars. Karta is unquestionably the winner, with its useful calendar that combines perfectly with all other features.
😯 Is Kajbi better than Thinkific?
Thinkific's website builder is clear and simple to use, which makes it an acceptable alternative if you're in a hurry and already have an email marketing tool installed. Kajabi is an excellent Thinkific alternative if you want greater control over your site's customization and want all of your marketing tools in one place
Conclusion – Kajabi vs Kartra 2023 
All our review has shown is that, although Kartra and Kajabi share many aspects, they are fundamentally unlike.
It's difficult to determine if Kartra or Kajabi has a more robust feature set. The reality is that the two platforms thrive in distinct areas. Depending on your priorities, one may be preferable to the other.
 Kartra's website builder is superior in general, serves as an outstanding affiliate marketing platform, and includes robust email marketing tools. 
If producing and selling courses is not your primary objective, Kartra is a more adaptable platform, because you can sell both physical and digital items and advertise them using Kartra's extensive variety of sales and marketing tools.
Kartra also has a helpdesk and scheduling tool, which is particularly beneficial if you offer services or one-on-one consultations.
However, when it comes to creating sales funnels, courses, and membership sites, Kajabi is unquestionably the winner. Not only that, but if your primary business is offering instructional video material online, Kajabi is the superior alternative. 
It was built with online course development in mind, as seen by its robust course builder. Additionally, Kajabi is a good choice if you want to manage your complete website from a single platform, including your blogging, marketing, and sales activities.