Hostinger established in 2004 was known as 000webhost. After changing its name to Hostinger in 2011, the company had already reached a milestone of more than 1 Million users.
Currently, Hostinger has an estimated monthly visit 4.5 Million Users according to a similar web which is real will be much more.
Hostinger Review – Pricing, Features & Facts
According to Hostinger data, around 29 million users trust their company.
This European web host company has maintained its quality by providing quick service and full-time support at the cheapest price which is the prior reason for their quick growth.
Many people even think that cheap web hosting is always disappointing. 
But I will clear your doubts regarding the same and after reading the article, you will have a concrete reason whether you should buy the Hostinger web host or not.
Hostinger is one of the best budgets shared web hosting companies. The unique features of Hostinger make it user-friendly and fast.
 So let's discuss some of its best features and benefits.
Unlike other web hosting companies, Hostinger provides its great services at a price that is affordable by almost every person.
Their price starts from as low as 0.99$/month for Single Shared Hosting to 7.45$/month for Cloud Hosting.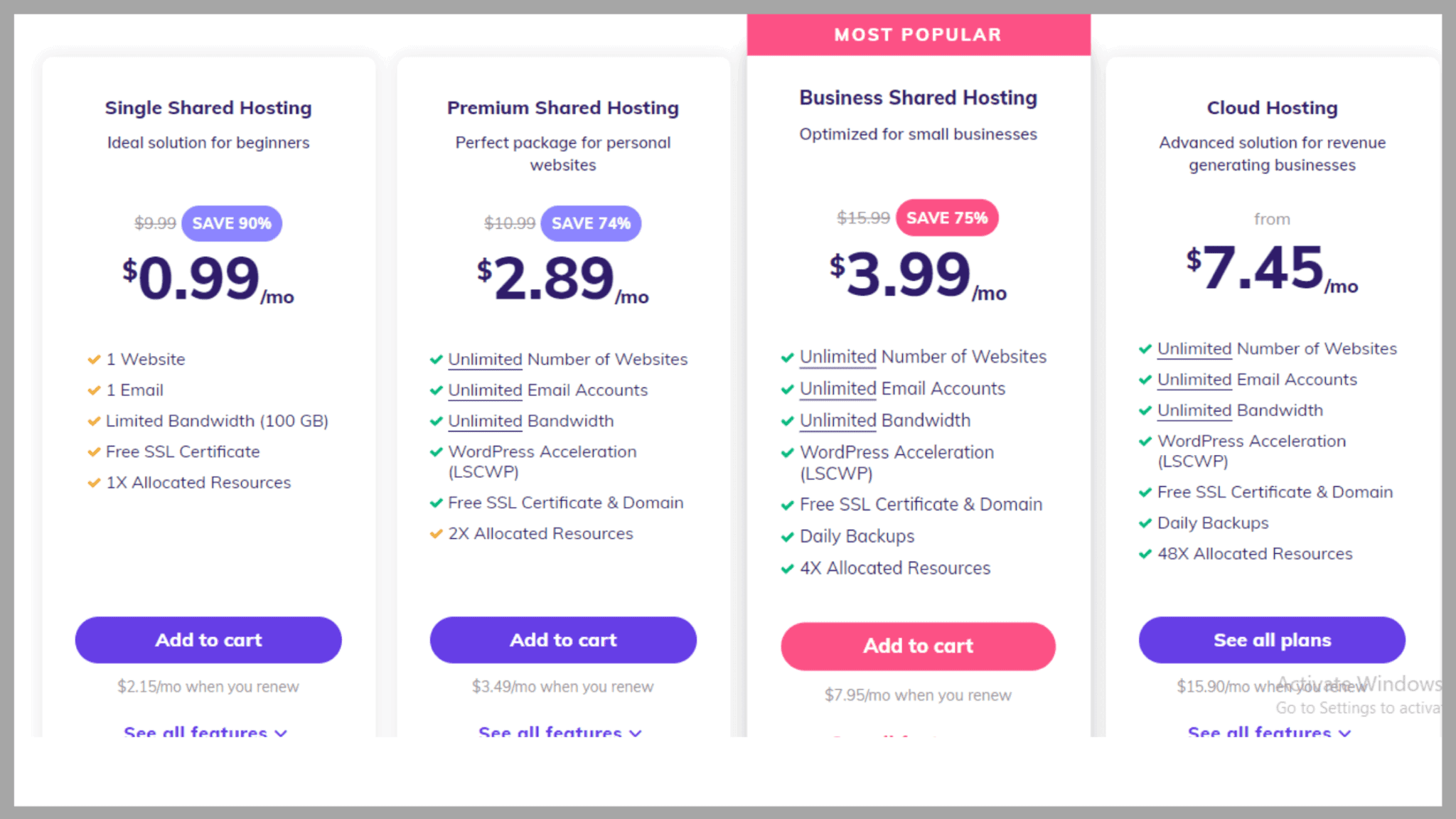 Single shared hosting(0.99$) provides all the necessary features like 1 supported domain, 1 unique mail, 100 GB bandwidth, Free SSL certificate, and 1 Allocated resources.
As you can see, Single shared hosting is a perfect bet for the Bloggers or the business owners who want to blog at a single domain. 
Besides this, Premium Shared Hosting is the most popular and mostly used Hostinger Shared Hosting.
Premium Shared Hosting starts with as low as 2.89$/month in which you will be provided an unlimited number of domains, unlimited mail accounts, unlimited bandwidth, Special WordPress Acceleration Feature, Free SSL and Free Domain, etc.
This is the perfect hosting for the bloggers and affiliate marketers who work on different niche or micro niche blogs.
I use Premium Shared Hosting so I can elaborate the same very fluently (More on that later).
Business shared hosting and Cloud hosting is recommended for the huge businesses that get tons of traffic loads each day.
Very few web host companies provide free domain and Hostinger is one of them. 
Who does not like freebies?
Of course, everyone does.
There are some conditions if you wish to get a free domain. 
For receiving a free domain, you need to any shared hosting plan for at least one year. Plans of 1 month will not get you into any benefits of the free domain.
The good thing about Hostinger is that it provides almost all the domain extensions including Top Level Domains (TLD's) like .com, .net, .xyz, etc.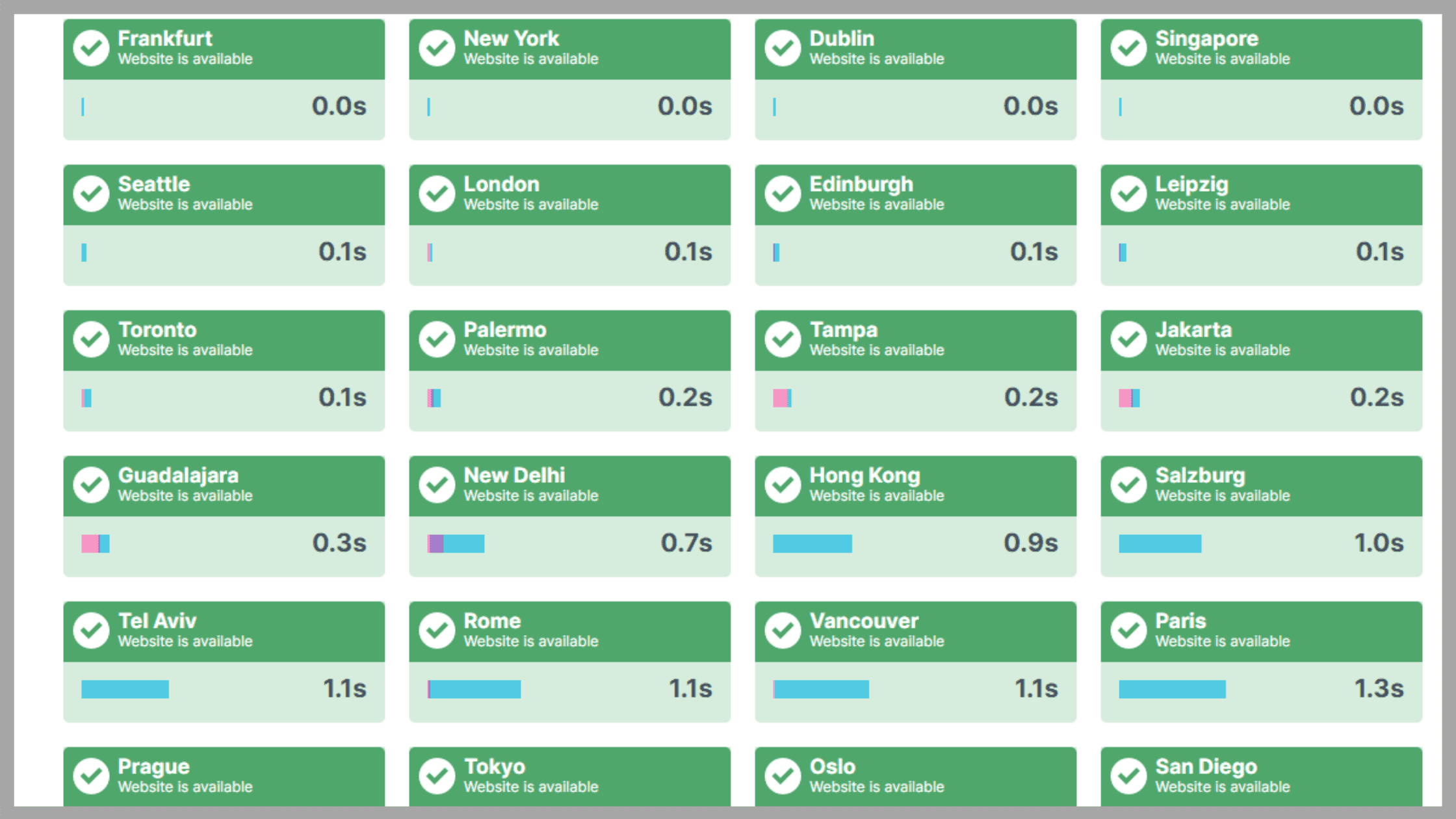 Uptime is a time phase in which a current website is working or is in operation.


Therefore, high uptime means great coverage and speed and low uptime means the site is temporarily down and causes various errors.


Hostinger does a good job of providing great and stable uptime speed.


 Great uptime helps a website/blog owner to keep their site up to date whenever a new visitor enters and even helps in improving the organic rankings as speed is one of the top factors that influence Google rankings.


99.9 % is the average uptime maintained by Hostinger and it is pretty good.

 In 4 months of my site's usage, I never saw any temporary site down the error and I bet to never see it.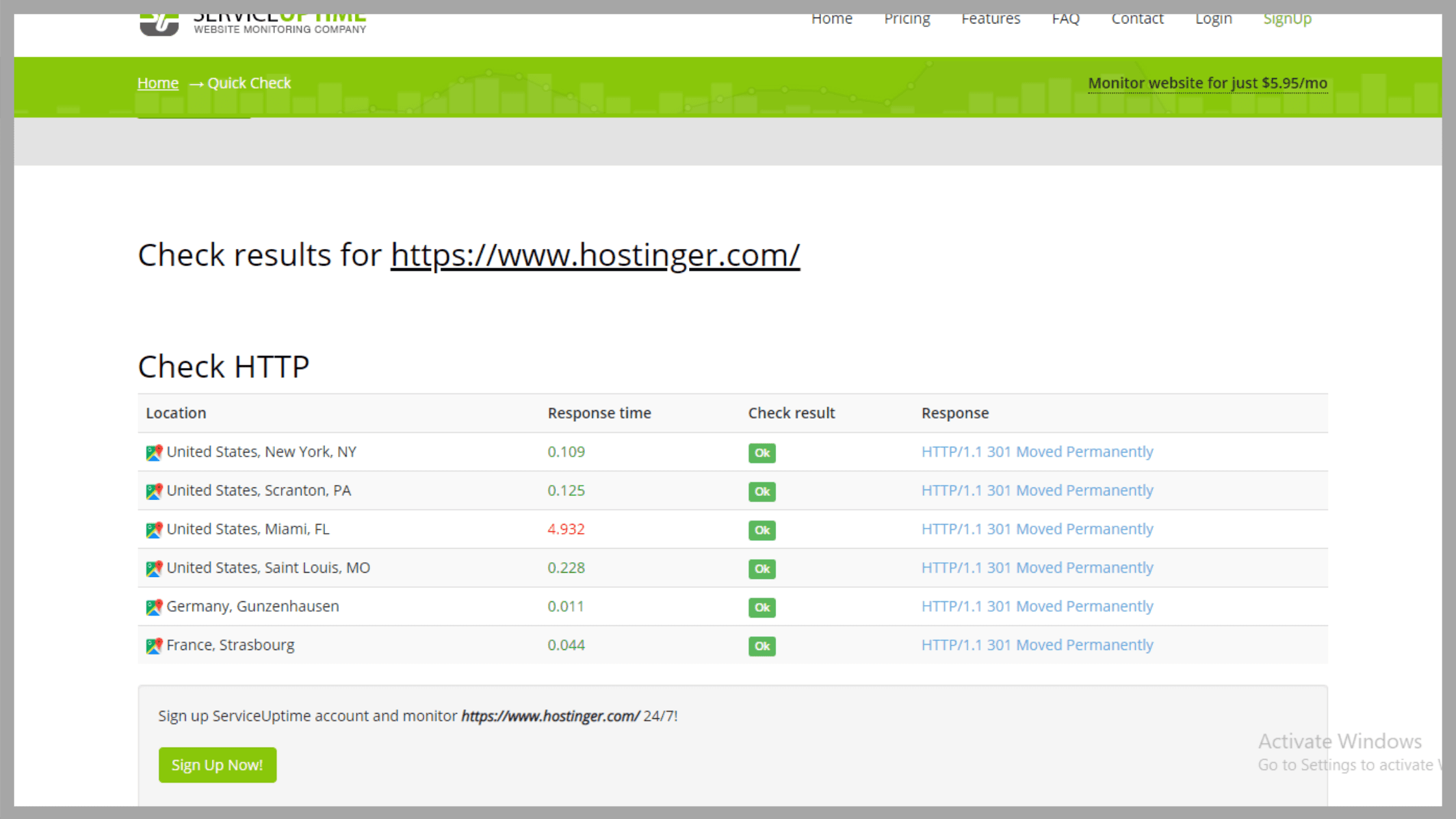 As per the promises, Hostinger never makes its users disappointed in terms of speed. Besides uptime, their load time is also blazing fast and above the expectations.


As Google has itself said the load time of a site is equally important as other factors in organic ranking. 


But unfortunately, many people don't focus on the same and later blames the hosting companies for lack of good results.


A site which fully loads within 3 seconds is considered as a perfect site based on user experience. 


So it is necessary to focus on the speed of the host server and the good news is that Hostinger throws out the true support in terms of load time.


The company provides Litespeed Web Servers which is truly amazing. Therefore, they recommend users to use Litespeed plugin for the best performance.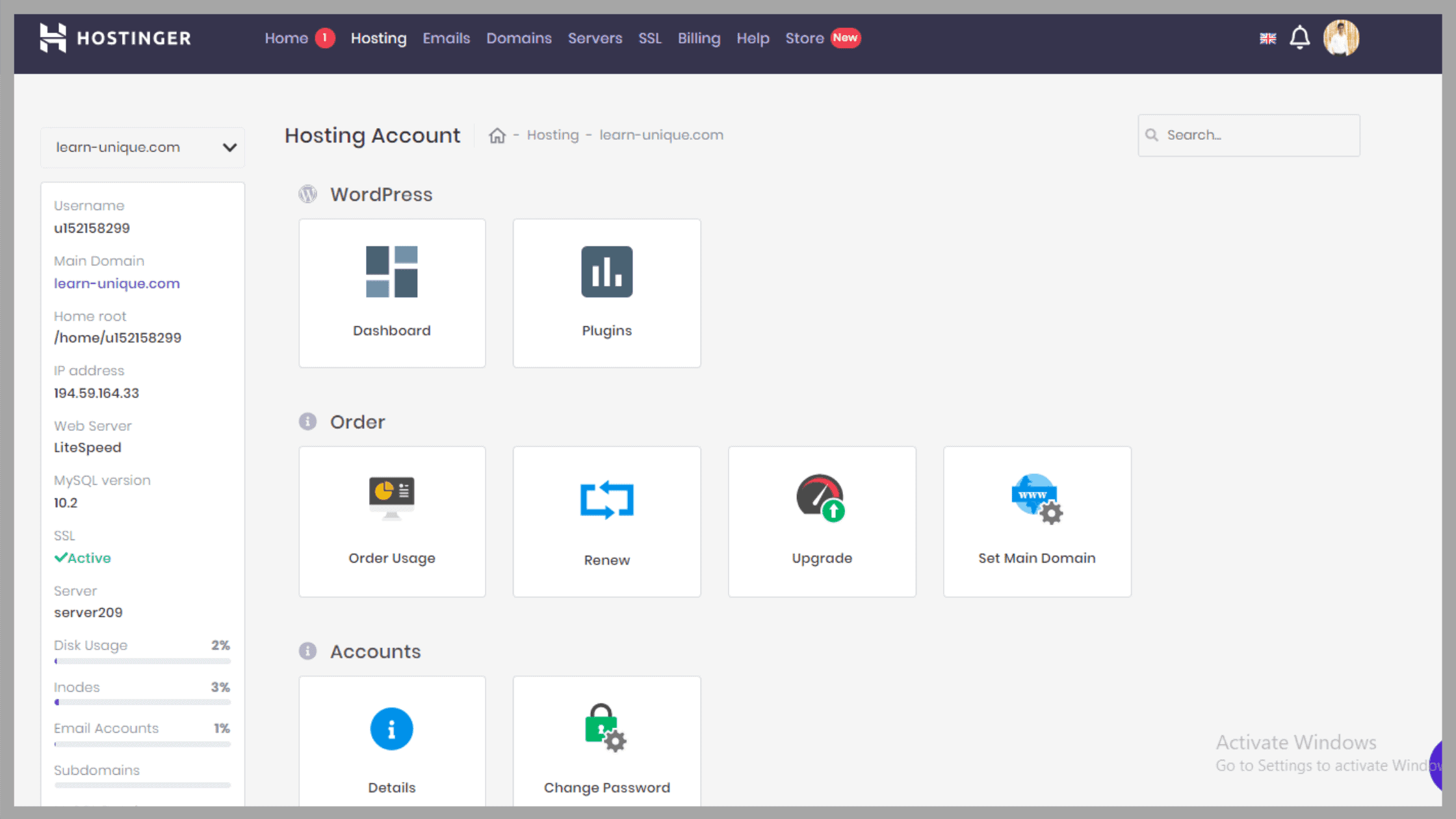 Many people still curse the company for its different C-Panel dashboard (More on that later).
But I believe that the Hostinger C-Panel is unique and easy to use. Besides that, it is not modern but simply looking and all the items are properly arranged and visible.
The dashboard page of the C-Panel Hostinger Dashboard consists of all the purchased and activated offers like "Domain", "Hosting" and any other extra add-on.
In my case, I have "Hosting", "Domain" and a "Cloud flare Protection Add-on" activated on my dashboard.
Besides that, the dashboard is speedy and loads quickly even in the low connections which are another noteworthy point.
Therefore, C-Panel should not be an excuse.
People who start using their C-Panel will feel better and secure regarding the same.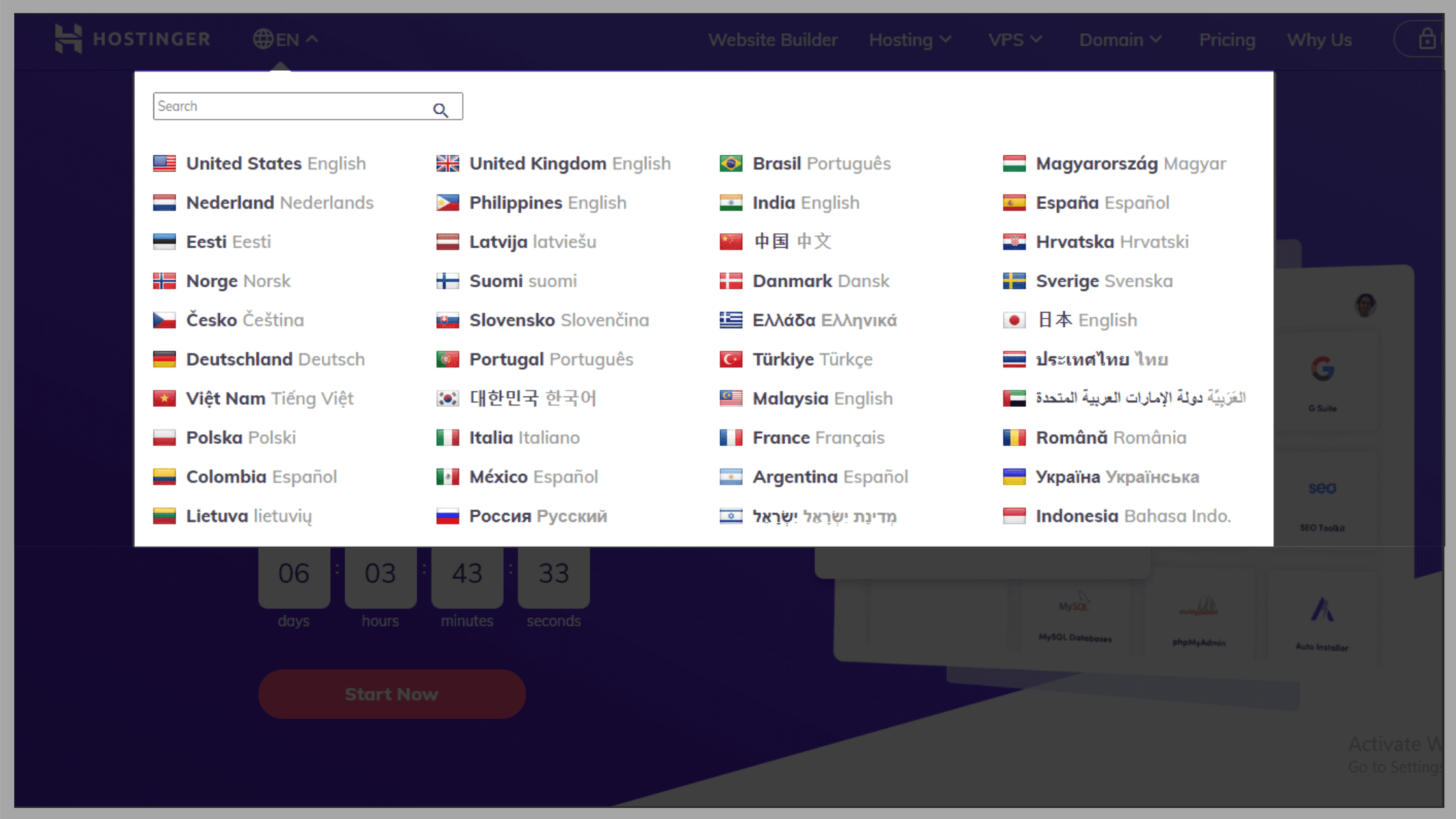 When it comes to customer support, our ears get alert to listen to all the features that any company is providing.
You can release your breaths as Hostinger not only promises but also provides the excellent full-time customer support that will make you happier than ever.
The good thing about their support is that you can receive your solutions on your regional language due to their high reach i.e. they provide multilingual customer support.
Another great thing is that the response is too quick and they will help you in every possible way.
Let's take a real example:
Once I got into great trouble. Someone was sending free bot traffic to my blog to affect my Google rankings.
As soon as I found out the huge instant traffic spike, I discovered that a free automated bot site was sending unwanted low-quality traffic.
So, I tried all possible ways to block that website myself. But at last, everything was fruitless.
At last, I decided to contact Hostinger Customer Support and described the whole issue to them.
After a few minutes, I received Hostinger's mail and luckily they helped me find out the IP address of that spammy site easily and I was able to block that site completely through Cloud flare.
From that moment, I could see the normal stats on my analytics.
In this way, Hostinger saved me from getting into huge trouble. From that day, I stopped doubting their support and relaxed with a cup of coffee.
According to them, it takes only 50 seconds to reach out to them through a call.
Besides that, they even provide a direct live chat option once you login to Hostinger.
 Live chat is very beneficial in case of any quick emergency.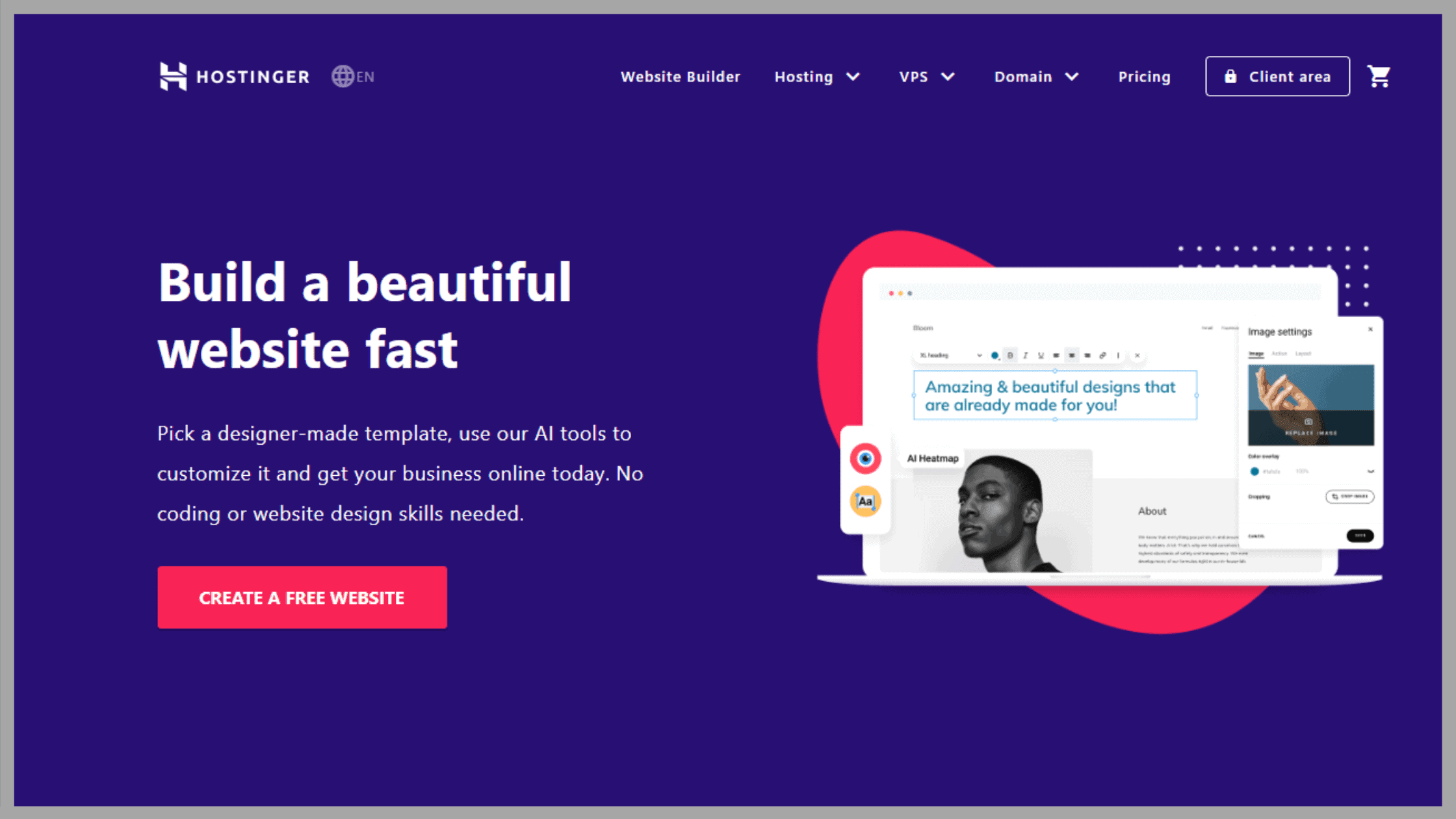 Besides the free domain, they even provide free website builders also known as Zyro. 
Mostly, people use WordPress to customize their site. But if you are a total beginner and if it is difficult to build a site they free Zyro can surely help you with its great features like:
Best and free templates.

Easy image and video customization.
Instant publishing and making your site live once you are ready.

You can even play around with their different options and create something unique and eye-catching.
If you opt for premium shared hosting or more, you will have access to create your business mail id which is very beneficial for every entrepreneur, blogger, or an affiliate marketer.


Single shared hosting even lets you achieve one free mail.

It is enough if you are a sole worker on your site.
As I said earlier, many people still curse the company for eliminating the traditional c-panel and implementing their own.


I like easy to use and clean c-panel. However, it is important to discuss the most commonly discussed problems.


In the new C-Panel, the whole structure of the arrangement of items changed without changing their names which disappointed many old users.


However, C-Panel is not a big issue. It's based on the users' preferences.
If you are that person who creates many sites on different niches or purposes, I must tell you that you can get only one free (TLD) domain when you purchase the hosting plans.
However, if you wish to add an extra domain and add it to your existing host, you will need to purchase the same but at a reasonable cost.
While choosing premium cloud hosting plans, you will get unlimited sub-domains but not unlimited domains. Never get confused regarding this.
Due to my personal experience, I don't see any else disappointing thing about the company. The above discussed 
Demerits are even slightly appealing and they will never affect you unless you are an exception.
I started using the Hostinger web host with its "Premium Shared Hosting" plan for 2 years of validity on one of my blogs.
I am happy to say that after facing so much issue regarding configuration and setups to almost everything, the Hostinger team was always there for me.
My every small to the big problem was solved on the same day of the creation of that problem.
That's what I like about Hostinger. 
Sometimes, I too wonder how they can provide the best quality services at such mouth-pleasing pricing. 
They usually replied to my every mail from the time limit within 20-40 minutes even in the worse timings which made me like this article.


No one is perfect in this world and so with Hostinger.

But they try to improve their services day by day through educational emails and demanded surveys.


It's been around 4-5 months since my tie-up with Hostinger and my personal blog's ranking is improving day by day and according to me, it was never possible without Hostinger.
If you want to know about me, I purchased a two (2) year premium plan and it is one of the best decisions taken by me.
I promise to stick with this hosting as long as the quality is maintained.
I even recommend you to try Hostinger,if you wish to go with a cheap and best hosting provider or You can go with the High end Hosting Providers Like – SiteGround, A2Hosting, GreenGeeks, Bluehost etc.

I make sure that you will never regret it.
The more important thing about Hostinger is that the renewal cost of the hosting will not vary much unlike other companies.
Hostinger is a perfect bet if you are a Blogger, Affiliate Marketer, Businessmen, or any person who wants to rank their sites on search engines and increase their user base.
There are many web hosts out in the market. But the reason for us choosing Hostinger is its compelling pricing and more-compelling quality service.
I would like to wind up with that.
But before leaving, throw your suggestions regarding Hostinger Review in the comment below.
Also, do not forget to share this review with you friends who are in need of good quality hosting.
Thank You.