An organization's employees need a way to connect and collaborate, which is why nonprofits require business software.
With Google's G Suite, nonprofits have access to a suite of tools that can help them manage their organization, collaborate with team members, and communicate with stakeholders.
This article will explore how nonprofits can make the most of G Suite's features. 
Despite the various options that are accessible to charitable organizations, Google's G Suite remains one of the best and most widely used platforms, both by nonprofit organizations and enterprises (also known as Google Workspace).
G Suite by Google is a collection of interconnected applications that are designed to make day-to-day operations quick, simple, and hassle-free, particularly for charitable organizations.
But, technology and its setup can frequently be perplexing, therefore we simplified the process to grasp and explain how a charity organization might make use of Google's G Suite.
What is G Suite?
In a broad sense, G Suite can be understood as a platform for the integration of business processes.
It comes with several pre-installed applications that can be used for a wide range of purposes.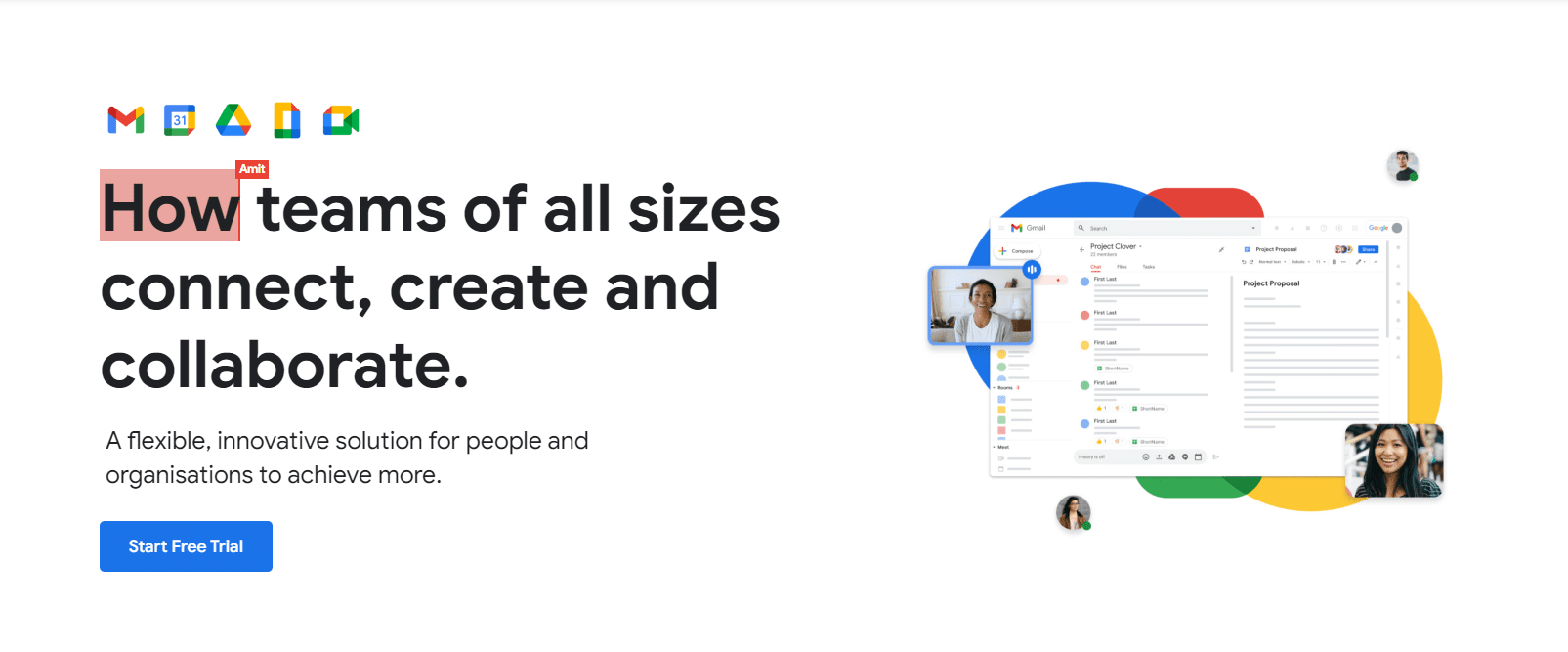 Apps like Gmail, which is an email service, and Google Docs, which is a real-time, online version of programs like Microsoft Word, are examples of the types of applications that are included here.
People can increase their productivity and level of collaboration because of the intuitive design and seamless integration of these apps.
Any file, email, or appointment that is stored on G Suite is protected by Google's robust cyber security, which is an added perk of using the service.
G Suite Rates for Nonprofits
Under Google for Nonprofits, organizations that meet the requirements of Section 501(c)3 can access one of three tiers of the Google Suite.
Each level can be purchased at a variety of pricing points; however, the higher the price per user, the greater the number of features that are included.
Level 1: G Suite for Nonprofits
$0/user/month. Anyone can access G Suite for Nonprofits for free; the organization and its users are not charged.

Cloud storage space of 30 gigabytes (GB) for unlimited users.

It is also possible for each user to have their professional email address with the domain name of the nonprofit. 

In addition to shared drives, standard users also have access to Google apps, such as Calendar, Gmail, Drive, and Docs.

Last but not least, Google Meet supports video conferencing for up to 100 people.
Level 2: G Suite Business for Nonprofits
$4/user/month. In addition to everything from the free plan, G Suite Business for Nonprofits has some additional features.

Users have unlimited storage space, each with 1 terabyte (TB).

All files and emails can be searched for content.

Google Vault: a new app for storing, searching, and exporting data.

A greater range of administrative and security options, including a more comprehensive reporting system.

Google Meet allows video conferencing for up to 150 people.
Level 3: G Suite Enterprise for Nonprofits 
$8/user/month. In addition to everything in G Suite Business for Nonprofits, G Suite Enterprise for Nonprofits offers even more features.

Enhance the security of email by encrypting it.

User, device, and app management is handled by Cloud Identity.

Live streaming and recording of meetings are available with Google Meet.

Through Google Meet, you can video conference with up to 250 people.
G Suite Makes Life Easier for a Nonprofit
Even if there may be some difficulties in getting started with G Suite and being accustomed to its features, it is unquestionably beneficial to make use of the cutting-edge platform.
G Suite gives an unlimited number of users access to a variety of useful tools, a large amount of storage space, and even shared workspaces for working together.
The best part about G Suite is that it can be accessed by any user from virtually any device and almost any location, provided that the user has an active Internet connection.
Because of this, work may be done at any time, in any location, and on almost any budget. G Suite is well worth the investment at any level, from the free standard plan up to the expensive enterprise plan in the top tier.
Quick Links:
Conclusion: How to Use Google's G Suite as a Nonprofit?
Google's G Suite is an incredibly valuable tool for nonprofits looking for ways to streamline their operations and increase productivity without breaking the bank on expensive software solutions or services.
Through its suite of products such as Gmail, Google Drive, and Google Calendar, nonprofit organizations can gain access to powerful tools that will help them keep their operations running smoothly while still staying connected with stakeholders around the globe.
With a little bit of know-how about how these tools work together, any nonprofit organization can benefit from utilizing G Suite's features!