In this Joyce Carol Oates Masterclass Review, we'll talk about The Art of the short story By Joyce Carol Oates course and do a detailed analysis of his lessons.
Joyce Carol Oates Masterclass Review 2023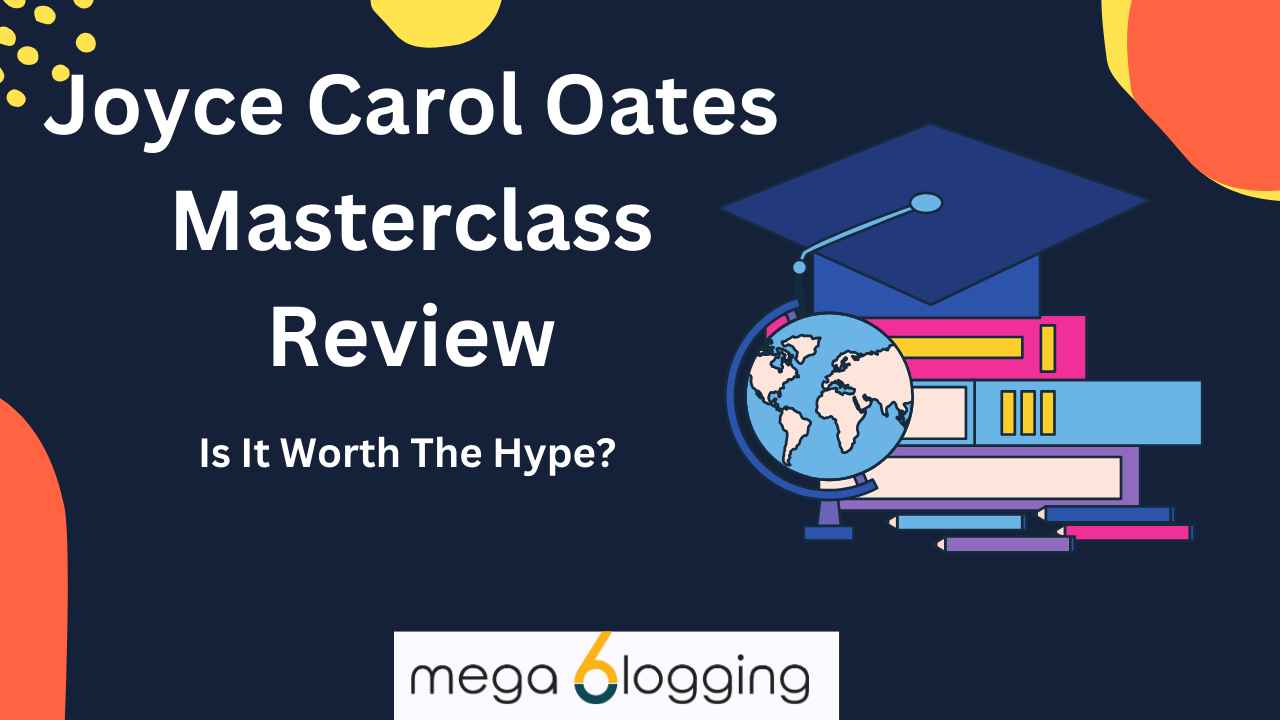 About Joyce Carol Oates MasterClass
Before moving forward, let me tell you a little about our very own author, Joyce Carol Oates, who is an American writer and published her first book in 1963 and also since has published several novels, as well as a number of plays and novellas, and many volumes of short stories, poetry, and nonfiction.
She has written the famous novels Black Water, What I Lived For, Blonde, and short story collections The Wheel of Love and Lovely, Dark, Deep: Stories, and many more.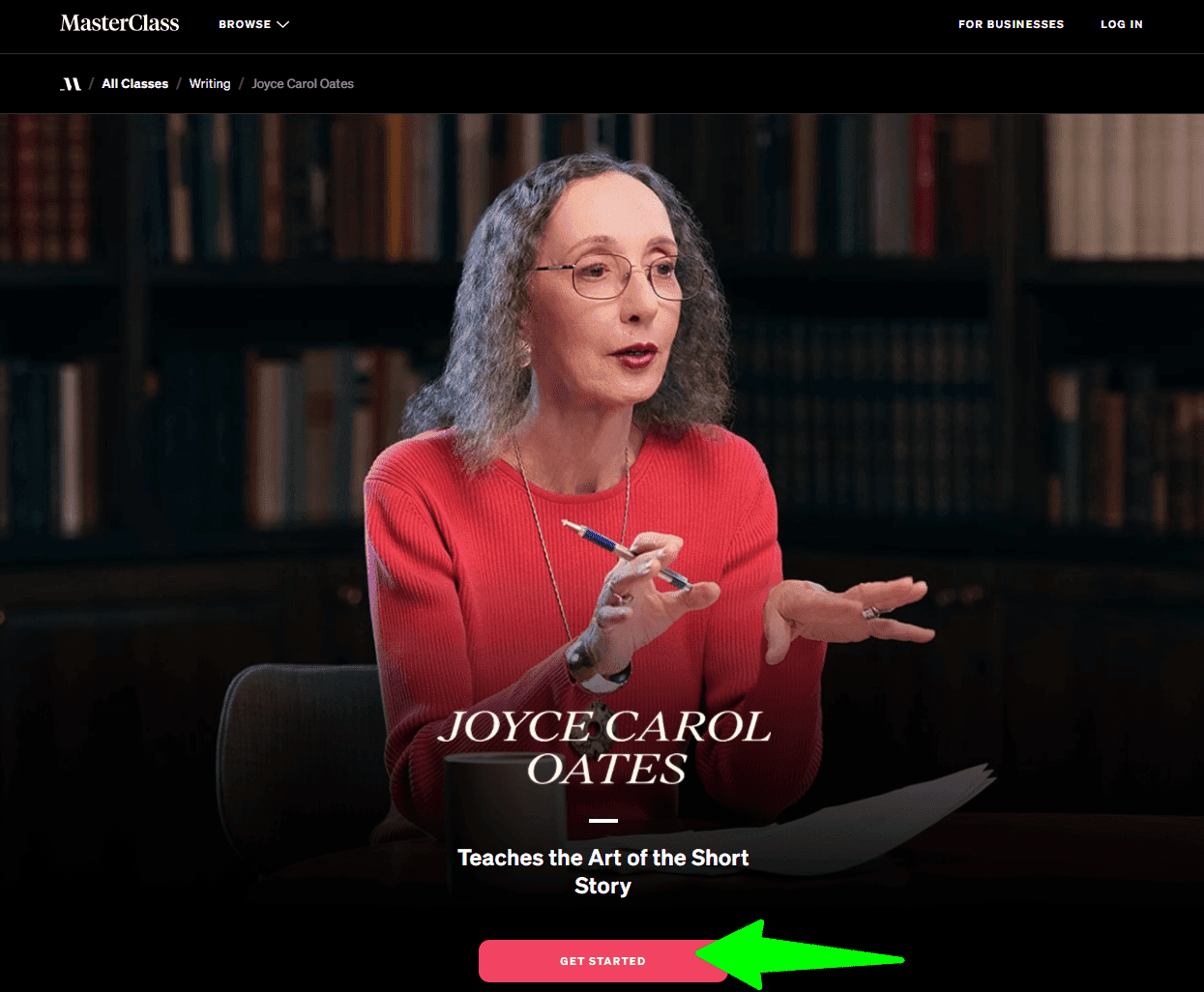 Oates taught at Princeton University and was Professor Emerita in the Humanities with the Program in Creative Writing. She is a visiting professor at the University of California, Berkeley, where she teaches short fiction.
The way of explaining and talking to her is incredibly amazing.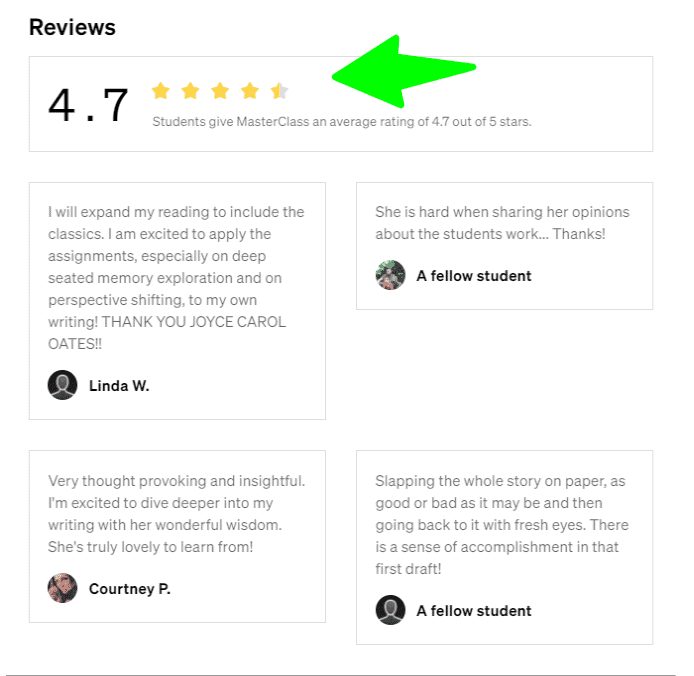 Who Is This Masterclass For?
If you are interested in writing fiction, you absolutely must watch Her Masterclass. It does not matter if you are a beginning, intermediate, or advanced writer.
All writing levels are welcome. During this Masterclass, you will receive in-depth instruction on useful strategies and procedures that will catapult your writing career to the next level.
If you are a writer of nonfiction who is interested in entering the world of fictional writing but is unsure how to begin, then her masterclass is a good starting point for you.
The fundamentals of writing fiction are covered in each of these classes, including Oates' Masterclass, which includes things like outlining a story in detail and developing interesting characters.
---
Carol Oates Masterclass: Course in Detail
Section: 2
The next section is "Where the Stories come from."
It has 3 sub- videos of an average of 13 minutes each, making it a 40-minute long section.
In this section, Joyce focuses on how self-expression is a great motive for all writing.
She has kept a journal since she was 21 and has found it helpful not only for self-expression and self-knowledge but also for observation of the world around her. 
Scheduling your writing time is important, but it's also a worthwhile practice to write at odd and spontaneous hours when your mind and mood are altered. 
Joyce encourages you to do assignments quickly and give yourself no more than 40 minutes to write.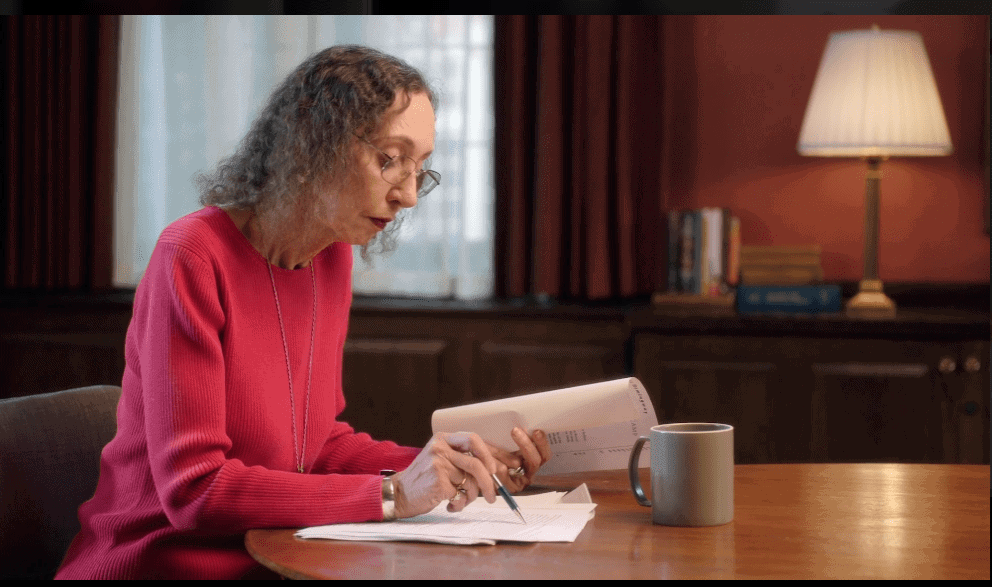 A limited time frame gives you the freedom to not fuss over your work and to write in the rush of creativity.
She also says that many writers have found physical activity to be a way to both activate new ideas and facilitate the creative processing that physicality and distance create. 
She also recommends making a checklist, like she has for a very long time, and you tick off the ones you have used- —on the kind of furniture, objects, and other things that might populate this world.
She says we tell the stories that we believe need to be told, stories that are dear or essential to our hearts.
Joyce still draws inspiration from childhood books.
When it comes to Carroll, in particular, the combination of darkness and whimsy was especially appealing, and these literary interests can be felt in Joyce's own work. 
Interviewing people, be they family members or anyone, helps you draw a lot of inspiration.
But when drawing content and inspiration from real people, writers need to take care to protect their subjects. 
The following section is "Reading as Springboard for Writing".
It has just 2 sub-videos of 15 and 10 minutes each.
Here, we study her story, " Where Are You Going, Where Have You Been?", which is Joyce's most famous story. Joyce describes it as the tale of a young girl who is approached by
a prince on a horse while walking in the forest, only the prince is Death in disguise.
The girl voluntarily gets on the horse and rides alongside Death to her own demise. 
Here, she also talks about choosing a point of view.
For example, in this story, she puts up her point extremely well. 
It's a natural inclination to overwrite your first draft—even Joyce had this experience with "Where Are You Going, Where Have You Been?".
"Where Are You Going, Where Have You Been?" is a story about one girl's transcendence of life and death rather than the murder itself: The moment that Connie leaves the house, she transcends her own small, adolescent world and enters into a minimal space between life and death, the literal and the allegorical.
This is what interested Joyce as the writer.
After re-reading and better understanding her own intentions with her story, Joyce chose to end "Where Are You Going, Where Have You Been?" at the moment that Connie leaves the house and approaches the car rather than the moment she dies.
Joyce feels there are two kinds of reading, each important in its own right: 
First is spontaneous reading, which is when an individual finds a book by chance. Perhaps they see its cover in a bookstore or are intrigued by a review online and read it.
In spontaneous reading, readers are plunged into a world they didn't plan for and couldn't expect, and the outcome is often a personal emotional reaction: 
The second is systematic reading, which is the process of thoughtfully choosing your reading material. It often involves the kind of material and reading schedule that one might find on a syllabus. 
Section: 3
The next and last section is "The Writer's Workshop," where there are 3 sub videos of almost 120 minutes each, making it an hour-long section. 
Read "Indian Camp," and as you do, take some notes on the qualities that make this Hemingway story a classic, according to Joyce.
These elements span the story's style, pacing, economy, omission, what is implicit versus explicit, the economy of characters, character names, relationships, and the mysterious ending.
It's this last quality—the more hanging, mysterious ending indicative of Hemingway's short fiction—that Joyce thinks makes the prose feel very contemporary. 
Notice how the vocabulary is fairly limited, which makes sense considering that Hemingway's protagonist, Nick, is a boy of only eight or nine years old.
The last two paragraphs of "Indian Camp" are carefully written and full of sensory details and descriptions.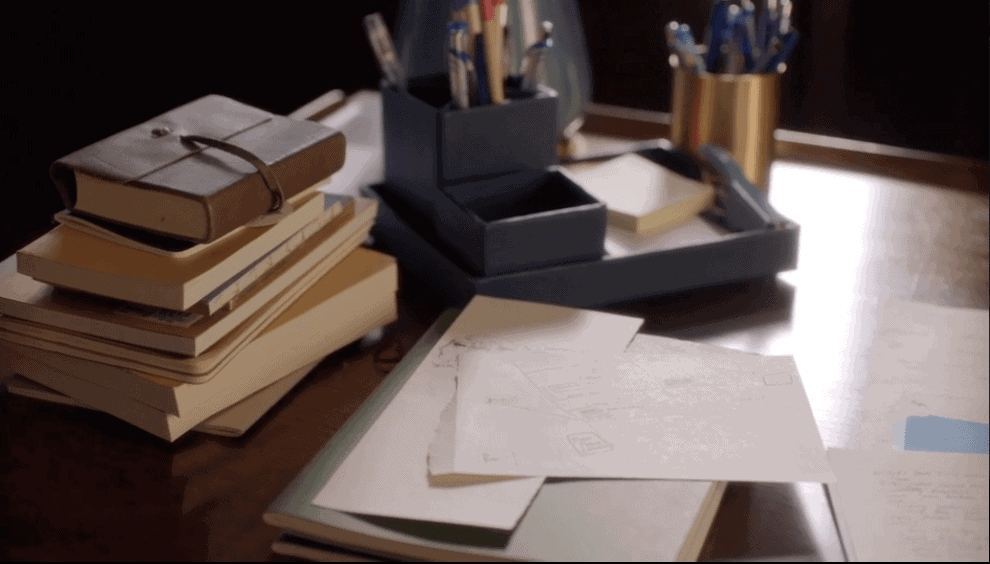 Hemingway saw literature as an iceberg: A story is like an iceberg poking out of the water, its peak visible to the sailor.
Most of the iceberg, however, remains out of sight.
Hemingway's short stories, says Joyce, have a "dark, enigmatic" quality to them. What you see on the page is the iceberg's peak, but the rest of the "iceberg"— that is to say, the story's deeper meaning—is lurking beneath the surface.
Moving ahead in this section, Joyce says one of the most helpful things that an outside reader can bring to your work is clarity.
A third party can shed light on the blind spots you have in your own work: You may be clear on which character is speaking, but it may not be clear to the reader.
Outside readers don't know your intention, so you can look at workshops as an opportunity to receive clarity on whether your work is coming across the way you intended it to.
When reading another writer's work, gently pointing out areas where the momentum slows, or reader interest is lost is particularly helpful.
As you begin to read others' work and give feedback, remain constructive and kind.
Similarly, be deliberate with how, why, and with whom you open up your own fiction to critique in its earlier, more vulnerable stages.
She also advises you to download and read "Near Death" by Corey Arnold in the Resources section and read it through.
As we take a critical look at "Near Death," remember that in a workshop environment, everything is understood to be a work in progress.
"Near Death" revolves around a youth group and deals with faith, visions, and the body.
"Near Death" is a wonderful example of "breaking workshop rules" to great effect.
And as the course concludes, there is a 4-minute parting video.
Wherever your writing career takes you, always respect and cultivate your imagination. 
For Joyce, this means sitting at a window that looks out onto nature.
Joyce doesn't write looking at an air shaft or a parking lot.
To motivate her and stimulate her imagination, she needs a reminder of the natural world outside.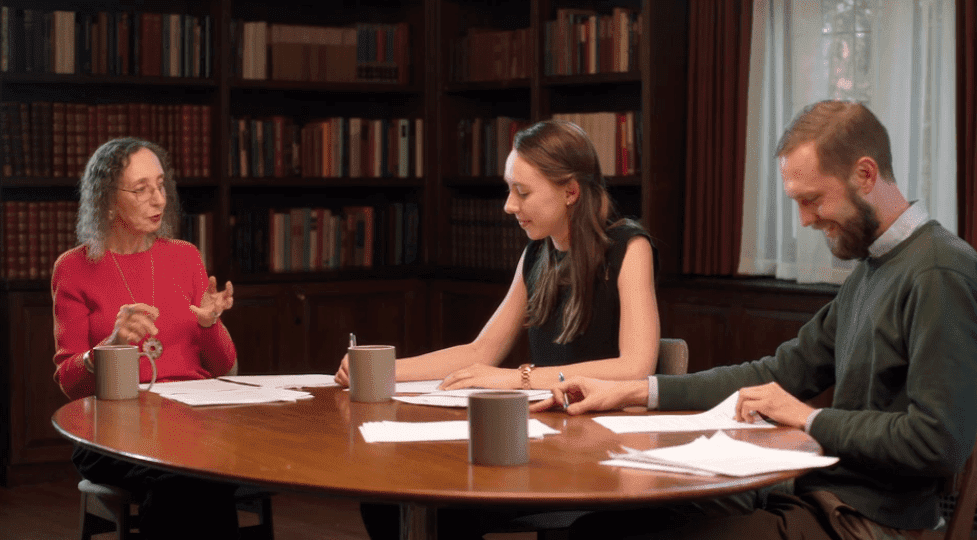 "One of the main things to remember…is that writing should be pleasurable, it should be fun, it should be exploratory.
You should be writing about things that surprise you," says Joyce.
Figure out what surprises you every day and what makes your imagination wander.
It may seem hokey or youthful, but it's part of the writing process that deserves more care than it gets.
Do whatever it takes to cultivate your sense of wonder and surprise.
As you continue pursuing a career as a writer, be gentle with yourself.
Expect nothing other than the pleasure of writing and, potentially one day, the honor of connecting with an audience.
Greatness doesn't come quickly, and beautiful narratives aren't written in a week.
Allow yourself to explore. Expect to come to know yourself and the world around you a bit better to see the past and future more excitingly. That is the pleasure of writing.
With that, the course ends in an extremely positive and motivating tone.
Is The Joyce Carol Oates Masterclass Course Worth it?
The San Francisco-based digital learning platform Masterclass provides comprehensive online classes taught by illustrious individuals from all around the world at very reasonable prices.
Through the purchase of an annual membership, users of Masterclass are granted access to all of the platform's available classes.
Joyce Carol Oates is the instructor for the Masterclass class "The Art of the Short Story." Author Joyce Carol Oates has been nominated for the Pulitzer Prize.
She has completed 58 books as of the year 2021. In addition to that, she teaches creative writing at Princeton University. Her mastery of the creative writing process is beyond reproach, beyond a shadow of a doubt.
This class has the feel of a college course despite the fact that it does not actually contain any college-level material.
You need to put a lot of effort into self-study if you want to have a deeper comprehension of a creative story.
In order to provide a response to the question, "Is it worth it to take the Joyce Carol Oates Masterclass course?
Our findings lead us to the conclusion that this class will be of great benefit to everyone who enjoys reading, analyzing, and delving into the core of short stories.
Who Should be doing it?
The course is absolutely incredible for every aspiring writer who wants to begin somewhere.
There are times when you know you wish to write but do not know how to start; here's an option.
And when you attend it, you know how to at least start. Joyce gives numerous assignments and explains everything in such a simplified way that you wish to start at that very moment. 
Even if you already write, it gives great teaching as to how to improve your writing and the way you express yourself in order to make it appealing to your readers. 
She gives ideas on how to start, how to get a lot of topics, and also how to cater to the needs of your readers.
If you feel that you write well, but it's not working out, this is a great course for you to attend. 
Every aspiring and existing writer, this is your chance to make the most of it.
Right from school-going children to adults in their 50s, everyone can write. Express your thoughts, and you are good to go. 
About the Workbook
The course workbook is very detailed, and if you miss out on any small detail in the course, you will find it there.
All the assignments are given with a proper explanation, and it is easy to go through and jot them down.
The workbook is very helpful as almost the entire course is covered, and the aesthetics of the book are beautiful.
IT makes the reader want to go through it. It makes it a very simplified version of the entire course and encourages us to solve it.
In case you have missed something while taking the course, the workbook is the perfect support to understand. 
One particular assignment that caught my eye was to write beginning with the statement, "An unsolved mystery is a thorn in the heart." Out of the box! I couldn't stop thinking about it for a very long time. 
And all the other assignments were very much interesting and captivating.
It is the perfect opportunity for all aspiring writers to learn and grow
The course has a simplified way of teaching with a lot of examples, research, and case studies.
Joyce puts forth crisp and clear points by giving anecdotes from the past.
She also gives examples from real-life incidents.
Joyce, being so experienced, is the perfect person to teach it as she has mastered the knack of writing.
She gives problems along with their solutions, which makes the learner more interested in the course.
Having more than 60 years of experience, she has a wide knowledge of the topic.
She doesn't only have the knowledge, but she also knows how to teach and make the learner understand
The course is perfectly divided into sections, which bring out most of what can be taught under that heading.
Joyce gives out her secrets to writing and is very compassionate when she talks.
Her experience with students is so great that when she talks to the learner, it is evident that she can teach so well.
The course is perfectly divided into sub-videos, not making it too long or too short as it is completely theoretical.
The use of pages from the books to demonstrate the reading for case studies was a great way to keep the learners glued to the course.
---
Joyce Carol Oates Masterclass Review Testimonials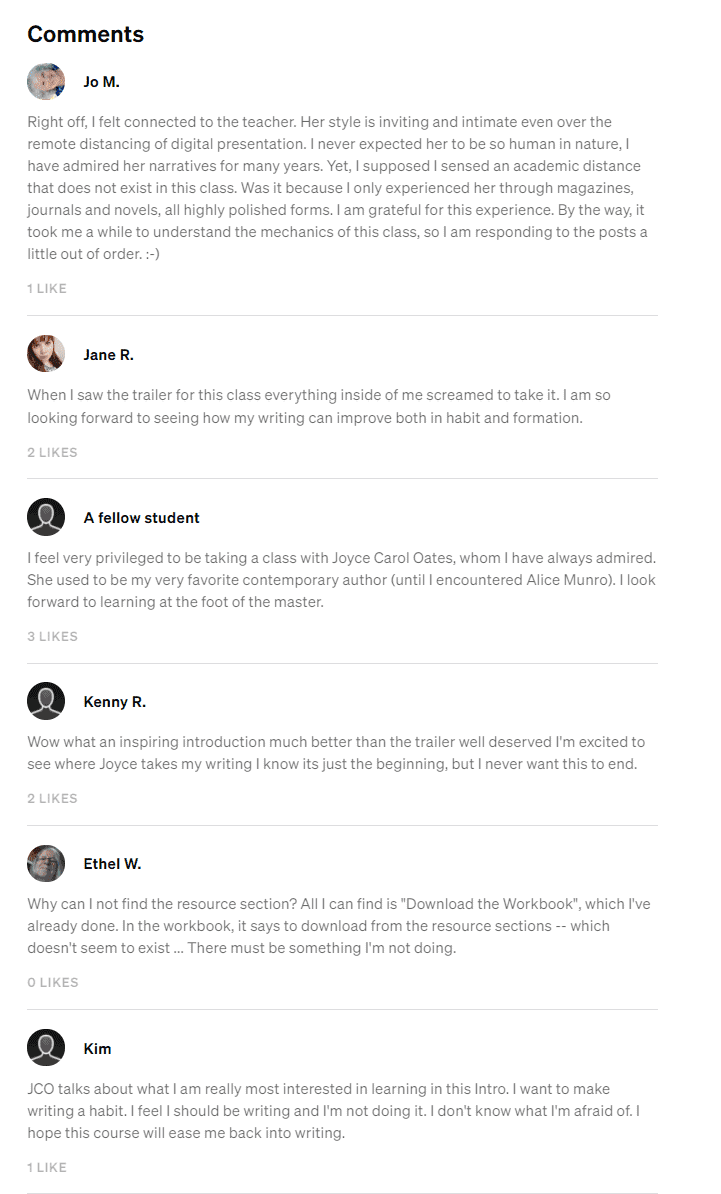 Quick Links:
FAQs | Carol Oates Masterclass Review
📄 Do we get any workbook ?
The course workbook is very detailed, and if you miss out on any small detail in the course, you will find it there. All the assignments are given with a proper explanation. It is easy to go through and jot them down.
👉What is included in a MasterClass membership?
MasterClass offers 100+ classes across a variety of categories, including business and leadership, photography, cooking, writing, acting, music, sports and more. Every class has been designed to be accessible for people with little to no experience and advanced students alike. With new classes launching regularly, you can learn practical skills, ignite new passions, and get everyday wisdom.
🙎‍♂️ What is MasterClass?
MasterClass is the streaming platform that makes it possible for anyone to watch or listen to hundreds of video lessons taught by 100+ of the world's best.
✔️ Who Should take this course ?
The course is absolutely incredible for every aspiring writer who wants to begin somewhere. There are times when you know you wish to write but do not know how to start; here's an option.
📺 Where can I watch?
With MasterClass, you can learn and be inspired anytime, anywhere, including your smartphone, personal computer, Apple TV, Amazon Fire TV, and Roku streaming media players. You can even download your favorite lessons and watch on the plane or listen during your commute in audio-only mode.
Conclusion: Carol Oates Masterclass Review [Year]
In my opinion, if you take my final verdict, this Masterclass is worth taking and giving it an honest shot.
I have been completing the assignments given by Joyce and trying to make the best out of them.
There will be times in this course that you will get bored and not enjoy it, but keep going.
There will be a time when you will be so engrossed that after a particular video is about to end, you will want it to keep going.
The beauty of the course is that every person who remotely likes to read can also turn into a commendable writer.
The way Joyce put forth all her experiences and explained all the case studies in detail is absolutely commendable.
Oates's way of expressing myself made me so interested that I tried to complete the course as fast as I could.
Her statement, "Art is the highest expression of the human spirit," caught my attention and exactly summed up the entire course.
The course is absolutely inspiring and gives a kick-start to our thought processes. 
Ultimately, though, the most surprising part of the writing process will be you.
You can shock, surprise, and delight yourself every day if you allow your imagination to take the wheel.
Writing is a "spiritual manifestation" of something— many things—deep within us.
This could be a secret shame, an ancestral story never told, or an experience that's absurd and humorous.
It could even be a memory that you haven't yet accessed.
The course was indeed thought-provoking, and I would recommend it to everyone who sees themselves as a writer or at least did at some point in time in life.
It's a life-changing experience, and once you attend it, I'm pretty sure you will be able to brush up your writing skills! 
You can follow Masterclass social media handles, like Facebook, Twitter, Instagram, Linkedin, and YouTube here.
Carol Oates Masterclass On Social Media 
Read Indian Camp, my first Hemingway. If Joyce Carol Oates hadn't taught me how to read it, I would've been very confused. But emotionally? I have never had an author cause such visceral reactions within me using so few words. I can understand the Hemingway hype.#MasterClass

— Krista Lynne White (@Krista_L_White) February 27, 2021
I love MasterClass. I've done the Neil Gaiman, Aaron Sorkin, and Joyce Carol Oates ones. I've also checked out a few others, including the Steve Martin one, but there are only so many hours in the day!

— Daniel M. Clark (@danielmclark) March 22, 2021