In this post, I am going to talk about if Prime Ads is a reliable affiliate network and also share my detailed Prime Ads Review 2023.
Cryptocurrencies are becoming more and more popular, but it can be hard to find a good affiliate marketing network that specializes in this field. 
Not all affiliate marketing networks are created equal. Some focus on specific niches or industries, while others are more general in their approach. 
Prime Ads is the perfect solution for those looking for a reliable and scalable cryptocurrency affiliate marketing network.
They have a global platform that is optimized for your success, regardless of whether you're a publisher or advertiser.
Let's learn a little more about Prime Ads.
Prime Ads Review 2023: What are Prime Ads?
Scalability and long-term growth are the goals of this affiliate marketing network for cryptocurrency affiliate marketers.
If you join their program, you'll have access to a global platform that is optimized for your success as a publisher or advertiser.

Prime Ads is a marketing company that strives to help businesses and affiliates grow globally and sustainably.
They help some of the world's greatest corporations reach the people they want to reach through their huge network of affiliates.
How Do Prime Ads Work?
There have been millions in sales for their clients as a result of helping them connect with suitable affiliates during the course of 2018.
With their team of experts, your affiliate marketing efforts will be in good hands.
More than $10 million has been paid out in affiliate commissions to more than 20,000 publishers in their network.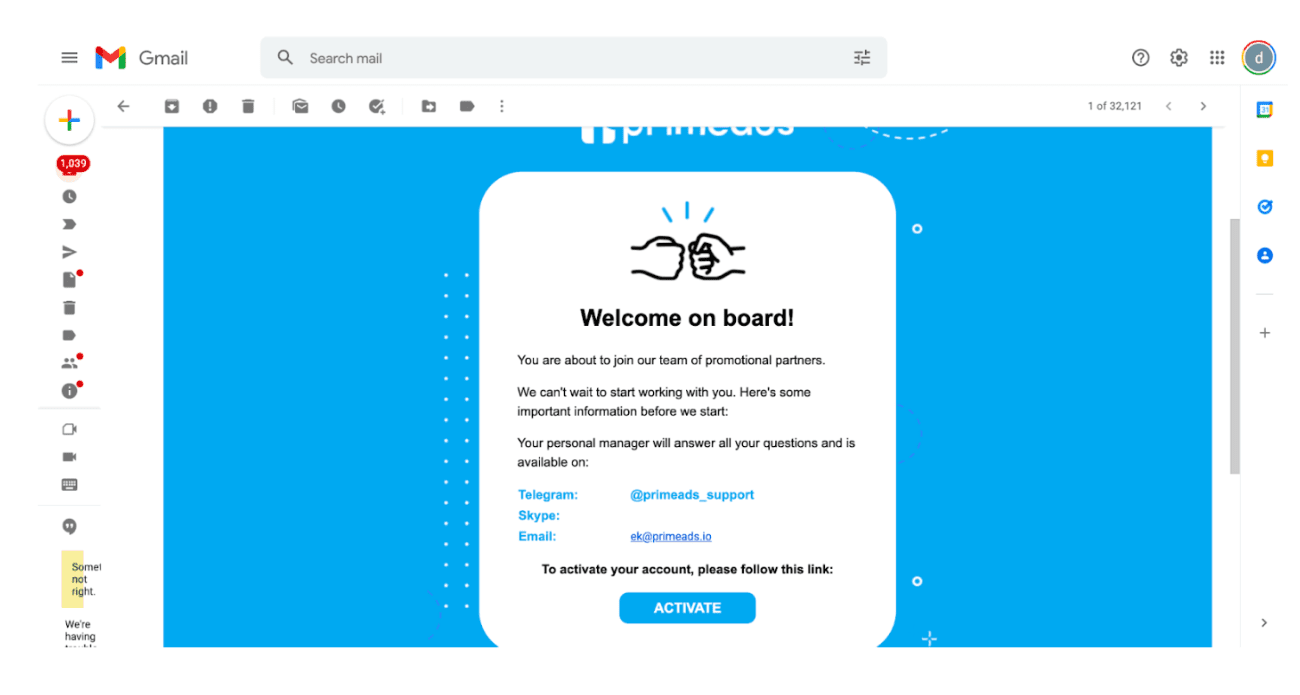 Identifying your target audience is essential for internet marketing success.
They invest the time necessary to learn about your business and your customers in order to design an effective marketing strategy.
The Amazing Benefits Of Prime Ads:
It's possible to make good money from Prime-ads, which is a crypto-specific affiliate network that pays well.

There are over 300 deals in each area, including dating and crypto.

With your site's traffic, you can earn money with high-paying offers.

High precision and precise tracking are possible for multiple categories of offers.

You can keep track of over 2000 deals in many categories with this.

Investing in this will get you a great return on investment and a lot of exposure.

With weekly payments, you can now get high-paying offers.
Why do I totally recommend Prime Ads?
Their customer service is the best in the industry. It's all the time! If you need assistance, feel free to contact them!

Up to 70% commissions!

Transparency is maintained throughout the process. It is important for PrimeAds to get to know its partners on a personal level.

Withdrawals are made every week. You'll be paid every week!
FAQs On Prime Ads Review
How do Prime Ads handle invoicing and payment?
Affiliate marketers commonly use payment methods such as WebMoney and Skrill.
From here, how can I begin using Prime Ads?
Prime Ads is now available for you to use. After you sign up for an account, you'll be able to begin creating and managing campaigns.
If I use Prime Ads, how much would it cost me?
It will not cost you anything to use Prime Ads. This service does not require a monthly or one-time payment. Sales commissions are the only result of your marketing efforts.
What's the deal with Prime Ads?
Bitcoin is the main focus of Prime Ads, an affiliate marketing network. A wide range of products and services are promoted by affiliates for a cut of the sale. They provide campaign management services that will ensure an effective and efficient partnership with the most respected companies in the industry.
Quick Links:
Conclusion: Prime Ads Review 2023
In order to connect advertisers and affiliates, Prime Ads has set up an affiliate marketing network. It focuses mostly on the bitcoin market.
In addition to finding new promotional deals, affiliate advertising provides an opportunity to earn money. With this technology, advertisers may plan and monitor their marketing initiatives.
After launching at the beginning of 2018, the network has quickly become a popular place to promote cryptocurrencies.
With Prime Ads or the bitcoin sector on your mind? Now is the time to acquire.