There are many hosting service providers over the internet but would you trust something that has just entered the market? Maybe not. But what if we tell you that there is a platform that is gaining immense popularity and love from the users just because of its excellent services? 
Today, we would be talking about the latest yet highly-recommended platform that can provide you with a wonderful experience for your website hosting. This awesome platform is known as Rocket. 
Wondering what makes it so special and skillful? This Rocket review will take you through the entire process and make you see the goodness of this awesome platform. 
So, read on to find out about all the best and the worst things about Rocket. 
What is Rocket?
I am sure many of you might not have heard about Rocket before. Understood. The sole reason is that it is a very few platforms that have entered the hosting and web services market in the year 2020. 
It all started a few months back when three friends decided to start their company and offer magnificent hosting services to people across the world. The company commenced in Florida, US, and is being operated by the founding team who has been working in the hosting industry for about 30 years. 
Rocket is a managed WordPress hosting service provider that works with guaranteed world's fastest 'time to first byte facility. In simple words, it is a fast, secured, and easy platform with an excellent WordPress hosting facility for businesses of all sizes. 
What services does Rocket offer?
Sure Rocket is a new hosting platform but what is there that makes it worth leaving other platforms and start the website with it? For that, we need to have a look at the services it offers. The team of Rocket promises "EVERYTHING" a user looks into a WordPress hosting platform. That includes lightning-fast speed, utmost protection, easy development, and launching guidance, and anytime support. 
The amazing features of Rocket are combined with outstanding services in the hosting area. These services include:
Managed WordPress Hosting 
Reseller WordPress
Unlike any other hosting provider, Rocket has just a few plans and services but it is best in those sectors. Its WordPress hosting is for all sizes of businesses and it works with plugin developers, theme developers, and agency partners. 
Pricing 
As we move to the pricing, Rocket demands for its services, let me tell you one thing, it might not be as reasonable as you expect it to be. However, there is a wide range of benefits that come with it. For instance, with every plan, you will get the free SSL certificate, CDN, WAF, 20+ serve locations worldwide, hands-free migration, multi-site retention, and much more.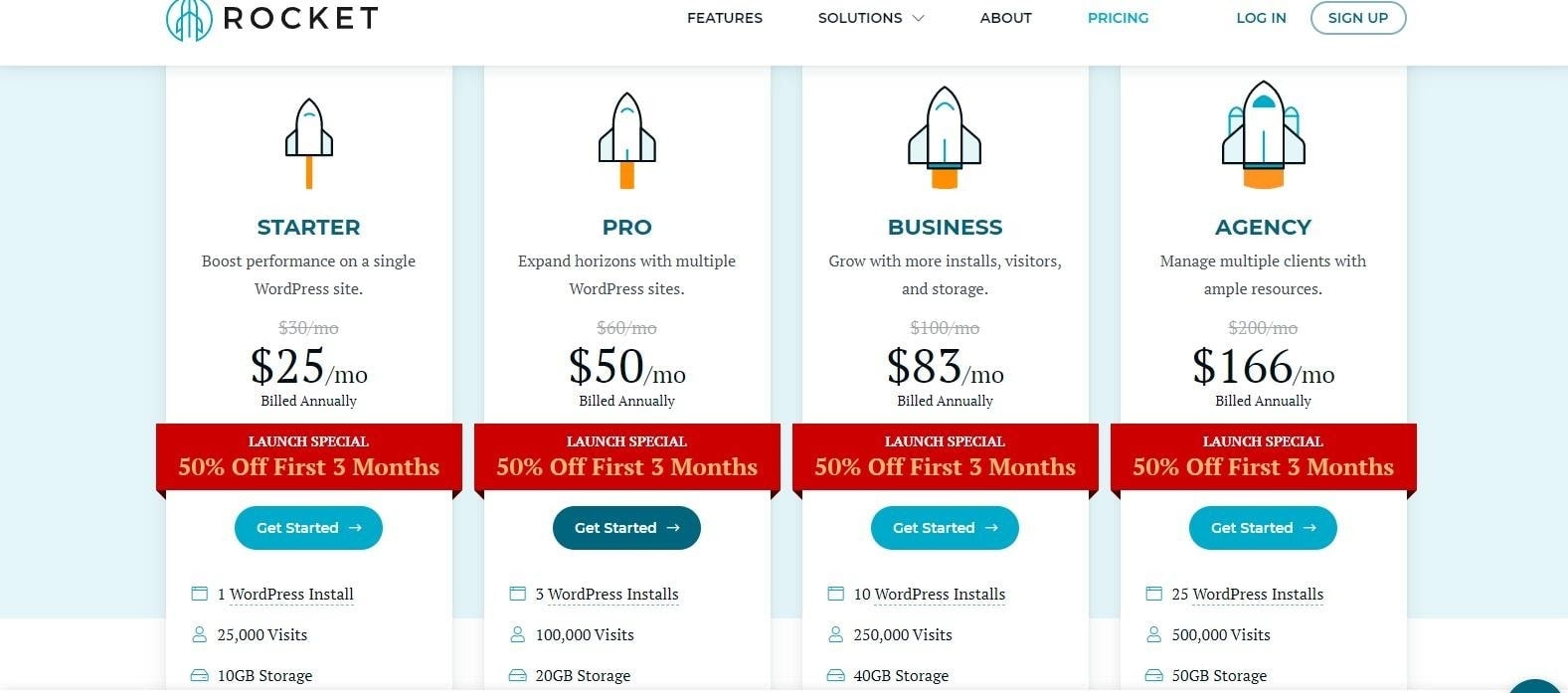 For one website holder, people can boost performance with a 'STARTER' plan that costs $25 per month if paid annually. It comes with 25000 visitors and 10GB of storage. If you are looking forward to expanding your horizon then you can go for the 'PRO' plan that comes with 3 WordPress installs, 20GB storage, and 1,00,000 visitors within $50/month. 
When it comes to the 'BUSINESS' plan, it is meant for companies with over 10 websites. Within $83 per month, you will get 2,50,000 visitors and 40GB of storage. Last but not least Rocket has an 'AGENCY' plan that comes with ample resources to manage multiple clients. It costs $166 a month and offers 50GB storage and 5,00,000 visitors. 

If you are someone who is not comfortable with an annual plan, worry not because Rocket offers monthly packages as well. The cost might vary in this case. Therefore, the 'STARTER', 'PRO', 'BUSINESS', and 'AGENCY' costs $30, $60, $100, and $200 a month respectively. 
Even though Rocket is a little expensive when compared to other platforms, there are many cost benefits as well. One of the best ones is, if you purchase a plan on annual basis, it will come with no-cost two months plan. Moreover, as a launch offer, it is offering a discount of about 50% on all plans for both annual and monthly packages.

How to use it?
One of the main objectives of Rocket is to offer user-friendly and easy accessibility of recourses to the customer. What is a better way to do it than providing an uncomplicated and painless interface to users? 
Therefore, in this Rocket review, we will show you how to start your website from the scratch using its outstanding managed WordPress hosting. To do that, we have listed the steps below in as easy format as possible. Check it out. 
So, to first begin with, all you need to do is visit the Rocket website at rocket.net. 

As you visit the site, you will come across two options, 'Get Started' and 'Take a Tour'. You need to click on the 'Get Started' option because the other one will take you to the 'Features' page. 
Once you visit the next page, it is time for you to create an account. To do that, you need to fill in the details in the 'Create Account, 'Billing Address', and other billing information.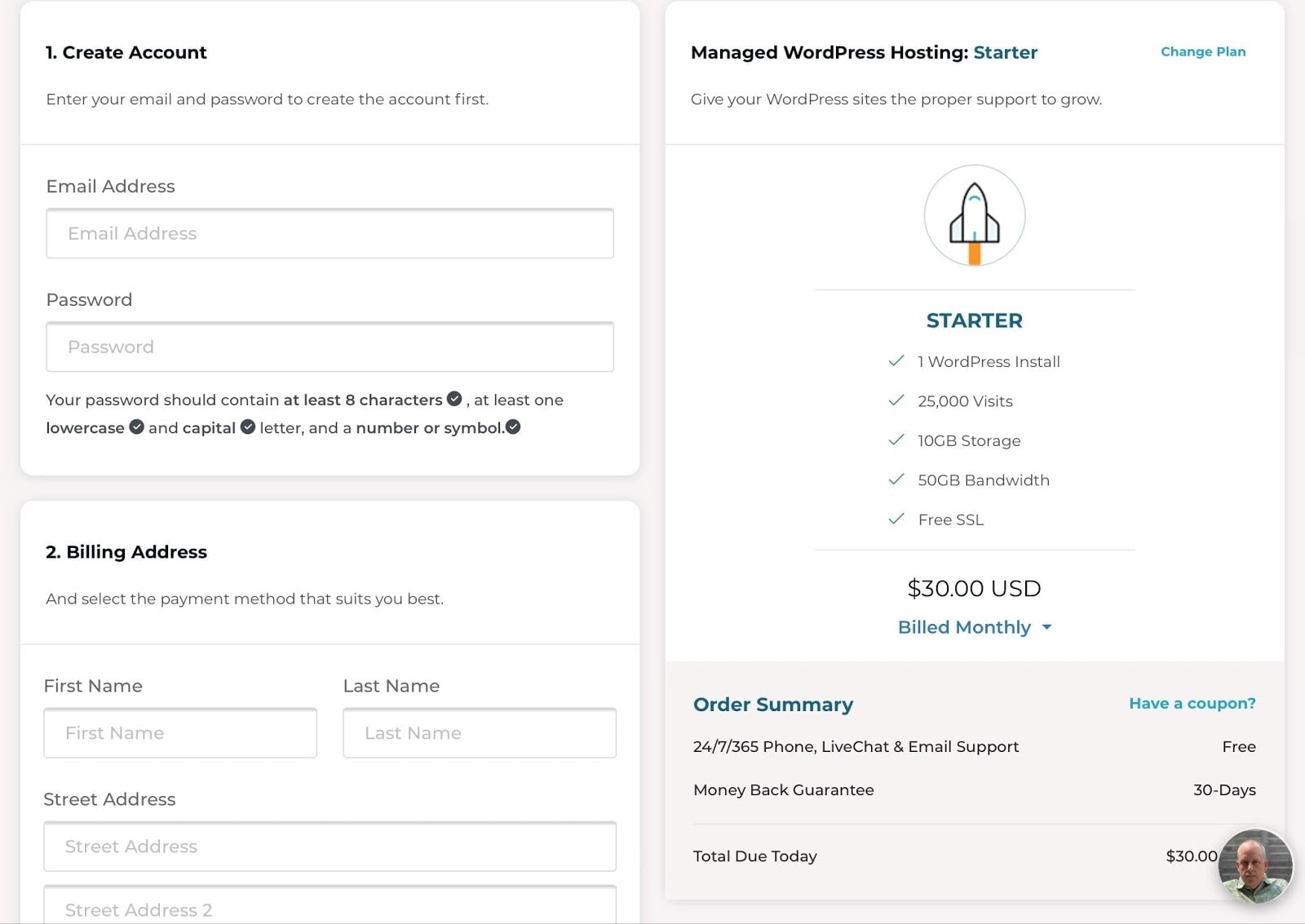 If you want to change the plan, you can do it by selecting the option on the top right corner. 
Thereafter, fill in the details and proceed further with the payment.
After going through all these procedures, it is time to start working on your website.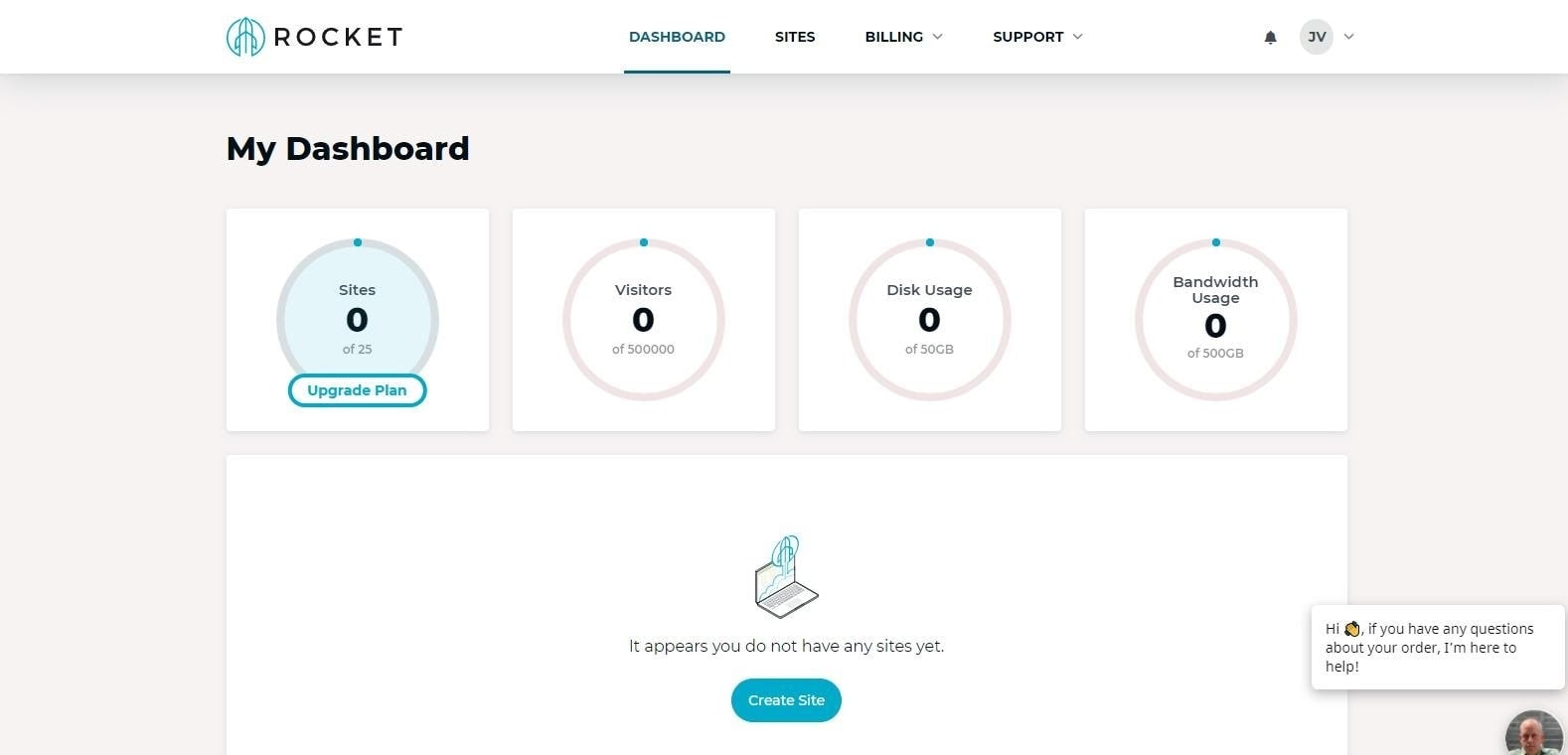 You can get access to your dashboard using your ID and password. Through this dashboard, you can create your site by entering the details of the website along with the location.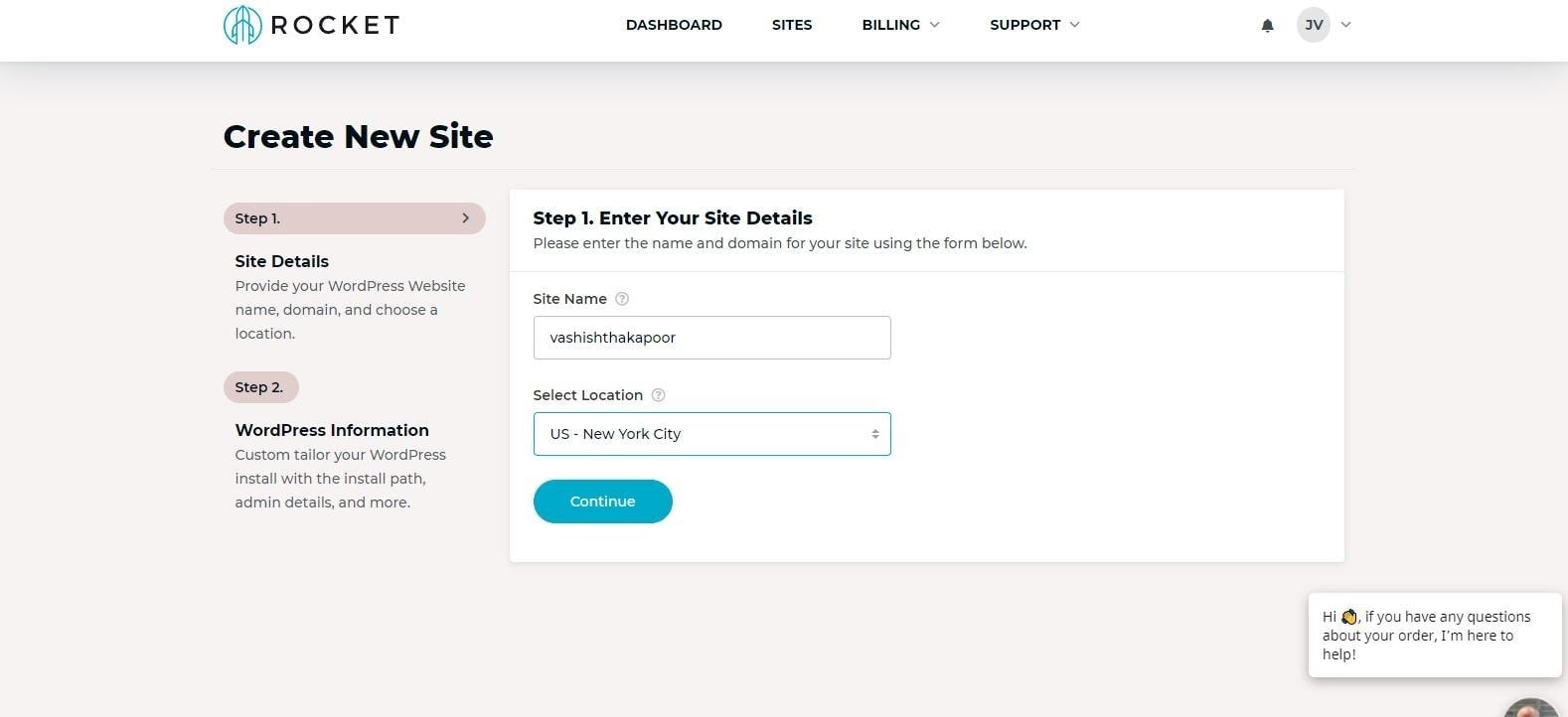 Once you click on continue, you will have your website within a few second. Yes! It is super fast. 
After having your website, you can make all the required changes, set a template, write down your content, and make it go live.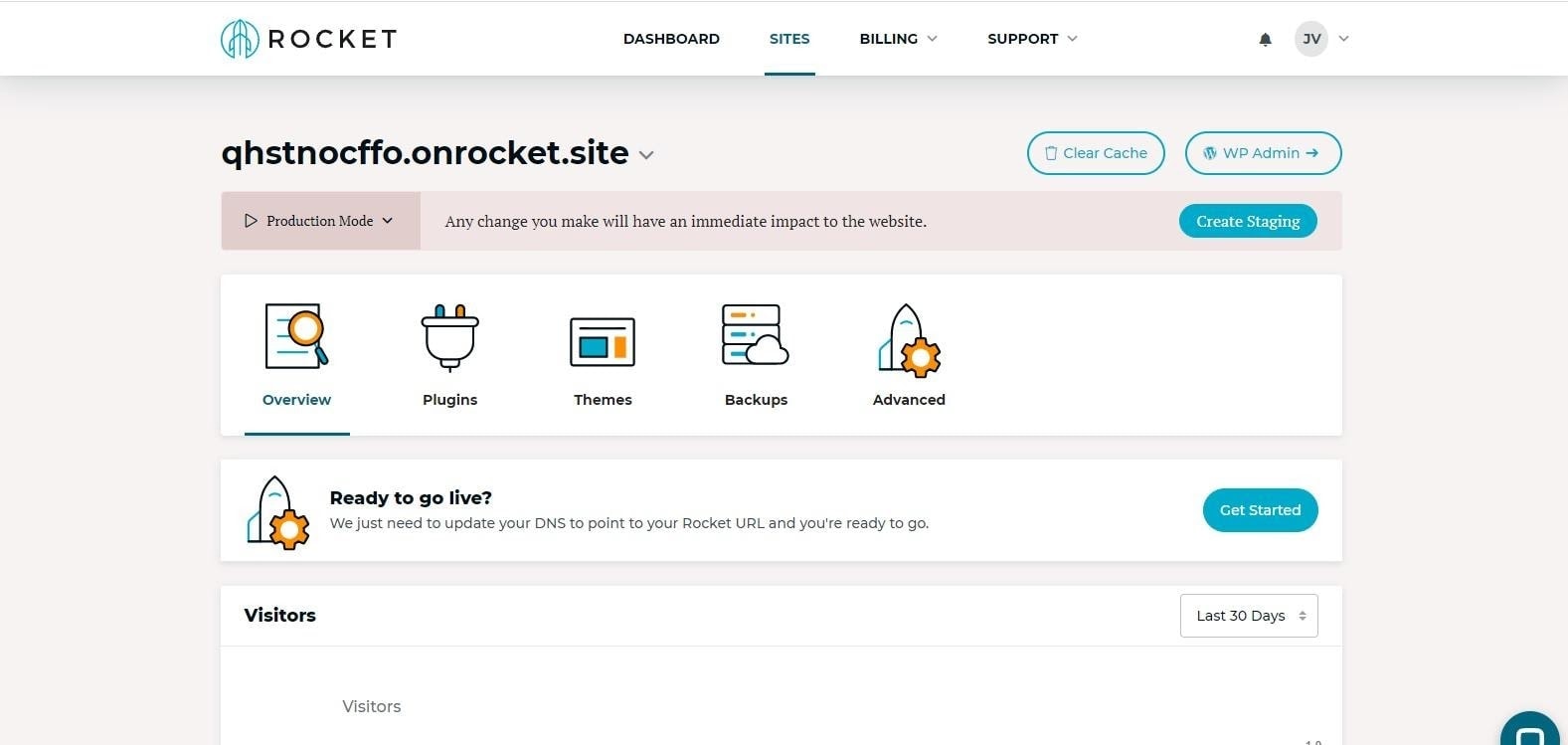 If you want to visit your WordPress Admin page, simply click on the WP admin button on the top right corner and you be taken to your WordPress handle. 
With these easy steps, you can start your website with Rocket in no time. 
Performance

Being a new company in the market of hosting business, it is hard to judge the performance of Rocket in a long run. However, as far as we know, since the day it has entered the industry, many people have already become huge fans of its services and expertise. 
What makes Rocket best is instead of adding a lot, it focuses on just one thing and that is WordPress. Because of this, it can serve its users with a single interface, fast staging, anytime customer support, and more with quality. What's more? Well, it is best at paying attention to the details and building relationships with people. 
Moving on with the performance, it works with an excellent speed because as we make changes to our website, they go live within a few seconds. Even if it is about launching a new website, you can get it to publish in less than a minute. This is impressive. Besides, when we talk about uptime, it sticks to 99.99%. However, can be a little slow but only when there is a bad network. 
Control Panel
Like any other platform, Rocket allows you to manage your website with the help of a dashboard that displays all the activities. Starting from the very first page of the dashboard, it will show you a brief of everything you do with your website. That includes many websites, number of visitors, disk data usage, bandwidth usage, and site activities. 
As you click on the 'Sites' button on the top menu, you will come across the list of websites that you have launched with Rocket. In the 'Billing' option, you will find all the details of your payment, invoice, quotes, methods used, and billing address.
Finally, there is the 'Support' option where you can find all the support you need if you ever face a problem with the services.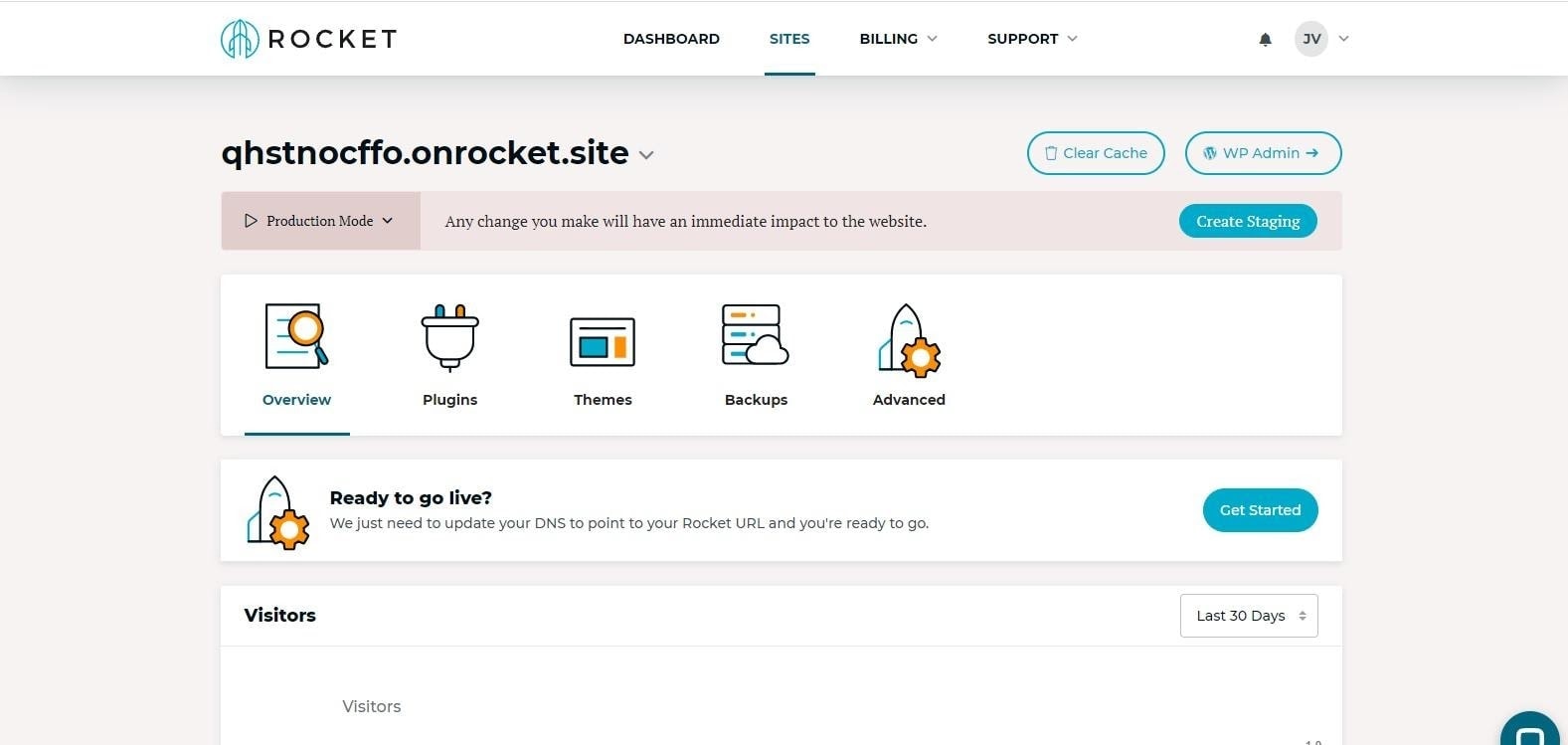 As far as the activities of the site are concerned, all that is done using the WordPress admin control panel. Be it about posts, media, pages management, tools, plugins, or settings and insights, anyone can handle everything without any complication. 
Security
As the internet is loaded with unnumbered websites, hackers are also served with innumerable options to hack. To prevent any malware, hacking, or lost data, security plays a crucial role. Understanding the significance of security, Rocket provides the best-ever solution to make your website as secure as possible. 
No matter how many WordPress websites you install, each one comes with a free installation of security suites. This is done to ensure better management of the website and the least waste of time over protecting it. 
Besides everything, Rocket gifts its customers with a free SSL certificate, CDN, and Website Firewall. All these features provide the utmost protection to the website from any bad activity. What more does one need to prevent malfunction over the internet?
Support
Since the day of its launch, everyone who has started their websites with Rocket praises its support services to the fullest. Well, obviously, it is one of the most amazing features offered by the company. As it promises a 24/7/365 customer support system via various means. You can contact the support team through email, live chat, and phone calls. Believe me, they do respond in a few minutes. 
Apart from hearing back from the team in case of any problem, you can also take benefit of other awesome support services Rocket offers. To serve its customers with what they need, they allow you to test the platform with a 2-month free plan along with all the annual plans. Just in case you are not happy with the services, they will pay back your money within 30 days. 
Pros
Expertise in WordPress hosting
2 months free annual plan
30-days moneyback guarantee with every plan
Free SSL certificate with every plan
Free CDN
Free WAF
Awesome website security suites
50% off on all plans as a 'Launch offer'
99.99% uptime guarantee
Superfast installation
No-cost migration  of website
Easy-to-use dashboard and C-panel
24/7/365 customer support services
Worth every penny you spend
Special offer for customers with 25 websites and more
Cons 
Not so popular 
Nothing more than WordPress hosting
A bit expensive as compared to others
No domain name registration
Personal recommendation
This Rocket Review shows everything that makes this platform great. However, in our personal experience, it may be a little expensive but worth losing your purse strings a little. The only reason behind it is its excellence in WordPress hosting.
Moreover, the team behind this company has good experience in the industry and they know exactly what they are offering their customer and how to serve with the best of everything. 
Overall, Rocket is a great platform for people who want the best services in their WordPress hosting plans. Its world-class performance, high level of security, and focus on one thing make it a perfect platform for WordPress lovers like us. 
Rocket v/s HostArmada
It would be unfair to compare Rocket with any old platform. Therefore, we are comparing it with HostArmada which is almost as new as Rocket.
Now, the first thing that one will notice is a huge price difference but one thing that makes Rocket better than HostArmada is obviously its expertise with WordPress. Sure you get free SSL and CDN with HostArmada but Rocket offers free WAF as an addition to protect your website. 
Rocket has a limitation to the website even in the most expensive package, HostArmada offers unlimited website accessibility. But, you can get lakhs of unique visitors with Rocket whereas with HostArmada it remains till a lakh.
HostArmada provides 9 server centers, whereas Rocket offers more than 20. Now you know which one will work best for you. 
Quick Link
Wrapping Up | Rocket Review
With this Rocket review, know to understand how amazing this new platform is and why people are going crazy over its WordPress expertise. So, make a wise decision and go for Rocket without any doubt.