Do you want to know what I am going to cover in this blog? The blog answers these questions:
What are the key differences between Beaver Builder and Elementor?
What are the best features of each?
What is the pricing for Beaver Builder vs Elementor?
What are the pros and cons of Beaver Builder and Elementor?
What is the difference between Elementor and Beaver Builder?
Which products are offered by Beaver Builder and Elementor?
What is the verdict on every criterion between Elementor and Beaver Builder?
Beaver Builder vs Elementor: Overview
Let's have a close overview of both of them:
What is Beaver Builder?
Beaver Builder was introduced in the market in the year 2014. Robby McCullough, the co-founder of Beaver Builder, desired a single framework that his employees could use, to meet the design needs of their clients.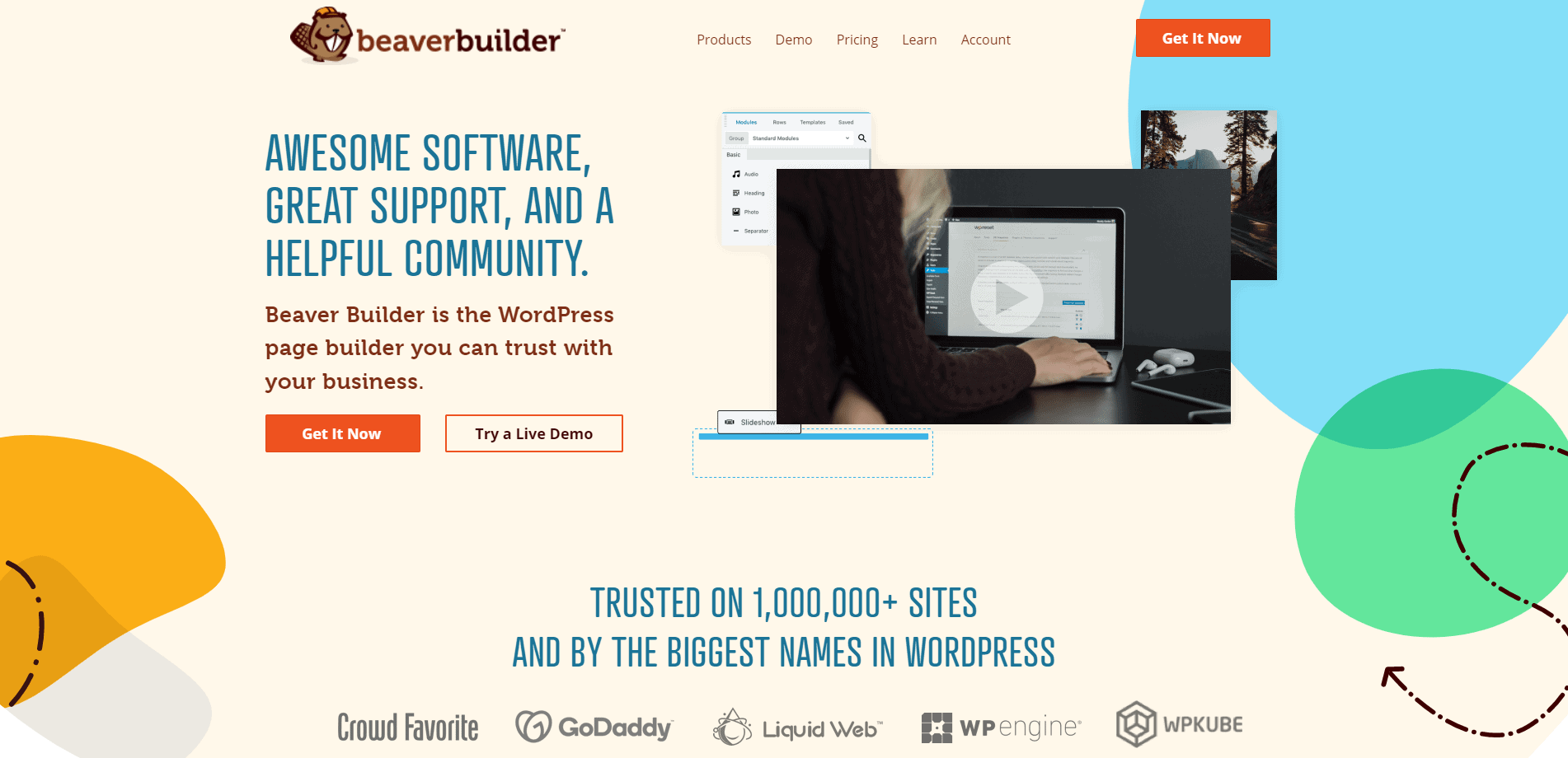 It was previously known as a Fastline WordPress page builder and is now one of the market's leading page builder plugins.
Beaver Builder has been used to create over 100,000 websites, making it a page builder that is well worth your time.
Click here to check one more comparison of Beaver Builder vs Visual Composer.
What is Elementor?
Elementor was founded in the year 2016 and has been getting positive responses from its clients since then. One main reason for these positive responses is that it gives people full control over their websites.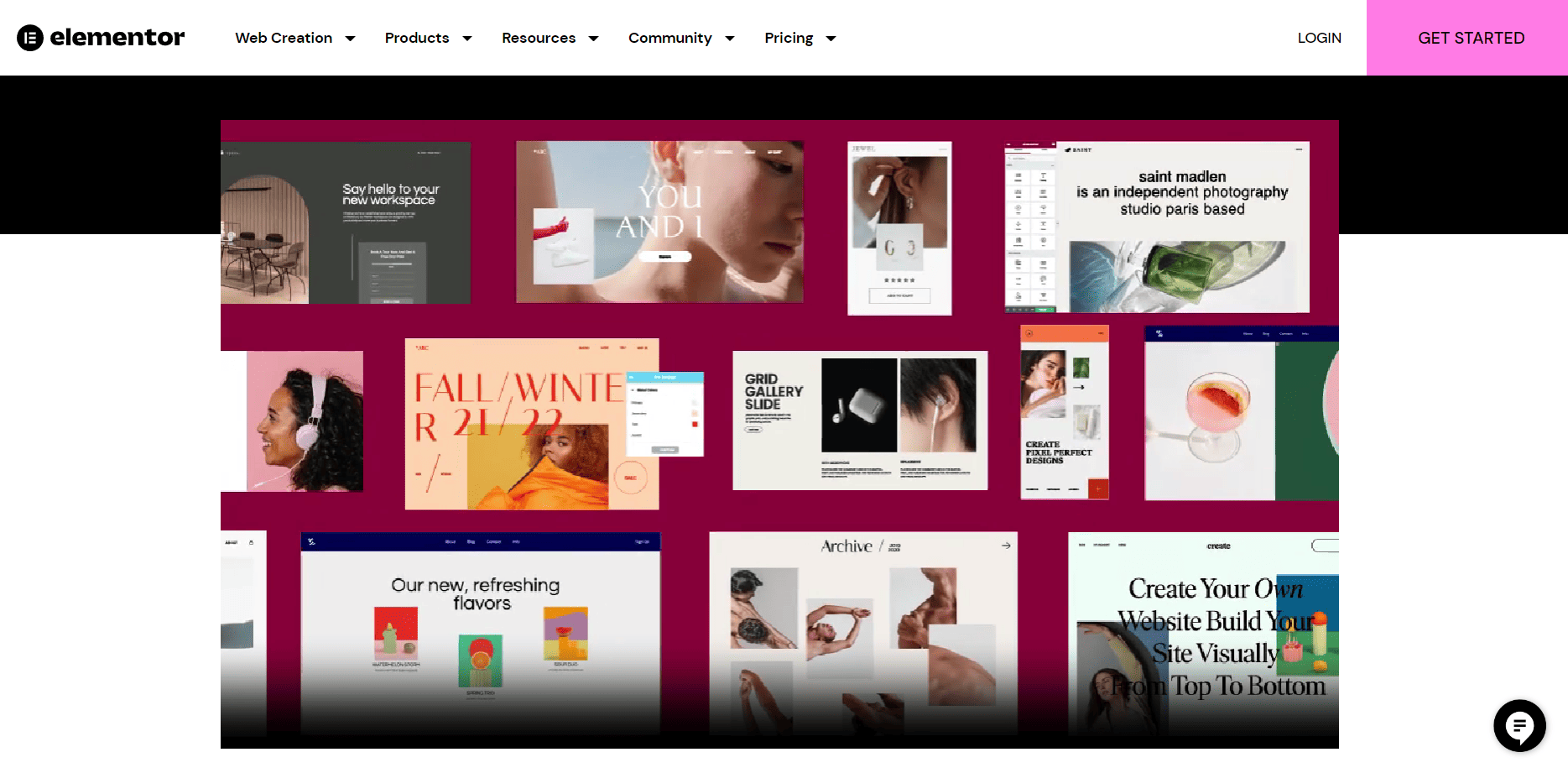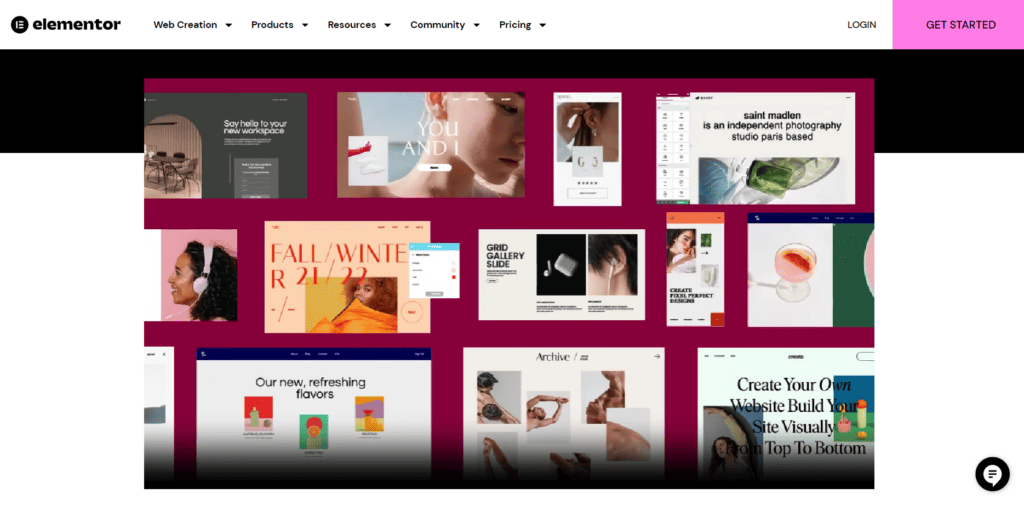 Elementor is a plugin that is certainly 'beginner-friendly. Whatever you may be or at whatever level you may be in its appropriate for each of it.
What Are Page Builder Plugins?
Page builder plugins are powerful tools designed to simplify and enhance the process of creating and designing websites within popular content management systems like WordPress. These Plugins have a simple, easy-to-use interface that lets users build and adjust web pages without knowing much about coding.
Elementor and Beaver Builder are two well-known Plugins that help you build pages. Beaver Builder is a plugin with many features that make it easy for users to make visually appealing and adaptable web pages. Its drag-and-drop feature allows users to move parts around, add widgets, and organize their pages. It also has a lot of themes and modules, which make the planning process even more accessible.
In the same way, Elementor has become very popular because it is easy to use and has powerful design features. Elementor has many widgets, themes, and styling choices that allow users to make complex and professional designs. Its real-time editing feature lets users see changes as they happen, making creation more active and efficient.
Both Beaver Builder and Elementor have changed how websites are made by making it easier for people, companies, and businesses to control their online presence. Elementor And Beaver Builders have made it easier for anyone to make a website by letting people bring their ideas to life visually and successfully, even if they don't know much about coding.
Elementor vs Beaver Builder: Modules
Beaver Builder
Beaver Builder's elements are classified into rows, columns, and modules. The free version of the It comes with six modules, whereas the pro version comes with thirty.
Elementor and Beaver Builder both have similar styling options. Individual styles can be set, and styles applied to rows are automatically applied to columns and modules, and vice versa.
But beaver builder is not having the custom right-click option, like Elementor.
Elementor
Sections, columns, and widgets are the three main categories of Elementor.
The free version of Elementor allows you to use approximately 30 widgets, whereas the paid pro version allows you to use more than 54 widgets.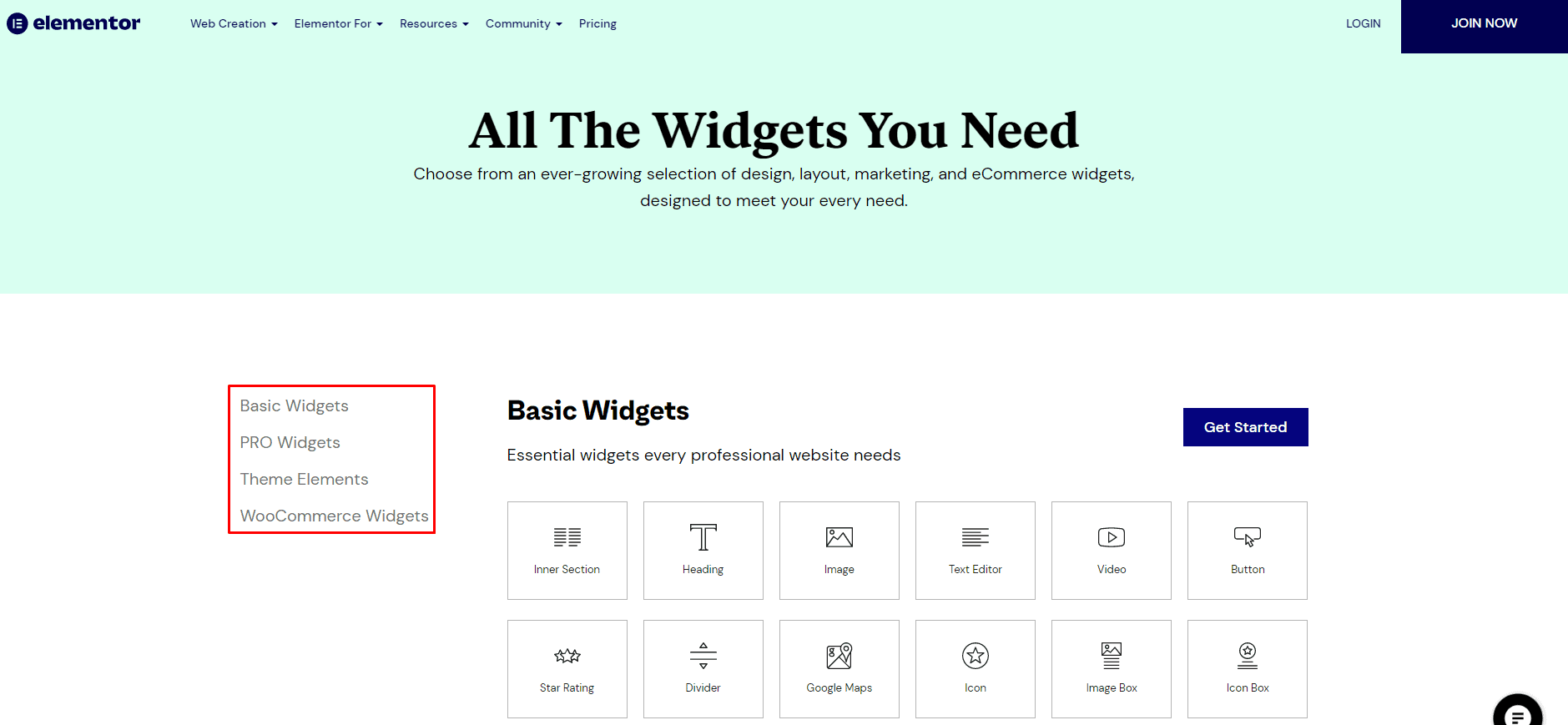 The style applied to the section affects everything, including the columns and widgets. All elements can be edited, duplicated, or deleted. All you have to do is right-click that element, and you're done.
Verdict: Elementor and Beaver Builder plugins operate in essentially the same way. Both provide a simple method for creating a page layout. But Elementor makes things a little easier by allowing you to right-click and go straight to the settings.
In addition, the Elementor has more modules than the Beaver Builder. Thus, Elementor triumphs over modules and widgets.
Also, You May Like This:
Beaver Builder vs Elementor: Templates
Beaver Builder
It offers three different types of templates to choose from. They have Landing pages, content pages, and saved templates that you can design with this best WordPress page builder. Beaver Builder Template Collections Beaver Builder offers ready templates to create amazing-looking websites without knocking basic web design principles.
It does not offer block-level templates like Elementor. Beaver does not provide a templating option in its free version; you can only get it in the paid version.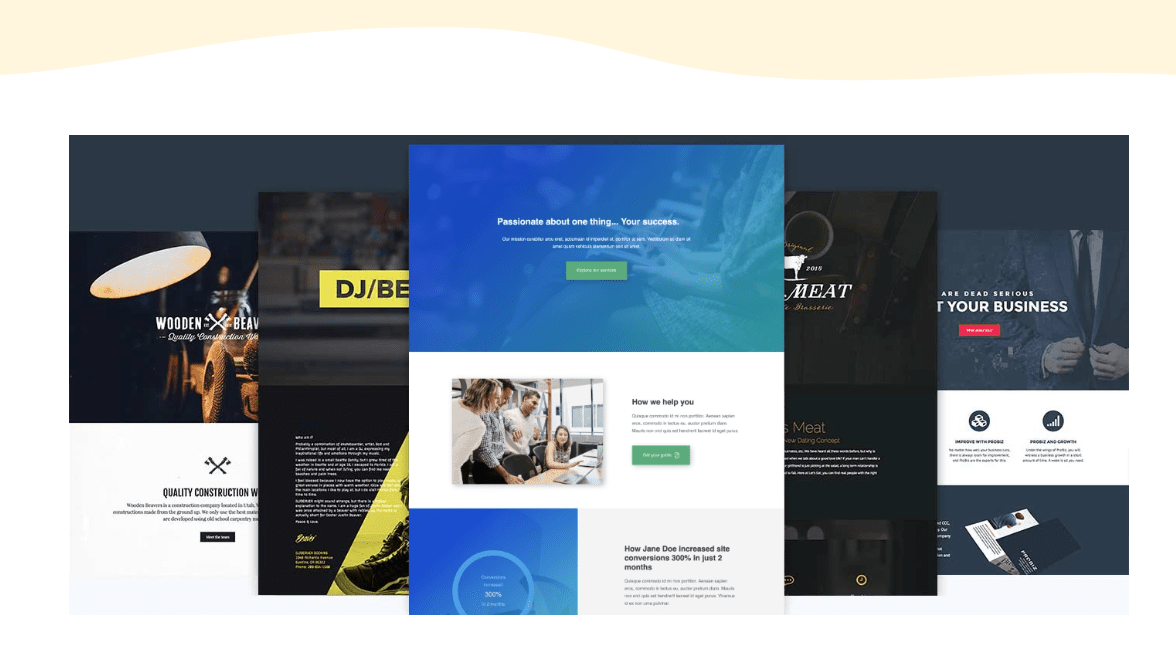 One can use the help of the landing page template to create elaborate landing pages. Beaver Builder offers 30 different landing page templates to choose from. The next type of template they have is a Content full page templates
These templates are used for content pages such as the page, contact page, and home page, among others. Beaver Builder provides you with 25 template page options to choose from.
Custom saved templates are the saved templates. It allows you to create a template and save it for future use. It also offers the option of importing templates.
Elementor
Elementor provides two types of templates. They are block templates and full page templates. After connecting to the Elementor Template Library, Block templates can be used to build specific parts of your page. 
Page templates can be used to design specific types of pages using the builder plugin. Elementor has a variety of flavors from which to choose for various types of work.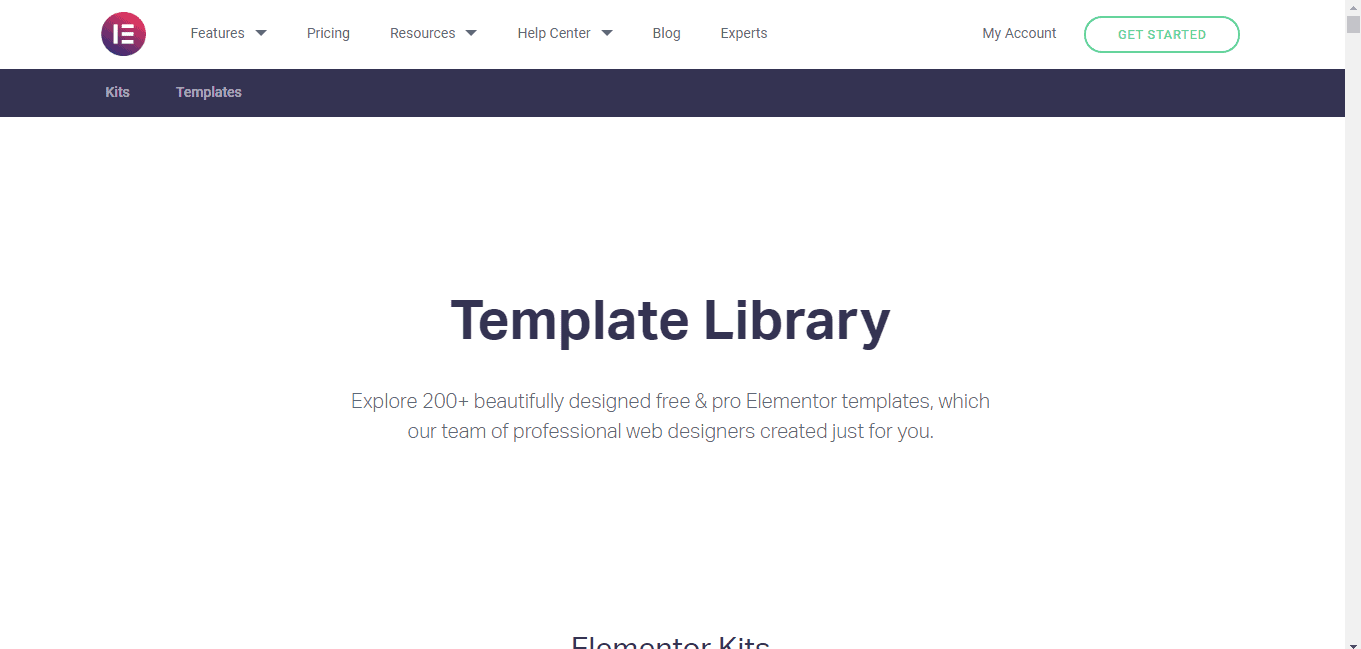 For example, a homepage tailored specifically for educational institutions, another tailored specifically for restaurants, and so on.
Elementor allows you to create custom pages and themes and save them for later use.
You can import templates created by third parties by uploading them to your site. As a result, Elementor provides limitless customization options.
Verdict: Elementor has many templates, which are simple to import and export.
Both builder plugins provide the user with a wide range of visually appealing templates that are simple to use and can be used on various platforms.
However, Elementor easily defeats Beaver Builder because, in Elementor, one can choose from various templates and import and export them, whereas, in Beaver Builder, one must upgrade to the premium version to do so.
Its free version does not include any templates.
Elementor vs Beaver Builder: Responsiveness
Responsive design is an important part of making WordPress websites faster and better for users. We'll detail how both Elementor and Beaver Builder handle flexibility and how you can change your site to fit different screen sizes with them.
Elementor:
With Elementor Pro, all designs are automatically flexible, making it easy to use on various devices.
You can check out how each page looks before posting it, and you can tweak features for mobile, desktop, and tablet devices by clicking on the icons for those devices.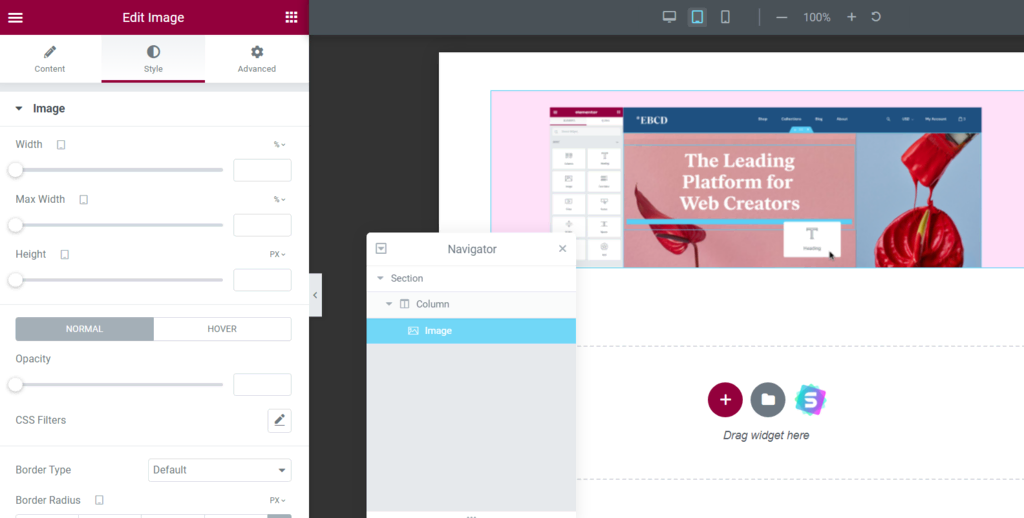 Elementor Pro lets you change a lot about adaptable designs. This includes:
Background Images and Borders: Assign different photos to each device and move and resize them to fit the different screen sizes.
Visibility Control: Based on the user's gadget, show or hide features.
Mobile and Tablet Breakpoints: Set breakpoints in the widget panel settings for the site.
Columns Reordering: Users can switch the order of columns for better response.
Builder Beaver:
It instantly adjusts layouts for desktop, tablet, and mobile screens like Elementor Pro templates.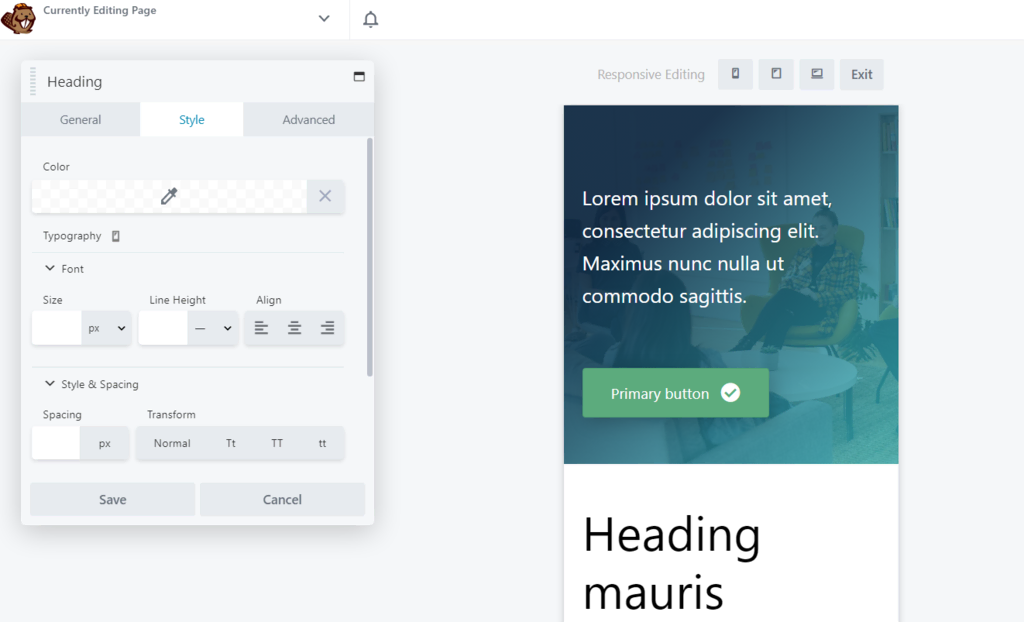 Beaver Builder adds to the ways that flexible personalization can be changed by:
Breakpoints: Change the usual breakpoints for big, medium, and small screens.
Auto Spacing: Modules and columns change themselves automatically for small screens.
Stacking: Modules and sections move around when the width of the screen changes.
Visibility: Modules, rows, and columns can be hidden or shown on certain platforms.
Device Settings: The "Responsive editing" mode in the "Tools" menu lets you make changes in real-time.
Moreover, the premium version's Beaver Builder Theme enables editing heading and font sizes for Beaver Themer layouts and the Beaver Builder plugin.
Final Verdict: When comparing Elementor and Beaver Builder's mobile-friendliness, both shine in responsiveness. Both platforms ensure default responsiveness and the ability to apply specific adjustments.
But it's important to note that Beaver Builder's Premium plan gives you more theme-building tools and the ability to change the size of headings and fonts. This makes it different from Elementor Pro in this way.
Elementor vs Beaver Builder: Design Options
Both Elementor and Beaver Builder give you different ways to create your website. Let's look at what you can do with each of them to change how the site looks and feels.
Elementor
With Elementor, it's easy to set up website settings, the theme maker, and user preferences—just click the icon in the top left corner of the editing area.
In the Site Settings area, you can change things like Global Colors and Global Fonts to suit your needs. This lets you set up fixed global and inline custom colors and change the font styles for the whole site.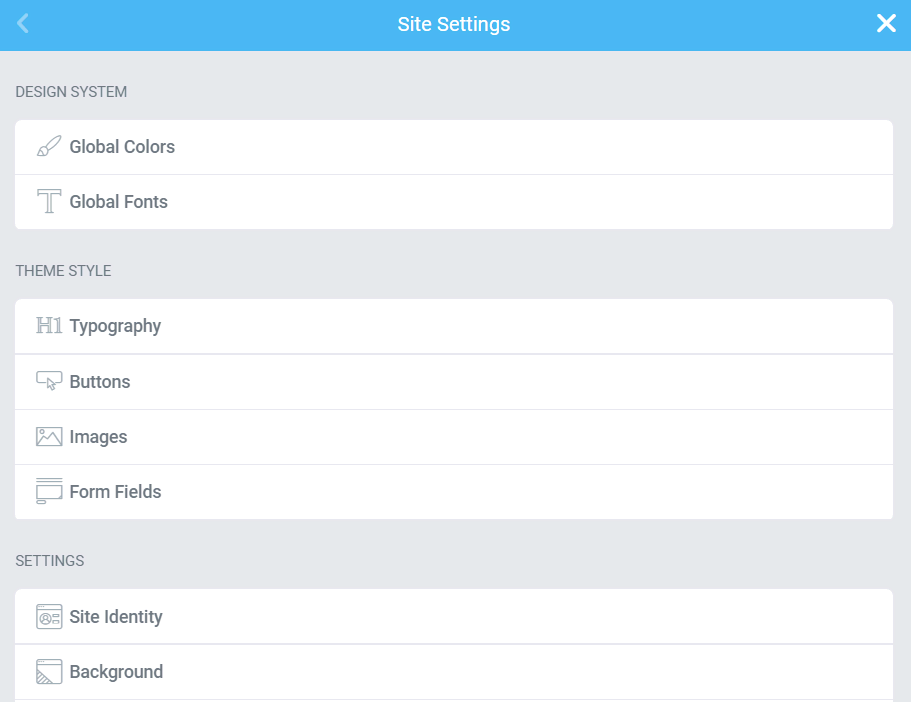 You can set the usual styles for HTML elements like buttons, images, and form fields with the Elementor theme builder. Also, the page builder has a header and bottom feature that lets you change the look, width, style, menu, and background color.
Under User Preferences, you can change the site's name, image, and description at the same time. UI Theme, Panel Width, and Elementor Lightbox are other options.
When you upgrade to Elementor Pro, you can use advanced design features like:
Custom CSS: You can use custom CSS code for the whole site or just for certain parts.
Motion effects: Add movement to your design by making transitions or patterns like parallax scrolling.
Custom Positioning: Using absolute positioning or drag tools to different page locations, make different layouts.
Like Elementor, this best WordPress page builder gives you different ways to create each section. But there aren't as many complicated design choices as in Elementor Pro.
Beaver Builder: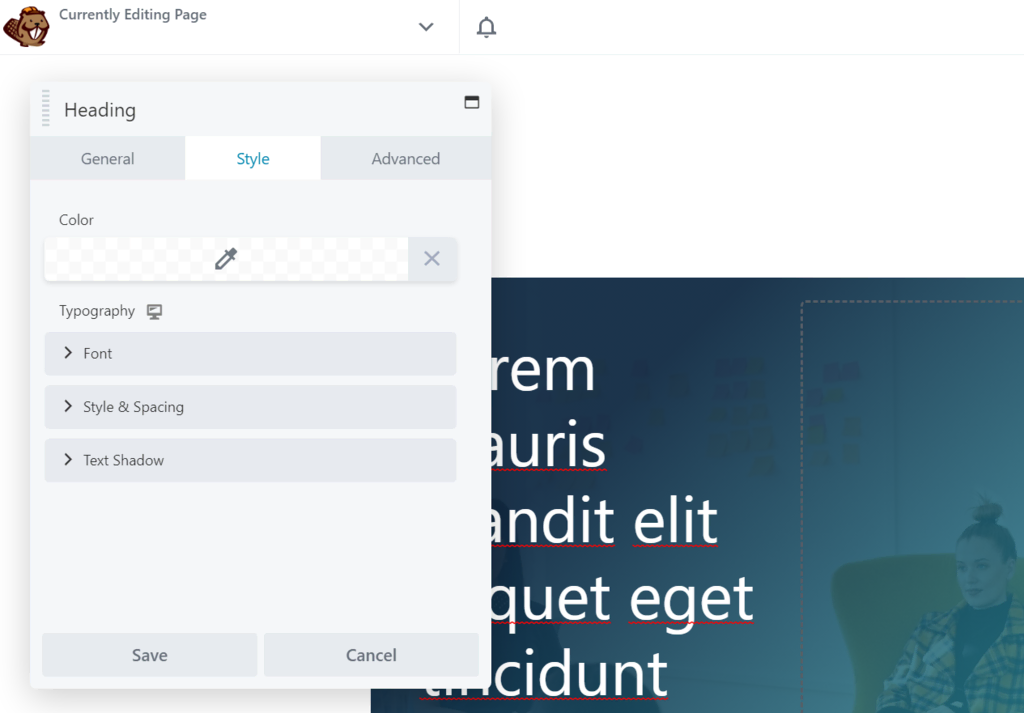 In comparison, Beaver Builder only lets you add custom CSS to the whole site, while Elementor Pro lets you use custom CSS on different parts of the site. It also doesn't have things like motion effects, global colors, and unique placement.
You can still set style settings for individual rows, columns, and sections, as well as a base font size and usual width.
Verdict: In comparison, It only lets you add custom CSS to the whole site, while Elementor Pro lets you use custom CSS on different parts of the site. Beaver Builder also doesn't have things like motion effects, global colors, and unique placement.
You can still set style settings for individual rows, columns, and sections, as well as a base font size and usual width.
Elementor vs Beaver Builder: Theme Builder
Beaver Builder
The theme builder of the beaver works in the same way as the theme builder of the Elementor. This can significantly help if your clients need a custom template or help.
The elementor theme builder can be accessed only when you install the Beaver theme Plugin. With the help of theme layouts, you can create the following custom templates 
header

footer

template

archive

single post

pages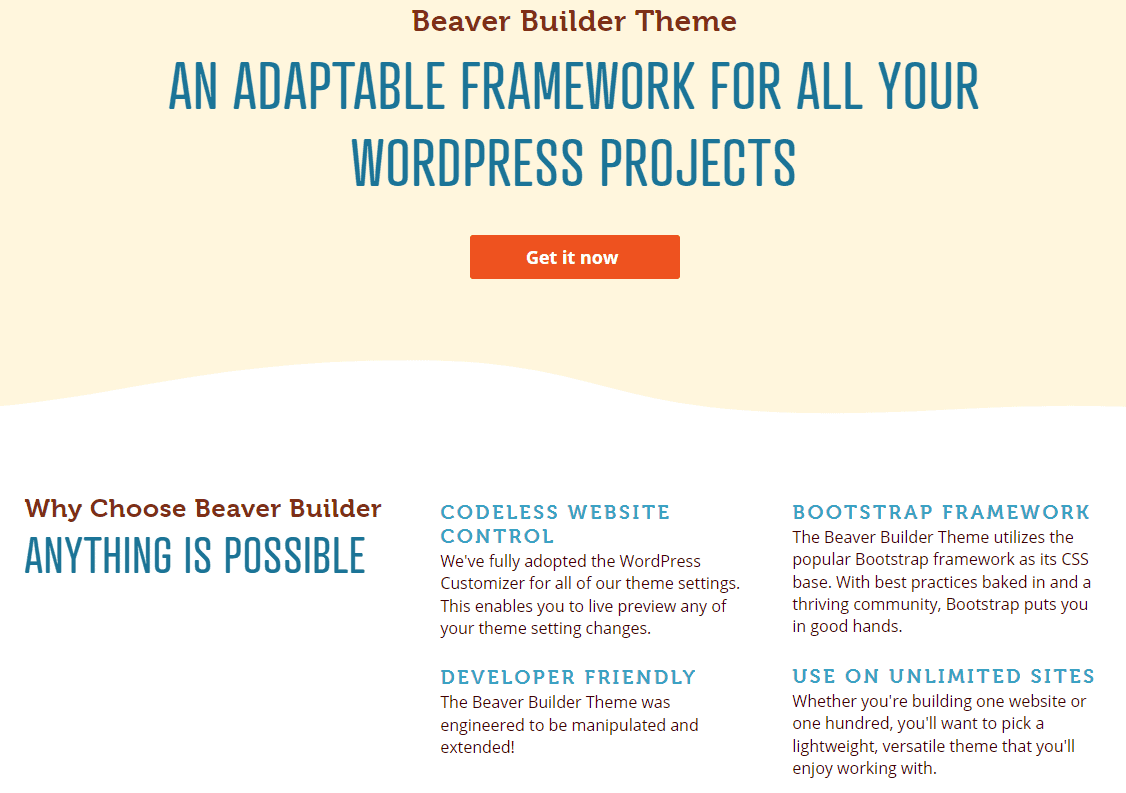 You can also change the layout by deciding how, where, and when it appears. You can specify whether it should appear on your posts, pages, the default footer, or elsewhere.
Customization is also possible by displaying if a post was written by a specific author. The staff is fantastic and powerful because it allows for great flexibility and customization.
Elementor
Elementor theme builder allows you to create and modify templates for archives, pages, headers, footers, single posts, 404 pages, and more.
Elementor offers both standard and new and specific elements for the various elements we want to create.
It also includes post-specific WordPress widgets such as the post title, featured image, post comments, etc.
If you're unsure what to do or how to do it, it also offers a variety of templates, which you can access by clicking the folder icon in the content editor.
Verdict: Both theme builders are roughly equal in customization and control over theme creation.
However, the Elementor builder plugin is less expensive than the Beaver builder because its themes and other options are only available in the premium version.
Elementor vs Beaver Builder: Ease of Use
Elementor:
The interface is divided into two main parts: editing navigation panel (left) and web page canvas (right).
Quick access to various widgets categorized as basic, pro, and general.
Move things from the left side to different parts of the page by dragging and dropping.
You can change the layout by adding or taking away columns (up to six per part).
With the right-click menu, you can copy, paste, and make copies, and you can use computer keys (like CTRL+Z) to undo.
When you click on a feature, a "Edit" menu pops up, which lets you change things like the size and placement of images.
When you add new features to an interactive live viewer, you can see what they look like in real-time.
The auto-save feature keeps track of your work.
Click the button in the top right spot to get to the widget's settings.
Navigator: A simple navigation window makes it easy to move between areas and make changes.
History: Keeps track of changes so that acts can be undone or redone at any time.
Responsive mode lets you try options on desktops, tablets, and phones.
Preview Changes: This lets you look at how a page looks before you post it.
Builder Beaver:
The first lesson shows users how to choose a template, add material, and make changes.
A drag-and-drop builder that works like Elementor.
The Beaver Builder interface comprises a live preview screen and a content area.
When you click the + button, a panel with choices for adding and changing modules appears.
Live preview lets you see how change is going in real time, and it saves automatically.
Use the Tools menu in the upper-left area to do quick things like preview, copy, and post.
Used computer shortcuts and a "History" tab to look back at steps and find problems.
Since there is no right-click menu, you must use scrolling to get to confident choices in rows and columns.
Final Verdict: Comparing the features of Elementor and Beaver Builder, both have easy-to-use browsing and visual editing. They both let you make changes quickly with known computer shortcuts. But Beaver Builder doesn't have Elementor's right-click feature, which makes it easy to change elements.
Beaver Builder Free vs Pro
Beaver Builder Free offers a robust foundation for WordPress users to create and design web pages with its intuitive drag-and-drop beaver builder interface. It gives you the essential tools and themes to build a website.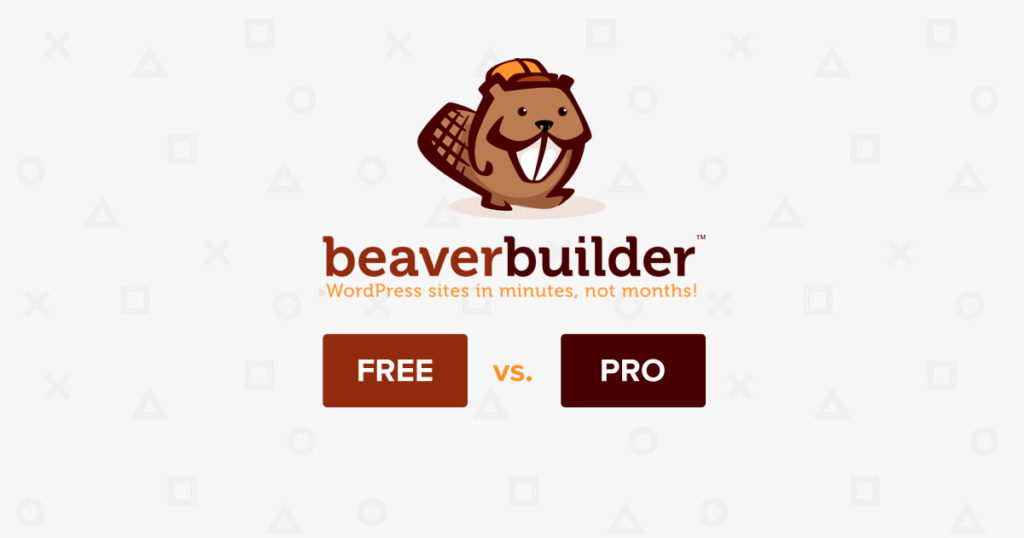 On the other hand, Beaver Builder Pro gives you access to advanced features such as additional modules, page templates, and design options.
It offers greater customization control, supports WooCommerce integration, and extends functionalities for more intricate designs.
The Pro version gives users tools like global rows and saved page templates to make building sites faster and easier. This makes it a great choice for people who want to improve their design capabilities and streamlined workflow.
Elementor Free vs Pro
Elementor Free gives WordPress users a solid base by giving them an easy-to-use drag-and-drop tool for making visually appealing web pages. It has the widgets, page templates, and style choices you need for simple design tasks. With the free version of Elementor, the widgets are divided into two categories: Basic and General.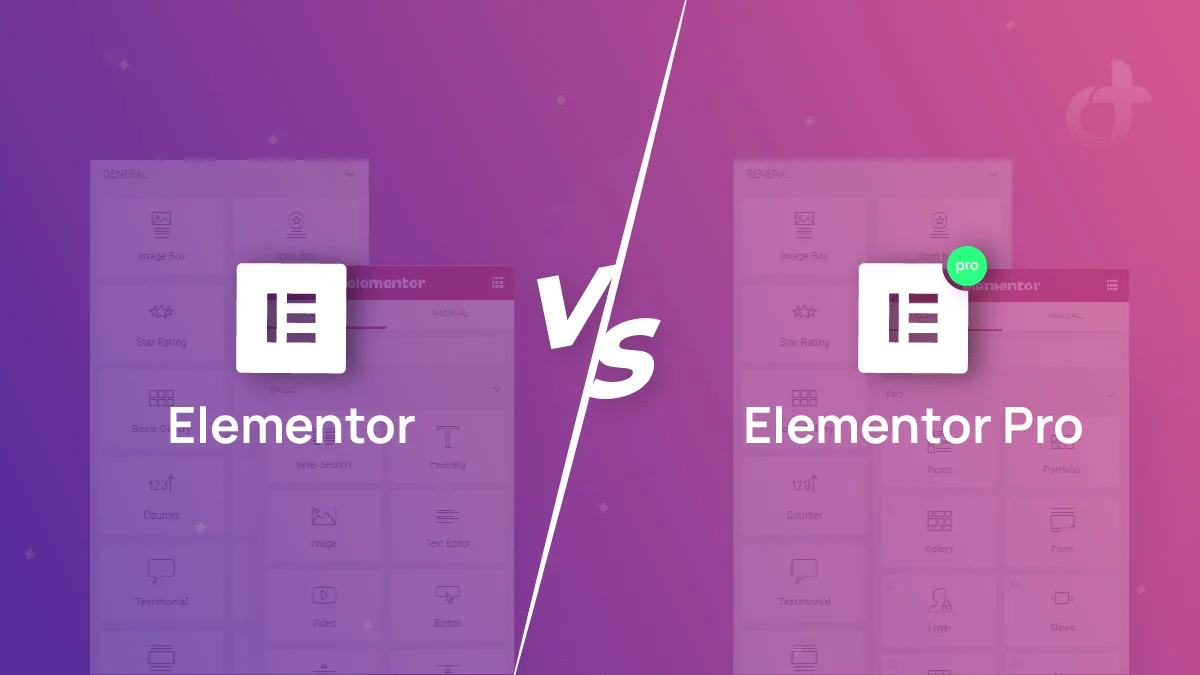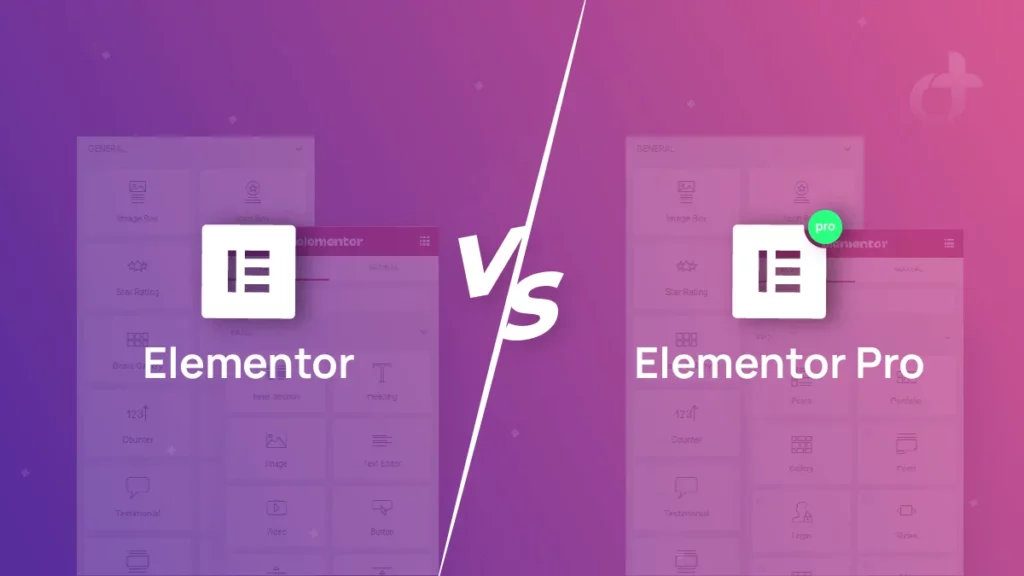 With Elementor PRO, you gain access to 59 widgets, including all the free version widgets and 29 additional widgets exclusive to the PRO version.
Elementor Pro, on the other hand, takes making websites to a whole new level. With a lot of advanced features like a theme maker, pop-up builder, dynamic content, and WooCommerce integration, it gives you more ways to customize your website than any other platform. Even though their base plan is more expensive than Elementor's, you can use it on unlimited sites.
Pro users can make complicated patterns, add engaging features, and enjoy the ability to make dynamic content. Elementor Pro is a great choice for people who want full design freedom, better user interaction, and professional-looking websites. And the free version of Elementor is available here.
Quick Links:
FAQs About Elementor vs Beaver Builder
Can I start WordPress design just by learning the Elementor page builder plugin?
Elementor is a WordPress plugin that works on top of any theme. And you can not design a theme using Elementor. So I think try learning HTML, CSS, JavaScript, and PHP. Using this set of technology, design some case templates and then convert them into wp themes. When you are comfortable with wp theming, then only go for Elementor. Elementor will help you to do something that requires lots of effort to put those features in any wp theme thus people these days use Elementor to reduce their programming time and efforts.
Which one is the best free Elementor Page Builder add-on?
As you are asking for Free Addons, so you should look at Elementor Addons in WP.org, look at this, you will see all free plugin listed there, and the top plugin among them with the highest number of download, rating, and elements are! Even searching just Elementor will also put this on top. With over 600,000+ Active Install, 6M+ downloads, and 1500+ Rating, it's undoubtedly the best Free plugin.
Do WordPress site page builders (like Divi, Elementor, or Beaver Builder) have any downsides in terms of SEO?
You have to be careful and ensure that you optimize your site no matter what theme or tool you use. And even if you write the code by hand! Yes, it can hurt you since sometimes the code can be bloated. It's up to you to ensure that it is optimized and slimmed down. Ensure that you are using: Server Caching with expirations for every type of file being served up Compression for CSS, javascript images, and HTML SEO optimization plugins.
How to Build WordPress Sites Instantly with WP Beaver Builder?
All you have to do is start working with Beaver Builder. Start making your website using their instructions.
How to Get Started with the Beaver Builder?
The content section of WordPress is distinct from the header, footer, and sidebar. The Beaver Builder plugin enables the creation of layouts according to the content area. Additionally, you may use the Beaver Themer plugin to build layouts in places beyond the content area.
Is Beaver Builder free?
No, it is not. The annual fee for the Standard edition is $ 99. Although you must use your theme, it is compatible with the majority of themes, even free ones. The Pro edition, which costs $ 199 a year, includes the Beaver Builder Theme and multisite capabilities.
Is Beaver Builder faster than Elementor?
Yes, it is. Using and loading menus is quicker, but the user beaver builder interface is less engaging. Additionally, the side menu loads the whole contents at once, rather than scrolling to locate an element as you do with Elementor.
Conclusion: Beaver Builder vs Elementor 2023
Elementor and Beaver create one of the most popular and evolved page builder plugins. Both provide a large number of template theme features and widgets.
Beaver Builder is a more developer-friendly option because there are no restrictions on how or to whom the developer can sell. Beaver Builder outperforms Elementor in terms of white labeling.
Beaver Builder is an open-source plugin, whereas Elementor is not. If you are a solo developer or user, Elementor is the best option, whereas Beaver Builder is the best option for developers.
Because they are both evolving, there is no clear winner, but Elementor is still preferred.