The Hero section is a very important part of how a website is put together. Users can be very moved by the Hero images on a website. It's the first thing people see when they land on a website. It's the place to start if you want to look around or quickly scan a website.
But what makes it possible for a Hero image to make or break a website?
Whether you're a skilled or not-so-skilled website designer, you expect to have a nice homepage design template at the end of the day that breaks the rules but doesn't break the client's expectations.
The web design industry is growing, and users' expectations of websites are also growing. Because a bad web design user interface (UI) gets lost in the crowd of other websites and platforms. But if you use the right web design tools and make sure they work well with the user experience, it will be easy for you to stand out from the crowd.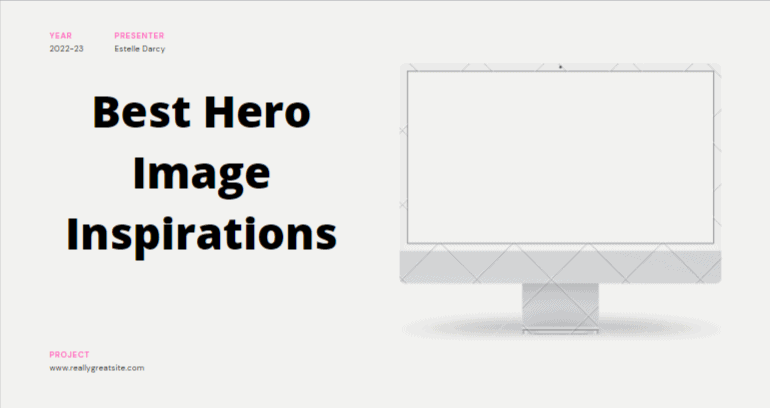 Now is the time to get some ideas for web design layouts.
Last but not least, we hope that the above web design layout ideas have given you a lot of ideas and a plan for how you will use them in your next site design.
Top 10 website hero images for inspiration
1. Poco People 
This Hero is different because it has almost no overlay text. A compact menu and the company's emblem stand in for any actual text. You can help spread the word about Poco People by clicking one of the social media sharing buttons located at the bottom of the Hero.
The Hero is impactful in its simplicity, and its effect on readers will remain long after they finish the book. It presents an unconventional first impression to users and suggests a memorable brand identity. The colour scheme is consistent with the company's branding and logo, and it works wonderfully to set off the image and the small amount of text superimposed on it.
2. Tom Cole Architect
Tom Cole Architect's website has another stunning Hero image. It's designed as a window into a specific landscape, bringing architecture and design to the forefront. The colour scheme is designed to provide contrast with the text. Text is what draws users' attention to the website's message and then down to other sections on the website pages.
The image of Tom Cole as Architect Hero is impressive and persuasive. The logo dominates the HERO, drawing attention to the brand and its iconic representation.
3. Super gradient
Gradients are made by slowly blending or changing between colours to make it look like the light source is far away or close by. Super gradients, which move between two or more colours, are often used in the design of big headers (like in our example above).
Gradients let web designers use more colours by making more shades of each colour. UX Planet says that they help make a strong statement, set a mood, and tap into user emotions. They also make the things on the screen that they are used with more memorable. Ideal for websites with pictures of heroes.
4. Prince Hotels 
This Hero is a carousel of pictures that all have something to do with Prince Hotels and Resorts. The colour schemes show right away that the brand is a high-end one. They make people feel good and comfortable and show how powerful the brand is. Some slides have a certain brightness, which is even more beautiful because it falls on a high-end part of the hotel in the picture.
The text is marked in white, which stands out against the dark shiny brown background of the image. When you look at this Hero picture, you can't help but feel a sense of comfort, luxury, and well-being that's hard to resist.
Conclusion
When a user first visits your website, drawing their attention to a hero header that you have included on your site is a great way to grab their attention and keep it. Web banners that are both large and oversized come to life on the screen and can assist your users in making sense of the content you provide.
It is essential to have a solid understanding of hero design best practises if you want to capitalise on the current trend in website design. We have high hopes that these illustrations have provided you with some insight into the characteristics of a powerful hero image design.