The Need For SiteGround Alternatives
SiteGround Alternatives: SiteGround has certain drawbacks, and we shall be discussing those here. 
The

limited disk space

in almost all their shared hosting plans makes it unsuitable for sites with many videos and images. 

A lot of their features

don't have much use for general users. 

They

don't offer any marketing bonuses,

which is again something we can't ignore. 

Their website builder software is not free for use. 
SiteGround Alternatives:
1. Cloudways 
It is a very organized cloud server service that allows you to choose the cloud server. The main features include fast servers, a simple user control panel, click staging for WordPress and their free SSL certificate. 
They offer faster servers than SiteGround and do not impose any CPU limits. You could use SiteGround for the first three years, take advantage of their promotional price, and then move to use Cloudways with a gradual increase in your traffic. 
Cloudways offer a free trial on their website, but they have a pricing structure. It is based on a pay as you go monthly pricing. There is no annual contract. The plan ranges from $3.95 to $14.95 per month ( initial promotional price). For renewal, you have to pay almost $11.95 to $34.95 per month. 
Read about Cloudways vs Siteground to know the difference between them.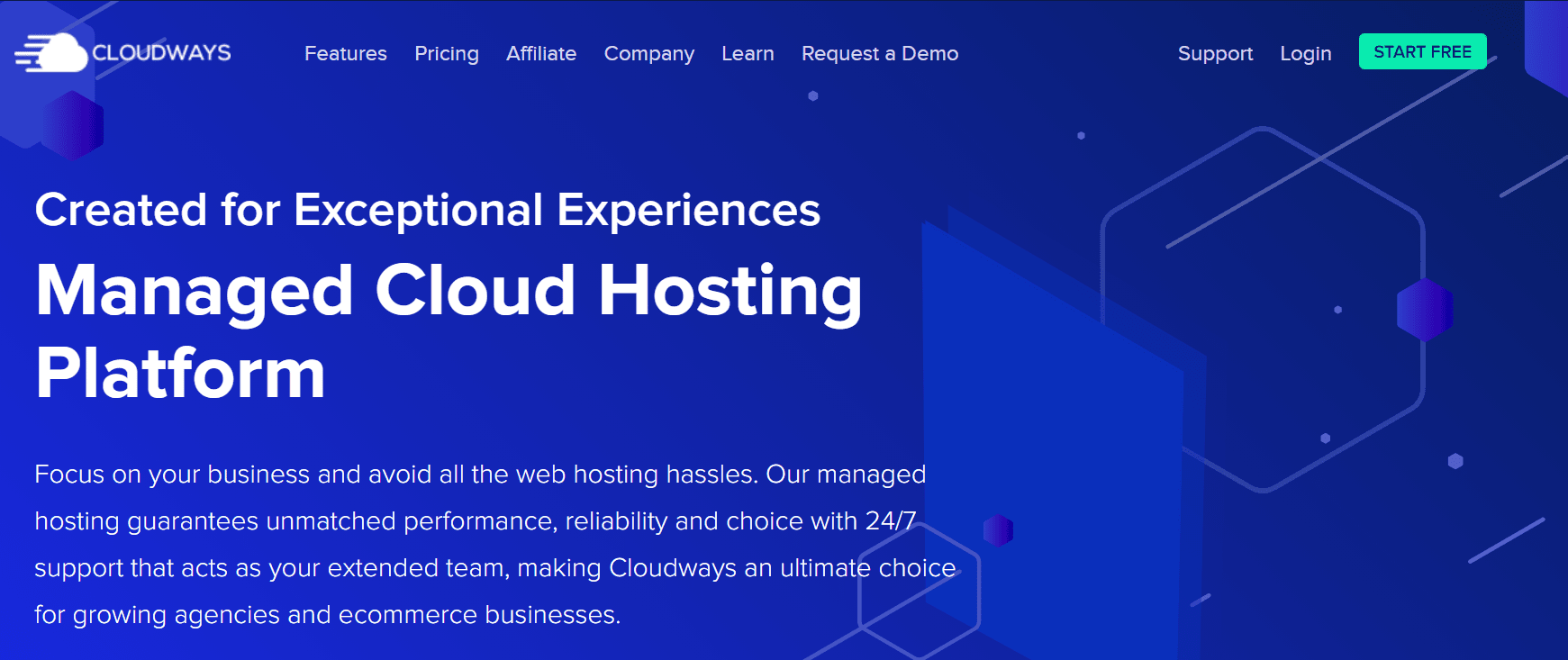 Pros 
No limits 

Useful free trials 

Pay as you proceed with the process of payment 

Simple to install apps and content 

Free automatic updates 

Free site migration 
Cons 
No c panel 

Using this requires some practice 

No domain registration if email accounts 
Cloudways Customer Review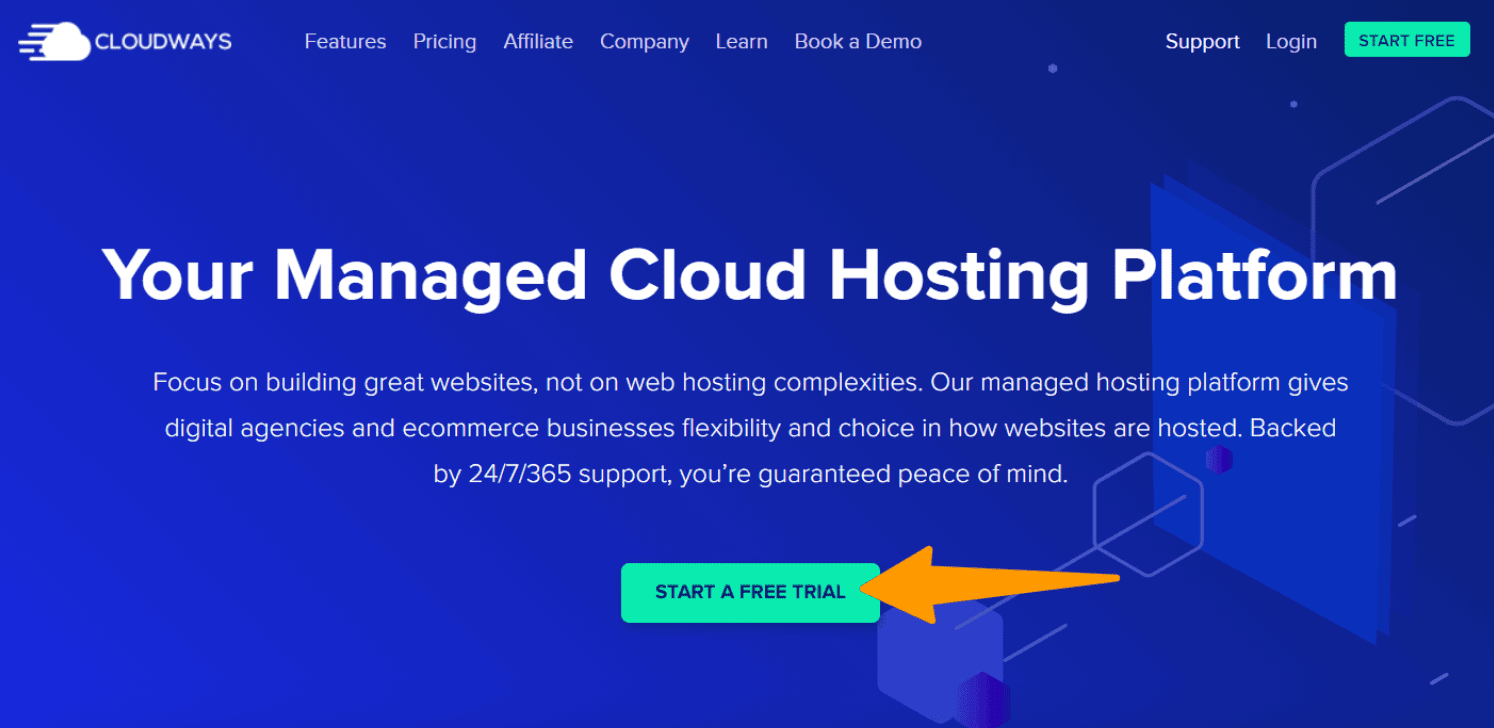 Avoid Cloudways if you don't want to spend time handling technical stuff. Choose this only if you want good performance at an affordable price. 
This gives you benefits like a 99.99 per cent uptime and scalable hosting and instant free setup, and DDoS protection. 
It gives your features like a firewall, malware protection and unmetered monthly visitors and phone support. 
There are three shared hosting plans. The basic shared hosting costs $3.47 per month. The standard plan costs $6.47 per month, and the professional plan costs $9.97 per month.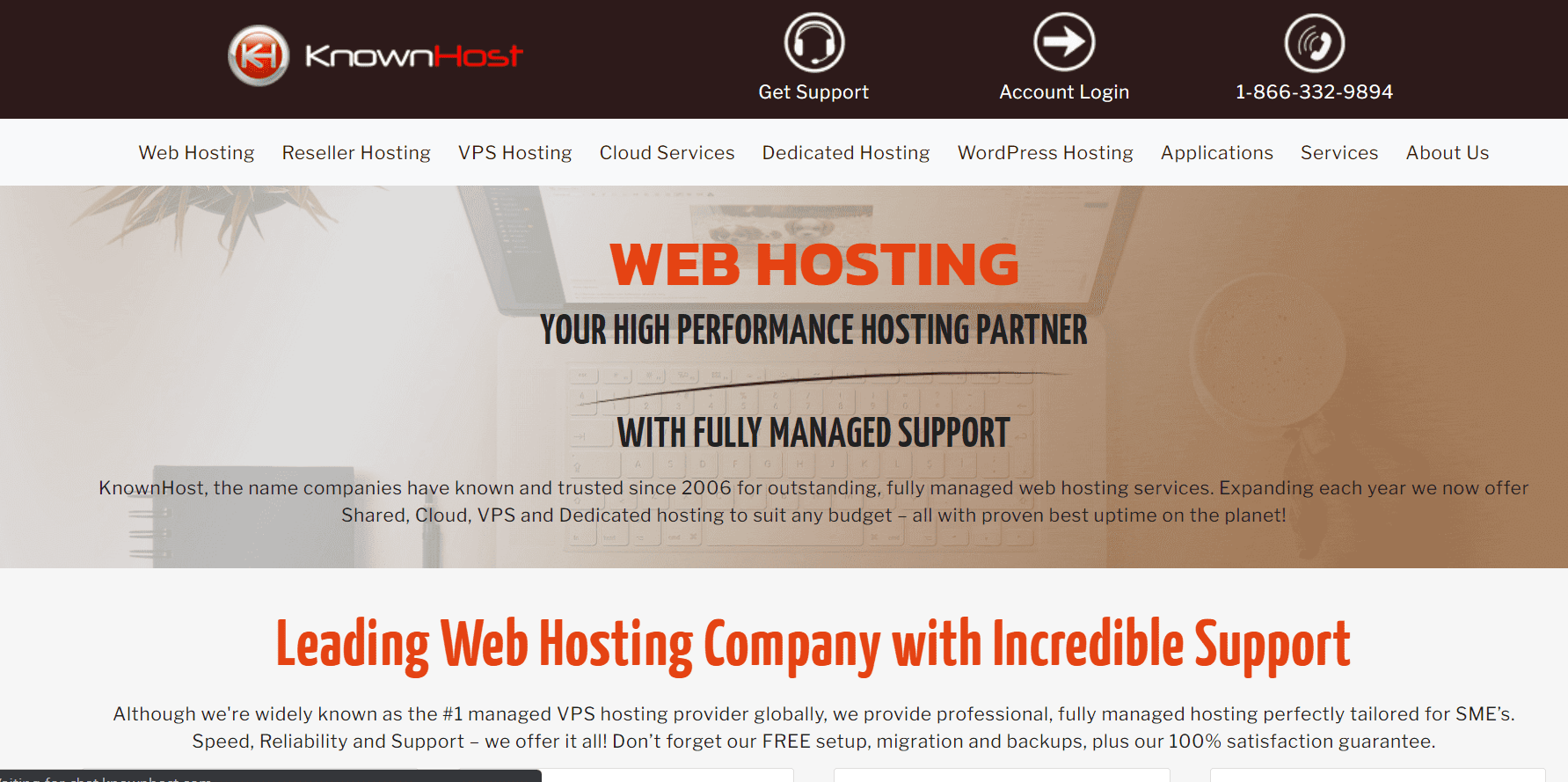 Pros 
Free site migration

SSL certificates

Isolated resources for better website performance 

Round the clock monitoring

Average 99.99+ per cent network uptime 

24/7 support from a US-based team 
Cons 
Lack of a free domain 

No phone tech support

No servers in Asia 
KnownHost Customer Review

The key features like SSD storage space, unmetered data transfer, and a free domain with all plans. They also give you one-click installed for more than 400 apps and unlimited email accounts. They support widely used languages like PHP, Ruby, MySQL, and Postgresql. 
Unlike SiteGround, this one has features like unlimited disk space and a free domain. They also guarantee a 90-day money-back guarantee as compared to SiteGround's 30 days. 
Their Launch plan costs $6.39 per month. The Power Plan costs $8.49 per month. 
The Pro Plan costs $$14.71 per month. 
They also give extra features like a security suite, marketing tools, and unlimited emailing.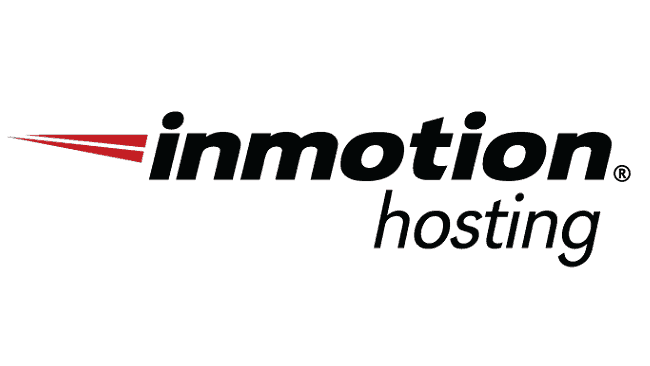 Pros 
Stability and speed are excellent, along with exceptional performance. 

US-based customer support that is reliable. 

Easy to use site builder 

Free site migration

Good flexibility 
Cons 
A limited number of websites in the cheaper plans 

Annual contracts 
4. WPX Hosting 
They give you really nice features like a content delivery network, CDM, and ensures that the websites load much faster. They also provide vital security settings like DDoS protection, spam protection, and application firewall. 
WPX Hosting is very friendly and gives fast live support. They have free manual migration for all websites. They also offer their own control panel, while SiteGround presents the standard cPanel for account management. 
WPX Hosting uses only email and chat channels for support. 
The three monetary plans are: 
Business: $20.83 per month (yearly) or $24.99 monthly. 

Professional: $41.58 per month (yearly) or $49.99 monthly. 

Elite: $83.25 per month (yearly) or $99 monthly.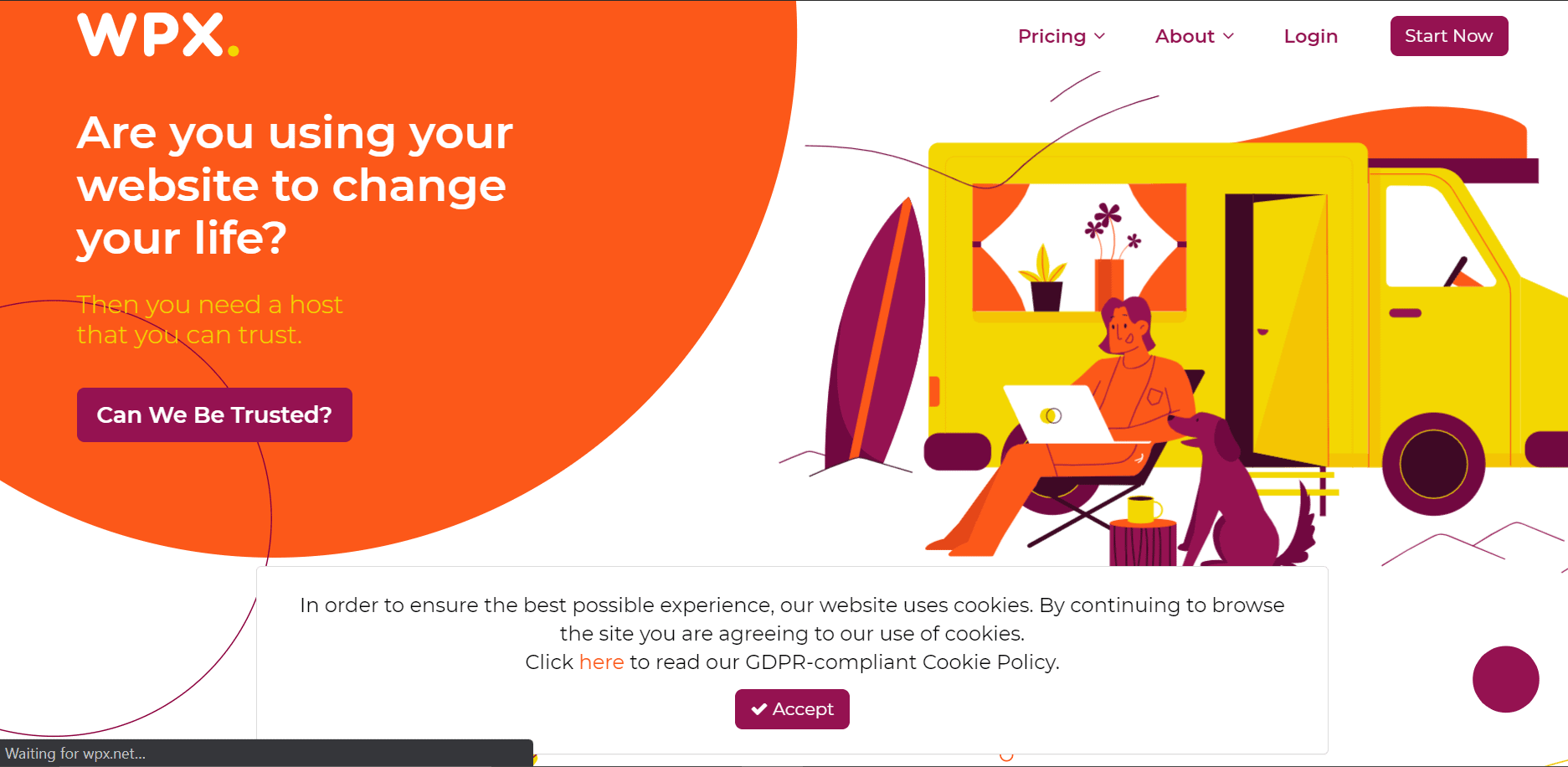 Pros 
You can manage huge traffic volumes at the same speed. 

Offers email support. 

Gives unlimited free SSL certificate. 

Free website migration. 

Good quality customer support. 

Malware scanning and removing. 
Cons 
Fast email and live chat support but lack of phone support. 

The Control panel interface is very simple but lacks some features. 
This one gives you a managed WordPress hosting that we specifically designed on the Google Cloud Platform. The infrastructure utilizes itself for scalable yet stable WordPress hosting. 
Certain key benefits are multisite hosting, site climbing tools, along with website analytics. They also give a multiuser environment, SSL certificate, and automatic backup. 
They give you malware protection and firewall, which SiteGround does not. 
The pricing plans are as follows: 
Starter: $30 per month 

Pro: $60 per month. 

Business 1: $100 per month. 

Business 2: $200 per month. 

Business 3: $300 per month. 

Business 4: $400 per month. 

Enterprise 1: $600 per month. 

Enterprise 2: $900 per month. 

Enterprise 3: $1200 per month. 

Enterprise 4: $1500 per month.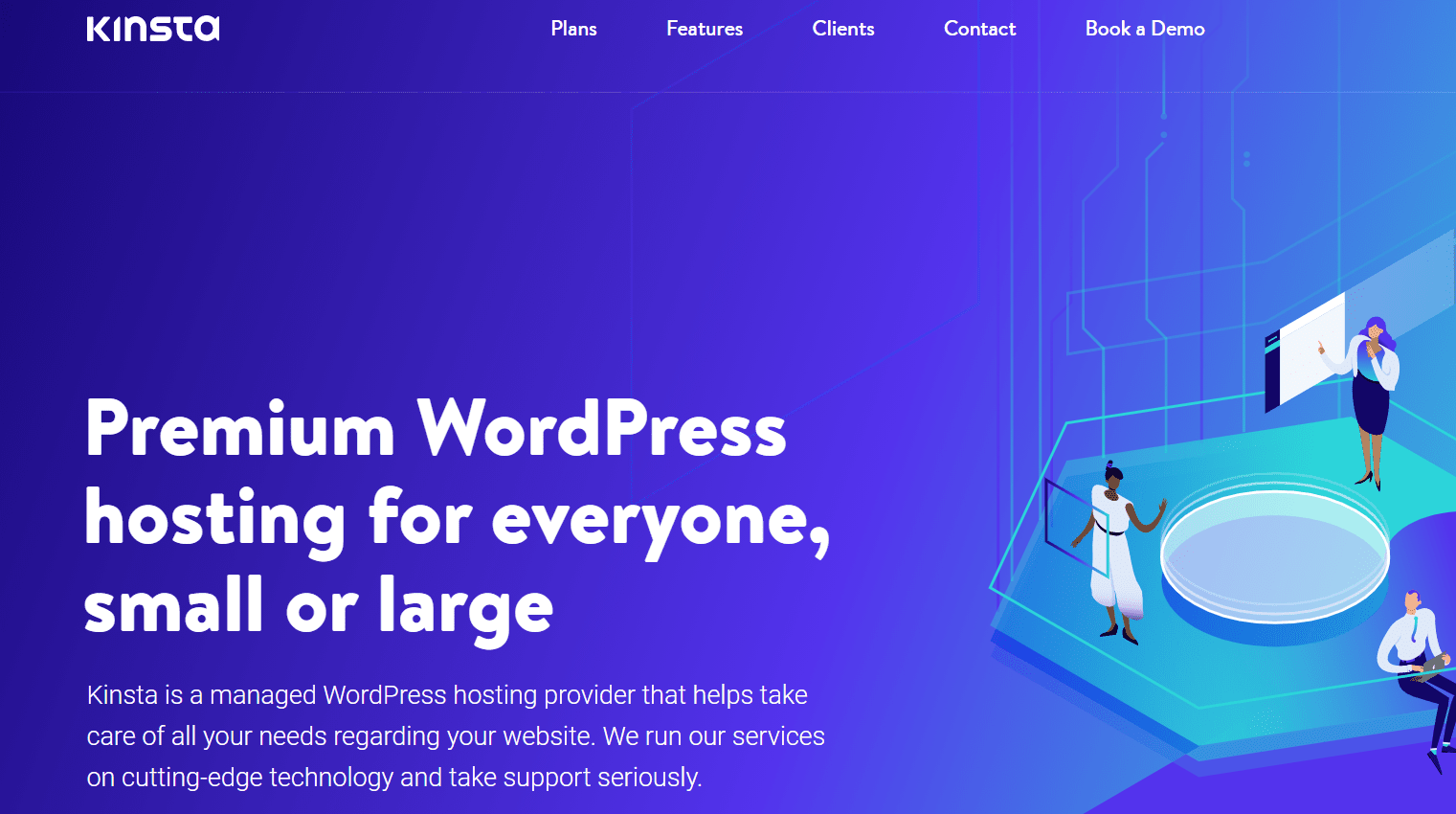 Pros 
You are guaranteed 99.9 percent uptime. 

Very fast page loading time 

Infrastructure based on cloud and designed like that for speed. 

Optimized for e-commerce. 

Easily handle traffic spikes. 

Easy setup and migration. 
Cons 
Lack of email hosting 

Lack of phone support

High prices 
Kinsta Customer Review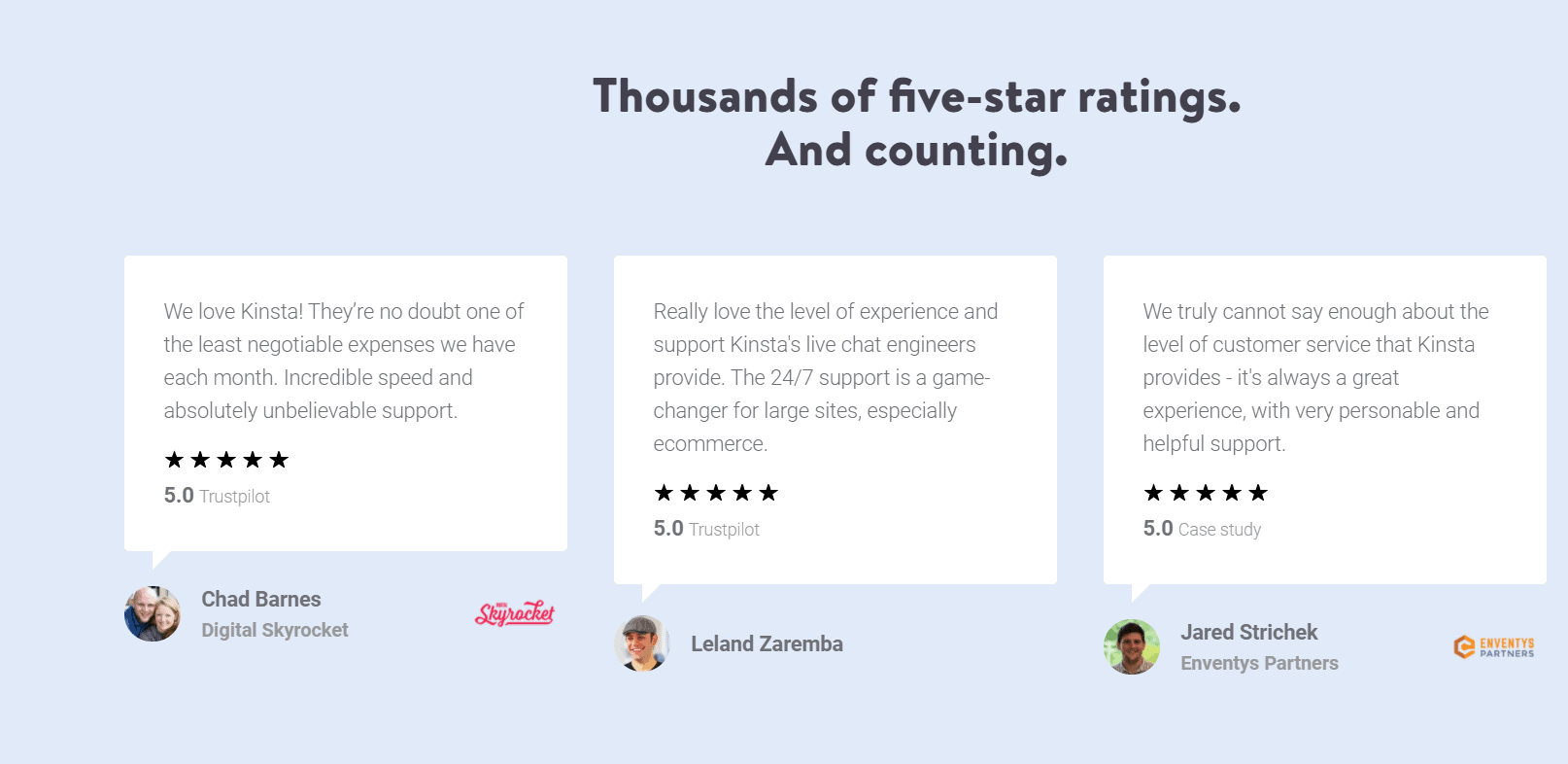 You are advised to select Kinsta only if the budget is not a constraint for you and increases traffic. Kinsta allows you to secure and scale your website up. 
Quick Links: 
FAQ's | SiteGround Alternatives
😍Is SiteGround the best?
Overall, SiteGround ranks near the top of all web hosting companies for both uptime (99.99%) and speed (716 ms). Their customer support team is knowledgeable, fast, and friendly. All plans come with a CDN, SSL certificate, and email accounts. However, there are some downsides too.
👌Why is SiteGround so expensive?
Siteground hosting can be considered expensive compared to some competitors because they have incorporated costly, but vital components to ensure your website is working when someone comes searching.
👉Is SiteGround faster than Bluehost?
SiteGround is a better choice for hosting Shared, WordPress, or Cloud websites compared to Bluehost. While Bluehost offered slightly better rates, SiteGround's performance(speed), reliability(uptime), and support is far better than anything Bluehost has to offer.
👍Is SiteGround better than GoDaddy?
We cannot say that one is better based on a single factor. SiteGround has great support, useful site maintenance tools, powerful performance, auto-updates, and near-100% uptime. GoDaddy had faster load times in our test and has lower renewal prices, though its uptime and support are not as good as SiteGround.
🤷‍♀️Is SiteGround faster than HostGator?
SiteGround's speed is 1.5x faster than what HostGator has to offer. HostGator is slightly cheaper with better renewal rates and are equally good for beginners and WordPress like SiteGround. But, SiteGround's overall reliability and performance make them the perfect choice over HostGator.
⁉️ Is SiteGround slow?
SiteGround TTFB can often be slower than other cloud hosting providers, simply because their servers aren't as powerful. To improve TTFB on SiteGround, make sure SG Optimizer and Cloudflare and configured properly while avoiding high CPU plugins.
Conclusion | SiteGround Alternatives
Cloudways Popular Video
WPX Hosting Popular Video
Kinsta Popular Video